Imagine a future where your ecommerce business can leverage the power of artificial intelligence (AI) to provide seamless customer experiences, optimize operations, and drive sales like never before.
Well, the future is now!
With a myriad of AI tools for ecommerce available, it's time to harness their potential and transform your online store.
In this article, we'll dive into the impact of AI on ecommerce and take a look at the top 10 AI tools for ecommerce that can help you drive sales in 2023.
The impact of AI on ecommerce
AI tools have drastically enhanced customer experiences and satisfaction by automating various aspects involved in ecommerce, leading to higher sales and increased efficiency for ecommerce stores.  
AI in digital marketing has also transformed the way businesses reach their target audience and helped them optimize their online presence.
From personalized marketing to AI-powered recommendation systems that enhance customer interactions, these artificial intelligence tools are becoming indispensable for every online retailer.
AI has also played a crucial role in streamlining ecommerce processes such as search engine optimization, content creation, and customer support. AI marketing tools are in high demand, especially among ecommerce marketers. 
As AI and machine learning capabilities continue to advance, we can expect even more powerful tools for ecommerce that will further boost business growth and customer satisfaction. 
Top 10 AI tools to drive more online sales
Navigating the rapidly evolving world of AI in ecommerce can be challenging. That's why identifying the AI tools that match your specific requirements is crucial.
Every tool on our list has been carefully chosen based on features, benefits, and potential to boost sales and customer satisfaction.
That said, let's dive right into our top 10 picks and explore how they can enhance your ecommerce business!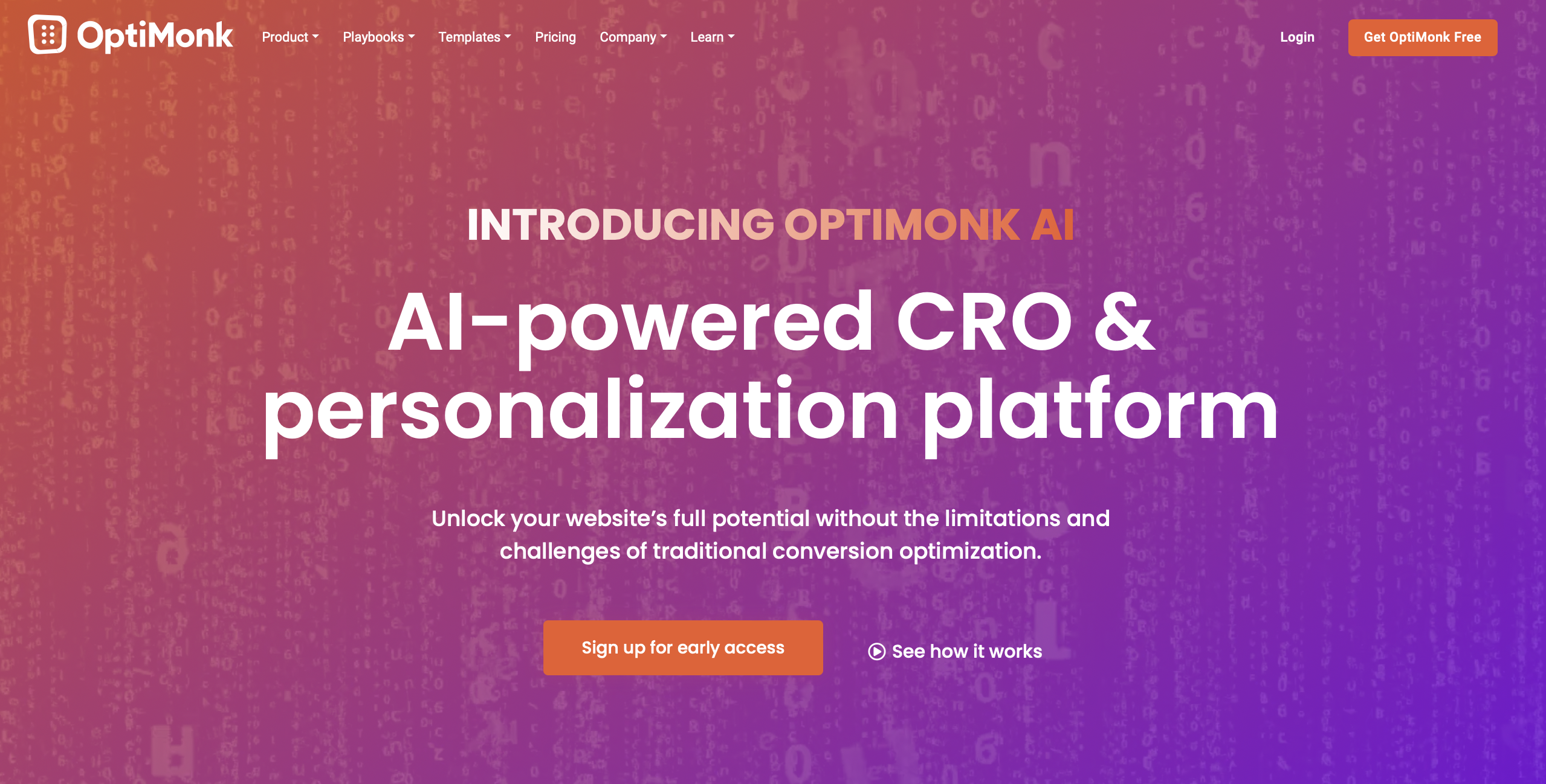 OptiMonk AI is an AI-powered CRO platform designed to automate processes like A/B testing and personalization to maximize your website conversions. It is built for marketers looking for new, data-driven ways to improve the efficiency of their marketing without having to hire a CRO team.
Key feature #1: Smart Personalizer
Smart Personalizer instantly makes your landing pages more personalized for each person who visits them. It does this by making sure the words on your landing page match the ads you're running on Google. This makes your landing pages more relevant and helps more people decide to take action, like buying something or signing up.
Key feature #2: Smart A/B Testing
Say goodbye to the old days of tedious, manual A/B testing. OptiMonk now provides completely automatic A/B testing with the help of AI. With Smart A/B Testing, you can easily run many A/B tests at the same time on any part of your webpage. The best thing is that you decide which tests to run, and our AI takes care of running them smoothly.
Key feature #3: Smart Product Page Optimizer
Our Smart Product Page Optimizer uses AI to transform product detail pages into highly effective sales pages by creating persuasive copy.
Make use of AI's capabilities to create captivating headlines, descriptions, and lists of benefits that connect with your audience. You can also conduct A/B tests on multiple product pages at once, simplifying the process and allowing you to customize ideal product pages for all the items in your extensive inventory.
Want to try OptiMonk AI to optimize your website? Get a demo now!
2. Octane AI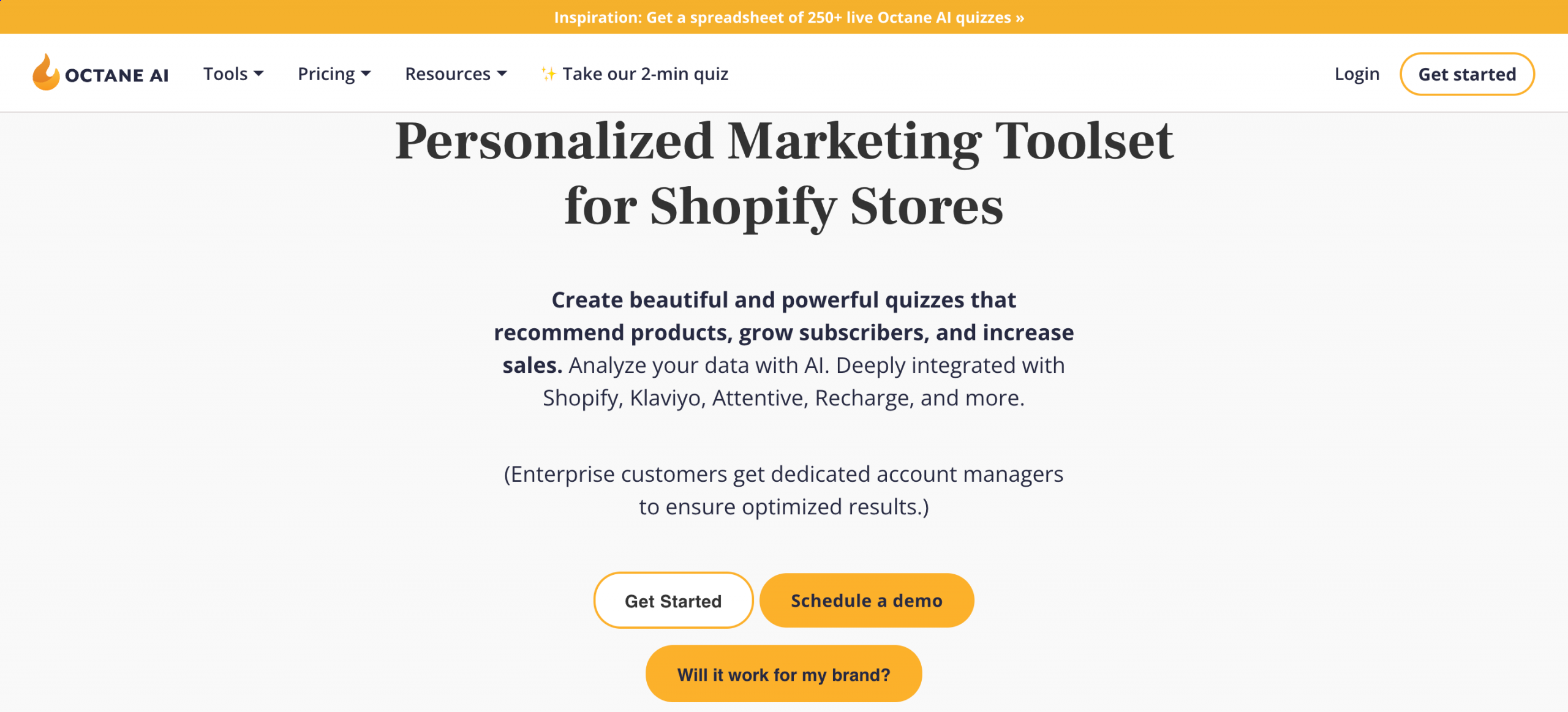 Octane AI is a chatbot and messenger marketing platform that facilitates communication between ecommerce stores and their customers, helping boost sales through tailored messaging. AI-powered chatbots like Octane AI can provide instant responses to customer inquiries, offer personalized assistance, and efficiently carry out mundane tasks.
This leads to faster resolution of customer complaints, increased customer satisfaction, and reduced customer service costs.
With seamless integration options with popular ecommerce platforms like Shopify, Magento, and BigCommerce, Octane AI ensures a smooth and engaging customer experience.
3. Revealbot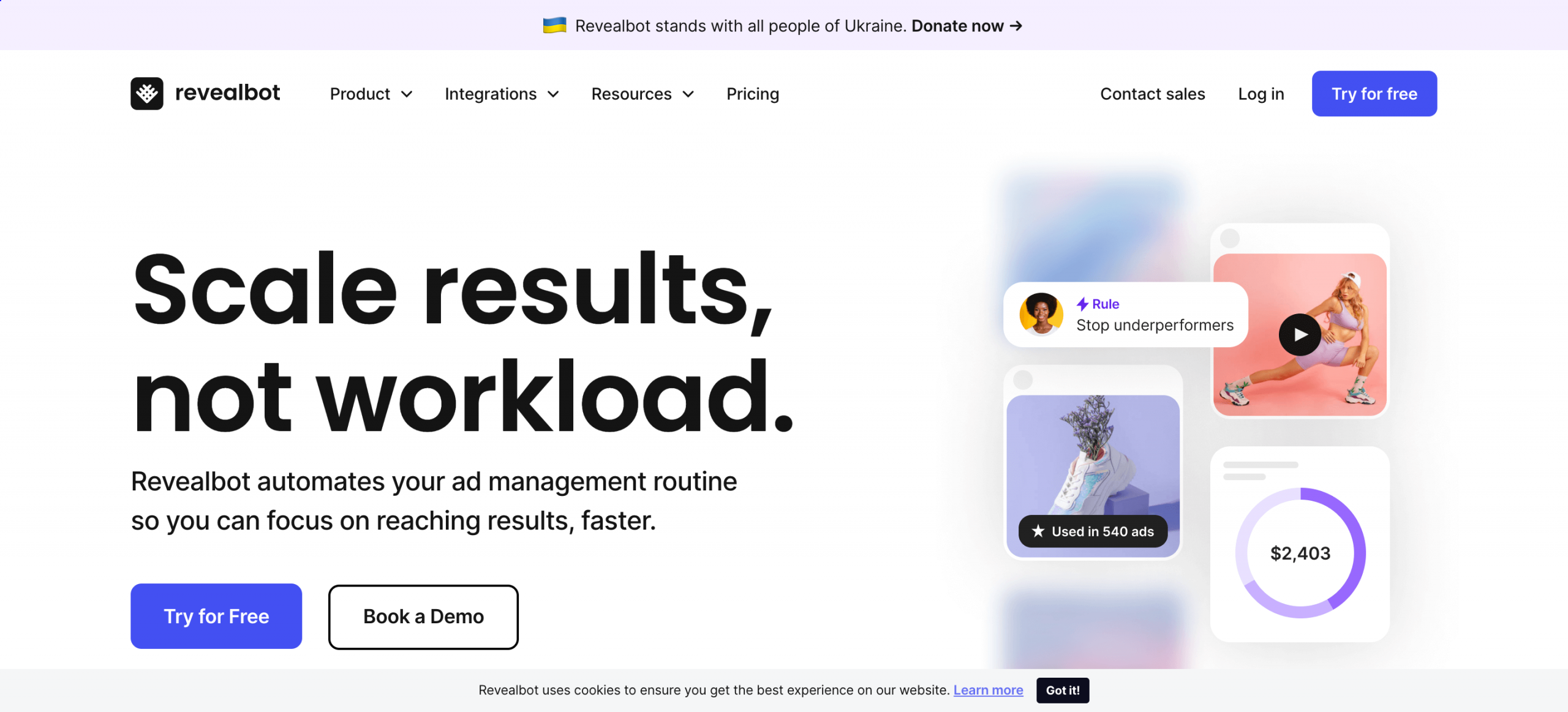 Revealbot is a software platform that provides automated ad management and campaign optimization services for popular platforms such as Facebook, Instagram, and Google.
Utilizing AI-driven algorithms, Revealbot analyzes data and optimizes campaigns in real time, offering insights into performance and identifying areas of improvement for ad management and optimization.
Revealbot provides a comprehensive solution for businesses looking to optimize their ad strategies and drive growth through effective marketing.
4. OptiPrice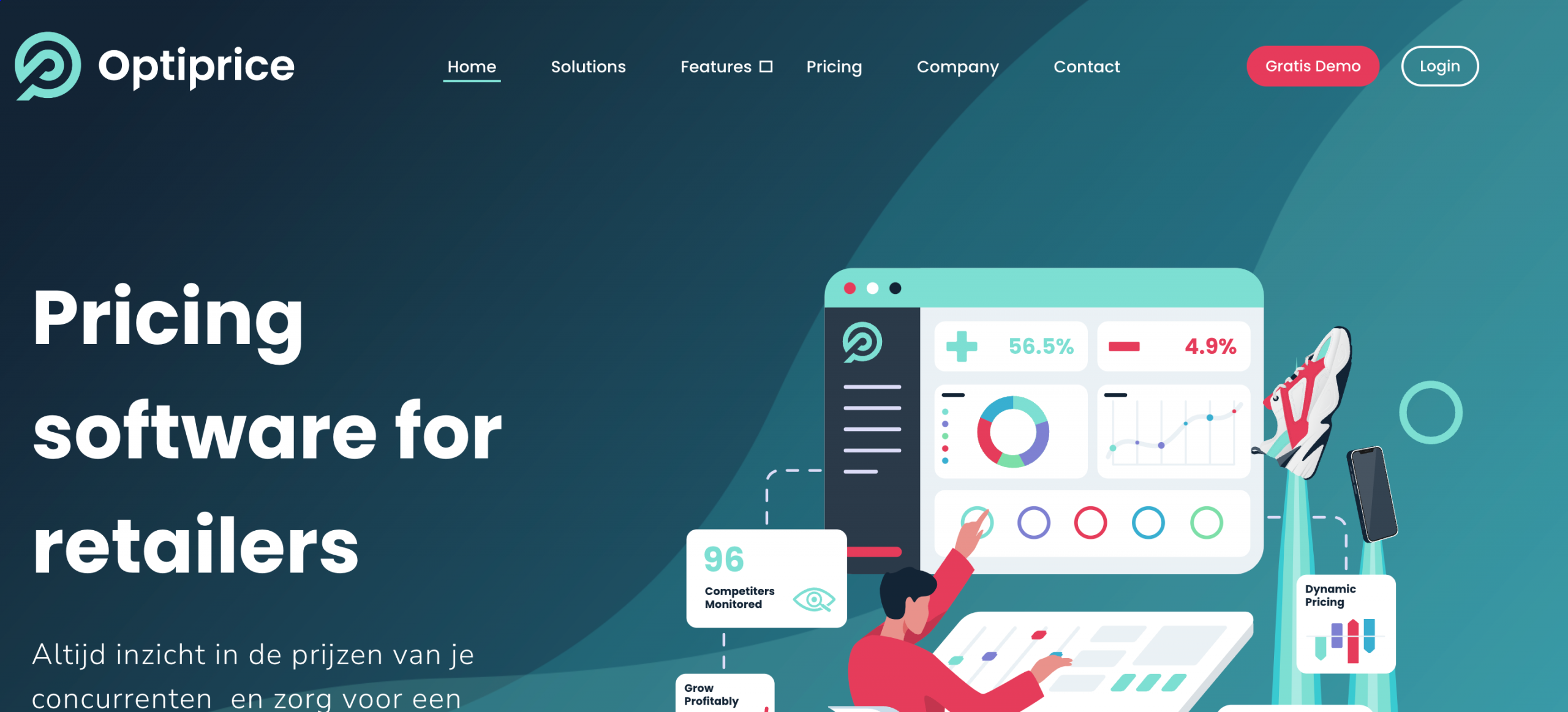 OptiPrice is a powerful AI pricing tool that offers optimized pricing strategies and empowers store owners to make data-driven pricing decisions. It also offers personalized promotions, coupon management, and price-checking extensions.
By considering factors such as inventory, demand, and supply trends, OptiPrice's AI-powered pricing tool helps businesses make informed pricing decisions that drive sales and improve profitability.
5. ChatGPT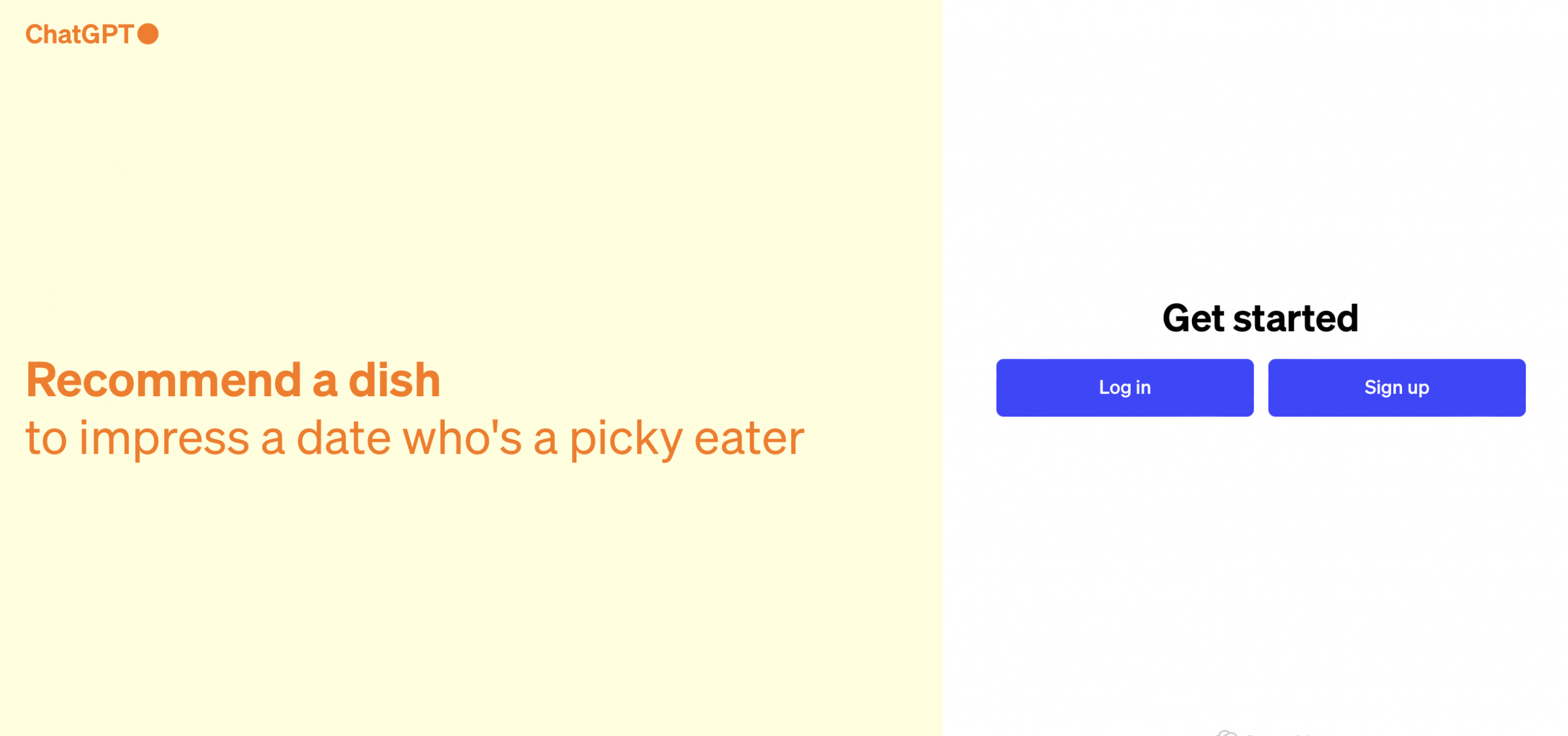 ChatGPT is an AI-powered chatbot that assists ecommerce businesses in providing efficient customer support, responding to inquiries, and boosting sales through personalized interactions. 
ChatGPT enables online stores to better serve their customers and increase customer satisfaction by offering instant support and tailored assistance.
With various pricing plans, ChatGPT caters to the needs of different ecommerce businesses. By implementing ChatGPT, business owners can improve the customer experience, enhance customer retention, and ultimately increase sales.
6. SearchIQ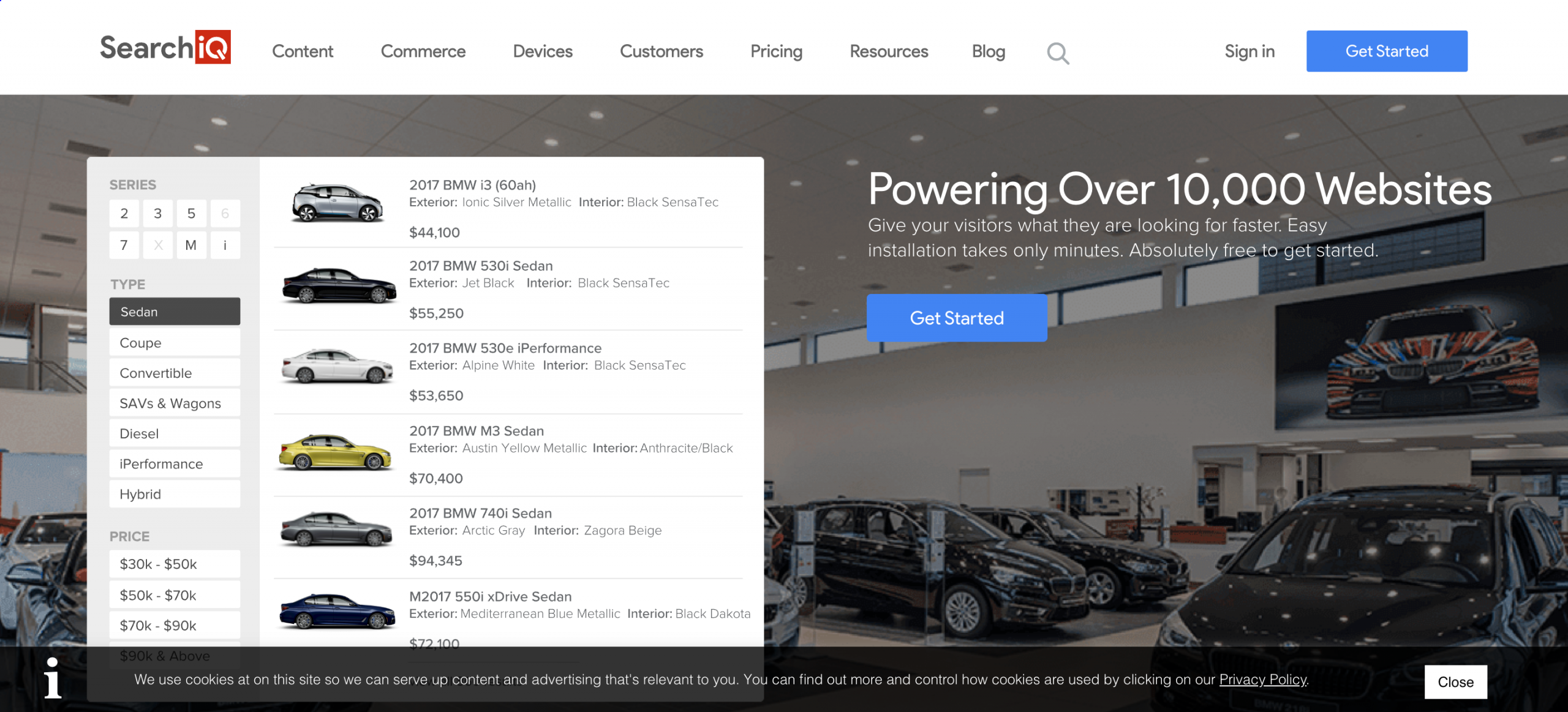 SearchIQ is an AI-powered search and discovery platform that helps ecommerce stores show relevant search results and personalized recommendations. It also provides detailed analytics and insights to optimize search features.
Enhancing the search functionality of your ecommerce website can lead to a better customer experience and increased sales. By simplifying the process of locating information and products, SearchIQ helps businesses refine their search capabilities and gain insights into customer behavior, helping stores grow and keep their customers happy.
7. DataHawk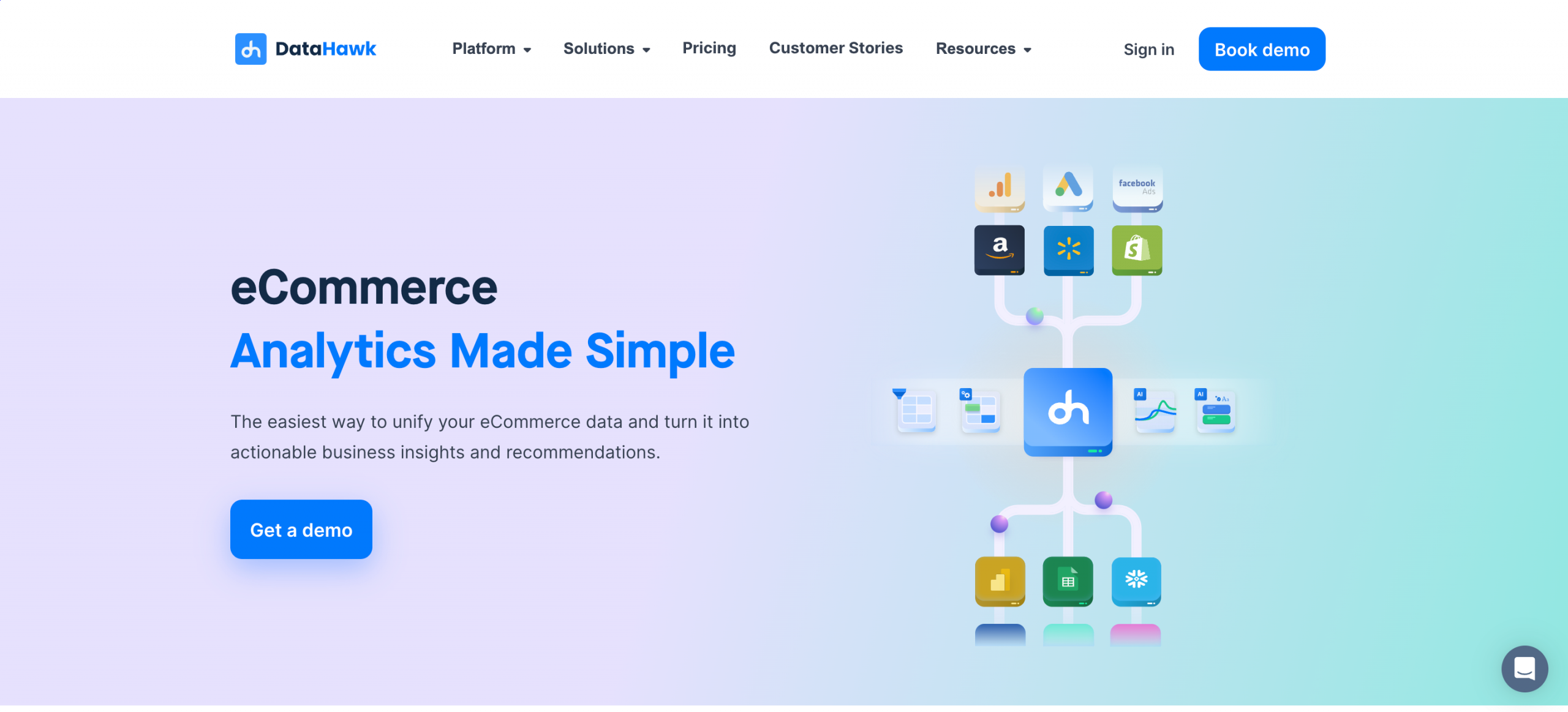 DataHawk is a comprehensive ecommerce analytics solution that enables brands to optimize their sales and track their progress on platforms like Amazon. By providing critical insights, DataHawk helps ecommerce businesses make informed decisions that facilitate growth.
DataHawk allows ecommerce businesses to stay competitive in the market by helping them optimize their product listings, pricing, and advertising strategies.
8. Lumen5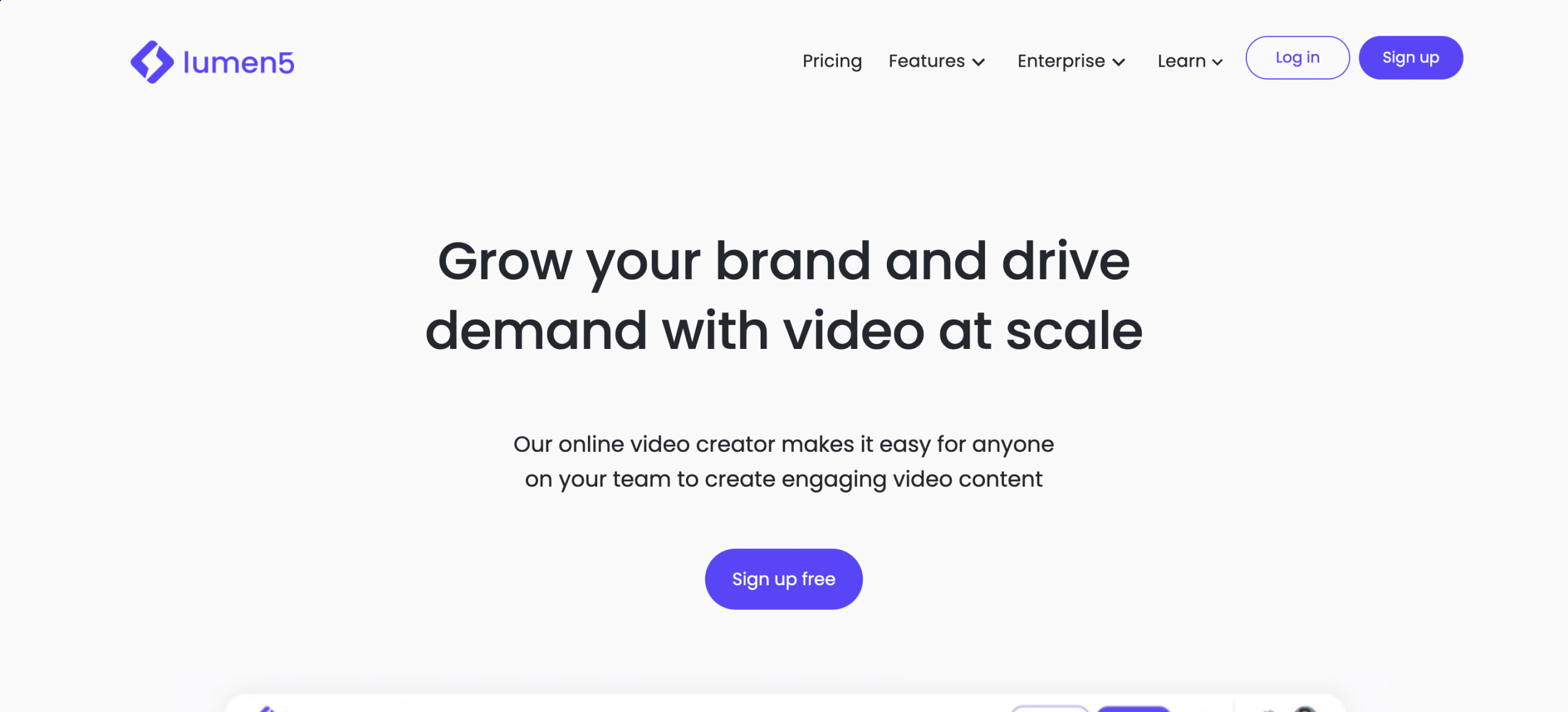 Lumen5 is a video creation platform that employs artificial intelligence to generate engaging videos from text. With natural language processing and machine learning capabilities, Lumen5 analyzes text and automatically generates videos, while offering a library of stock images, videos, and music to make creating videos fast and effortless.
With its user-friendly interface and time-saving features, Lumen5 is a cost-effective solution that can help businesses achieve these goals.
9. RetentionX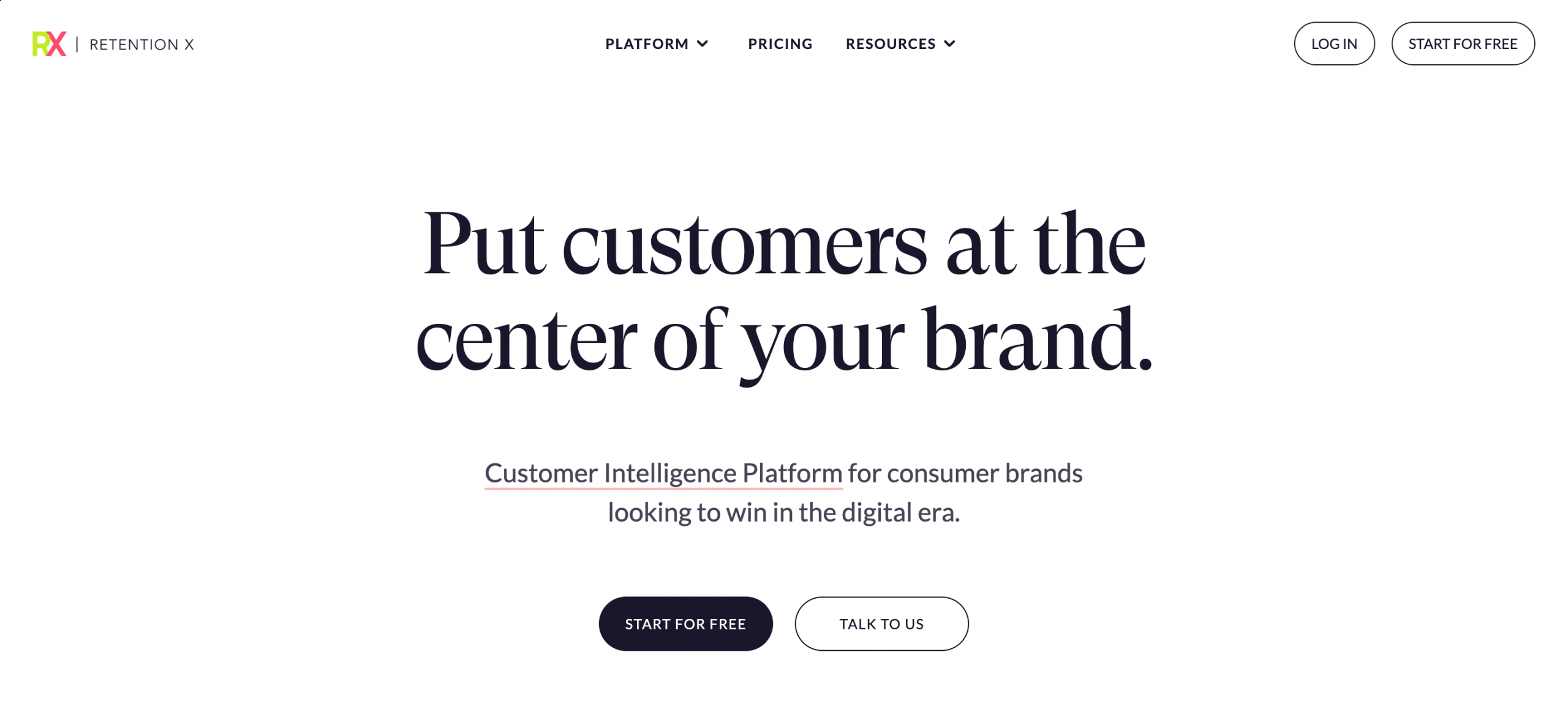 RetentionX offers AI-driven data analysis and data science solutions tailored for the ecommerce industry. RetentionX transforms data from platforms such as Shopify and Recharge into valuable insights by analyzing and interpreting it, thereby helping businesses make informed decisions.
By assessing customer behavior and constructing tailored retention plans, RetentionX fosters customer loyalty and maximizes lifetime value for ecommerce businesses.
10. Jasper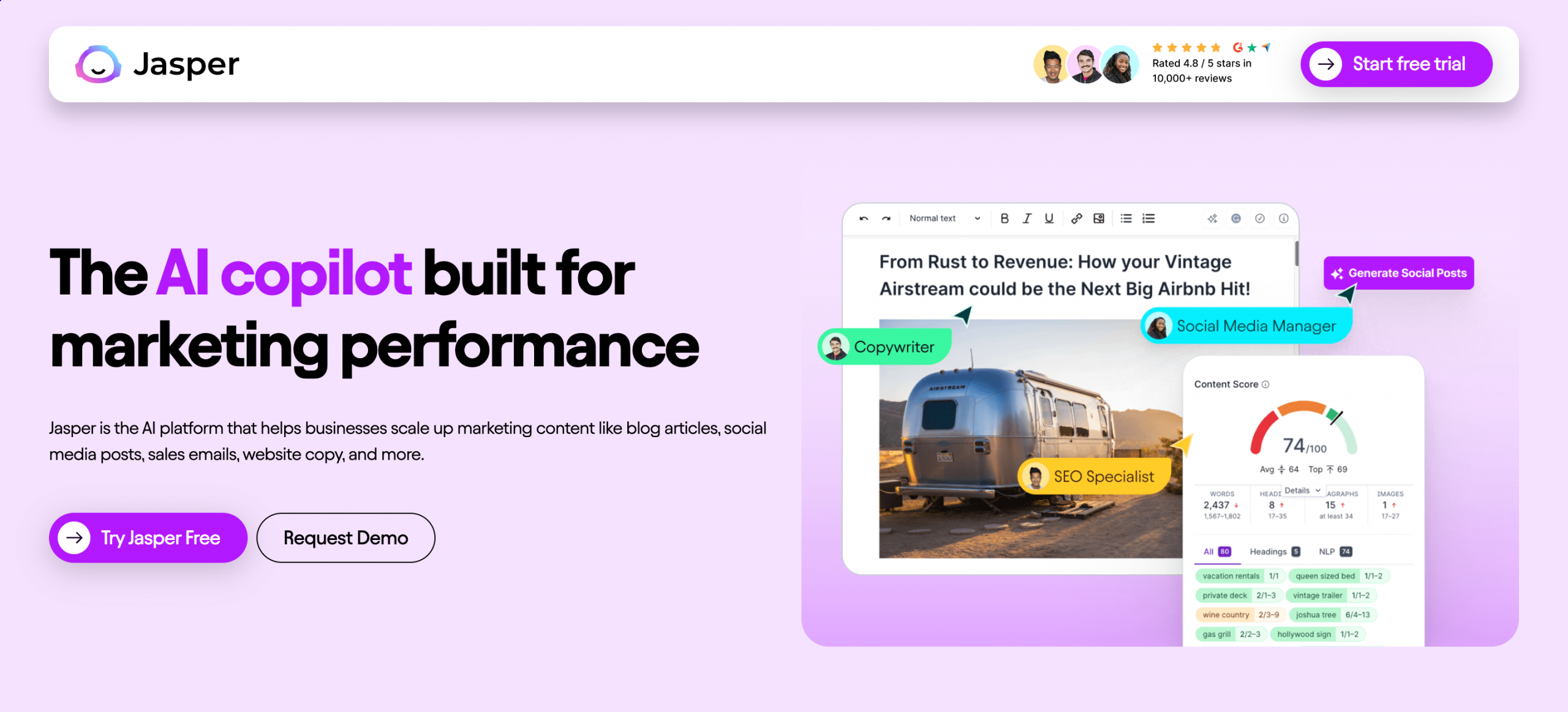 Jasper is an artificial intelligence-powered content generation tool that assists ecommerce businesses in crafting product descriptions, blog posts, and other marketing materials to increase sales and engagement. Jasper allows business owners to focus on other crucial aspects of their ecommerce store by automating the content creation process, saving them the time and effort.
How to implement AI tools in your ecommerce business
Now that you're familiar with the top 10 AI tools for ecommerce, it's time to think about how you can effectively implement them in your business. 
In the following sections, we'll guide you through the process of identifying the right AI tools, integrating them with your existing systems, and measuring their impact on your business performance.
Remember that successfully implementing AI tools in your ecommerce business can make a world of difference, but it must be done correctly to ensure optimal performance and maximum return on investment.
1. Finding the right tools
Once you have a clear understanding of your business needs, explore the available AI tools and compare their features, benefits, and potential impact on your business. By choosing the tools that make the most sense for your business, you can optimize your ecommerce operations and drive sales growth.
2. Integrating with your existing systems
Integrating AI tools with your existing systems is an essential step in ensuring seamless compatibility and optimal performance. 
Providing proper training for your personnel is crucial for the successful incorporation of AI tools into your ecommerce business, as it enables them to understand and effectively use the AI tools. Additionally, it might be worth addressing any cultural and organizational challenges that may arise during the integration process.
Finally, verify that the AI tools selected can communicate effectively with your existing systems so you'll have a streamlined transfer of data and information.
3. Measuring the impact
Assessing the impact of AI tools on your ecommerce business is critical, allowing you to fine-tune their usage and maximize your return on investment. Start by tracking key performance indicators (KPIs) that are relevant to your business objectives and the specific AI tools you've implemented. These KPIs can be things like user satisfaction, business results, or time saved.
By analyzing the results of these KPIs and conducting A/B testing to compare different versions of a product or service, you can identify areas for improvement and optimize the way you use AI tools in your business.
How can AI be used in ecommerce?
AI technology is used in ecommerce to observe customer interactions, analyze shopping patterns, and create more tailored marketing campaigns to give customers a personalized experience. This helps businesses understand their customers better and uncover new purchasing behaviors and trends, and it also improves the user experience.
What are the benefits of using an AI tool in ecommerce businesses?
AI tools provide numerous benefits for ecommerce businesses, from improving the customer experience to enhancing efficiency by automating processes like marketing and customer support. As a result, businesses can expect higher sales and improved search engine optimization.
How do I choose the right AI tools for my ecommerce business?
To choose the right AI tool for your ecommerce business, consider your business needs, research available options, and evaluate features and benefits. Take into account factors like type, size, budget, desired features and functionalities, and the level of expertise level needed to use them.
Integrating AI tools in your ecommerce business can lead to improved customer experiences, increased sales, and enhanced efficiency.
By identifying the right AI tools, integrating them with your existing systems, and monitoring their performance, you can ensure you're getting the most out of them and drive long-term growth for your business.
Embrace the power of AI with OptiMonk and sign up for early access today!