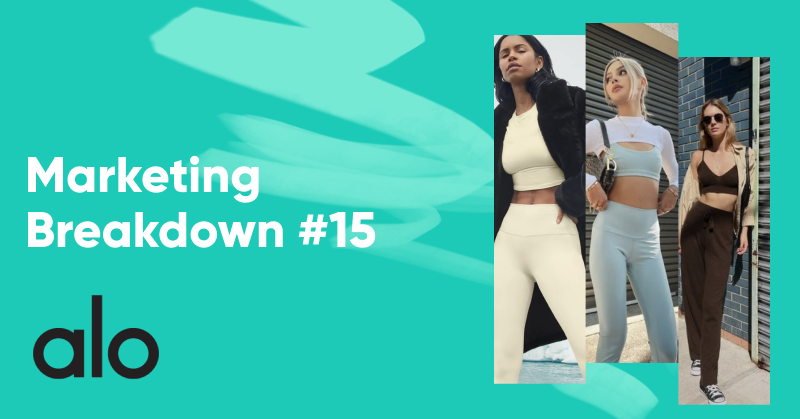 Alo Yoga is an athleisure brand that focuses on selling clothing that people can wear in the studio and on the streets. The company was founded in 2007 in Los Angeles with the goal of spreading good by bringing yoga to the world.
The brand's popularity has grown steadily. Its estimated annual revenue is currently $247.1M per year, and they have 3 million Instagram followers.
In this breakdown, we'll go over the marketing strategies that Alo Yoga uses for brand building and keeping their sales strong.
Let's begin!
1. Strongly positioning Alo Yoga products
Positioning is how a company stands out from other brands and resonates with its target audience.
Alo Yoga's positioning does exactly that by presenting their clothes as "studio-to-street." This means that you can wear Alo Yoga not only while doing yoga but also anywhere, which sets them apart from many other brands.
Celebrities like Taylor Swift, Kendall Jenner, and Gigi Hadid are featured on the site wearing Alo as they grab a coffee or run errands. This emphasizes the brand's studio-to-street style.
Danny Harris, CEO of Alo, said in an interview: "We have a Gigi Hadid or Kendall Jenner or these other people wearing the Alo brand, but we still are very true and authentic to who we are. We really are just about yoga and it's neat that our community is inspiring these people to wear our clothes."
Check out how they highlight this on their site:
2. Building a yoga community
The brand works with a ton of social influencers whose audiences are likely to be interested in yoga clothes.
A few examples are Sjana Elise Earp, who has 1.4 million+ followers on Instagram, Ashley Galvin, who has 500K+ followers, and Dylan Warner, who has 800K+ followers.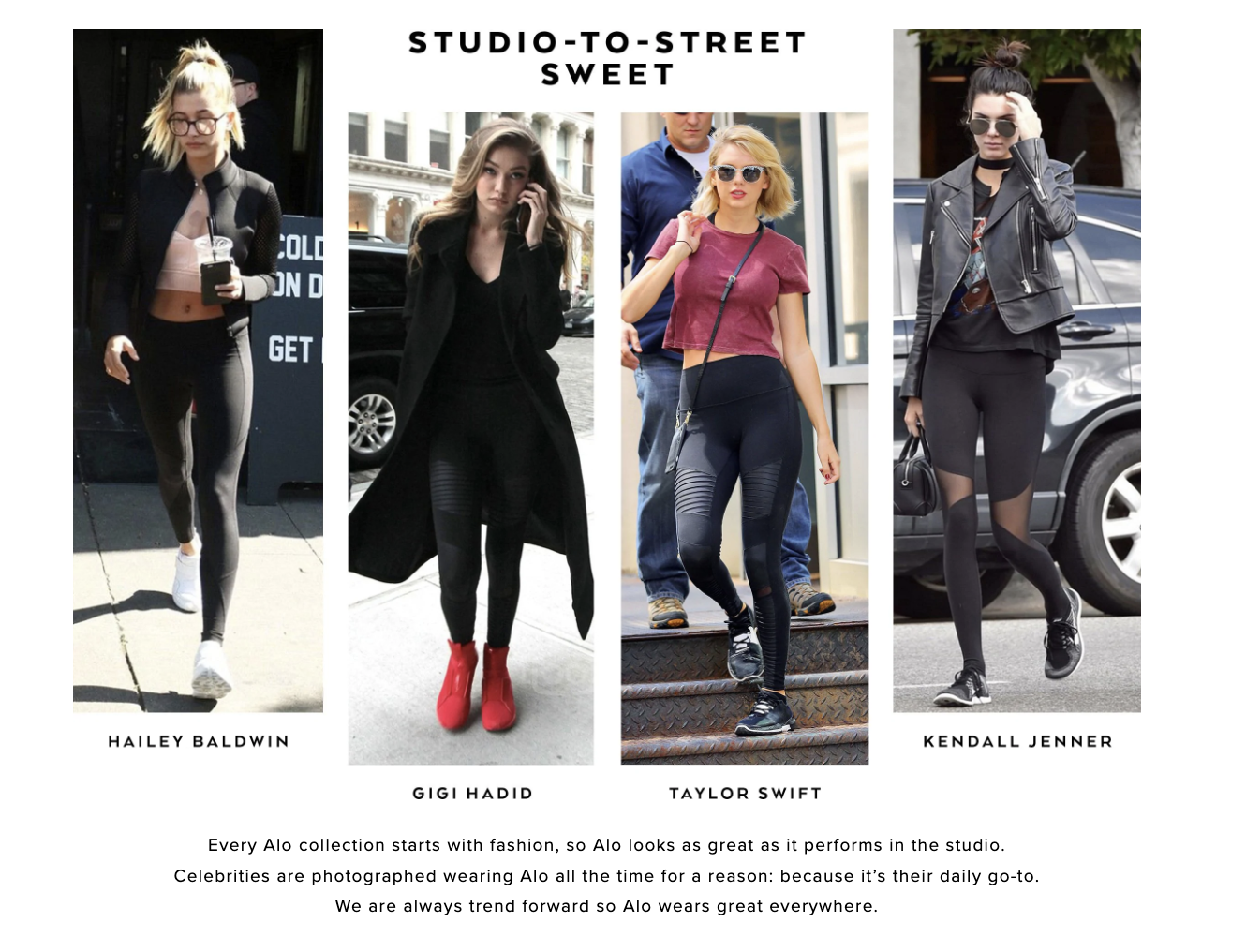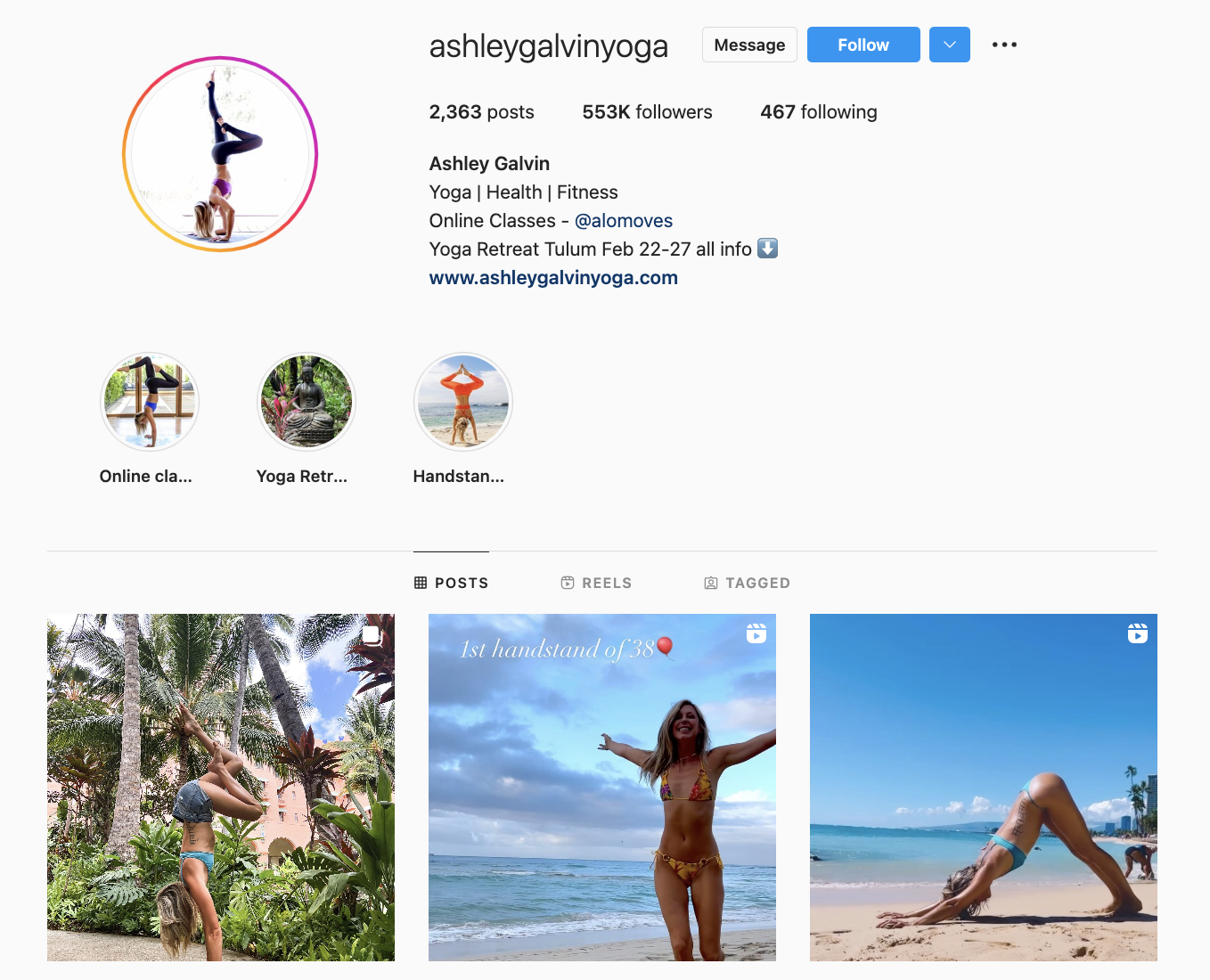 But they do much more than just sponsor wellness influencers who have huge followings. They focus on building great relationships with yoga instructors, which has helped them gain a loyal following in the yoga community.
CEO Danny Harris said in an interview: "I think [our philosophy] has attracted the likes of some of the most real and authentic yogis that have committed their lives life to their practice. Which has made them want to not choose the conventional brands—which I won't name—[and] made them really want to choose and work with a brand that was in line with their values."
Their "Pro Program" includes over 4,000 yoga teachers and professionals, all of whom regularly post and tag the brand on social media. When potential customers see someone they know and trust posting about Alo Yoga, the recommendation carries a lot of weight.
Another aspect of building a yoga community is their Instagram feed. It features tons of photos of real people doing yoga.
Their marketing director, Amanda Porter, said that they're making sure to "mix it up and use different people and really showcasing the yoga community."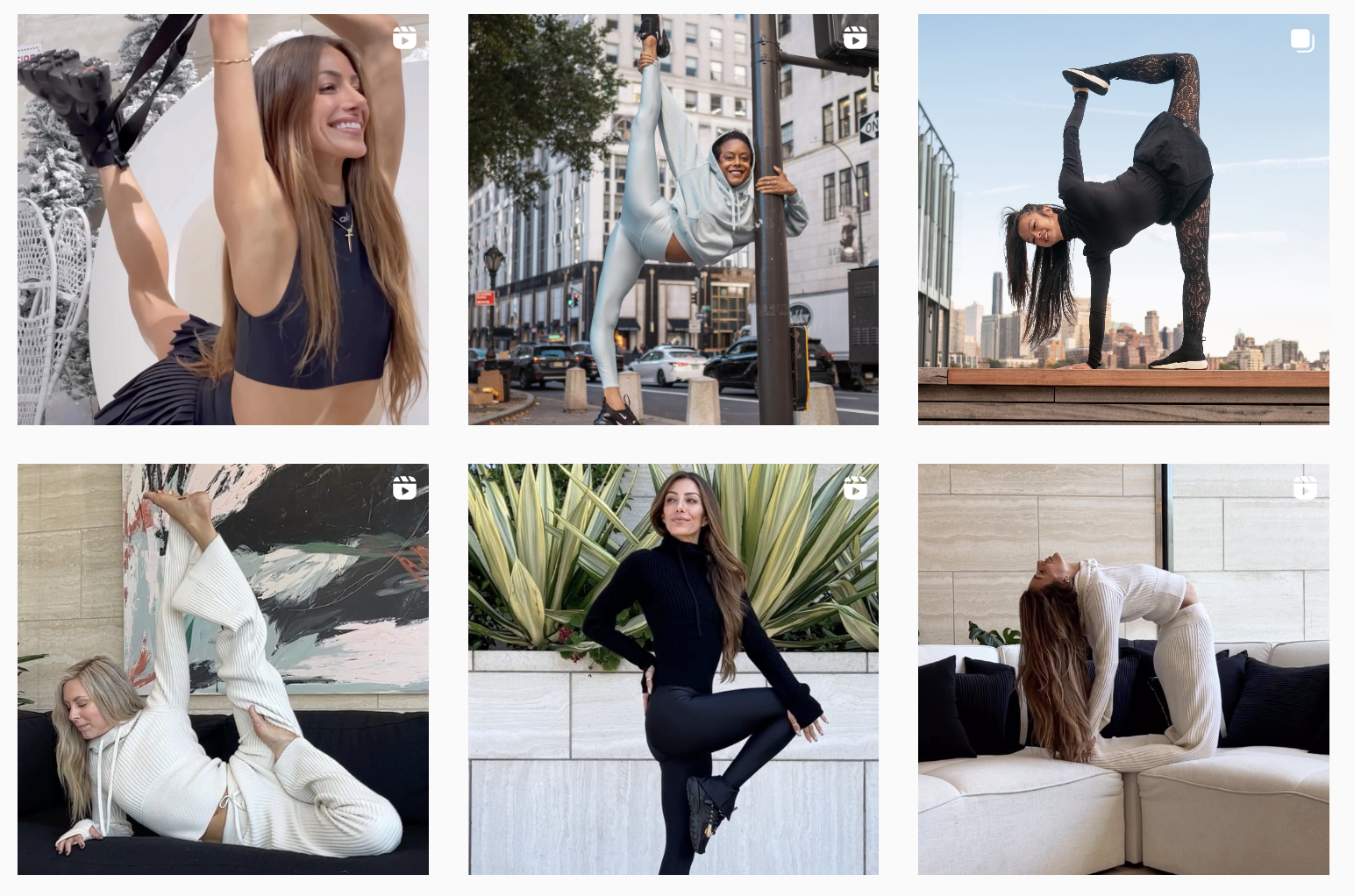 They also feature many popular yogi-influencers as instructors for Alo Moves, their streaming workout service: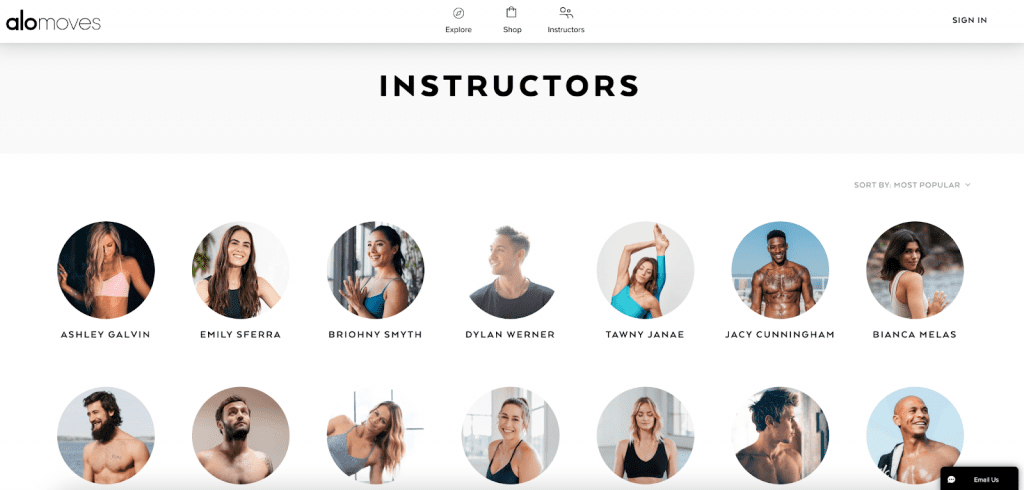 3. Taking advantage of user-generated content
Stepping beyond sponsored influencer marketing, user-generated content is one of the best ways to get people to trust you.
It serves as great social proof because people deciding to post on their own shows a lot of genuine enthusiasm. Consistent content from real customers really increases your credibility.
That's why Alo Yoga's marketing team uses lots of real photos of customers on their social channels (which they find using branded hashtags). Unlike other businesses, they also feature UGC on their site, including their homepage: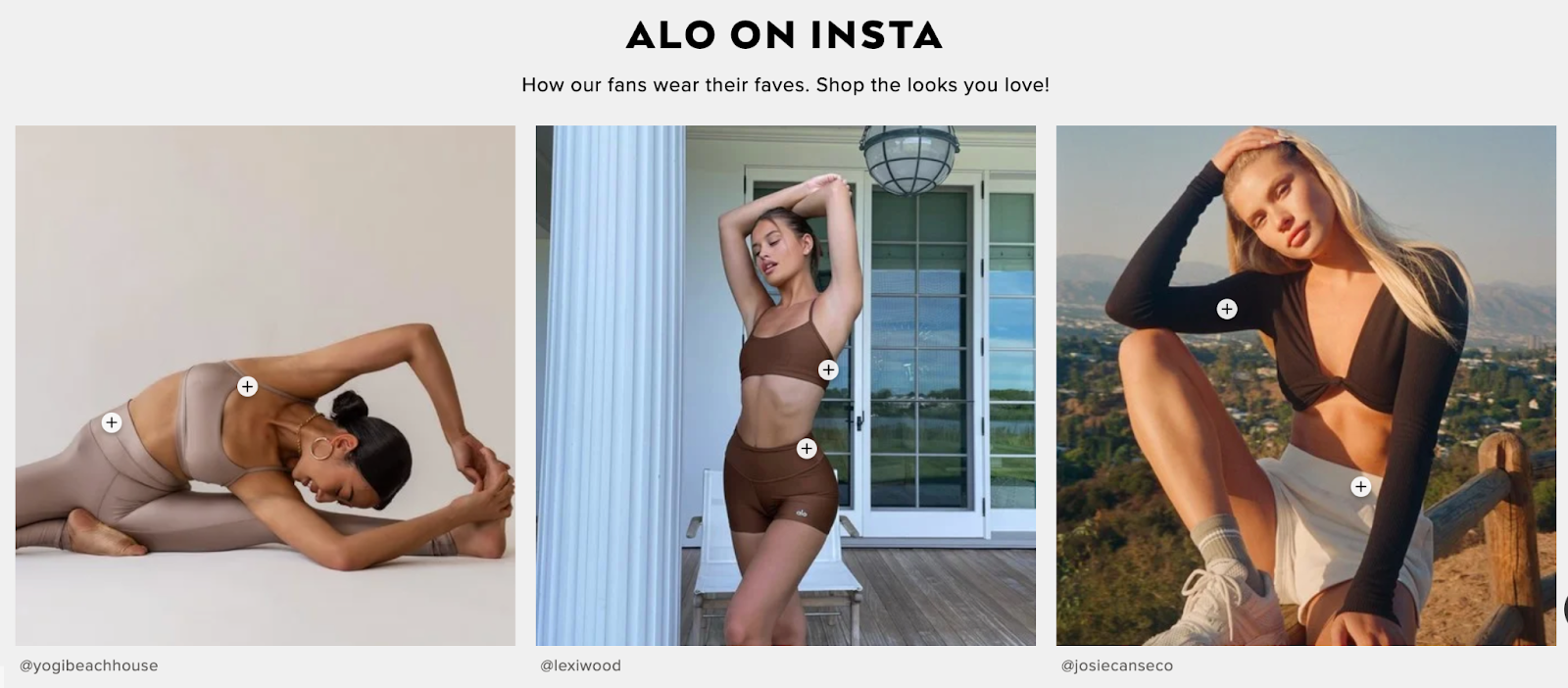 They also nudge customers to share their own photos of Alo products by showing posts that are meant to inspire them to post too: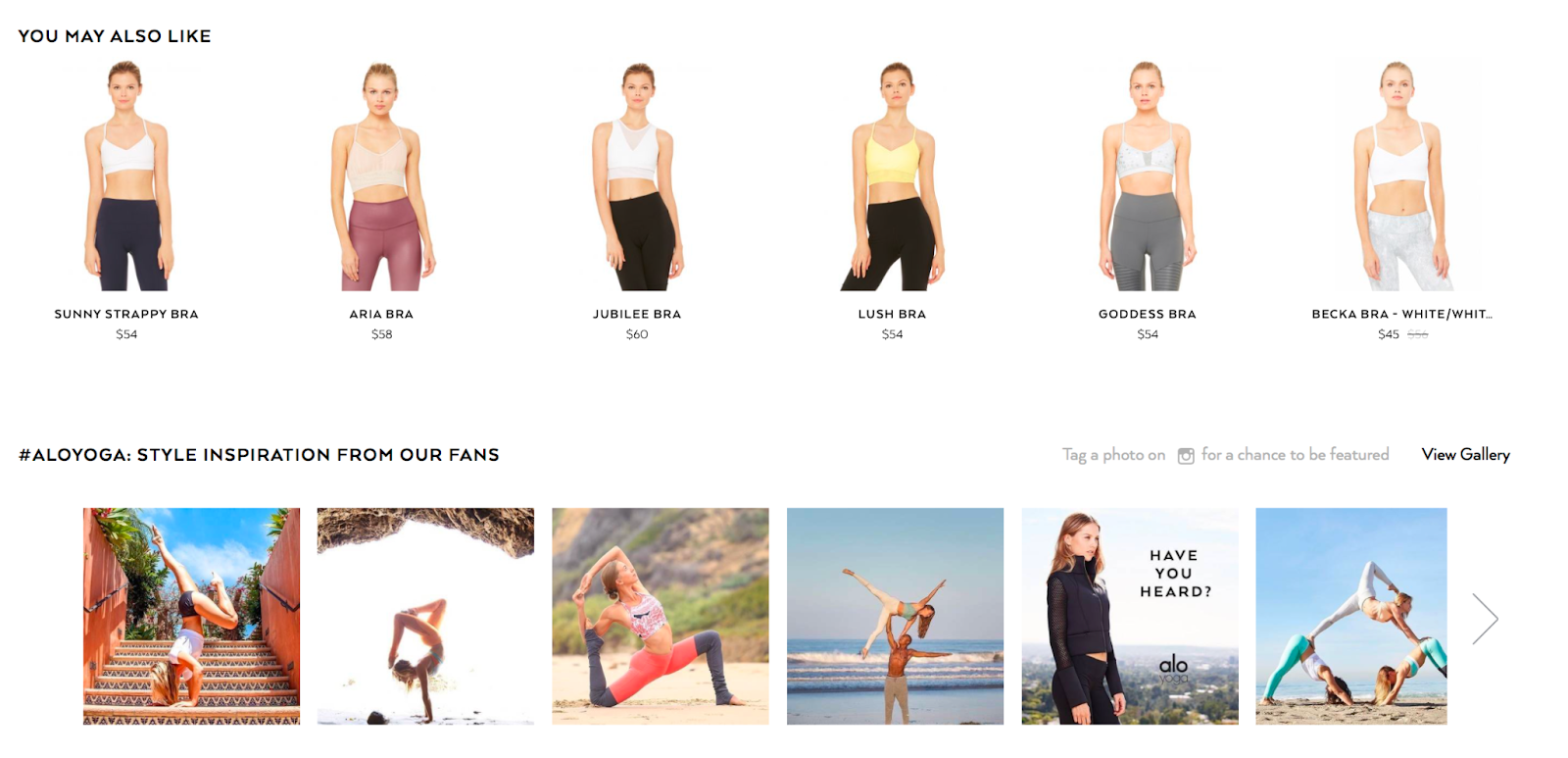 4. Creating personalized experiences for visitors
Alo Yoga puts a big emphasis on website personalization. This helps adjust their marketing messages to each individual customer.
Let's take a look at the different ways that Alo Yoga uses a personal touch on their website.
First of all, they use location-based personalization. As soon as new visitors land on the site, they'll see a sticky bar that's customized based on their location:

As they browse further down the homepage, they'll see all the prices converted into their country's currency:

Anytime a visitor navigates beyond the homepage of a website, it shows they're interested in the brand and want to get to know it better. This is the perfect time to show a popup that offers a discount in exchange for signing up for an email newsletter.
Alo Yoga's lead generation popup offers a 10% discount in exchange for a newsletter subscription. They also use a question ("what are you shopping for?") which helps them personalize content further down the sales funnel.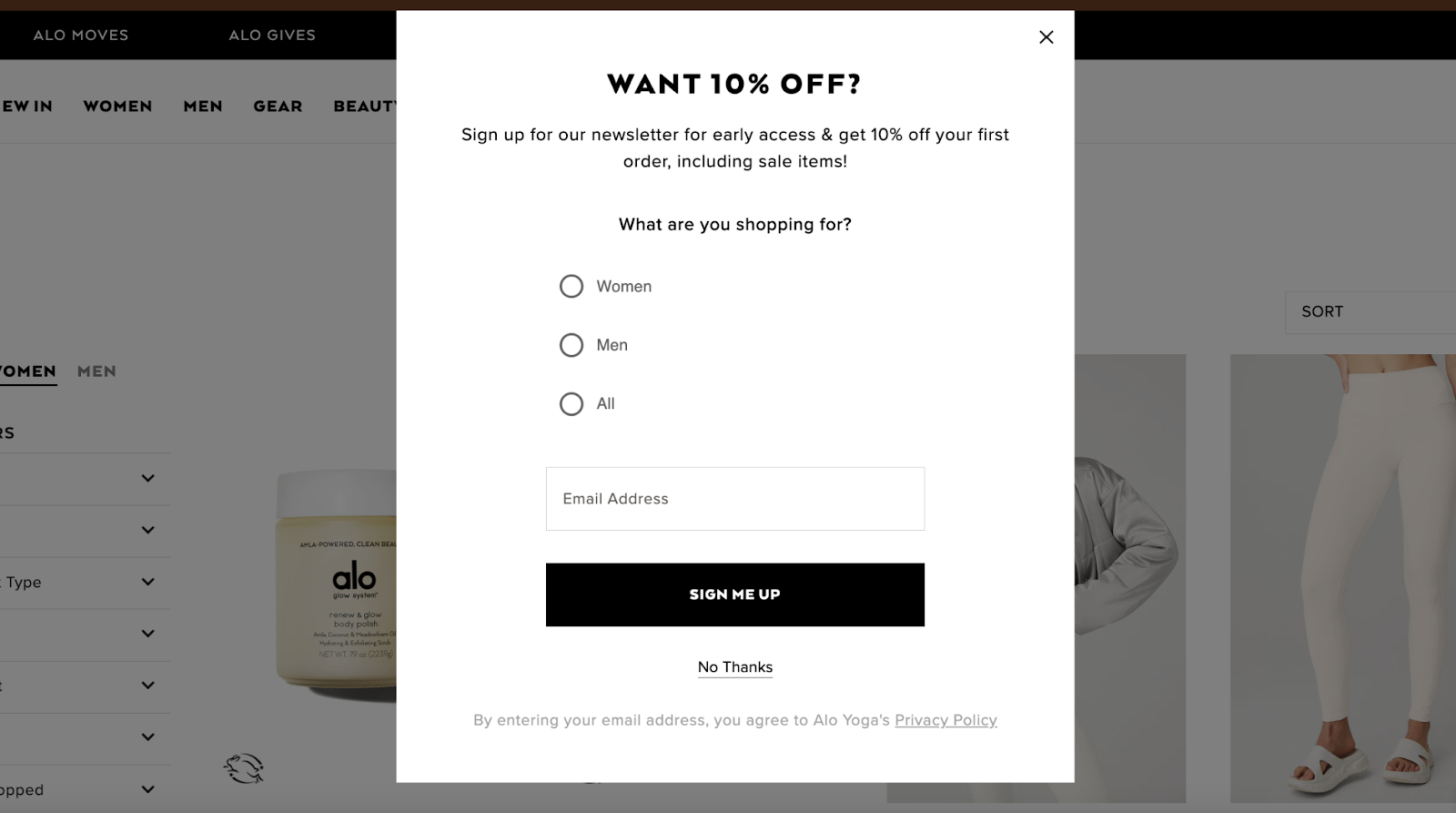 Once you get to the product pages, you'll find personalized product recommendations based on the product you're looking at. Promoting similar items gives the consumer a chance to see some extra options.

However, they also have a "you may also like" section that features products from the same collection. This keeps the recommendations in the same category, but shows some products that are quite different and might pique some interest.

Once you add your product to the cart, you'll see more product recommendations that complement the product in your cart: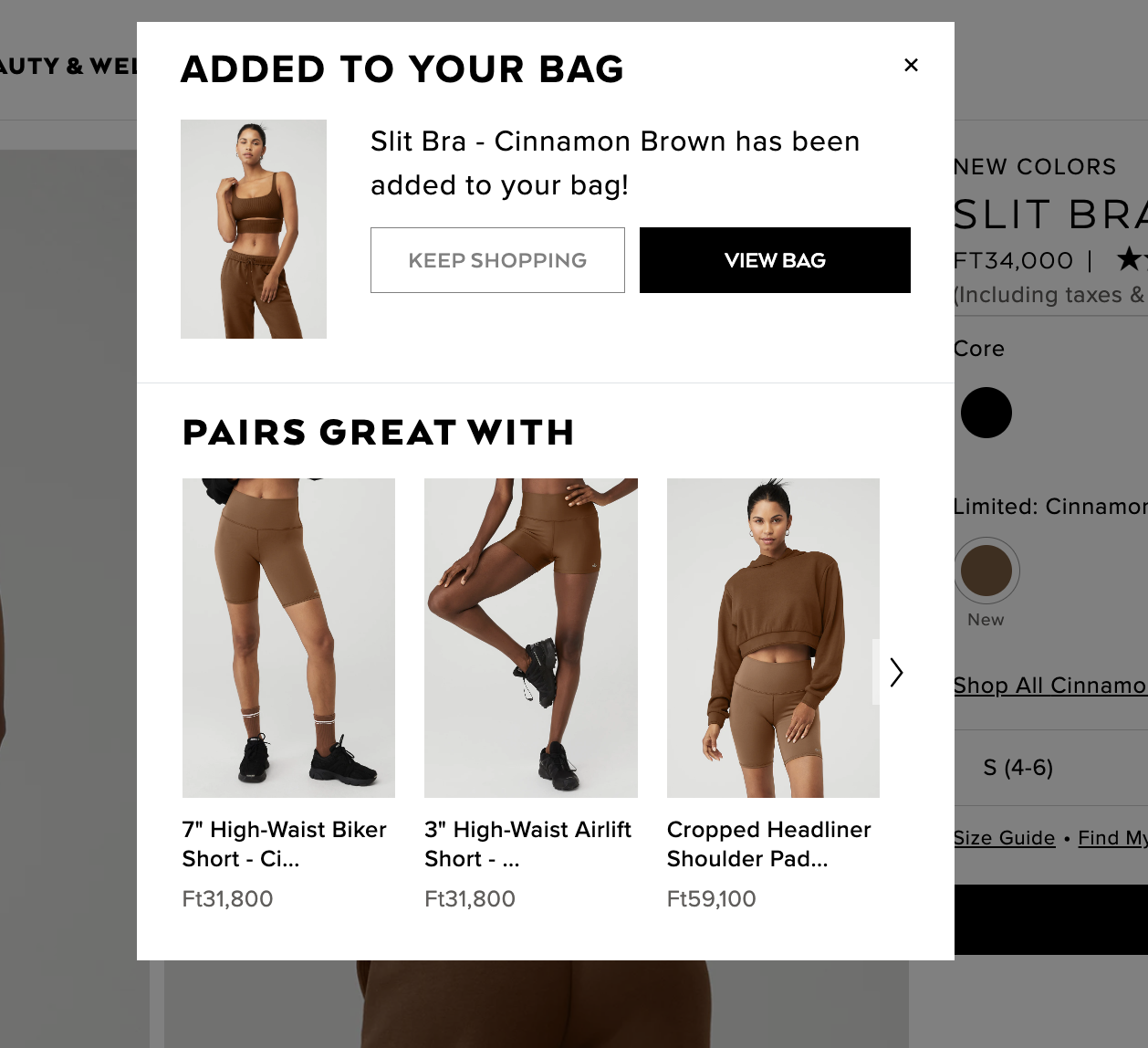 Finally, on the cart page you'll find even more product recommendations. Seeing all these options while shopping helps customers get to know your brand deeply without a lot of effort.
It also encourages customers to purchase more than one item during their visit, which helps increase average order value.

And, as a final touch, they personalize the checkout process based on customer location:

5. Creating awareness with ads
Alo Yoga uses a number of advertising strategies to bring traffic to their site.
They generate search traffic using branded ads that show up on the front page of searches that contain relevant keywords.

This includes running search ads on results for their competitors: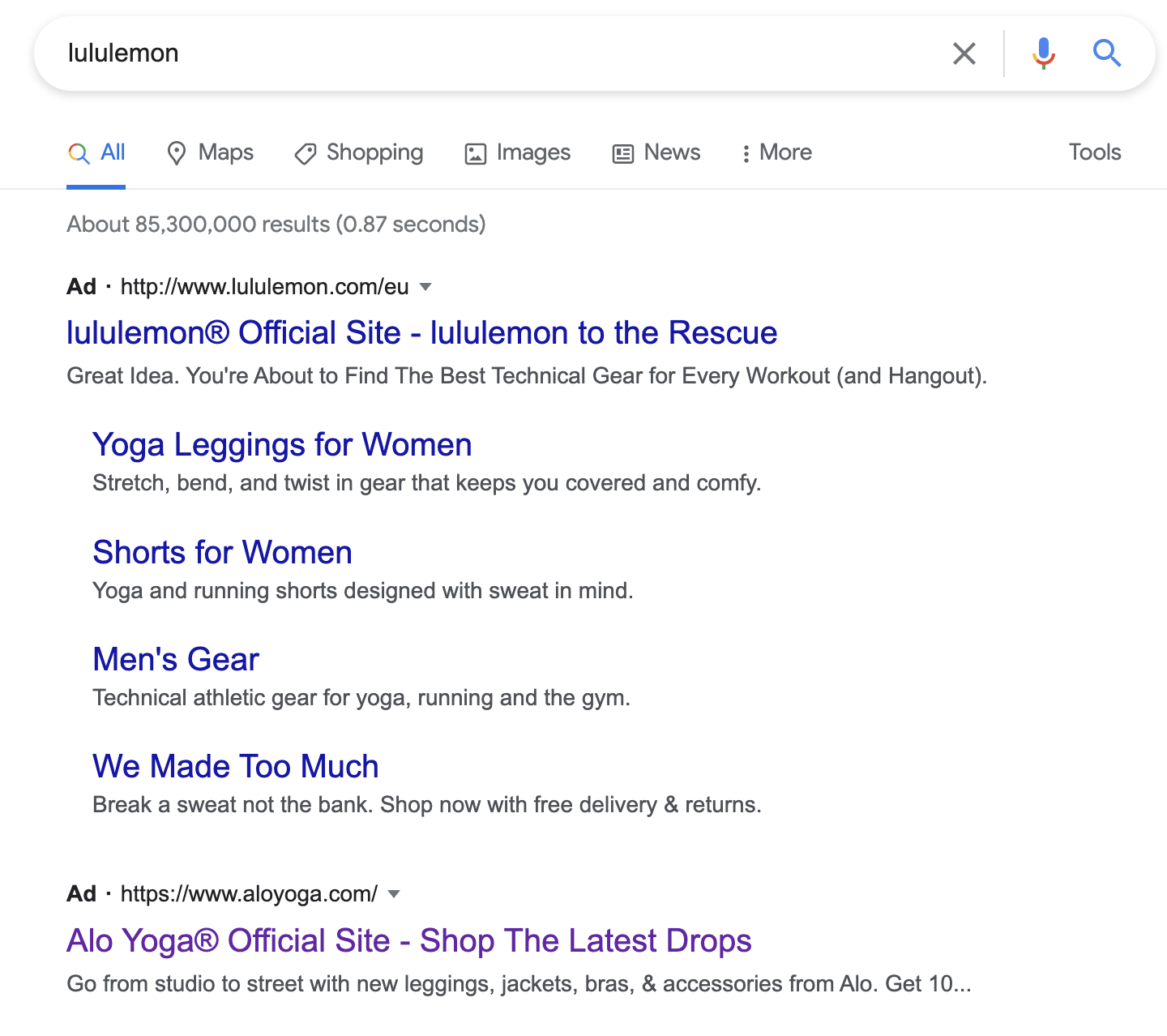 They also run social media ads on Facebook.
Alo Yoga's ads feature large images that show off their products. Some of their ads use the same user-generated aesthetics discussed above. This helps users connect with the brand on an emotional level.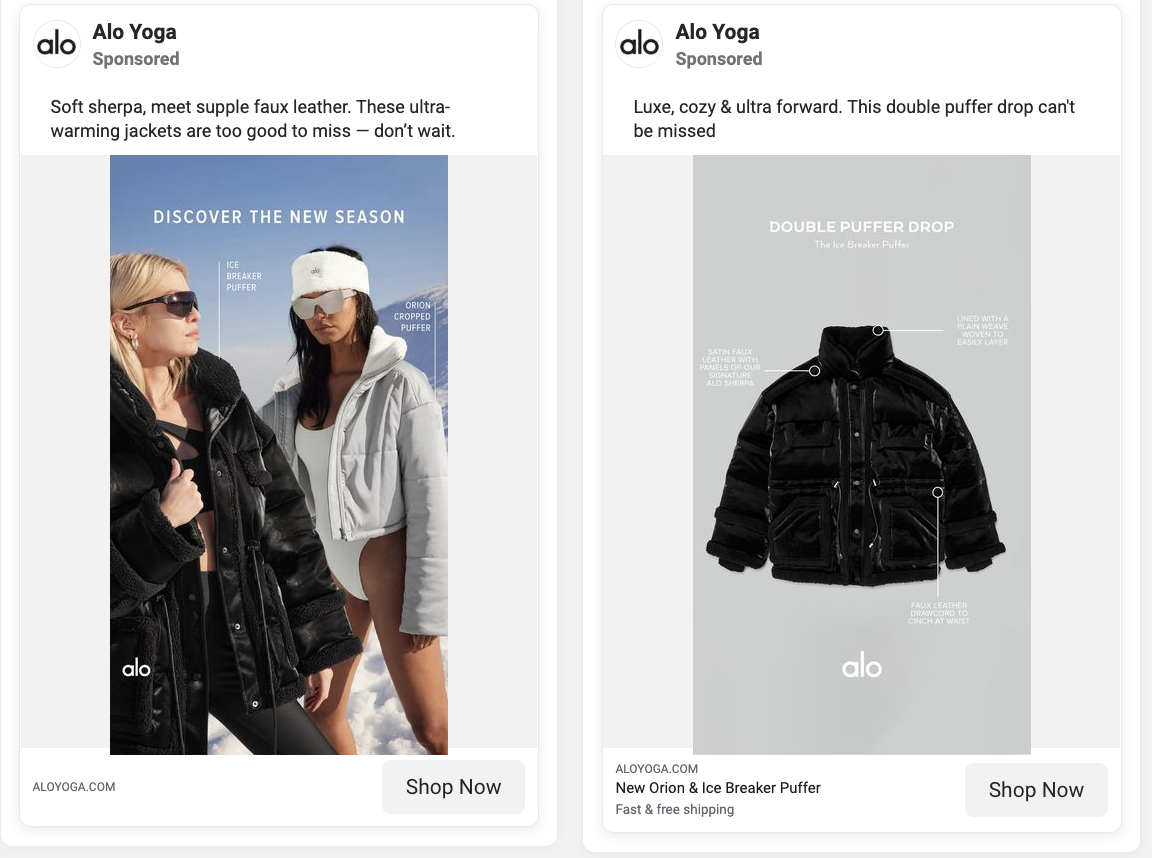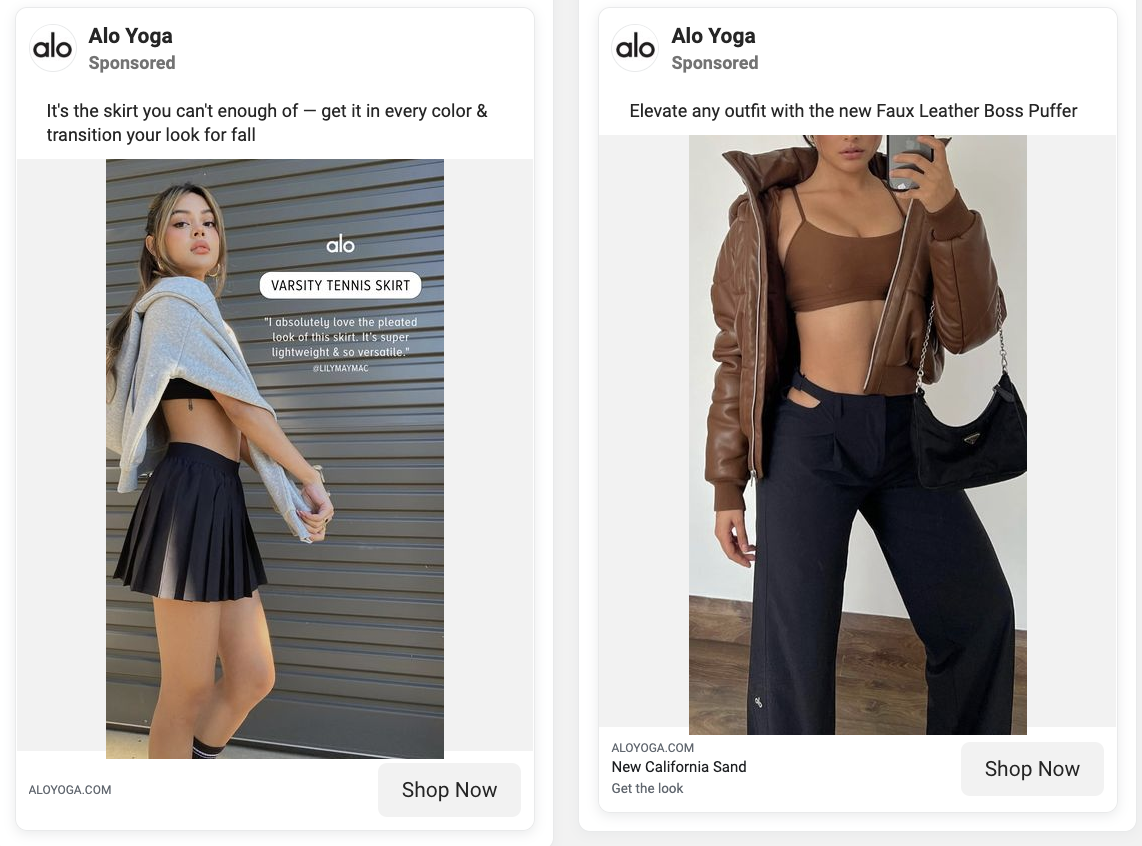 This Alo Yoga marketing breakdown has shown some real-life examples of innovative practices you can learn from, like using earned media from their social channels on their site or implementing advanced website personalization.
The company continues to grow as a result of their strong branding and excellent word of mouth… both online and at local yoga classes.
What do you think of Alo Yoga's marketing strategy? Are there any other brands in the fitness and wellness space that do a great job with marketing? Let us know in the comments!