Anyone who owns or runs an e-commerce site, whether large or small, knows the importance of customer feedback. Equally well-known is the difficulty involved in generating quality customer feedback.
As the saying goes, "For every customer who bothers to complain, 20 other customers remain silent." Unless the experience is really bad, customers usually don't bother to share feedback about an experience that didn't meet their expectations. Instead, they decide never to do business with the service provider again. That's a high price to pay for lost feedback.
The lost customer is not the only casualty. Studies have shown that each dissatisfied customer typically shares the unsatisfactory experience with 8 to 10 (sometimes even 20) others. With the growing use of social media, it's not uncommon for negative feedback to go viral and hurt the credibility of a brand.
To address this challenge, companies are finding new ways to engage customers and seek responses. Let's look at some very effective ways of getting quality customer feedback.
1. Provide Proactive Live Chat Support
According to a survey, 44 percent of online shoppers feel the best feature an e-commerce website can have is a live chat.
Live chat can address many issues. For example, it can help customers who are unable to locate the items they seek, or answer questions about availability, payment, shipping, etc.
Chat support can help a company get closer to its customers by better understanding their needs and challenges. It also helps identify patterns if there are any recurring issues and helps find long-term solutions for those issues.
Online services such as Zopim let you introduce live chats on your website. As with other types of feedback, the quality of your response plays a critical role in achieving optimum results. You should do your best to make sure all customer questions are addressed promptly and with helpful information for your customer.
You can increase the efficiency of your online chat by making it proactive: set the live chat window to appear whenever a customer has been reading a page for a long time, for example 20 seconds. According to statistics, proactively displaying the chat window can increase the number of chats by up to 300%.
2. Get Feedback on Live Chat Session
Just like e-mail surveys, surveys which are sent after you close a ticket in a customer support portal, you can seek feedback after a live chat session has closed. This feedback can include basic questions about whether the chat experience was helpful. This helps you rate the effectiveness of your chat-support personnel. In the case of an unsatisfactory response, prompt action can help you win the customer's trust.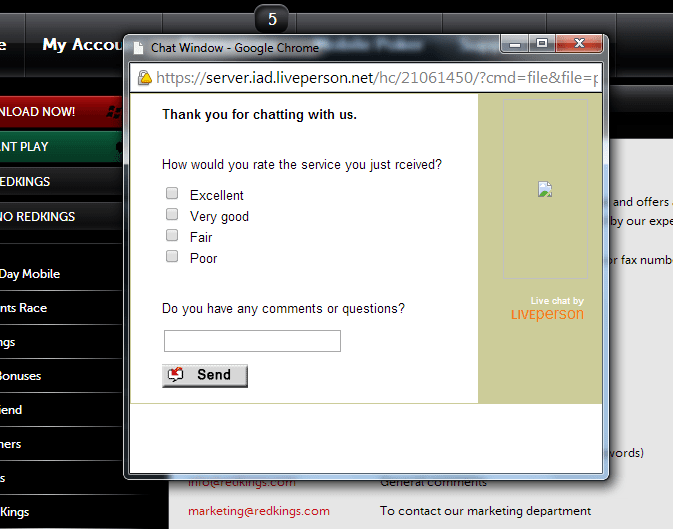 3. Provide Dedicated Feedback Forms on Your Site
Provide at least a dedicated feedback email—for example, feedback@xyz.com. If there are any complaints, customers can communicate their grievances through this email. This remains one of the most effective methods of generating feedback. According to a survey, 54% of online shoppers preferred this method of interacting with customer service.
You can take this one step further by providing a dedicated feedback form, placed prominently on your website. As a best practice, the forms should include all relevant questions related to feedback, but should not be too long. Whenever possible, provide customers with multiple options. For greater impact, the email address for feedback or the feedback form should be highly visible on the website.
When you use a dedicated email for feedback or a feedback form on your site, you can track feedback using a ticket management system. Both options require an autoresponder email to be sent to your customer. The auto-responder should explain what happens next, and should indicate the amount of time needed for resolution.
4. Measure Your Customer Service Performance
Send out an email survey when a complaint ticket is closed. The aim of this survey is to determine whether the resolution is in accordance with the customer's expectations.
Such surveys work well when there are only a few questions. A simple option is to provide your customers the option to rate their experience on a scale of 1 to 5. Over time, these ratings can reveal valuable trends.
Another example is a series of questions that allow yes or no responses. A negative response prompts further questions seeking details about how the situation could have been better resolved.
5. Call Your Customers Regularly
Calling customers is a highly personalized way to seek customer feedback. This method is proactive, and generates the best responses.
The advantage of this method is that you get firsthand feedback, straight from the customer. Moreover, hearing your customer's voice and tone provides an opportunity to sense their satisfaction. The key here is that the personnel making the call should come across as genuinely wanting to help or benefit the customer, and not as someone conducting a mere formality or a sales call. When executed well, it strengthens the customer relationship and makes your customers feel valued.
To get the most out of this method, contact customers at appropriate times. Studies have shown that customers are more likely to respond between 8am and 9am and between 4pm and 5pm. Lunchtime, between 1pm and 2pm is the absolute worst time to call.
This method is effort-intensive, and so you should reserve it for high-potential customers or customers with a long-standing relationship.
6. Use Email Surveys For New Customers
One of the best parts about eamil surveys is that you can seek information on the entire shopping experience, from search to shipment. It is a must for new shoppers. You should send out this survey within 3 to 5 days of order confirmation. Repeat customers should not receive the survey after every purchase, as they may get annoyed. You can use tools such as SurveyMonkey to send out these surveys.
The survey could seek customer feedback on the following aspects:
Motivation for choosing the store – price, availability, free shipping, order in search engine ranking, etc.
Method used to find the store – search engine, customer referral, social media site, comparison site, blog post, local listing, other online ads, etc.
Feedback on product/service – quality, price, availability, others.
Overall service experience – website navigation, ease-of-use, availability, customer service experience, delivery time, quality of communication, and other suggestions for improvement.
One key thing to keep in mind here is that feedback must appear to be for customer satisfaction and not cross-selling. Negative comments, if any, should be resolved ASAP to win customer loyalty and avoid any negative word-of-mouth. You can share positive feedback on the website, as that makes the customer feel valued.

Source: signalvnoise.com/posts/3390-zingermans-simple-email-survey
7. Monitor Social Channels
Social media sites such as Facebook, Twitter, LinkedIn, etc. can be an invaluable resource for customer feedback. A variety of tools are available that help in "social listening," or gathering conversations on social media about a brand. Some tools even help monitor the social presence of your competitors. Just as other methods do, social listening provides a great opportunity for you to improve your customer experience and quickly respond to any issue that might arise.
Time plays a very important role in handling complaints on social media, as negative comments spread rapidly. This makes it vital that you address the issue promptly, and try to ease the customer's angst.
Social listening requires dedicated resources to monitor and respond to feedback. Many companies use a combination of in-house and third-party staff, along with a variety of tools such as HootSuite, Klout, Social Mention, etc.
8. Ask For Feedback On Order Confirmation Page
Your order confirmation page is ideal for seeking feedback about a customer's online shopping experience. Questions should address whether customers faced any difficulty in navigating the website and reaching the desired product/category, whether they were happy with the options available, etc.
Questions should be multiple-choice, and should be kept as brief as possible. Along with multiple-choice questions, it's important to have a general text box for other comments. This feedback can be a useful source of information and play a critical role in improving your website's usability.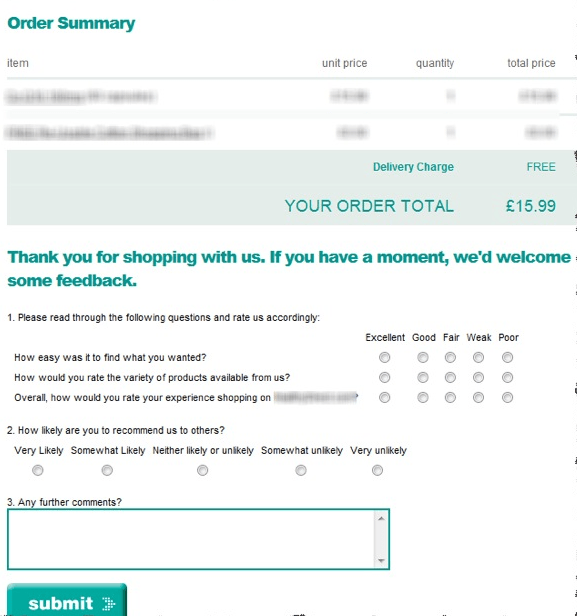 Source:
Econsultancy.com/blog/9134-best-practices-for-e-commerce-consumer-surveys
9. Use Polls
Polls can be an effective way of seeking feedback due to their user-friendliness. You can conduct polls on your website, via newsletter, or through emails. Tools such as Polldaddy and SurveyMonkey are available for this purpose. You can also conduct polling through social media websites.
Polls play an important role in identifying trends which can help you make business decisions. For example, before a holiday season, a poll can reveal trends on what customers are likely to buy, which helps in stocking.
10. Ask Feedback When Your Visitor Tries To Abandon His Cart
Based on a study conducted by Baymard Institute, e-commerce sites face an abandonment rate of approximately 68 percent. Customer feedback at this stage plays a key role in improving conversions. A popup with a small text box lets customers explain why they did not proceed to the checkout. Alternatively, you can give customers a multiple-choice option to share their reason for abandonment.
Some response options include a) unexpected/added costs at checkout stage, b) got a better deal at another site, c) process taking long, d) delivery options don't suit requirements, and so on. This pop up should provide the customer an option (either an email link or a phone number) to contact customer service.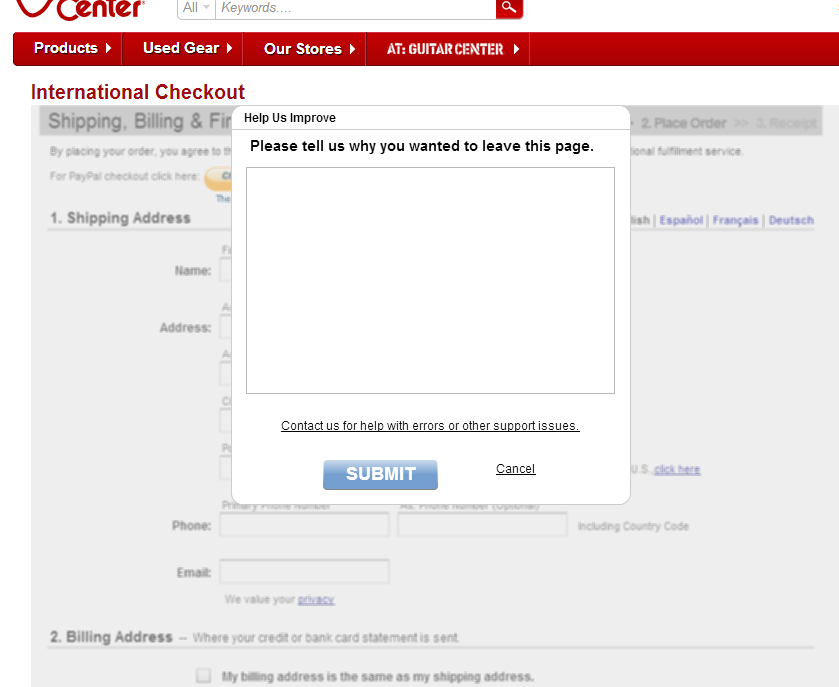 Guitarcenter.com
11. Create an Online Community
Creating a forum or community on your website or on a social network can generate excellent feedback. This method is easy to implement, but requires continuous monitoring and a full-time moderator. The moderator's responsibilities include starting new discussions, moderating discussions, posting and updating regularly, responding to feedbacks, and so on.
This method increases user engagement and strengthens relationships with the customer. It can also provide some excellent feedback and new ideas. A key theme of this method is engagement.
Tools such as Get Satisfaction and UserVoice help build communities and facilitate discussion between customers and businesses.
You can encourage and incentivize users to share their experiences, or even pictures and videos. For example, the homepage of Bebe.com has pictures of customers wearing the merchandise purchased from their site.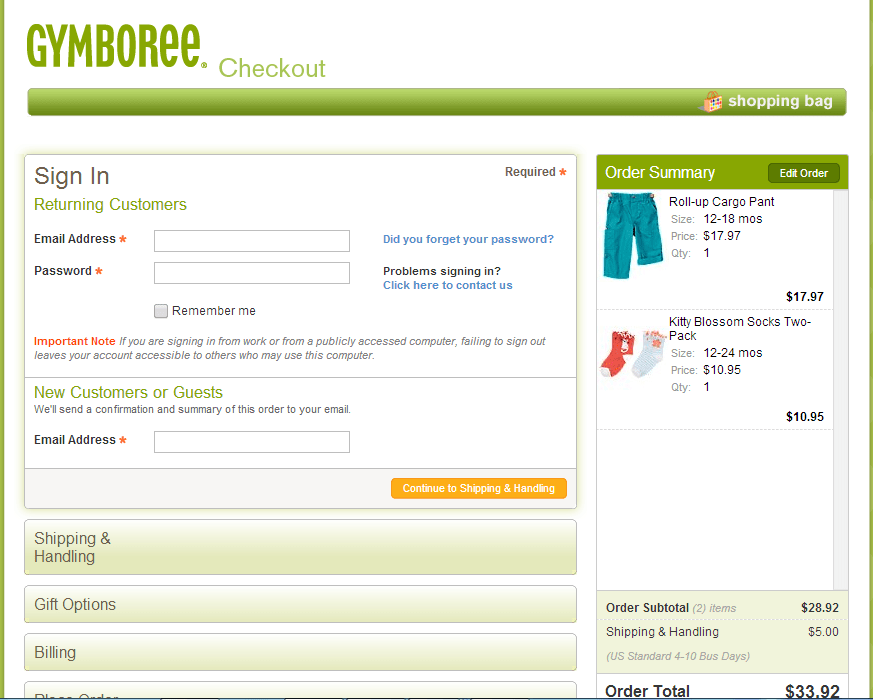 12. Monitor Feedback on Other Sites
An excellent source of feedback is on other websites, such as online communities, blogs, local listings, and so on. If your customers are not happy with the resolution to a negative experience, they are likely to vent their ire on these forums.
Examples of tools include Trackur, which tracks conversations about a brand on all platforms. Yext lets you manage local listings, including monitoring reviews and ratings. Another good tool is Google Alerts, which not only lets you monitor reviews, but also provides information on feedback about competitors.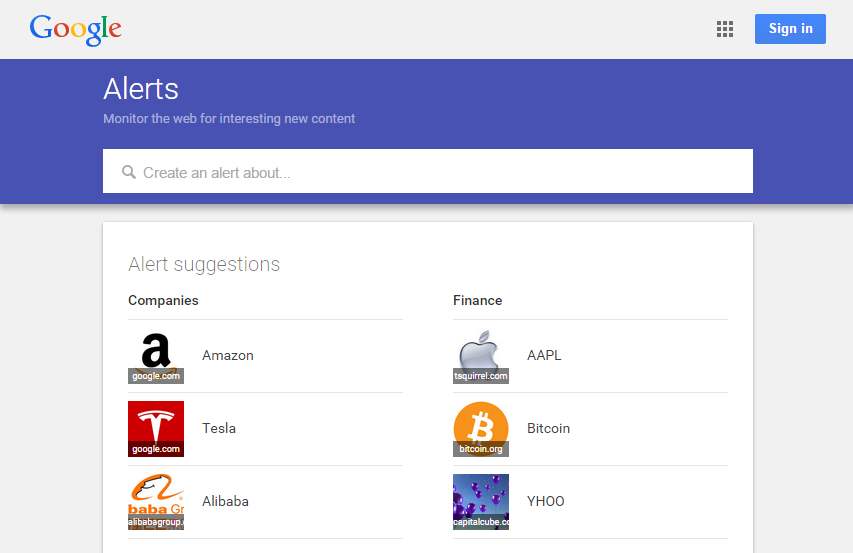 13. Display Positive Customer Feedback
Displaying customer feedback on your website has numerous advantages. First, it serves as motivation and recognition for the customers who have shared feedback, and makes them feel more valued. Another key advantage is that it encourages other customers to provide feedback, because they see that it will not go unattended.
Studies show people are encouraged by the behavior of others, and once they see others acting in a certain way, they feel confident to behave that way, as well. This is equally true for feedback. If customers see more and more people sharing feedback, they are more likely to share their experience.
Reviews should appear genuine, with the customer's full name and organization or location, if available. Some companies resort to fake reviews, but customers are intelligent enough to differentiate between real and fake reviews.
14. Humanize Your Online Store
Most e-commerce sites end up looking the same, and they look rather impersonal. To solve this problem, ecommerce site owners need to give their site a personal, "human" touch. This not only improves conversions, but also increases feedback, since customers feel they are talking to a real person and not a website.
One way to do this is to increase the personality element on the website. Companies can choose either a real person or a fictional character to symbolize the brand. For example, BobbiBrown.com has the full story of Bobbi, with her preferences, her vision, etc. This way the company develops an intimacy with the customer, and therefore customer will be more forthright when giving a feedback.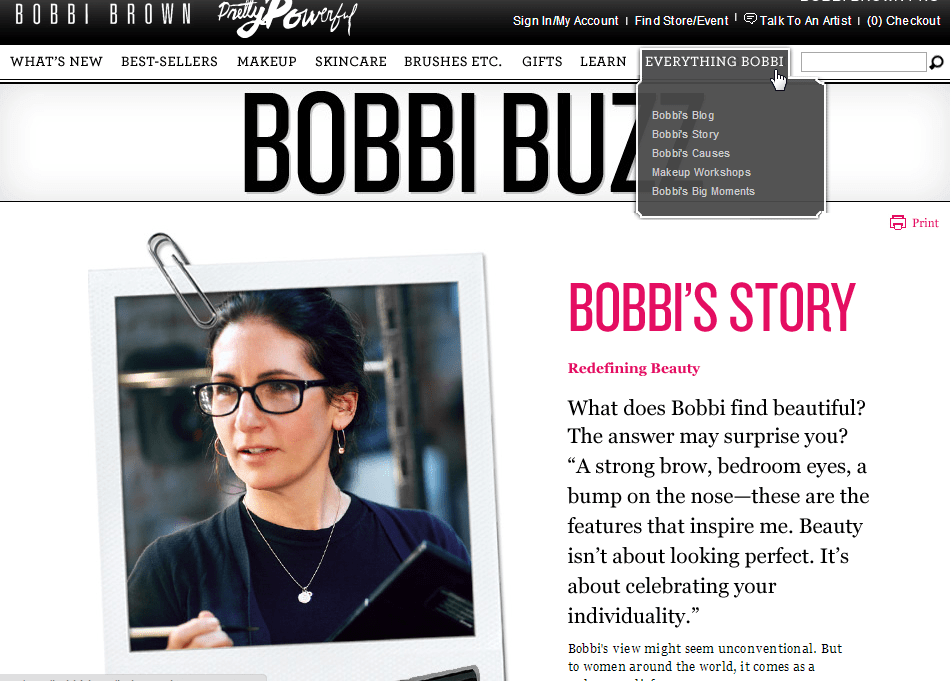 15. Ask Feedback in Return For a Prize or Gift
Typically, it is very difficult to generate positive feedback. The customer is more likely to send feedback after an unpleasant experience. You can solve this problem can by giving out gifts to customers for sending feedback. Gifts can include free shipping, discounts on future purchases, free samples, gift cards, contests, etc. The prize should be valuable for the customer rather than a cross-sell tactic.
One of the few risks you face with this method is that customers may see this as a "bribe" to encourage positive feedback. You can negate this risk by keeping the tone of the e-mail or survey as a genuine effort to improve customer service.
16. Use negative feedback to showcase professionalism
Even the worst feedback can be used to your advantage. Every business will have its share of disgruntled customers, but that doesn't mean you can't rectify the situation while demonstrating your problem-solving skills.
To handle a bad review, start by apologizing and responding respectfully. From there, try and diffuse the situation by removing the interaction from whatever platform it's off.
Example: "Hi [customer name], we're so sorry about your bad experience. If you're open to it, we'd love for you to directly contact us at [company email address] so we can get more feedback and make it up to you." Responding in this manner will show that you prioritize customer service.
17. In-App feedback
In-app customer feedback gives you insight into how your customers actually use your product. Intercom.io offers a great solution to help you reach out to the right users for feedback. It works by letting you identify certain segments of users, like "users last visit more than seven days", then enables you to push messages and engage in conversation with them.
Furthermore, solutions like Intercom give you the ability to treat customers like humans. You no longer have to rely on robotic auto-responders that have ticket numbers and offer no personalization or context. You can reach out to customers on a first name basis, based on specific actions they are taking inside your website or app.
18. Facebook reactions
Facebook recently released five new ways that people can interact with content beyond the traditional like, comment, and share buttons by introducing Reactions, which include: love, haha, wow, sad and angry.
For brands, these new Reactions offer opportunities to engage more with customers and get fast, simple and fun feedback about an available product, and even gathering opinion about your upcoming products and services. Also usually the comment section will be active, since high percentage of customers will accompany their reaction with a written opinion.
Conclusion
Collecting customer feedback has to be an integral part of your business process. Getting negative and positive feedbacks are equally important. Fortunately there are lots of tools you can use to generate feedback. Hopefully these methods will help give you some ideas on how to get quality customer feedback on your site.
So how are you going to collect customer feedback? Let us know in the comments!
(Note: Would you like to learn how to monetize your abandoning traffic using onsite retargeting? Click here and download our free eBook that contains over 100 pages of tips and best practices for engaging and reengaging your customers, and boosting the sales on your site with onsite retargeting.)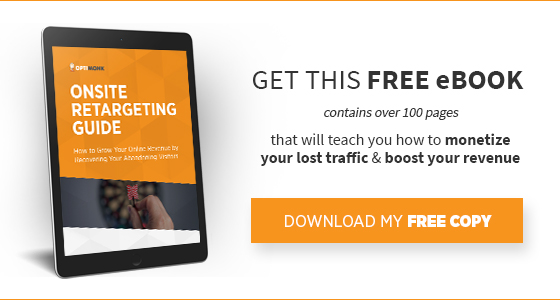 Editor's Note: This post was originally published on March 30, 2015 and has been updated for accuracy and comprehensiveness.