If there's one thing that ecommerce owners hate, it's their cart abandonment rate! Baymard Institute reports an average cart abandonment rate drawn from the top 31 sources of online ecommerce data including some big players such as IBM and Forrester Research. Their results show that the average cart abdandoment rate is a shocking 68%.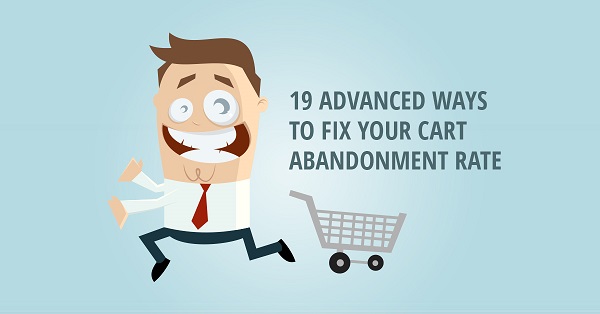 A little less than 7 out of 10 people simply leave your site when they have something in their cart and are almost to the finish line!
In this post we'll show you 19 advanced ways to keep people on your site moving towards checkout. Hopefully with a few tips, you won't hate your cart abandonment rate.
1. Get credible – Show security badges and help info next to checkout buttons
People like to know that they're buying from a reputable source. You can help build trust with your customers by showing a 3rd party security badge.
Many people want to know that there's support there when they need it, whether or not they actually make the call.
A big part of keeping people in checkout is showing you are a credible store. Put your security logos and help icons in your cart view.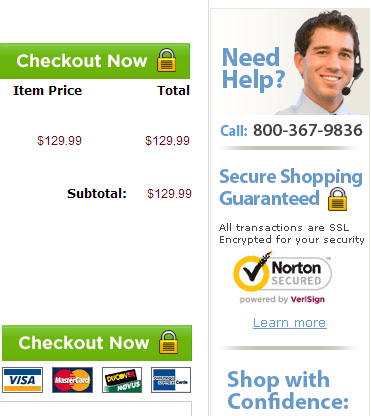 Smarthome.com
2. Only a click or call away – Show customer support contact info
Like seeing a support link, showing your contact info shows you are there for your customers. Many sites are worried about too many phone calls.
The only problem with too many phone calls is too many sales…and that's a good problem to have!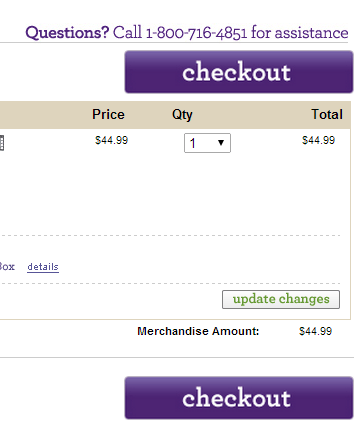 1-800flowers.com
3. When will I get it? – Show delivery date at cart and during checkout if possible
People on your site want to know when they'll receive their products or services. Don't leave your visitors guessing or searching for delivery costs or timeframes. Guess what? When they go searching for your delivery terms, they may need to leave the cart…and they may never come back!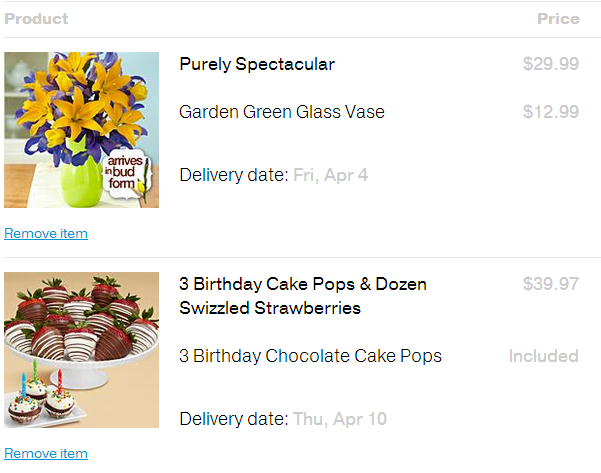 Proflowers.com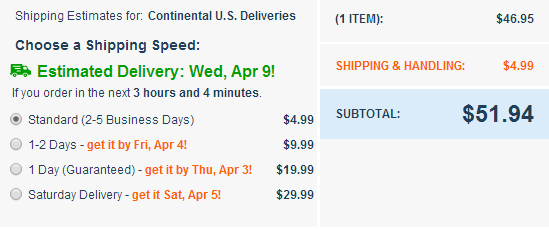 SwimOutlet.com
4. Short Supply – Buy Now! – Show Stock availability and use urgency
When something is in demand, people are more interested. This is a natural law of negotiation you can use to your advantage to keep people in their cart.
You can assure people that an item is in stock, while also telling them to act soon while supplies last!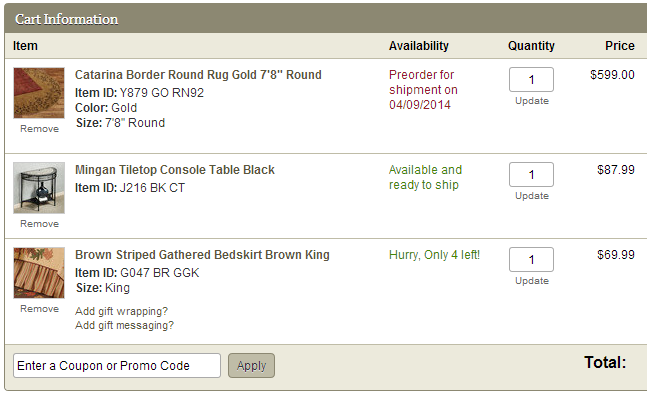 TouchofClass.com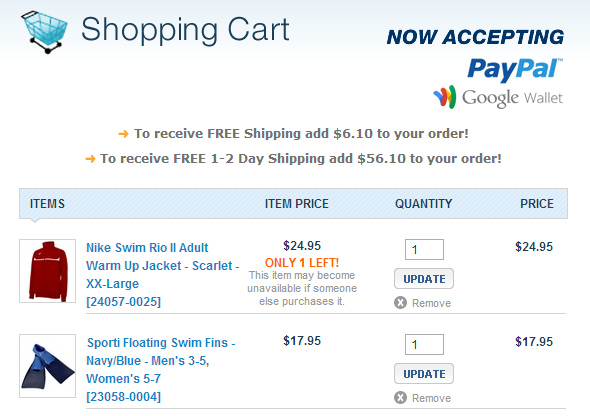 SwimOutlet.com
5. Delete the X button – Let people move products to their wish list or favorites instead of deleting
Let people move products out of the cart without deleting them. It's a more positive interaction. When someone deletes an item, sometimes they reconsider the full order.
Give your visitors an easy way to drop a few items but keep the positive momentum going to checkout.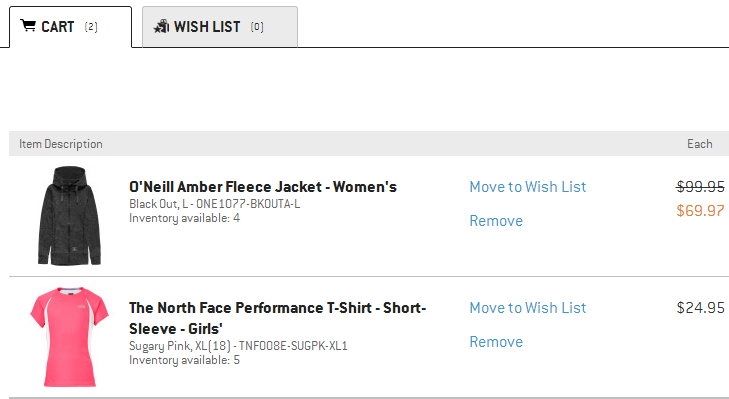 Backcountry.com
6. The difference of a dollar – Use a currency converter for international shoppers
Not everyone knows what a dollar equals in their local currency, and your currency may not easily translate to a dollar, a pound, or franc!
Use a currency converter and cut out the confusion for your visitors. When they know the price without having to check, they can keep moving towards checkout.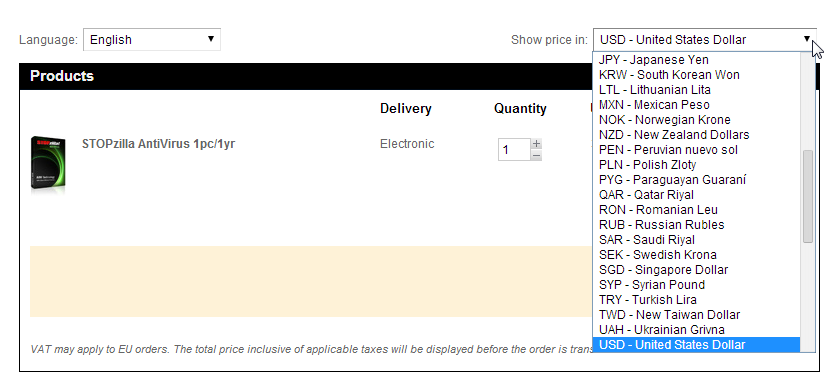 STOPzillla.com.
7. Got some bucks dude? – Feature Paypal or BillMeLater payment method if available
While PayPal and BillMeLater or PayPal Credit may seem a little hip with their advertising, they are truly the standard for online payments. Many shoppers will simply not shop at a site without the option to pay by PayPal.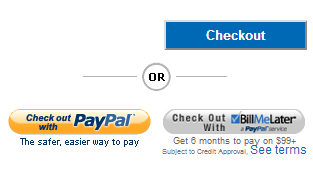 Kleargear.com
8. How much does it really cost? – Show shipping costs and taxes as soon as possible
Just like delivery time estimates, show any shipping costs and taxes clearly to your shoppers. When they need to check somewhere else on your site, they step out of the checkout process. Keep people stepping forward by clearly showing all prices in the cart.
Don't surprise shoppers with a different total number at the last minute.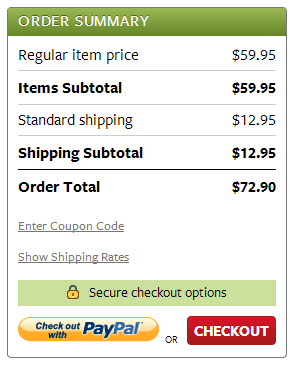 HarrryandDavid.com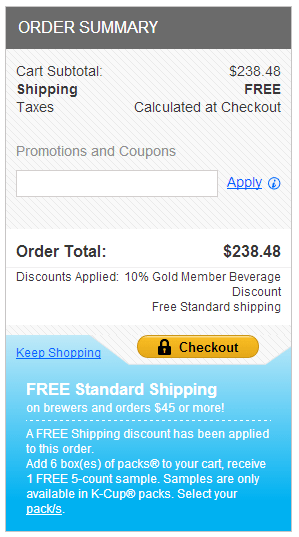 Keurig.com
9. Go Global! – Communicate International delivery if you sell internationally
The power of ecommerce is in numbers. The more countries you ship to, the greater possible number of customers you have. Make sure the costs work for your business, and offer international shipping options.
Many ecommerce owners think: why would anyone overseas want to buy my products when they can buy some locally? Take pride in your store and remember you have a unique offer or a unique approach. There are people all over the world who prefer one approach to another, make sure you give them the chance to prefer yours!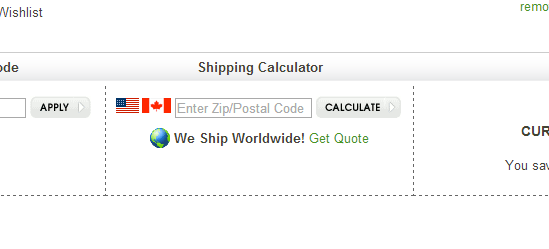 Evo.com
10. People love getting a deal – Show discounts in your cart view
Make sure any deals, applied discounts, or sale prices are reflected in the cart for your visitors. This keeps the positive feeling of making a purchase moving forward.
Like showing supply levels, this can also help your customers feel a sense of urgency, they want to grab that deal before it's gone!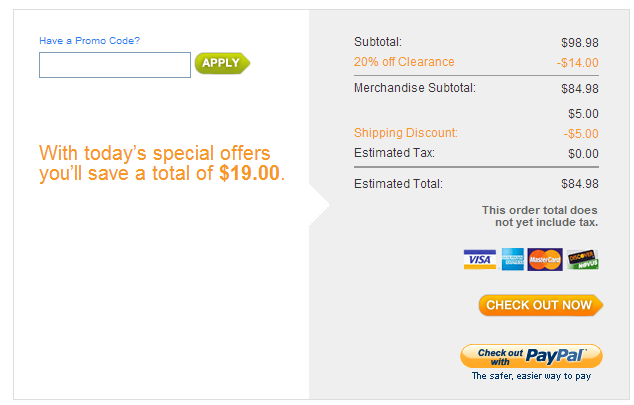 PGeStore.com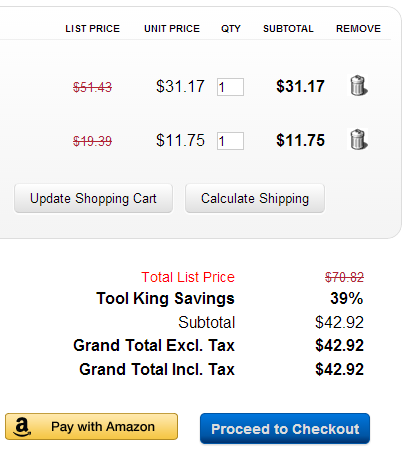 ToolKing.com
11. Hurry, order now! – Communicate limited time offers
When you really want to step up the urgency, showcase a limited time offer in the cart. Combining this with a discount really pulls people towards the finish line.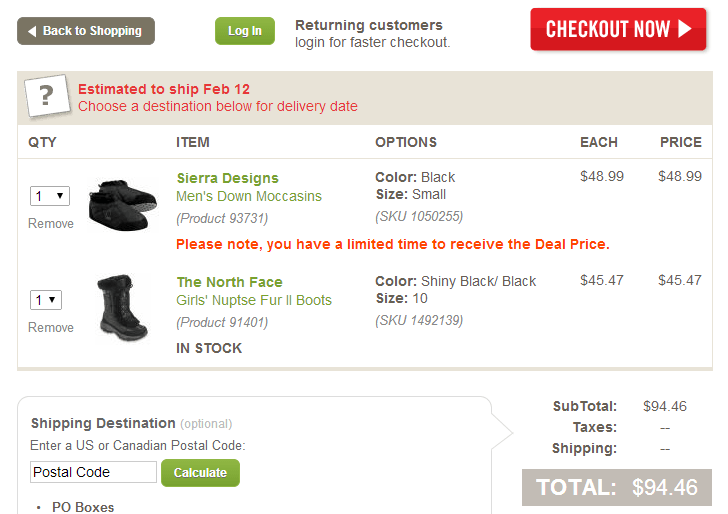 Altrec.com
12. The clock is ticking! – Discount deadlines and countdown timers
Another way to highlight limited time offers is to have a countdown timer which is displaying for the product…right in the cart view!

Ruelala.com
13. Give people a little something extra – If you have loyalty system, show it
For stores that have a rewards points system or loyalty program in place, make it clear that a purchase also earns these rewards.
Instead of a discount, it's a bonus, and everyone likes a little something extra.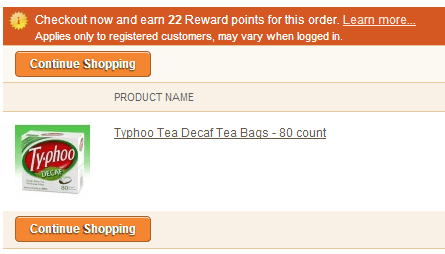 EnglishTeaStore.com
14. Spread the word – Let your visitors email cart items
What's better than getting a deal? Telling people about it. People love their friends and family to know that they are savvy shoppers.
Increasingly commerce is a way for people to show their shared interests. Put a 'share to email' link in the cart view. Once someone tells someone that they'll buy something, it's a little more certain they actually will!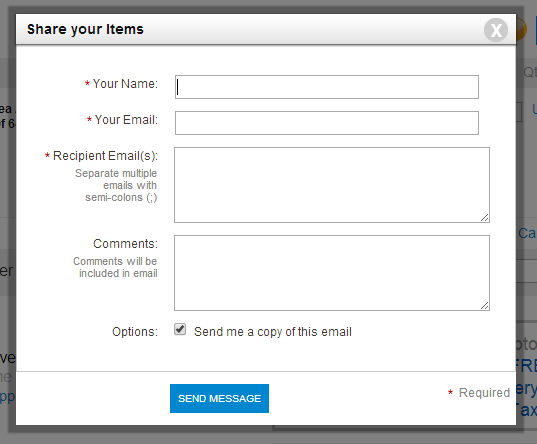 OfficeDepot.com
15. Save it for later – Allow customers to save their cart
Perhaps someone shopping on your site receives a phone call about an urgent matter right as they are checking out. Give them the chance to save their cart so they can return and continue their purchase.
A cart worth saving is often a cart worth returning to complete checkout for! The option to save also allows people to easily keep any options on products they've set.
Saving carts streamlines the checkout process the next time around.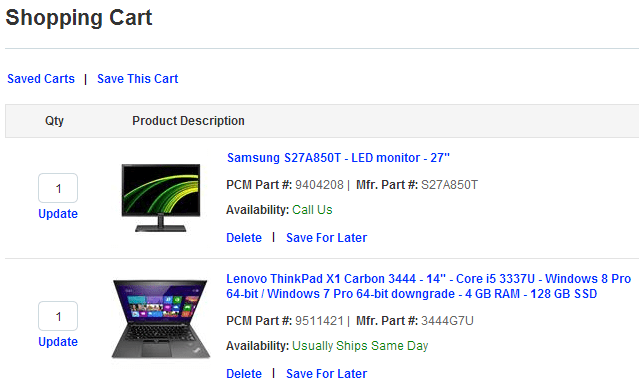 PCM.com
16. Do you have a low price guarantee? If yes, communicate it!
We know that people like to get a deal and tell people about it. A lowest price guarantee gives your visitors further confidence that they are getting the best deal.

SkyMall.com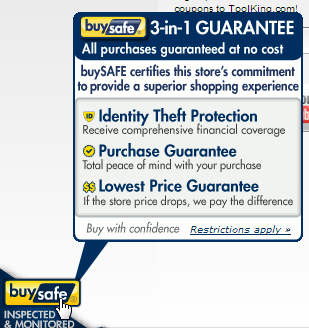 ToolKing.com
17. We'll make it right – Communicate a fair warranty and return policy
Just like people want to know whether support is available before a purchase, they also want to know whether there is a warranty or refund policy in case something goes wrong.
You can build more trust with your visitors by clearly showing your warranty information and return policy in the cart view. This is one more piece of information people don't need to go looking for on your site, everything is right there so your shoppers can keep on moving towards checkout with confidence.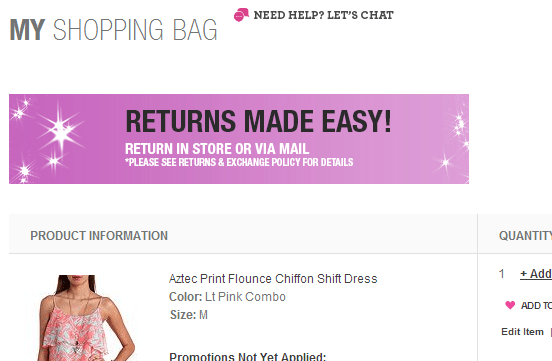 CharlotteRusse.com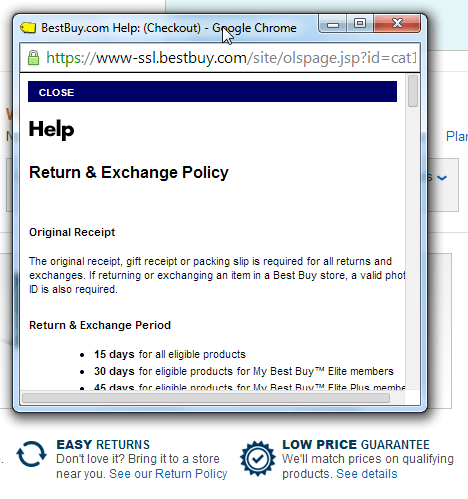 BestBuy.com
18. Retarget and Remind – Use exit-intent popups with special offers and countdown timers
Onsite retargeting tools, like our platform OptiMonk, are great for keeping people in their cart. Onsite retargeting tools work by detecting when someone is going to leave your site. This is called exit-intent and can also mean your visitors are leaving their cart.
With OptiMonk, you can setup a special offer for people who are leaving their cart.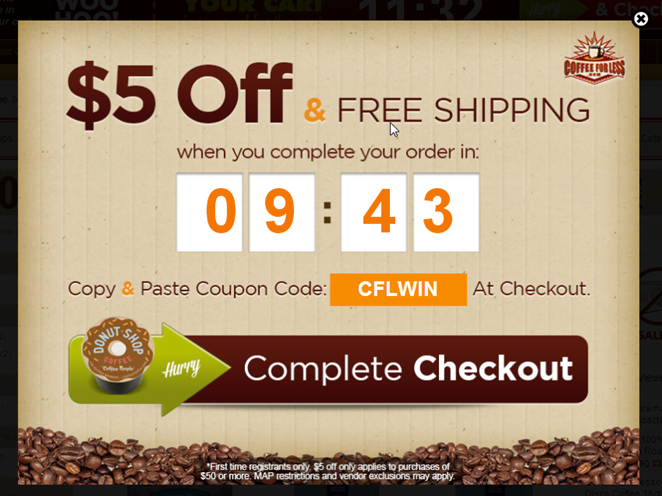 19. Send follow-up emails
When someone has an account with your site, or you collect their email address from a form on your site or through a tool like OptiMonk, send them a follow-up message to encourage their purchase decision.
They might not make a purchase right away, however they could on another day!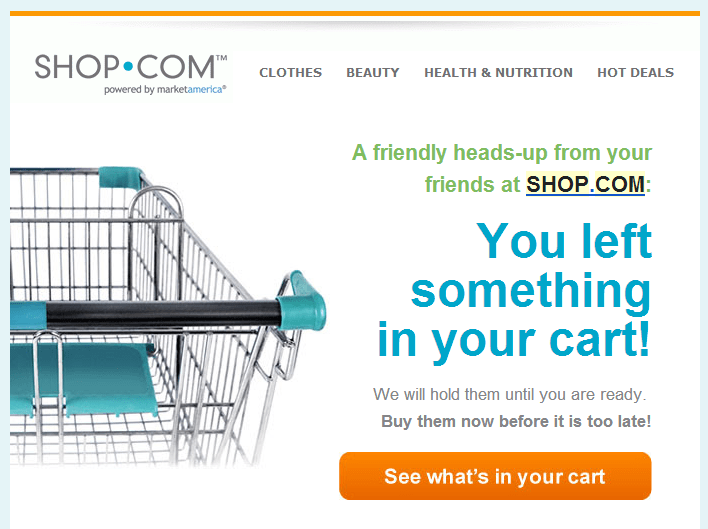 Summary
Don't hate your cart abandonment rate, show your checkout process a little love! By using these tips, you can keep people moving towards checkout.
With traffic becoming harder to get these days, it helps to make sure you are converting on the traffic you pay for.
Reducing your cart abandonment rate is one of the secrets to ecommerce success. These 19 tips will help you achieve greater success and sales.
Which of these tips are you going to use to reduce your cart abandonment rate?