Direct-to-consumer (DTC) marketing is not a new trend in the marketing world. It's actually older than you might think, and with the right techniques and strategies, it can be quite profitable.
While other forms of marketing engagements such as C2C, B2C, and B2B employ a form of intermediary and bridge, DTC marketing gives a brand avenues to sell directly to the consumer and develop a direct relationship with them.
In 2021, the DTC market was expected to reach about $20 billion in sales worldwide, with more traditional retailers aiming to start using DTC strategies. These numbers show that this form of marketing is incredibly valuable and here to stay. 
In this article, we'll highlight the main ingredients behind the recent successes of DTC brands and share some examples who've utilized these strategies.
Success in the DTC marketing space is defined by strategy. So it's possible to adjust your company's strategy and increase profitability simply by studying this guide. 
What is direct-to-consumer marketing?
Direct-to-consumer marketing is a business-to-client relationship devoid of third-party involvement. It involves brands directly relating with consumers beginning at the awareness stage and all the way through to sales and retention. 
Traditional brands that don't have a DTC marketing strategy usually use middlemen at these stages and focus on production and management. Although this approach has its advantages, it leaves the brands in the dark regarding their consumers and highly dependent on the middlemen. 
A DTC marketing strategy can help brands collect more accurate consumer data: things like conversion rates, the effectiveness of advertising efforts, and customer retention, which can all help build brand awareness.
Although this method depends largely on how well a brand can handle sales and marketing, its success rate and ROI are high compared to the risks involved.
To stay on the winning end of the food chain, it's important to study great direct-to-consumer brands and learn from their DTC approach and strategies.
What sets DTC apart from other forms of marketing?
In the past, traditional brands did lots of offline marketing and attracted a pool of local consumers with whom they maintained direct relationships.
They used traditional distribution channels to build brand loyalty and instill a sense of trust, safety, and assurance for these consumers. 
In doing so, they were able to attract new customers by word of mouth. Other marketing tactics were born to support this, but this traditional form appeals to primal human fears.
Brands discovered that many consumers were afraid of getting bad products and wary about trying new products from sources they didn't trust. 
DTC eradicates the need for middlemen and focuses on marketing directly to the consumer. It operates at a slow buildup compared to B2C, but has much better consumer retention. 
8 DTC marketing strategies
Now, let's take a look at some specific DTC marketing strategies used by consumer brands.
1. Polish your brand identity
One of the best ways to create a great impression with your customers is to craft a likable, relatable brand identity. Ensure your brand image is consistent across all brand materials, from pitch deck templates to your website, packaging, and even your newsletters. Aim for a simple, memorable design.
Consider how Haus stands out with unique packaging and brand messaging that's consistent across all platforms.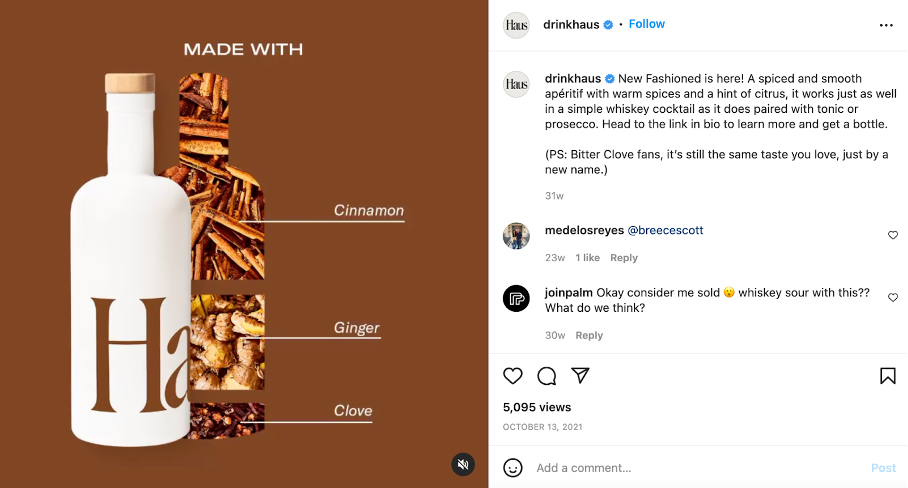 2. Influencer marketing
This is a form of social media marketing that works very well for DTC brands. 
Rather than involve a middleman, many brands employ the services of an influencer or celebrity to publicize them. 
The most important part of influencer marketing is to find an influencer that your target audience trusts, and who shares your brand values. For example, you probably wouldn't want to choose a fitness model as an influencer for a cake brand! 
A good example of effective influencer marketing is Smiledirectclub, who uses health influencers to endorse its products.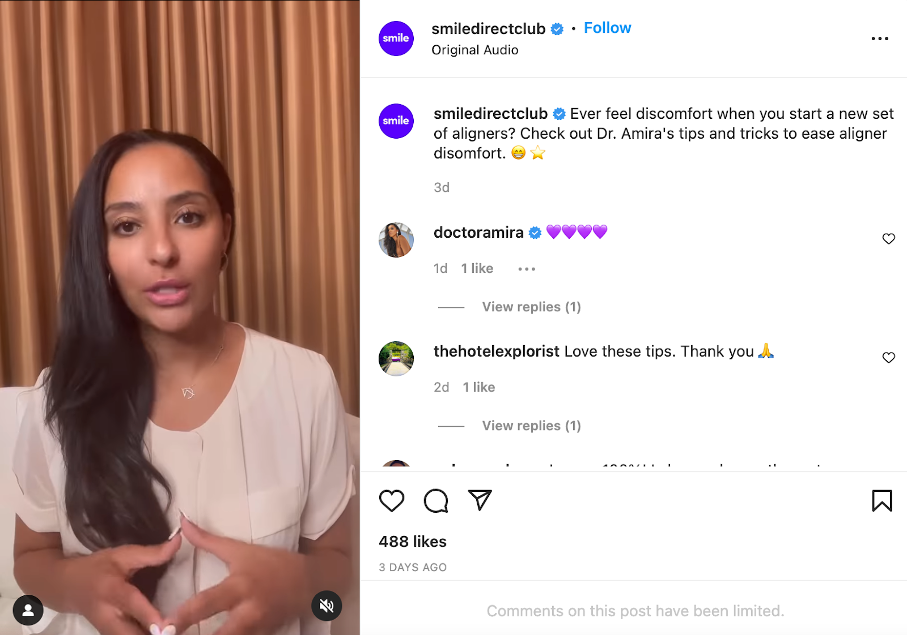 3. Email marketing
Email is still our go-to when it comes to digital communications with corporate brands. 
DTC marketing requires the ability to write compelling newsletters and personalized emails, which will help you build a relationship with your consumers and constantly reinforce your core brand messaging. 
Using data gathered from user-generated content, you should be able to create emails that address the pain points of segments in your audience. To make your emails even more personalized, use software that automates these segmented messages and includes the customer's name to create a sense of intimacy. 
Check out this welcome email from Paula's Choice, which provides customers with all the tools they need to get started on the website. The entire email is a clickable link that takes customers directly to the product page, so they can start shopping immediately.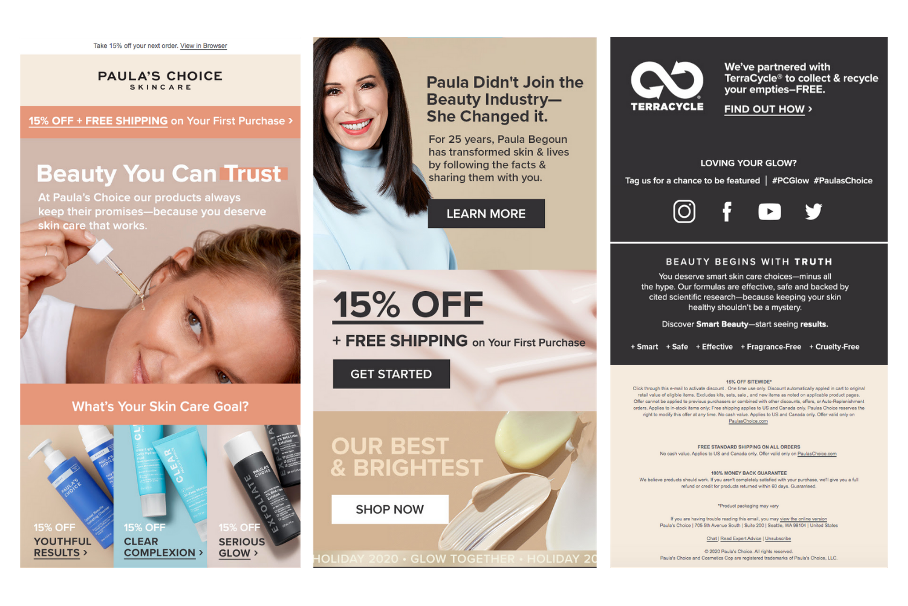 Paula's Choice also provides plenty of information, helping customers navigate their website easily. 
A perfectly-worded message sent at the right time works like magic! 
4. Use traditional marketing
While you might think that everyone does everything online these days, there are some customers that feel suffocated by the barrage of online ads. This is where traditional marketing comes in. 
In fact, brands like Quip are still using TV ads to reach their audiences.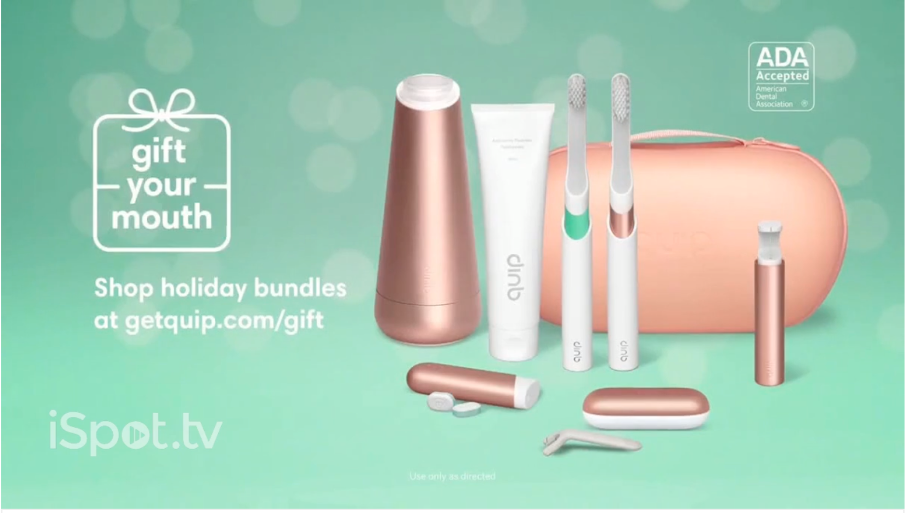 Don't underestimate the power of traditional marketing, and remember that using billboards, postcards, fliers, radio jingles, and television ads can create a strong offline presence to complement your online branding efforts. 
5. Be socially aware
DTC brands such as Youth to the People and Outers generate jaw-dropping revenue by being socially aware.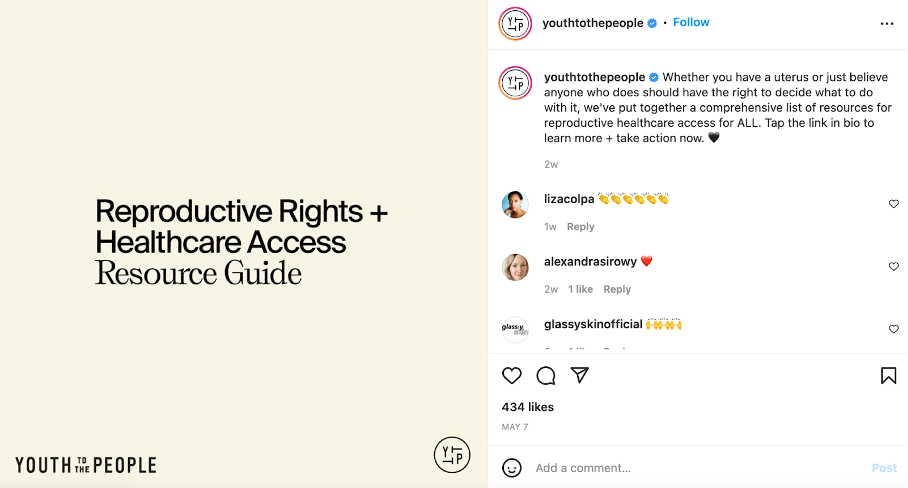 You could base your business on a humanitarian cause, or aim to create a community for global change. Either way, you're sure to make a good profit. 
Today, plenty of people want to have a positive impact without spending too much time, money, or effort— if you can cash in on helping them do this, you'll be set for success.
6. Stay focused on the consumer
Today's customers don't want one-size-fits-all solutions. They want products and services that feel like they were made for them. Product personalization responds to a core consumer desire, and it's how brands like Casper and Warby Parker thrive. 
Start by taking the time to understand your customers' problems and how your products can help solve those problems. Remember that while you might think in terms of a "customer pool," that pool is actually filled with individuals— and you want each one to feel like you're talking to them directly.
In this example, Casper instills trust by offering a generous 100-night test run on their mattresses, showing potential customers that they understand how much sleeping patterns can differ.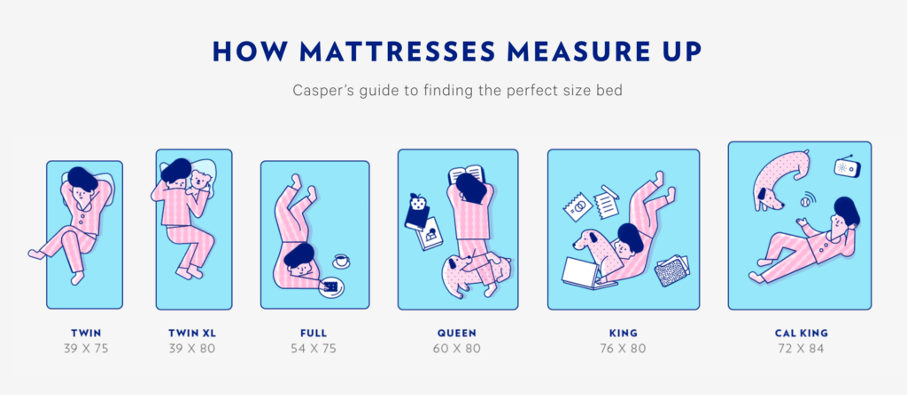 7. Stay consistent
Consumers love consistency. It strengthens your brand identity and makes you recognizable at a glance. 
For most DTC brands that grow by word-of-mouth marketing, inconsistency in messaging or product quality can spell disaster. When brands become inconsistent in style, design, approach, or service, customers don't know what to expect. They don't feel that they can trust you, so they'll simply move on to another brand.
8. Gather data
Want to increase conversion rates and customer retention? Looking to make your digital marketing structure more efficient? Don't neglect the importance of collecting relevant data and analyzing it carefully.
Data analysis is key for any DTC brand that wants to grow. 
Some of the data you'll want to analyze: churn rate, lifetime value, conversion rate, average order value, product margin, net promoter score, and net revenue retention. This data will keep you grounded and growing. 
4 exemplary DTC brands and their strategies
You've probably heard stories of DTC brands that seemingly came out of nowhere and are now dominating their space. The truth is that these success stories were based on strong strategic choices.  
The likes of Everlane, Glossier, Chubbier, and Dollar Shave Club have blossomed over the years, each with a unique and well-implemented strategy. Here are some of today's best DTC brands and the strategies they've used:
1. Warby Parker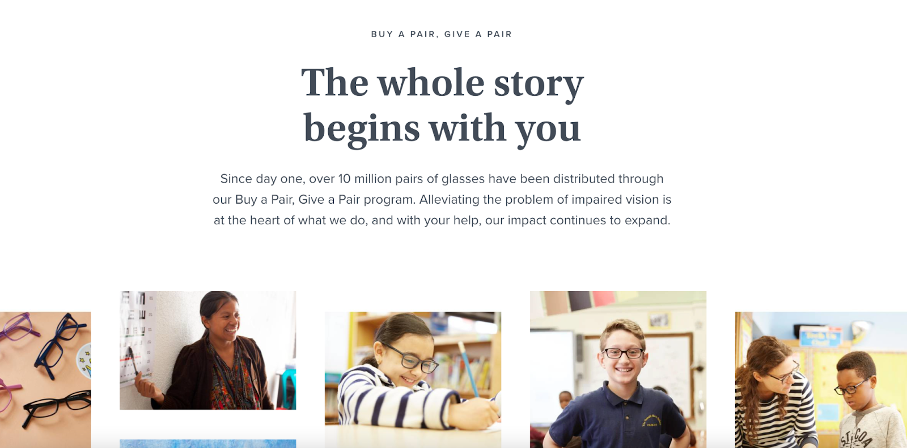 Warby Parker is known as the king of custom services. Using user-generated answers, they can present prospective consumers with an array of eyeglasses suitable for their face shape, personality, and style. This eliminates the need to go through other sources, since customers feel they can find exactly what they're looking for at Warby Parker. And best of all, they can do it right from the comfort of their own home. 
Notably, Warby Parker has recently shifted its focus to brick-and-mortar stores over digital ads in order to attract new customers. 
This DTC brand also appeals to their customers' desire to be part of the solution by donating a free pair of glasses whenever a purchase is made: an initiative that about 74% of consumers believe in strongly. The "buy a pair, give a pair" strategy is brilliant for DTC marketing, as many different audiences respond positively to this kind of social activism. 
2. Dollar Shave Club
Dollar Shave Club is one of the most popular DTC brands, and they changed the game simply through good storytelling and highlighting positive word-of-mouth. 
They cut out the middleman and made their products and services cost effective, which challenged bigger FMCG brands.
Social media marketing and strong offline marketing tactics helped Dollar Shave Club show their consumers that there was a better option when it came to shaving.
3. Casper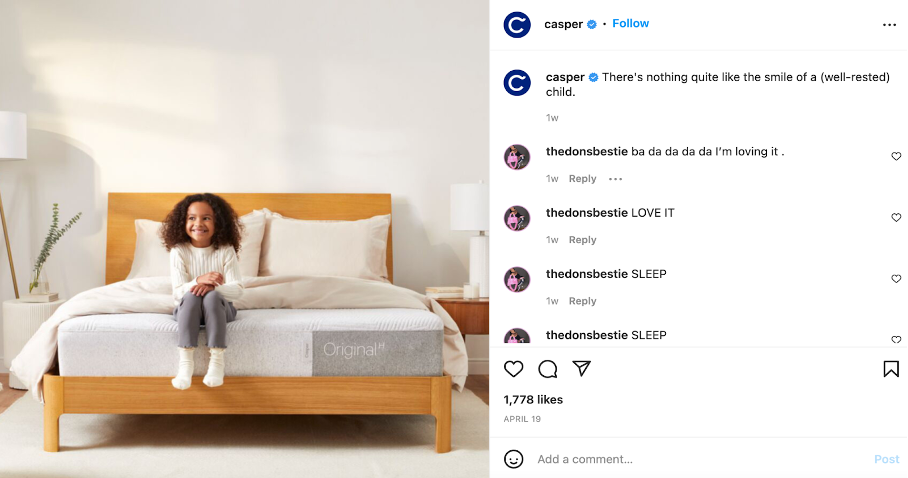 Using social media as a tool (especially Facebook and Instagram), Casper utilized high-quality user-generated content and in-home testing to sell their mattresses in a way that appeals to today's consumers. 
This DTC brand validated its strategy using its strong social media presence, and went on to make millions from it. 
4. Gymshark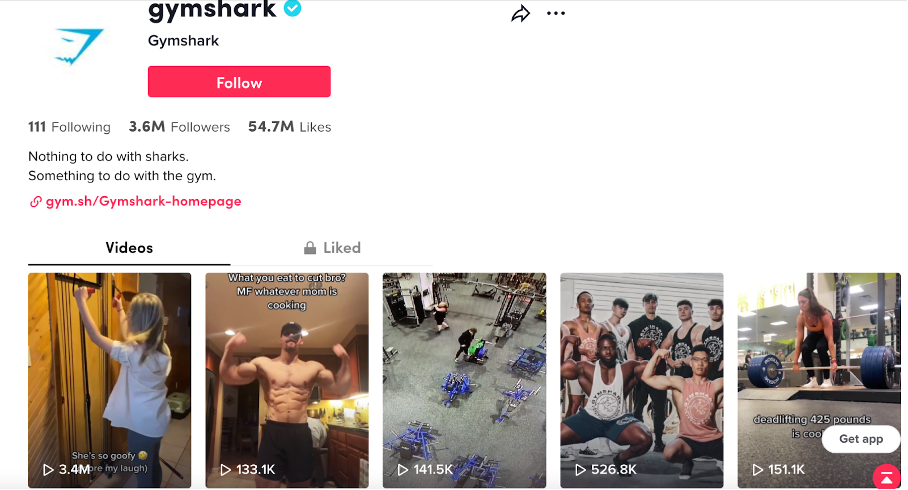 Gymshark may have launched almost a decade ago, but its influencer marketing and social media capitalization strategies have never gone out of style. 
With over 3.6 million followers on TikTok alone, it's clear that they're getting it right with their DTC social media advertising strategy.
If you'd like to learn more about Gymshark's marketing strategy, check out this video: 
Although some of these DTC brands have been around for quite some time, their solid strategies and creativity helped them survive through the years and serve as inspiration to budding DTC brands like Bombas, Organifi, Elvie, Stitch Fix, Nonda, Hyphen Sleep, and many others.
The DTC business model is relatively straightforward, easy to mimic, and profitable.
DTC brands thrive on concepts, creativity, aggressive personalization, and a sense of trust for building brand loyalty. By cutting out the middlemen and implementing a strong DTC marketing plan, you could be the next big DTC brand!