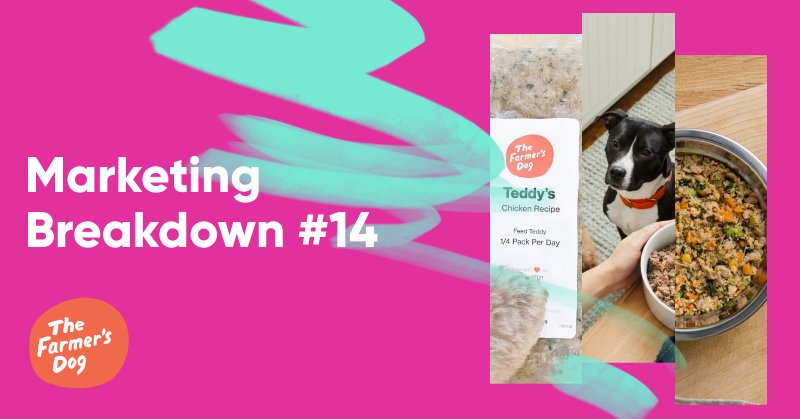 Founded in 2014 by two dog lovers, The Farmer's Dog is a DTC brand that aims to overturn the dog food industry. The founders were "fed up with highly-processed, burnt brown balls being marketed as "natural," so they created their own category of dog food that was very different from what had been available up until that point. 
The website operates as a subscription service, sending freshly-made dog food directly to customers' doors. They have several varieties of food available, and use a survey to help their users decide which type to get and what portion sizes each individual dog needs. 
The Farmer's Dog is now delivering millions of meals monthly, with total funding of over $100M. 
Their search growth shows the rate and consistency with which the brand has grown in recent years: 669% since 2018.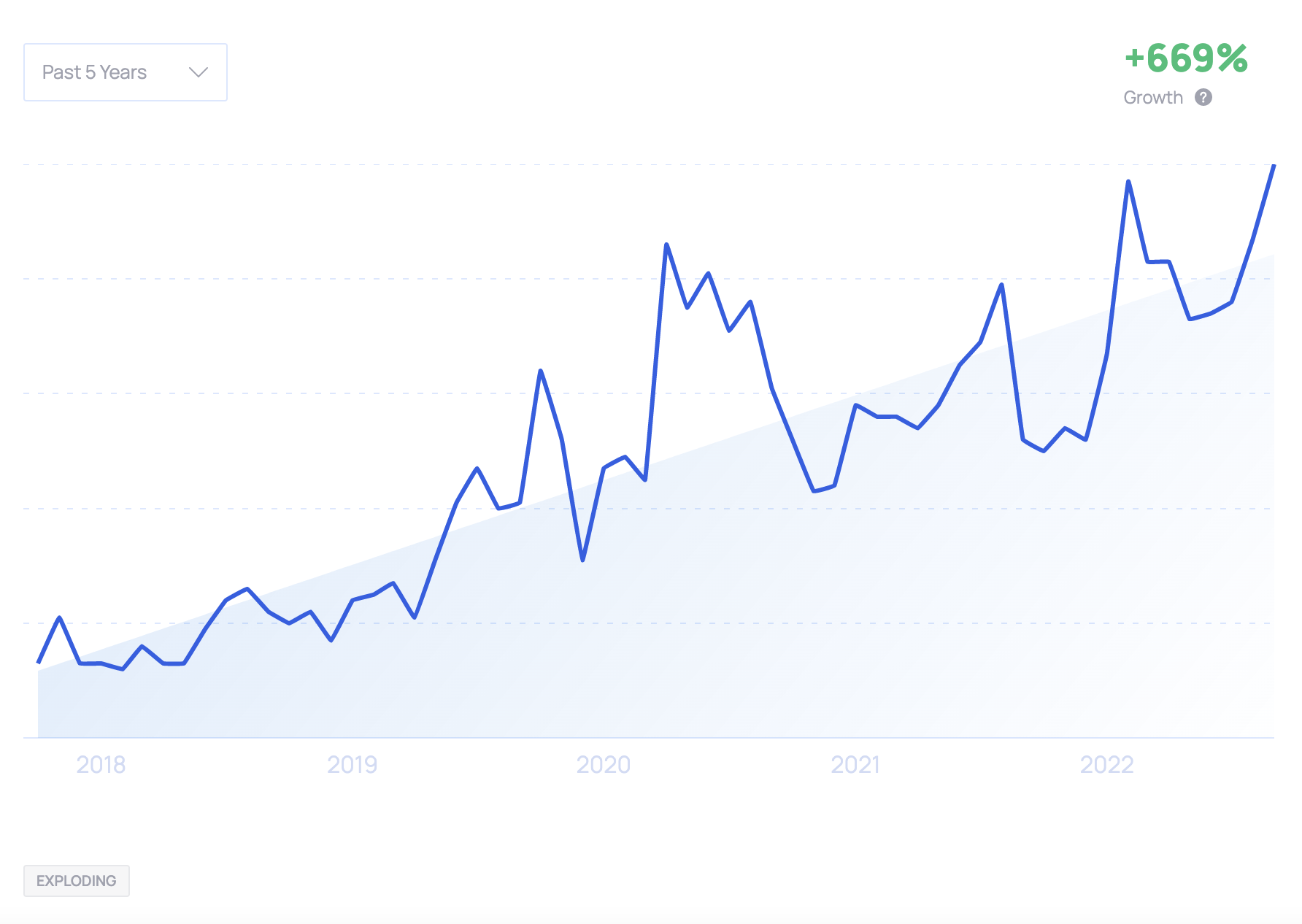 Clearly, they're doing something right! That's why we analyzed the brand's unique marketing strategy and collected all the most important lessons from The Farmer's Dog for this breakdown.
Ready to learn 6 tested marketing tactics that you can apply in your own business?
Let's get started!
1. Make personalization an integral part of your business
Today's online shoppers expect a seamless customer journey that helps them find and buy what they want quickly and efficiently. That's why more and more brands are building customer experiences centered around personalization.
The Farmer's Dog is one of them.
In fact, Brett Podolsky, co-founder of The Farmer's Dog said in an interview that "personalization was fundamental to who we are as a brand."
A crucial step of their sales funnel is a quiz that helps shoppers find the ideal meal for their dog. It doesn't just determine which type of food is best based on the unique needs and health issues of each shopper's dog, it also advises shoppers about the appropriate portion size for their dog.
This quiz works well because although dog owners care deeply about their pets, they might lack the knowledge about what types of natural dog foods are best. After all, making the switch from commercial dog food can be complicated, and the right diet for each dog depends on age, breed, and many other factors. People really appreciate the personalized recommendations provided by The Farmer's Dog.
Let's take a look at how their quiz works.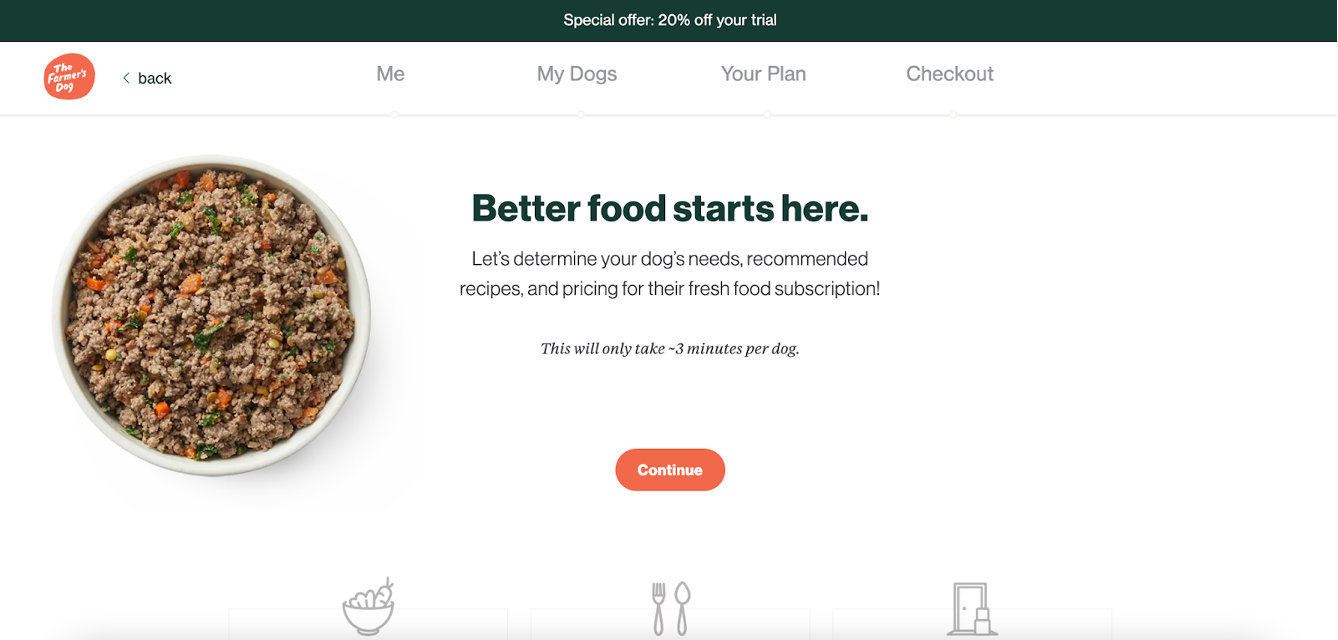 They ask lots of questions about your dog, including their breed, personality, weight, daily activity, what they like to eat, and if they have any health issues.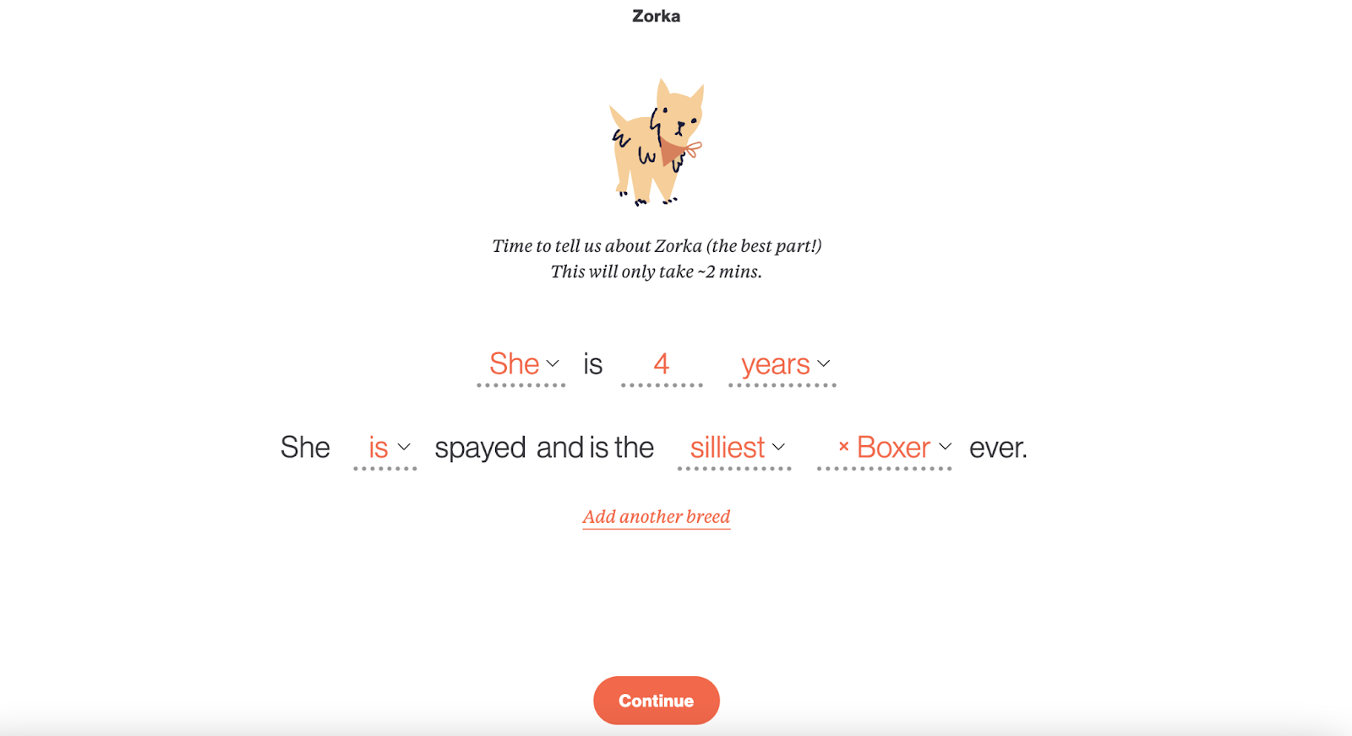 Based on your answers, you'll get a customized meal plan with the perfect recipes for your dog. Notice how they use your dog's name in the copy—and squeeze in 2 reminders about the special 20% off offer.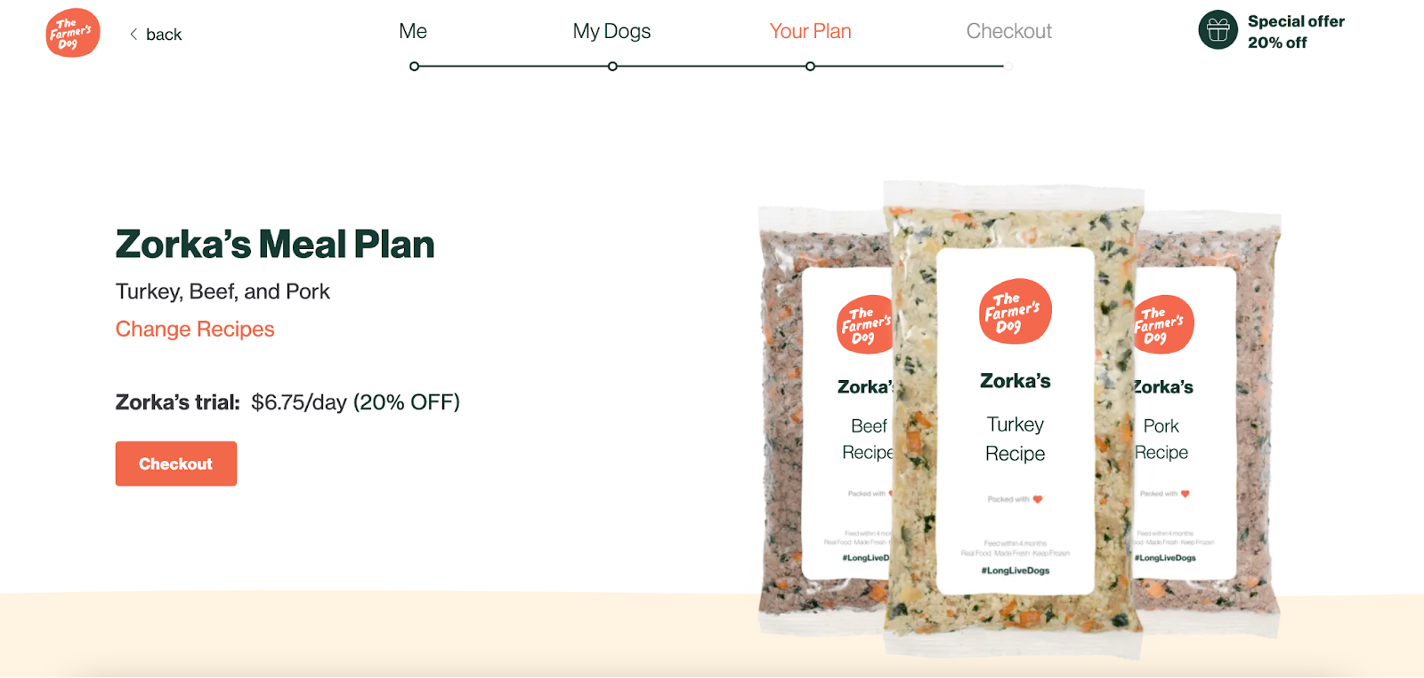 The Farmer's Dog also customizes the package you receive by adding the name of your dog to the label and precisely portioning each pack of food for the size of your dog.
2. Save site abandoners by addressing their concerns
In general, visitors who have spent significant amounts of time on your site are very interested in your brand and products, even if they haven't decided to make a purchase yet. That's especially true if they've started to fill out a quiz. 
In The Farmer's Dog's case, a visitor who's reached this stage of the customer journey has a dog and is probably interested in starting to feed them healthier meal options. 
If someone who fits this profile plans to leave the site without finishing their purchase (or completing the quiz), The Farmer's Dog tries to rescue that conversion. 
Unlike most ecommerce companies, they don't go about this by doubling down on trying to sell the visitor a product before they're ready. Instead, they just offer help. 
Here's what their exit-intent popup looks like: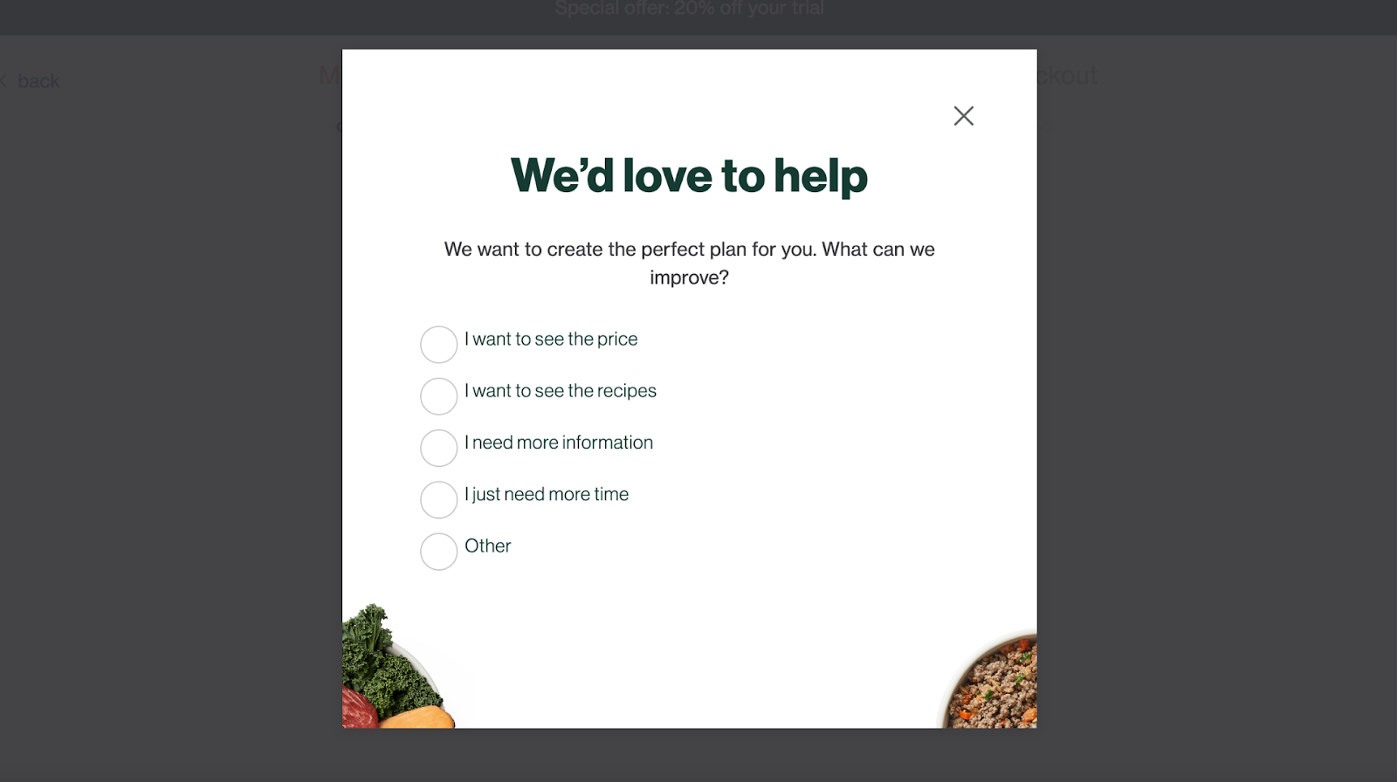 For example, if you click on "I want to see the price," this is what you'll see: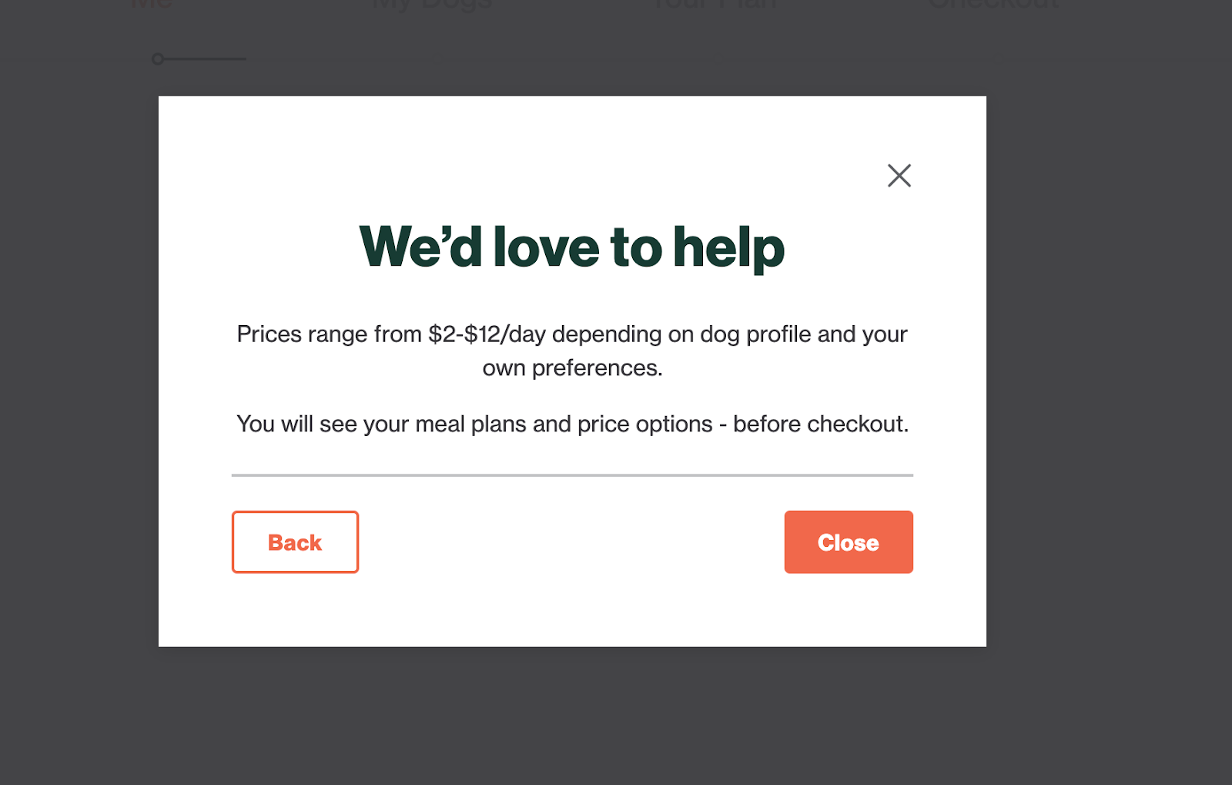 But if you click on "I want to see the recipes" instead, you'll see this: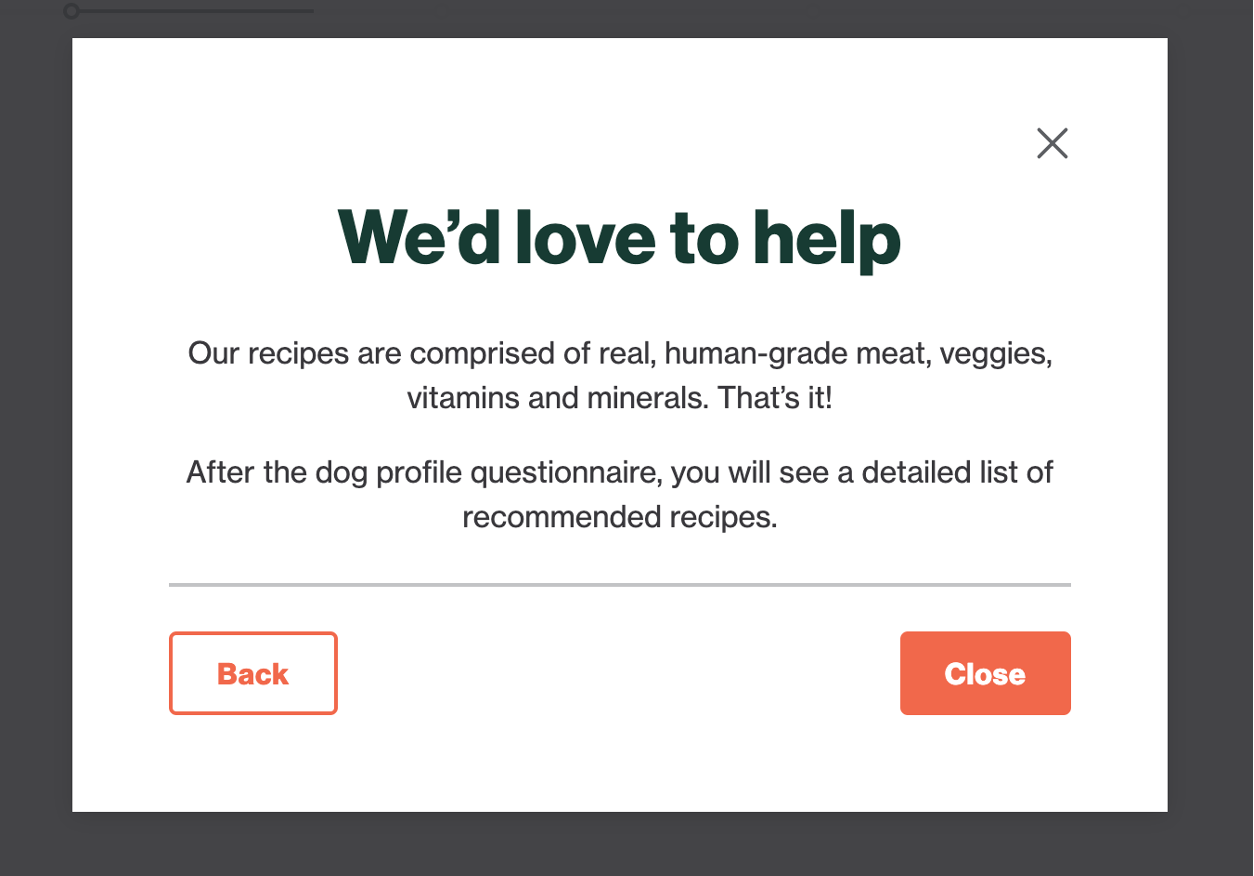 These popups accomplish a few important things at once:
They address visitors' concerns and answer common questions.

They encourage visitors to complete the quiz. 

They help collect valuable feedback for the brand.
Pretty smart, right?
OptiMonk has several ready-made popup templates that are tailor-made for collecting feedback like this. Here are some examples:
The Farmer's Dog takes a different approach with customers who finish the quiz but don't make a purchase. 
They send this segment of visitors an automated email that offers 50% off the first purchase. This is a larger discount than the 20% off they offer on the website, meaning that it might sway some people who were on the fence at the previous price point.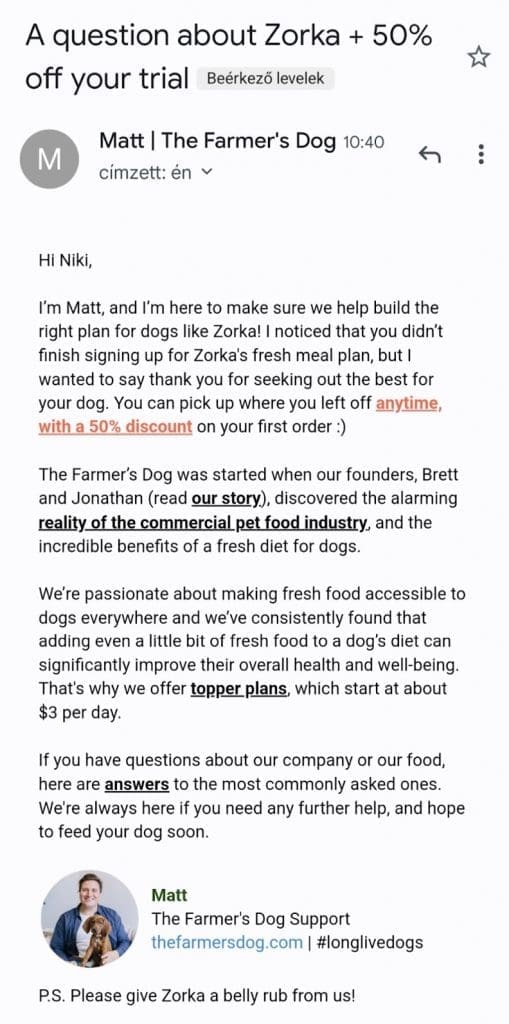 Notice how they use the information they've collected to personalize the follow-up email. 
3. Offer a trial discount for new customers
Offering a trial discount is especially important for ecommerce businesses that use a subscription model because customers aren't just making a one-off purchase, they're committing to paying for something every month. This means it can be more difficult to get people to take the leap and sign up.
The Farmer's Dog offers a trial discount for new customers: 20% off the first purchase. 
The purpose of this discount is to help new customers decide if the meals are really what they expect (and see whether their dog truly loves them).
Offering a discount on the first purchase is a great way to decrease customers' fear because they can try your product for less. And once they know what they can expect from you, they're usually happy to pay full price. 
According to Jonathan Regev, CEO of The Farmer's Dog, offering a trial discount is a way of expressing confidence in their product, which potential customers pick up on.
In his words, "that trial essentially says, 'Hey, we stand behind our product. You can try it.' So, most people aren't looking at the trial like, 'Oh, I'll just get this because it's on sale.' It's more like, 'I wonder if this company really does what they say they do.'"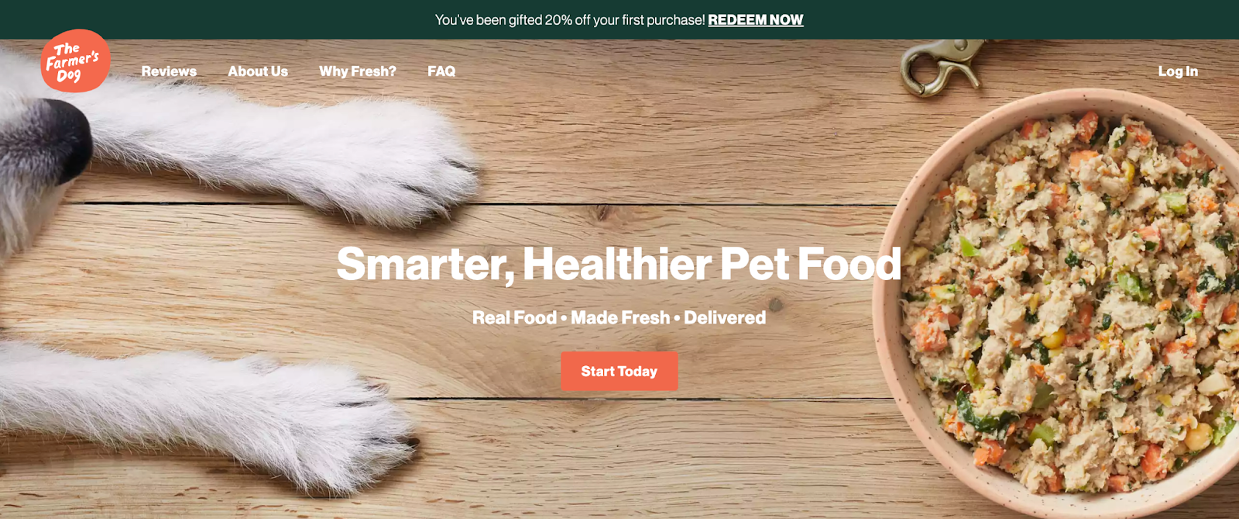 4. Use the power of word-of-mouth marketing
Word-of-mouth is a really important channel for any ecommerce business. People trust companies that are referred by others they trust, whether that's a friend or an influencer.
It's important that these referrals are based on real experiences with the brand. 
"When you see tangible benefits and an impact, you end up talking to your friends about it. And that's something we're always focused on," said Regev. 
Word-of-mouth marketing starts with creating an outstanding product that satisfies your customers and ensuring that you provide a flawless customer experience. 
It's clear that The Farmer's Dog's customers love talking about the brand. The social proof on their website proves this.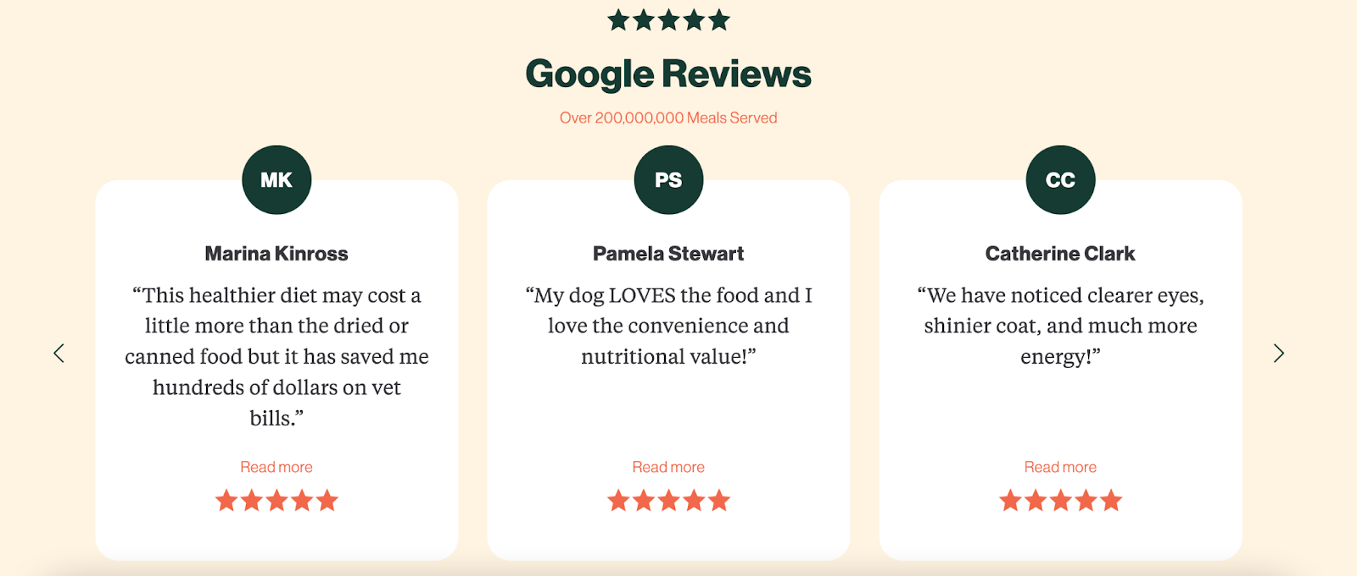 They even feature testimonials from veterinarians. The company has been working with vets from the start, ensuring they could create healthy products and also have qualified experts to recommend their products.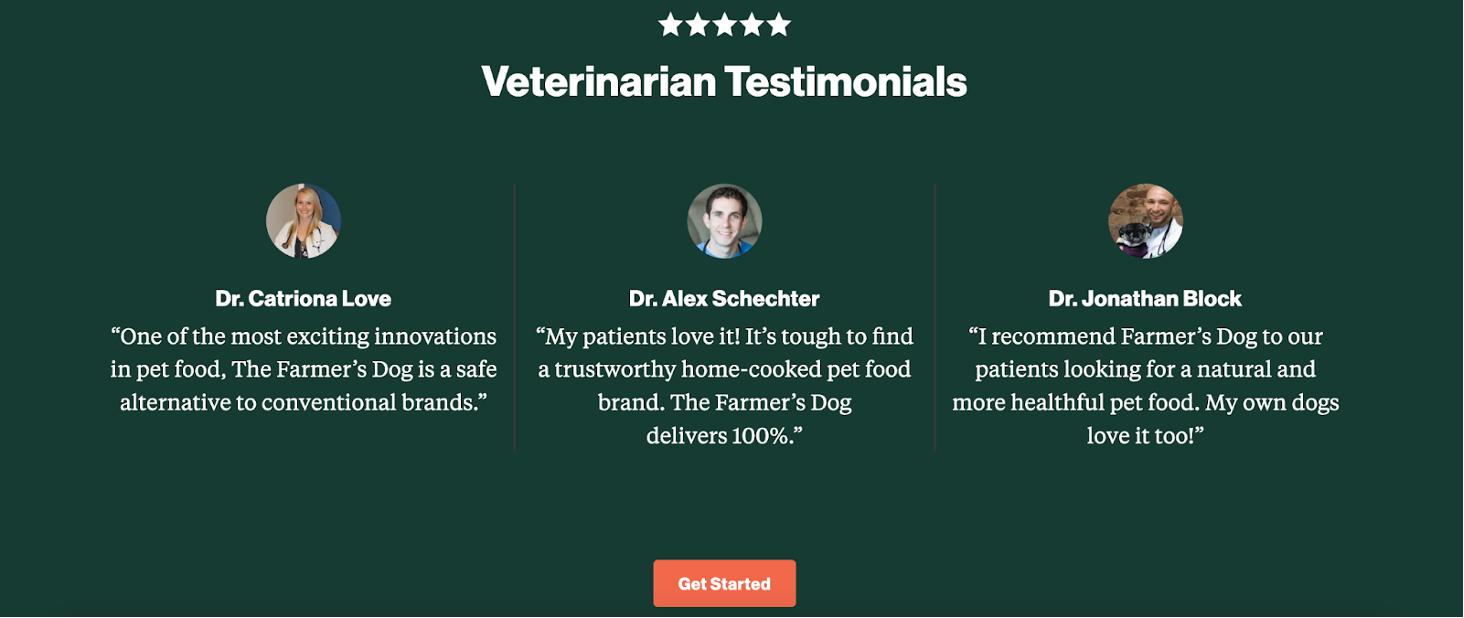 They're also often featured in magazines and big media outlets, which they highlight on their site.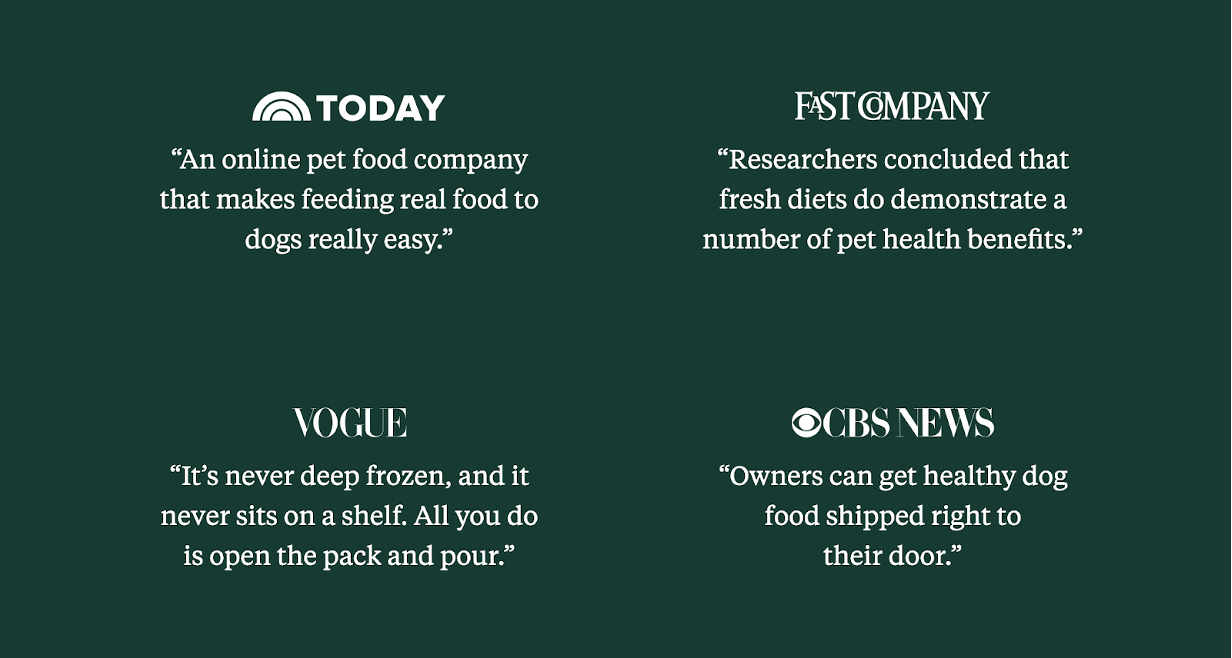 An affiliate program is another great way to increase word-of-mouth on social media. The Farmer's Dog has been working with influencers who are popular with their target audience for a long time.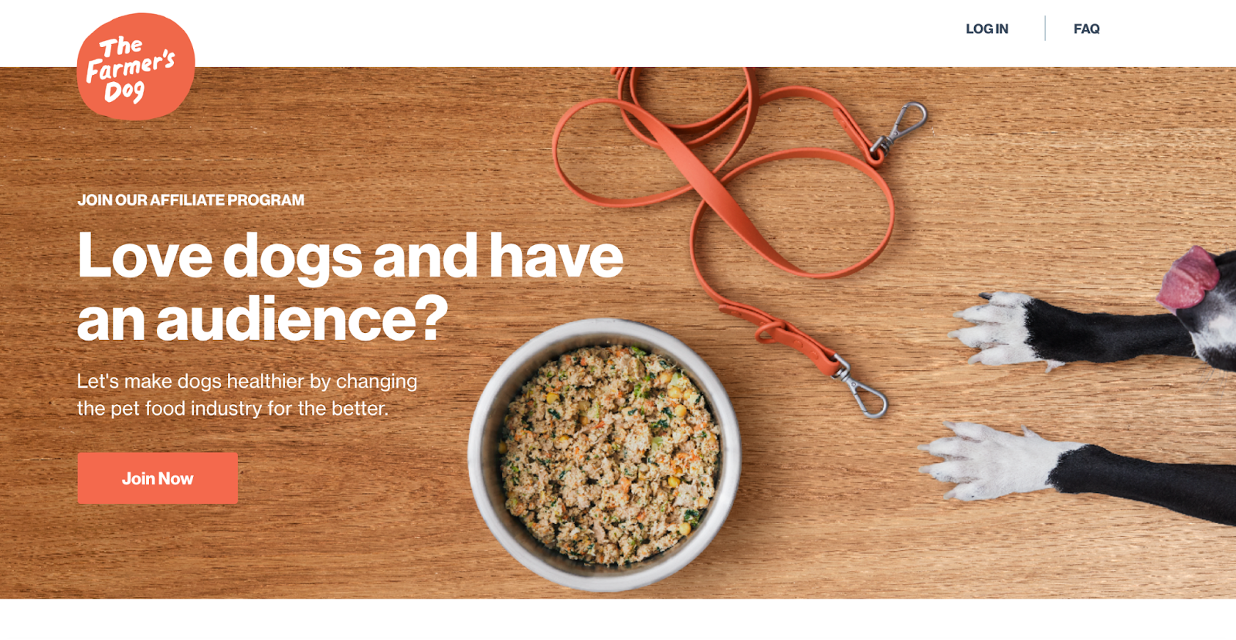 Personalized packages are another way to encourage customers to share the product on social media. And when the company likes one of these posts, they share it on their account!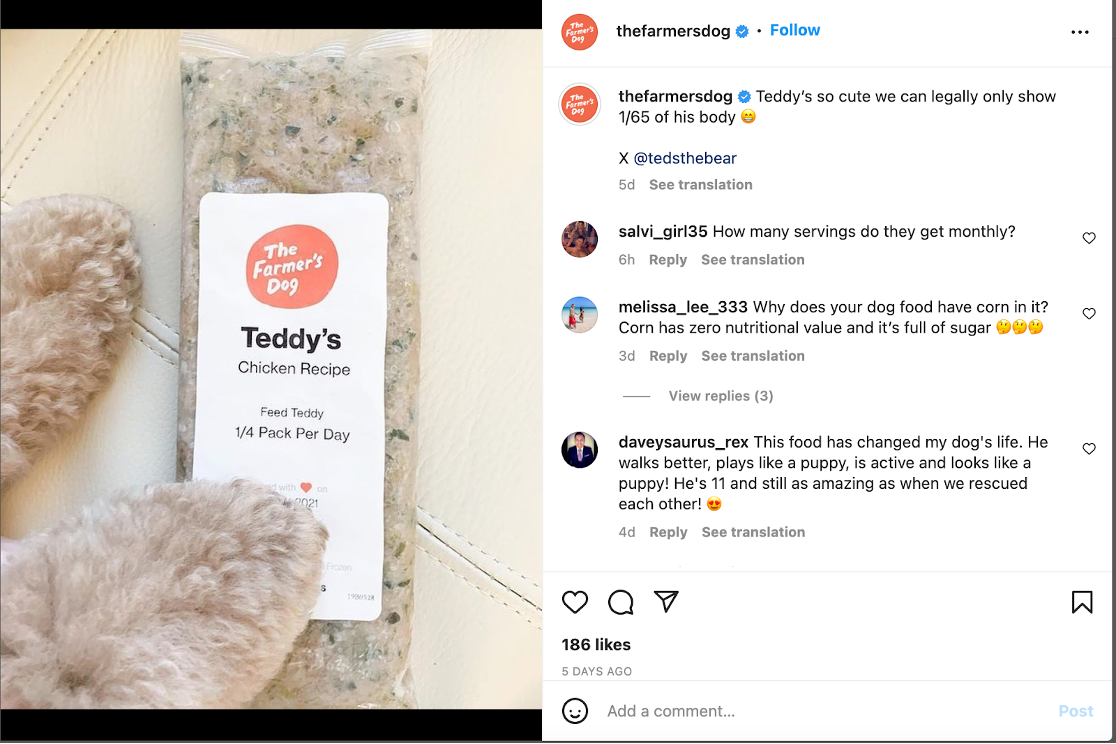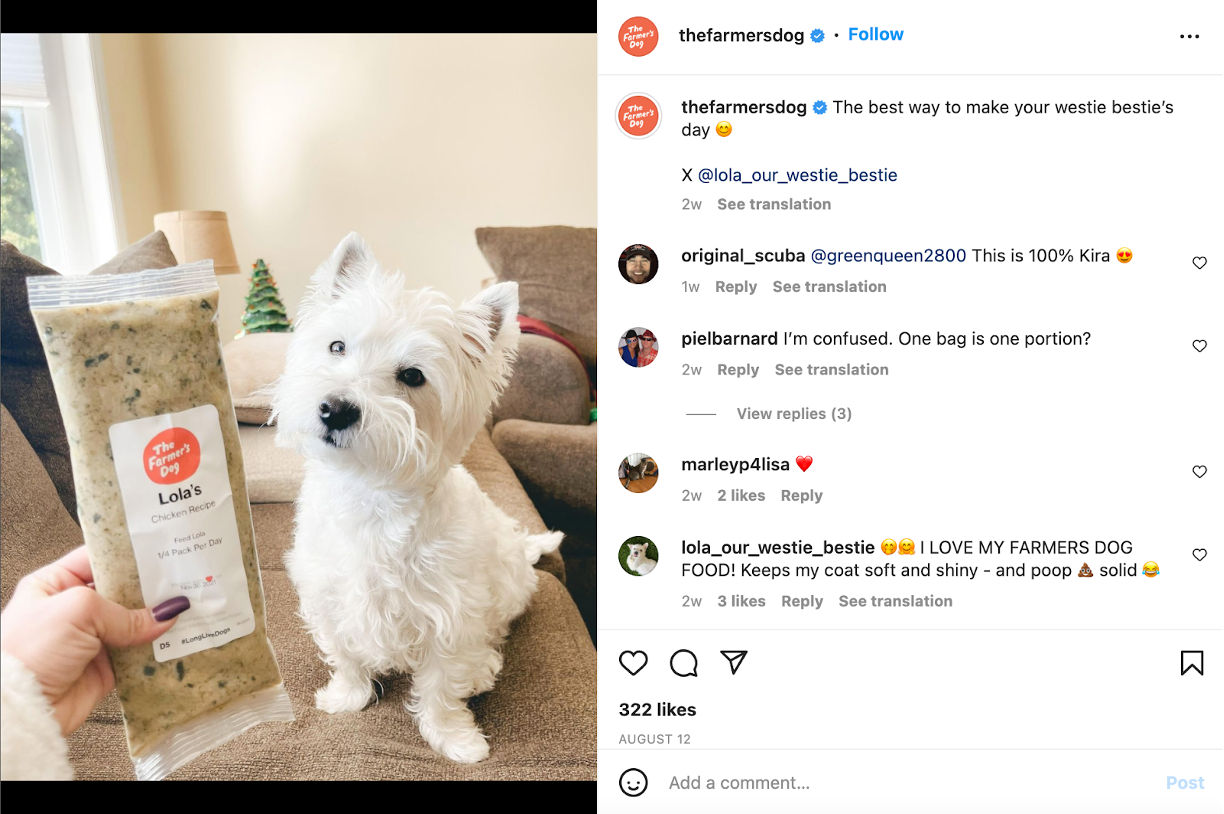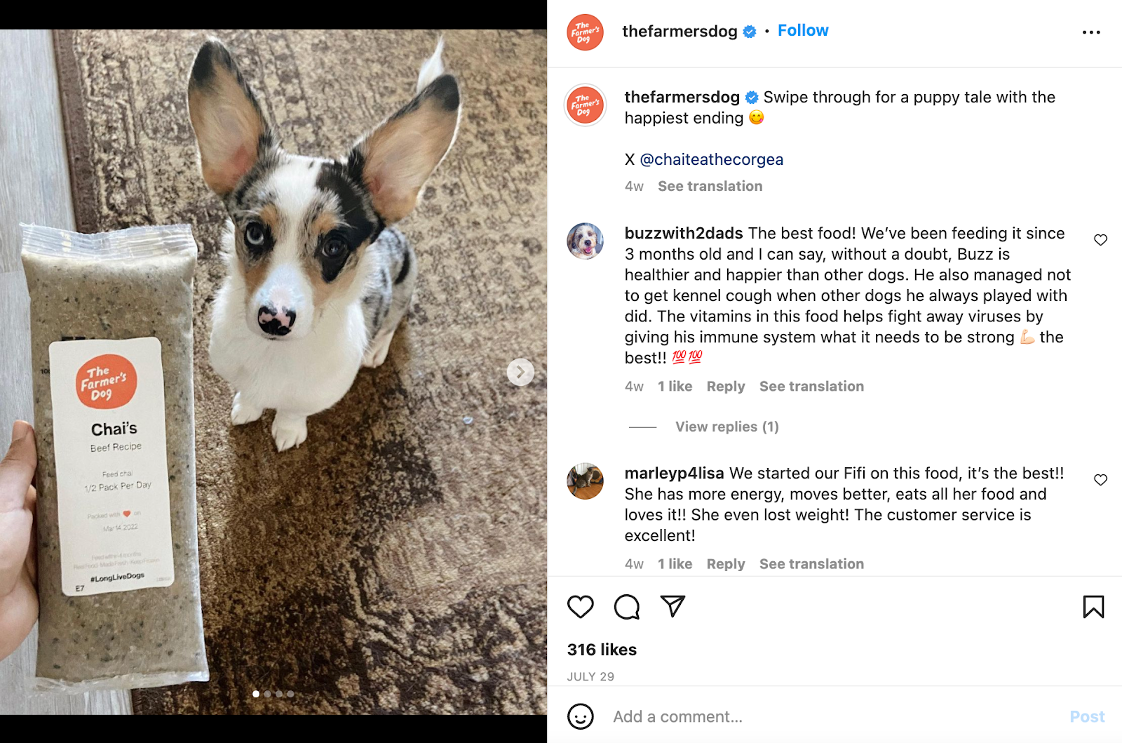 5. Generate demand with content marketing
When it comes to customer acquisition, all businesses should start with demand generation. In other words, you need to make sure that you're on your target audience's radar.
The Farmer's Dog's main target audience is made up of dog owners who currently feed their dogs the typical, highly processed pet foods that are full of preservatives. 
The main task of The Farmer's Dog's content marketing team is to educate this audience about the benefits of fresh food for their dogs. 
Their educational blog, which they call the "Digest," is a great way to do this.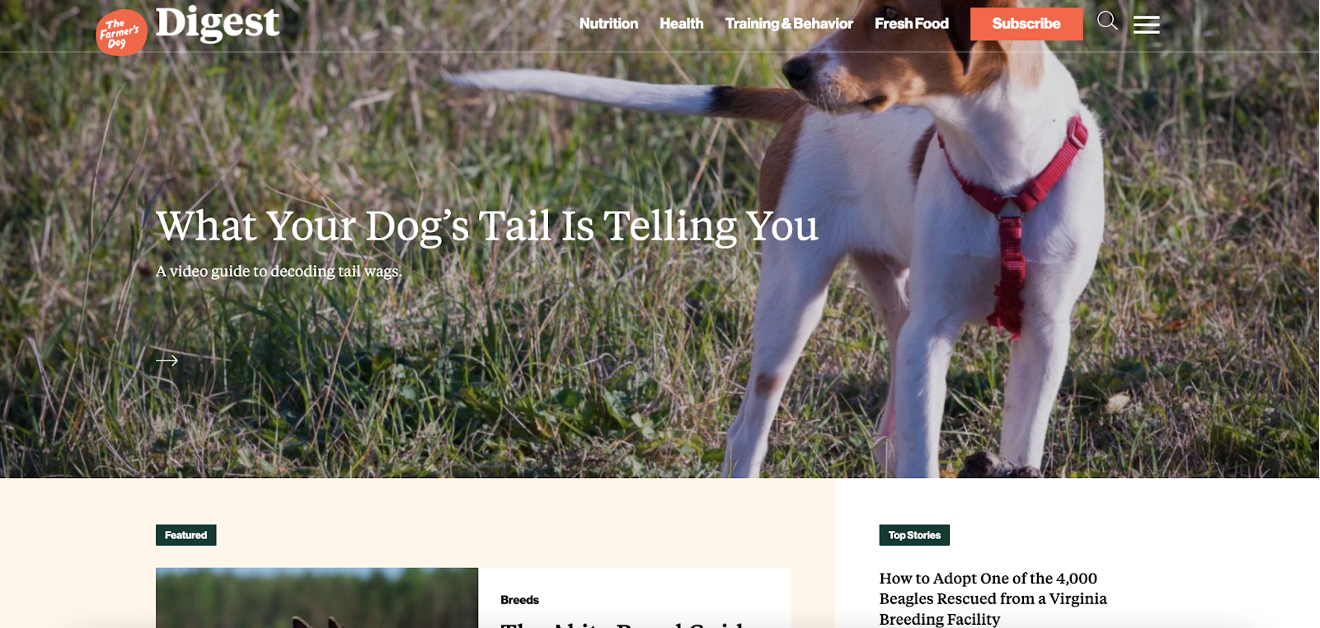 They cover keywords like "dog throwing up yellow" or "how to potty train a puppy," targeting dog owners who are looking for information. Once these people look at The Farmer's Dog blog as an authority, they'll be more open to buying from them. 
For many readers, their visit to the Digest blog might be the first time they realize that there are fresh meal options available for their dogs.

They also make an effort to convert blog visitors by offering them 50% off on the first trial purchase: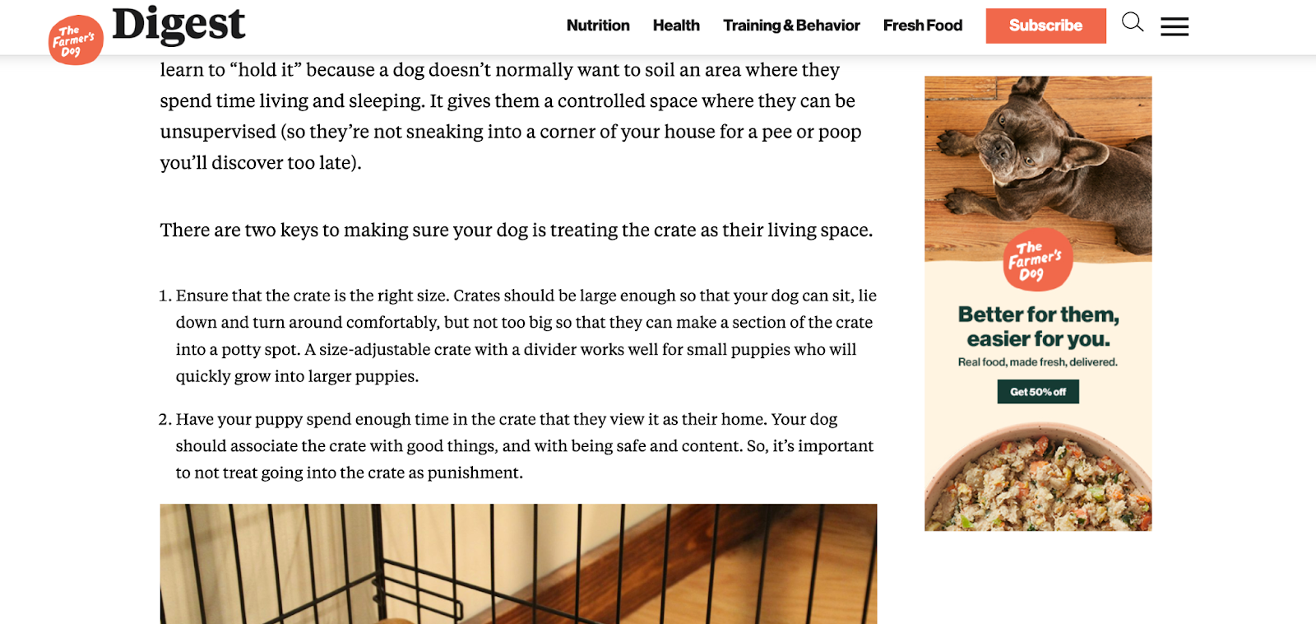 6. Use social ads to reach your target market
The Farmer's Dog also uses Facebook Ads to target a much broader audience. Social ads offering a 50% discount have helped increase their sales by 57%.
Their strategy includes retargeting as well as using lookalike audiences. 
They use lots of video ads with text overlays on Facebook, as well as photos of different breeds with the food. Cute pictures of dogs always do well!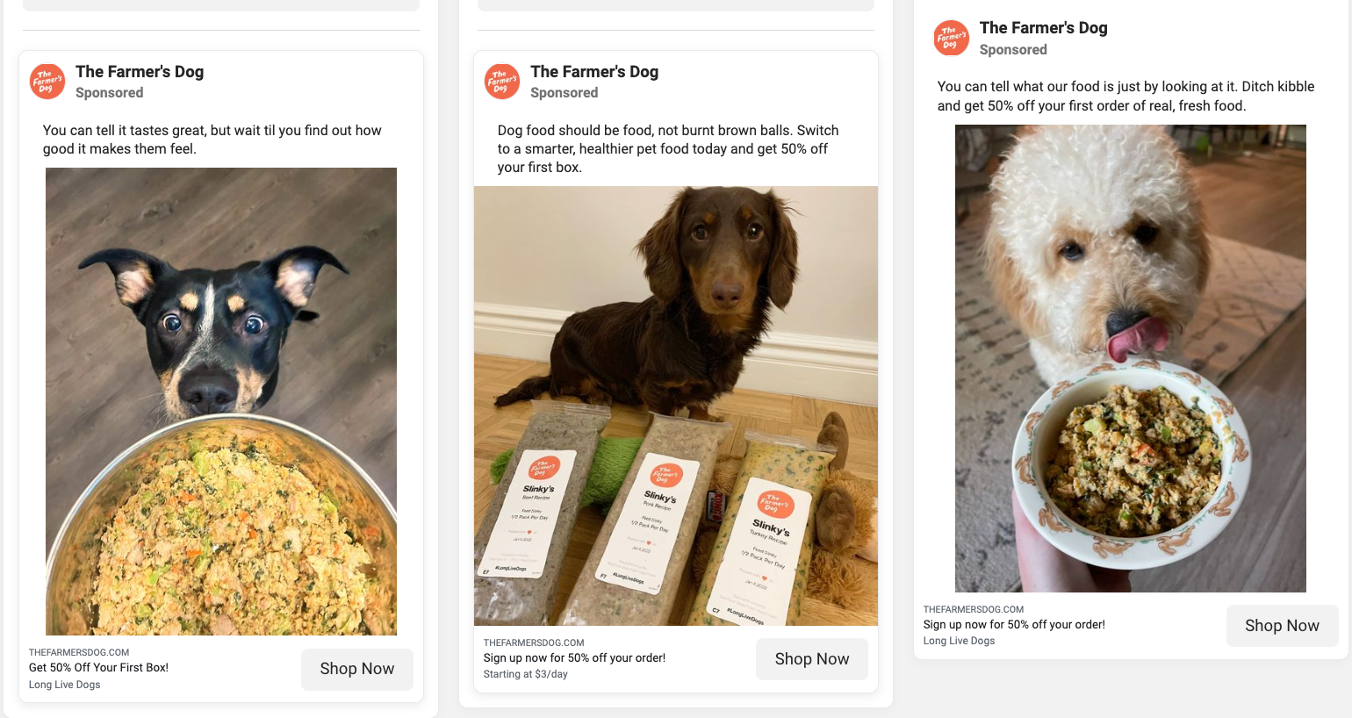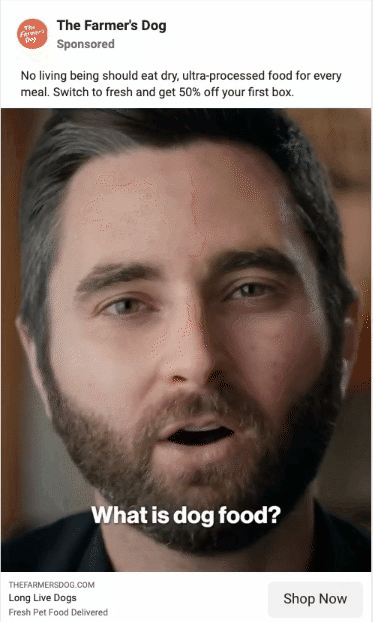 The Farmer's Dog does a great job of using both cutting-edge personalization tactics and old-school discounts to make sales. 
They cast a wide net by using word-of-mouth marketing and social ads to reach a large audience, then tailor their products to the needs of each consumer (or their dog, to be more precise). Finally, they make the sale by offering discounts and following up with those who don't respond at first. 
What do you think about their marketing tactics? Let us know what inspires you in the comments below!