As an existing B2B business, Ultimate Office® knows how hard it is to attract customers, gain their trust and convince them to make a purchase. In their online store at UltimateOffice.com, they're constantly looking for ways to maximize the results of their marketing efforts.
While searching for the latest technology to boost conversions and increase signups on their site, they found OptiMonk and decided to give it a try. Using onsite retargeting they were able to achieve their goals and much more!
In this case study, you'll see how they:
generated 6% more new transactions with OptiMonk
increased the average order value by 15.97%
boosted their total revenue by more than 5%
achieved a 5100% monthly ROI (the revenue increase was 51x's their monthly subscription fee for OptiMonk)
gathered 241 new leads interested in their products
…using onsite retargeting powered by OptiMonk.
Ultimate Office ® was started in the early 90s, with a dedication to helping businesses be more productive through organization. They offer unique solutions for organizing workspaces, managing and storing documents, displaying promotional materials, and more.
Despite the fact that Ultimate Office® has a loyal customer base which they've developed over more than 20 years of business, there was still a need to improve the ROI of their website at UltOffice.com.
The main challenge Ultimate Office® faced is a common problem for B2B ecommerce sites, and ecommerce sites in general: too many window-shoppers on their website who rarely went further than the homepage and quickly left without leaving a trace.
When examining their traffic, they saw that in addition to Google pay-per-click, and organic traffic, many of their return visitors came from their newsletter: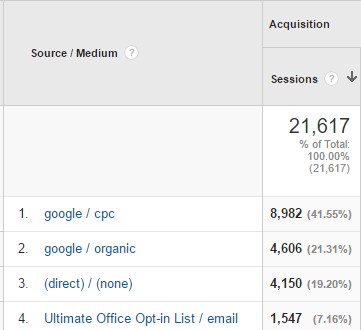 They wanted to convert more of their visitors into customers by offering special discounts, but didn't want to interrupt any new or existing customers while they were browsing.
While encouraging these visitors to make an immediate purchase, they also wanted to increase the number of new subscribers and continue to build on the traffic to UltOffice.com from their newsletter.
After reviewing a number of different options, Ultimate Office® decided to use OptiMonk as their onsite retargeting solution. They chose OptiMonk because it offered a number of ways to segment visitors, and allowed their team to easily create a popup campaign that wouldn't annoy their visitors.
They achieved some spectacular results – and now, we're going to guide you step-by-step through the solution they used to boost their revenue by more than 5%.
Campaign 1: Increasing the newsletter subscription rate and encouraging more immediate purchases
The team at Ultimate Office® launched an onsite retargeting campaign that used a discount that encouraged visitors to sign up for their newsletter. By providing something of value in return for subscribers' information, they were increasing their chances of success. The discount coupon also served as a way to encourage more immediate purchases.
They created two coupons, a 10% discount and a 15% discount, then used A/B testing to compare which coupon was the most effective. As a B2B ecommerce site, it's important for Ultimate Office® to collect the company name of anyone who signs up for their list.
Here's what their campaign looked like in action:
Version A – 10% discount: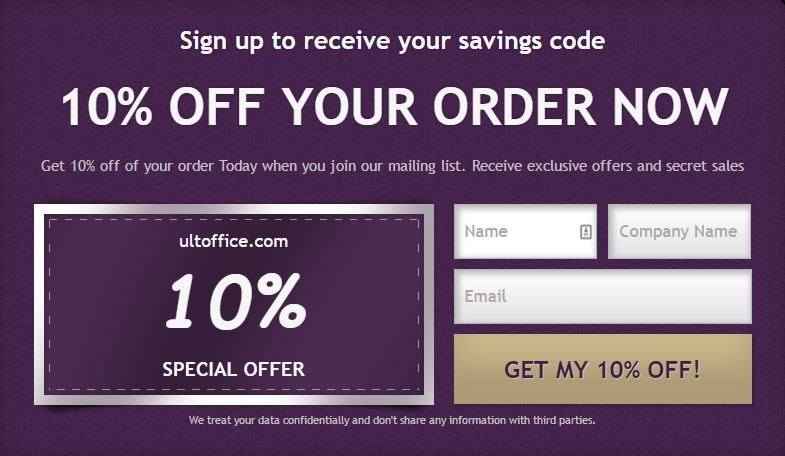 Version B – 15% discount: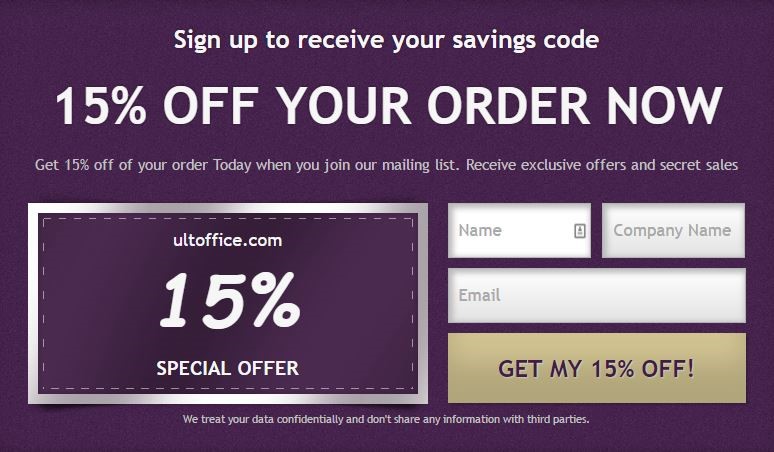 After signing up, visitors were shown a "thank you" popup that included their discount coupon code. Here's what their "thank you" popup looked like: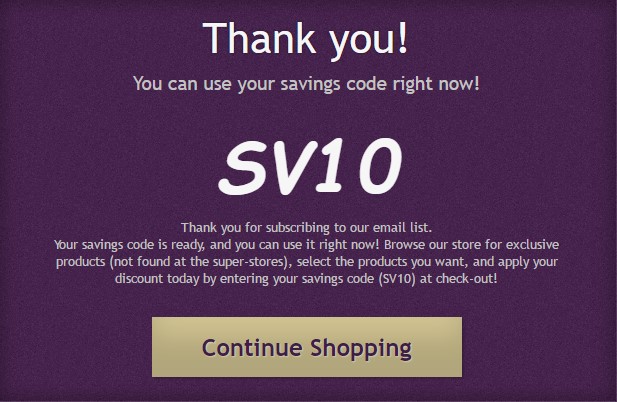 With so much repeat traffic coming from their newsletter, and not wanting to bother any new customers, it was important that the popup campaign at UltOffice.com would only display at optimal times. They set their onsite retargeting campaign to show up on "exit-intent":

This means their popups would only show when a visitor's mouse was moving towards the address bar or "closing X" button in their browser. In other words, only when the visitor's behavior showed they were intending to leave or exit the site.
Plus, they set the popup to display only two times for each visitor. This way, people would have a second chance in case they missed the first offer, but they wouldn't be annoyed by seeing the same popup over and over again:

With a good amount of traffic from existing subscribers to their newsletter, they wanted to target new subscribers and build their customer base, so they set their campaign to display to new visitors only:

Finally, to improve their chances of conversion further, Ultimate Office® sent a reminder email to every subscriber that included the discount coupon code and relevant information to encourage them to return to the site and make an immediate purchase.
Campaign 2: Going one step further to boost conversions
Even though a visitor signs up in exchange for a coupon code, it doesn't mean that they'll use the code to make an immediate purchase. To increase your chances of success, it's helpful to remind visitors that they have a discount available. In addition to sending a reminder email, Ultimate Office® used OptiMonk to remind visitors of their discount, which doubled their chances of conversion.
Let's see how they did it:

This sticky notification bar or "nanobar" was displayed on the top of a visitor's browser window immediately after they signed up for the offer. The goal was to use the nanobar as a way to remind visitors while the offer was still "fresh".
Nanobars work well for onsite retargeting because they are persistently displayed in the browser of a visitor without interfering with their browsing. A visitor can click, scroll, and browse other pages on the site. The nanobar will be displayed the entire time, reminding them about their offer.
Another benefit of nanobars is that they are displayed to visitors even when they leave the site and return again later.
Ultimate Office® set the nanobar to display immediately after a subscriber signed up to receive their discount code: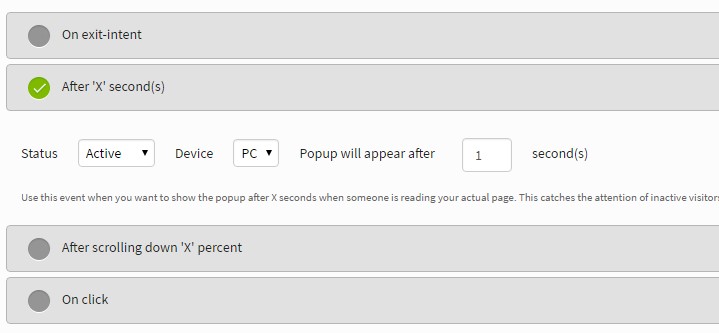 They used the following setting to connect the nanobar popup to their email newsletter campaign:

By evaluating their existing traffic, setting clear goals, and creating campaigns tailored for their audience, Ultimate Office® achieved some amazing results.
The visitors who subscribed to their newsletter can be divided into two groups:
Those who used the discount code immediately. These visitors make an immediate purchase and can also be converted into repeat customers through further email promotions.
The second half are those who did not buy immediately. Although these visitors don't become buyers right away, they can still be convinced to return and make a purchase with special offers and relevant information to help them reach a purchase decision.
In addition to increasing immediate purchases by 6%, they increased their average order value by more than 15%, resulting in an overall revenue increase of 5.56%, and an outstanding 5100% return on their investment in OptiMonk.
What Ultimate Office® had to say about using OptiMonk
"I was searching for a product with solid exit-intent technology, at an affordable price, when I discovered OptiMonk. Chockfull of capability already, product development is ongoing which I love. The rate of growing our email list has climbed from 2% to 12%. We easily create message banners with offers for new site visitors and have seen our conversion rate moving up as a result. We also welcome back returning visitors furthering relationships. The tech support is fabulous and special requests are readily accommodated."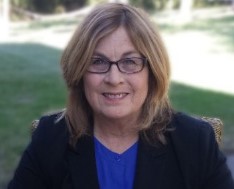 Laurie Klesitz, Digital Marketing & IT Consultant at Ultimate Office®  
Would you like these results in your business?
Create a FREE OptiMonk account and see the results for yourself. Stop losing customers today!