The goal of every online store is to increase its revenue. That's why popups with the primary goal of convincing visitors to buy – through a coupon, discount, or special offer – are becoming so widespread.
However, when it comes to converting visitors into customers, you should recognize which stage of the buying process your visitor is in right now – because at many stages, direct sales promotion isn't the best method of customer acquisition.
That's where segmentation, the subdivision of your target audience into segments with similar characteristics, comes into play. Segmentation plays a crucial role when it comes to moving your visitors through the buying process – that is, convincing them to make a purchase.
The buying process generally consists of four main stages:
Awareness Stage
Consideration Stage
Decision Stage
Retention Stage
In order to direct your visitors from one stage to the next, you should create conversion goals based on how you appeal to visitors at these different stages.
Based on the four stages of the buying process, you can segment your visitors into: early-stage prospects, middle-stage prospects, late-stage prospects, and existing customers.
Let's take a look at the conversion goals you should create for these different types of visitors in the four stages of the buying process:
| | | | |
| --- | --- | --- | --- |
| Stage | Who are here? | Conversion goal | Final goal |
| Awareness | Early-stage prospects | Increasing engagement and awareness of offer | Driving traffic |
| Consideration | Middle-stage prospects | Lead generation or list building | Generating leads |
| Decision | Late-stage prospects | Lead nurturing and sales | Completing sales |
| Retention | Existing customers | Client nurturing | Repeat business |
Sales Funnel Template Examples
BOOM! By Cindy Joseph, the pro-age cosmetics online store, provides a great example of how you can use onsite retargeting to communicate to your visitors in different stages of the buying process.
Using the popup overlay below, BOOM! By Cindy Joseph educates their early-stage visitors. By providing useful information in a free ebook, they appeal to visitors who have never showed any special interest about BOOM!'s products, or have never heard about them.
When a visitor provides their email address, they are expressing a general interest about pro-age cosmetics.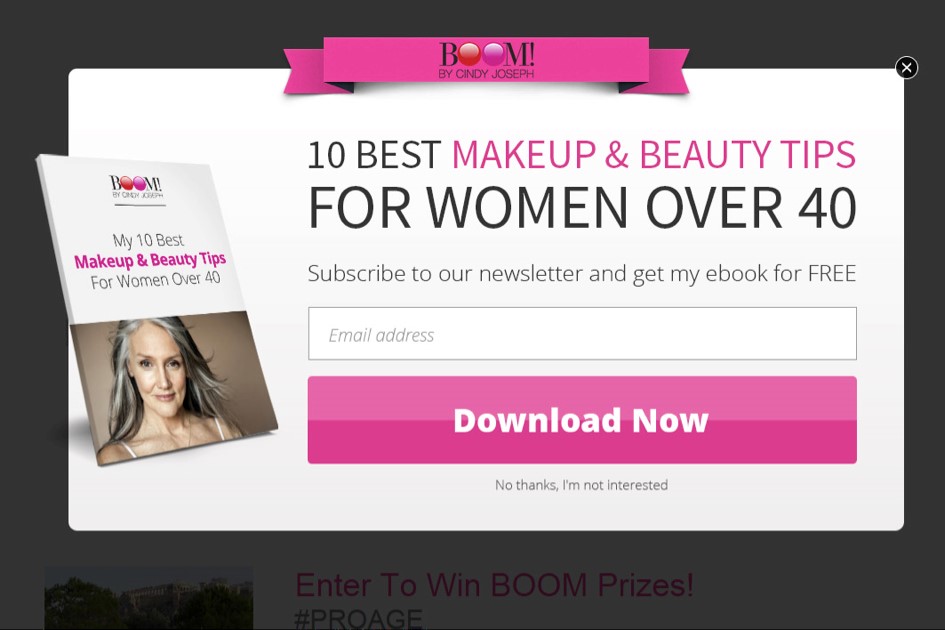 When a visitor subscribes, it confirms they might also be interested in the pro-age cosmetic products provided by BOOM! – so BOOM! has designed a multi-step popup campaign where the last step tries to direct the visitor to a product page. This popup can be only seen to visitors who provide their email address: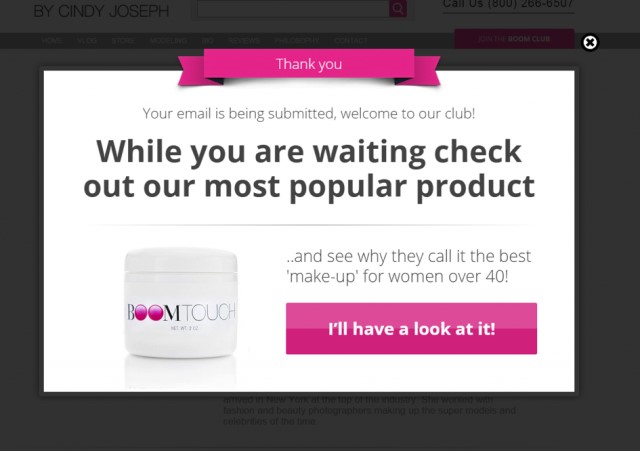 After clicking through the popups, visitors arrive to the consideration stage. Up until now, it would have been pointless to provide coupons to these visitors at this stage in the buying process.
However, after a visitor has viewed some sub-pages, or spent sufficient time on the site, perhaps adding a product to their cart, but then trying to leave without buying – at this stage, it's worth providing an incentive similar to the following promotional offer: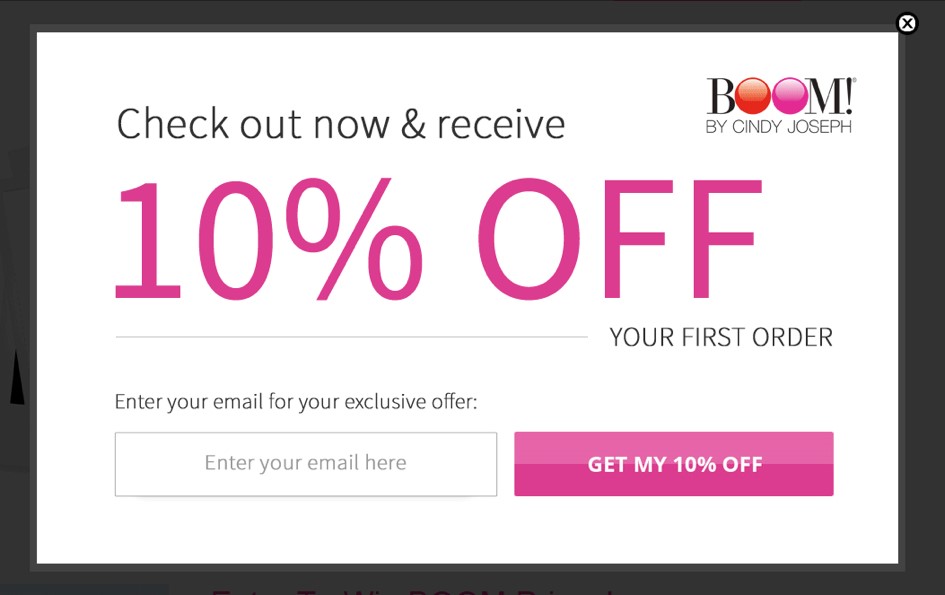 The following nanobar is another example of appealing to visitors in later stages of the buying process and can only be seen by the hottest leads who have signed up for the 10% discount – so presumably, they are ready to make a purchase.

As this example from BOOM! shows, sales promotion is "only" one goal among several "soft goals" which are accomplished during the course of buying process. These soft goals are also known as microconversion goals, or microconversions, which lead to the ultimate objective, a purchase.
Let's go beyond discounts and take a closer look at how you can support these microconversions by using onsite retargeting in each stage.
(Note: Do you know OptiMonk? It provides powerful onsite retargeting solution that help you convert up to 15% of abandoning visitors to sales and leads. Let's give it a try. Click here and create a free account now.)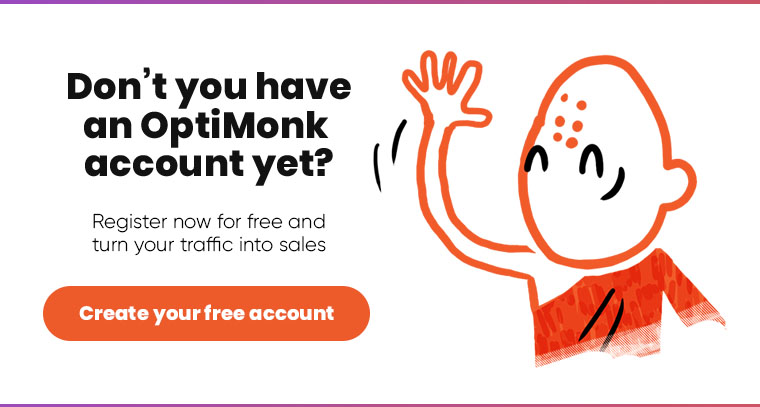 How to use onsite retargeting in the first stage
In the first stage, the most important thing you should do is help your visitors find the product or service they are looking for. To raise their interest in your offers, you need to give them answers to their questions, and let them know that you can provide solutions to their problems.
Directing visitors to important landing pages
The easiest way to help or educate your visitors is to redirect them to a subpage that is likely to be relevant to them based on the page they are currently on, or their browsing history.
iSpionage's popup overlay, which can be seen below, redirects prospects visiting iSpionage's PPC marketing blog towards the homepage of iSpionage – namely, the blog attracts a lot of cold visitors due to their content marketing efforts. Visitors, who click through this traffic redirection popup, express their high-level of interest towards PPC advertising, thereafter the company's services can be offered meaningfully.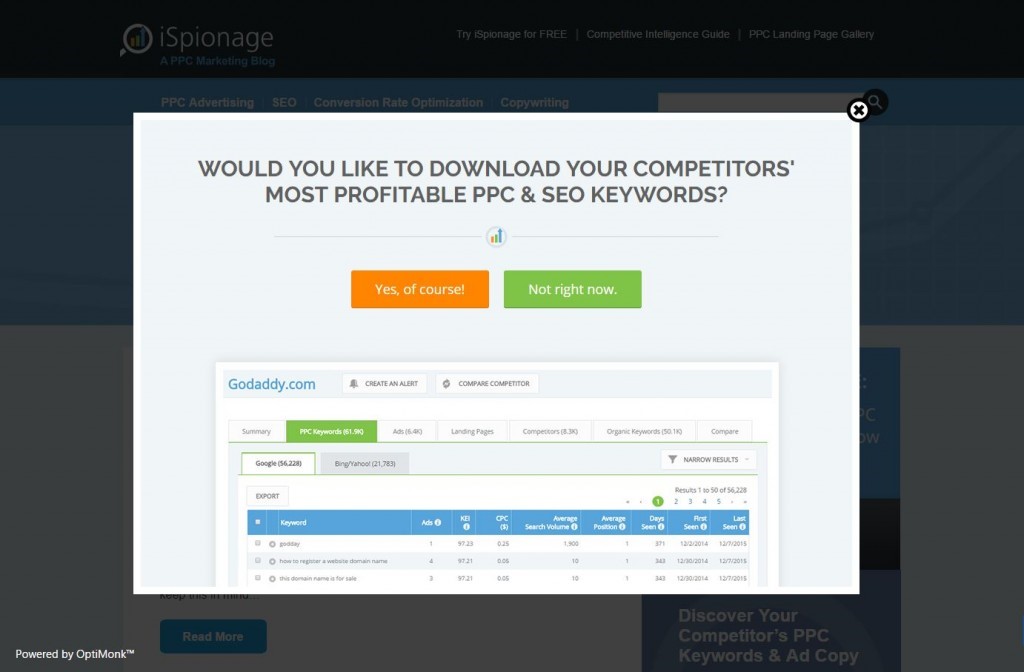 Directing visitors in order to segment them
Remarketing is one of today's most effective tools for communicating to prospects who have visited your site before. Your remarketing campaign can be really effective if you don't target all visitors in the same way, but create dedicated campaigns for your different segments.
For this reason, it's really important to add your website visitors to different remarketing lists based on which products or topics they are interested in. This way, you can communicate the most relevant content to them.
This is the purpose of Shutterstock's popup, shown below, which helps in navigation by making it easier for visitors to find their preferred content, and can be also used to segment their visitors and add them to the most relevant remarketing list.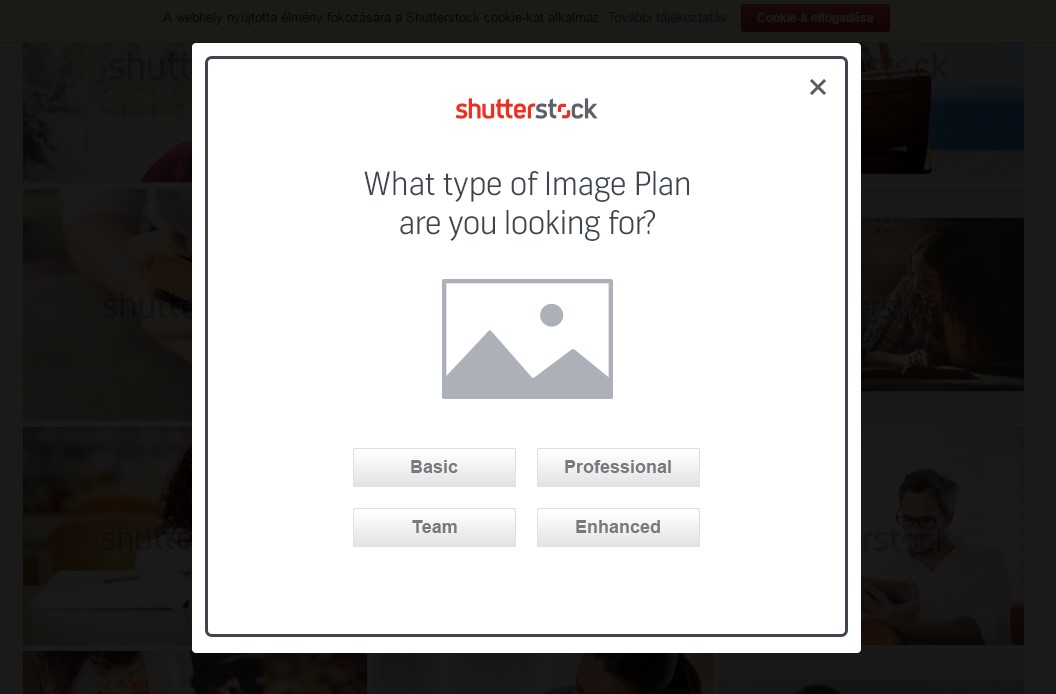 How to use onsite retargeting for generating more leads
When it comes to lead generation, the most important goal is converting website visitors to valuable subscribers. If your visitors provide their email address they are showing a higher level of engagement – that is, after this step, it will be easier to guide them to a purchase using customized offers.
Let's take a look at how you can use onsite retargeting to gather more subscribers.
Promoting your newsletter
Simply promoting your newsletter is the most basic way of increasing newsletter subscriptions. If your brand is powerful enough, and you are able attract high-quality website visitors, this simple method can prove effective.
The shoe retailer, ZooShoo, uses an eye-catching exit-intent popup to turn website visitors into subscribers. They don't promote any special reward, they simply ask the visitors to enter their email address.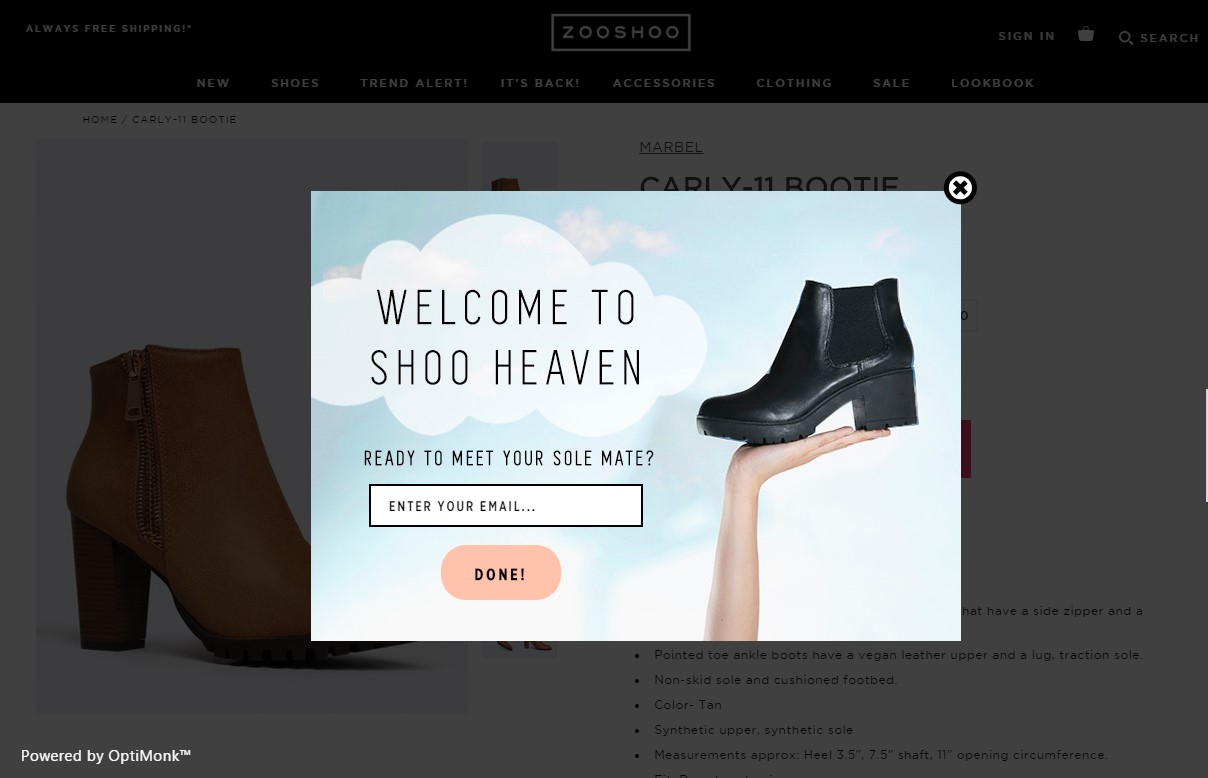 However, you can make your lead generation popups more effective by providing an appealing incentive in exchange. A well-chosen lead magnet can work wonders.
Let's look at some creative solutions you can use to encourage newsletter signups.
Promoting VIP membership registration
The "belonging somewhere" feeling by itself can be a motivating factor – everybody wants to be a "VIP".
Can you provide a special reward to "club" or "VIP" program for members? Great! It can be an awesome lead magnet for gathering new subscribers. For instance, free shipping only for VIP members, sending customized tips or suggestions on a regular basis via email, or even free entry to events and webinars.
Kogan uses an exit-intent popup to promote their free membership program – and, to persuade website visitors to sign up for their newsletter. To make the subscription easy they enable social signup with Facebook, Google and PayPal. Additionally, visitors can subscribe by typing in their name and email address.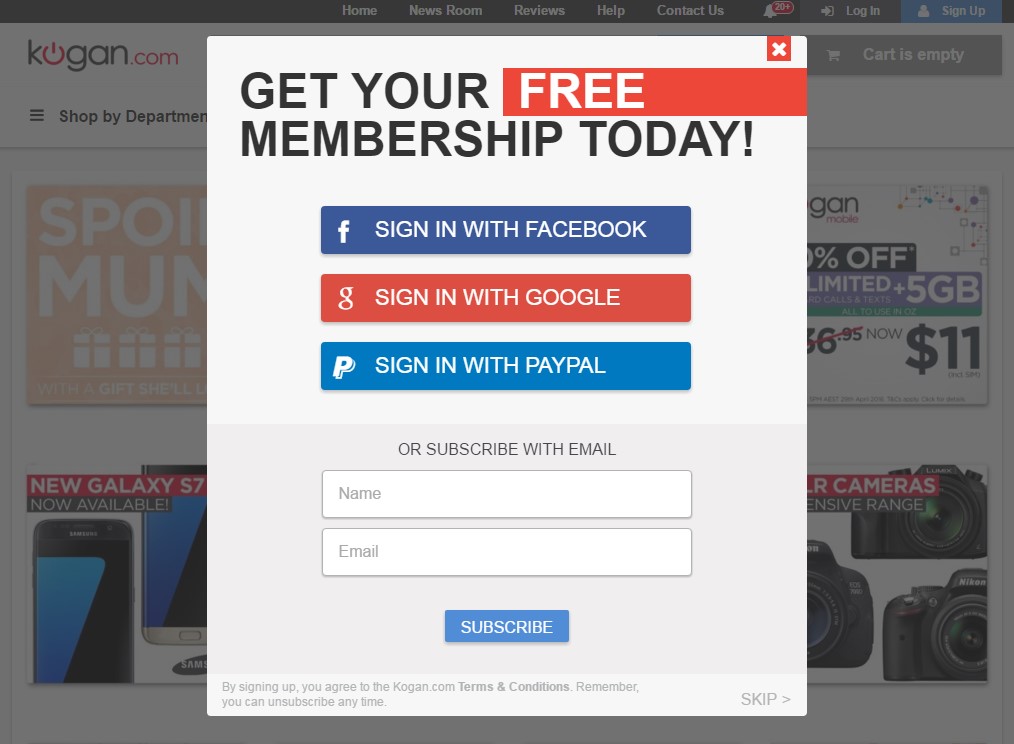 Promoting email-only-deals
Offers that are only available to subscribers strengthen the feeling of "belonging somewhere" as well. These "email-only" deals can be highly effective, especially when the rewards aren't available anywhere else – visitors need to sign up to get access to these offers. The key to success here is creating an irresistible offer.
Broadsheet.org provides exclusive offers that are only announced to email subscribers: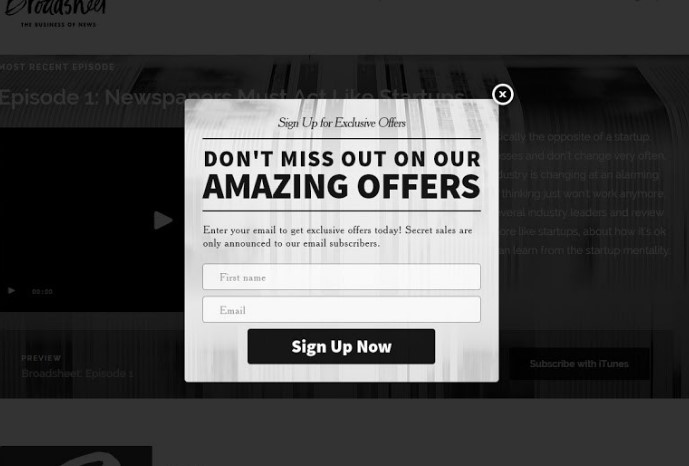 Promoting some incentive, discount
Providing coupons and discounts can not only be used for boosting immediate sales, but can also give a good reason for subscribing as well.
Here's another example from ZooShoo that provides 8% off in exchange for signing up. Visitors receive their coupon after providing their email address.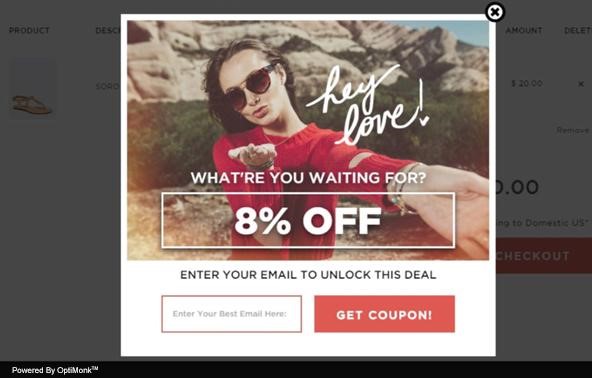 Promoting a whitepaper, ebook, or cheatsheet
Downloadable ebooks are still one of the best-converting lead magnets. By using this hook, you can not only educate your visitors, but it can make you an expert in their eyes, and it can raise their awareness of your products. A useful, meaningful ebook is a small price to pay for their email address.
Antavo.com, which deals with loyalty programs, promotes their free ebook to gather more subscribers: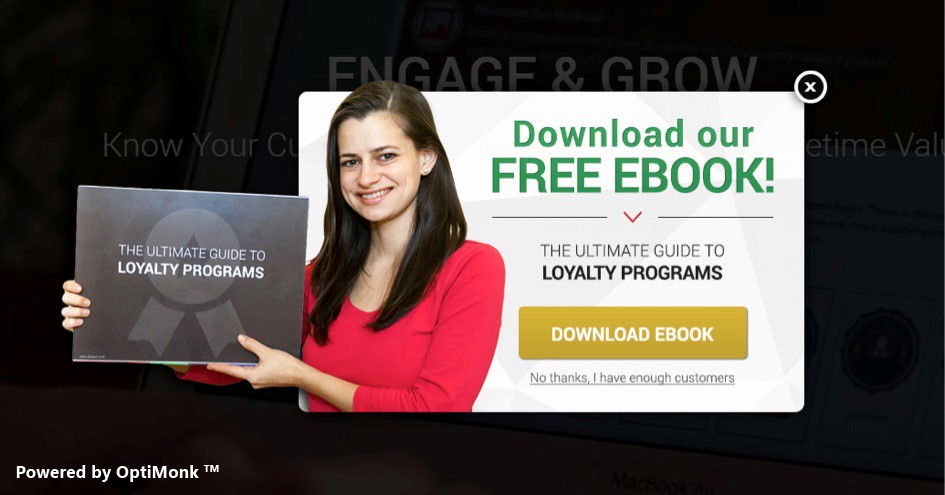 Launching sweepstakes
Everyone love sweepstakes – especially when the prize is valuable for them. If you give your visitors an opportunity to win a valuable product or service in exchange for subscribing – that is, you provide an opportunity to get product they really, want free of charge – you can multiply the number of your new subscribers.
The fashion store, Forzieri, invites website visitors to win a dream bag worth $1500. The visitors only need to enter their email address to enter the contest.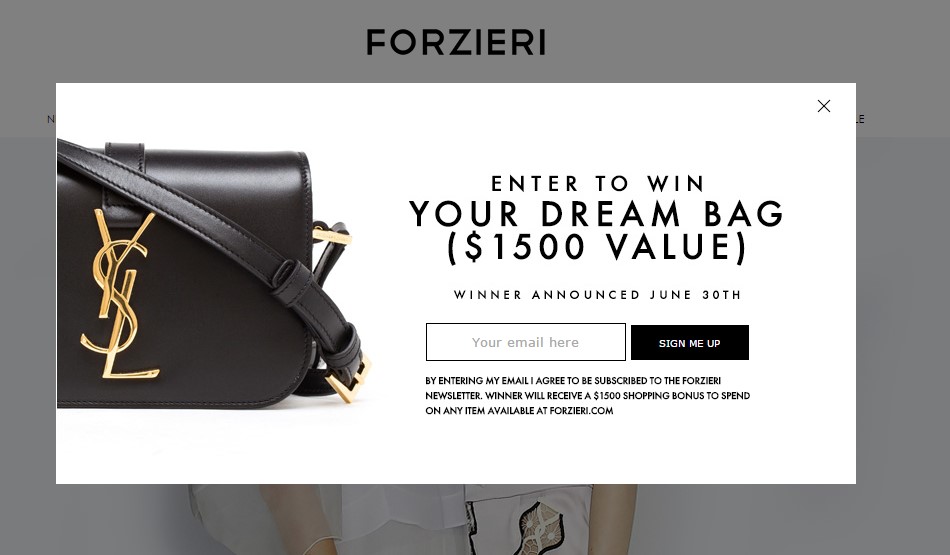 Promoting free gifts or product samples
This form of lead generation costs more and there is also a risk that bargain or product sample hunters will be targeted. Apart from these concerns, it can be very effective if you provide free samples or some other gift in exchange for email signups.
During a sweepstakes, you offer one prize, most likely a valuable product. With product samples you need to ensure thousands, or tens of thousands of low-value product samples are sent. Once it all adds up, free samples can cost more than one big prize in a contest.
Because of the postage, packaging fees, and of course, the cost of the samples themselves, it's worth providing this kind of incentive only to your hottest visitors who are right around the corner from making a purchase.
Here's an example of how you can provide product samples in exchange for signing up. Aloha offers a "trial pack" containing 1-2 product samples for visitors who provide their email address.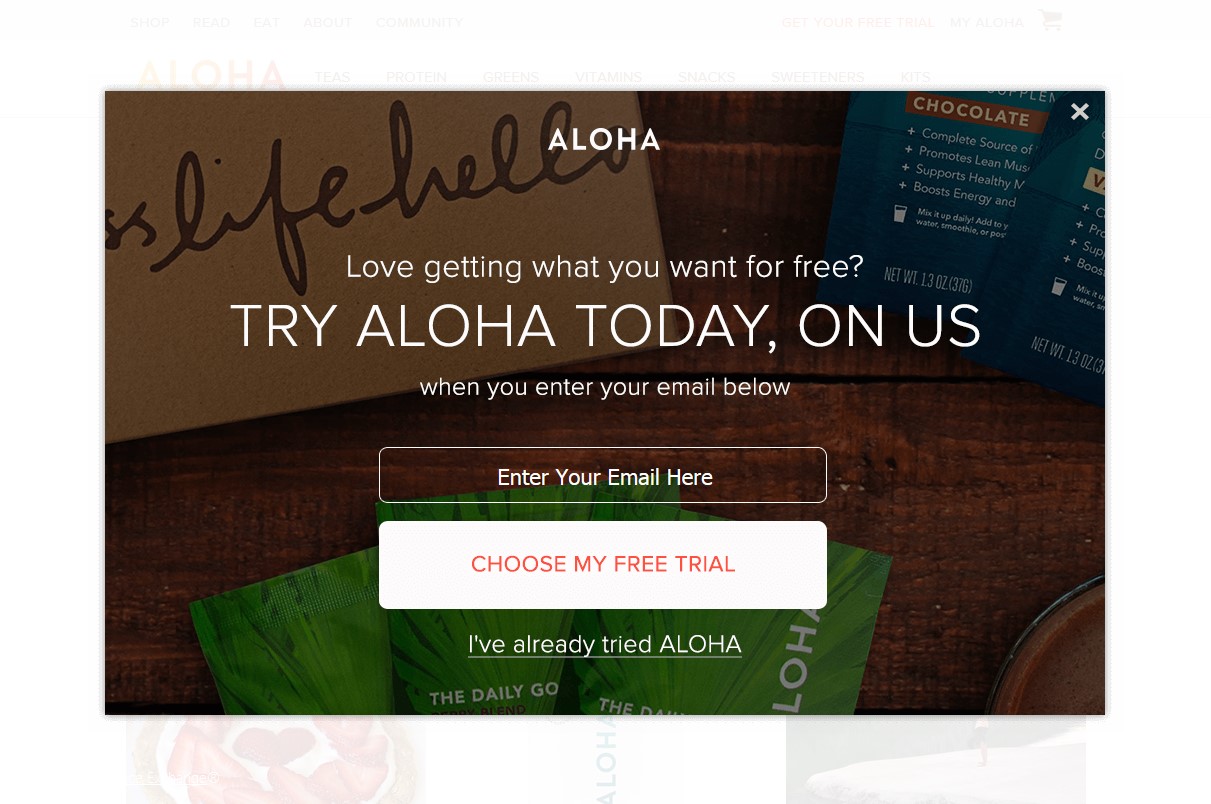 How to use onsite retargeting for completing sales
Late-stage users are your most engaged visitors. They're the prospects who have already gotten to know your products, they're interested in your products, and they are ready to buy: they're ready financially, physically, and emotionally to make a purchase.
At this stage, you need to keep working hard to maximize the immediate value for these visitors.
Let's check out some opportunities to nurture your leads and encourage them to complete their purchase.
Saving checkout
It's possible that your visitors leave their carts not because that they don't need your products, but simply because something came up. For example, someone rang the doorbell, they had to run to an ad hoc meeting, or perhaps they require more information which you can't provide, i.e. – the visitor needs to find out what size T-shirt her cousin wears for a surprise gift.
In this case, saving and sending the cart contents via email is a great approach – once all obstacles have been eliminated, the visitor you can continue shopping where they left off.
Samsung uses an exit-intent popup like this to boost sales. The goal is to send the cart content via email. This way, Samsung can not only save a potential customer, but can also increase their number of subscribers.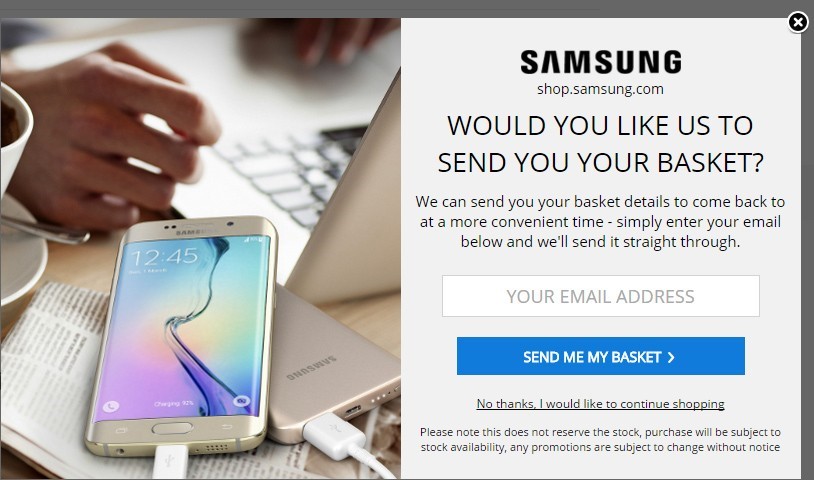 Providing proactive customer support
For complex products – where a lot of questions can arise at the time of purchase, it's helpful to offer support to answer any questions or clarify any details. When every minute counts before making the deal, telephone or live chat access can be vital.
If a visitor is viewing your site for a long time without taking any action, you can assume that the visitor has gotten stuck and may need some help. Here's where the promotion of your support options comes into play.
Radisson Blue helps their visitors finish the booking process by promoting their telephone number on a popup overlay: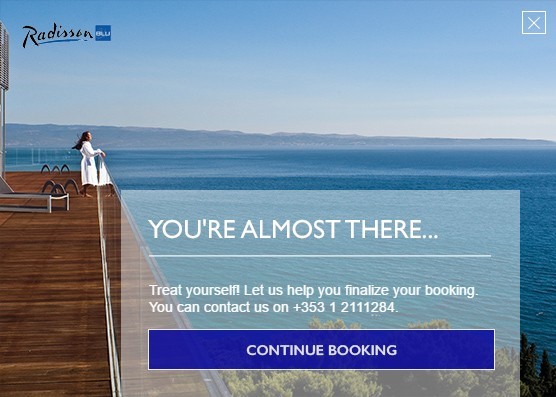 Showcasing your guarantee and return policy
One of the best ways of decreasing uncertainty is highlighting the warranty you provide and your return policy. By raising your visitors' attention to these services, you can build their trust in your business. In addition, you can also increase confidence when there are concerns about whether the product will fit, what it will look like in person, or whether it matches or is compatible with an existing item the buyer owns.
Here's a great traffic redirection popup which promotes a friendly and easy return policy: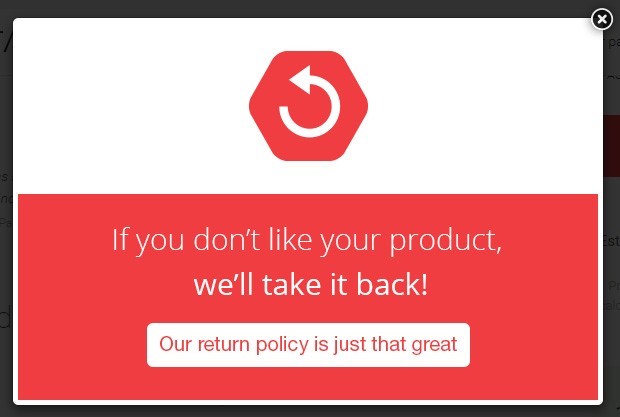 Asking for feedback
Outside of your existing customers, your late-stage visitors are the segment who know the most about you. However, there's a reason they haven't made a purchase yet. Requesting feedback from these late-stage visitors can highlight any errors or bottlenecks on your site. By solving these problems, you can improve the performance of your online store and make the entire buying process more effective for all visitors.
Samsung's popup overlay tries to convince the visitors to complete a survey which will tell Samsung how they can improve the user experience on their site: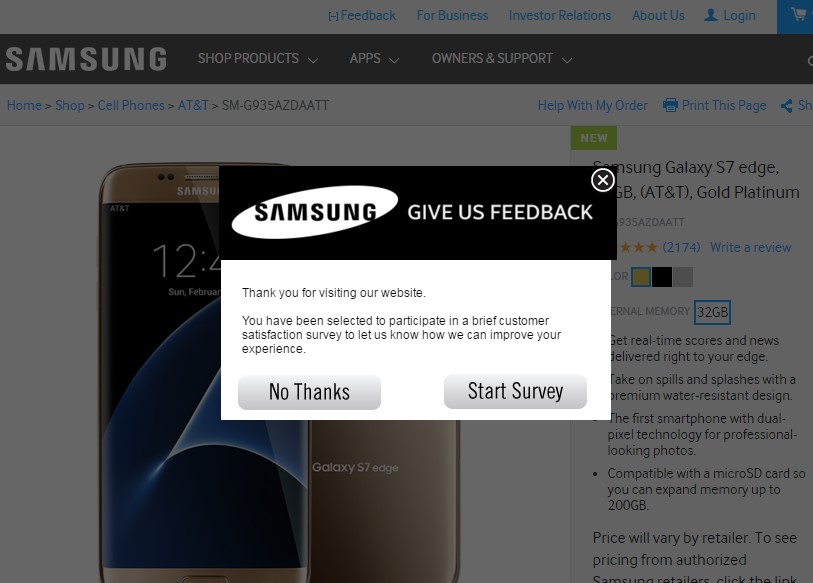 How to use onsite retargeting for repeating business
In addition to using onsite retargeting to encourage visitors to complete their purchases, you can also encourage repeat business – and increase cart value with onsite retargeting.
Encouraging repeat purchase
This example from JackandBecky.com shows a popup that greets returning visitors and buyers and provides an incentive for them to buy again: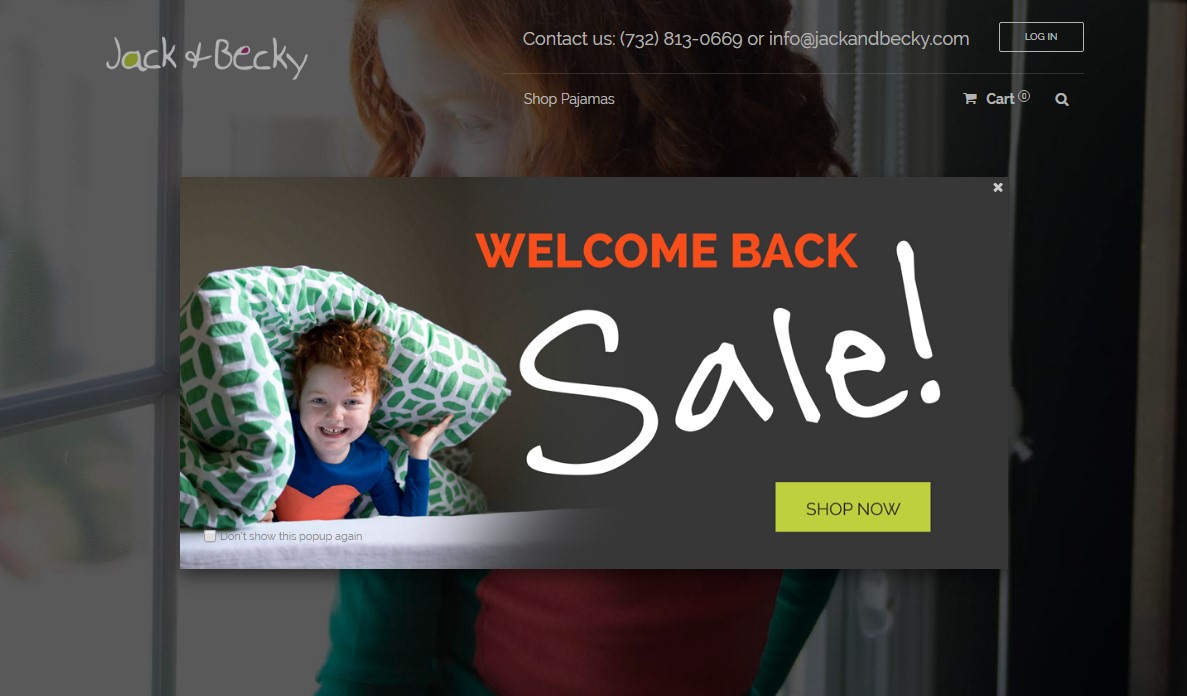 By making returning customers feel "right at home", you're encouraging them to shop again. When late-stage visitors see these ads, they are also effective, so it's a win-win.
Increasing cart value
More than recognizing repeat buyers which special offers, you can also increase the value of an existing sale with onsite retargeting.
Here's an example from BuildaSign.com that offers a discount when more products are purchased: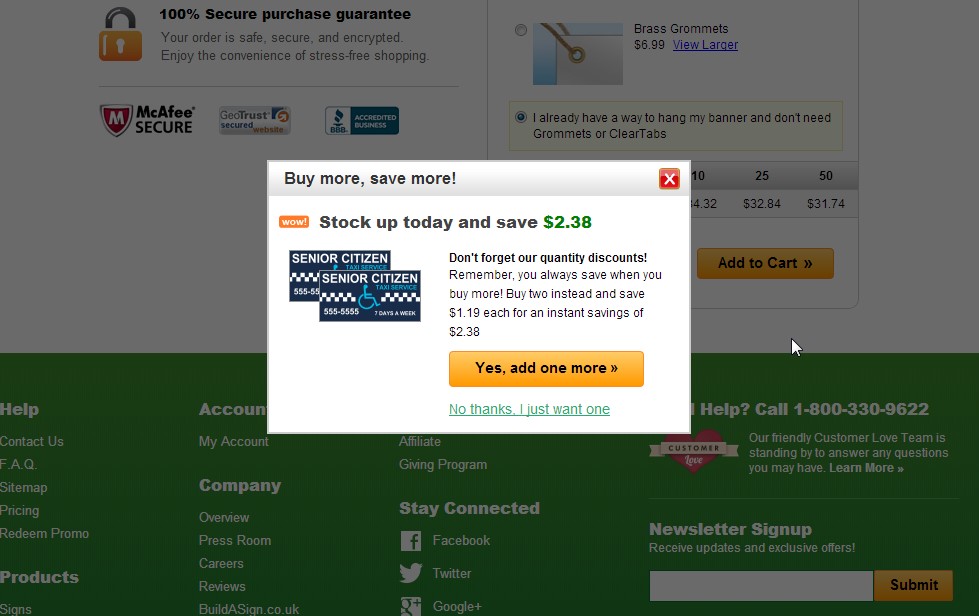 Be careful with campaigns to increase cart value, you want to provide something valuable or complimentary and you don't want to distract your buyers.
If you see your cart abandonment rate go up when you start cross-selling or upselling on your site, be sure you're offering relevant items that add value to the cart for your customer simply beyond increasing the total cost of items.
A free gift when they reach a certain dollar amount say $50, or free shipping after this amount is a great way to encourage additional purchases without a great potential for losing sales.
(Note: Do you know OptiMonk? It provides a powerful onsite retargeting solution that helps you convert up to 15% of abandoning visitors to sales and leads. Let's give it a try. Click here and start your 14-day free trial now.)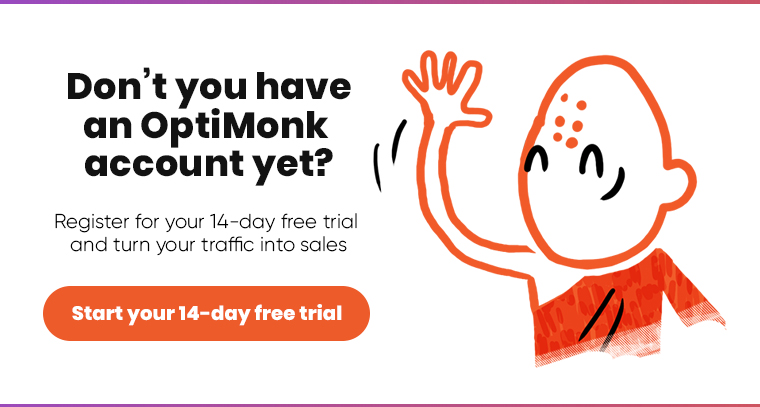 Beyond simply promoting discounts to complete a sale, there are more strategic ways you can use onsite retargeting to guide your visitors through the buying process. By educating and making early-stage buyers aware of your products, generating leads, nurturing them, and encouraging them to buy again, you can appeal to each type of visitor based on where they are in the buying process.
Most importantly, going right for the sale is not always the best approach, especially in the early stages of the buying process. Using popups with onsite retargeting allows you to appeal to each segment of your visitors with the right type of message, at the right time.