Imagine that after placing the order of your soon-to-be new favorite sneakers you don't get order confirmation.
You just get forwarded to a generic "Thank you for your order" screen and nothing else. No quick recap of your order, no confirmation email, no shipping details, tracking info, nada. All that's confirmed is the money taken out of your account.
How would that make you feel?
It's crazy to think in 2021 some companies are ignoring the importance of a strong email confirmation. Customer loyalty and referrals happen when you remove as many worries from your customer's mind. That's what a good confirmation does.
In the following article, we'll guide you through:
Let's jump in.
What is an email confirmation?
A confirmation email is a transactional email that is sent to your customer after they complete a specific action, meet a specific condition.
You typically receive an email confirmation when placing an online order, subscribing to a newsletter, or registering for a new service.
This includes signing up for a newsletter, purchasing a product, reserving their seats on a webinar, etc.
The primary purpose of this email is to let the customer know that you have acknowledged them. The secondary purpose of this email confirmation is to let them know what the next steps are, and the third purpose is to build a strong connection with them early.
4 types of confirmation emails
1. Order confirmation email
Shortly after the customer places an order on your website, they should receive an order confirmation email. This email summarizes their purchase and gives them the peace of mind that you've received their order.
2. Registration confirmation email
When someone registers for a product or service on your website, they should receive a registration confirmation email.
If you're running a webinar, for example, you would send each registrant a confirmation with the date & time of the webinar, the link to join, and information on pre-webinar prep, if any. This is also an excellent chance to let your personality shine and get the person on the other end excited about you!
3. Booking confirmation email
The booking confirmation email summarizes the customer's purchase and acts as a thank you note to them for choosing your business. You send this type of email confirmation after booking flights, concert tickets, tours, and more!
4. Subscription confirmation email
Subscription confirmation is an email sent to the user after they subscribe to your newsletter after expressing interest in receiving your emails.
Again, you have the chance to showcase your personality by welcoming them to your email list with an interesting confirmation message.
Why are confirmation emails important?
Confirmation emails are reassuring. When you send one, it lets the user know that you've acknowledged them.
When you've put the user at ease, you're off to a brilliant start in building a strong relationship with them.
With a confirmation email, you set the tone as a brand that values proactive and clear communication.
Besides the communication aspect, confirmation emails provide patterns into customer behaviors/preferences. They can boost your click-through rate because they contain crucial customer information. And they give you an opportunity to upsell products/services alongside the confirmation message.
Let's take a closer look at how the different confirmation emails do this:
Order confirmation

emails dramatically eases post-purchase anxiety with a clear summary of the customer's order. If you want them to continue purchasing products from you, order confirmation emails are essential pieces of communication.

Registration confirmation emails get the user excited about your upcoming event. Excitement is an essential part of creating a loyal fanbase who will engage with your future events.
Subscription confirmation emails are also important for building up excitement for your subsequent content. Set the right tone with a warm welcome confirmation message for your new subscriber. You can also create a content workflow so that your brand message across all your emails are consistent.
Booking confirmation emails is another excitement builder. Think about the last vacation you went on. Do you remember how much more excitement you felt after seeing that booking confirmation email in your inbox? That's the kind of positive feeling you want to stir up in your customer.
Now that you know the importance of each type of confirmation email, let's look at the 4 pillars of high performing confirmation emails.
4 confirmation email best practices
The message in your confirmation emails will vary depending on the type of confirmation you're sending.
However, it's important to keep the following pillars in mind regardless of what types of confirmation email it is:
1. Keep it short and sweet
Get to the point. Don't waste your customer's time with a long or irrelevant message. Keep your confirmation email succinct by including only the essential information.
This doesn't mean that you have to be boring. You can infuse personality while keeping it short by using a fun subject line or informal copy in the email's body.
2. Branding matters
Branded confirmation emails show professionalism. It lets your customer know that they're dealing with someone who takes their brand perception seriously.
You don't have to spend hours wrestling with complicated software to do this. There are plenty of top email providers that make creating branded emails a breeze.
3. Be mobile-friendly
We live in a mobile-first world. Responsiveness and seamless transition from big screens to smaller screens is the norm now.
Ensure that your emails are mobile-friendly and avoid losing valuable customers because of a bad user experience. A common email mistake, you can easily avoid. Test the emails beforehand and make sure that they load quickly, the text is legible and easy to read.
4. Include a clear, powerful call-to-action
Don't leave your customer hanging and wondering what to do next. Make their experience with you effortless by providing simple instructions in your confirmation email. Strong calls-to-action include:
Asking them to refer friends and family

Asking them to follow you on social media

Helping them claim a special discount offer on an item as a reward
How to set up confirmation emails (in 5 steps)
Before sending outstanding confirmation emails, you need to register to an email marketing software. Here's a handy guide to get you set up in no time.
Step 1: Build an opt-in email list
You can have different lists depending on which form your website visitors subscribed through.
Creating an opt-in list can help you connect your existing website forms to a specific email list. This allows you to separate new users (the ones you will send confirmation emails to) from other users.
Step 2: Select your email trigger
You can create personalized and automated confirmation emails that get triggered when a user takes a desired action. This could be:
When a user gets added to a list

When a user clicks a link on an email

When a user submits a form on your website

And more!
Setting up automated emails can take some getting used to, but you'll be glad when you get the hang of it. They save you time and are easily personalized so that your user doesn't get a generic, uninspired email.
Step 3: Create your email(s)
It's time to craft your confirmation email!
How do you craft a powerful confirmation message? What subject should you use? Do emojis matter? How long should the message be? Formal or informal tone?
Get some answers and inspiration from the email marketing gurus at Mailchimp with this guide.
Step 4: Automate the first email
Congratulations on writing your first confirmation email. It's time to automate it so that it goes out shortly after the user takes a desired action.
Your email marketing software will allow you to time the release of your email based on time zones and other specifications you have.
Step 5: Automate further emails based on conditions
Setting conditions, like double opt-in, gives you insight into the behaviors of your new users. If you include a confirmation button in your first email, you'll be able to see who opened the confirmation email, who clicked the button, and who did not.
For example, for those who opened the first email but didn't confirm, you can send them a reminder email.
If they didn't open the first email, you could try a different subject line.
If they both opened and confirmed, then you're good to go with the other onboarding emails.
Automated email campaigns make it easy to tailor emails sent to each person on your email list based on their unique behavior.
Here's a detailed guide on proven automation workflows you can use.
8 examples of powerful confirmation emails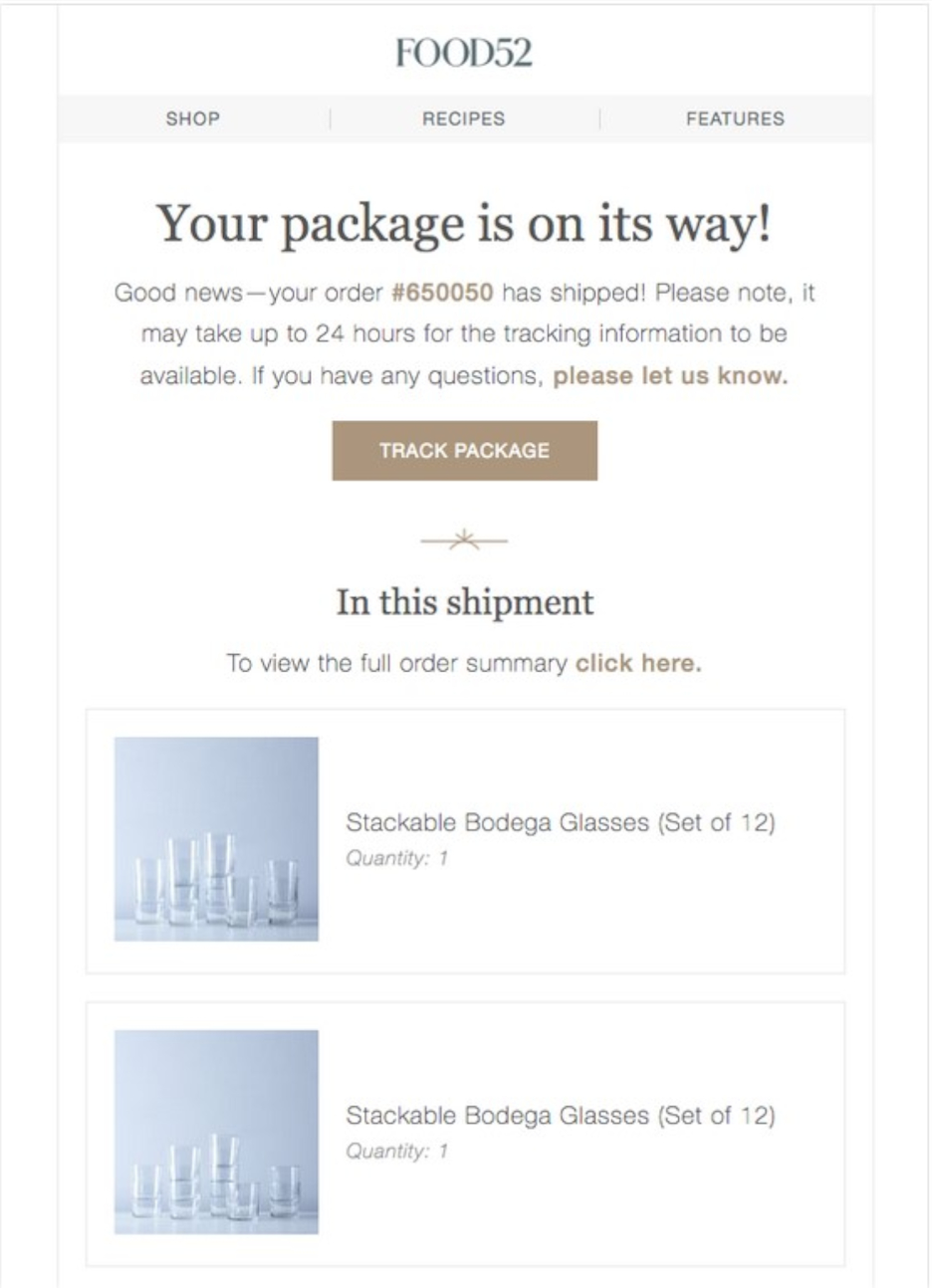 Source: reallygoodemails.com
Why this order confirmation email shines:
It provides a full summary of the order and provides a tracking link. These two elements ease post-purchase anxiety and build up excitement, respectively.
2. BURST Oral Care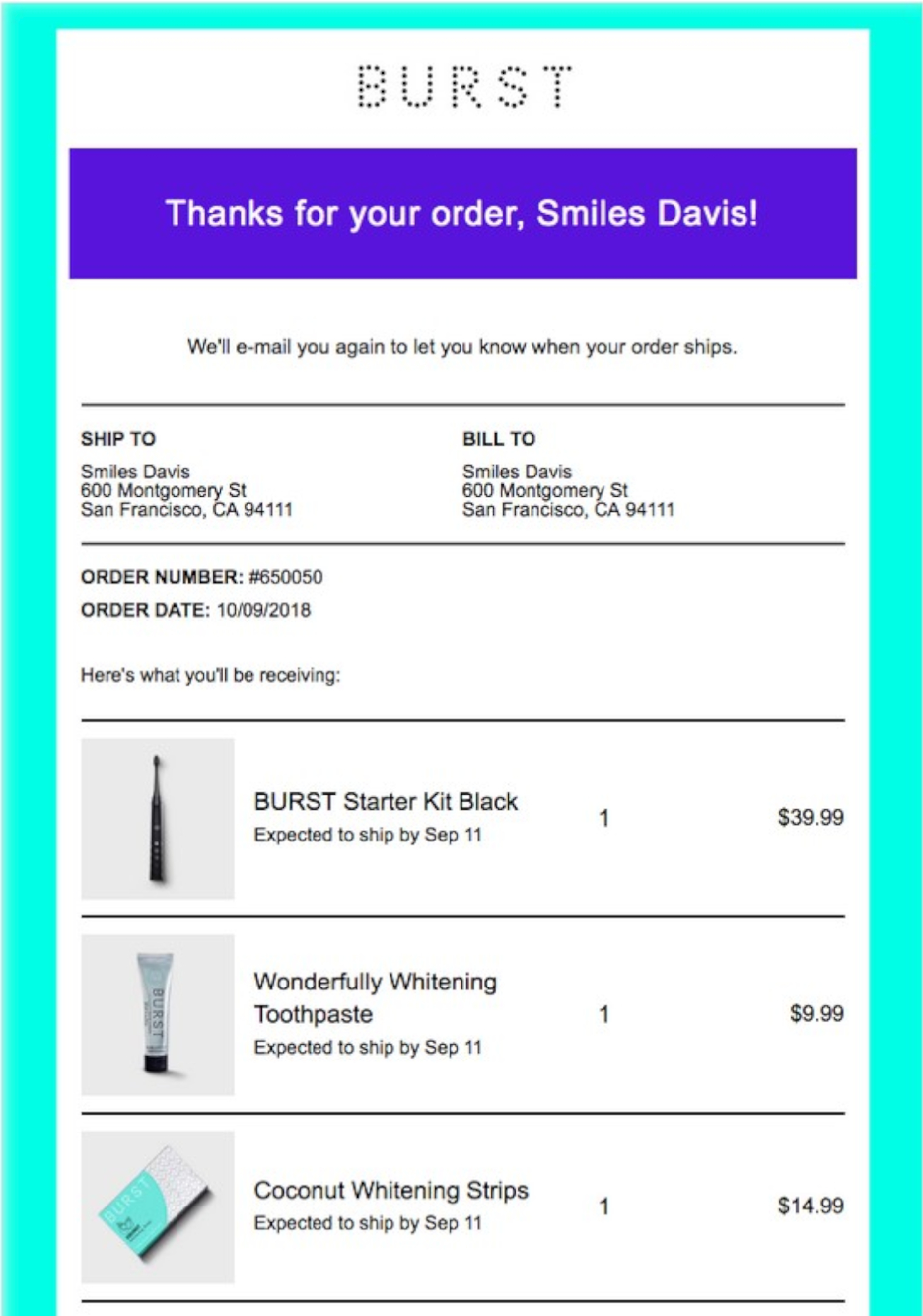 Source: reallygoodemails.com
Why this order confirmation email shines:
It's branded, colorful, and provides a full summary of the order placed. Another powerful piece of this confirmation email is letting the customer know that they will receive another email when their order ships. That extra bit of proactive communication goes a long way.
3. Lucid Fox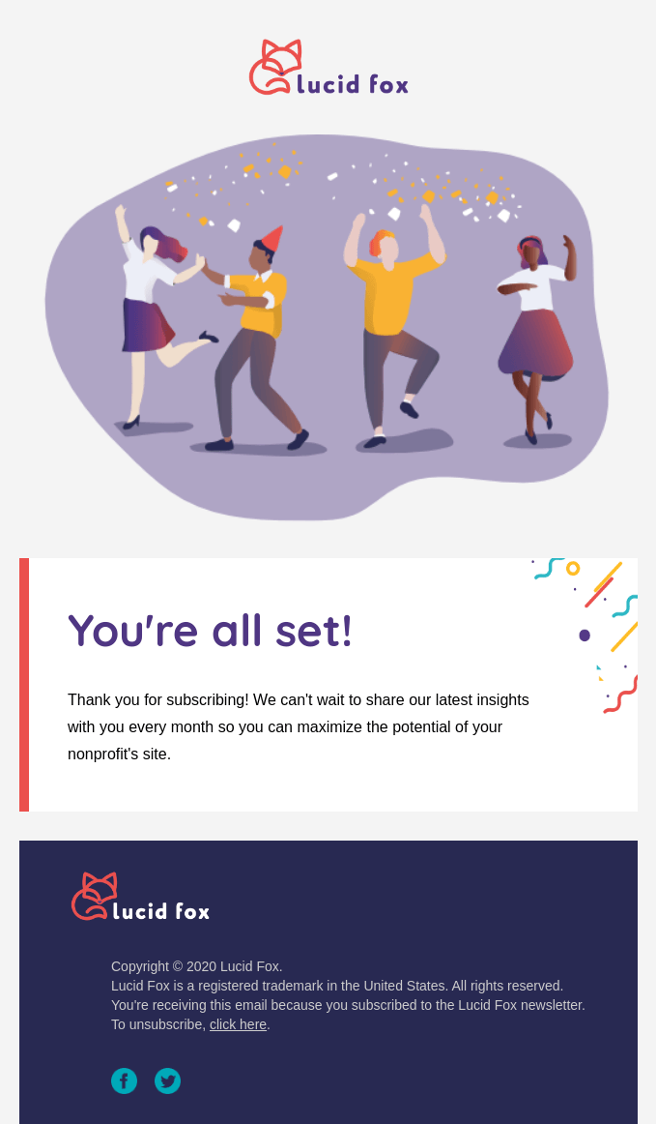 Source: reallygoodemails.com
Why this subscription confirmation email shines:
This subscription confirmation email is eye-catching and festive. It also lets the new subscriber know the frequency of the emails in a brief message.
4. Mozilla Firefox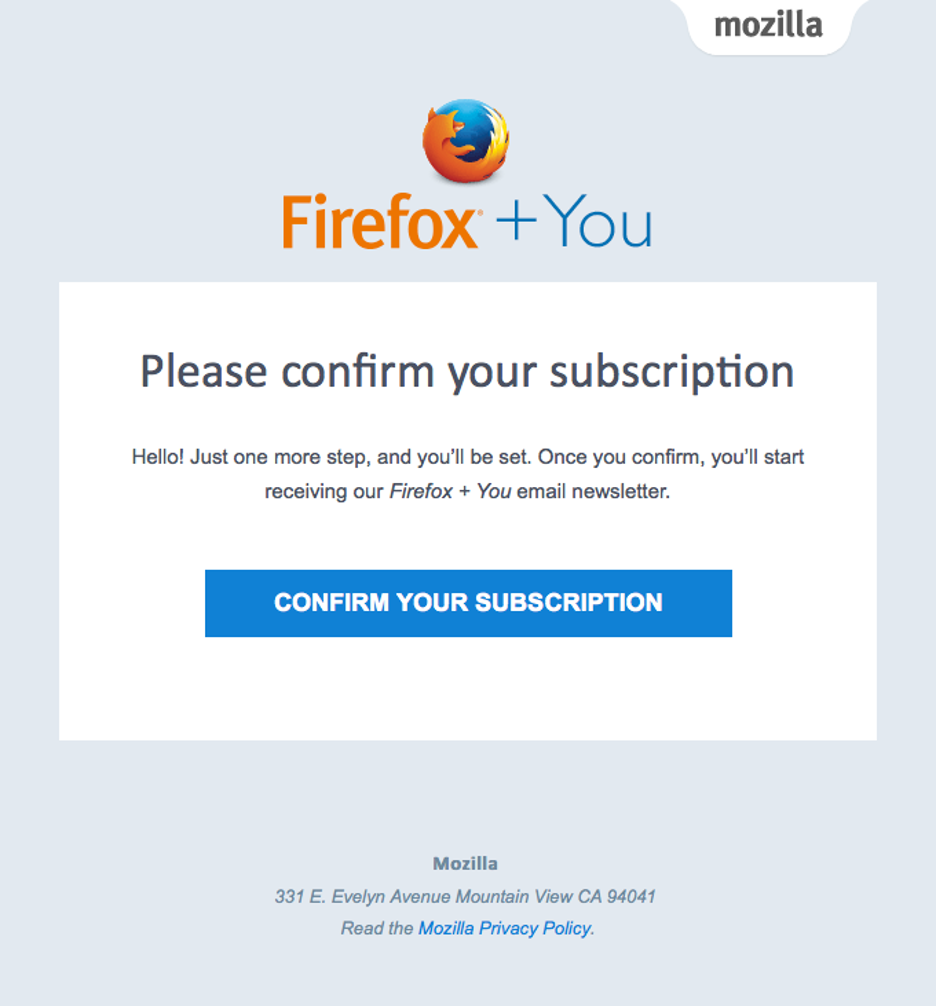 Source: reallygoodemails.com
Why this subscription confirmation email shines:
In this subscription confirmation email, Firefox gives explicit instructions and has a strong call to action. The proactive communication is apparent and the new subscriber knows exactly what they'll receive when they hit the "confirm subscription" button.
5. Web Summit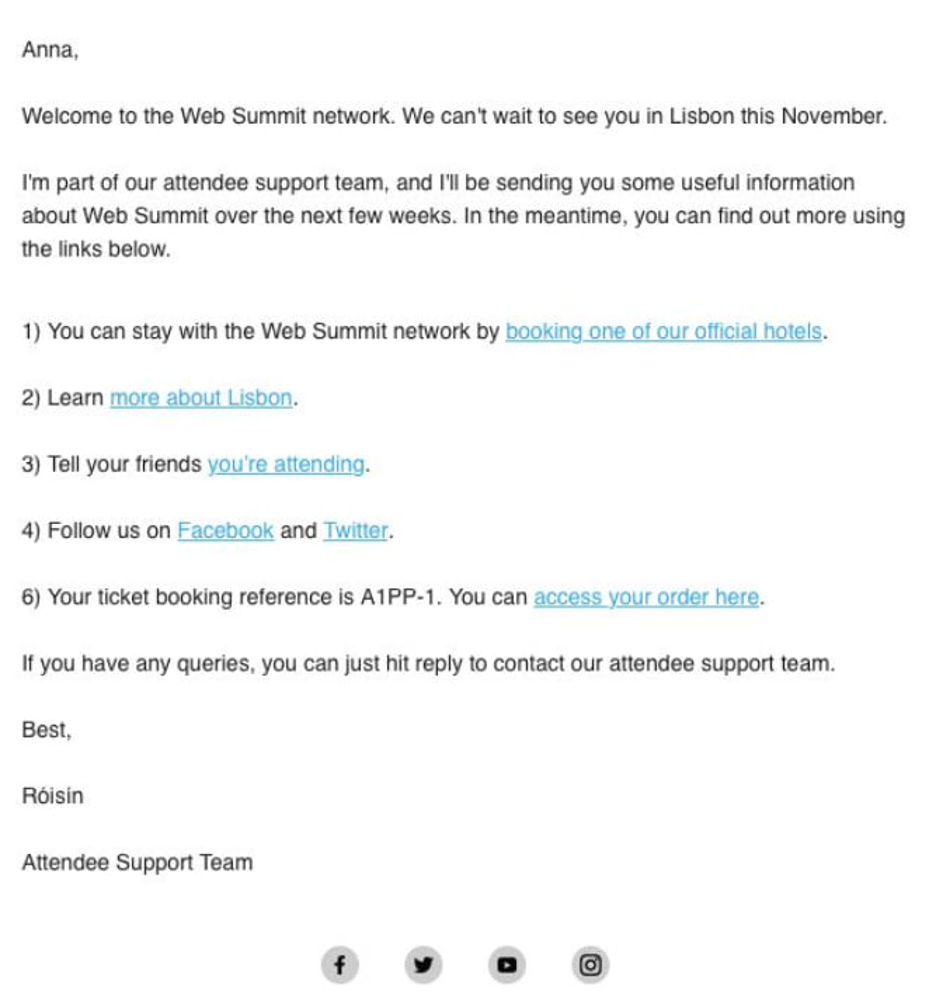 Source: reallygoodemails.com
Why this registration confirmation email shines:
It's warm in its tone and reads like a message from a close friend. It lets the registrant know what's coming next and provides helpful links to relevant resources. There's a simple call-to-action at the bottom to extend the conversation and build excitement for this event!
6. Wishpond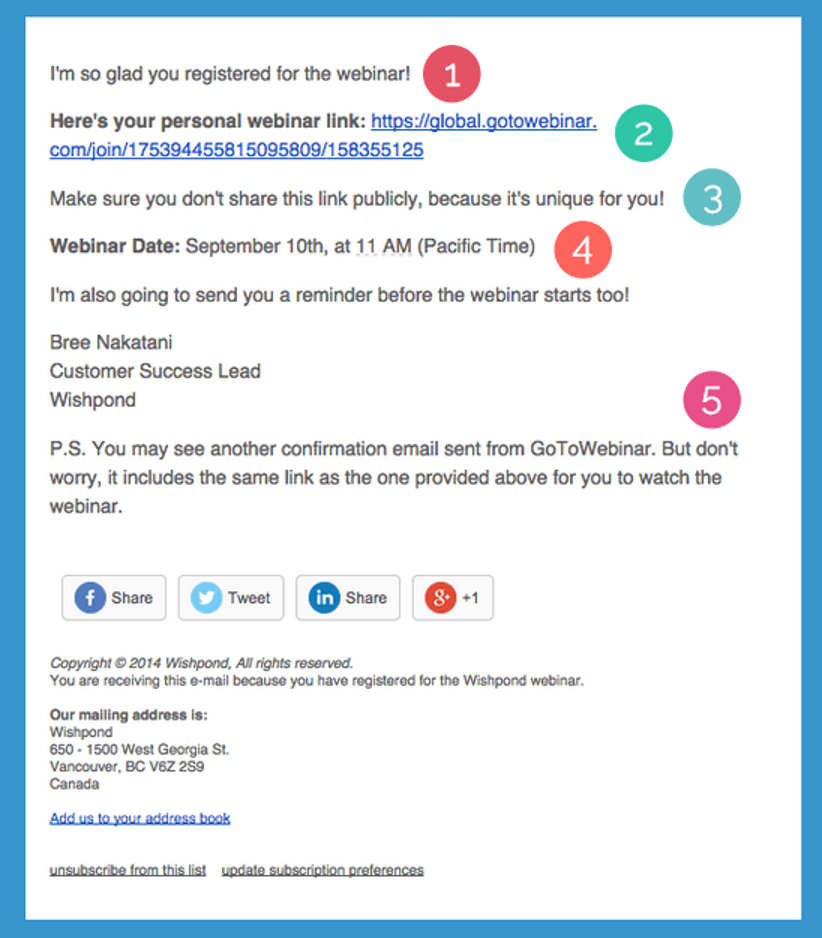 Source: reallygoodemails.com
Why this registration confirmation email shines:
It confirms the registrant's action, provides the link to the webinar, reminds them of the time & date, and intercepts potential confusion with a clarifying message at the bottom. Once again, the copy is casual and singular (even if thousands of people got this same message!).
7. Airbnb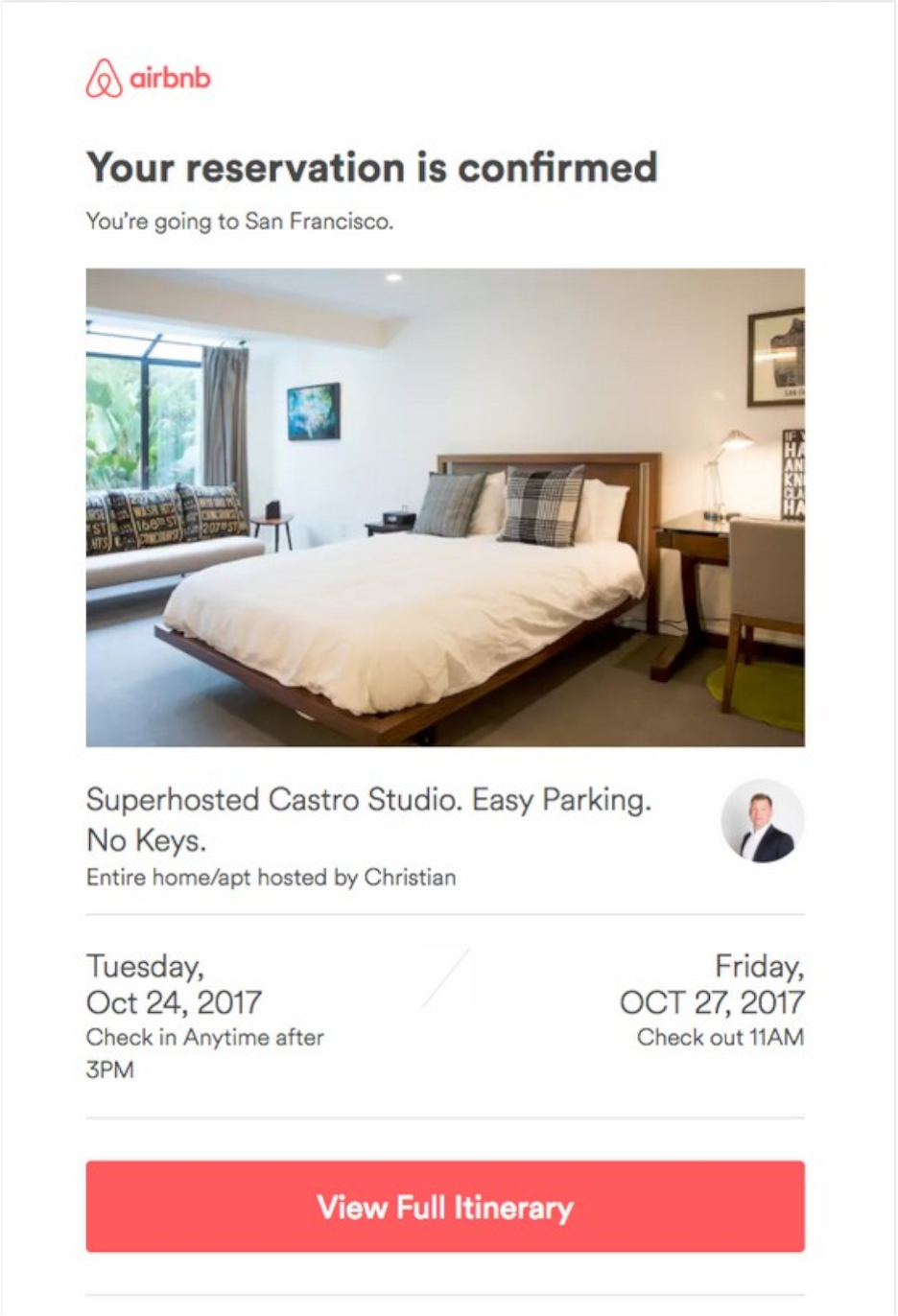 Source: reallygoodemails.com
Why this booking confirmation email shines:
Trips are fun and confirmation emails should reflect that! AirBnB does an excellent job incorporating their bright colors, casual copy, and clear booking summary in their booking confirmation emails.
8. Tock

Source: reallygoodemails.com
Why this booking confirmation email shines:
It's branded, has a clean design, and fun copy with a summary of the dinner reservation. Need to change something? There's a clear "Manage Reservation" button in the email's body. Lastly, the restaurant's address is added at the bottom, just in case!
Now it's your turn to start working on your confirmation email
Confirmation emails give you an excellent chance to ease your customer's post-order anxiety, get them excited about an upcoming event, and build a stronger relationship with anyone who signs up to your email list.
In this article, you learned about the different types of confirmation emails along with best practices. You discovered how to set up your confirmation emails in 5 easy steps, and you got a breakdown of 8 powerful confirmation email examples to learn from.
Most importantly, you learned that there are some non-obvious places in your marketing and sales funnel that can be improved upon and get you more engagement, better leads, and more sales.
Improving your conversion rate requires regular experimentation from your sales pages to your confirmation emails.
Now over to you! Which confirmation email best practice are you the most excited to try out? Do you have any more ideas that were not mentioned in this article?
Leave us a note in the comments below!