Email list management isn't the most exciting part of running an online store, but it's an essential part of an effectively run store's marketing efforts. If you can get your email list management right, you'll be able to send personalized emails and avoid the spam folder. And if you don't, you're putting your sender reputation at risk.
However, many ecommerce stores struggle with proper email list management for a number of reasons. Some aren't aware of how important it is, while others simply don't have the technical capabilities to practice good email list management.
Luckily, with the right email marketing software and a little know-how, you can easily manage your email list!
In this article, we'll go over 8 crucial list management best practices that can help you achieve the best email marketing results possible.
Let's get started!
1. Review your current email list
First things first: you'll have to analyze the quality of your existing email list before you start refining your email marketing strategy.
You should start by determining the engagement levels of your subscribers. This will help you identify outdated and invalid email addresses that aren't responding to—or even opening—your marketing emails. You should also keep an eye out for duplicate contacts.
By removing these inactive subscribers from your contact list, you'll reduce your bounce rate and help keep your list healthy. Since most email service providers track sender reputation, you need to make sure that your emails are being delivered and avoiding spam folders.
You can also identify unengaged subscribers whose contact details are still valid, but who rarely open or click through your emails. As we'll cover later on, you can send a specific type of email campaigns to try to re-engage these subscribers.
2. Optimize your sign-up process
Maintaining an email list that's filled with quality contacts starts with your lead generation campaigns.
If you want to grow your list of email subscribers, you should make sure that the sign-up process is simple and easy. In order to further optimize your lead generation campaigns, you should create high-value incentives that encourage people to sign up. Promising a "mystery discount" is particularly effective because your visitors will be curious to find out what it is.
Popups are an incredibly attention-grabbing method of displaying an email marketing sign-up form. They'll result in the most conversions.
Here's a perfect example of an optimized sign-up popup: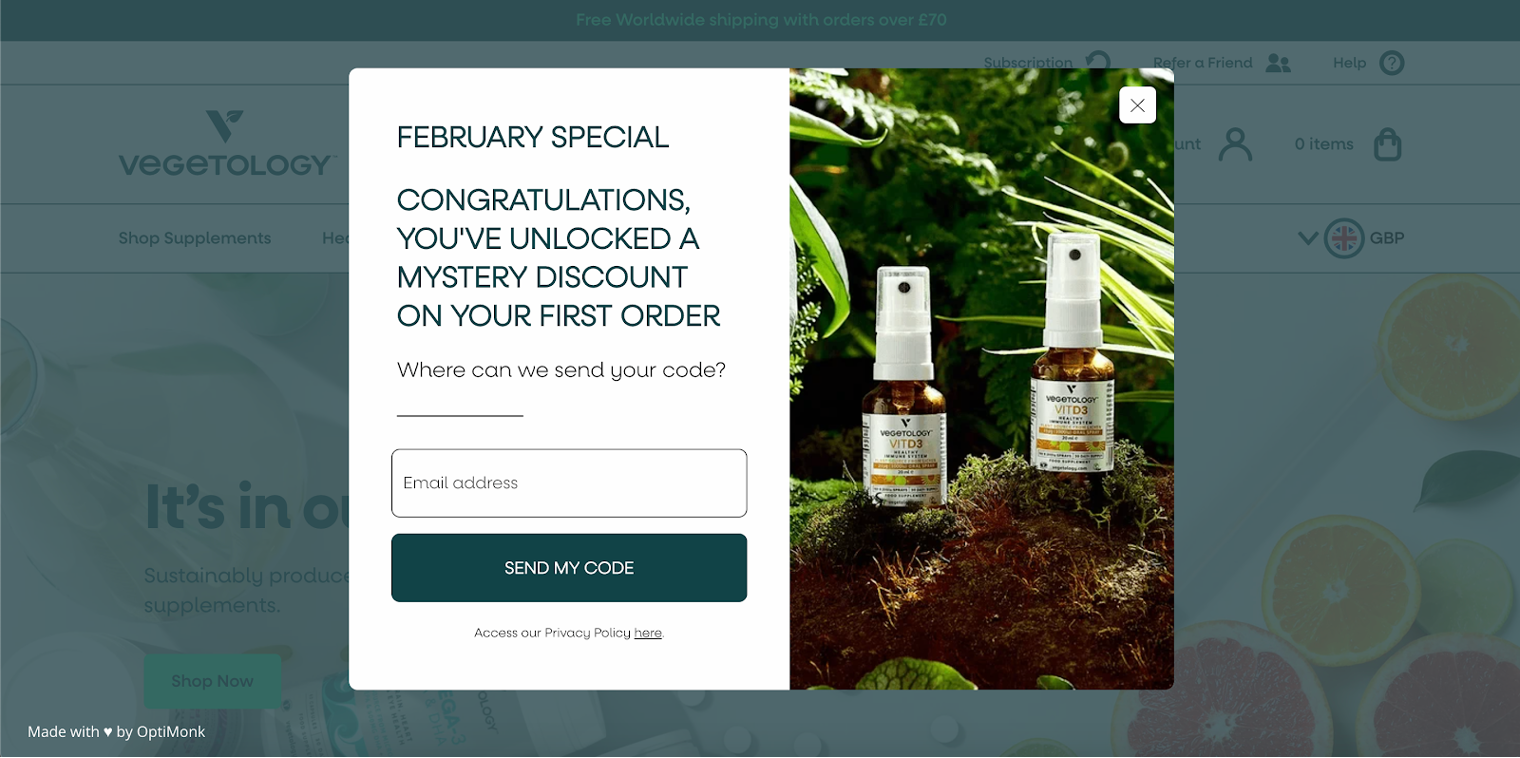 Here are several lead generation popup templates to get you started:
3. Segment your email list
Another one of our key list management best practices is segmenting your list into cohorts that share specific characteristics. The more you know about your email subscribers, the more targeted campaigns you can send. 
Email marketers have to get creative in ways to engage their target audience with topics that will interest them and make them subscribe. For example, if you know your target audience are pet owners, you could include tips and wellness practices from veterinary experts to engage them. 
To group your target audience into smaller segments, you can use visitor characteristics like:
interest in a certain type of product, 

geographic location, or

where they are in the sales funnel.
Email marketers have also started using multi-step popups to collect extra information about their new subscribers.
Here's an example of a campaign that can help you add personalization information to your email database. The first screen looks like a normal lead generation signup form: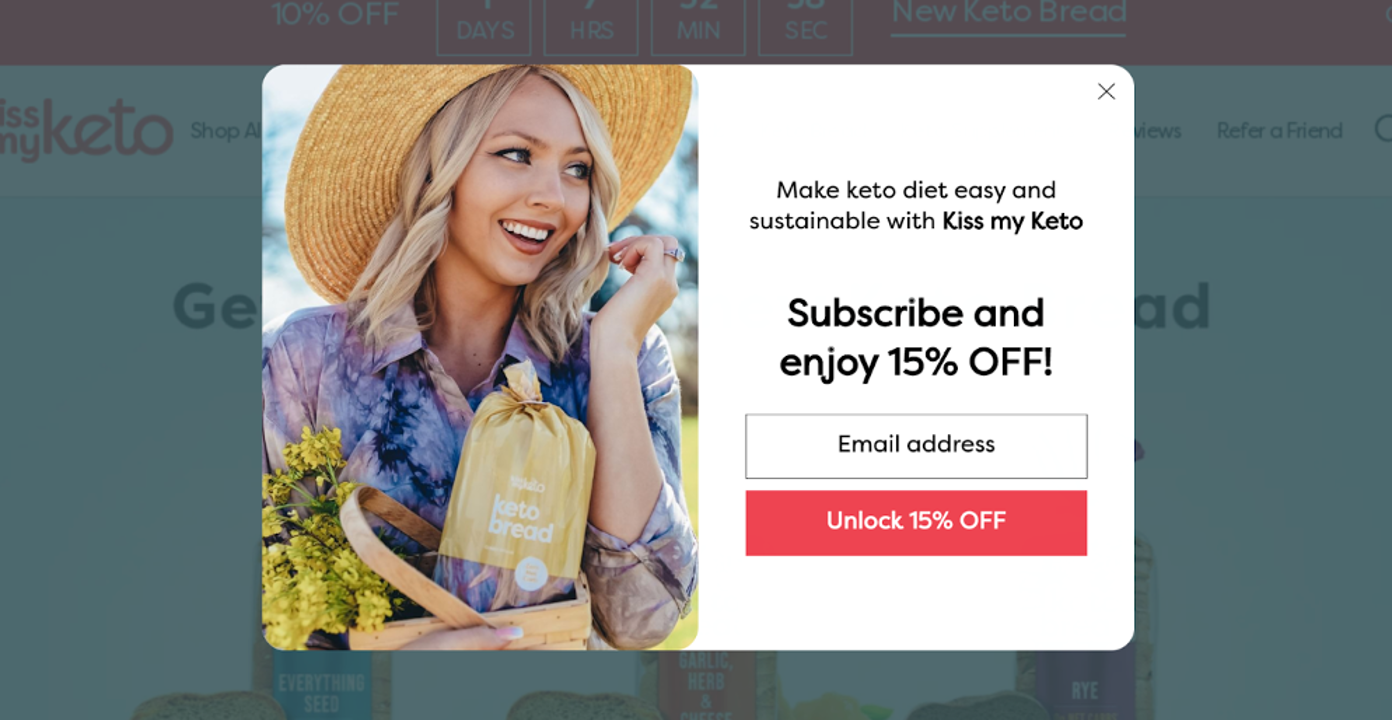 But once you've collected the email address, you can show a second screen to collect zero-party data.
Depending on their answers, you can attach different contact tags to your new subscribers and use that information to create email campaigns full of relevant content.
4. Send re-engagement campaigns to inactive subscribers
As we've mentioned, it's crucial to make sure that your email marketing list is always up to date by removing invalid and inactive email addresses from your list. 
Whenever you send an email campaign to invalid email addresses, your sender reputation will suffer. If lots of your emails bounce or end up in spam folders, you're much more likely to trigger spam filters in the future.
You should create a compelling re-engagement campaign in order to get unengaged subscribers back into the fold. If you're able to capture their attention with a great offer or an interesting subject line, they'll be more likely to respond to your email marketing efforts going forward.
If you want to stay in constant contact with your email subscribers, it's inevitable that you'll need to send a re-engagement email campaign every once in a while.
5. Implement email marketing automation
Setting up a good email marketing automation procedure is an essential part of any winning email marketing strategy. 
It's particularly important to send out a welcome email immediately after a new subscriber signs up so that they get their first email while your brand is at the top of their mind.
Make sure that you use an email marketing tool that allows you to automatically send personalized emails. With the zero-party data you've collected in the lead generation process, you can adjust everything from subject lines to greetings and email content.
You can also personalize an email campaign by using marketing automation to modify it based on user behavior. For example, you can send cart abandonment emails to users who have added items to their cart but haven't completed the checkout process.
6. Use a double opt-in process
It's essential to make sure that you have explicit permission to send email marketing messages to all the addresses on your subscriber list. Failing to get consent from your email subscribers is illegal in many countries, making this one of the most important list management best practices.
That's why we recommend using a double opt-in process to verify subscriber email addresses. This is when you ask subscribers to confirm their email addresses, which will reduce spam complaints. Most email marketing tools will have email campaign templates to help you implement a double opt-in process.
Just double-check that your email marketing platform provides clear instructions on how to confirm their subscription and you're ready to go.
7. Provide an easy opt-out process
On a related note, it's also crucial to make it easy for subscribers to opt out of your email list. 
You can do this by including an unsubscribe link in all your email marketing campaigns. Your email list management system should automatically remove users who have unsubscribed so that you don't make the mistake of sending more emails to them.
Even though unsubscribes aren't the best outcome you can hope for, you never want your subscribers to feel like they're forced into getting emails from you.
8. Monitor and analyze your email list performance
Finally, you need to constantly track the key metrics that reveal your email list performance. You should analyze your bounce rates, email open rates, click-through rates, and conversion rates.
For example, as you learn why one email marketing campaign has a higher conversion rate than another, you can start using this data to improve your email list management strategies.
There are many options here, from filtering subscribers based on how they respond to welcome emails to refining your personalized content. You can always improve your email list management further if you treat it as an ongoing project.
What is email list management?
Email list management is the process of maintaining your contact list and ensuring it's up to date. A lot goes into keeping a healthy list, such as making sure to remove invalid email addresses, adding contact tags to certain accounts, and sending re-engagement campaigns.
Good email list management results in higher email deliverability, a lower bounce rate, and fewer inactive users.
Leveraging the assistance of inbox management virtual assistants can further enhance this process, automating routine tasks and ensuring that your email communication remains efficient and targeted. 
What are some examples of email list management software?
There are many email list management tools that are designed to help maintain email lists. This includes tools that use custom-built email templates to improve email deliverability, software that tracks and responds to spam reports, and lead generation tools with signup forms that help you add contact tags to your email lists.
Some popular tools that can help you maintain a healthy list and avoid the spam folder are:
OptiMonk

ZeroBounce

Mailchimp

Constant Contact

HubSpot

Paperform
How do you create an email marketing strategy?
Creating a great email marketing strategy is a complex task that takes quite a bit of effort. You need to find your target audience, create campaigns that they'll love, and send them out on a regular basis.
Here are some ingredients of great email strategies:
List segmentation

helps you reach highly specific target groups.

A compelling subject line

encourages subscribers to open your emails.

Great copy

rewards users for opening your email campaigns.

A clear CTA

helps move subscribers from one stage of the sales funnel to the next.

Personalization

allows you to leverage all the data you have to send relevant content.

Dedicated landing pages

for each email campaign help keep your messaging consistent.
What are invalid email addresses?
Invalid addresses are those that don't lead to an inbox: messages sent to these addresses are undeliverable. This often occurs when a user incorrectly enters their contact details into a signup form or uses a fake email address. These invalid addresses gum up email lists.
Email validation tools can automatically comb through your contact list to find invalid addresses.
As we've seen, email list management is an incredibly important part of running an online store. You can't fully realize the benefits of email marketing without performing proper list management on a regular basis. From your welcome email to the re-engagement campaigns you send, you should work hard to make sure every message arrives in a real subscriber's inbox.
There's no reason not to start optimizing your email list management strategy today!