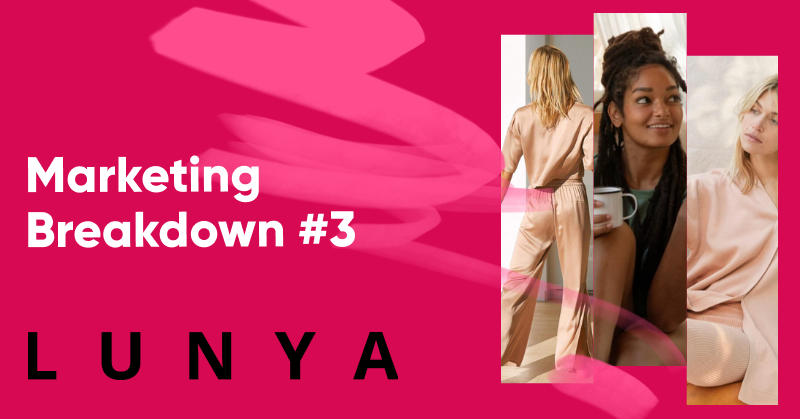 So many companies today try to put themselves on the map by "disrupting" their industry. That's exactly what Lunya has managed to do with women's sleepwear. Creating products that bridge the gap between style and sensibility, Lunya's mission is to be the go-to nightclothes brand for modern women.
Although the company is still young, they've already seen rapid growth in the form of 500% expansion YoY and annual revenue exceeding $25M.
But Lunya's success didn't happen by accident. It didn't happen overnight, either.
According to Lunya co-founder Ashley Merrill, the brand put themselves on the path to growth by putting their customers first:
"When you think about building a company early on, never lose sight of the customer's perspective," Merrill says. "Never stop thinking about who you are serving. That should guide marketing and all else: you're not trying to solve a problem for everyone."
There's no denying that sleepwear is a competitive space, especially in the ever-expanding world of ecommerce. So, how did Lunya take steps to stand out from the crowd and stake their claim?
In this breakdown, we'll look at the steps the brand took to build themselves from the ground up and create a wildly successful, customer-centric marketing strategy in the process.
1. Build a Memorable Brand That's Worth Buzzing About
According to Merrill herself, Lunya originally relied on the typical tactics you'd expect from an up-and-coming ecommerce brand.
Facebook and Google ads. Conversion optimization. You know the drill.
However, the rising cost of conversions and clicks made Merrill rethink taking an ad-heavy approach. As a brand, Lunya needed to figure out who their target audience actually was before ads could be effective.
That made raising brand awareness a top priority. Rather than continuing to dump money into ads, Lunya pivoted toward PR and sponsorships to drive digital word-of-mouth.
Investing in sponsored content was key to getting Lunya off the ground. Not only did sponsored features in publications like Vogue, Forbes, and Glamour manage to get their brand out in the open, but also helped Lunya better understand who their target audience truly was.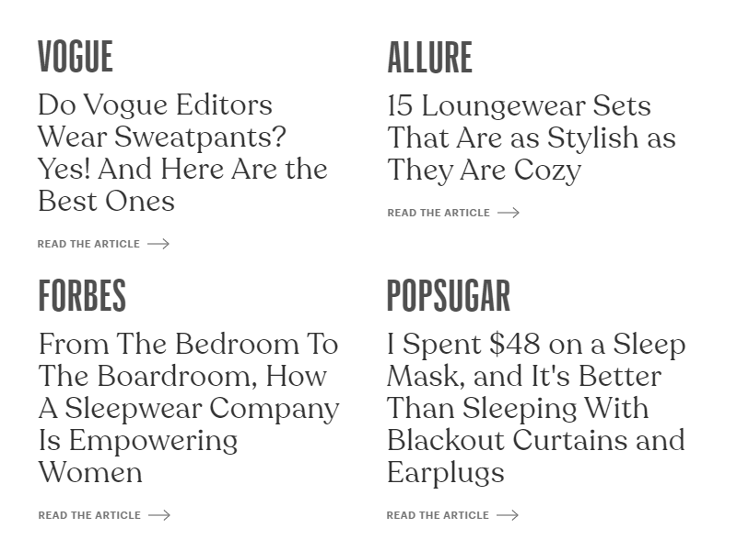 These shout-outs allowed Lunya to speak to their fashion-focused audience directly. Their products were deemed buzzworthy by editors and readers alike, thanks in part to the company's positioning as a premium brand that prioritized comfort.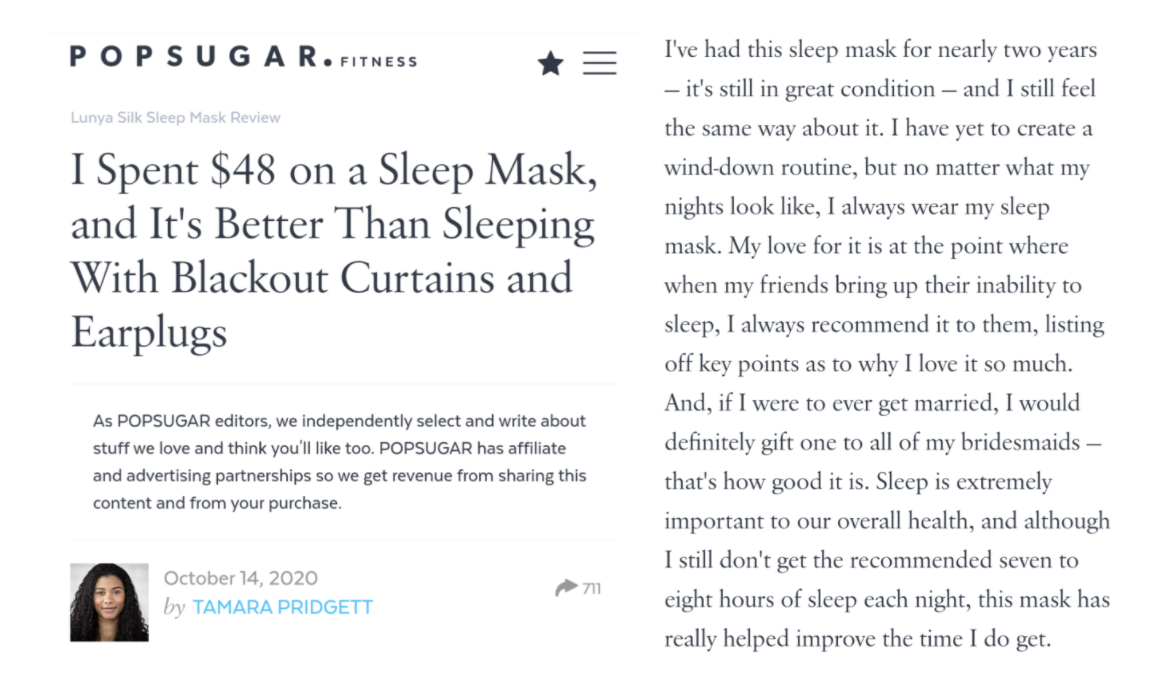 Given the affiliate links sprinkled throughout sponsored posts, these sort of relationships represent a win-win for brands and publications alike.
Lunya continues to put these positive press mentions front-and-center on-site, serving as a huge credibility booster for the company even today.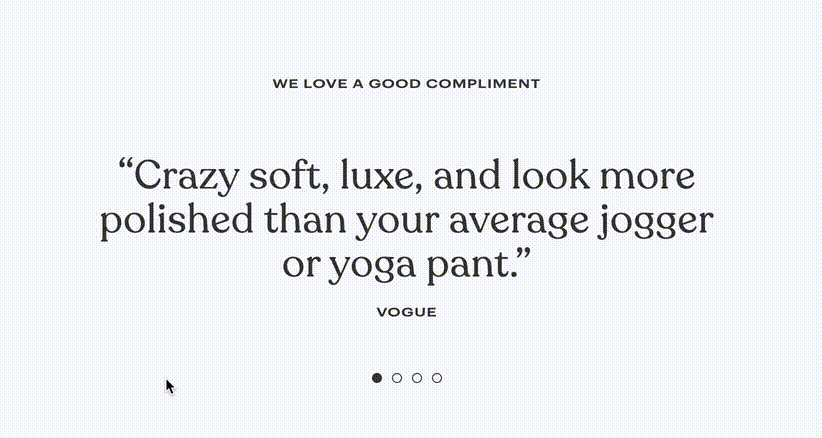 After scoring significant buzz from digital publications, Lunya took to the streets. Like, literally.
Although print advertisements and billboards might be considered "old-school," they're pure gold for fashion brands looking to make a statement. The brand's "Good in Bed" and "I Come First" campaigns received significant media attention, including LA-based events centered around "prioritizing yourself in your mind, body, and space."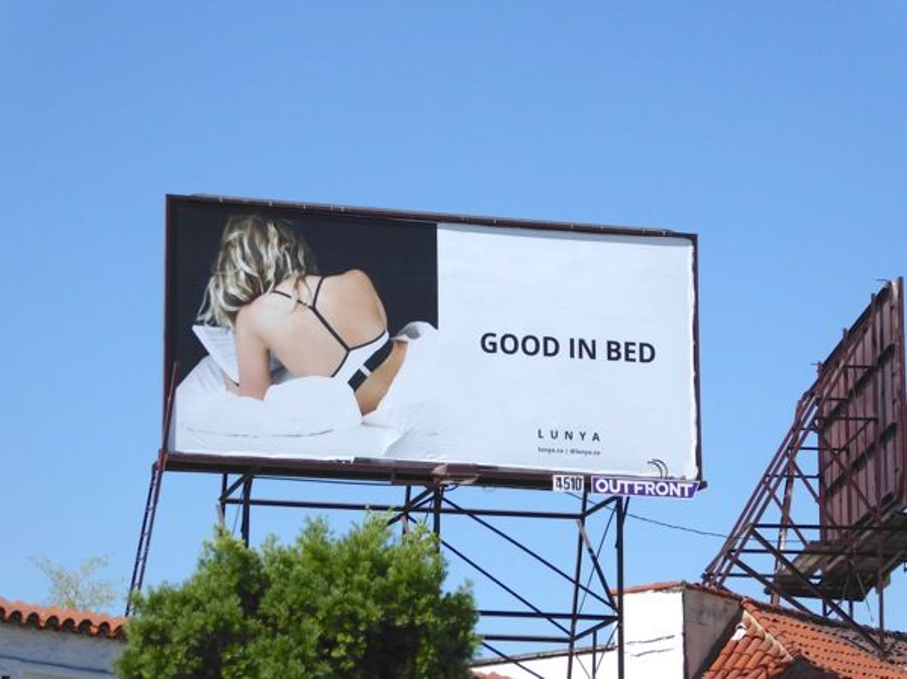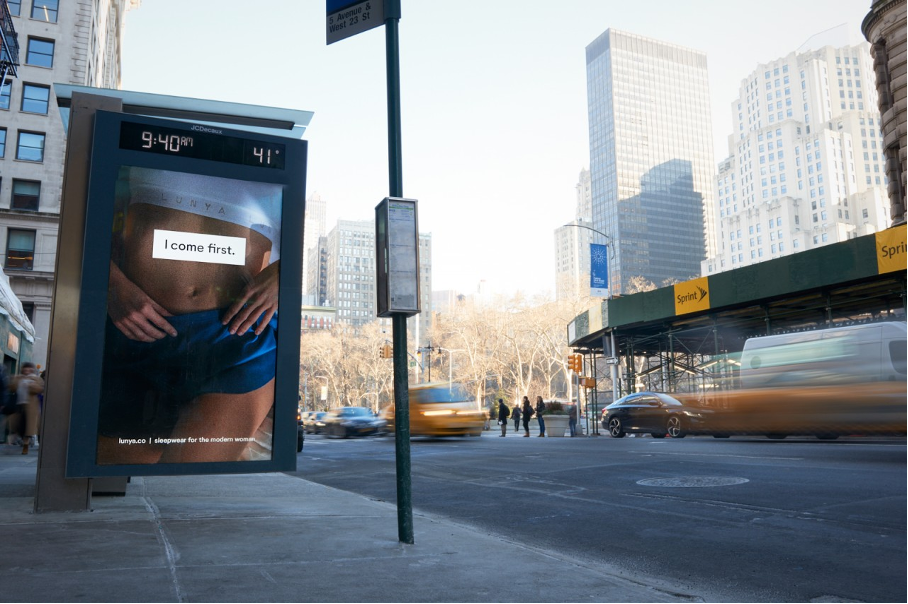 These campaigns allowed Lunya to go beyond being just a sleepwear brand and grab the attention of shoppers by making themselves the subject of women's luxury. This full-page New York Times ad speaks for itself: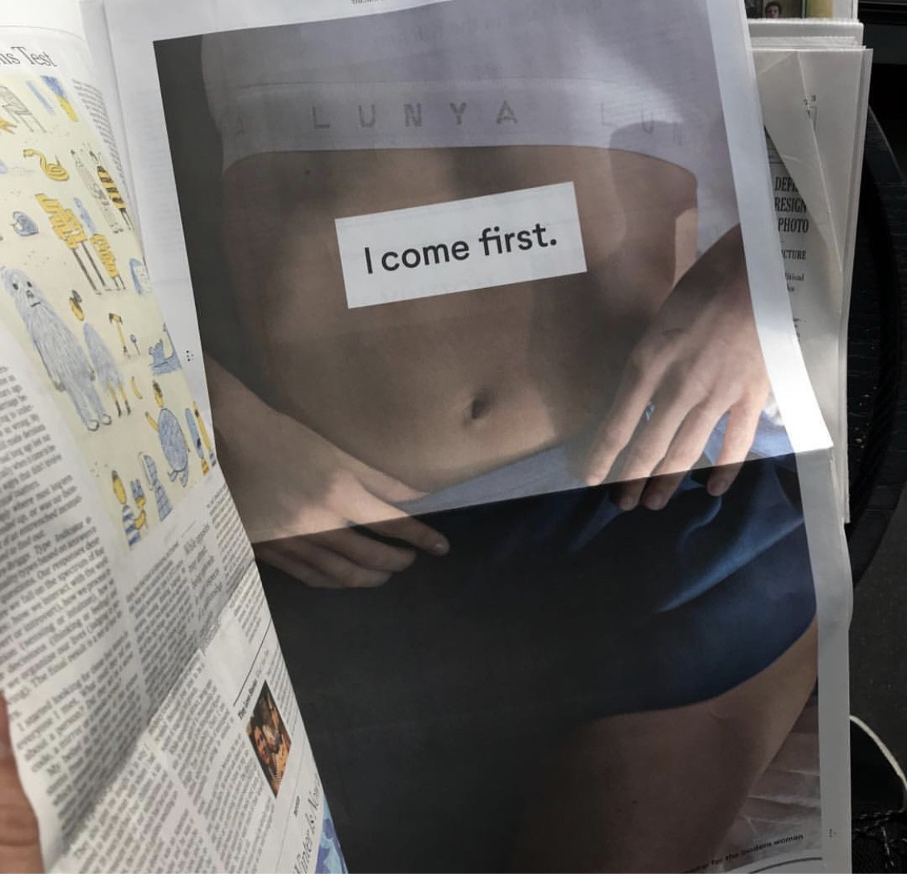 Lunya's bold approach to marketing and branding has clearly paid off. Although digital marketing and ads remain a cornerstone of ecommerce, companies shouldn't be afraid to think outside the box.
By doing just that, Lunya has developed a strong, memorable brand. You get a sense of exactly who they are and what they represent as soon as you land on their site.

2. Amplify the Authenticity of Your Satisfied Customers
Influencer marketing is all the rage among fashion brands in the ecommerce space.
That said, the effectiveness of influencer campaigns isn't always consistent. There's a massive difference between so-called "influencers" that push products all day, versus people who have authentic social followings.
Perhaps that's why Lunya decided to partner with micro-influencers rather than celebrities. The benefit of working with influencers with smaller followings is two-fold:
1. They typically have more engaged followers and score more interactions.
2. It's easier to scale relationships with micro-influencers as campaigns cost less.
Lunya managed to kickstart and scale their social campaigns by setting up an ambassador program. Presented as a positive relationship between the brand and its customers, Lunya sought to assemble a crew of advocates to give them a shout-out (and vice-versa).
The fact that the program requires an application means that Lunya saves serious money acquiring influencers.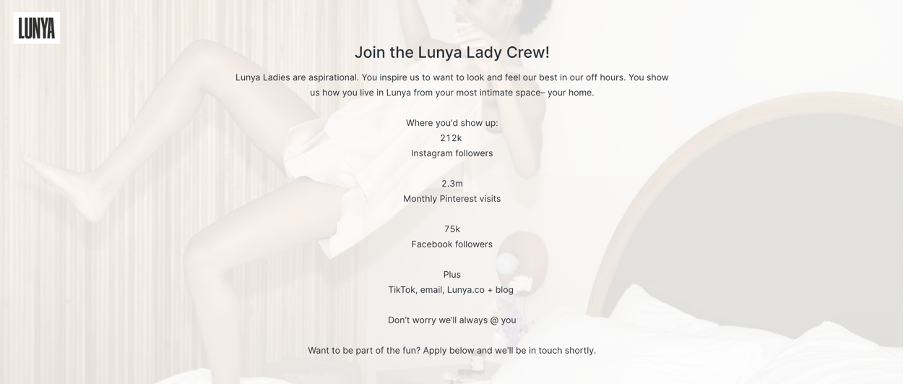 Working with their Instagram ambassadors, the brand promoted a variety of giveaways and promo codes to encourage social shoppers to take action.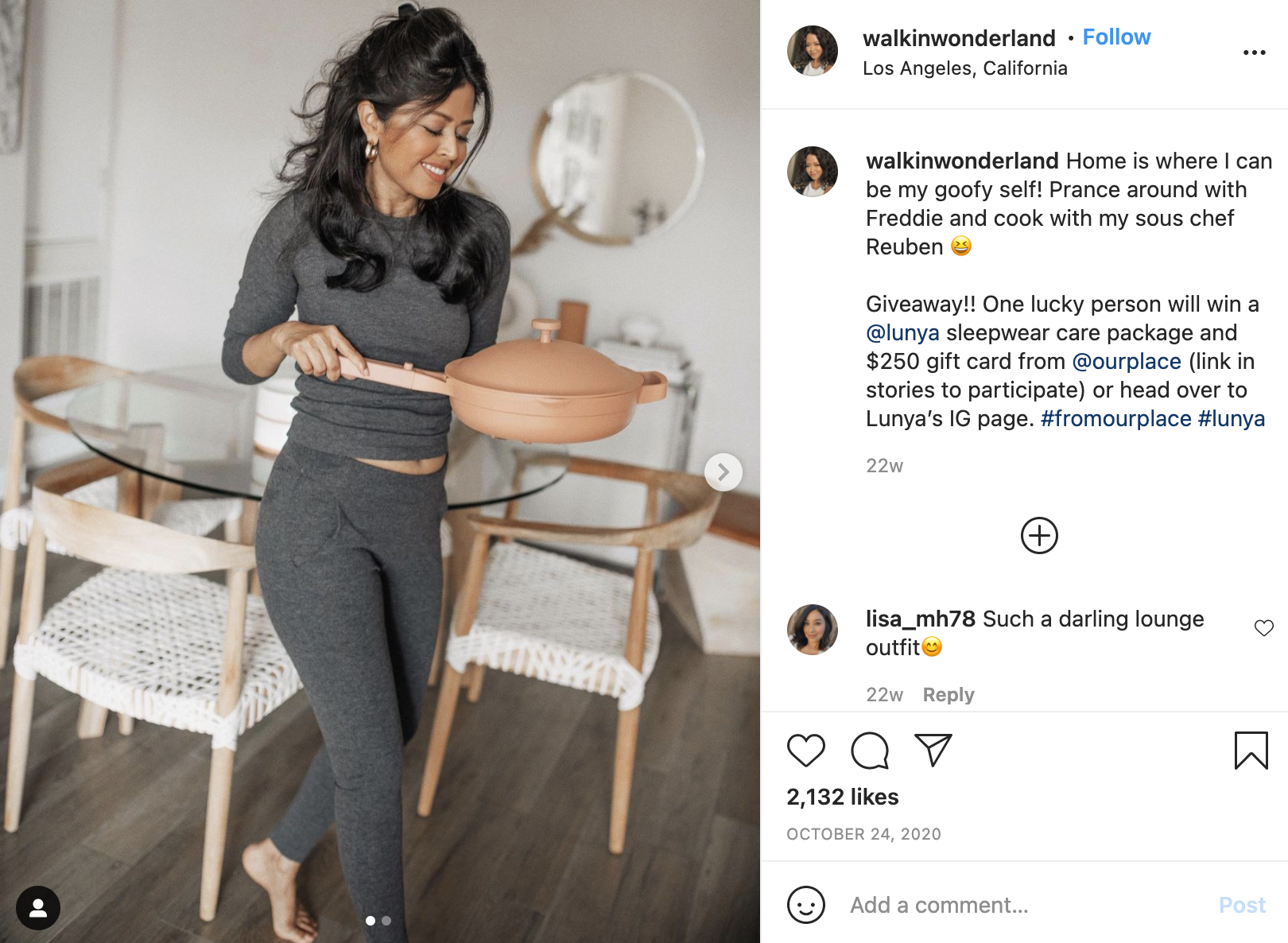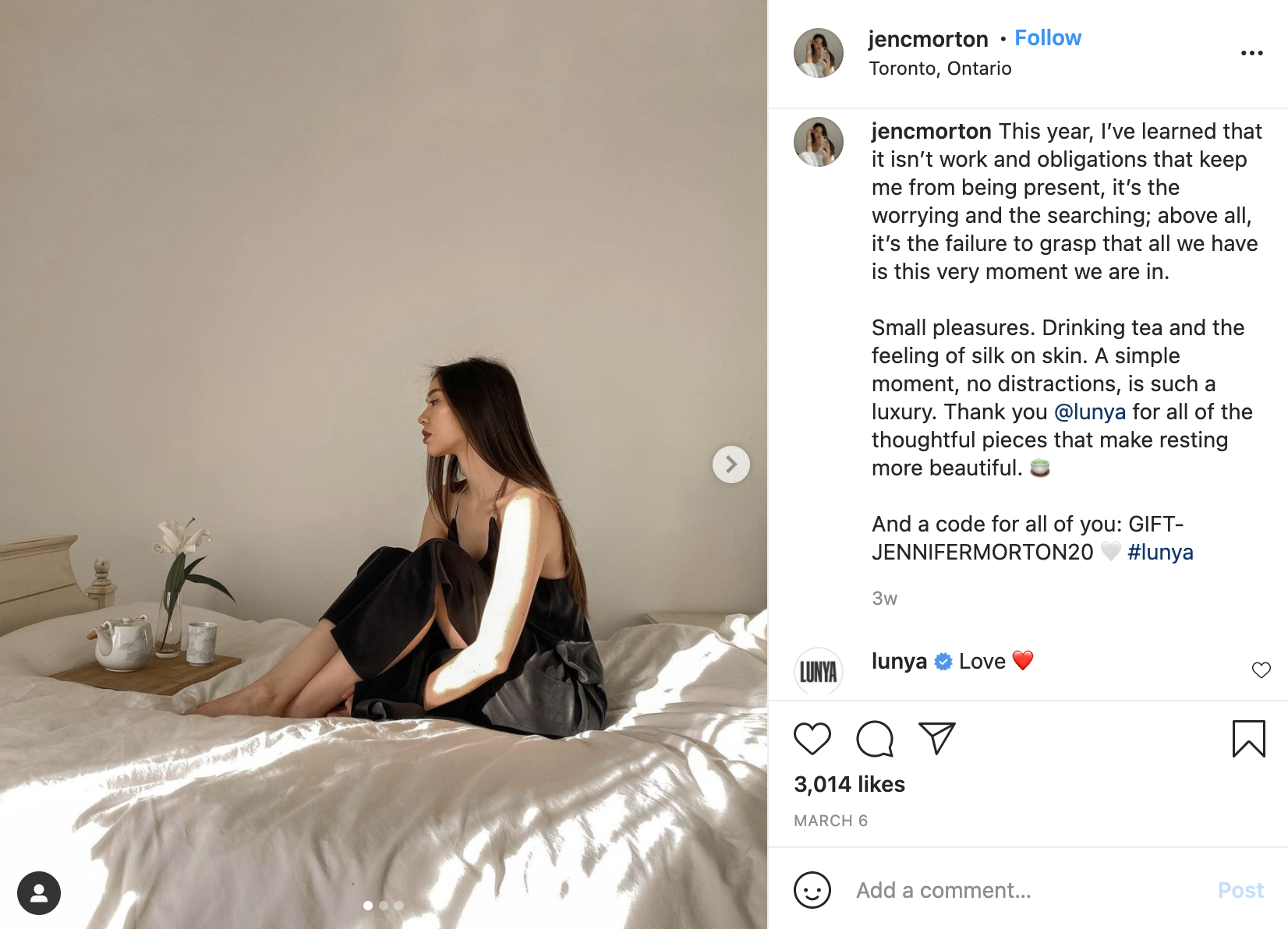 Again, word-of-mouth was key to Lunya's growth. The brand has always made a point to provide its loyal shoppers with opportunities to spread the word.
Take their referral program, for example. A guaranteed $20 discount for referrals is an enticing offer for existing and first-time customers alike. This sort of promo highlights the highly social nature of the brand and Lunya's desire to grow their community.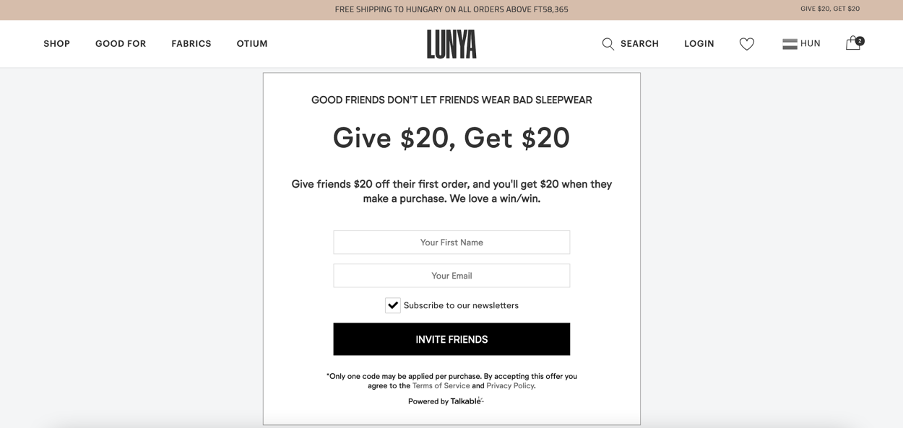 Lunya also goes out of the way to highlight their relatability and customer relationships through their blog. By interviewing people including dancers, artists, and designers, the brand's marketing achieves a human touch that connects with their audience.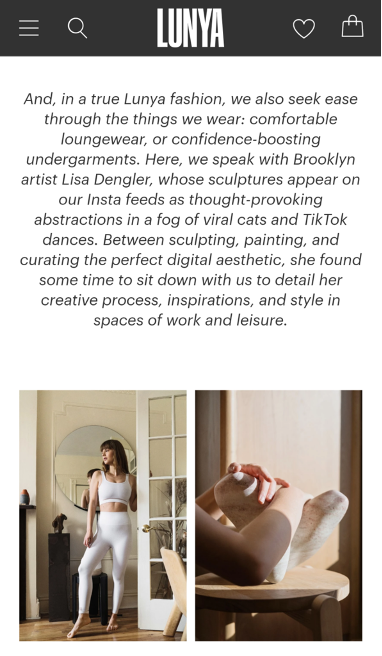 3. Make it a Cinch for First-Time Buyers to Find the Right Fit
Now, let's talk about how Lunya makes their shopping experience as seamless as possible for customers.
Despite the recent boom of ecommerce, shopping online isn't without its fair share of headaches. Lunya manages to reduce tension during the buying process and put their customers' minds at ease from the minute they land on-site to the moment they check out.
For starters, Lunya allows shoppers to filter products based on their desired fit. Category pages also make it easy to find the style they're looking for.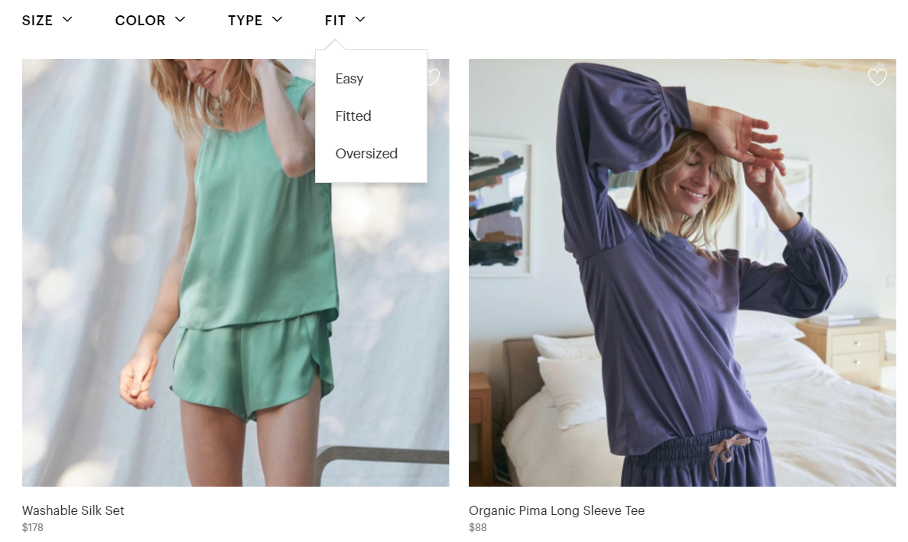 Then, each product's "Size + Fit" snippet gives shoppers specific measurements for every item. This includes what size their product model is wearing, helping buyers decide whether a particular fit would be appropriate for their style, body type, and so on.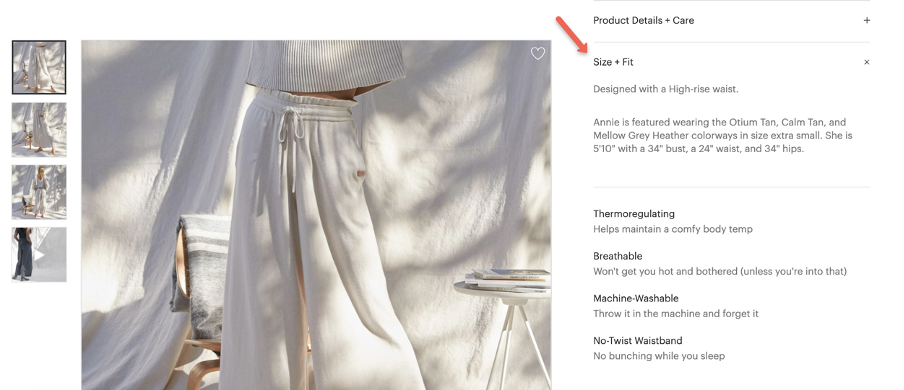 The reviews paired with each product page also provide shoppers with some much-needed peace of mind when it comes to how an item fits. The fact that most of these reviews are overwhelmingly positive is an added bonus to help win over skeptics.

In short, Lunya makes a conscious effort to predict potential customers' concerns for any given item and ease them instantly.
4. Personalize the User Experience for Each and Every Visitor
No matter what you're selling in ecommerce, chances are you're dealing with fierce competition.
Focusing on the customer experience is essential if you want to stand out from the crowd. Lunya goes the extra mile to act as a sort of digital concierge to customers, personalizing service and making suggestions along the way.
For example, their playful email opt-in lets customers select their gender for the sake of tailoring future emails appropriately.

Their site also recommends products and styles based on purchasing and browsing behavior. This encourages more sales while ensuring that shoppers don't have to dig for what they're looking for.

Even small touches such as calling visitors by name when they're logged in, can help make a lasting impression on shoppers.

Lunya's site even gives special attention to international visitors, providing detailed information on shipping options and currency for their respective region and country.
This is yet again another example of how they predict their customers' potential objections and make their lives easier.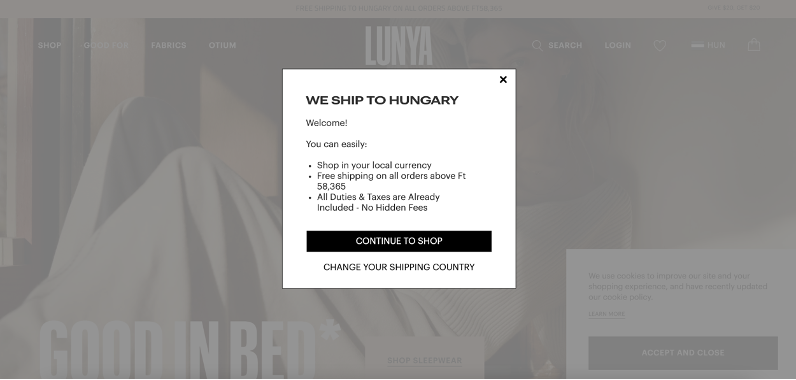 These tactics combined, make visitors feel like they've been attended to every time they visit Lunya's site.
5. Focus on Selling a Feeling First and a Product Second
If you're on the hunt for sleepwear, you're spoiled for choice.
Lunya knows this. That's why they're laser-focused on selling a feeling versus products alone.
Take a look at their ad copy, for reference. The language behind their marketing messages in ads often incorporates senses, emotions, and feelings ("luxurious," "…make you feel beautiful," "flattering and comfy") rather than product features.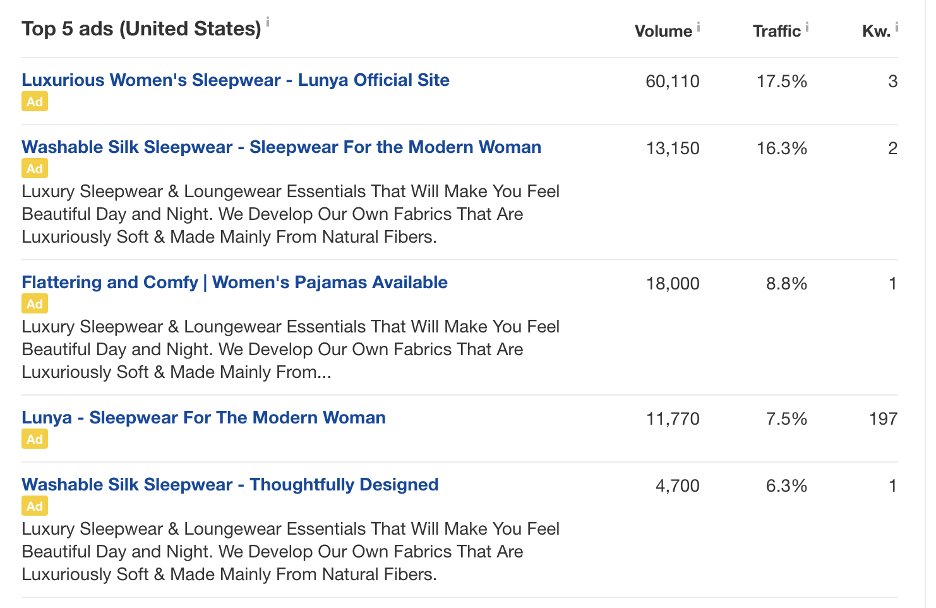 The same rings true for their Facebook ads ("feel special," "ultra-comfy"), too.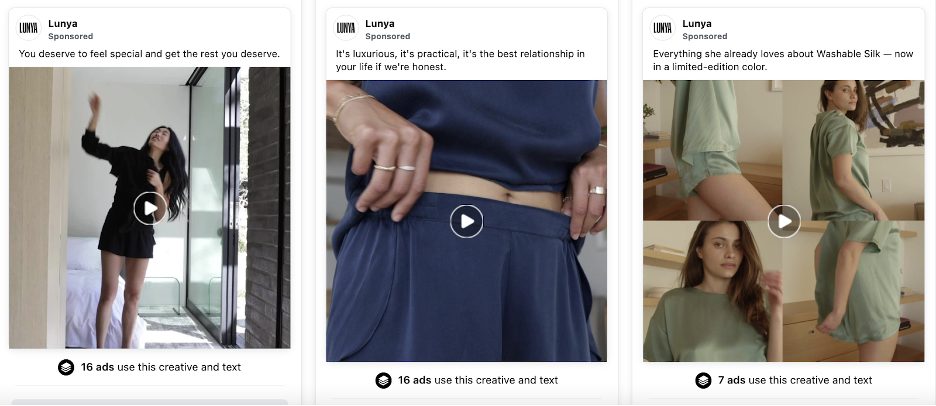 Meanwhile, they use the exact same sensation-centric language on their website. Lunya stresses the quality and comfort of their fabrics throughout their marketing copy to ensure that shoppers feel what they're selling beyond what they see on the surface.

Building a multi-million dollar brand is no small feat, particularly when you're in a crowded industry.
At the core of Lunya's success are quality products that get people talking. Their emphasis on customer relationships and word-of-mouth is key to their growth in a day and age where shoppers love sharing their favorite purchases.
Although Lunya's rise in popularity might seem unprecedented, the tactics and tools used to support their growth are fair game for businesses of any size. Hopefully, this breakdown served as motivation and inspiration to start brainstorming ways you can scale a customer-focused brand yourself.