Limited-time offers are a tried and tested way of boosting your sales. They're effective because of the specific way they increase your customer's feeling of urgency. This encourages them to act quickly and make a purchase.
But in order for this strategy to work, it's important to promote limited-time offers the right way. When ecommerce businesses are too pushy with promotional tactics, it usually annoys visitors. On the other hand, if it's too subtle, visitors may not ever become fully aware of your offer.
In this article, we'll go over the basics of short-term sales and how to create offers that will make customers feel compelled to buy now rather than later. And we'll take a look at 10 great limited-time offer examples that you can steal and apply to your business today.
Let's get started!
What is a limited-time offer?
A limited-time offer is any kind of deal that's only available for a certain amount of time.
This can be anywhere from running an offer for just a few minutes or hours to days or weeks (especially if it's a seasonal sale). Additionally, the nature of the deal can vary from a free shipping offer to a free gift and can range from a limited-time discount code to a BOGO offer.
Limited-time offers are also closely related to limited-quantity offers. This method uses the idea that your store's inventory will sell out quickly, and it increases the urgency for customers to buy now.
Why run limited-time offers?
We've already mentioned some of the reasons that make limited-time offers so effective, but let's take a closer look. Understanding the psychological triggers can help you develop your own winning limited-time offers.
1. It creates a sense of urgency
Let's spend a little bit more time with the concept of "creating a sense of urgency".
Limited-time offers and limited quantities both play with the idea of scarcity. When there's a small quantity available or if it's only around for a certain amount of time, people are actually more interested in the product and more motivated to act fast.
Studies have found that scarcity is one of the biggest influences on purchase decisions, so making your products seem scarce through limited-time offers is a great way to tip the scales from interest only—to the more serious intention to buy.
2. Attracts new customers
Online shoppers are always a little hesitant to buy from ecommerce businesses they're unfamiliar with. That's part of the nature of ecommerce: there's no possibility of face-to-face interaction and no chance for customers to see or try products before making a purchase.
However, shoppers are also very sensitive to cost. When there's a limited-time sale running, people see an opportunity to try out new stores. There's less risk involved (since the price is lower), and they're more willing to make their first purchase.
3. Helps boost customer loyalty
Even loyal customers love time-limited sales. When you offer these types of deals, it makes customers feel valued, and they're more likely to make a purchase during the sale period. In the best of cases, clever timing can get customers into the habit of buying from your store regularly.
You can even frame your limited-time offers as a discount that's "just for loyal customers" through your email newsletter or targeted popups. People respond to exclusive offers very well because they feel like they're among the privileged few to get access to the deal.
4. It can decrease your cart abandonment rate
One of the less intuitive ways that time-limited deals can boost sales is through stopping cart abandonment. This is because a time-sensitive offer encourages customers to take immediate action—leading people to move their mouse away from the exit button and towards the checkout process.
By using an exit-intent popup, you can remind your visitors that you've got a time-limited sale running and get them to change their minds about buying later. As you'll see in the examples, popups with countdown timers are remarkably effective at saving conversions.
5. It's an effective strategy to boost your sales
After reading all these points, you won't be surprised that it's also an effective strategy when it comes to increasing your revenue. Whether your offer is targeting an audience of first-time shoppers, loyal customers, or both, they'll be more likely to buy. This means more sales for your business.
10 tips for promoting your limited-time offers (with examples + templates)
Let's take a look at some limited-time offer examples, now that we've gone over the roots of the psychological phenomenon regarding the sense of urgency (which is created by limited time and limited supply).
Here are some ways that you can apply these powerful tools to your business:
1. Promote free shipping for a limited time
Free shipping is an incredibly powerful incentive for encouraging new and existing customers to make a purchase.
A report by Walker Sands found that 88% of online consumers are more likely to buy when free shipping is available.
For example, 1 Body uses an exit-intent popup that offers free shipping specifically when customers are about to abandon their carts. You would only take on the added expense of offering free shipping at the time that a customer needs a final push to make the decision and complete a purchase. This would not affect customers who want to move directly to the checkout page.
The fifteen-minute countdown clock also leads to more sales by establishing a very limited period of time that the offer is valid for.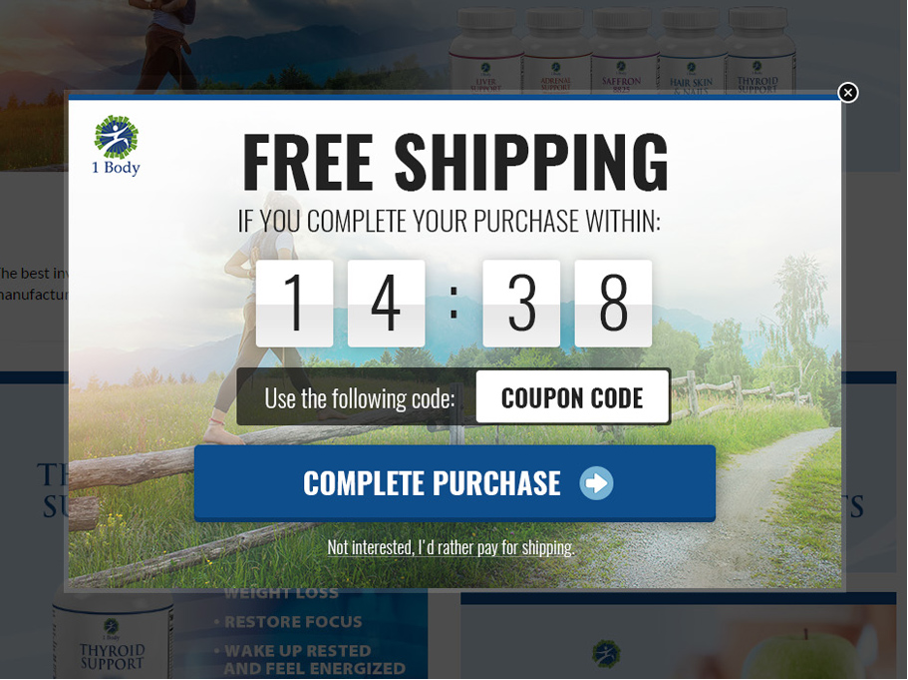 2. Promote a free gift
A free gift is another limited-time incentive that you can make use of if it's not in your fiscal plan to offer free shipping.
Sending out free samples and products also helps with customer retention. People feel valued and like the opportunity to try out products that they may end up loving and then decide to buy in the future.
You can offer gifts for a "limited time only," like in the example below, or use a limited-quantity message such as "while supplies last."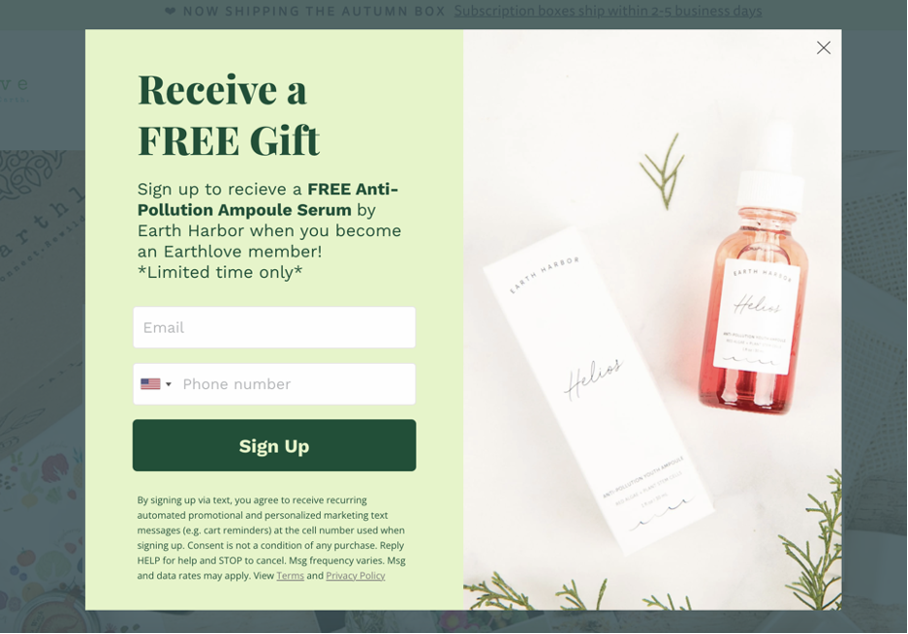 3. Use a limited-time offer to stop shoppers from abandoning their carts
Another way to stop cart abandonment is by displaying a popup with a percentage discount that's only available for a short time. The copy below has a nice touch with the "EXTRA 15% off!", because it sweetens the deal.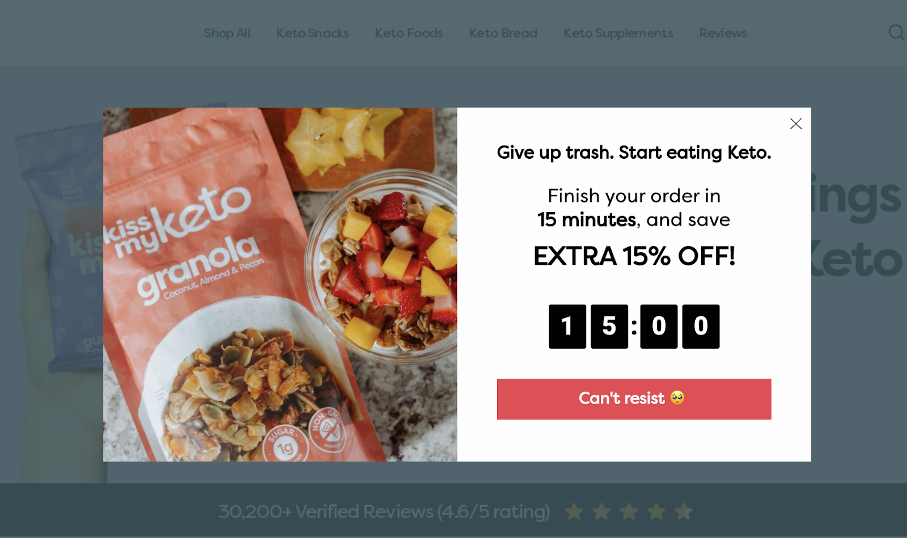 If you're ready to get off the "cart-abandonment struggle bus," OptiMonk has got you covered with lots of popup templates that you can have up and running in minutes.
Check them out below:
4. Use countdown timers
The addition of a countdown timer is a great way to get customers to act fast.
The sight of a timer ticking down, second by second, is one of the best psychological triggers that can be used to create a sense of urgency. There's a reason why so many Hollywood movies use a ticking timer on a bomb to get characters moving quickly, and it also creates thrilling suspense.
The example below is highly effective because it uses two different limited-time messages—the "only today" copy and the countdown timer, which shows the remaining hours and minutes of the current sale.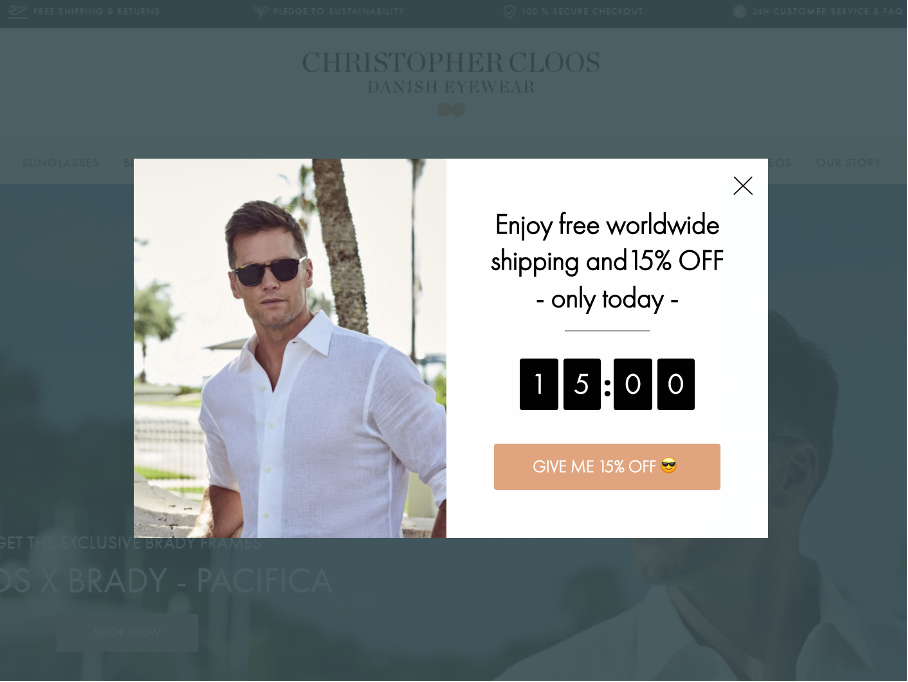 You can add a countdown timer to a sticky bar too:
5. Leverage the holiday season
Seasonal sales are a natural place to use limited-time offers to boost sales because they have a built-in expiration date. The Halloween Giveaway in the example below is over once the calendar passes October 31st.
Since most customers already know when Halloween is, they'll be able to remember the date of when the sale ends on their own, and plan their purchases accordingly.
When you consider the huge interest that customers have during certain holidays (Christmas and Black Friday—the two biggest), you can see why seasonal sales can generate tons of revenue.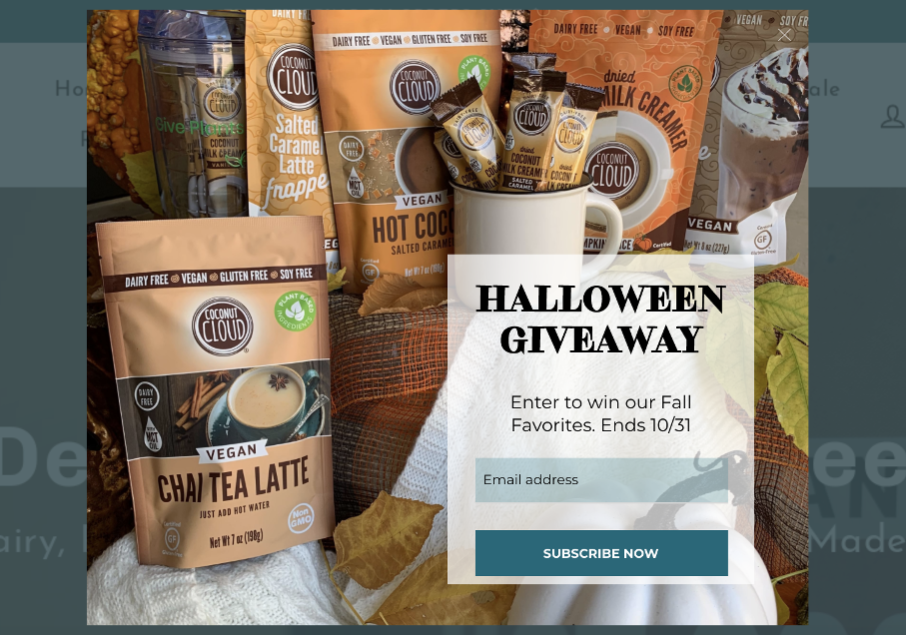 Whatever the holiday or season, OptiMonk has a popup template that's been specially designed to promote the special offers that your customers love to see:
6. Build your list for an upcoming limited-time sale
The lead-up to a limited-time sale is a great opportunity to build strong email and SMS lists. You can promise subscribers that they'll receive special deals or early access to your sale. The fact that the upcoming sale will be for a short period of time, means that prospective customers will plan ahead for it.
See how the example below displays a message that only subscribers would "be notified first" about their upcoming Black Friday deals: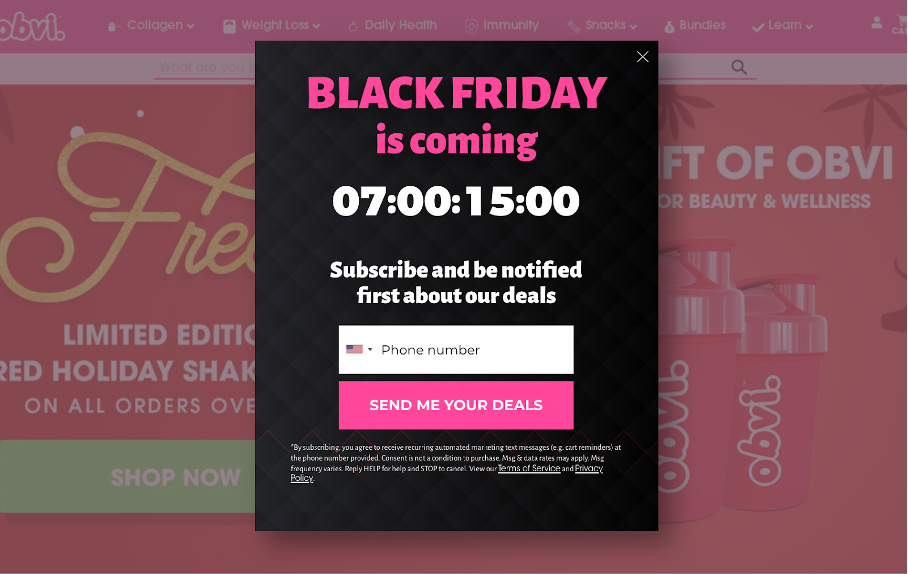 7. Promote products with limited inventory
If you don't have the budget to offer lots of discount options, you can still create a sense of urgency and increase your customers' Fear of Missing Out (FOMO) by highlighting limited inventories.
You could also try offering limited edition products that won't be around forever or show a live countdown of how many you have left.
Here are some effective templates that can help you clear out the inventory you want to sell. You can use them to display your most exciting limited-edition products.
8. First-time purchase offers
Online store owners are always confronting the problem of high bounce rates and not enough first-time visitors entering their sales funnel. Limited-time offers for first purchases are a great way to ensure that more visitors make it from your landing page to your checkout process.
You can also take advantage of your limited-time promotion by getting visitors to join your email list. That way, you can send them future offers as well.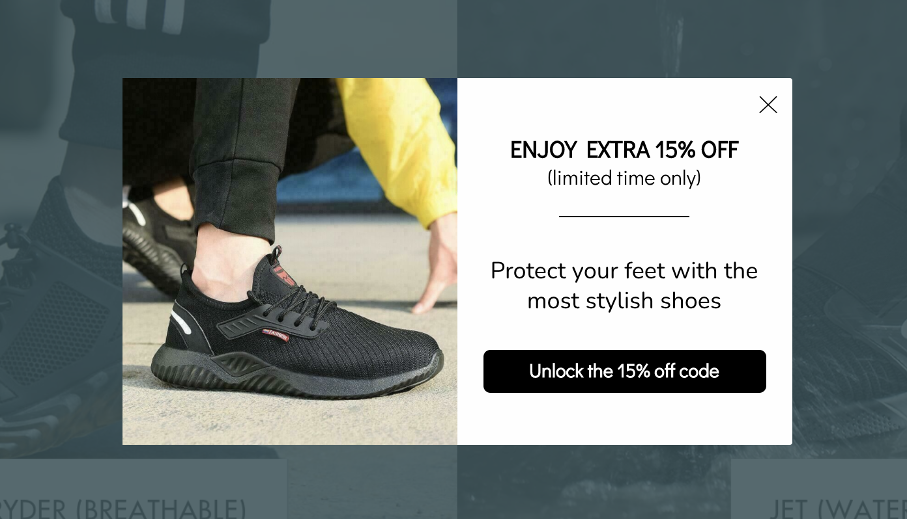 9. One-day offers
A "single day event" is another good time frame for both limited-time offers and flash sales. Choose to run your campaign from any time period, ranging from just a few hours to a full 24-hour period. There's still urgency involved, but customers will feel a little less pressure than when they're confronted by a countdown timer.
Best Buy became famous for their daily deals because they showcase a large discount on a different product each day. It's a great example of how to get customers accustomed to checking back for daily deals.
Let's look at another example:
BiBado, a childcare ecommerce brand, uses a similar idea with their "Save £10 when you spend £25 or more today!" The one-day time limit encourages customers to make a purchase right away.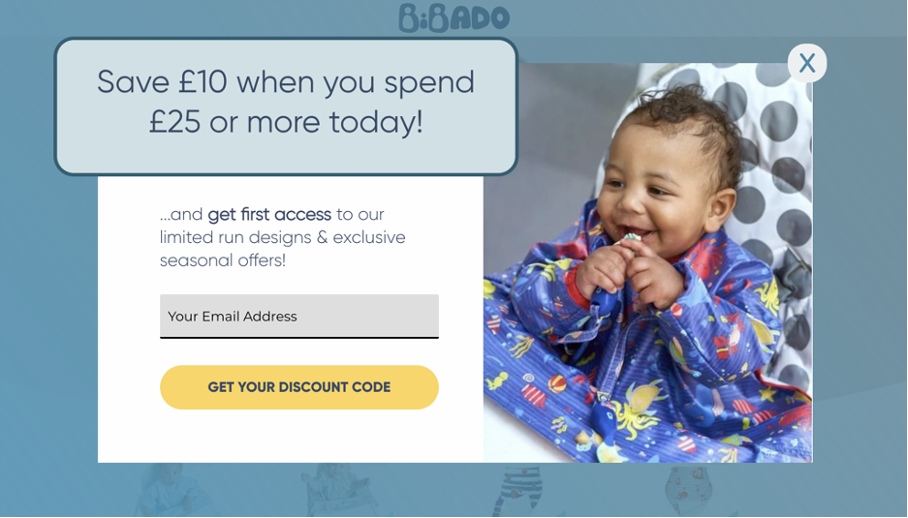 10. Create sticky bars to remind visitors
Sticky bars are a great tool for promoting your limited-time offers across your entire site. They're always on your customers' screens. But they don't interrupt their shopping experience in the same way as popups, because they float only on the top of the website.
You can embed coupon codes and countdown timers directly into a sticky bar, as well as specify the sales' time period using copy.
If you want more customers to make it all the way through your conversion funnel, a limited-time offer is one of the best ways to guide them along.
Whether you're running a huge semi-annual sale or quick flash sales, popups are the most sure-fire way to ensure that your customers see your limited-time offers. And don't forget about using the power of a limited-time offer to stop cart abandonment!
Why not try out one of the limited-time offer popup templates on your site and drive sales now?