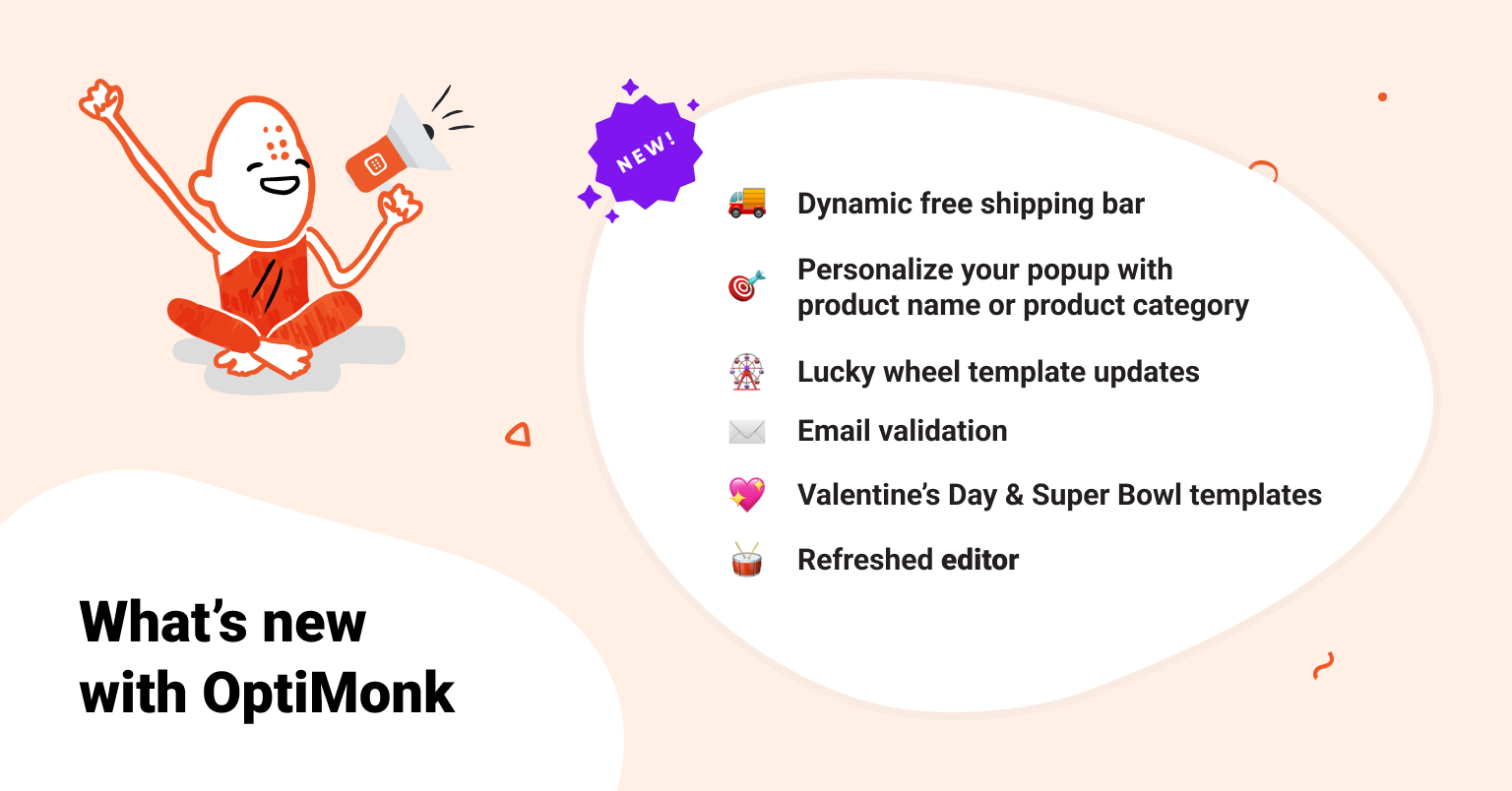 Customers love when their shopping experiences are personalized. —And this is a well-known truth among marketing and communication experts.
In fact, 60% of consumers say they'll become repeat buyers after a personalized shopping experience with a retailer. And 71% of consumers say they expect companies to deliver personalized interactions.
That's why innovative online stores keep improving ecommerce personalization and are committed to delivering more relevant touchpoints to their customers and prospects.
Here at OptiMonk, we continue to work hard and give you more options to personalize your communication by updating our products with:
Plus, we have some other new features to improve your efficiency, like:
Let's dive into the updates on the most exciting improvements we've been developing:
🚚 Personalized, dynamic free shipping bar for Shopify Stores
How can you entice your shoppers to add just one more item to their cart before making a purchase?
The answer: Free Shipping Bar

Instead of getting into the psychology of it, I'll just ask whether you've seen this Drake-meme yet. It's an accurate demonstration of common shopper behavior and thinking.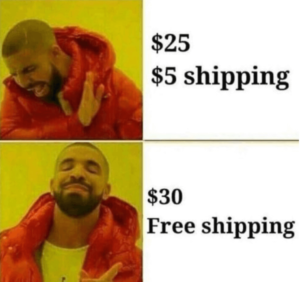 Thanks to our latest improvement for Shopify stores, you can increase your average cart value by showing your users how much more they need to spend to qualify for free shipping (or a free gift.)
Use it on a sticky bar by copy-pasting the Dynamic Text Replacement (DTR) shortcode [[cartValueCountdown:100]] into a text element. Add the limit amount after the colon. (Important note: the currency is not auto-detected. Please remember to type it after the shortcode.)
As soon as your user adds something to their cart, the free shipping bar will automatically show how much more they need to spend to reach the free shipping threshold. Once they hit the threshold you specify, the campaign switches to the next page.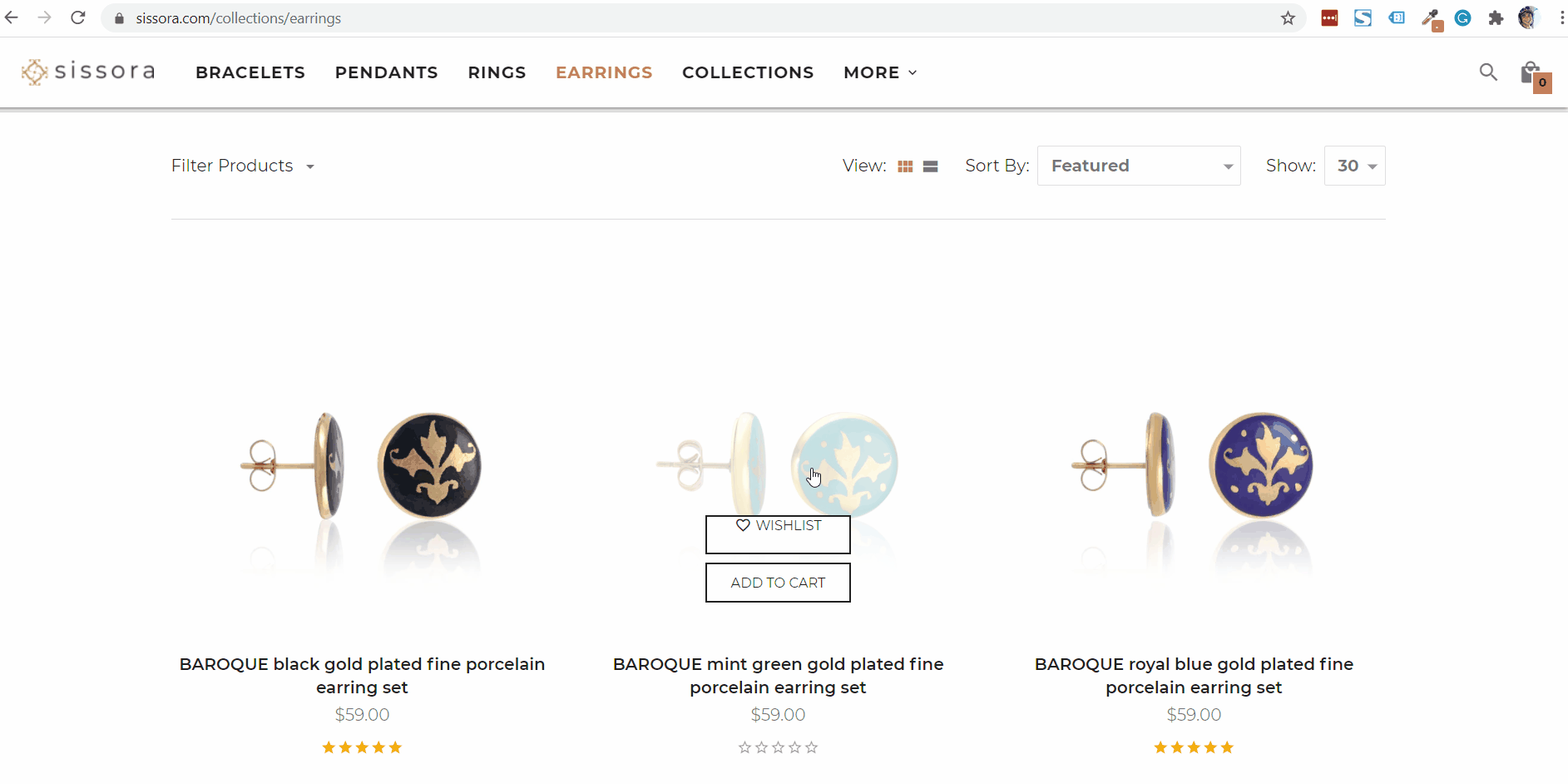 Let's take a look at an example:
The user adds a product to the cart for $59 and they need to reach $100 to take advantage of free shipping.

The sticky bar will then show:

"Add 41 USD more to your cart to get free shipping"
When the user reaches 100 USD the next page will be shown: "Free shipping unlocked!"
When setting up this Free Shipping Bar, make sure the minimum cart value is above zero and below your free shipping threshold. That way, your campaign will only be displayed to visitors who already have added something to their cart.
Please note that this feature works for Shopify stores only.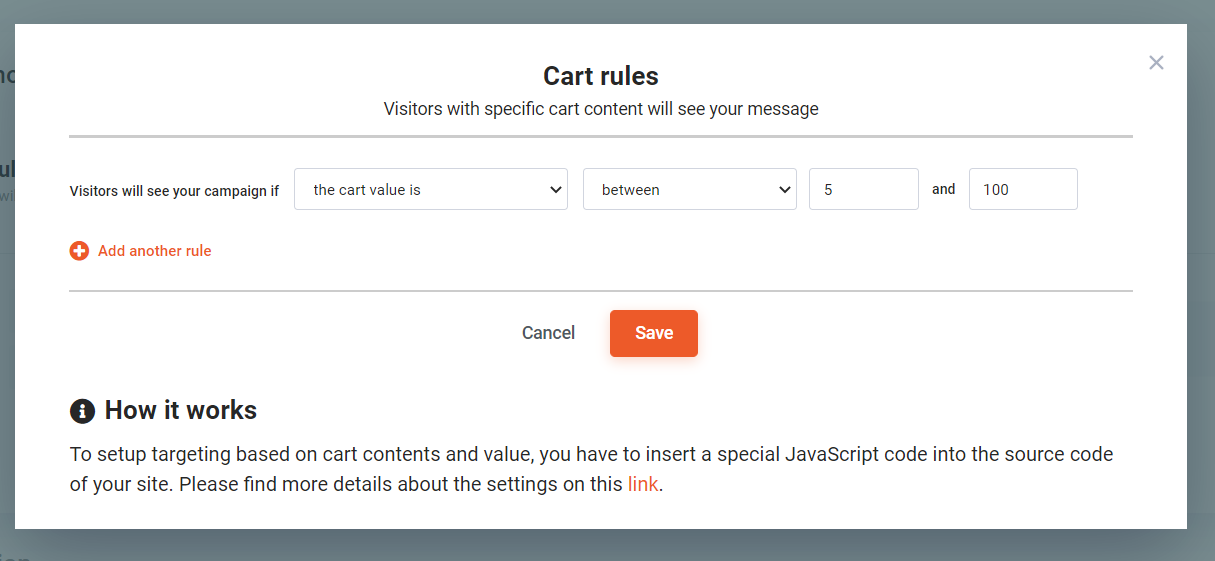 Check out our Free Shipping Bar templates:
🛍️ Personalize your popups with a dynamic product or category name
Our Dynamic Text Replacement (DTR) makes popup personalization easy. It's extremely useful if you'd like to use one specific campaign to deliver personalized promotions to segmented visitors on specific products or category pages.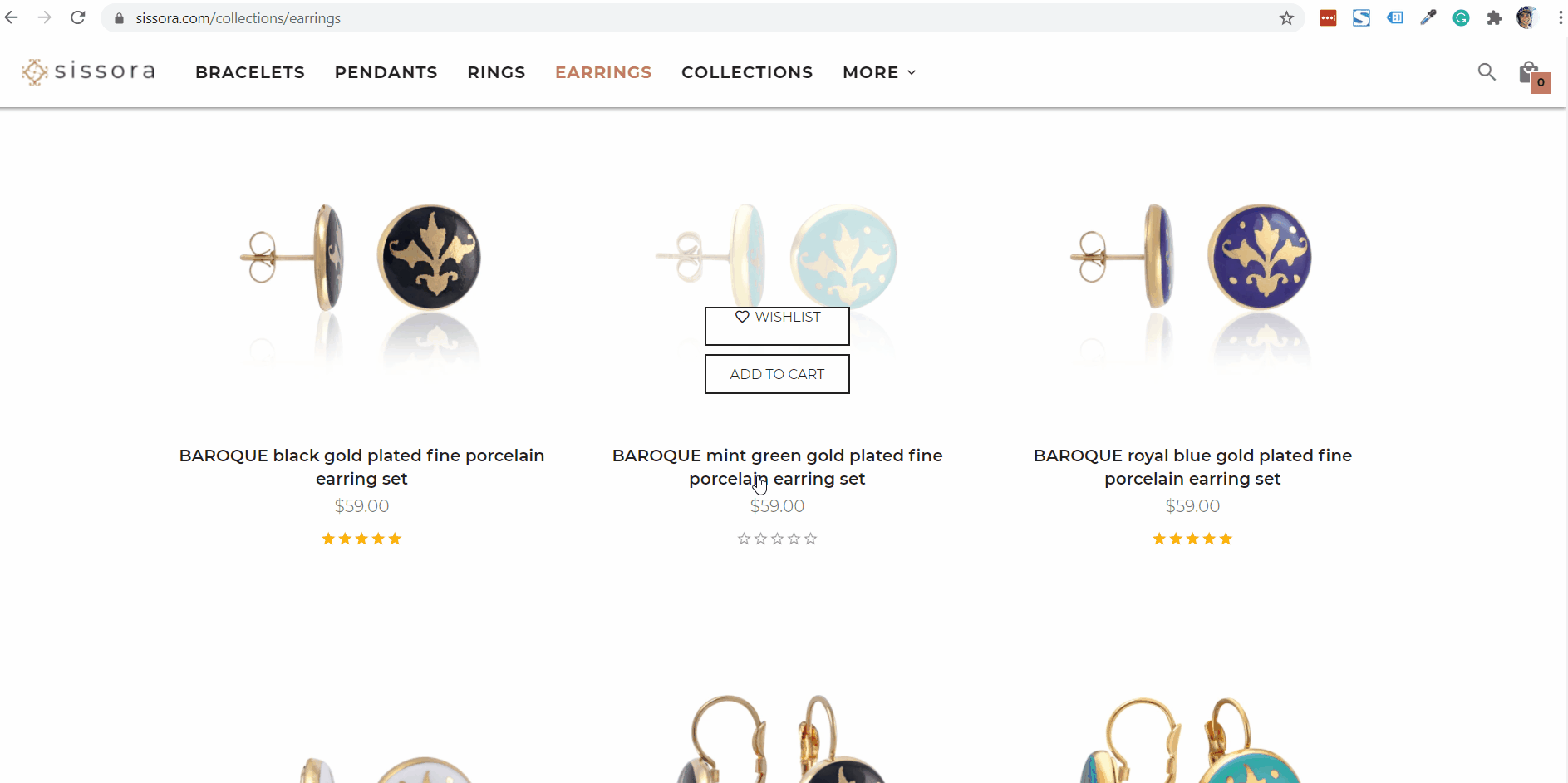 For example, if a user browses your earring category page, you can set up an exit-intent popup to promote a 20% discount on earrings. And when a user visits your bracelet category page, the same campaign will promote a 20% discount on bracelets.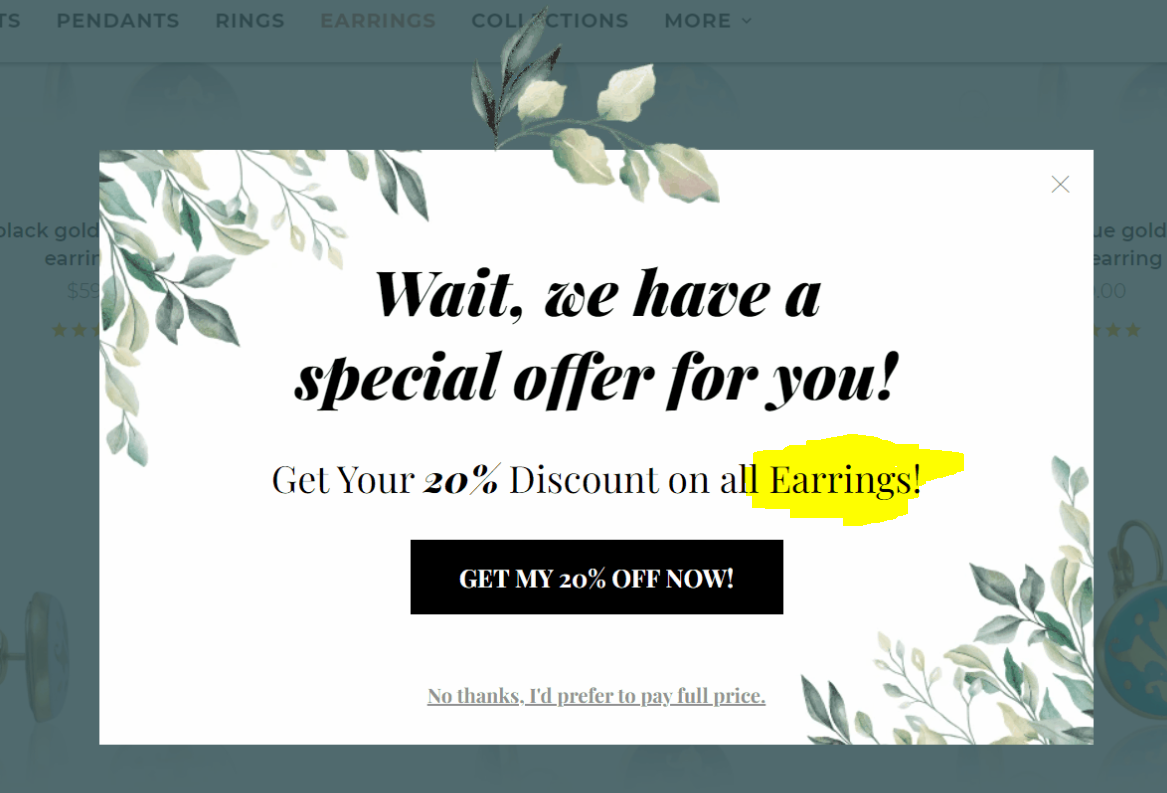 How to set it up?
Simply add a text element and insert one of the following short-codes:
To use the product name add: [[shop:product_name]]
To use the category name: [[shop:category_name]]
And how about customizing the targeting?
In the campaign settings, use the "Select who should see the popup" menu and select "Category pages" or "Product Pages." If you want to narrow it down even further, you can set up the "URL contains" condition as well.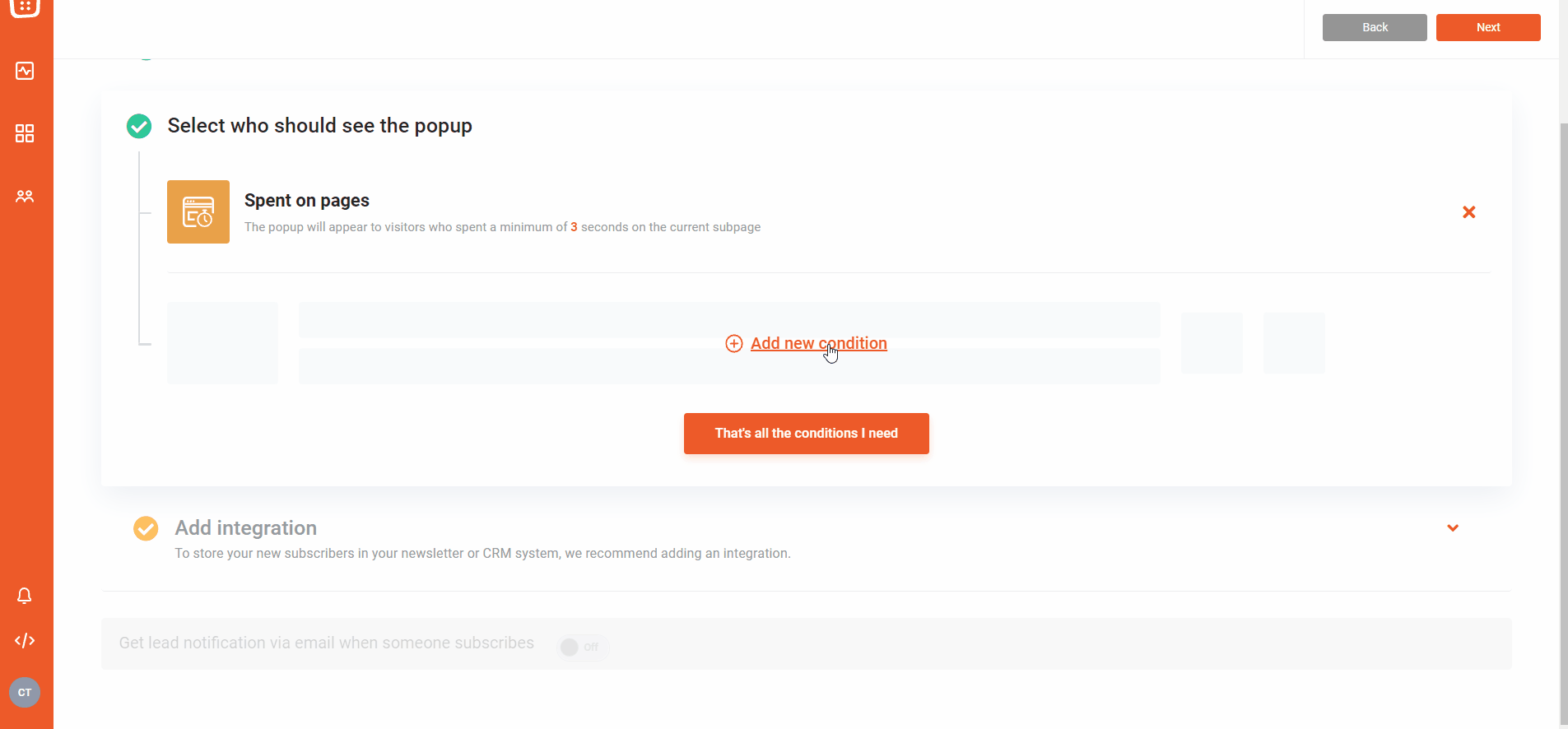 On the other hand, did you know you can use Dynamic Text Replacement for other purposes as well?
You can:
Target visitors based on their location, gender, age, etc. by using dynamically altered text
For ecommerce sites, you can change your incentive (i.e. the percentage of a discount) depending on the product or category page where the visitor is browsing
Create a personalized Thank You page after your visitors convert or signup in the first popup
Here are a few examples:
Firstname – [[attribute:firstname|Visitor]]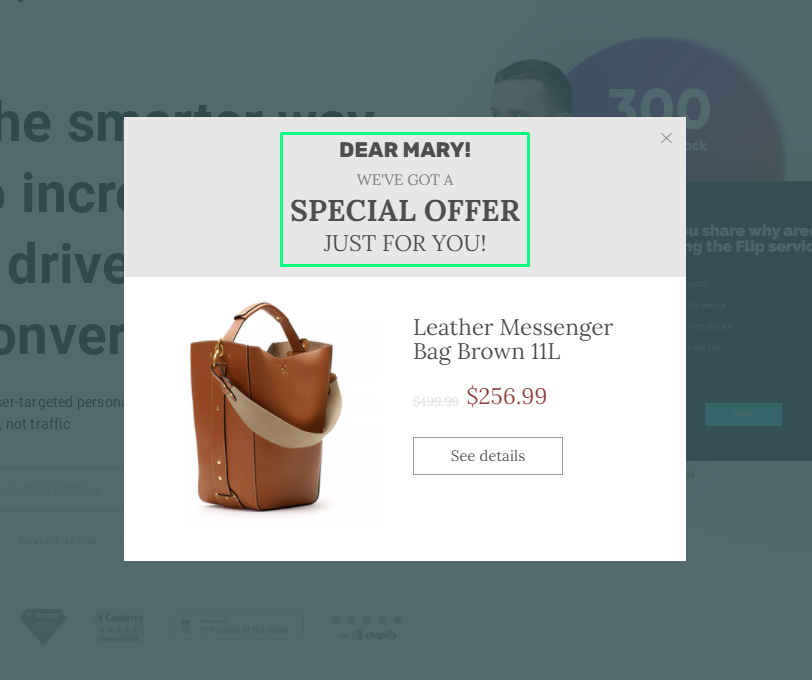 Location – [[attribute:_country_de]]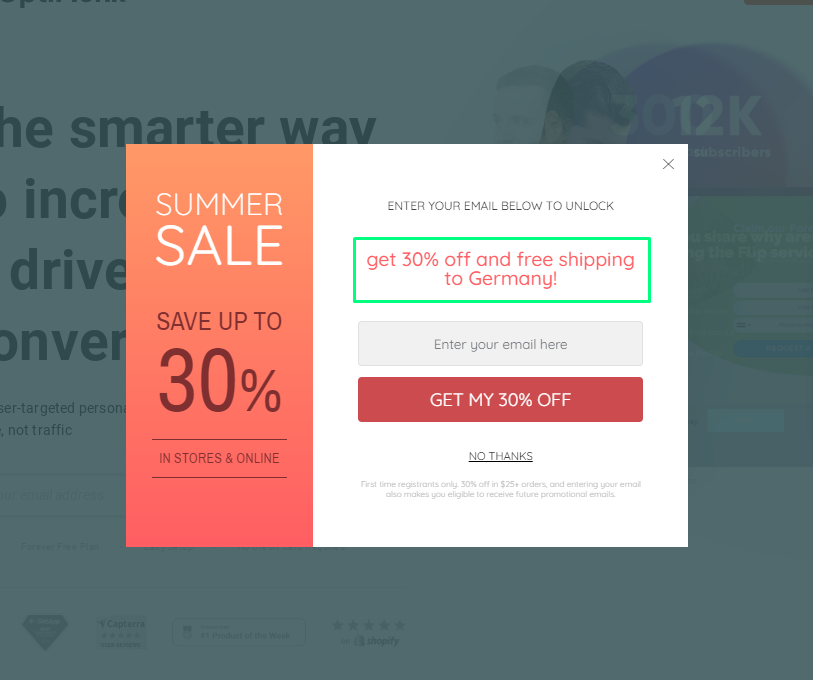 🎡 Lucky Wheel Popup - personalized Thank You pages
If you actively use our Lucky Wheel Popup templates, you'll love this improvement. 😀
Lucky wheels have 12 slices, but only one Thank You page. And we understand that you may not have enough space to explain to your visitors how to redeem their prizes. Or how to deal with losing outcomes.
With our new updates, now you have the chance to create a unique Thank You page for each slice.
This way you can handle not just the losing situations with relevant and different messages, but all of the winning options as well.
Advanced tip: you can also personalize the Thank You page by adding your visitor's name that you also used on the first page.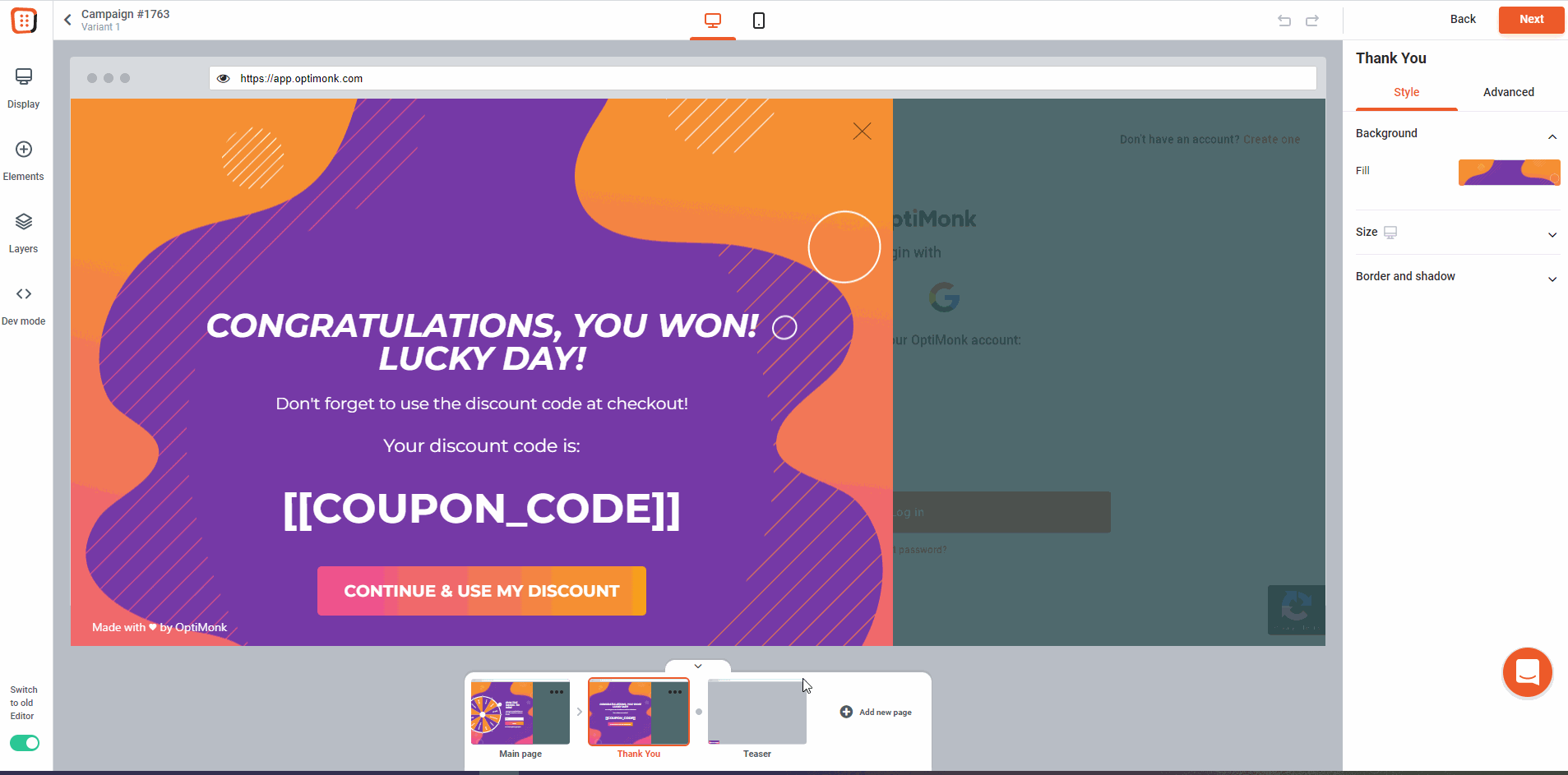 Have you ever thought that it would be good if:
Your visitors were able to take advantage of your discount only once
They could download an ebook once
You can set up a rule and allow (or block) who can use a coupon
If so, we have good news 🎁
With Email validation, you can make sure your visitors receive only one discount code.
Now you can use our new Email validation update for any Campaigns with an Input Element for emails.
With our improvements, you can even control what data is accepted or rejected. It's all conveniently communicated to your visitor.
Let's say that a visitor tries to subscribe with a blacklisted email address, domain, or country code. You can see in the picture below, that they will see an error message conveying that they're not eligible for the Campaign when they try to subscribe: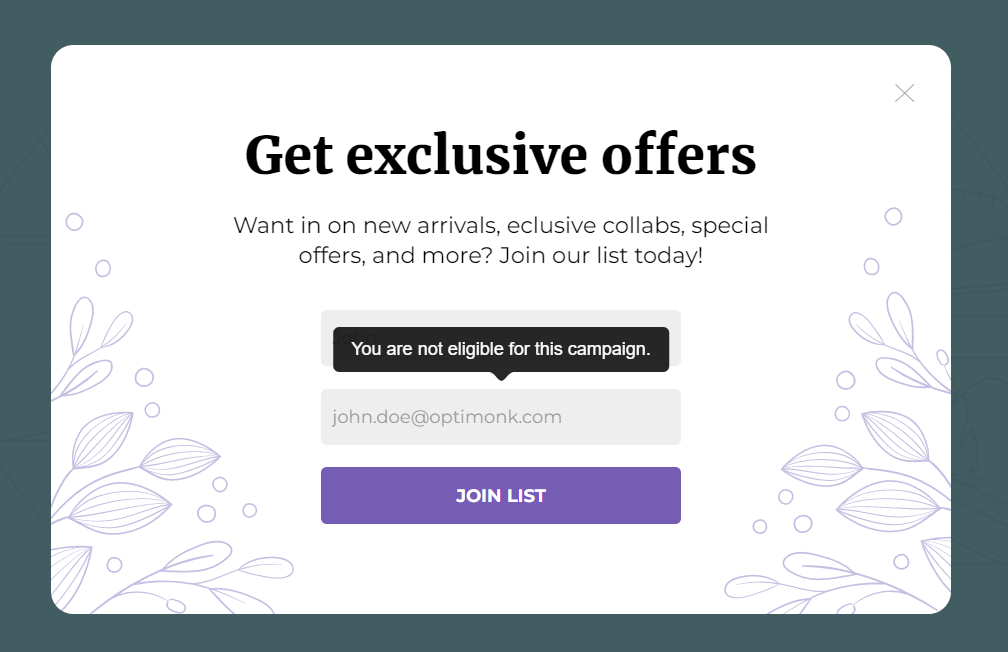 You can also enable "Block existing subscribers," which automatically blocks visitors who have already subscribed to any of your Campaigns (whom can be found on your Leads list).
They will see a message that says: "You are already subscribed with your email address.":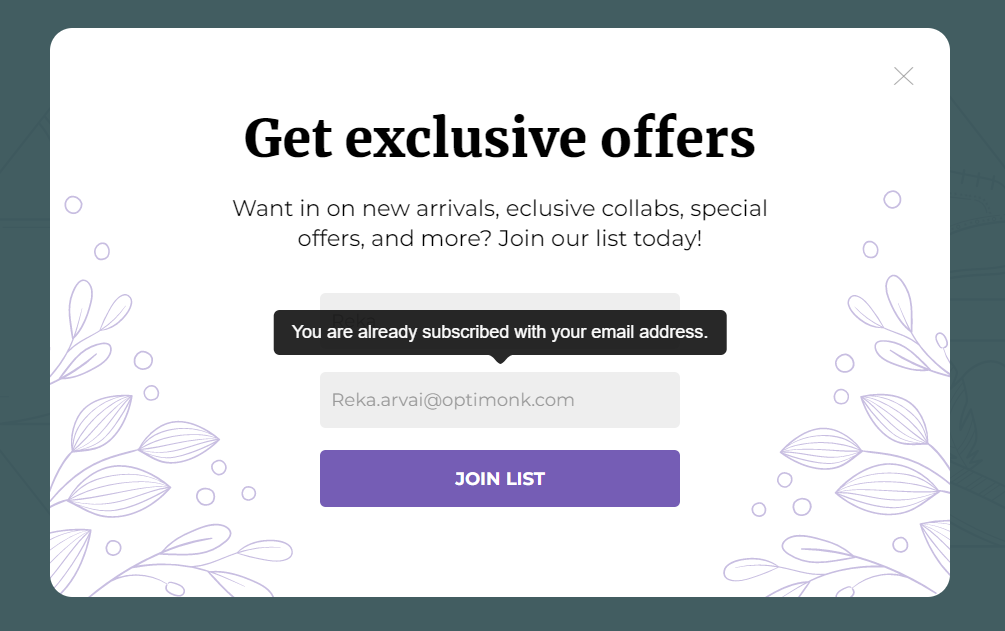 Since we're so excited about these new changes, here are some additional advanced tips:
You can use our shiny new "Allow list" option with a specific email address like *@optimonk.com. This way you can run a "partner only" campaign where only visitors with the given email addresses are eligible to fill out the popup.
You can also target domain country codes with the * character, such as *.com, *.uk, *.us, *.hu, for example
Over the last couple of months, we've been working hard to make your popup editing experience simpler and faster. We hope you'll love these changes!
In case you're keeping an eye on our product updates, you might have seen that we recently released a fresh, new and improved editor. Here is our biggest change:
only our revamped editor is available.
Here's a sneak peek if you'd like to learn about these changes:
General settings (left column):

The menu on the left is for the general settings of the popup (like configurations for the position, transition, color palette, and website overlay, etc.). This is where you can add new layers and elements. This also gives a nice overview of how the popup is structured.
Custom settings (right column):

There's a new menu on the right-hand side for customizing your layers and elements.

Preview

:

The new preview menu at the bottom of your screen makes it easier to navigate between pages. Here, you can also add additional pages if you'd like to create more complex popups.
New layers tab: The tab on the left shows a different view of your popup. We made it lighter and added new backgrounds and content. Now you can instantly recognize elements, and see which one has the background color or image you want to change.
New dropzone: A dropzone is a function that allows you to see the exact location of where you can drop your element. This is an updated version that improved the previous display, which showed a rectangular shape that only gave an approximate location. Now, the improved feature makes the drag and drop editor much more usable. This will speed up your in-house processes!
Super Bowl and Valentine's Day are the two events that dominate the retail calendar in February and both can help increase your revenue. Every online merchant should take advantage of these occasions by offering discounts and running promotions.

Use these popup templates to:
Promote your Super Bowl or Valentine's Day sale

Build your list (email, SMS, Messenger)

Recommend Super Bowl or Valentine's Day specific products to your visitors
Prevent cart abandonment by offering discount coupons

Remind them to use coupon codes
Check out our Valentine's Day templates here.
We're currently recruiting volunteers to join our VIP Research Group where you can:
stay one step ahead of your competitors with early access to all our new features

get VIP help from OptiMonk's experts setting up the new features

provide feedback and influence our product roadmap.
Interested? Click here to learn more.
We hope you like our new features. Please give them a try and don't hesitate to let us know what you think in the comment section.