Giving customers what they want is at the heart of every business. If you have what the customer wants then you will sell more, ergo you will become successful. One way to find what your customer want is to ask them. Offering product customization is one way to do this. You can either be reactive to your market and copy other successful designs, (while this might be safe, it won't win any awards) or be proactive and be first to market.
While being proactive is much harder, it can potentially be far more rewarding. While verbally surveying and asking for feedback is somewhat effective, frequently people don't know what they want until they've seen it or experienced it. This is where product customization online comes into its own, by enabling your customers to customize your product visually you can benefit in many different ways, the least of which is understanding what customers want. Below you will find many examples of why you should offer customization.
What is Product Customization?
The idea that you can provide an option on your webshop to alter the design of the product to meet your customers specific tastes. We are not talking about going hand made here, but rather providing the option to change simple things such as color, pattern or material, with little or no extra cost to the manufacturing process. Customization would also include the ordering of extras.
Product Personalization vs Customization
You might wonder what the difference is between product personalization and customization? Well its best to think of personalization as dealing with persona's, tailoring service or products to meet the needs of groups of people rather than individuals. Customization doesn't group people together which ironically is more personalized, potentially even unique. It's worth noting that usually its not a case of choosing between personalization and customization but rather taking personalization to the extreme of customization.
What's the Benefit of a Customized Product?
By enabling your potential customers to customize your products prior to purchase you can benefit greatly in the following ways.
Adding value for the customer, for very little or no additional cost. The product purchased goes from something bought to something created thereby becoming more valuable to the customer and instantly sharable on social media.
Customers will pay a premium for customized items (according to Bain customers are willing to pay a 20% premium for customized products).
Customers are more likely to recommend your business / brand. (According to Bain customers given the opportunity to design their own shoes gave companies a 50% higher net promoter score (NPS).
Extend acceptable delivery times for customized products (a study by Deloitte found that 48% of customers would be willing to wait longer for service).
Return rates tend to be lower for customized products, however, customers still expect a 30 days return policy.
Differentiate your products and brand from your competitors. Make your customization a USP to increase sales.
Through customer product customization you can spot trends, buying habits that can be leveraged to improve products and / or create new ones. Its all about using data for personalize what you offer.
Build customer loyalty. If customers get what they want then they are happy. A happy customer is more likely to return and buy again, especially if you make them feel valued. In addition repeat business is less costly, thus making your business more profitable.
Customization provides a digital extra to market. For example by utilitizing conversion rate optimization onsite you could offer:-

Limited time discount or free customization
Lucky wheel free or discount customization
Free customization when combined purchase value over X amount.
Free customization on exit intent detection

The additional marketing ammunition in Q9 also works for your email marketing campaigns to provide a convincing upsell.
Nike is probably one of the most successful cases of retailer customization. Their shoe customization is comprehensive with every piece of the shoe customizable, not just shoe color. The design of the toe, heel and the various side panels can all be customized. Just click on any part of the picture of the shoe to change that piece.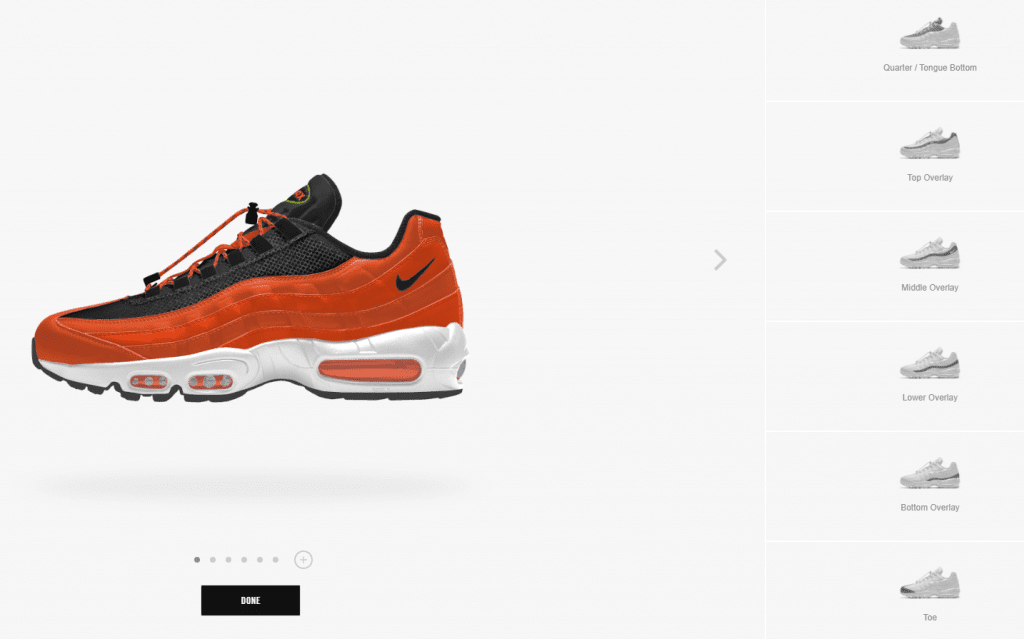 How to Add Customization to Your Ecommerce Platform
A ecommerce store on any ecommerce platform can be upgraded to offer customization. When I say upgraded I mean to say additional functionality added through the use of plugins in the case of Woocommerce or apps in the case of Shopify. However there is some equivalent for most ecommerce platforms.
Shopify Product Customizer Apps 2019
The below list of apps are all valid options for your Shopify Store, your choice really depends on the needs of your business so we can't help there.
Customization App + CRO App (OptiMonk)
Once you have added the customization features of your products using one of the products above its time to leverage these features to increase conversion. This is possible due to the targeting and segmentation features of conversion rate optimization tool OptiMonk. One particular feature of OptiMonk that can dramatically increase sales is the ability to tie offers to cart value or by setting a time limit to the offer creating a sense of urgency. Both features are effective at reducing cart abandonment as demonstrated in the AVON case study.
Build into your customer journey the various product features that can be customized. Create micro conversion points based on customization and the incentivize progress down the conversion funnel using those tips in number 9 above.
Customization is a great way to learn about your customers, by offering customization on product features you can better refine what you offer to your various customer personas. Indeed customization enables the creation of new persona's you probably had not even considered.
Luxury and custom go hand in hand, therefore in order to build a brand in an increasingly competitive global market, in many cases you need unique and custom to survive.
The byproduct of offering customization is overwhelmingly positive if done progressively. The saying "don't bite off more than you can chew" certainly applies here. Implement customization where it costs the least to supply first.