Shopify has made it easy for anyone with a business idea to set up their own store online, sell products quickly and easily, and make money online. There are now thousands of online store owners who are able to make a side income (or even a living) by pursuing their dreams, whether that's running their own clothing line or selling digital products like art or games.
Although the Shopify ecommerce platform is easy to use and full of helpful features, store owners are always on the lookout to make money on Shopify. That's why there are so many online courses and digital marketing materials on the subject.
In this article, we'll get into 11 great strategies that can help you make money on Shopify. As long as your goal is to make money on Shopify's online platform, there will be something you can add to your business model.
Let's get started!
Creating an ecommerce store
As you would expect, the first step towards making money on Shopify is actually creating an online store. Here are some tips for Shopify users who are just getting started selling online.
1. Choose a product niche
The first decision you need to make (before you even create a Shopify account!) is what types of products your Shopify store is going to sell. The best Shopify business ideas fit into a well-defined niche that comes with a built-in target audience and identity.
You should choose a niche that aligns with your interests, passions, and expertise when you're starting your own website.
If you're passionate about the outdoors, for example, you could start an outdoor apparel online business.
Whatever niche you pursue, it's essential that you conduct market research and really understand the options out there. After all, there are almost certainly other Shopify store owners who are in the same niche as you!
Check out your competition and figure out how you can differentiate yourself. This can be through offering unique products or using unique marketing and sales channels.
2. Create a good-looking website
There are two aspects to creating an online store that can make money on Shopify: visual appeal and user experience.
Firstly, how a Shopify store looks is crucial to how well it will perform. A messy and poorly designed online store doesn't leave potential customers with much faith in its products or reliability.
Remember, you won't be able to showcase your products in an attractive way without creating an overall look and feel for your Shopify store that's appropriate for your brand.
Secondly, creating an online store that has a clean, logical customer experience is essential. If you want to make money on Shopify (and especially if you want to flip Shopify stores), you need to make sure your website is easy to use. There shouldn't be any holdups.
For example, when a customer places their order, make sure there's a variety of shipping and payment methods available to them.
3. Manage inventory and fulfillment
It's crucial for Shopify merchants to correctly implement an inventory management strategy. You don't want to have issues with your manufacturing team or your dropshipping supplier just as your Shopify store starts to take off and make money.
There are a number of different ways to set up your inventory and fulfillment strategy depending on your business model. If you plan to start a Shopify dropshipping business, you don't need to worry about having lots of inventory on hand, but you do want to make sure that your dropshipping supplier(s) can handle any sudden surges in demand you might experience.
On the other hand, if you're not planning to create a dropshipping store, it's important that you have a plan to keep enough inventory on hand to meet demand. You should also know how long it'll take you to replenish your inventory.
Finally, you should also have a plan to ship and deliver your products to your customers in a timely manner. You don't want to get behind on your orders and have to disable shipping to catch up.
Marketing your Shopify store
In this section, we'll cover how to create a marketing strategy that can get your Shopify store on the map. Here, there's no real difference between operating a dropshipping business on the ecommerce platform and creating a store with your own clothing line or other products—the principles are the same.
Ranking well on searches for relevant Google keywords is a cornerstone of running a profitable ecommerce store in 2023. The first thing that most consumers do when they're thinking about buying almost anything is to Google it.
No matter what you're selling—physical products, digital products, or services—you can create a blog to deliver useful information to your potential customers (just like Caraway does in the example below).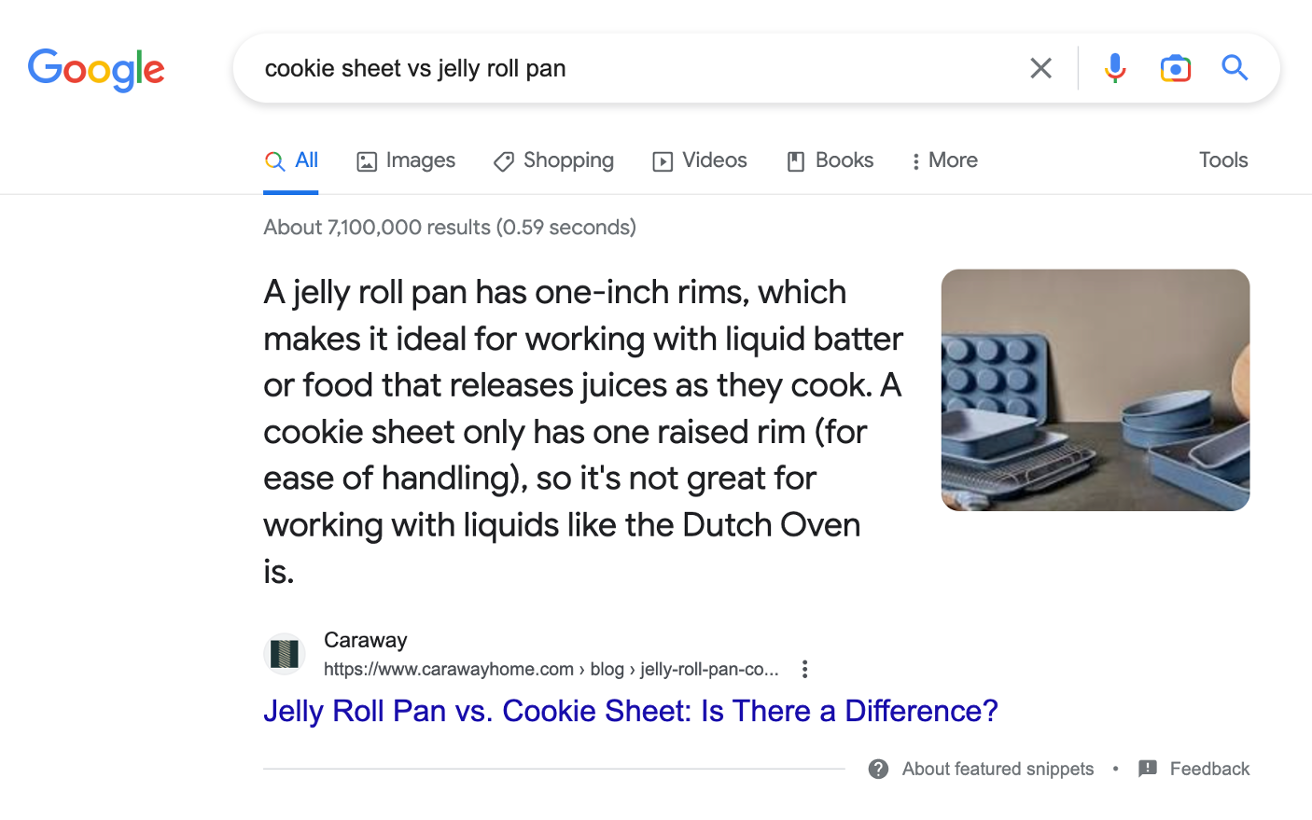 Not only will these blog posts rank well on Google (as long as you optimize them correctly), but they're also a great way to establish yourself as an authority in your niche. That's why most online stores have a blog!
There are many different Shopify apps that are devoted to helping you navigate the process of optimizing your online storefront for search engines. Depending on your budget, you can either write your own blog posts or hire a content writer.
Recommended reading: 10 Ecommerce SEO Tips to Increase Organic Traffic
5. Be present on social media platforms
Another key aspect of any marketing strategy for a Shopify store revolves around building and leveraging a social media presence. Social media gives you the opportunity to cultivate a loyal following of enthusiastic customers, generate social proof that attests to the value of what's on offer, and promote your online store.
Another popular social media tactic is establishing an affiliate marketing program to get influencers to promote your brand. Many clothing business owners have generated a lot of business by getting affiliate links to popular influencers.
When you can run high-performing social media marketing campaigns and reach a large audience, you can make money on Shopify in a way that's both quick and sustainable.
Check out how Happy Box uses social media to run giveaways and generate hype around their brand: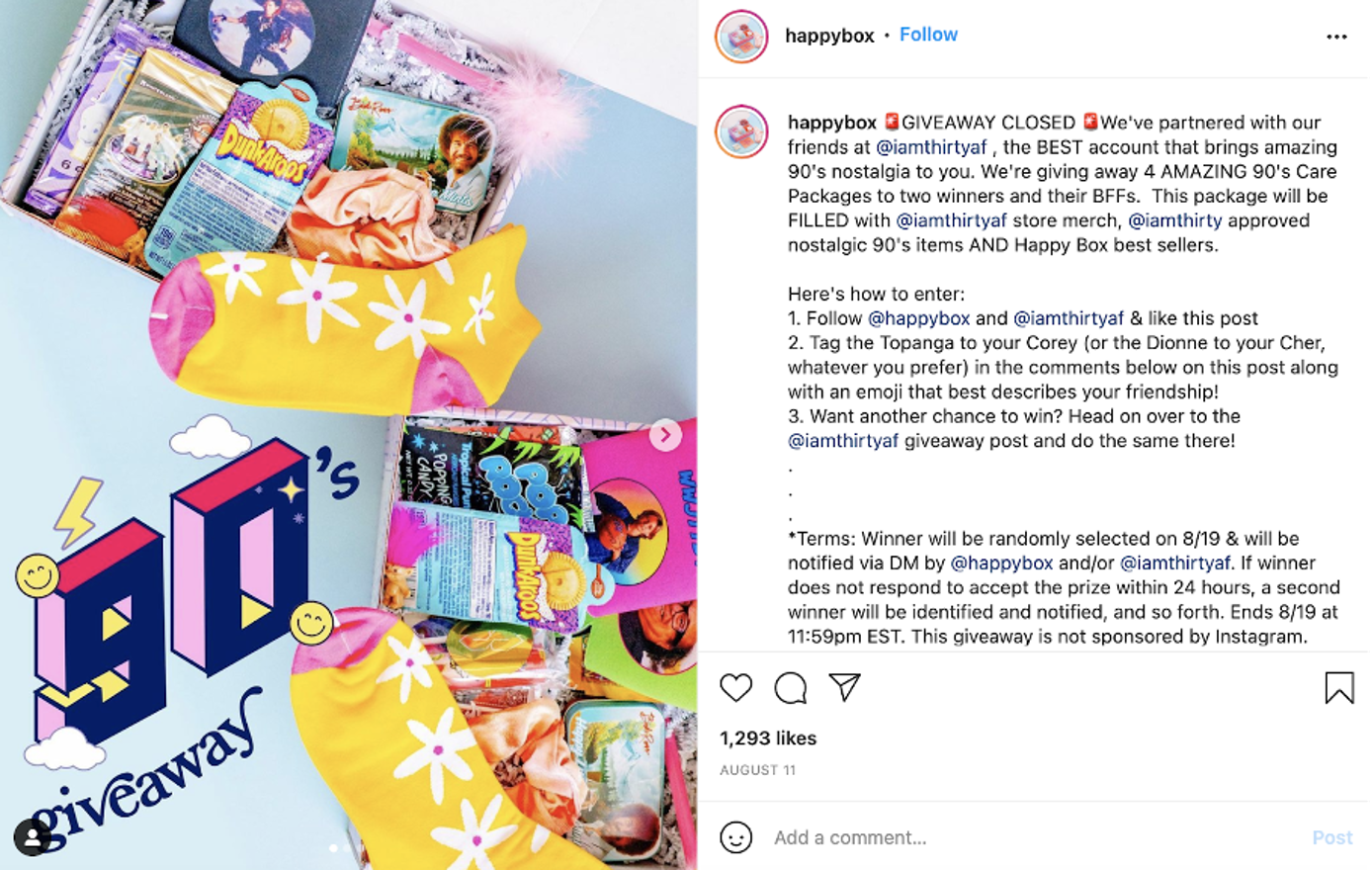 Unlike other sales channels, email marketing doesn't rely on any third parties (like social media sites) to reach out to your target audience. It's owned media that you have complete control over.
Almost all Shopify stores use email marketing as a crucial part of their sales pipeline. Shopify merchants can use email marketing to send discount offers, promote their seasonal sales, and build a base of loyal customers. All of these help stores make money on Shopify!
However, the first thing you need to do in order to implement an email marketing strategy is to build a list of email subscribers.
There are a number of Shopify apps you can use to build an email list. Popups are the best way to promote your list and generate subscribers on a Shopify store because they're so good at grabbing attention.
Here's an example of a great list-building campaign that was made with OptiMonk, which is available in the Shopify app store.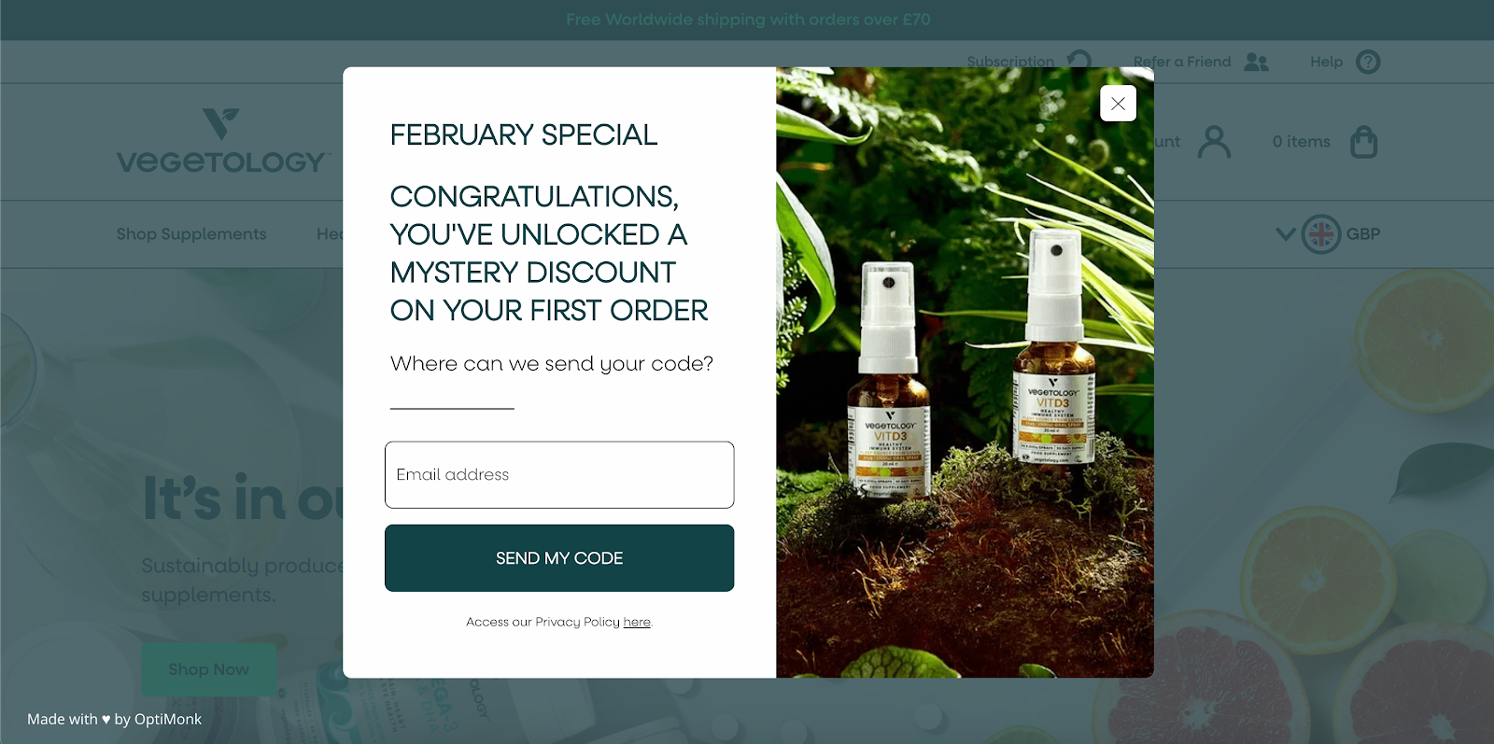 Finally, Shopify merchants should also use a variety of paid ads to maximize their exposure on several different sales channels, including social media and search.
You should ask yourself what platforms your audience tends to spend the most time on and prioritize them. If your target audience is younger, you might want to look into TikTok ads, but you probably wouldn't take the same approach with an older audience.
As we've seen, digital marketing is essential for making money online, and spending some money on paid advertising is part of it.
Scaling your online business
Once you've used marketing strategies to bring traffic to your site, you still need to convince those visitors to make a purchase if you want to make money on Shopify!
In this section, we'll go over how to generate online sales and get your business idea to start paying dividends. You'll be able to implement some of these ideas from your Shopify admin dashboard, but others will require the use of third-party Shopify apps.
One of the most common issues that Shopify merchants face is cart abandonment. On average, 66.5% of visitors who have added an item to their cart will leave without completing their purchase. This is a crucial problem to solve if you want to make money on Shopify.
Luckily, there's an effective way to convince customers to complete their purchases instead of abandoning their carts: exit-intent popups.
These campaigns appear right before a visitor closes a Shopify store browser window, delivering a compelling offer at exactly the right moment.
Here's an example from KissMyKeto, which achieved a 15.05% conversion rate on the back of their high-value discount offer.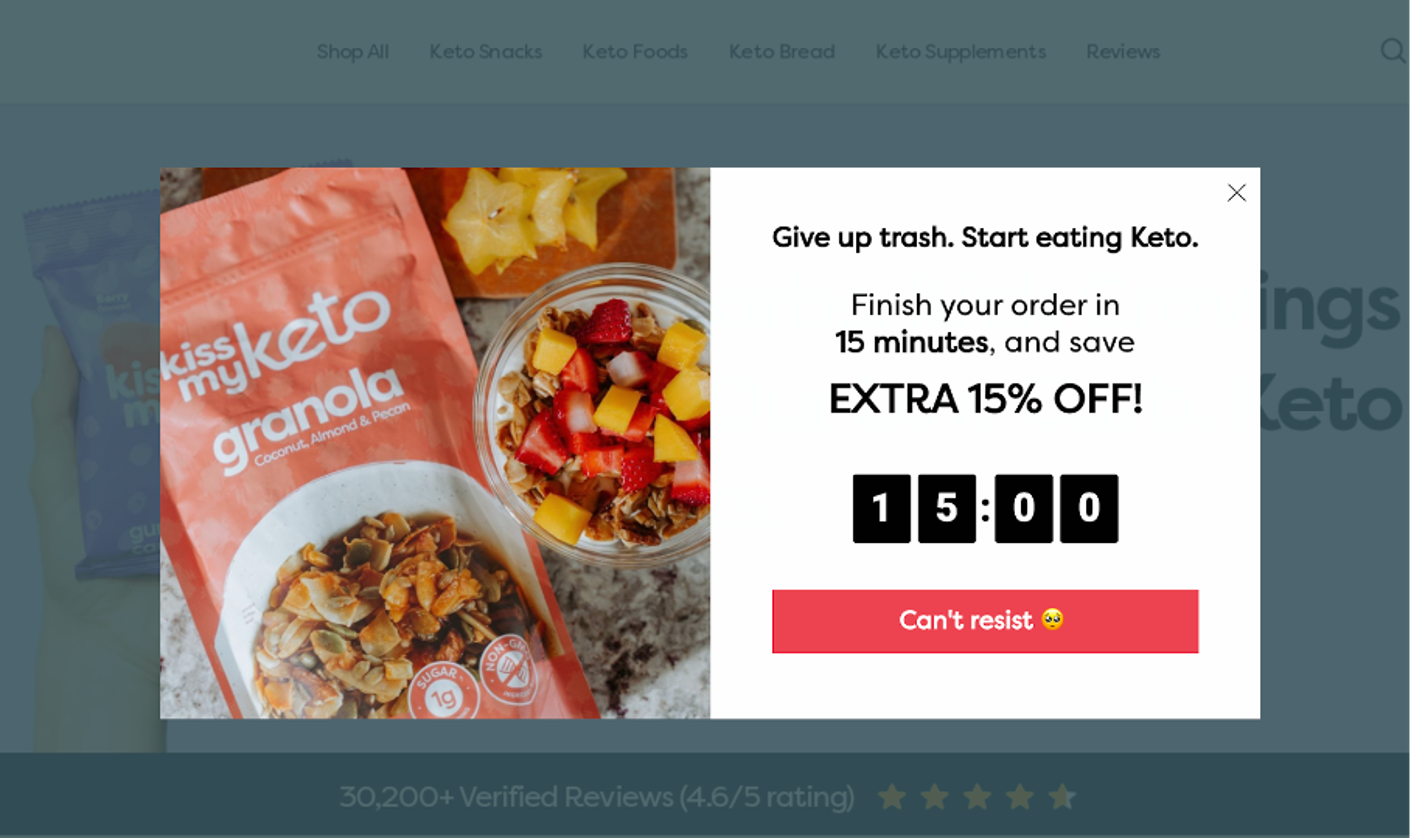 9. Personalize landing page headlines
If you're running a lot of paid ads on social media, it's a great idea to personalize your landing pages for visitors arriving from different ads.
If someone clicks on an ad that's about a specific topic or type of product, you want to make sure that they see content that matches their interests when they arrive on your site.
Here's a great example from Obvi, where they've created complementary Facebook ads and landing page copy.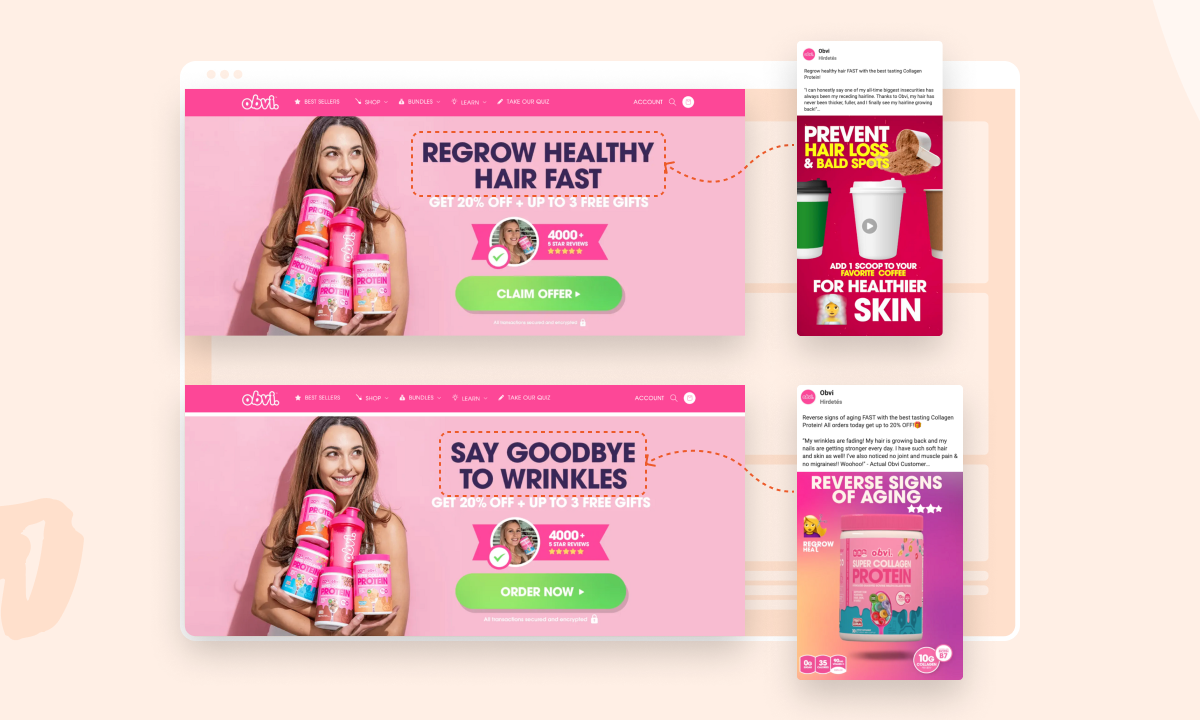 When you're running an ecommerce business, it's vital to understand your incoming traffic on an individual level. Segmenting your visitors into groups that share common characteristics can unlock plenty of opportunities for making money on Shopify.
For example, differentiating between new and returning visitors can help you personalize your messaging for customers at different stages of the customer journey. Since early-stage customers aren't necessarily ready to make a purchase, it often makes sense to show them lead-generation campaigns or useful informational resources.
Or you can follow Vegetology's lead and create a message for returning visitors promoting a special discount on a new product bundle. This campaign had a 14.59% click-through rate.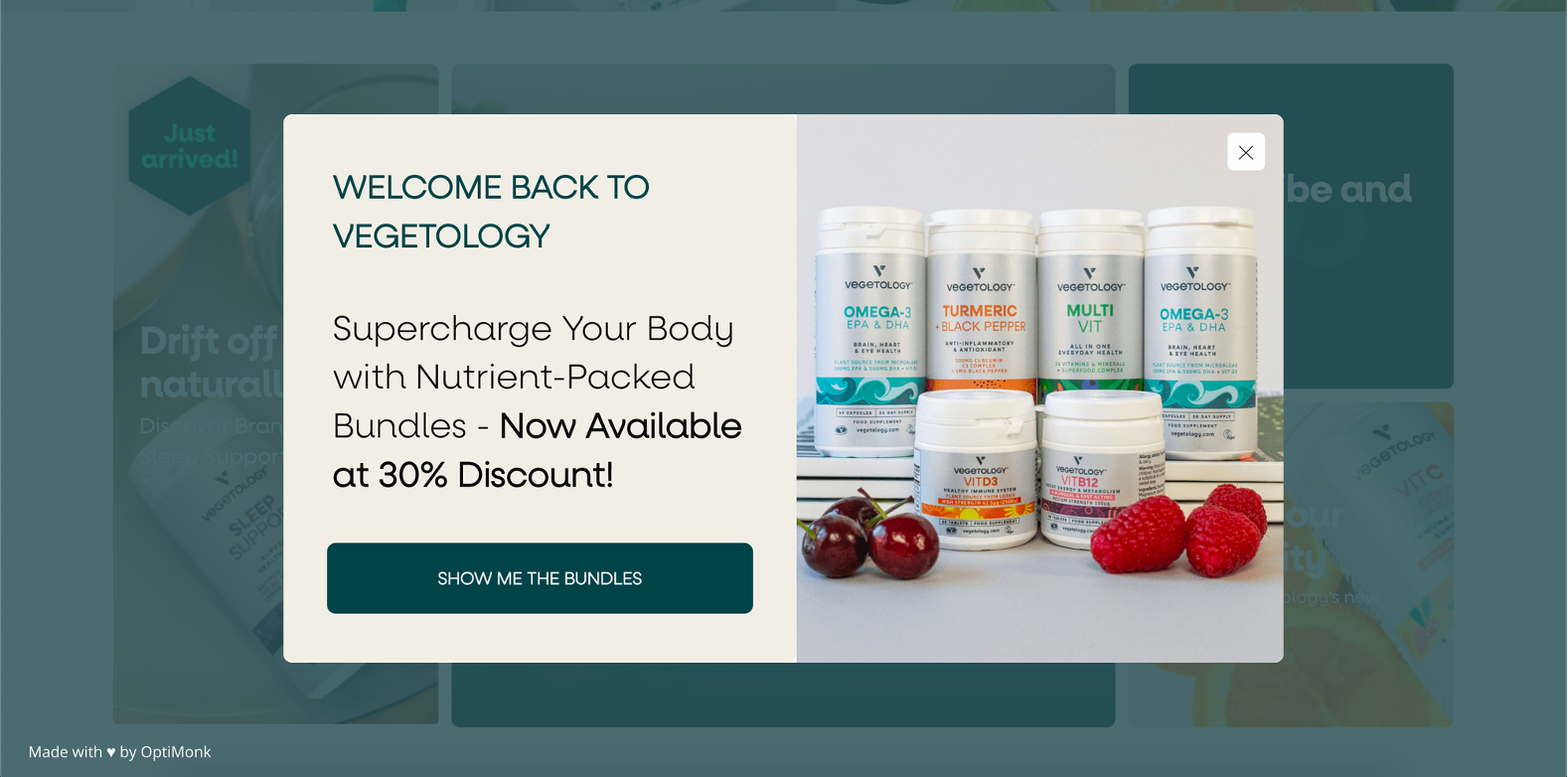 It can often be difficult to predict which version of a campaign or discount will work best for a specific Shopify store. That's why it's important to run experiments and A/B tests—it's always better to make decisions using hard data instead of your gut instinct.
You can A/B test various elements of your website and messaging, including headlines, offers, and calls-to-action. When you figure out the ideal version of a campaign, all the extra conversions you generate become extra dollars in your pocket.
Here's another example from Vegetology where they tested multiple headline and subheadline variants against each other. The best-converting version added 9% to their conversion rate.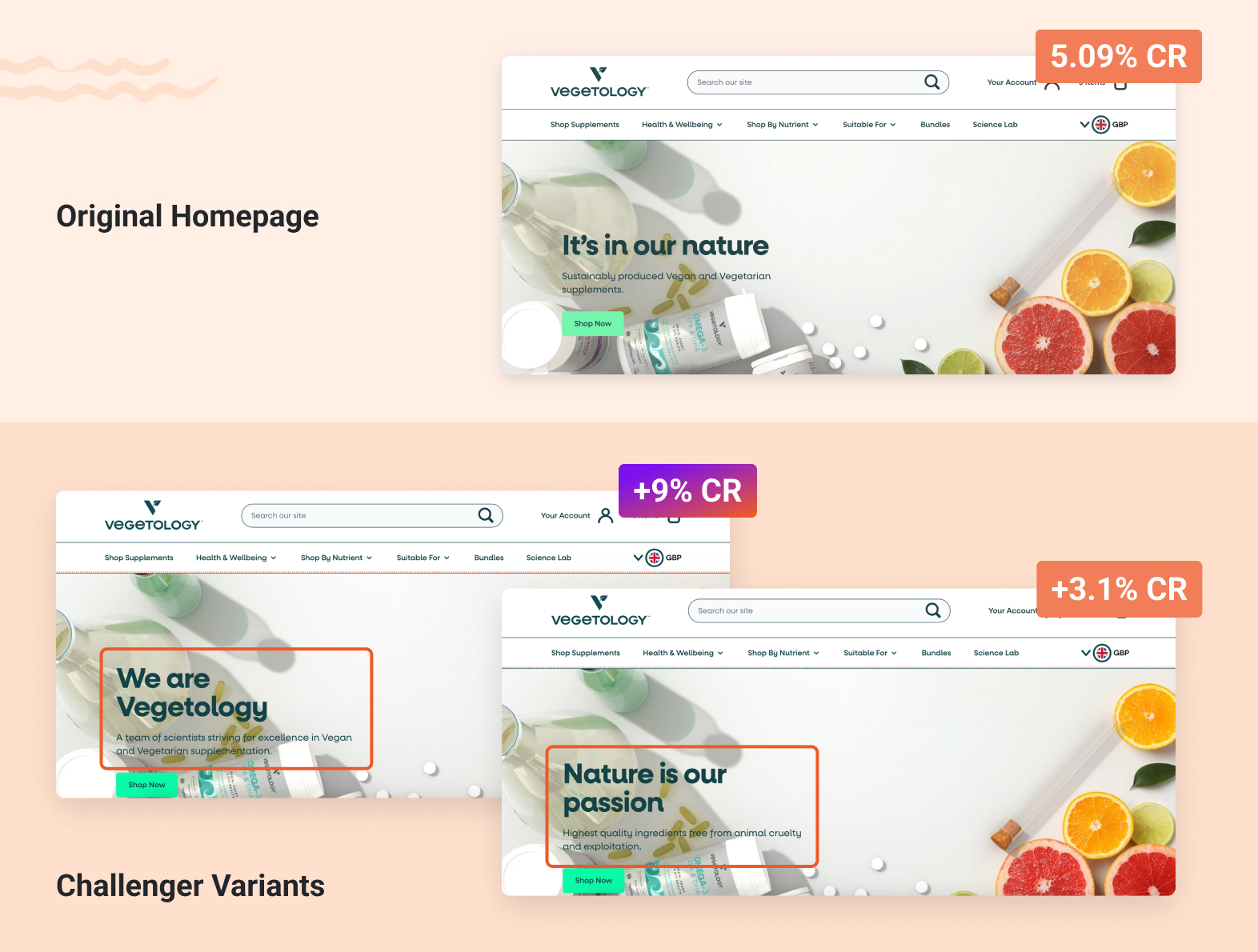 In this article, we've answered the question of how to make money on Shopify. Online shopping is a big business and it offers lots of opportunities for entrepreneurs to earn money. Whether you're trying to establish a Shopify dropshipping business or launch your own clothing line, learning all you can about the platform through an online course or posts like this will help you start making money more quickly.
Once you master the process of optimizing the performance of your online store or dropshipping business, you can even start flipping Shopify stores.
OptiMonk is available in the Shopify app store, and it can unlock all the optimization strategies we went over above. And since it's a freemium product, there's no reason not to use it to start improving your ecommerce store!