Product pages may be one of the final steps in the customer journey, but they hold the key to converting traffic into loyal customers. 
From showcasing product features to nailing search engine rankings, there's a lot riding on these pages. Join us as we dive deep into the world of product page optimization, covering everything from killer keyword strategies to leveraging customer testimonials. 
Let's get started!
What is product page optimization?
Product page optimization refers to the process of continually improving your product pages by making small improvements and then testing to see if they achieve the results you're after. Generally, you'll be trying to maximize the conversion rate of your product pages, which will ensure that as many visitors as possible actually make a purchase.
The final goal is to create a compelling, user-friendly experience by improving and enhancing individual pages. When you engage online shoppers and provide them with valuable information, they're more likely to make a purchasing decision without delay.
Why is product page optimization important?
Optimizing product pages is crucial for any ecommerce store because the users who reach these pages are usually almost ready to make a purchase. After all, they're aware of your brand, they've searched for your site on Google, and they've probably even looked through some category pages.
When you take strategic steps like displaying product photos and information clearly, ensuring your product page copy matches your ads, and improving your call-to-action, you'll see results in terms of increased conversion rates and sales.
If you have well-optimized product pages, you can gain a significant advantage over your competitors. Building a base of loyal customers with your beautiful product pages can set you up for success in the long term.
How do you structure a product page?
A winning product page generally has a logical flow that introduces the product or software that's being sold, describes product variants and features, and persuades potential customers to click your CTA button.
Here are the essential parts of template-based and custom product pages.
1. Headline and product name
When it comes to selling an ecommerce product, it's crucial that you start off strong, and that means a strong product page headline. Make sure that the headline contains your unique selling proposition (USP), which should explain the one thing that makes your product outshine your competitors' offerings.
2. Product images and videos
It's incredibly important to include high-quality images from different angles on your product page. You can also use a product schema to show exactly how your product is constructed and where all the relevant features are.
Investing in a sleek preview video can also help you provide a dynamic, engaging visual experience, especially if some of your product features are difficult to explain with only text and images.
Finally, make sure all your images and videos have a meta description that aligns with your SEO strategy and will help you rank in search results.
3. Product description
Product descriptions are another important piece of your product pages, giving you the chance to highlight key features and benefits. You should use persuasive language to convince your visitors that your product really is the best option for them.
You should also keep ecommerce SEO principles in mind while you're optimizing your product pages, since using the right keywords can ensure you show up on the first page of search engine results. You can always use the Google Search Console to see where you can improve your site to perform better.
4. Pricing and offers
Customers definitely expect to see pricing, size, and availability information on your product page, so make sure all the relevant info is easy to find.
It's also a good idea to provide your shipping information, delivery times, and return policies. You don't want someone to assume they're going to get free shipping and then find out they'll need to pay on the checkout page. Confusion like that leads to lots of abandoned carts.
5. Calls-to-action
Your calls-to-action are how you move your visitors from a product page to the next step of the customer journey.
First of all, ensure that your CTA buttons stand out and are easily clickable on both desktops and mobile devices. You also want to use simple, straightforward, and persuasive copy, like "Add to cart" or "Buy now."
6. Trust signals and security badges
Finally, you should display all the relevant trust signals on your product pages. Seeing secure payment icons, SSL certificates, and recognized industry certifications will make your potential customers feel more comfortable ordering from you.
7 best practices to optimize your ecommerce product pages
Now let's take a look at 7 best practices that D2C ecommerce brands can use to enhance their product pages.
1. Craft compelling product descriptions
In order to convince someone to buy your products (or to get in the habit of clicking your app icon), you need to be able to tell a story about how what you're offering will improve your customer's life.
Captivating product descriptions are a great way to grab the attention of potential customers and make your pitch.
Weber uses an attention-grabbing headline ('For A Look As Bold As The Food') above their product description, where they concisely present the benefits of this particular grill model.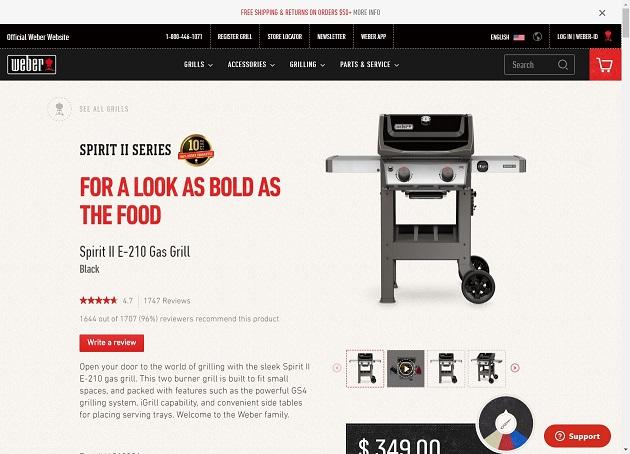 2. Maximize impact with high-quality images
The power of visually appealing product images can do a lot to elevate the effectiveness of your product pages. When you're working with large photos, however, it's always important to ensure that they won't hurt your loading speed and to conduct mobile optimization to ensure they still look great on smaller devices.
This example from Allbirds uses both lifestyle and descriptive product photos to convey detailed information about their products.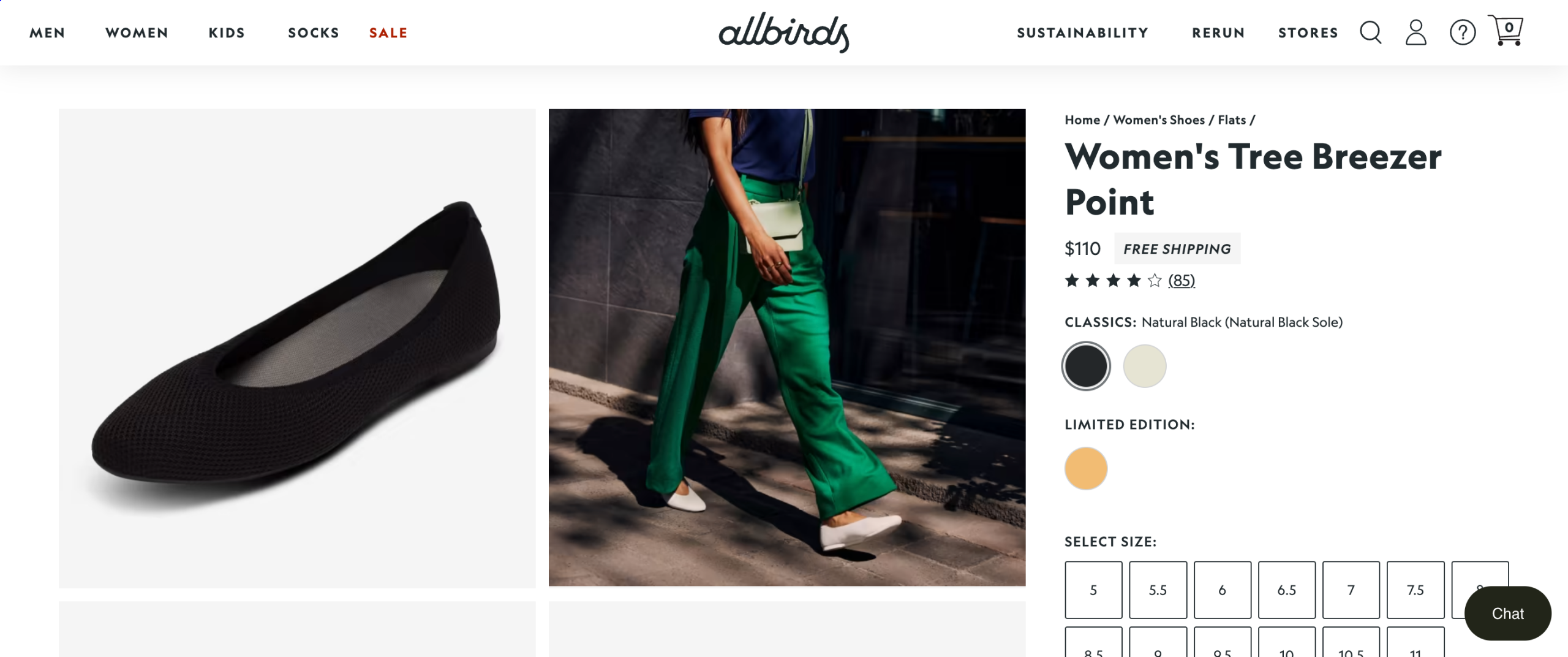 3. Harness the potential of product videos
Videos are a great way to grab a user's attention and show off product attributes. You can show online shoppers exactly what your product looks like in action, which can help them envision what it would be like to actually have the product.
Here's an example from Le Creuset that highlights how compelling a product video can be.
4. Create a sense of urgency
Sometimes, online shoppers are so excited about a product that they can't wait to make a purchase. But much more often, they tend to procrastinate. Since you can always pull up a website on one of your mobile devices, it's easy to think, "Oh, I'll just buy that dress I love later."
Of course, only a fraction of those customers will actually return to make a purchase. That's why it's crucial to give visitors a reason to buy now rather than later. And the best way to do that is to create a sense of urgency using limited-time discounts or messages showing limited inventory. This will motivate visitors to take immediate action rather than waiting and taking their chances!
Here's an example of how to create a sense of urgency from Booking.com.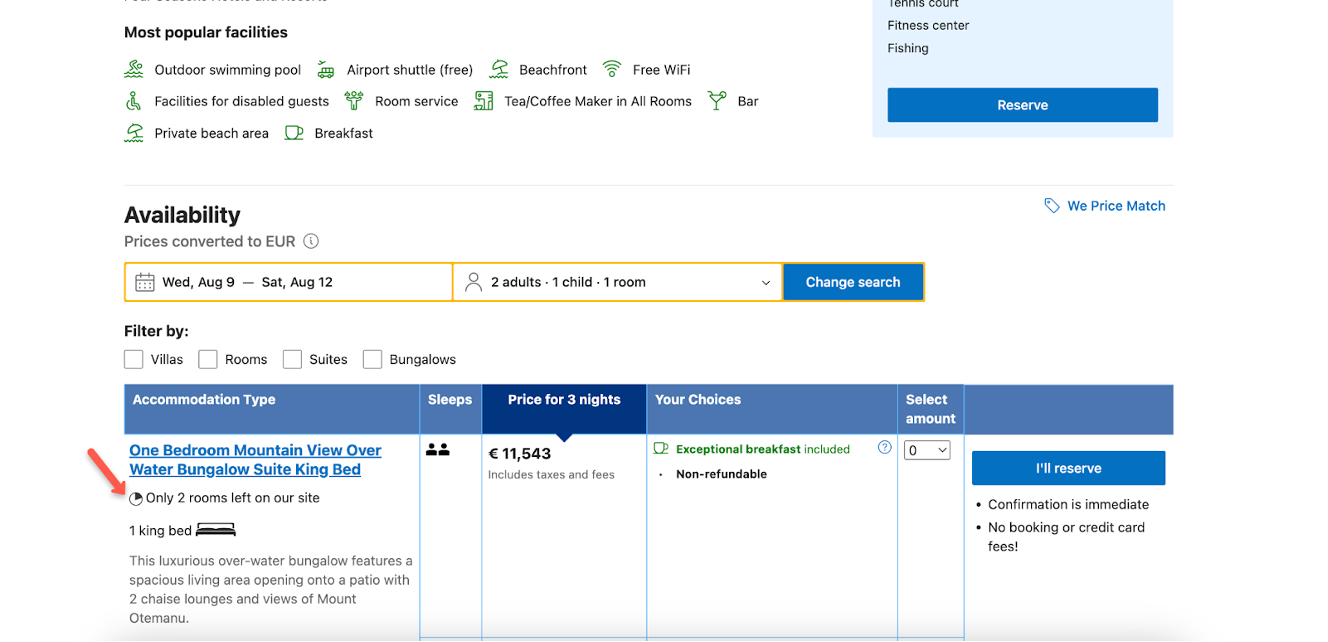 Pro tip: You can increase urgency easily with a sticky bar like the one below.
5. Capitalize on upselling opportunities
Upselling isn't reserved for online shopping only— it's a sales tactic that all sorts of businesses use regularly. An upselling strategy involves convincing potential customers to purchase additional or upgraded products, increasing the total value of their order.
Upselling and cross-selling are common strategies for SaaS businesses, too. For example, you might have a few different app versions at different price points, which gives you the opportunity to encourage users to buy the most expensive version.
You can get started with this upsell template in your ecommerce store:
6. Use social proof
Using social proof on your product pages is a key factor in driving sales. That's because first-time visitors often worry about ordering products from an unfamiliar brand, since they can't be sure about the quality of the products they'll receive in the mail.
Using a customer review or testimonial element can be a great product page optimization feature, helping you establish credibility and instill confidence in potential buyers.
In the example below, Vegetology increased its conversion rates by 6% using social proof at the top of its product pages.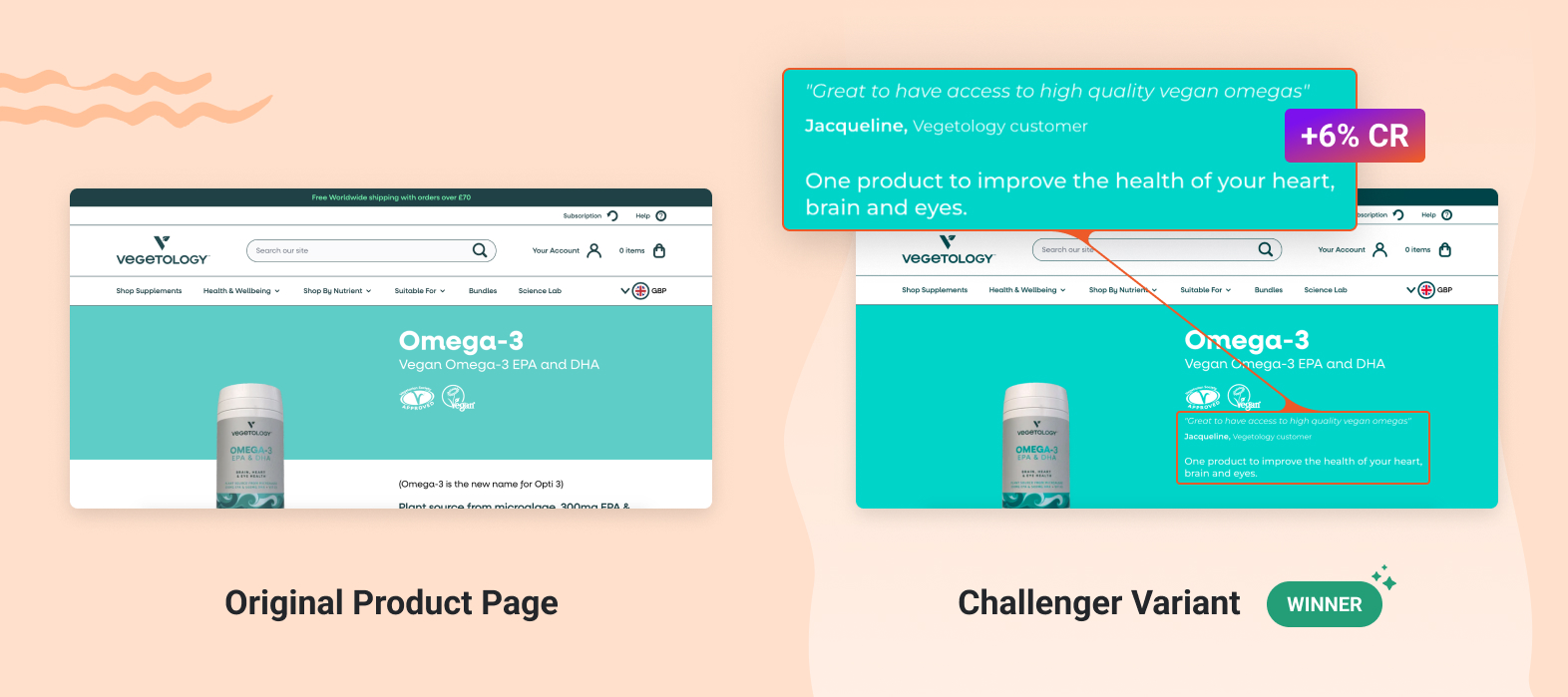 Read a full breakdown of how Vegetology uses upselling to boost their average order value.
7. Optimize for search engines
Search engine optimization is a crucial part of running a successful ecommerce business, and that certainly applies to product page optimization.
Product page SEO revolves around conducting keyword research and optimizing on-page elements like headings, meta descriptions, and internal links.
5 bulletproof tactics from our in-house marketers to boost your product pages
Now, we're going to bring you 5 tried-and-tested tactics from our in-house marketers to boost your product pages. Ready? Let's jump right in!
1. Increase product discovery
Merci, our product marketing lead, says you should work towards increasing product discovery if you don't want to use discounts. After all, using a product recommendation popup on a product page can help your users find other options easily.
According to Merci, "Discounts may not be necessary for visitors coming from Google Shopping Ads or price comparison sites. Instead, focus on product discovery by promoting trending products in an exit-intent popup, specifically tailored for your Google Ads traffic." 
Learn how to set up personalized product recommendations.
2. Personalize your product page messaging
Niki, our head of content, thinks personalized messages are product page game-changers. She says, "You can boost product page conversions by showing personalized messaging for each customer segment. Try tailored product messaging based on the target audience to increase conversion rates by at least 10%." 
In this example from BlendJet, you can see how the company adjusted their messaging to ensure that it's always relevant for different audiences.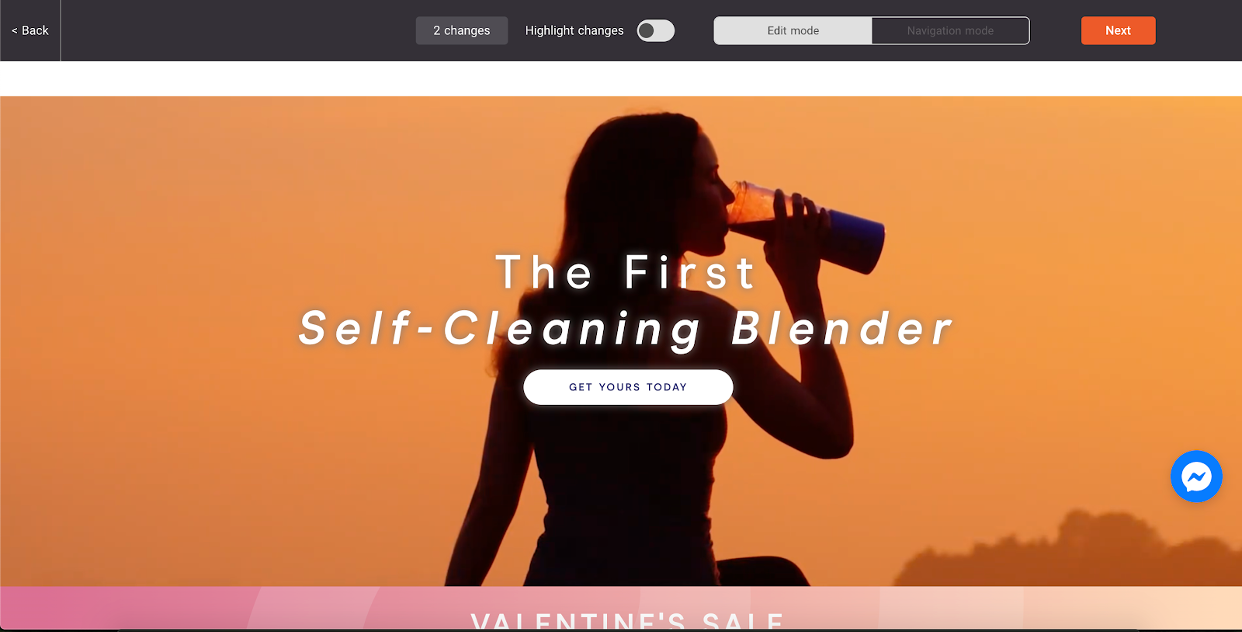 4. Drive more sales with personalized offers for returning visitors
Bence, our marketing intern, says that you should use personalized offers as a way of saying thank you to your returning visitors. His advice to ecommerce stores? "Boost customer loyalty by promoting exclusive deals and using their first name to make them feel special."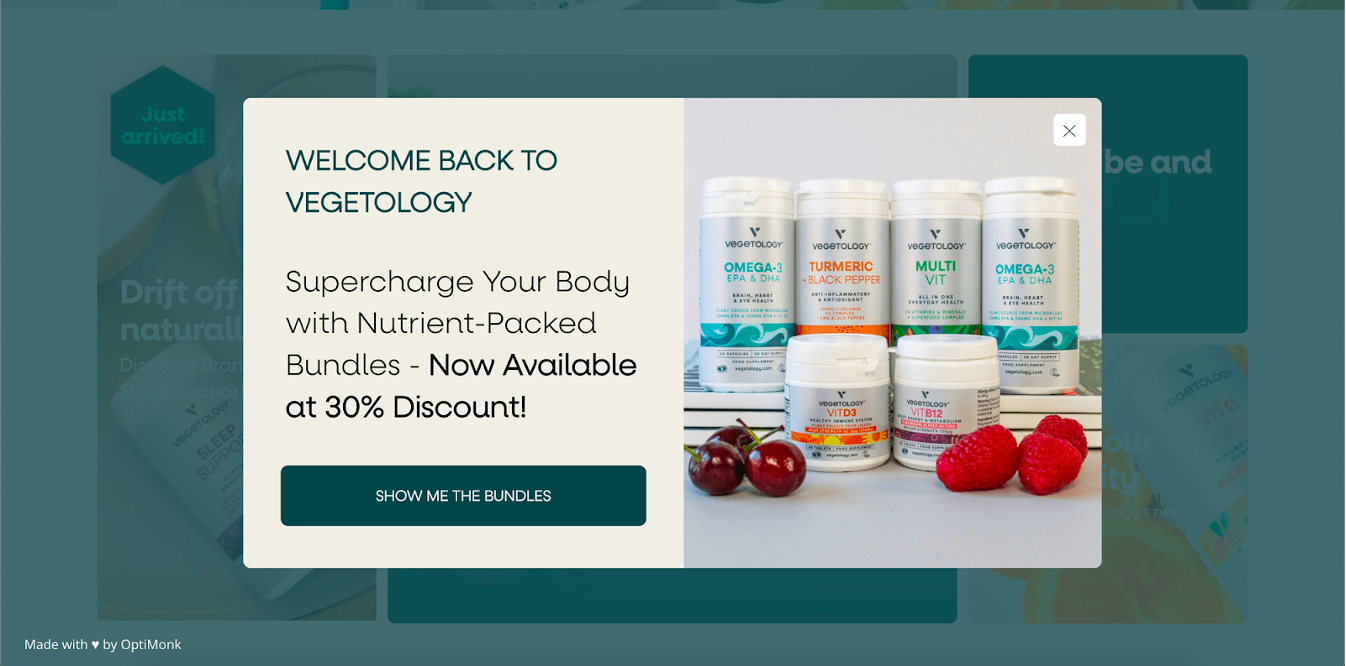 Organically growing your customer base with ideas like this helps you avoid relying on paid user acquisition.
Learn how to set up offers like these here.
5. Remind product page abandoners what they're missing
Zsombi, our PPC Specialist, says that online stores should definitely be using exit-intent popups to win back visitors who are just about to abandon a product page. 
"Recover lost sales from abandoning visitors with exit-intent popups reminding them of their viewed products and offering personalized incentives," he says.
Every conversion you save using an exit-intent popup is a bonus! Learn how to set them up using this guide.
5 best tools for product page optimization
If you're ready to get into product page optimization in a serious way, you'll need the right tools. Let's check out five of the best options in 2023.
1. OptiMonk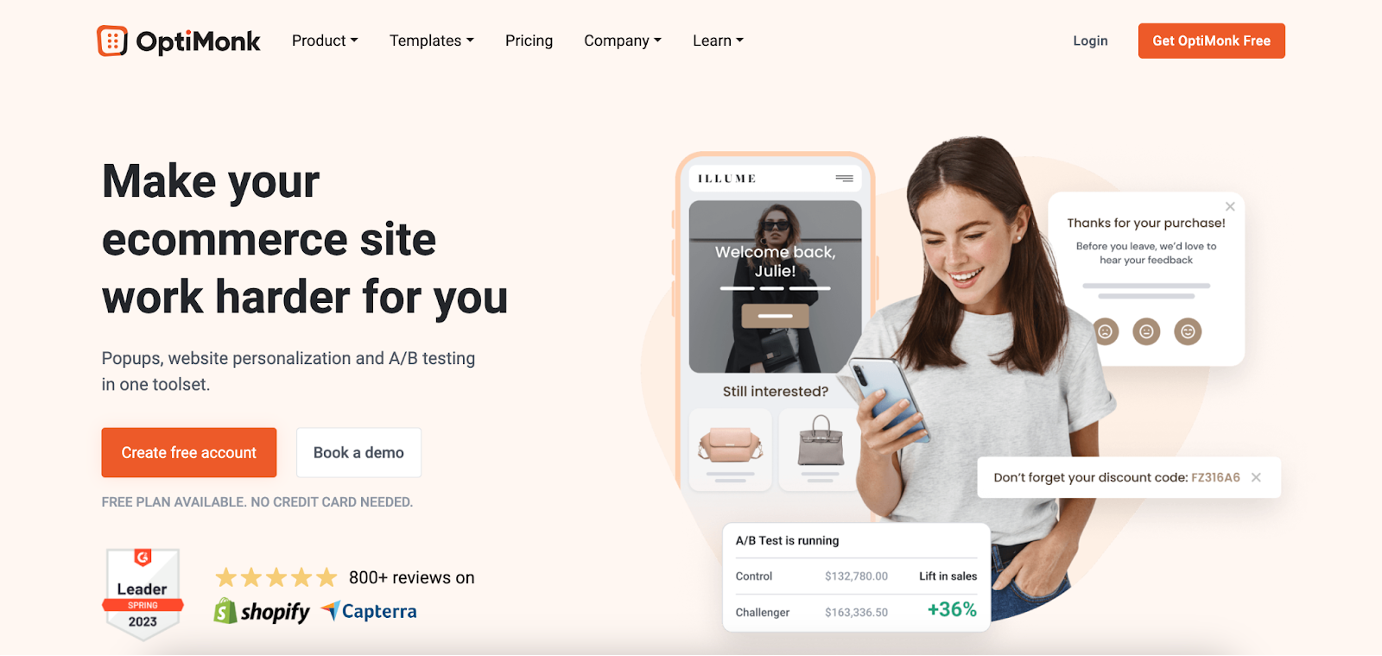 OptiMonk is a powerful conversion optimization tool that allows you to create and display personalized pop-ups and on-site messages to engage your website visitors. It helps capture leads, reduce cart abandonment, and increase conversions across your entire site— including your product pages.
Pricing: Freemium, or $39/month.
2. Hotjar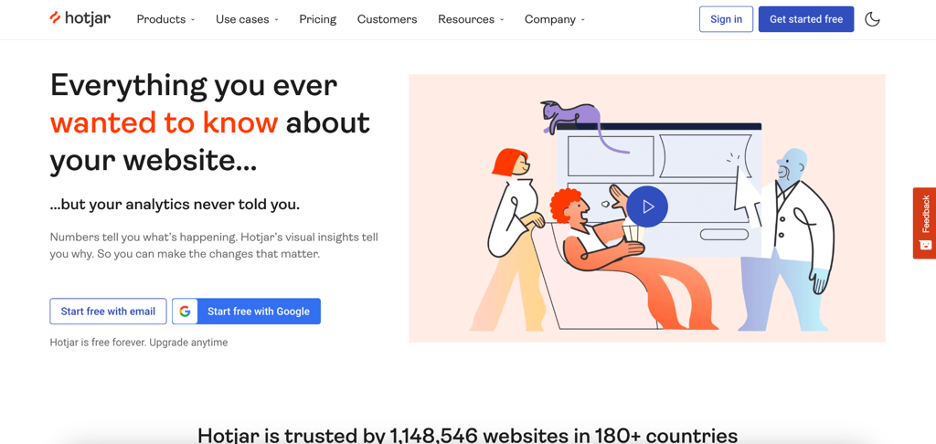 Hotjar is a user behavior analytics and feedback tool that helps you understand how visitors interact with your product pages. It provides heatmaps, visitor recordings, and surveys to identify areas that need improvement for product page optimization.
Pricing: Basic plan is free, pricing starts at $39/month.
3. Optimizely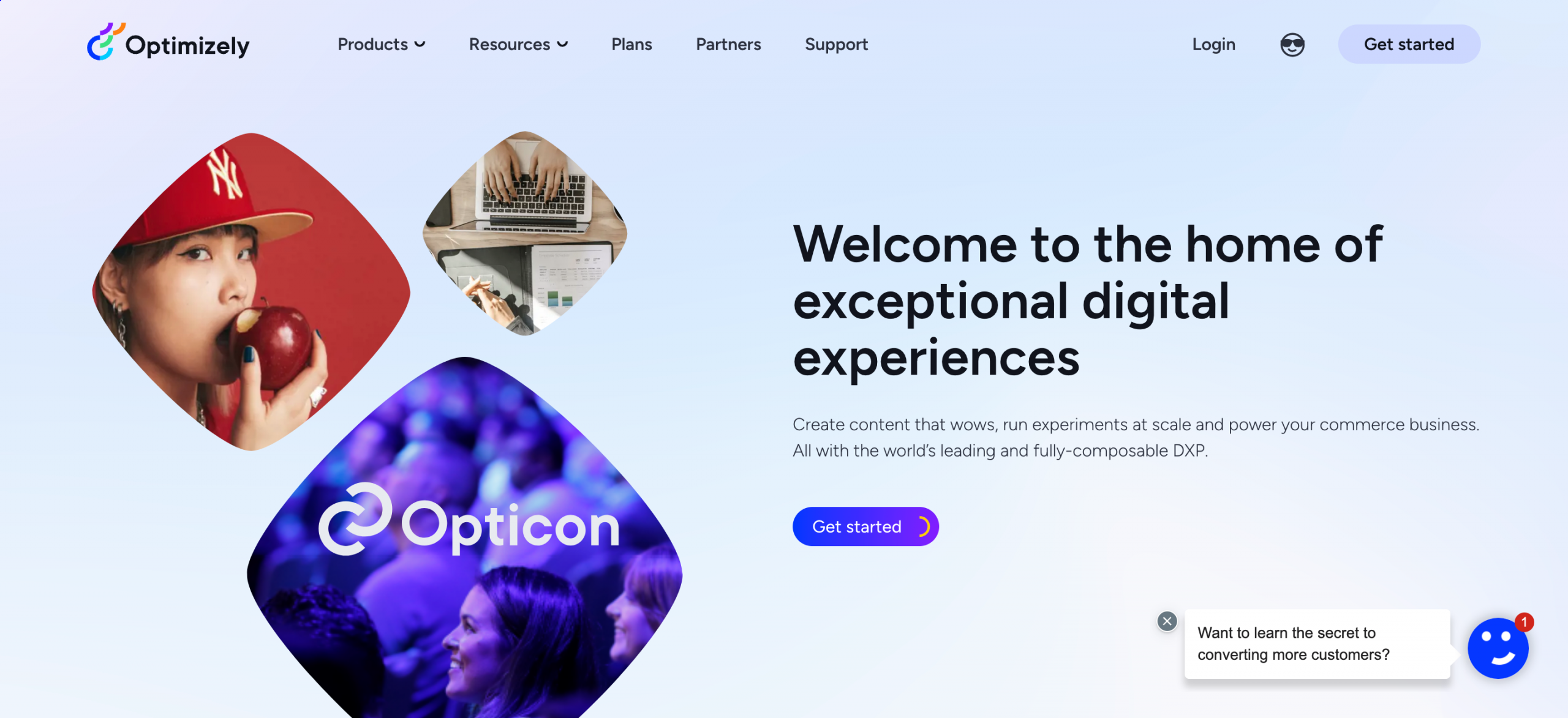 Optimizely is an experimentation and personalization platform that enables you to test different variations of your product pages in order to improve your conversion rate. You can perform A/B testing and multivariate testing, and the tool offers advanced targeting options.
Pricing: Optimizely's pricing varies based on your business needs.
4. YotPo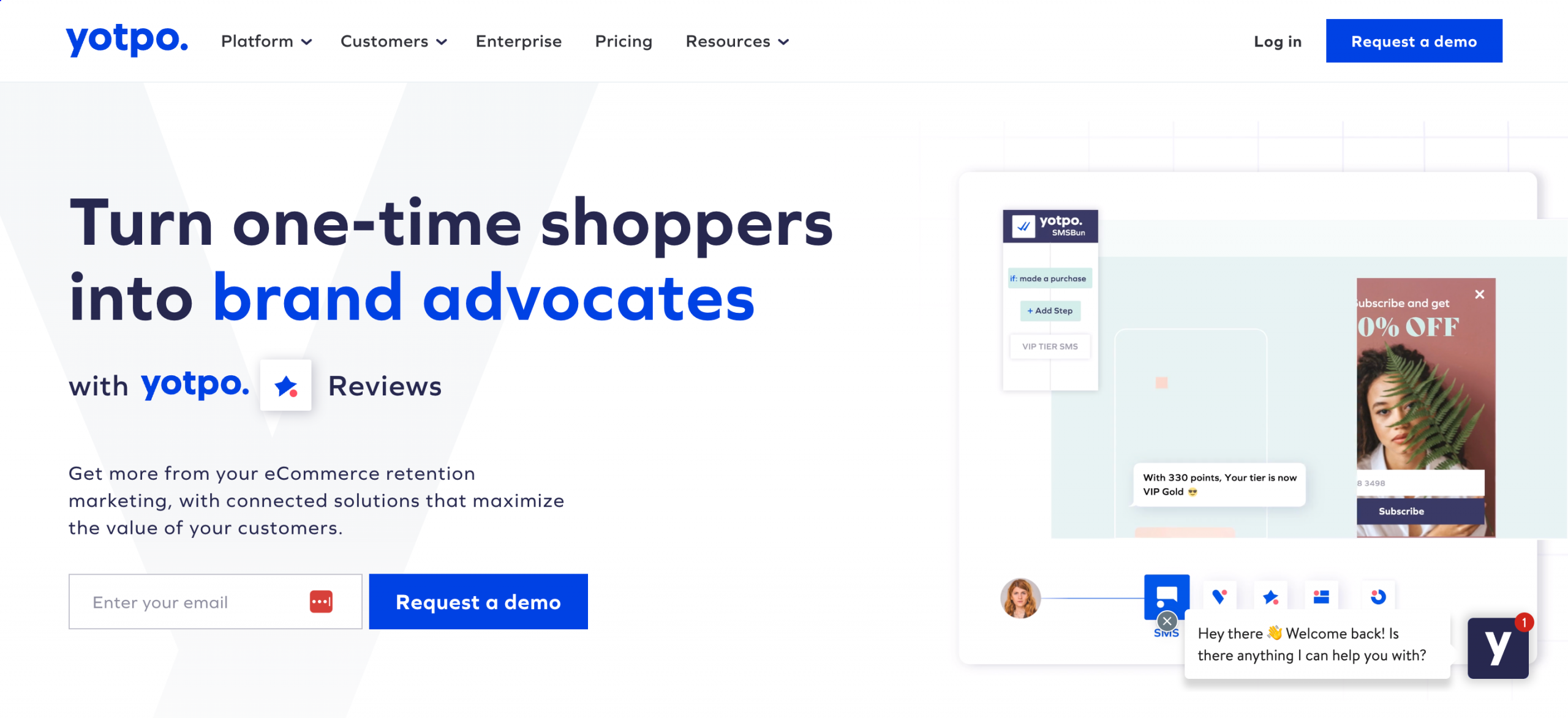 YotPo is a user-generated content platform that focuses on leveraging customer reviews and ratings to optimize product pages. It enables you to showcase social proof, engage with customers, and increase trust in your products.
Pricing: Pricing varies based on your business size and needs.
5. Unbounce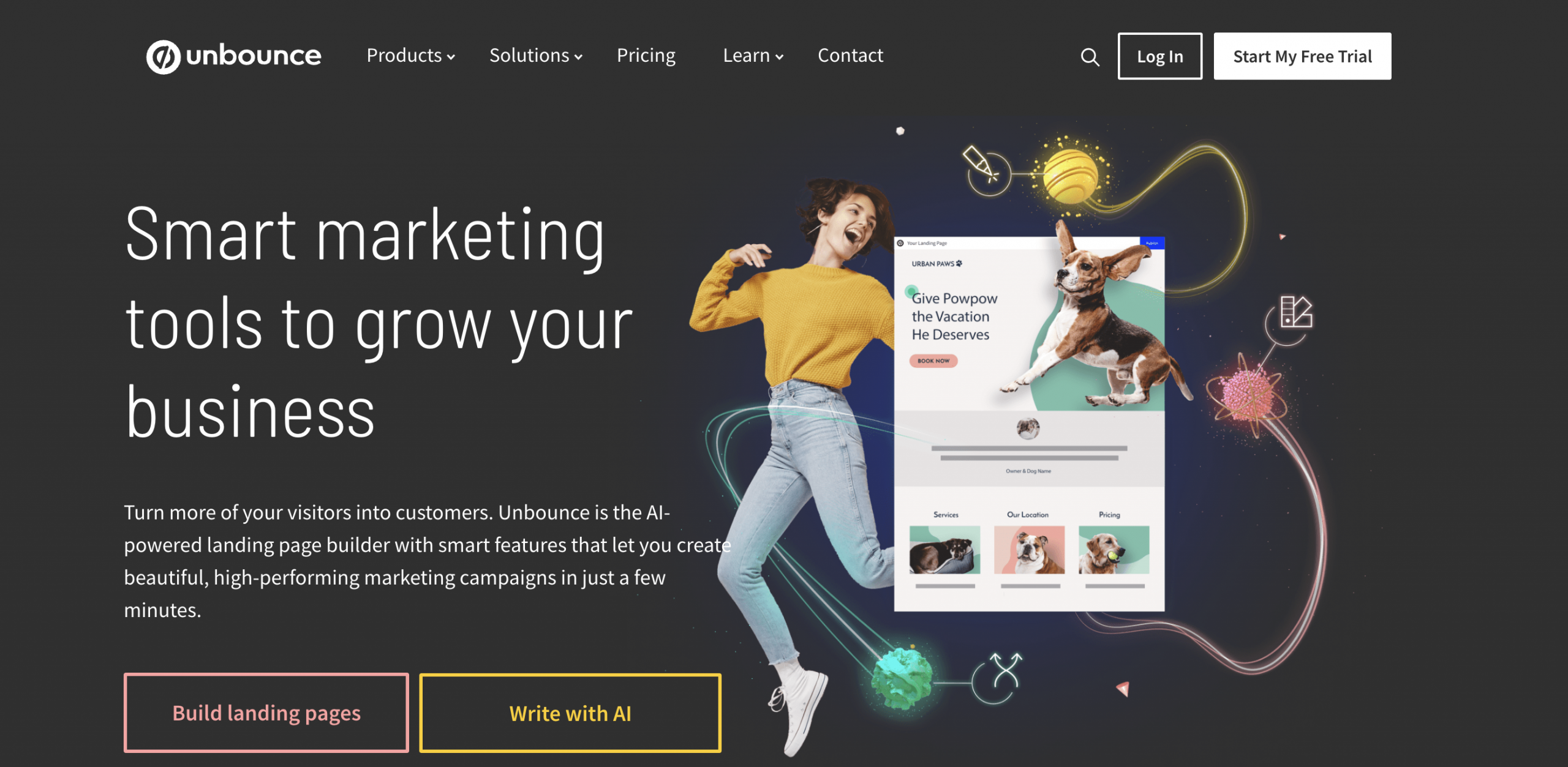 Unbounce is a landing page builder that allows you to create custom landing pages for your products. These optimized landing pages can be used to drive traffic to your product pages and increase conversions once your visitors land there.
Pricing: Pricing starts at $99/month.
We hope you've gained some valuable insights about product page optimization. When you're selling ecommerce products, the last thing you need is a generic product page that turns lots of users away… what you need is stunning, high-converting custom product pages.
After all, you've spent lots of time and money building a conversion funnel that gets potential customers to your product pages. You don't want to stumble at the final hurdle!
If you'd like to give any of these product page optimization strategies a try, sign up for OptiMonk today and start using our award-winning software to perfect your product pages.