User-generated content (UGC) is classic word-of-mouth marketing, but updated for the digital age. Social media platforms are an important marketing channel where you can boost brand awareness and customer engagement by generating and sharing user-generated content.
Potential customers are always going to trust user-generated content more than your own content because they understand that other consumers are more objective than a company's marketing team. When someone can see that a brand's community is enthusiastic, they'll naturally trust the brand and its products more.
In this article, we'll cover the basics of user-generated content and take a look at how 5 top ecommerce brands use the content generated by their customers.
Let's get started!
What is user-generated content?
User-generated content refers to any form of content, such as text, images, videos, or audio, that is created and shared by individuals rather than traditional media or professional creators.
It encompasses the contributions of everyday people, often shared through online platforms or social media.
User-generated content generally takes the form of social media posts, blog articles, and online reviews, but can also include collaborative projects, posts on online forums, and even crowd-sourced knowledge repositories.
Social media channels allow for the active participation of users who generate, curate, and distribute content, which democratizes the flow of information across the digital landscape. Brands that leverage user-generated content are simply participating in the types of conversations that we're having online.
Why is user-generated content important?
Valuable user-generated content can play several crucial roles in today's digital landscape, including building brand awareness, driving web traffic, and boosting your influencer marketing campaigns.
Here are the top three benefits that relevant user-generated content can bring to your marketing efforts.
1. Decrease the number of return purchases
Did you know that $62.4 billion worth of apparel and footwear alone were returned in 2016 due to incorrect fit? And at least 30% of all products ordered online are returned, as compared to 8.89% in brick-and-mortar stores.
So how can user-generated content marketing help tackle this problem?
Well, ecommerce is increasingly a review-based marketplace, with as many as 70% of customers checking out reviews or ratings before making their final purchase.
More and more companies combine customer reviews with user-generated photos, which not only provide social proof but also give customers a lot of information about the fit of the item they're interested in.
For example, Rent the Runway encourages their users to upload photos alongside their text-based reviews. They showcase this consumer-generated content, whereas most ecommerce sites would only show their own photos of the product.

They also prompt reviewers with questions like age, size purchased, fit, and even where they wore the outfit.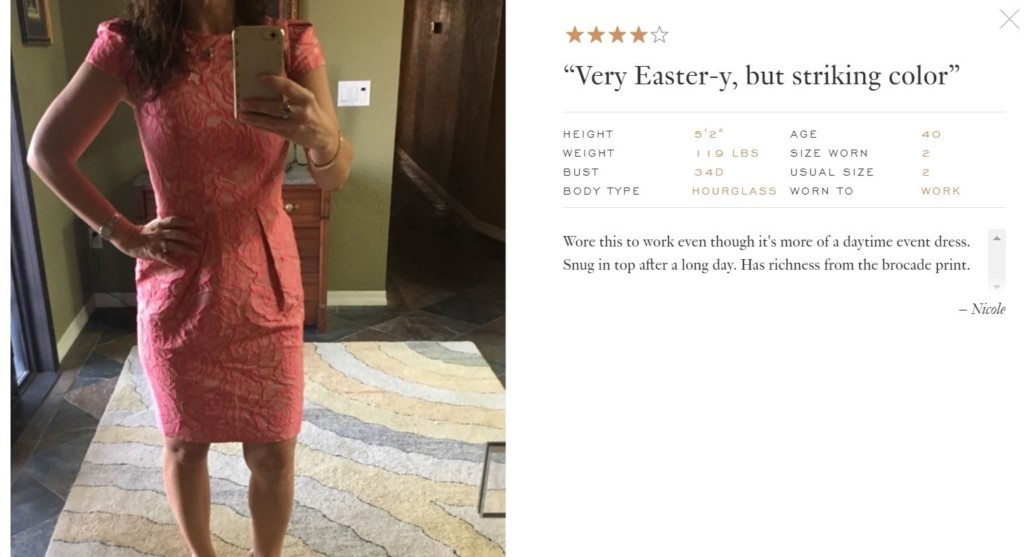 This kind of information helps visitors to imagine the outfit on themselves and decide whether it will be a good fit for them before they ever make a purchase.
2. Improve brand loyalty and retention
Building loyalty in ecommerce can be quite difficult in an environment where price comparisons and competitors' products are just a click away. Featuring user-generated content can help people feel more connected and invested in your brand.
For example, when a brand that you love likes or shares a post that you intentionally shared with a branded hashtag, you really feel like you're interacting with a brand that's genuinely interested in you and appreciates your business.
A well-known brand not only complimented social media users for their photos on Instagram, but also asked if they could share the photos on their website. According to the site, the user-generated content campaign had 100% positive feedback on these messages. Not only did they get full approval for using these photos, but the replies from customers and fans also expressed so much gratitude that it was "overwhelming." This is the kind of engagement that leads to loyalty and retention.
Here's an example of Lindblad Expeditions engaging with their followers on Instagram, letting them know they would like to share the image on their website: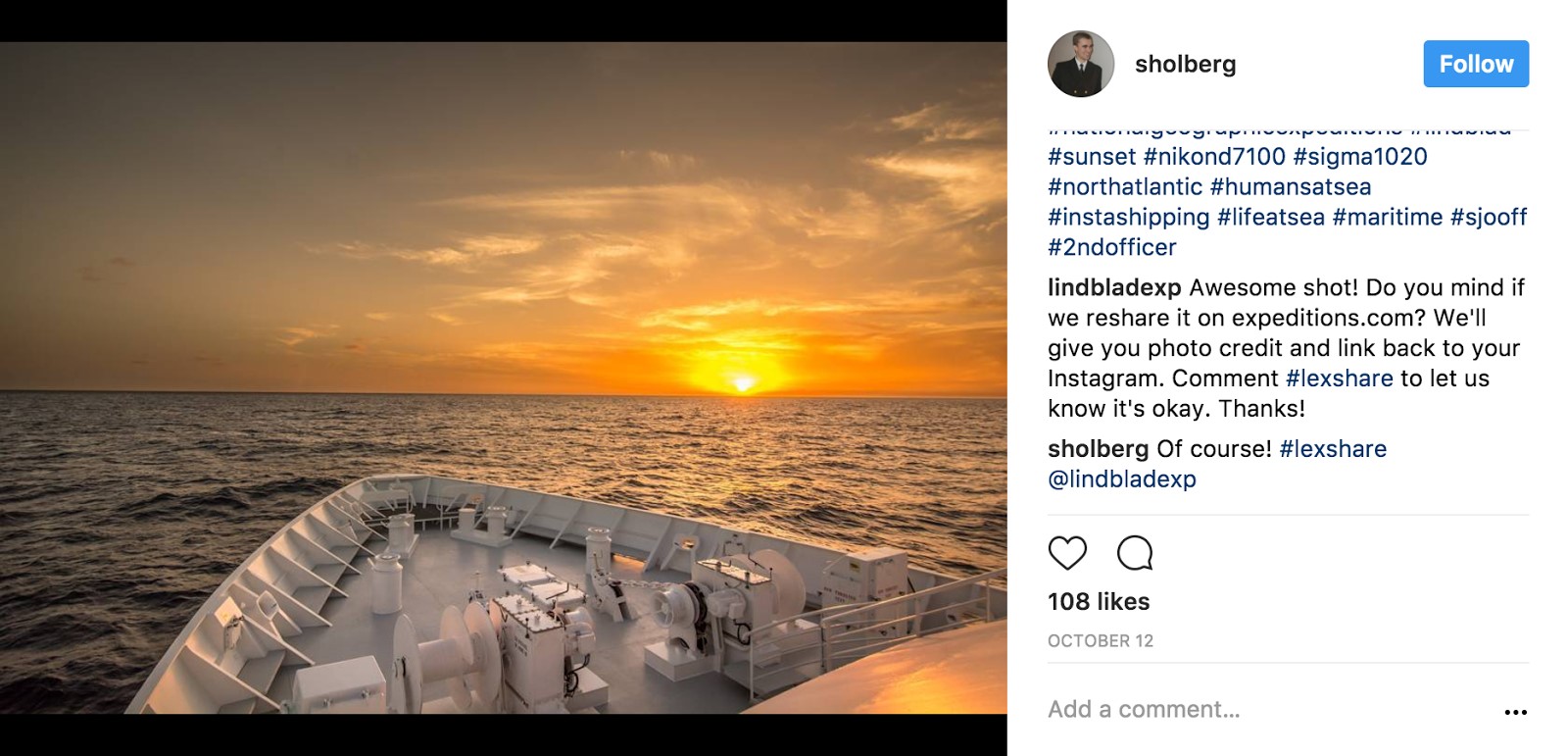 And here's the image on the Lindblad Expeditions site: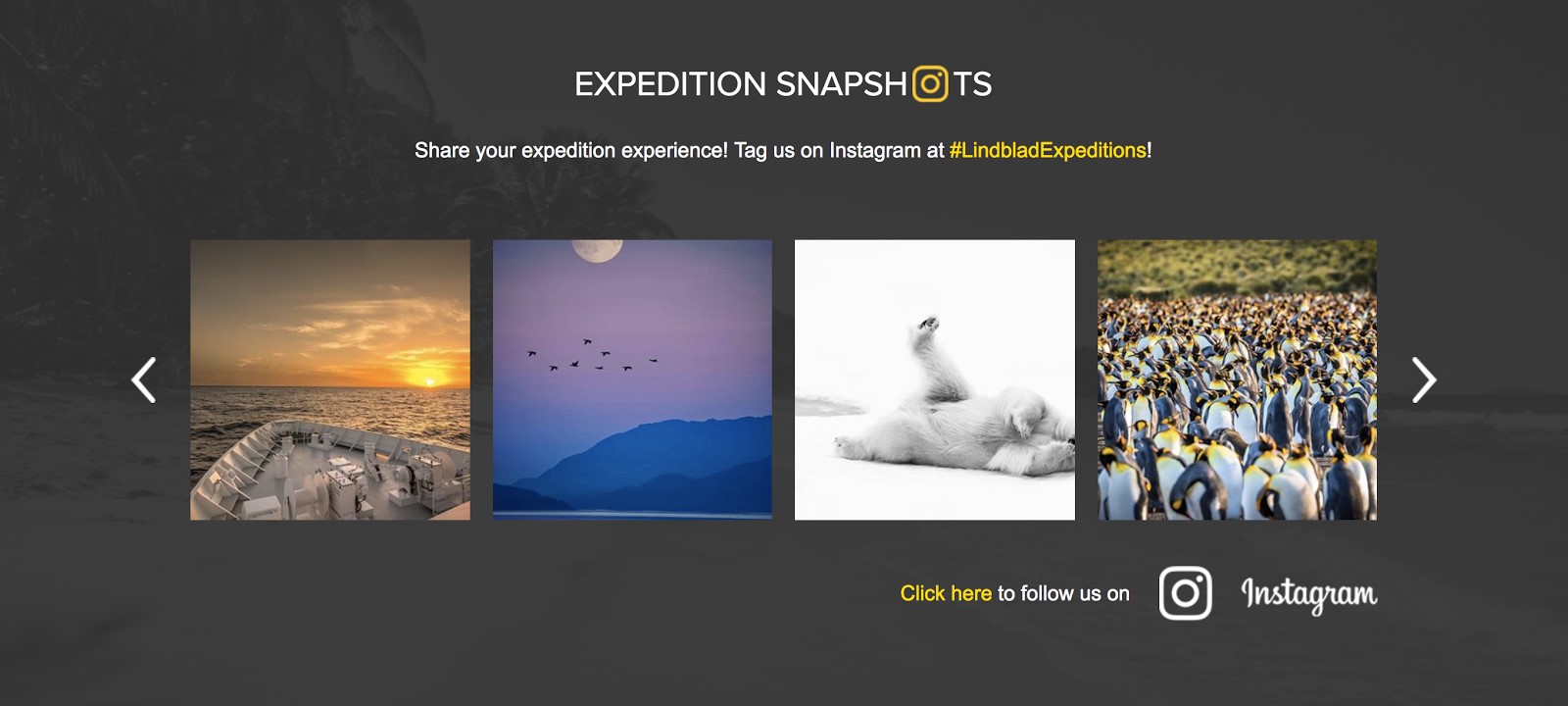 3. Increase conversion rates
It's clear that consumers trust content created by other consumers more than employee-generated content. In fact, 72% trust online reviews and recommendations as much as personal recommendations.
If you're not convinced yet, here's another stat: 84% of millennials say user-generated content from strangers has at least some influence on what they buy.
For ecommerce marketers, closing sales doesn't involve talking on the phone with customers. It involves sharing enough information with customers to make them feel confident about making a purchase. If you do it right, authentic user-generated content will help potential customers overcome their objections to buying your products.
The more social proof you're able to share on your website and social platforms, the easier justifying a purchase from your brand will be. And, as we've seen, not only will you be able to increase conversion rates, but you'll be able to build a strong brand and connect with your customers in a way that sets your business up for long-term success.
5 best user-generated content examples
Now that we've seen how user-generated content can influence brand loyalty, raise awareness, and affect purchasing decisions, here are five great ecommerce brands that have leveraged a user-generated content marketing strategy to bring in future customers and brand loyalists.
As you'll see, a UGC campaign can take on many forms!
1. GoPro
GoPro is known for its exceptional user-generated content that showcases the portable camera's usefulness in extreme situations.
They encourage their customers to capture and share their thrilling experiences using GoPro cameras on their social media channels. When real customers create content on their own, the brand's social media platforms can function as a source of social proof.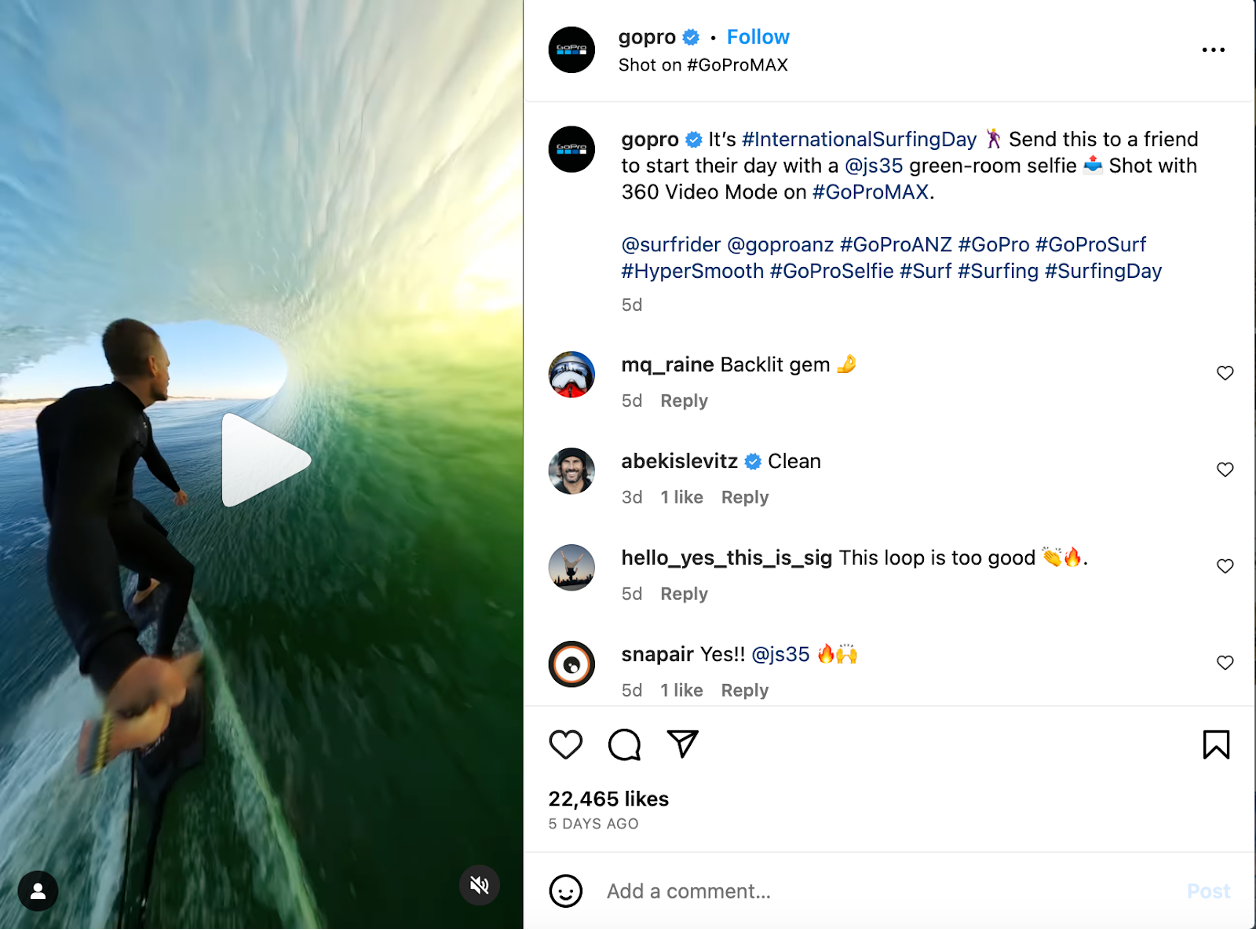 As you can see, their social media platforms are filled with stunning videos and images taken by their passionate user base, showcasing adventurous activities like extreme sports, travel, and outdoor adventures.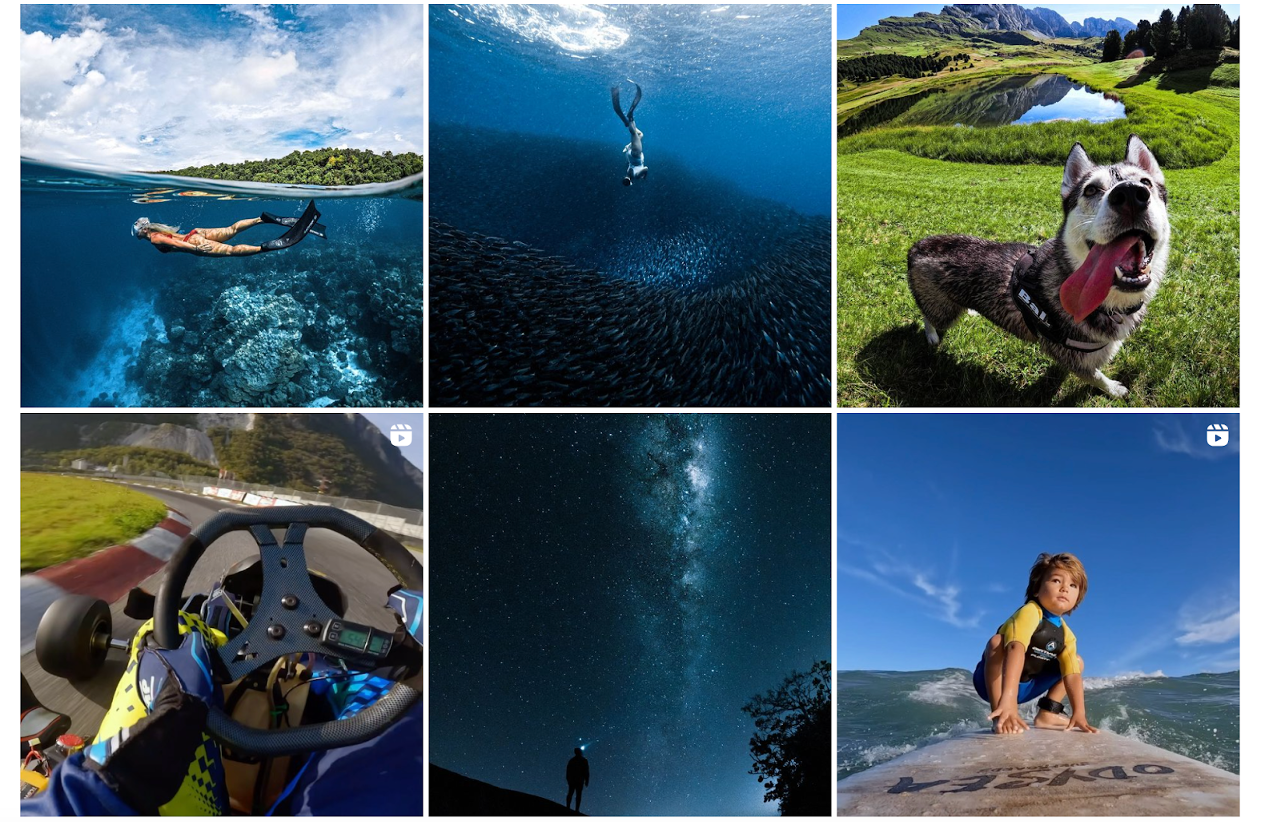 2. Alo Yoga
Alo Yoga uses lots of real photos of customers on their social channels (which they find using branded hashtags). This type of authentic content generates more social proof than you'd be able to do with several traditional campaigns.
Alo also has a small user-generated content module embedded into their site that pulls photos from Instagram and credits the people who've posted the visual UGC content.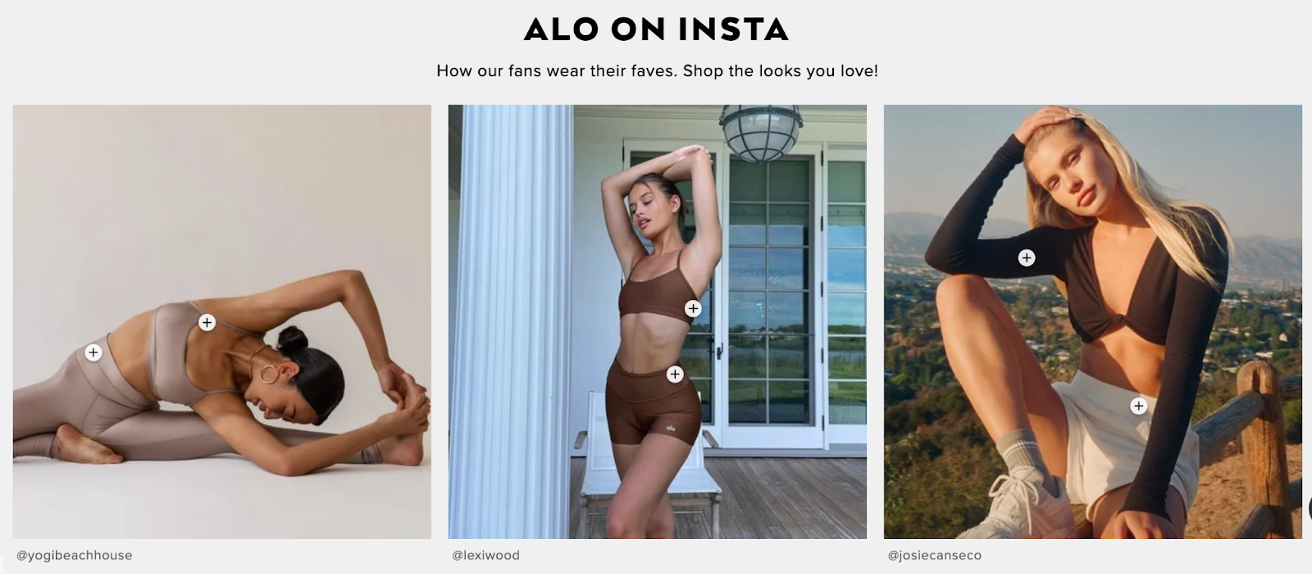 They also encourage users to create more UGC content by showing posts as "style inspiration," which can drive user engagement and increase brand loyalty. After all, creating content that features a brand you love can be fun and rewarding.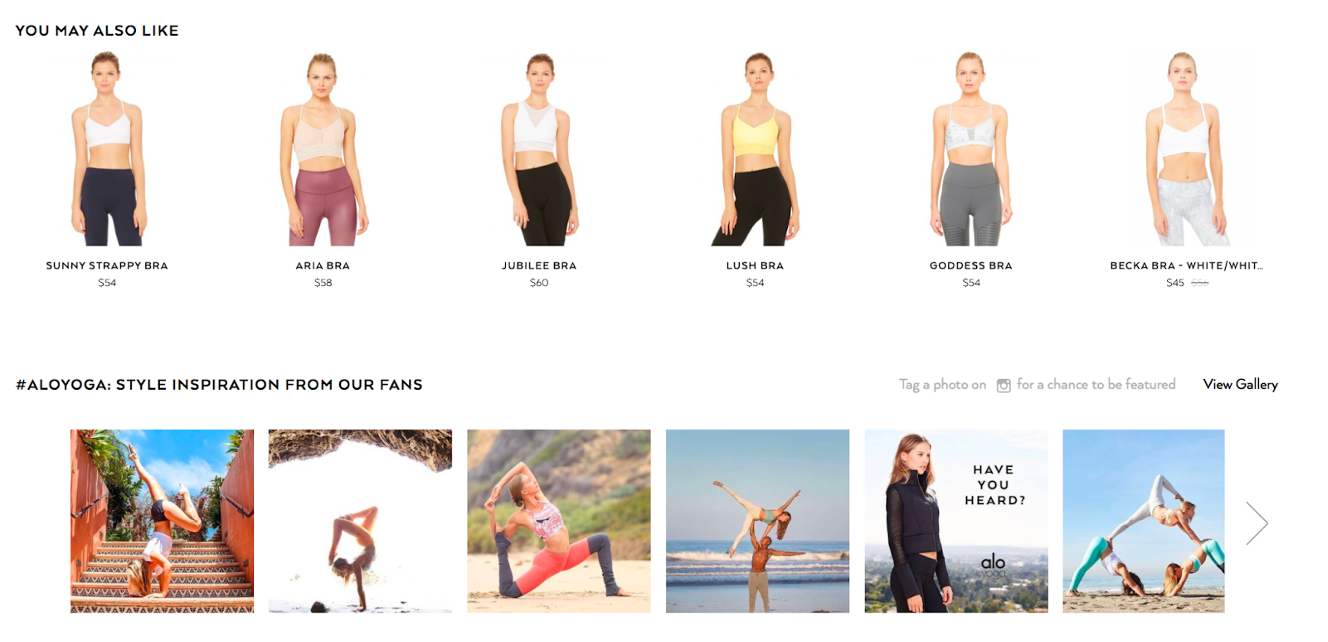 3. ForChics
As mentioned above, user-created content doesn't only have to come from Facebook or other social media platforms. Customer reviews and product ratings can also be excellent user-generated content for a brand to feature.
Here's a great example from ForChics that shows how you can feature positive reviews and testimonials. It's a mix of brand-generated content and user-generated content, but the photos of each reviewer place a clear emphasis on the people behind the reviews.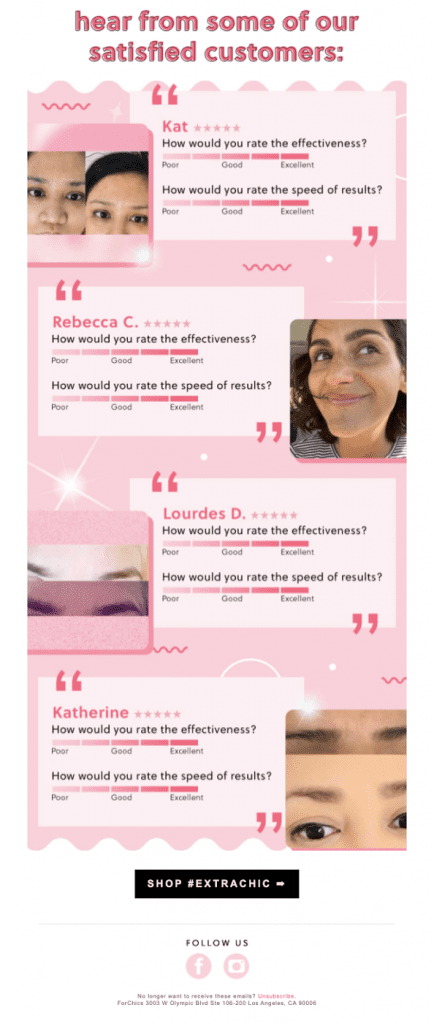 4. Warby Parker
Encouraging your customers to share user-generated content is key to ensuring you have a steady stream of user-generated posts coming in (ideally across multiple platforms) so that you can regularly share new UGC content.
Warby Parker does a great job of this. When they send a "home try-on" package to their customers, they encourage recipients to ask their friends and family for their opinions and to share their experience via the #WarbyHomeTryOn hashtag on Instagram or Twitter.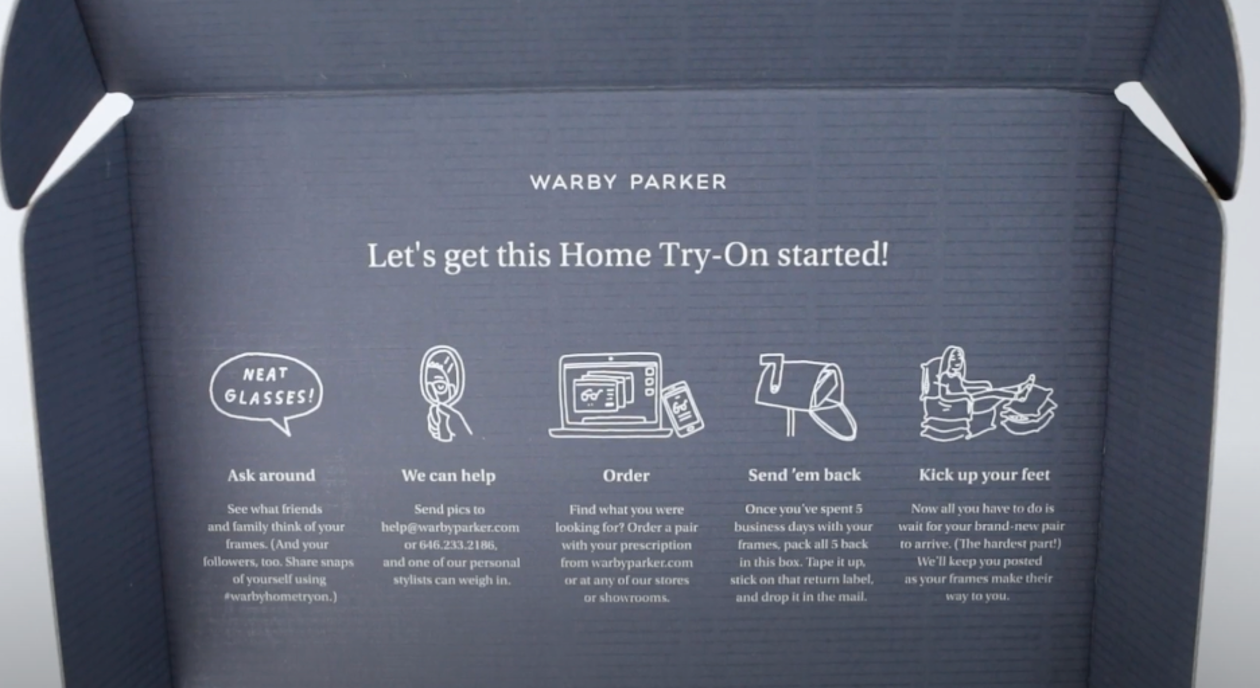 Warby Parker has seen thousands of users post across multiple social channels featuring the tag. And this social media initiative leads to real results: shoppers who shared content on social media were 50% more likely to make a purchase by the end of the home try-on process.
Not only does sharing help shoppers feel more confident in their purchases, but it also generates more social media buzz in the process. And that just leads to more home try-on kits flying to new users' doors.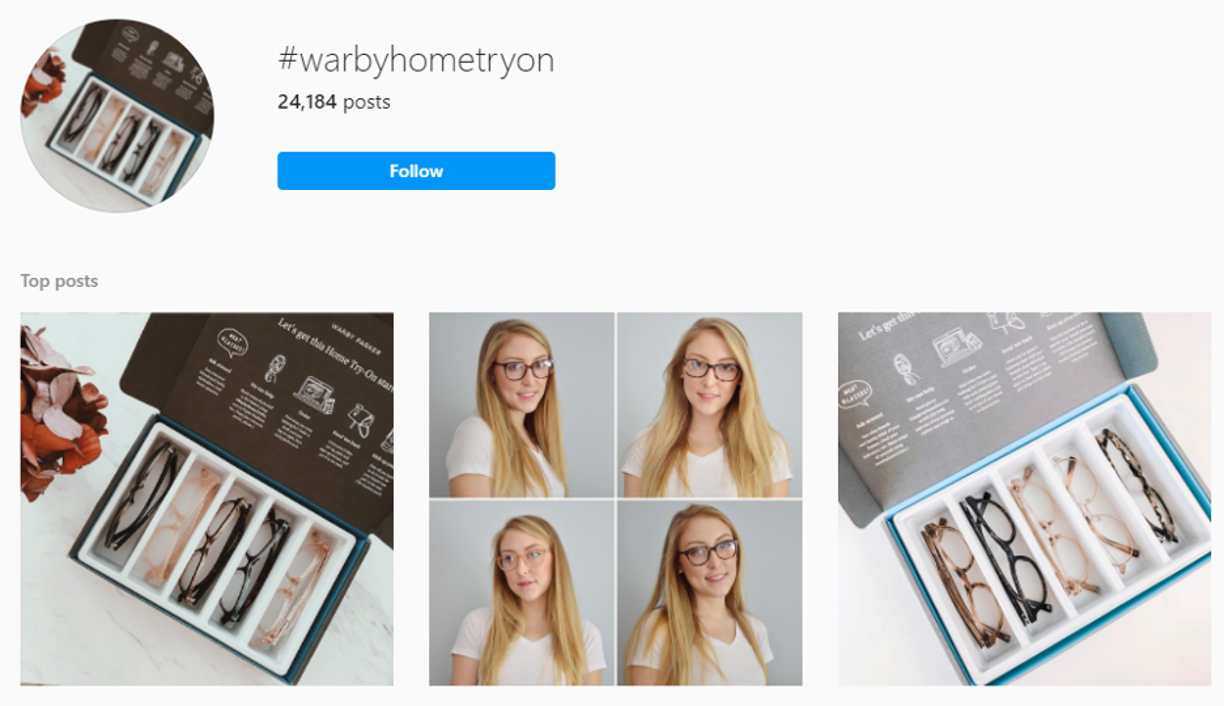 5. Gymshark
Gymshark often launches challenges to drive more user engagement and user-generated content on their social media channels.
For example, they partnered with TikTok fitness influencers in 2018 to further their digital reach with their "66 Days, Change Your Life" challenge. This type of influencer marketing can lead to really great brand-specific content created by users who post professionally!
Running for roughly two months, the campaign resulted in a flood of user-generated content.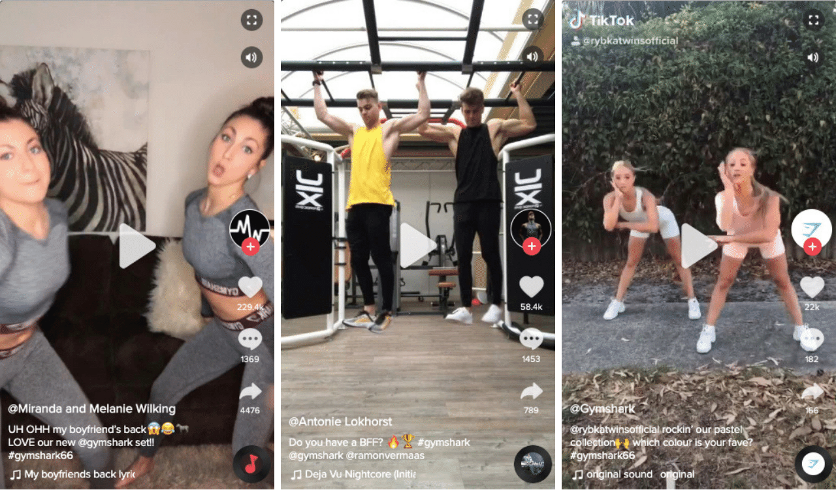 How to make the most of user-generated content
Featuring your brand advocates and the UGC content they create on everything from your social media accounts to your product pages can be incredibly beneficial.
Here are five quick tips to ensure you're getting the most out of your user-generated content.
1. Encourage user participation on social media platforms
As we saw with most of the examples above, getting your users to start creating UGC content is a crucial part of any UGC campaign. After all, if you don't have anyone posting about you on social media, you won't have any user-generated content to share.
You should actively encourage users to engage with your brand by providing clear calls-to-action. Make it easy for users to submit their content by offering intuitive submission processes, user-friendly interfaces, and clear guidelines.
2. Reward consumer-generated content
Implementing a rewards system can incentivize customers to share user-generated content and boost participation. While some brands naturally receive UGC, others may need to offer incentives like discount codes or giveaways to encourage sharing.
You can also use influencer marketing to give your user-generated content a boost by collaborating with users that have huge followings.
3. Implement a moderation system
Establish a moderation system to verify the quality, relevance, and appropriateness of user-generated content. You definitely want to avoid any spammy posts or contributions that will reflect poorly on your brand. Although it is your customers' content, you don't want your social media to be flooded with anything unsavory.
This helps maintain a positive, trustworthy environment that encourages more people to post their content.
4. Foster a sense of community
Creating a strong sense of community around your brand is a key benefit of a marketing strategy focused on user-generated content. Actively engaging with users is a great way to foster a supportive, inclusive environment.
Be sure to respond to user-generated content, acknowledge their contributions, and facilitate interactions between users to encourage further engagement.
5. Showcase and highlight user contributions
Regularly feature and showcase user-generated content that aligns with your brand's values and objectives.
This can be done through dedicated sections on your website, social media posts, or even by hosting user-generated content contests or campaigns. Recognizing and highlighting user contributions not only gives them a sense of validation but also encourages others to participate.
A great UGC campaign has several unique benefits compared to other marketing campaigns. UGC content builds an organic sense of popularity and desirability for your brand, which can help ease first-time customers' fears and get them excited about making a purchase.
Do you have any experience with running user-generated content campaigns on your social media pages?