If I would ask any eCommerce store owner to name a number of pain points, three items would come back in everybody's migraine list:
What if I tell you that there is an easy solution that solves all these challenges?
And what if I tell you that it is not a difficult nor expensive solution?
We all know the positive effect of using photos and videos in our ecommerce website. We are all hardwired for visual triggers: content that contains visuals can get over 94 percent more views.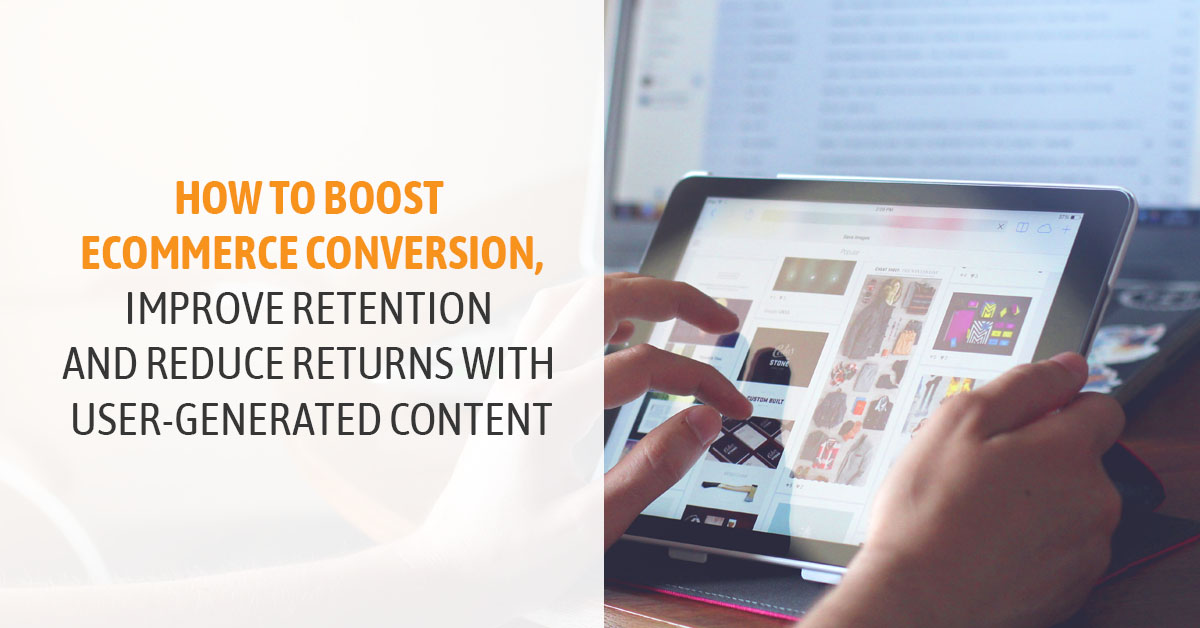 Now, I'm not trying to tell you that you have to create more visual content to reduce returns, increase retention and boost conversion. Not necessarily. This content already exists and is readily available for you. For free.
Social User Generated Content (UGC)
Your customers and fans are out there on social media sharing photos and videos, featuring your brand and products, with the world. This genuine content is the perfect element to fill the gap between the loyal fans talking wonders about your brand online, and those indecisive visitors who abandon the checkout page in the last minute.
Even better, this content can drive users, that have never heard of your brand, to your website. All you have to do is engage with the users sharing this images and videos and use this content on your ecommerce store.
Integrating customers' pictures and videos in your eCommerce website
There are a variety of options where you can display UGC in your online store. Here are two examples of how leading accessories brands do it.
Leading watch brand CLUSE integrates customers' pictures and videos on their online shopping journey, increasing conversion rates up to a 19%. In the section LookBook, visitors can navigate through inspirational images to choose their favorite look.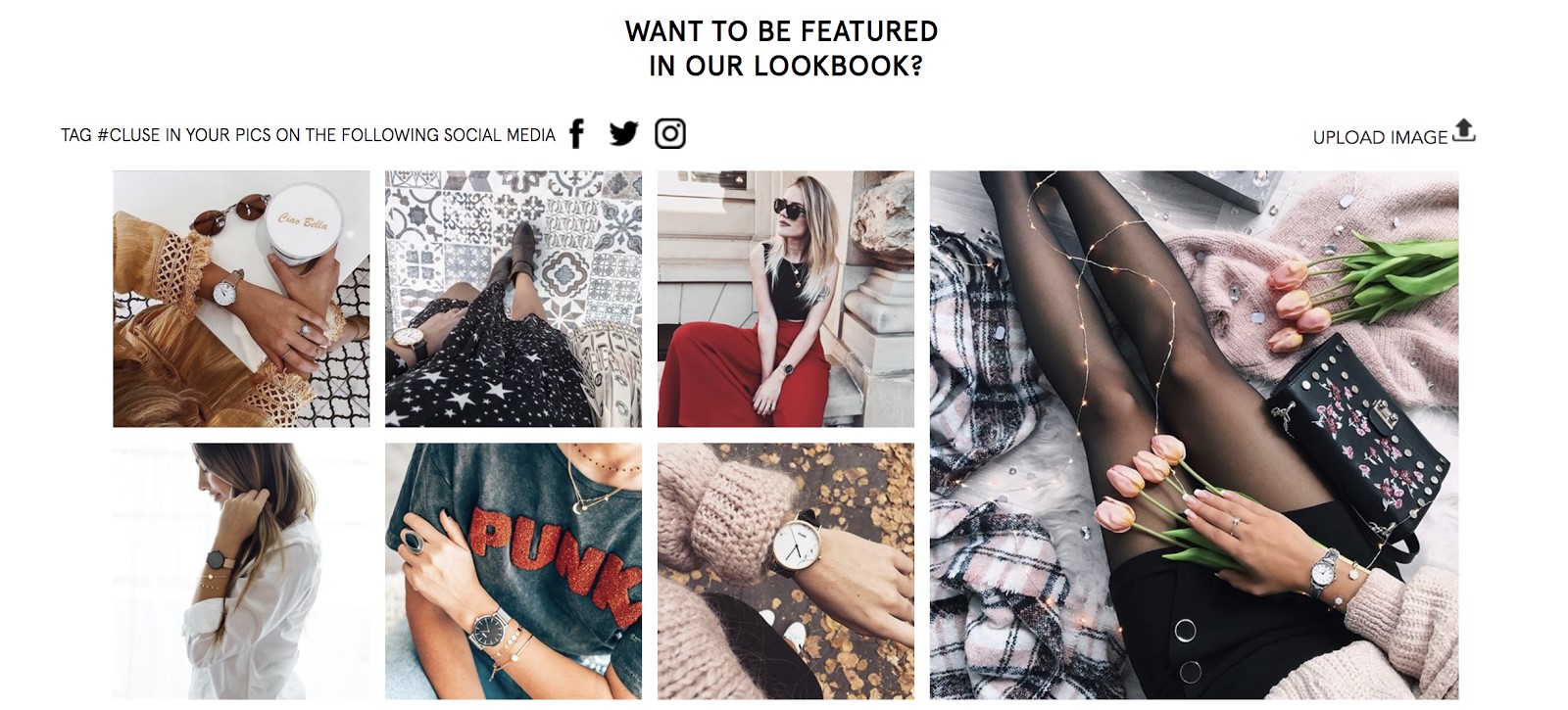 Once they have found it, they can buy the product by simply clicking on the picture: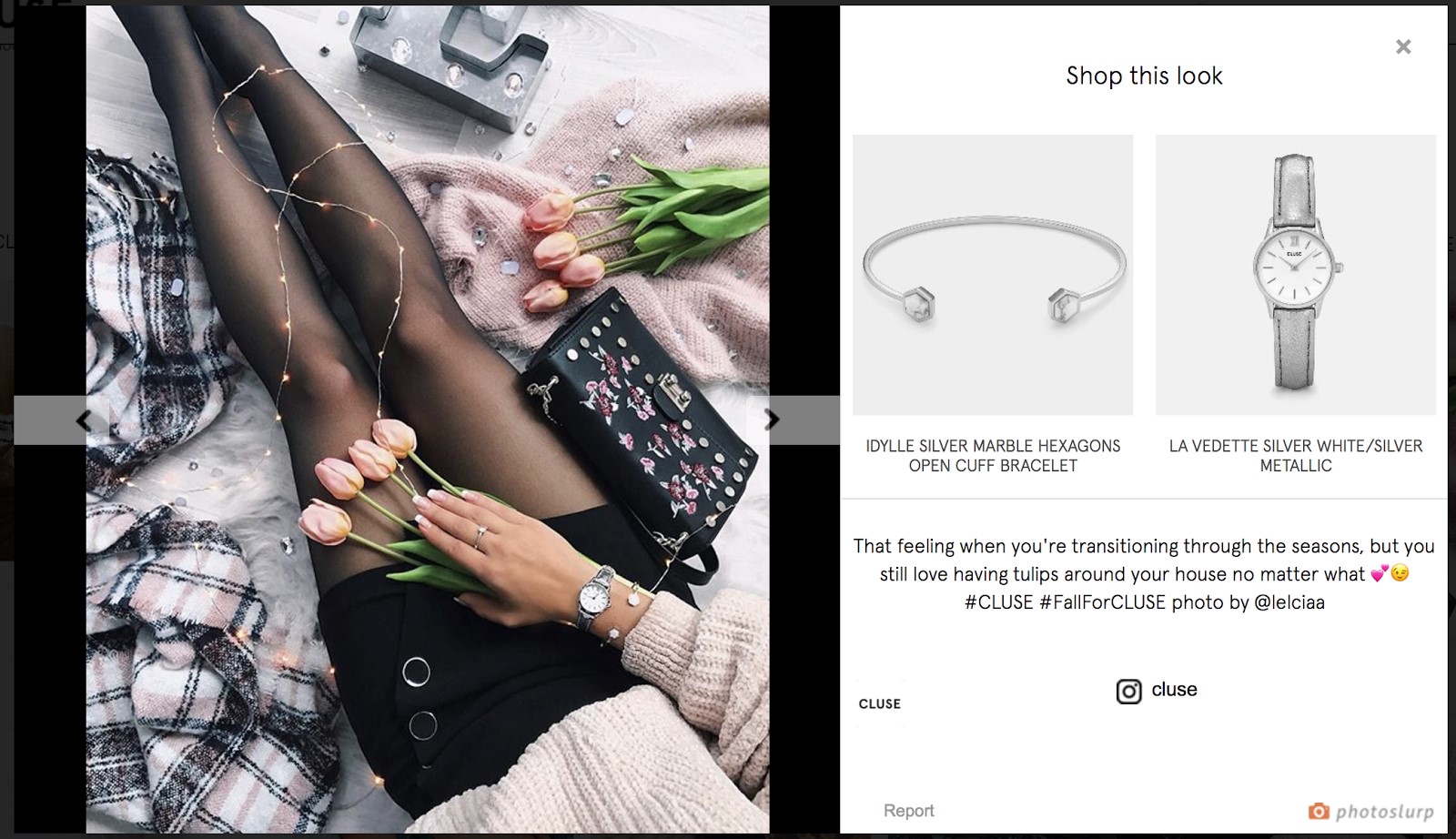 Sunglasses brand Meller uses UGC in a different way. Instead of showing all the inspirational pictures in one page, they integrate this content into the different product pages. This way, potential buyers convince themselves to hit that BUY button by looking at how other people wears the product and combines it with different accessories or clothes.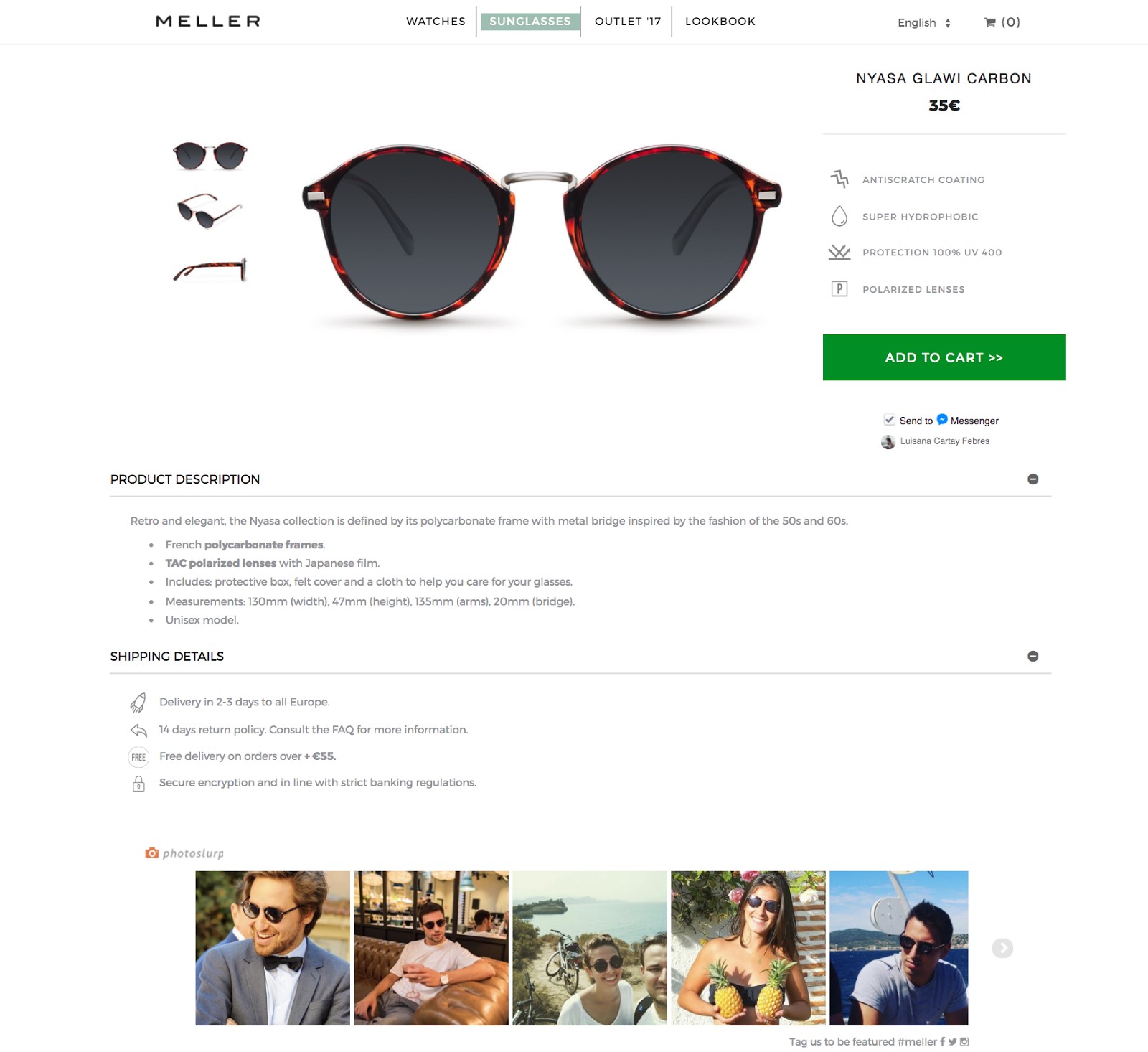 When a visitor clicks on the user generated image of the product they like, the image expands but will still have a BUY button. This way, the buyer won't get distracted: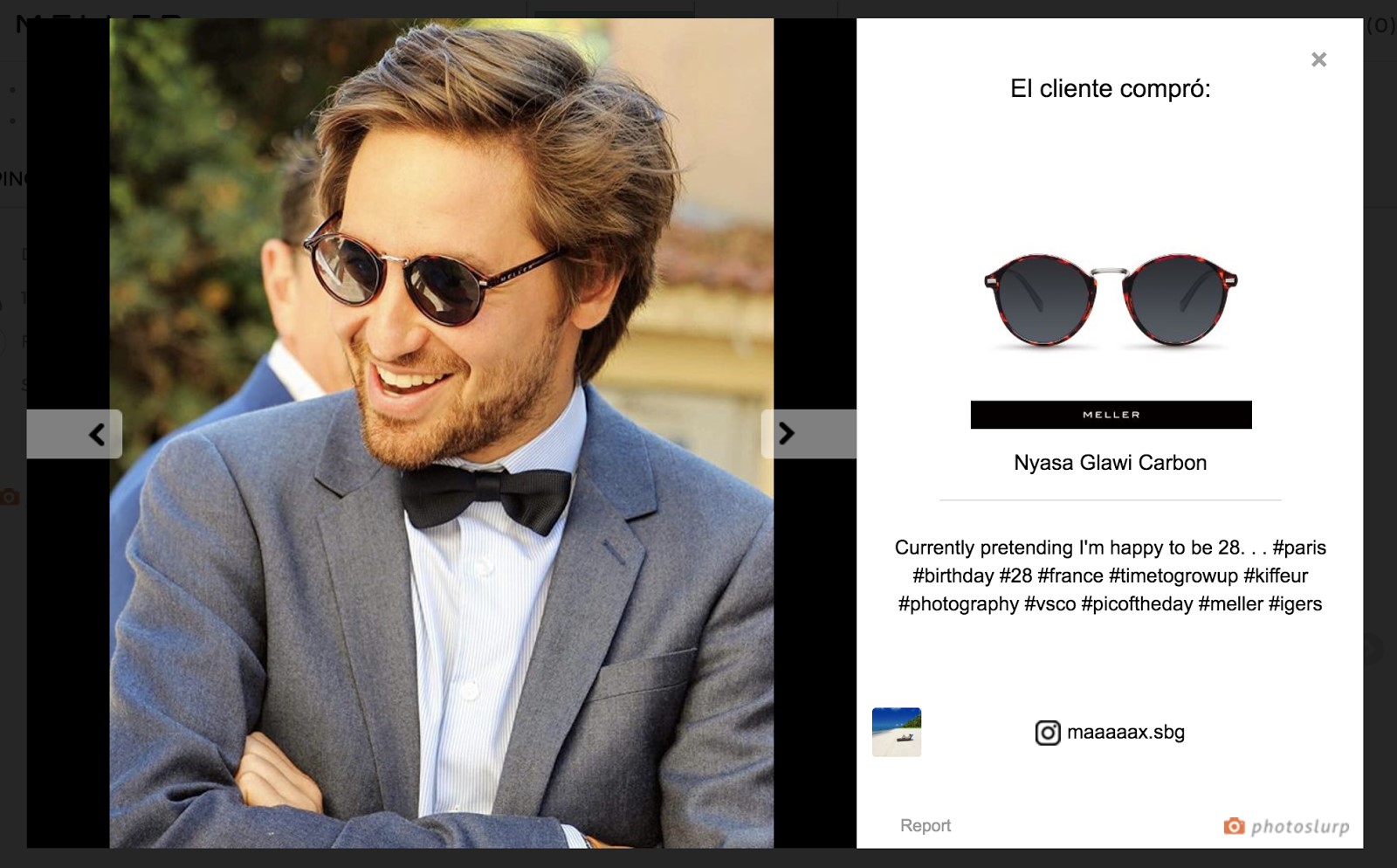 But how about decreasing the number of return purchases?
Did you know that $62.4 billion worth of apparel and footwear alone were returned in 2016 due to incorrect fit? An at least 30% of all products ordered online are returned, as compared to 8.89% in brick-and-mortar stores.
So how can using photos and videos of other customers tackle this problem? We operate in a review based marketplace, as much as 70 percent of customers check reviews or ratings before making their final purchase.
More and more companies combine customer reviews with customer photos. This not only provides social proof, it also gives clients information on the model and fit of the item they are interested in.
Rent the Runway encourages their users to upload photos alongside their text-based reviews. They showcase user photos where most eCommerce sites would show their own photos of the product.

They also prompt reviewers with questions like age, size purchased, fit, and even where they wore the outfit.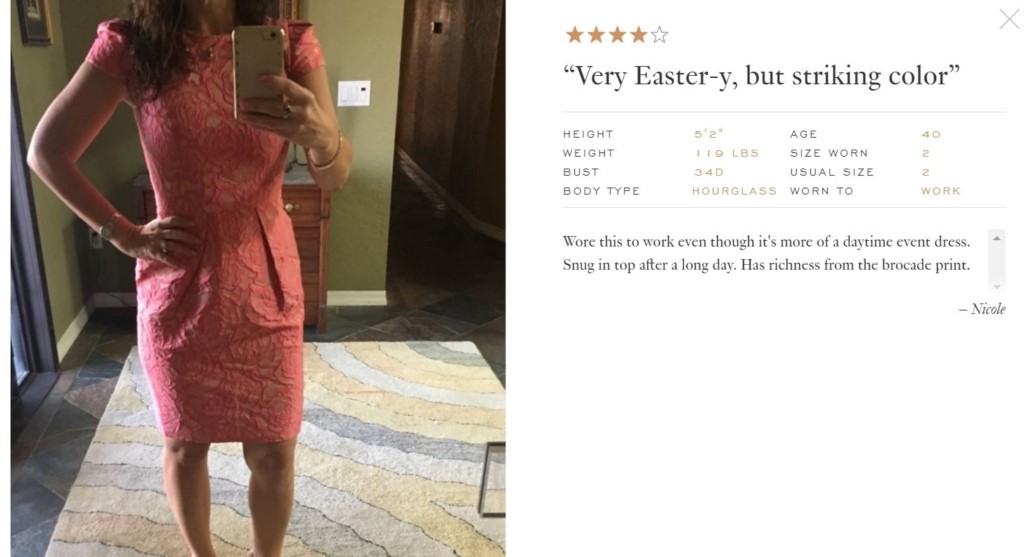 This kind of information helps visitors to imagine the outfit on themselves and decide better if it would be a good fit for them before they ever make a purchase.
Alright, so customer photos can help me decrease the amount of returns.
But how about customer retention?
Building loyalty in ecommerce, where price comparisons and competitors' products are just a click away, isn't the easiest thing to achieve.
Imagine the moment a beloved brand compliments you on an Instagram photo that you have intentionally shared with a branded hashtag of that brand. Not only do they compliment you on your photo, the brand that you appreciate informs you that they would love to share your photo on their website.
A well known jewelry brand from Scandinavia recently told me that they receive 100 percent positive feedback on these messages. Not only do they get full approval for using these photos, the replies from customers and fans express such gratitude it was "overwhelming". This is the kind of engagement that leads to loyalty and retention.
Here's an example of Lindblad Expeditions engaging with their followers on Instagram letting them know they would like to share the image on their website: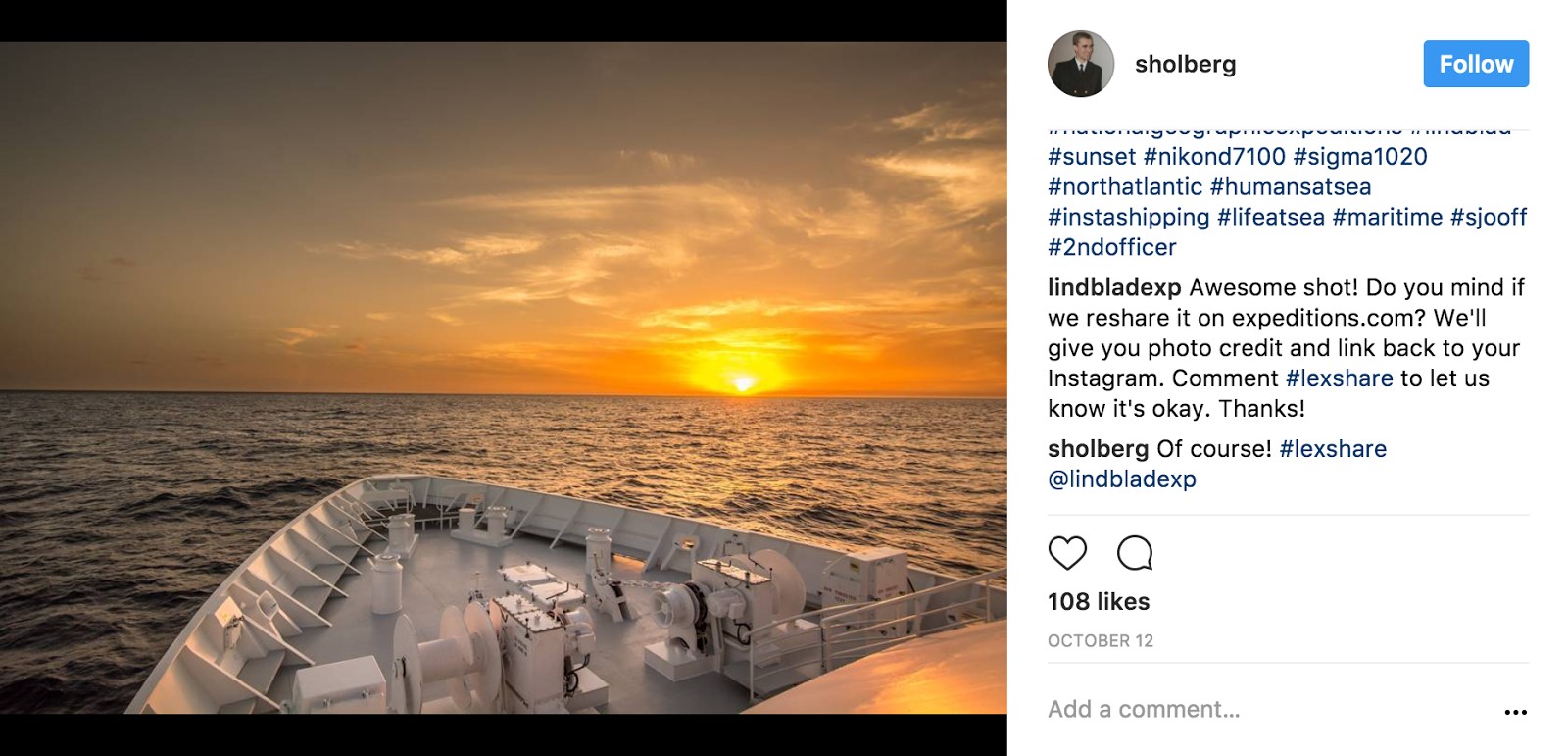 And here's the image on Lindblad Expedition's site: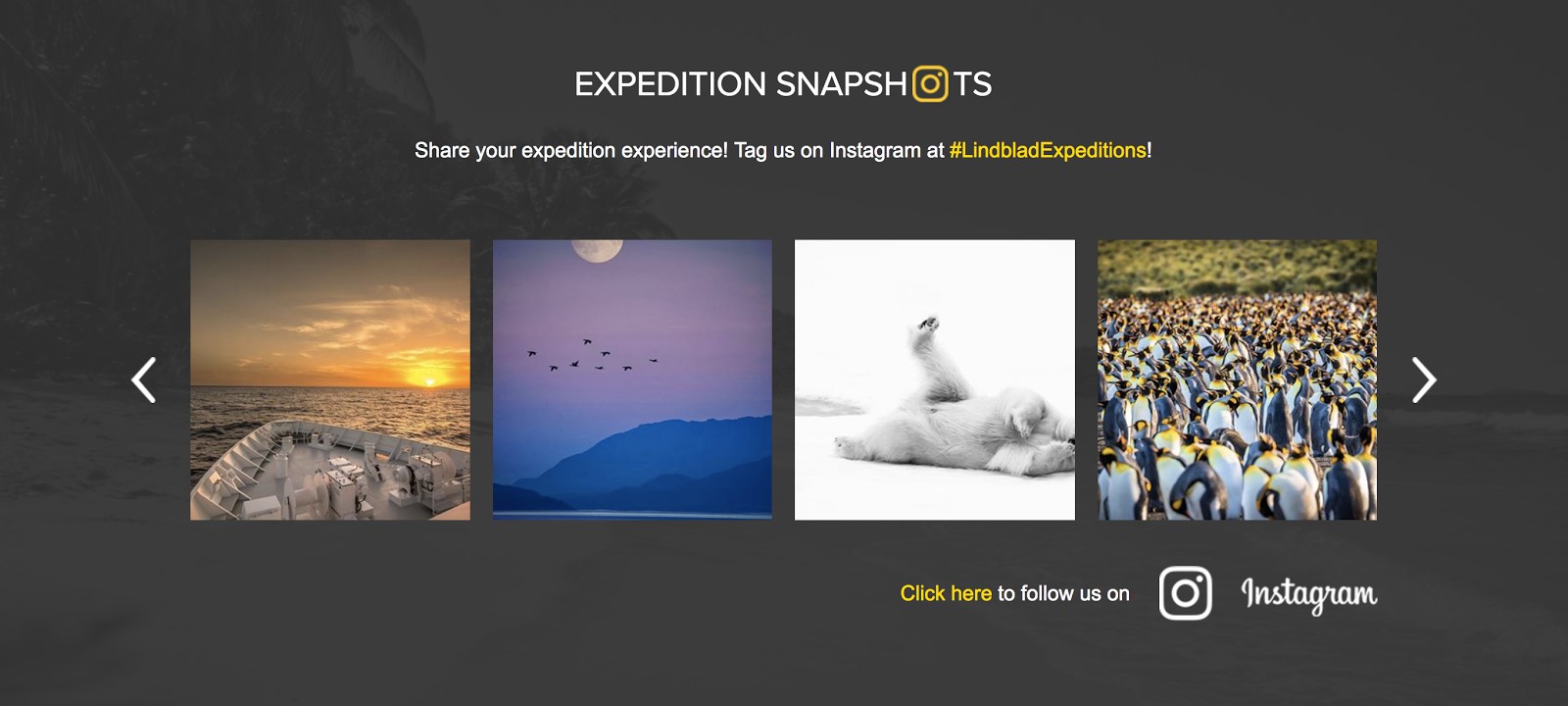 Now the most important promise: how do customer photos increase my conversion rate?
As said, people nowadays do their research before shopping and in this research 72 percent trust online reviews and recommendations as much as personal recommendations.
If you are not convinced yet, here is another one: 84% of millennials say user-generated content from strangers has at least some influence on what they buy.
For eCommerce marketers, closing sales doesn't involve talking on the phone with customers. It involves sharing enough information with customers to make them feel good about the purchase they want to make.
If you do it right, your UGC will help potential customers overcome their objections to buying your product.
So if you've got an eCommerce business and you're not using UGC to promote your products, now is the time to start.
Not only will you be able to increase conversion rates – you'll be able to build a strong brand and connect with your customers in a way that sets your business up for long-term success.
About the author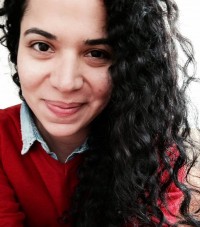 Luisana Cartay is CMO at Photoslurp. When she is not planning the next online strategy, you can find her in social media talking everything ecommerce. You can follow her in Twitter @lucartay.