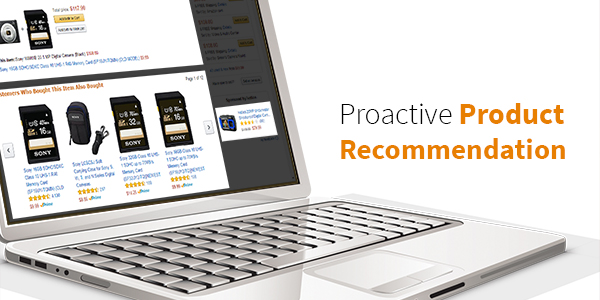 While the success of an online store depends in large part on its conversion rate, the average transaction value also plays a role in determining how profitable it will be. Online stores are more profitable when they persuade their buyers to purchase more items and spend more money.
Proactive product recommendation and upselling are the keys to increasing transaction value.
While you increase your transaction value, you want to make sure your conversion rates continue to improve, so it's important to take into consideration what products should be presented and when. You need to find the best way to recommend your products in each case.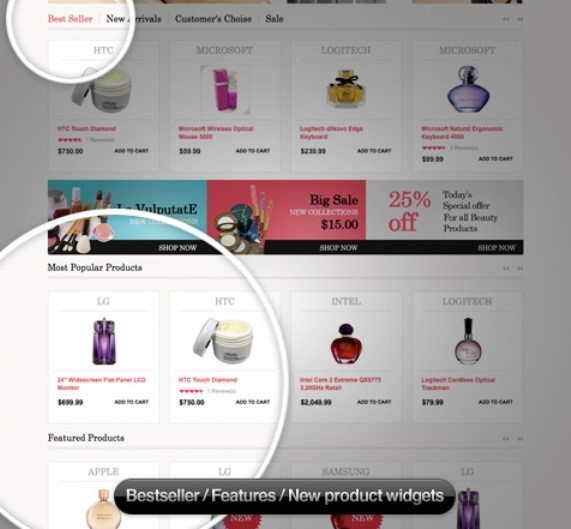 Understanding the different types of visitors to an online store will help you present the right products are the right time. We can differentiate between three basic types of online store visitors:
Single-minded visitors or determined visitors who know exactly what they want: to find their preferred products quickly and easily. The best way to convert these visitors to buyers is to provide a user-friendly search interface, a logically structured navigation menu and a well-designed filtering system.
Browsers or onlookers who are just considering buying a solution for their needs. They're just looking around in many online stores while waiting for the best offer or product. In their case you can achieve your conversion goals by promoting irresistible offers. Creating product categories such as discount or new products facilitates to serve their needs.
Solution-seeking visitors who are looking for an answer their problem. For example, they need some energy efficient light bulbs because of high electric bills. They're ready to buy a certain product type, but don't yet know exactly which is the best product that provides the ideal solution for their problem.
Product recommendation is helpful for converting solution-seeking visitors. They're the most open to suggestions because they know they want to buy, but don't know the best solution for their needs. You can have a greater impact on their buying process by recommending a product at the right time. Consider, for example, a man who is looking for a gift for his girlfriend – in his case, product recommendation can help make the buying process easier by showing him which products have proven popular.
Some online stores attempt to personalize the sales process with a proactive live chat platform, but it's an expensive solution. When used effectively, product recommendation can provide a great way to present relevant products to your visitors without a lot of additional time and cost.
You can recommend the products in your online store in three main places: on the home page, product and category pages, and cart and checkout pages. In each place, there are different approaches to product recommendation.
Product recommendation on the home page
Starting with the home page, let's look at some of the best examples of how top online stores use proactive product recommendation to increase their sales.
The home page is the most important place for product recommendation so it's a good place to start fine tuning your approach. According to The Baymard Institute's research, 25% of test visitors consistently scrolled far down the homepage and then back up again in order to quickly establish an impression of the site's product range.
It's vital to illustrate your products and services with a nice layout and attractive photos of the products on your home page. Many visitors judge the entire site by the main page and you only have a moment to make the best impression.
In addition, it's important to know the visitors to your store and what types of products they are looking for. You want to clearly display the important products and product ranges on your home page.
If your visitors don't see their preferred product type or range on the home page, they'll assume that those products aren't available at your store. Knowing what your visitors are looking for and presenting different product types on the home page will ensure that visitors know they can find what they need.
For a general rule of thumb, at least 30% of the visual presentation on your home page should contain the main product types. In this way, the home page is like the top-level category page on your site, showcasing products that exemplify your main product types and categories.
1. Subjective product recommendation
In this case, you simpy decide which products are important enough from the business side to be shown on the home page. These can be your best sellers, or the products that are most profitable.
By using more personal wording you can make your product recommendations more personal as well. "Have you seen these yet?" – asks CharlotteRusse.com to their visitors.
2. Daily offers
Update the featured products on your home page every day in order to show that you are an active online store with fresh deals on a consistent basis.

Newegg.com
Don't hesitate to indicate if your daily offer is only valid for that day. Here's a great example from Actionvillage.com that uses a countdown timer to increase the sense of urgency in potential buyers.
3. The deal of the day
A variation on the daily offer, in this case there's a one particularly special offer each day that makes it worthwhile for your prospects to visit your website every day.
4. Customized product recommendation based on customer history
Rakuten.com uses the search history of the visitor's browser to find out which prouducts should be shown on the home page. Recently visited products or similar product types serve as a reminder to visitors to purchase.
5. Latest products
You can highlight the new arrivals in your online store as well – this is helpful for generating sales with browsing visitors and solution-seeking visitors.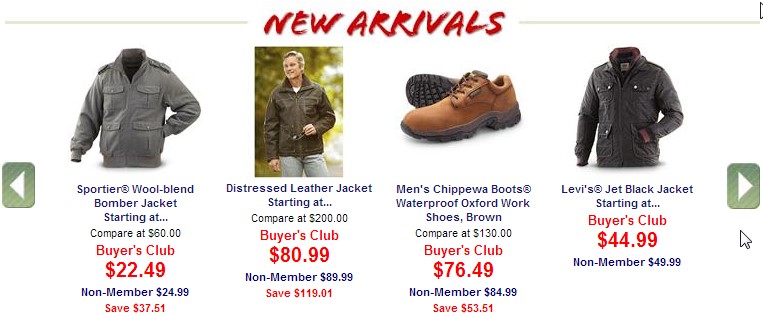 Sportmansguide.com

Nike.com
6. Discounts and deals
Due to the fact that 47% of online shoppers prefer buying products at discount prices and 62% of them are looking for the 'Discounts' section in an online store, it helps increase sales by showing these products on the home page.

AluminiumCarrier.com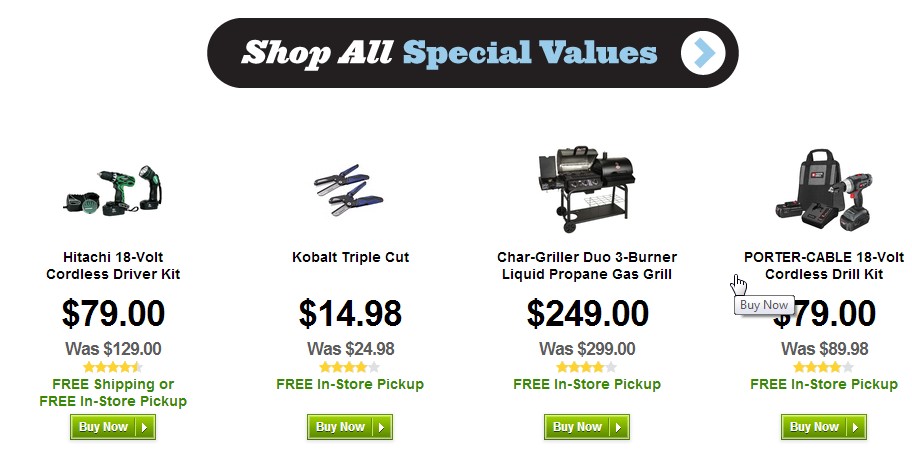 Lowes.com
7. Best sellers
The hottest selling products can be shown on your website as "popular products" or "customer favorites", or "best sellers". Test to see which is the most eye-catching expression for your audience.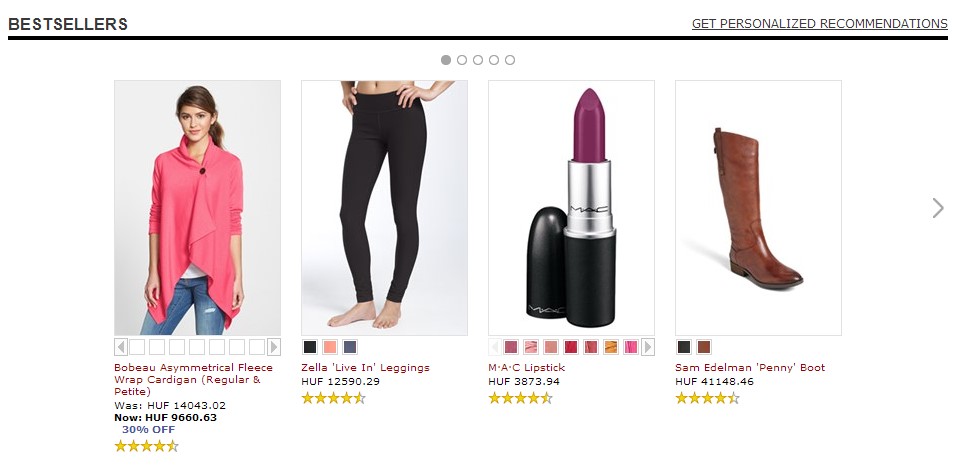 Nordstorm.com

Freshdirect.com
In addition to providing some useful information, FTD.com raises the sense of urgency by presenting that only limited quantities are available.
8. Products reviewed by existing customers
Presenting products that have been evaluated by other customers can be really persuasive. Buyers trust reviews from other buyers because they are less biased than the seller's own description of the product.
Take a look at the example of Franklinplanner, which promotes their top reviewed products.
Now let's check out three more tips to make your product recommendations more effective.
9. Dynamic product changes
Here's a good example from Net-A-Porter to illustrate how to recommend lots of products. The products shown on their home page alter dynamically – always the last bought products can be seen.
10. Display product recommendation based on engagement
Presenting your featured products based on your visitors' engagement can be an effective way of product recommendation. You can display your recommendation e.g. in case of exit-intent (when the visitor is moving the mouse out of the window with the right speed and the right velocity). In addition, featured products can be displayed based on time spent on page or scroll down, etc. The following product recommendation appears on an exit intent popup.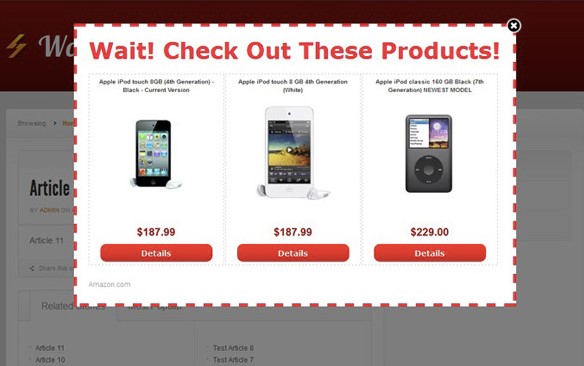 11. Link recommended products directly to their category or product page
After studying the examples above, there's one common mistake you might notice in some of the examples: the product recommendations don't contain a link that allows the visitor to navigate directly to the product or category page. Here's an example from PCConnection where they have an attractive presentation of relevant products that includes links to purchase the products.
Product recommendation on category and product pages
Many of the same techniques for featuring products on the home page can also be used for product recommendation on category pages. You can treat your category pages like mini-home pages for each category and use the same tactics to recommend products.
Category pages differ from home pages in that they also include functions for sorting and narrowing down products. In your category pages you are appealing to solution-seeking visitors and you want to continue to make it easy for determined visitors to find what they are looking for.
Don't let your product recommendations on your category pages make them less user-friendly. Instead, put product recommendations on your category pages at the top of lists of products in searches and lists. The product recommendations should also be relevant to the category of products. Mixing product recommendations across category pages will confuse and frustrate buyers.
By displaying relevant products, you can take advantage of the features of a category page to highlight your recommended products, while keeping your site easy to navigate.
When a visitor arrives at one of your product pages, regardless of their traffic source you can be sure that they're interested in the product. Like category pages where product recommendations should be based on the category, the recommendations on a product page should connect to directly to the product listed.
There are typically three types of products to recommend: similar products, accessories, and related products. For example, on a product page for shoes, you might list another pair of shoes – a similar product, special shoelaces – an accessory, and shoe polish – a related item. Let's look at how these different types of product recommendations are used by top online stores in their product pages.
12. Direct wording
Use direct wording to draw attention to your recommended products. "You may also like" or "You may also be interested in" are frequently used expressions to draw visitors' attention to products that might be relevant to them – based on the product on the page.
"Recommendations just for you" – this is a more personal and less hackneyed expression for the same purpose. The type of wording will depend on your product range and audience.
13. Similar products
In this case you only need to recommend similar items – without any customization. In addition, just like Evo.com does, you can also present the product category that contains more similar products.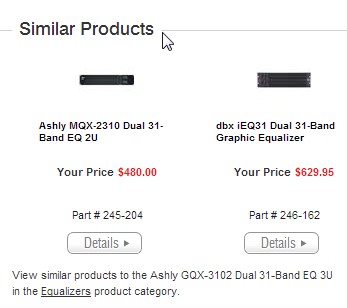 Evo.com
14. Promote what others like
Instead of basing recommendations on a visitor's own browsing history, show items that other customers frequently look at. "Customers also viewed" – is a frequently used expression for this purpose.
"People also bought" – based on sales instead of views – can be a powerful phrase as well.
"Members who viewed this also viewed" – is another variation that adds credibility to the recommendations.
SheetMusicPlus uses the name of the currently viewed product to recommend other ones. This might be a useful approach from an from SEO point of view.
Blissworld.com uses another expression: "If you like this, try these".
15. Accessories
Offering accessories is a great way to increase transaction value without hurting your conversion rate. Take a look at the example of Directron.com. They offer accessories before a product is added to the cart. Their approach could be more effective with a visual presentation of the accessories. However, it may be that they are striking a balance between recommending add-ons and not distracting from the main purchase item.
The next screenshot presents a more sophisticated solution. The accessories are illustrated with images and the user can easily select an additional product by using the checkboxes.
Here's another great example from KellycoDetectors that provides some additional improvements for their metal detector. These accessories can be added to the cart separately.
16. Related products
Like accessories, related products compliment the product featured on the product page. Promoting related products can be a powerful techique for product recommendation. It may not be a direct accessory, but the featured product should fit for the currently viewed product. In our previous example, consider shoe polish that is offered on a product page for leather shoes. Shoelaces would be accessories whereas the polish would be considered a related item. Depending on your product range "accessories" and "related items" may overlap.
Fredericks offers panties if a visitor is interested in bras.
17. Products frequently bought together
Promoting products that are frequently bought together is an effective form of product recommendation. This let's customers tell you and other potential buyers what items are "related items" for a particular purchase. For example, Diapers.com allows their prospect to select the preferred items and add them to the cart all at once.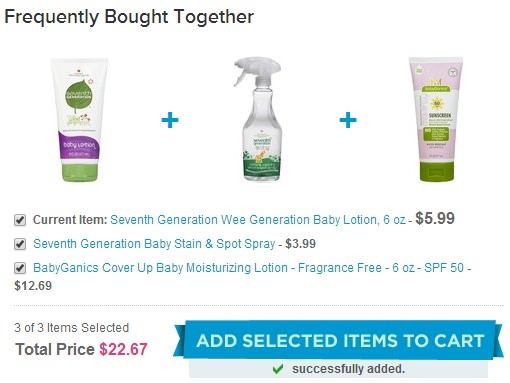 Diapers.com
18. Package deals
Package deals typically group related products and accessories together with the product as at a discount to encourage purchasing all the items at once, thereby increasing the overall transaction value. If your products can be purchased as part of a package, then definitely show this opportunity and encourage buyers to choose the higher value package. At Surlatable.com, a knife can be bought in different sets as well.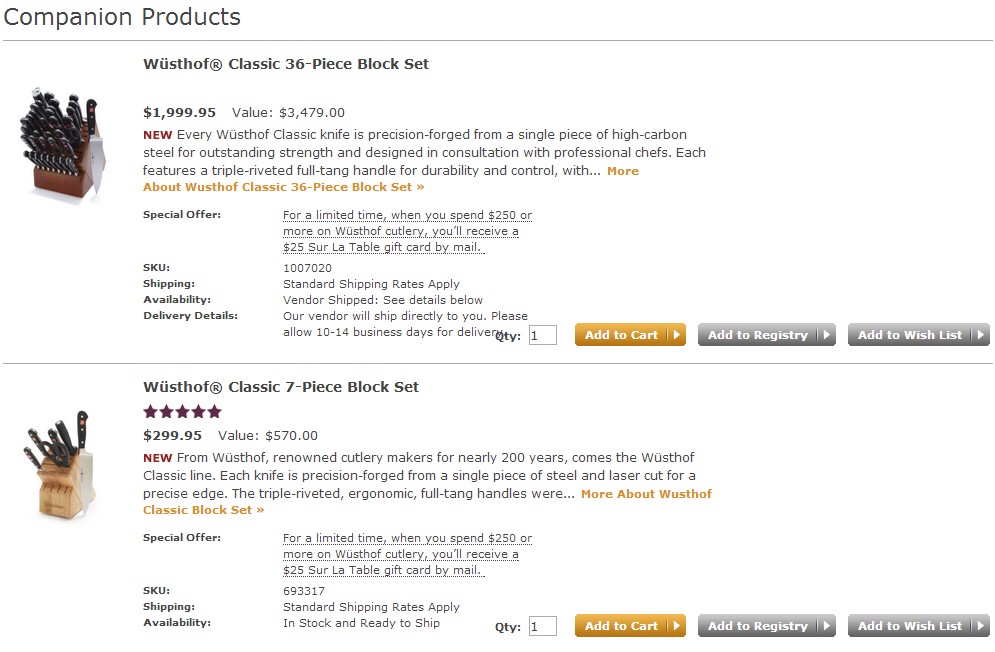 19. "Buy together and save"
This is a limited version of the package deal, when you offer two products together and lower the price for the total. It's an efficient solution for increasing sales but it can also be costly in terms of profit. Implement this solution with care to be sure it makes sense for your store.
Product recommendation examples on checkout and cart pages
At checkout, your primary objective is convincing your visitors to finish the purchase as soon as possible. At the same time, just like in a supermarket, customers can put some additional small items in their cart, for example chocolate or chewing gum, while proceeding to checkout.
According to the Conversific's research, 50% of online stores use proactive product recommendation on the cart page. Let's see how the top online stores recommend additional products during the checkout process.
20. Recommendation after adding an item to the cart
Popup notifications are one of the best ways to inform a visitor when their cart has been updated. Using popups allows you to inform visitors about the items in their cart – without them navigating to another webpage. As you can see below, these popup notifications can also be used for product recommendation. In this case the visitors can decide whether they want to add additional items to their cart or finish the purchase.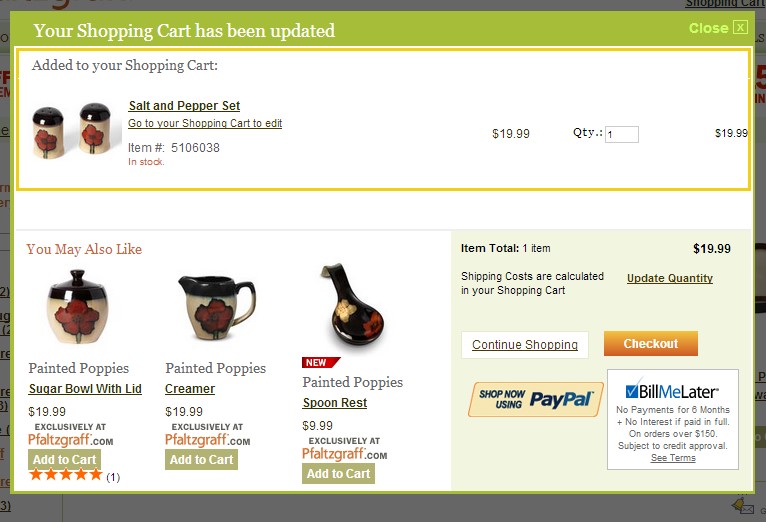 Pfaltzgraff.com
21. Mini cart
A mini cart offers an easy to access view of cart contents, and like popup notifications, doesn't require the visitor to navigate to another page. You can also place product recommendations in the mini-cart.
22. Point of departure to continue shopping
While the main goal is to keep people in the checkout process, some people may want to continue shopping after viewing the cart page. You can increase the transaction value and help visitors continue shopping by offering products based on the items in their cart.
The wording here varies from site to site. Let's take a look at the best examples.
"More great items":
'View related products':
"Other items customers purchase with [name of a product in the cart]":
"Customers who purchased [name of a product in the cart] also enjoyed":
23. Low-value accessories and related products
On the cart page it isn't profitable to promote similar products because the visitor's decision has been made and you don't want them to step backwards in the purchase process. However, it's worth to present some related, low-value products and accessories. In the case of a high-value purchase, it's more likely that the customer will add an additional low-value accessory instead of buying another costly product. Check out the following screenshot to learn how SmoothFitness.com recommends low-value accessories to increase the overall transaction value.


SmoothFitness.com
24. Further products for free
Here's an instructive example from KellycoDetectors that uses a modified version of the "buy one, get one free" technique. It increases the value of the sales by offering an additional product for free or at a deep discount. In the example below you can see that it's very likely that a visitor, who is going to spend $5,000, will select an additional product for $190, heavily discounted from $1,000, as a "gift".
25. Emphasize the benefits
People love to save money, you can improve your product recommendations by highlighting the cost saving. DehumidifierExperts.com offers a good example. They draw their visitors' attention to the fact that customers can save money on shipping if they order more items at the same time.

DehumidifierExperts.com
26. Recently viewed products
During checkout, you can also use browsing history to show recently viewed products. This can be a helpful reminder of an accessory or add-on they forgot. Be careful that this solution doesn't distract or take your visitors backwards in the purchase process. It's best to use this and limit the category to accessories.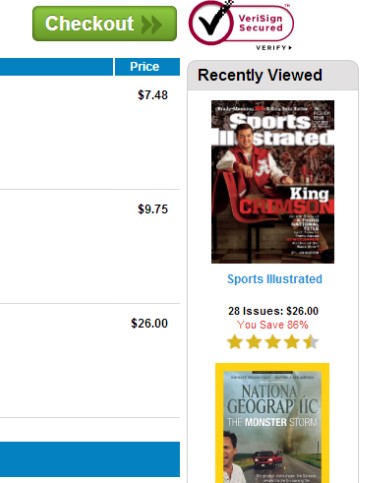 Magazines.com
27. Product recommendations at final stages of checkout
All throughout the checkout process you should encourage your buyers to complete checkout without distracting them too much. It's a risky maneuver to put recommended products on the final checkout pages. So if you do try this solution, and generally when trying all product recommendations during checkout, be careful.ProFlowers.com uses this approach, but does so very carefully, only showing low-value accessories.
Summary
53% of the online stores use product recommendation proactively on their home page and 83% of them offer featured products on their product pages. Proactively recommending products in the right way will increase transaction values without impacting conversion rates and while keeping your site easy to navigate.
Following these product recommendation examples from top online stores will help you use best practices when recommending products.
Finally, one more tip: it's worth visiting Amazon.com occasionally because they are legendary when it comes to product recommendations, innovating many practices which became standard over the years. Their intelligent approach to product recommendation is one of the big keys to their success.
(Note: Have you heard of OptiMonk? It's a powerful onsite messaging solution that helps you convert up to 15% of abandoning visitors to sales and leads. Give it a try – click here to create a free account now.)