Not getting enough user signups on your ecommerce site? This is an all too common challenge that many online storeowners face. If you're looking for proven and tested tips to boost your signups, then this comprehensive guide will help you with just that. We can't promise that we'll cover everything, but we will give you some important points to look at and tips that you can use to boost your signups today!
Business owners need to be proactive and consciously take the effort to constantly boost their signups and grow their subscriber list. Using emails and newsletters as part of your marketing arsenal is a powerful way to skyrocket your ecommerce site – that's a fact. Having a strong email or newsletter list gives you the chance to market to your customers for many days, weeks, and months after they visit your site.
To add email marketing to your arsenal, you've got to have a strong list and a steady rate of signups on your site. That's why we're taking the time to look at how to boost your signups. So, let's take a look!
How to Increase User Sign Ups on Your Ecommerce Website
1.) Provide Sub-Newsletters Based on Interest
People are often interested in different features of your product or service, or they have different needs or reasons for using your product or service. It's usually not possible to address everyone's interest if the topic is very broad. The solution is to make the newsletter more beneficial to different interest groups by having different newsletters with different content aimed towards specific interests or needs.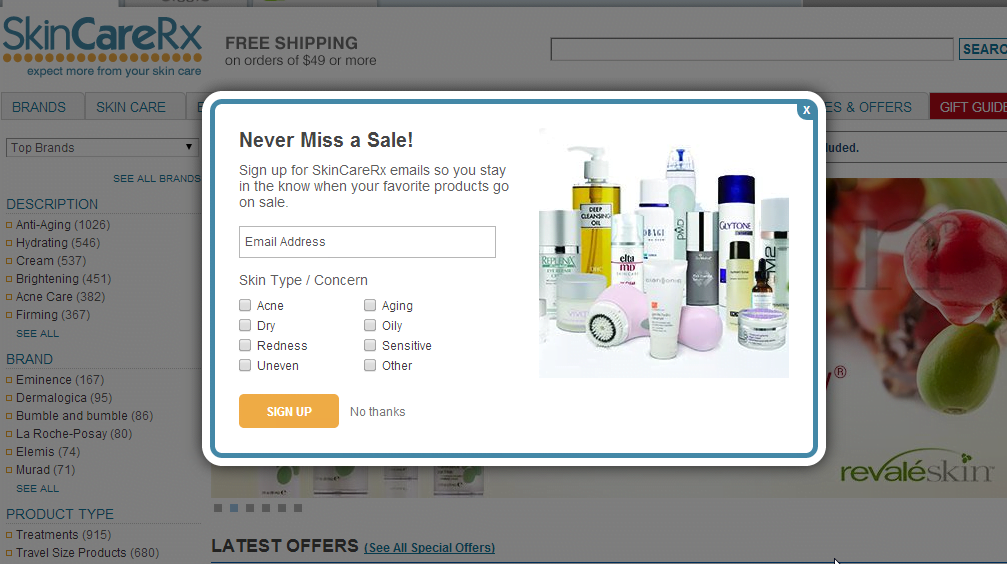 Skin Care Rx, which provides skin care products, offers eight different newsletters to interested subscribers. The newsletters are segregated by the type of skin concern: acne, dry skin, redness, uneven skin, aging skin, oily skin, sensitive skin, and other concerns.
2.) Offer Daily Deals
The prospect of "daily deals" or a "deal of the day" makes customers want to return to your site over and over again. A newsletter that pushes these "daily deals" out, instead of customers pulling the information from the site, is very useful and gives your clients a reason to read the newsletters you send every day.
Solid Signal, a supplier of audio-visual equipment, offers to mail daily deals to subscribers of its newsletters: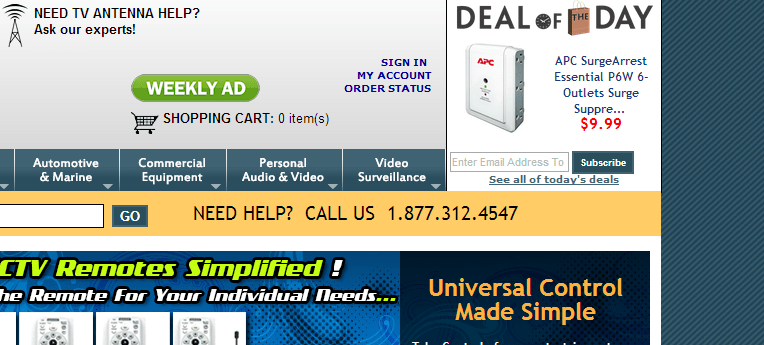 3.) Use a Great eBook as a Hook
The prospect of an immediate gift upon signup can provide a strong motivation for people to provide your their email address, something that people are more hesitant to do these days. Sending gifts, such as eBooks, is worth the low cost that it takes compared to the benefits you can obtain from having a strong subscriber list.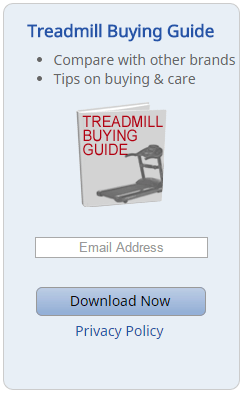 4.) Offer Prizes To Win
The possibility of winning can be a very powerful motivator also. Prizes can vary according to form – you can have an indirect prize in the form of a gift certificate, or a direct prize in the form of a product or service your offer for sale on your site. You don't need to give a prize to everyone – it's enough to give everyone the chance to win a prize.
Team Express, a sports retailer, offers the chance to win a $250 gift certificate for their newsletter subscribers: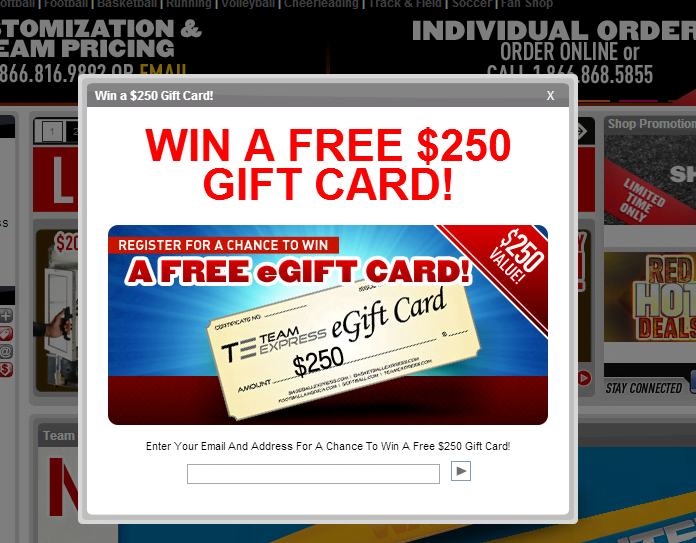 Smooth Fitness, a retailer of home fitness equipment, uses one of their products as a prize, they offer subscribers the chance to win one of their exercise bikes.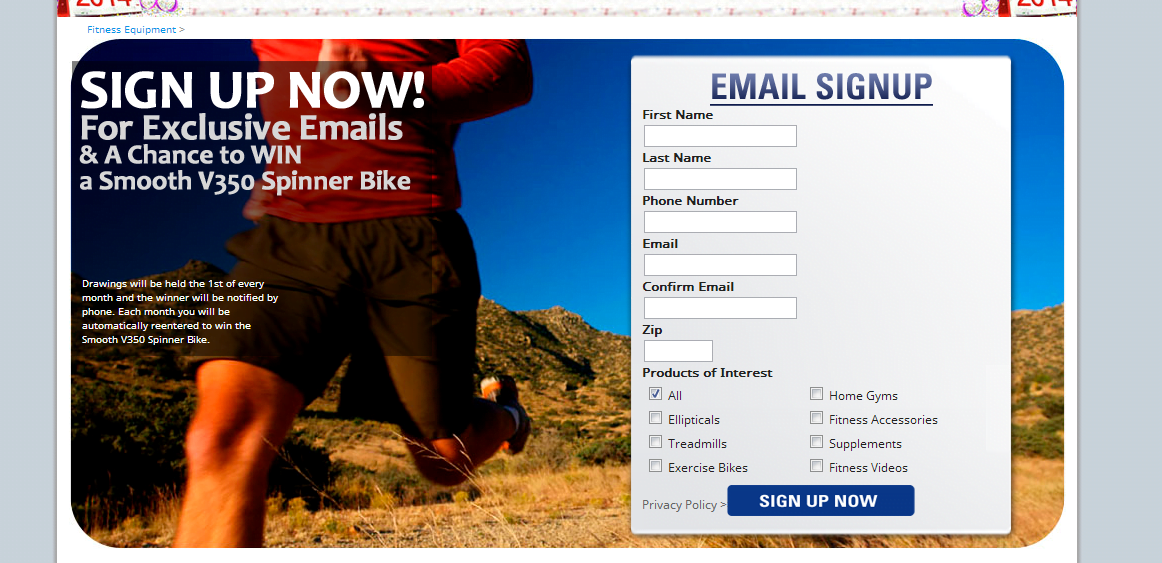 5.) Offer Discounts To Subscribers
Discounts can be a very effective motivator for people to provide their email address, especially when the discount is applied immediately. You can even pair the discount offer and the prompt to subscribe with an interactive trigger. For example, when the customer adds an item to the shopping cart the discount is applied and they are subscribed to your list.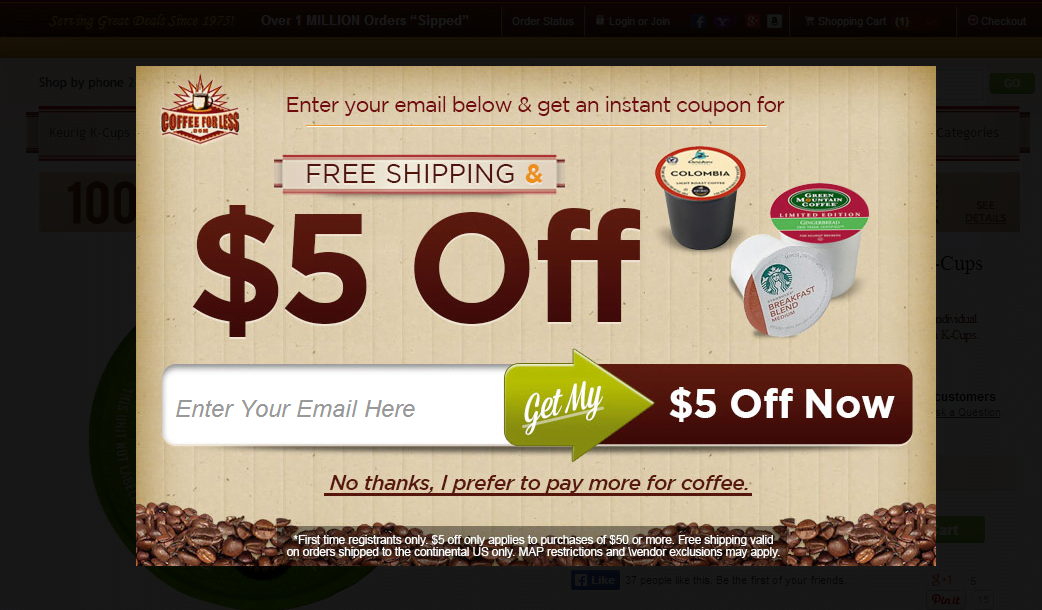 Coffee for Less, the online arm of Philadelphia's Coffee Serv Inc., provides an immediate $5 off for first-time newsletter subscribers.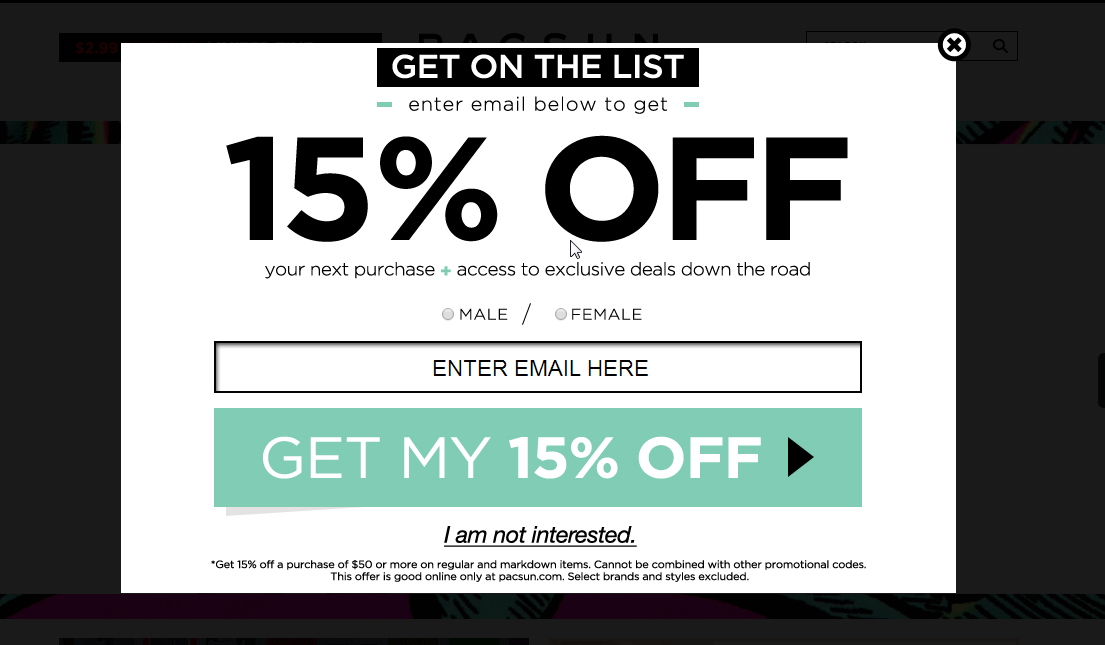 Pacific Sunwear, which sells California lifestyle clothing, offers newsletter subscribers a 15% discount on their next purchase.
6.) Offer Free Shipping To Subscribers
Shipping costs can sometimes be quite substantial. Subsidizing this is one way you can cut prices without actually cutting prices. Offering this in exchange for a newsletter subscription will definitely boost signups for price-sensitive customers.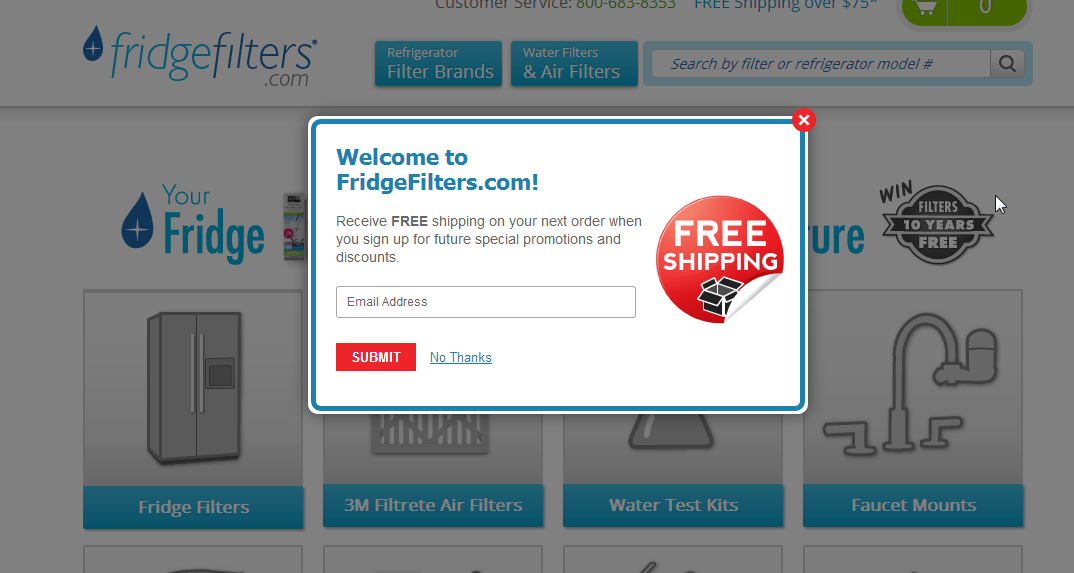 Upon loading its website, Fridge Filters immediately pops up an offer to provide free shipping for the subscriber's next order.
7.) Give Multiple Reasons For Subscribing
What content do you use for your newsletter signup prompt? Hopefully it's not just a text box for your customer's email address with a "Submit" button. Use powerful words such as "save", "free", "best", "special", and "exclusive" to drive home your message of cost savings for would-be subscribers. To test for strength, read it aloud in an enthusiastic tone – strong copy will not sound out of place coming from the mouth of a breathless announcer.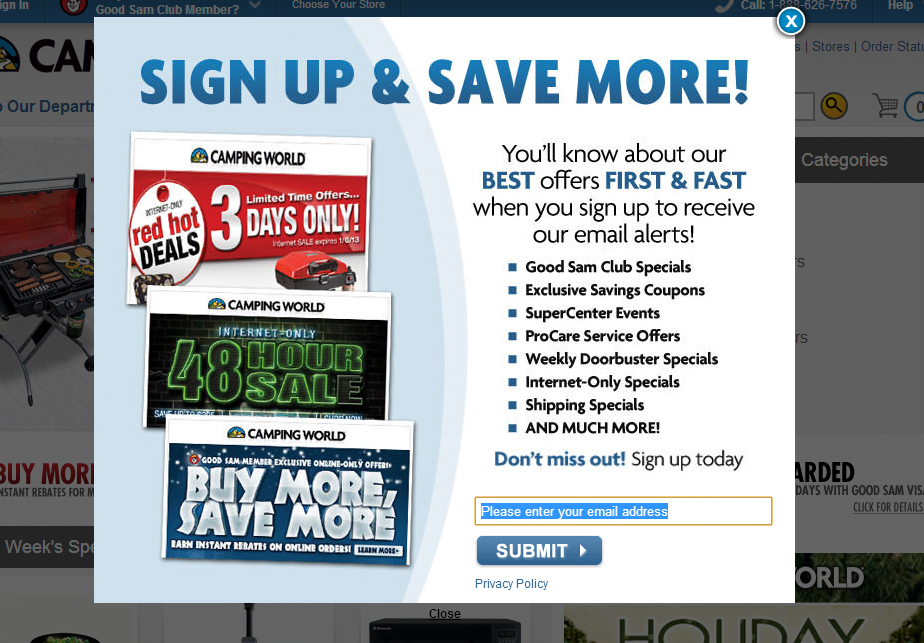 Camping World, a one-stop-shop for recreational vehicle enthusiasts, uses several words – best, red-hot, deals, specials, exclusive – to encourage subscribers.
8.) Use Psychology and Attitude
A site with an attitude can benefit from carrying that attitude over to its newsletter subscription copy. A snarkily-worded post often provides a reverse psychology boost – after all, what is more tempting to us than something we shouldn't do?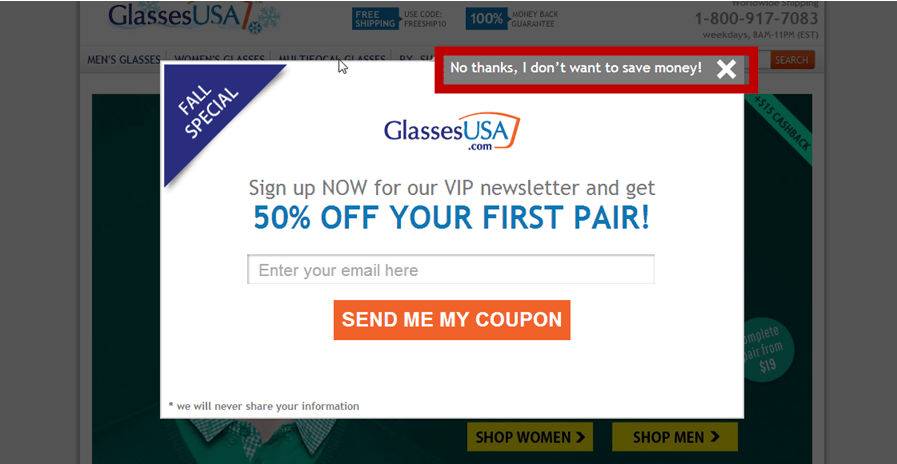 Online optometrist GlassesUSA uses some snarky copy in the button to close their "subscribe now" overlay – who doesn't want to save money?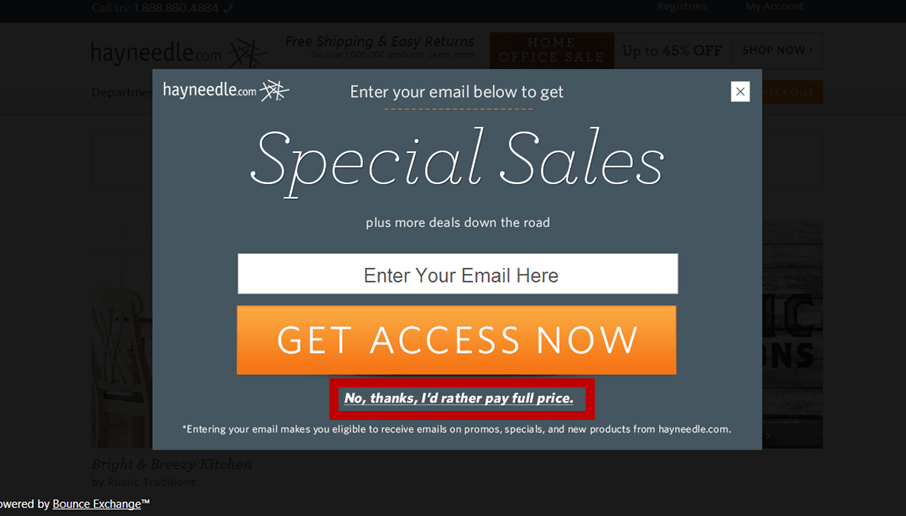 Hayneedle, an online specialty store focusing on home products, uses similar wording for reverse psychology – who would rather pay full price?
9.) Make Your Offer Relevant and Urgent
The more relevant your offer looks, the more signups you will get. You can use any special event or holiday to increase urgency. This also helps the message feel less generic and more worthwhile to your customer at the time.
Use it as an opportunity to boost your newsletter signups by offering special season-limited promotions and discounts for your subscribers!
In addition to a snarkily-worded "no thanks, my glass is already full", Wine Enthusiast, seller of wine accessories, gives new subscribers access to special holiday promotions: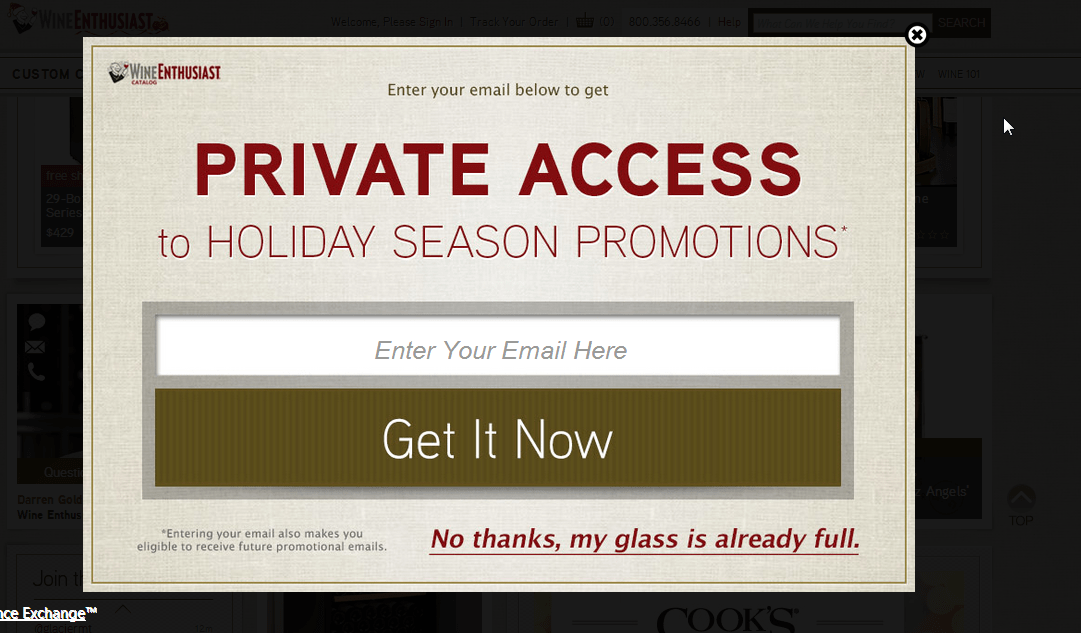 10.) Show a Sample Newsletter
Many food manufacturers use free samples to get customers to try, and hopefully like their product. You can apply a similar strategy for newsletter marketing – showing a sample of the newsletter will reduce confusion and increase the chances that someone who subscribes will stay for the long run.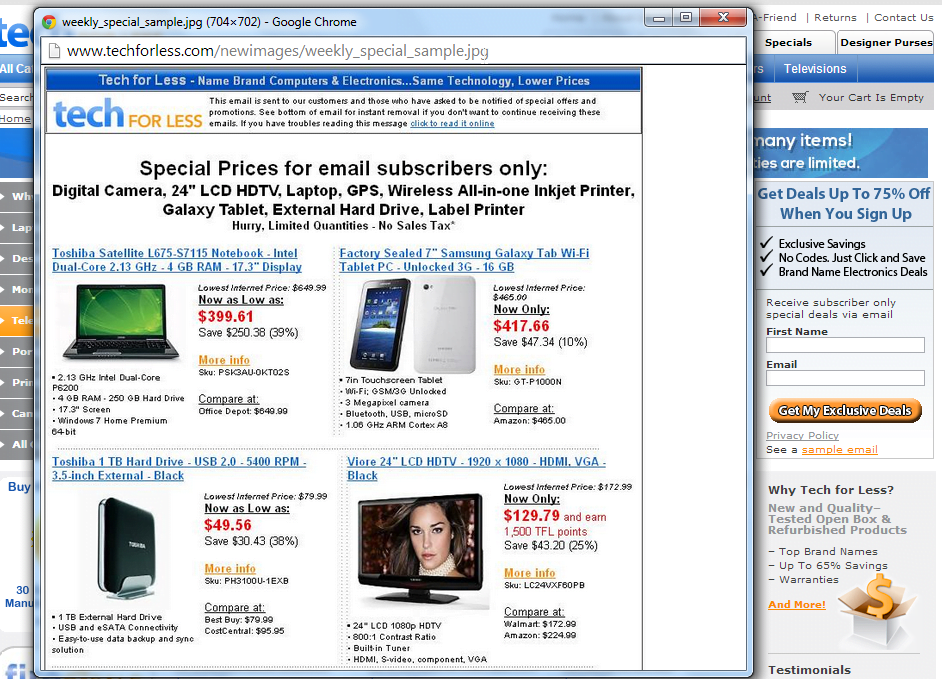 Tech for Less, which sells previously opened and refurbished electronics, gives would-be subscribers a taste of what they will be signing up for.
11.) Make Your Signup Form Sticky
To ensure that your newsletter subscription form is always available no matter how far down someone scrolls into a page, implement it as a floating overlay. But be careful here – sticky bars that are too obtrusive will risk irritating your customers.
Groupon, a daily deals shopping site, has a sticky subscription form overlay that follows the user as the page is scrolled. They have also thoughtfully included a way to hide the overlay for uninterested visitors.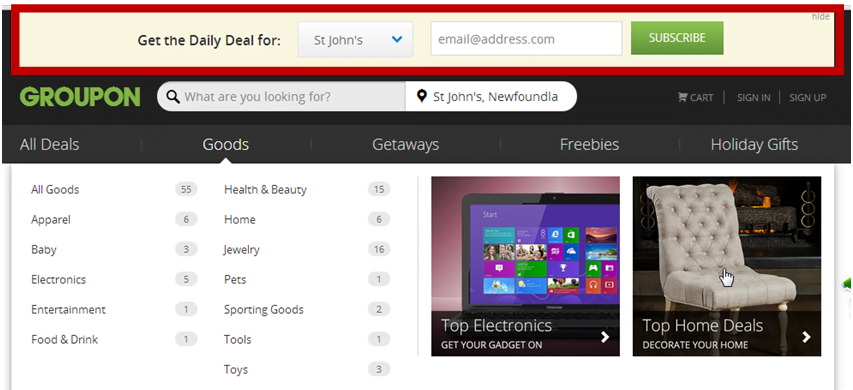 12.) Don't Navigate Away Users – Use "Micro-Landing Pages"
When a customer is already on your website, you don't want them to navigate away – even to a landing page. So ensure that any subscription offers that are featured on the home page don't cause another page to load in the same window. It is possible to open a new window or tab, but this can be annoying. The best solution is to have an inline overlay popup. By showing the message separate, but visible on top of the main page you can boost your signups without having your visitors take a wrong turn on your site.
You can use OptiMonk to create these "micro-landing pages" popups, so you don't have to redirect users to different pages.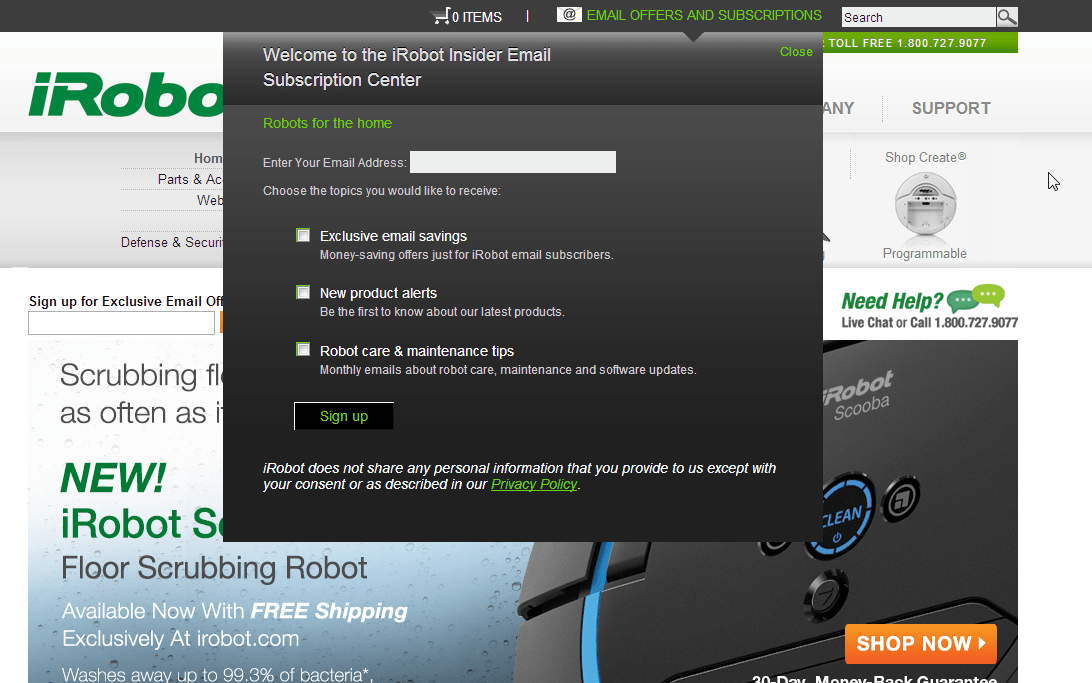 iRobot, which sells robotic cleaning machines, uses an overlay subscription form to handle user input.
13.) Use Exit-Intent Popups To Boost Signups
Exit- intent popups are based on a new type of technology pioneered by companies like us. These popups are designed to keep visitors on your website and boost your subscriber list.
The technology works like this: whenever a visitor tries to leave your site, a popup appears with a message. This message gives you a final chance to get your visitors to signup to your list before they leave your site.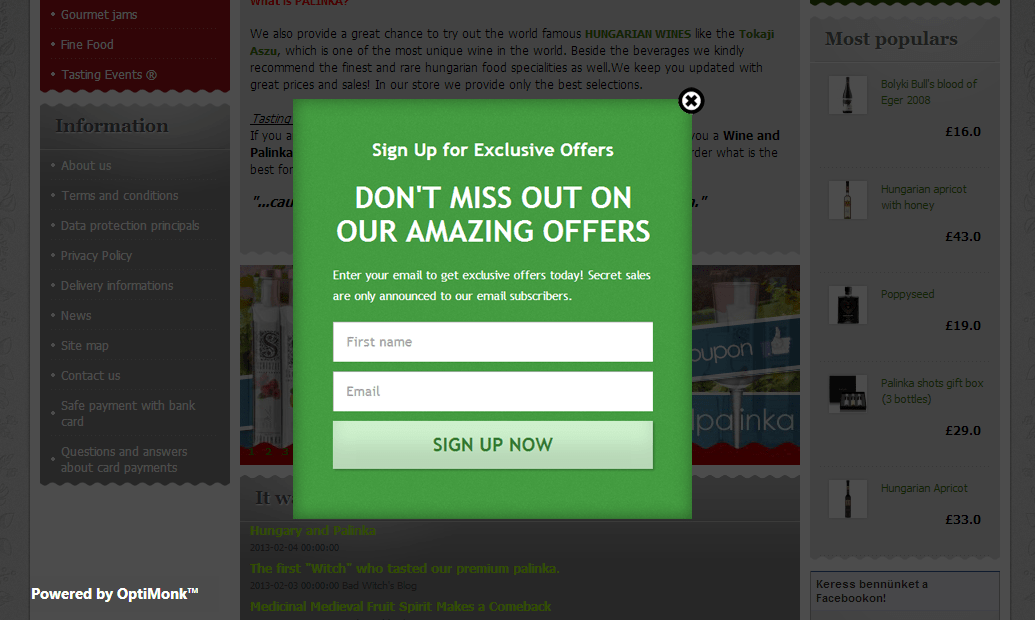 In case you haven't started using exit-intent popups on your site, you're missing a great opportunity to build your subscriber list. Our research shows exit-intent popup technology like OptiMonk can achieve signup rates between 3 and 5%. When you combine this with something like an ebook giveaway or coupon, you can get signup rates as high as 10%!
Here is another nice example of Manpacks using exit-intent popups: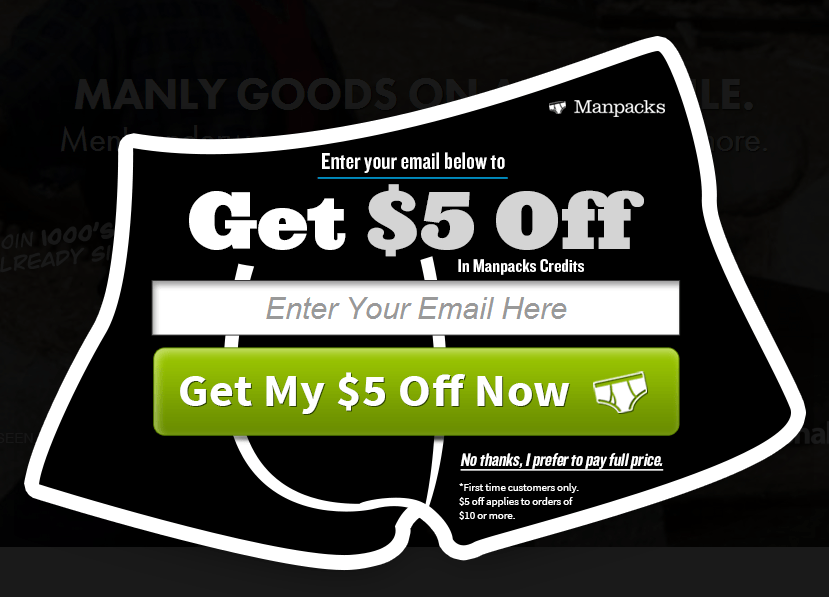 Conclusion
Building a huge newsletter list can be your ultimate advantage over competitors. The best ecommerce site owners are proactive and constantly optimize their list building efforts. Boosting your signups is a great way to boost your business in the long-term.
(Note: Have you heard of OptiMonk? It's a powerful onsite messaging solution that helps you convert up to 15% of abandoning visitors to sales and leads, what even better, it can help you in boosting your ecommerce signups as well. Give it a try – click here to create a free OptiMonk account now.)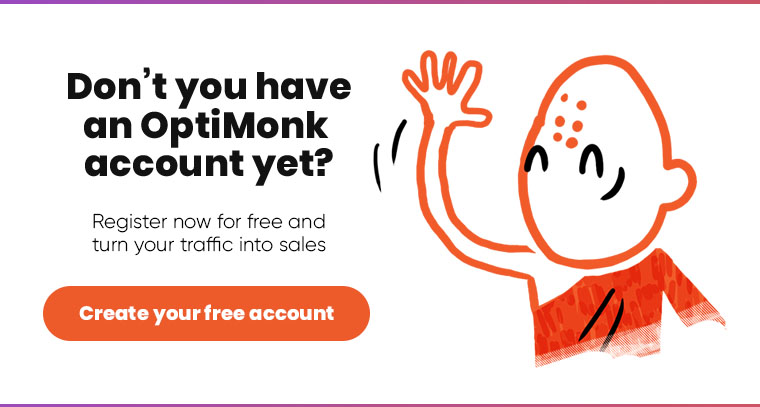 So which strategy will you use to boost your signups?