You might be wondering what makes for an awesome ecommerce checkout process. 
As an ecommerce business owner, you need a checkout process that's fast, easy, and secure for your online shoppers. 
Often a slow, glitchy checkout is the only thing standing in the way of a motivated visitor that wants to complete their purchase.
To make sure your ecommerce checkout process is as effective as it can be, you need to optimize it! 
And we've got you covered. In this post, we'll show you the 12 best practices to improve your ecommerce checkout flow. 
Let's dive right in!
12 best practices to improve your checkout process
Read on for 12 proven tactics that you can incorporate into your ecommerce site to take your checkout pages to the next level.
1. Offer a guest checkout page
Picture this:
Your visitor found the product they're looking for at the perfect price. They're ready to head through the checkout… and then, they're hit with a chunky "New customer? Register now!" button. 
It can be annoying, and people are often too busy to create an account. This can actually get visitors to click the "X" button even faster. 
And that's why you need to offer a guest checkout option—if you're ready to level up your checkout flow.
A guest checkout is a win for new visitors, but it's also useful for returning customers because they often forget their passwords. Although password recovery is always an option, it's also very time-consuming. So guest checkout is a smart, fast, and easy solution for all of your online shoppers. 
Take a look at how West Elm offers two choices to their new customers:
Checkout as a guest

Create account  

2. Provide an express checkout option
People who enjoy online shopping often use express checkout options like PayPal, Apple Pay, or Google Pay to quickly buy their products, without having to type out their contact and card details. They simply log in to their existing accounts and pay with a single click. 
One-click payment systems are fast and seamless, so they help boost your sales. 
Check out how Gymshark promotes their express payment options on their checkout page: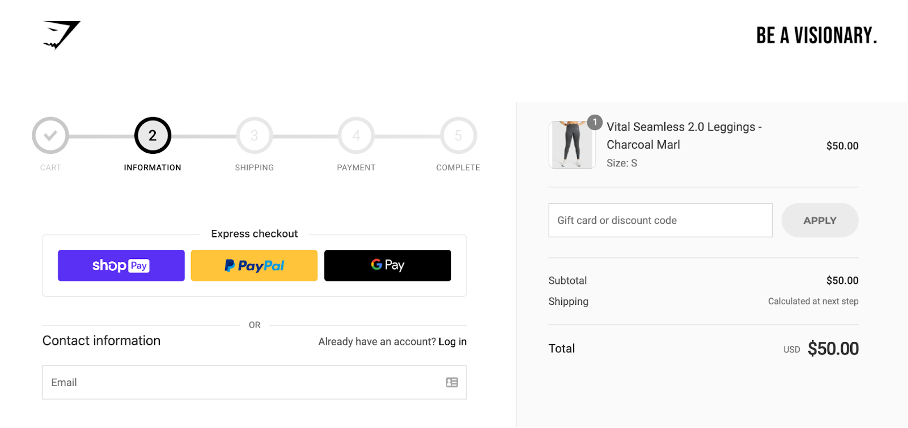 3. Incentivize registration 
Providing an incentive for creating an account can motivate customers to register quickly.
Here's how to do it: List all the benefits of being a registered user on your ecommerce website. You can also use promotional offers to persuade them.
Look at how Penningtons valorizes account creation by showing the advantages in their "New Customers" column:

4. Provide a social login option
Allowing your customers to sign in to your online store or register via their social networking accounts is an excellent way to increase account registrations. People are usually already logged in to their social media accounts, so they can register with just one click. It saves your new users the time and effort of having to fill out long forms. 
See how ASOS improves the typical checkout process with some social media sign-in options: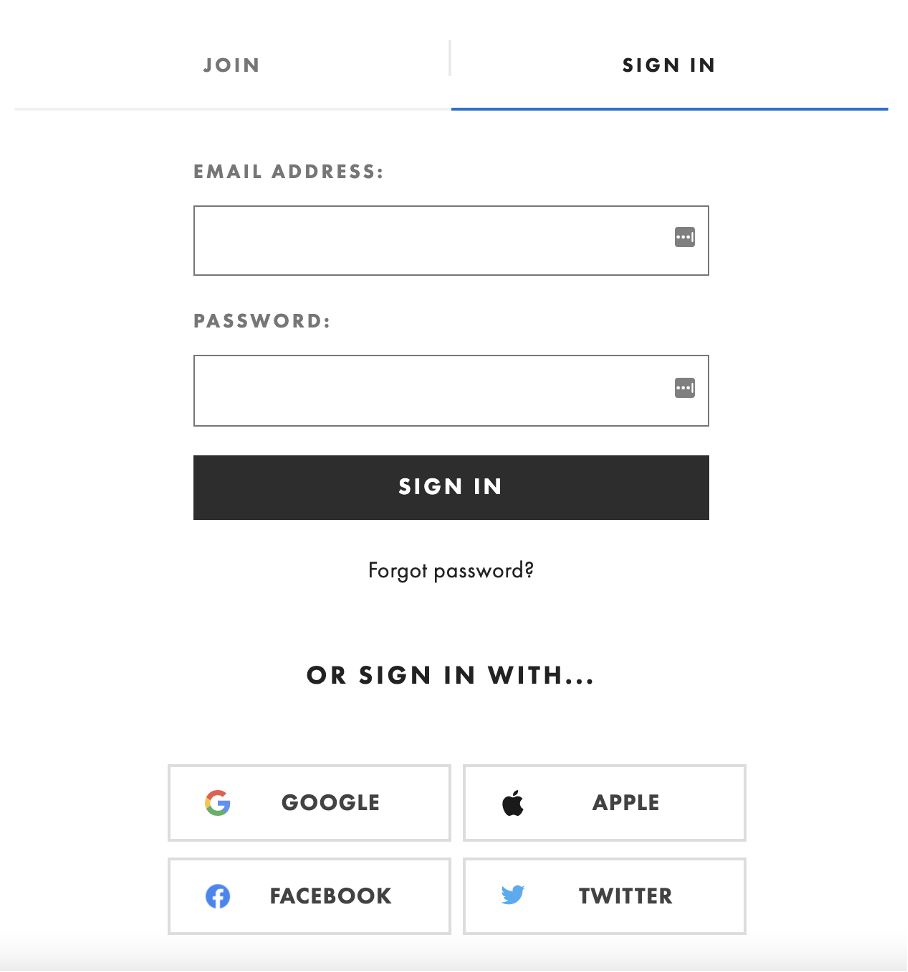 5. Use a vertical checkout flow
The fewer pages you put in between your visitor and their purchase, the better. Keep your checkout flow short and sweet.
From gift options to offering a choice of payment methods, how do you make things as compact as possible?
An elegant way to solve the problem of a long checkout process is to include all the required steps on a single checkout page.
Go for a vertical format with various headings. These features ensure clarity and help your visitors navigate your page as easily as possible. Take a look at how Sephora presents their checkout page: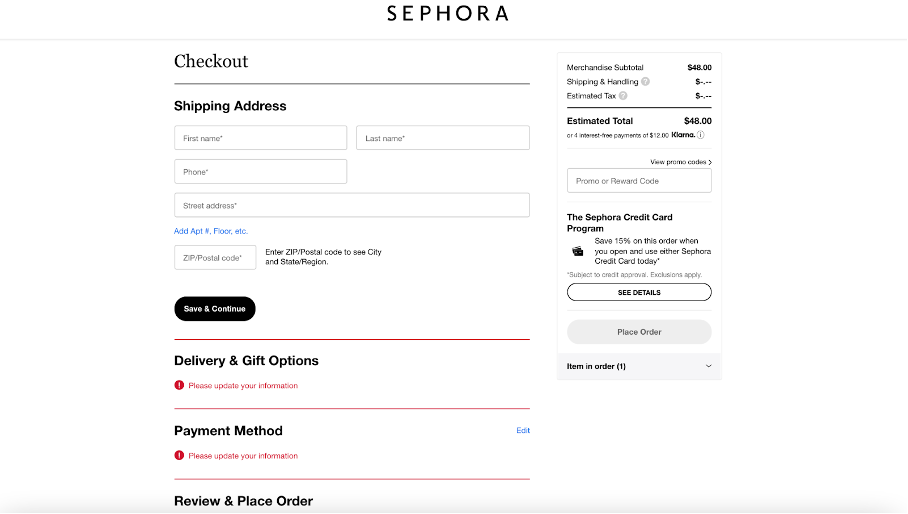 6. Keep distractions to a minimum
A lengthy checkout process will always make your customers drop their purchases.
Therefore, you should limit your questions to only cover the information you genuinely need to process an order and ship the items.
A minimalist checkout allows your customers to buy instantaneously. This will increase your chances of a sale. 
Here's a great example of how Forever21 helps their customers check out: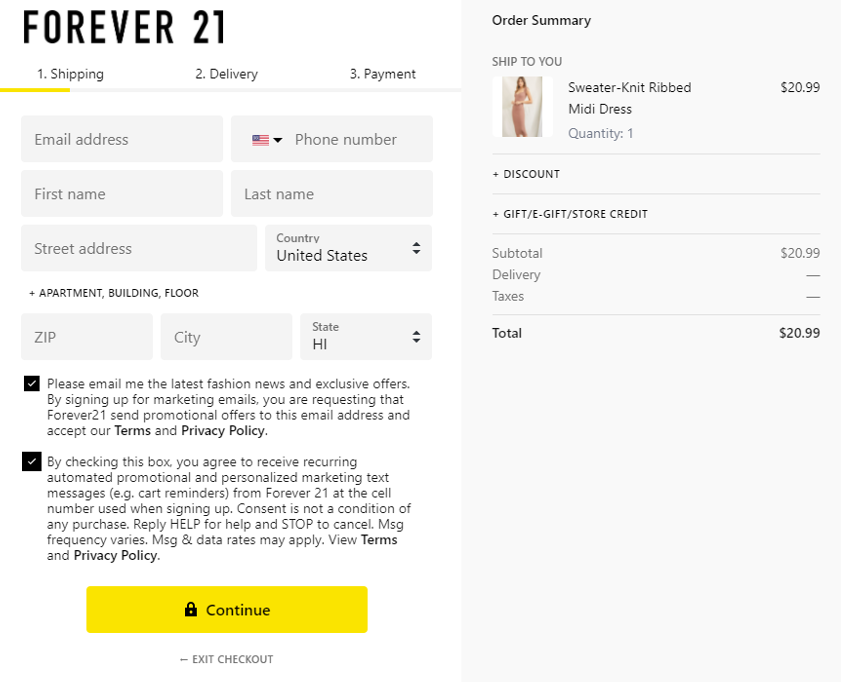 7. Offer non-intrusive help if needed
Sometimes your customers have questions that aren't easily answered if you don't step in. For example, online visitors may wonder if you deliver to their remote shipping address or what your shipping costs are.
Offer embedded customer assistance at every stage of your checkout process, like on-site messaging or a link to your phone number. 
See this example from staples.com: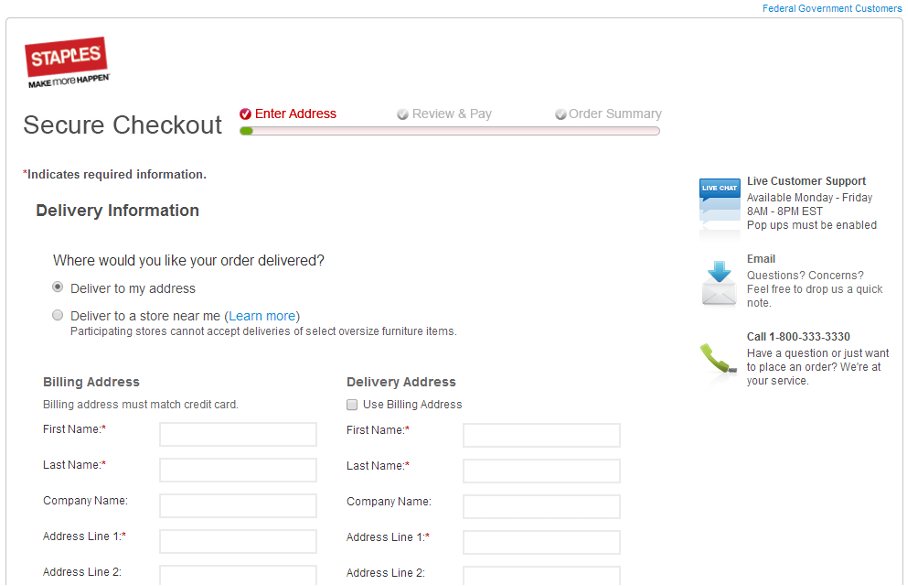 8. The cart content should always be visible
Customers are busy. And they often forget which products they put in their cart or the specifications of those products.
Instead of making them open the cart page in a separate window or navigate back, show their cart content alongside the entire checkout process.
This keeps your visitors engaged and encourages them to move along with their purchases.
Take a look at this example from Allbirds: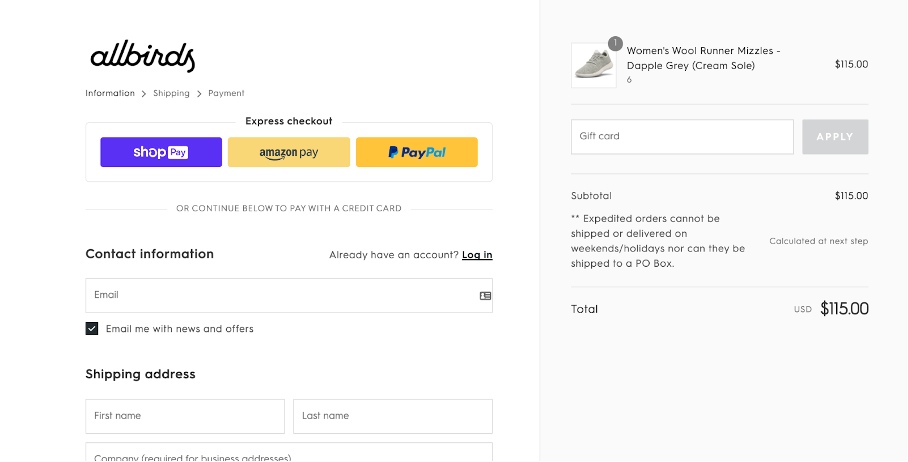 9. Show shipping costs as soon as possible
Unexpected taxes, shipping charges, and packaging and handling costs are the fastest ways to get your visitors to ditch their carts (this is called cart abandonment). 
Always make the total cost visible as soon as possible. That way your cart shows your customers that your store is genuinely transparent and trustworthy. 
Take notes from Lululemon's ecommerce website: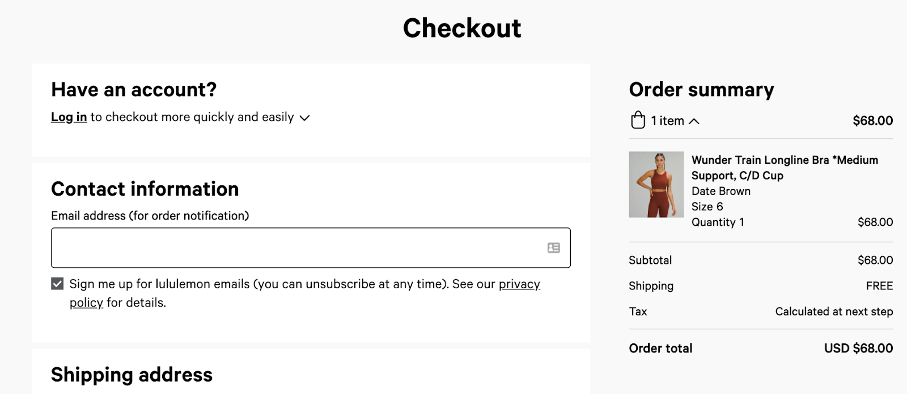 10. Provide an order summary
Let your customers review and edit their orders before they hit the pay button. This gives them the freedom to control and adjust their items before they spend their cash. 
Here's how Wayfair does it: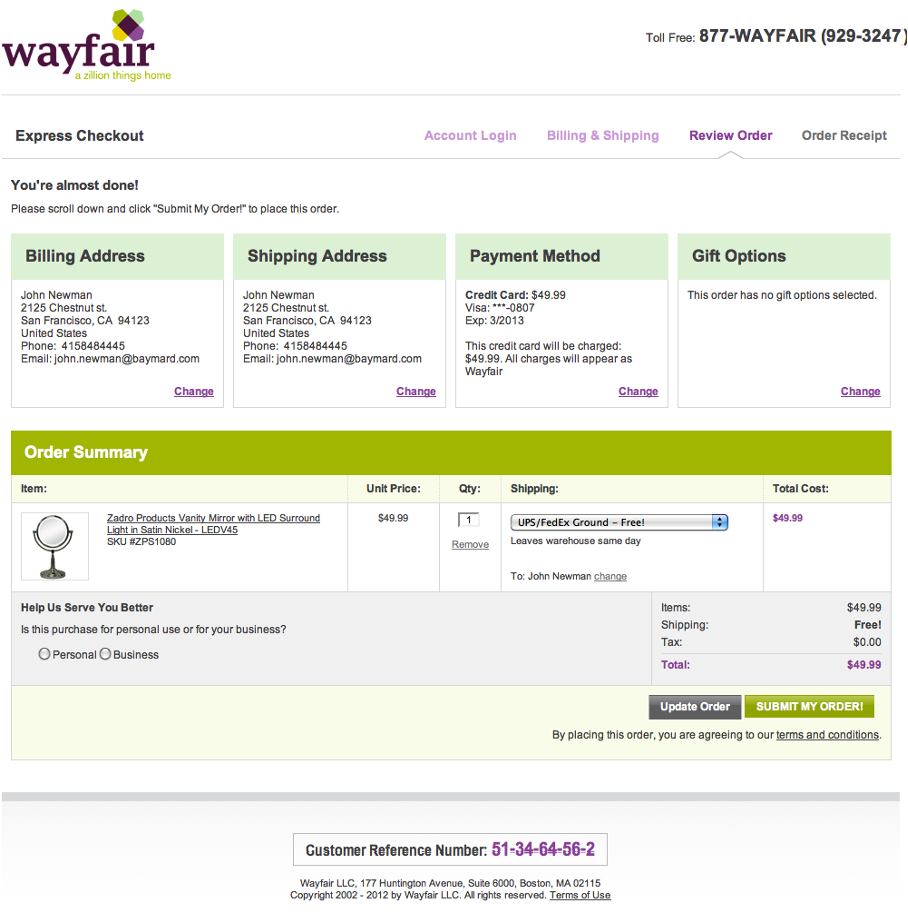 11. Provide gift wrapping or other special add-ons
A great way to impress your customers is with fun gift-wrapping services. 
From sleek boxes to biodegradable rainbow confetti and colorful wrapping paper, give your shoppers a chance to impress their friends and family with thoughtful packaging for when they open their gifts. This is an effective way to drive more sales, and it makes your brand unforgettable.
Here's a killer example from markandgraham.com: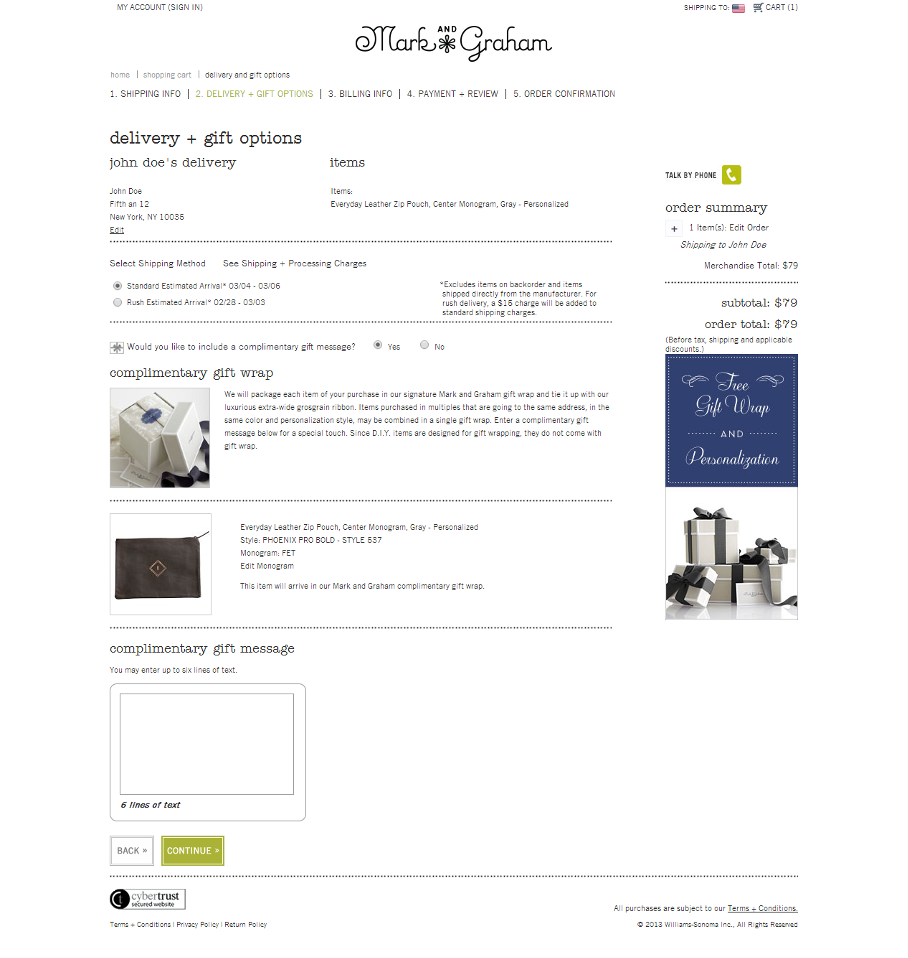 12. Use exit-intent popups to decrease cart abandonment
Exit-intent popups are a powerful tool in your kit when it comes to beating cart abandonment.
If your visitor leaves the checkout process without buying, you can trigger a popup that offers them an incentive to complete their purchase.
You can also capture their email address by providing a discount on their next purchase or offering another incentivizing deal.
Take a look at our cart abandonment popup templates to get started:
Boost your sales with an optimized ecommerce checkout experience
In this article, we've explored the best ecommerce practices to help you improve your checkout process and your customers' buying experience. With our easy-to-implement tips, you can significantly decrease checkout abandonment. 
What strategies will you put into play when it comes to improving your customers' checkout process experience? Let us know below!