Gaining the trust of your consumers is extremely important in the online world. Why? Because 81% of online shoppers feel concerned when shopping on an ecommerce site they don't know. This lack of trust can lead to shopping cart abandonment and impact your conversion rates.
Trust badges are one of the best ways to build trust with your customers.
In this article, we'll answer the questions:
What are trust badges?

Why are they necessary for an ecommerce business?
We'll also cover the 5 types of trust badges that can help you increase your conversion rate.
Let's get right into it!
A trust badge is a symbol or a small image placed on a website that aims to convince visitors that their personal data will be handled safely.
Since online purchases don't happen in person, people can't just judge trustworthiness by looks or gut feeling. They don't interact with a storekeeper, which means they need some other kind of proof that they're safe…and that's exactly where trust badges come in.
Trust badges usually involve a connection to an external service that verifies your store's trustworthiness. The companies that offer these kinds of services might charge a fee, but that's a small price to pay for happy, trusting customers.
Below, you can see some examples of trust badges.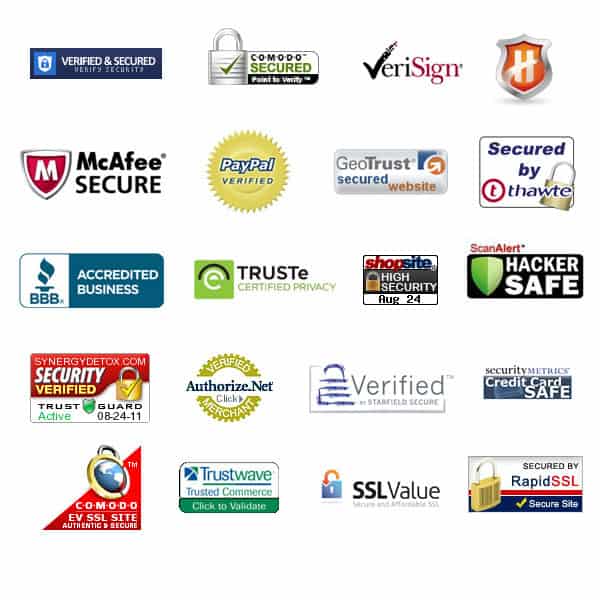 Why are trust badges necessary?
Trust badges do precisely what their name suggests: they help to instill trust in your visitors.
This is especially important if your ecommerce site handles payments or any kind of personal data, even if it's just by offering a simple email subscription. GDPR didn't only force online business owners to act more responsibly, it also made visitors more aware of their own data.
Potential ecommerce customers leave during checkout for a number of reasons, not just because they change their minds about what's in their cart. One of the reasons they might bail before completing their purchase is if they feel unsafe handing over their payment details to an online store that they haven't shopped at before.
Even if your own website looks credible, if the payment provider's UI looks sketchy, you might lose sales.
And remember: even if you take all the necessary precautions to handle customer data in the safest way possible, it doesn't matter unless you show that to your online shoppers. They need to know that they're protected, and that's where trust badges come in handy.
Trust badges matter most for ecommerce sites that want to get people to enter their credit card details. But they also matter in other cases. Let's take a look at a few trust badges you need!
1. SSL badges
The work of trust badges begins right after a customer opens a website.
If an ecommerce store isn't using an SSL certificate, they'll be greeted with a message right away that their data isn't handled in a secure way (at least if you use Chrome):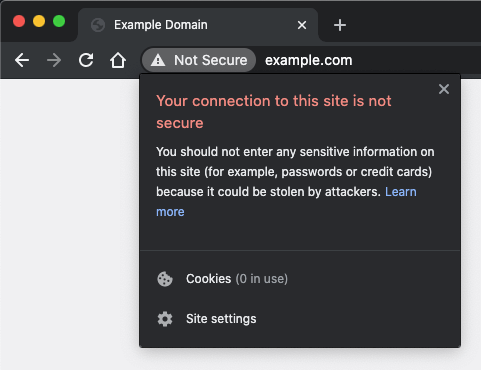 However, if you acquire even the most basic SSL certificate, that warning gets replaced by a lock icon, and if your visitor clicks on it, they'll get more details about the SSL badge. But only if it's not expired… these certificates don't (and shouldn't) last forever!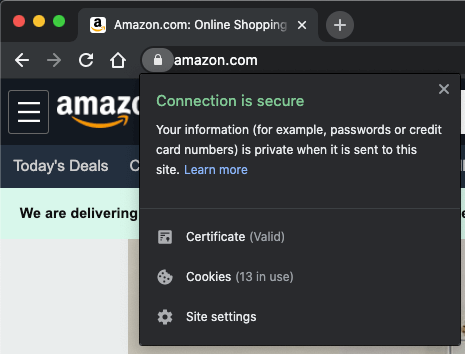 2. Payment badges
Payment badges are another type of trust badge that an online retailer can use, and these badges are displayed during checkout.
Payment badges aren't too distracting (usually). They're just noticeable enough to ensure a visitor that's about to pay will see them. They indicate a safe, secure checkout process.
Credit (or debit) card custom logos also belong to this category: if you display the accepted payment options in your online store, people don't need to stop and think about whether their cards will be accepted or waste time searching for your accepted payment methods.

Of course, anyone can show these logos on their website, so it's crucial that you only display logos of cards (or other payment badges) that you actually accept, and you can you use a logo maker for that.
Here's an example from asos.com: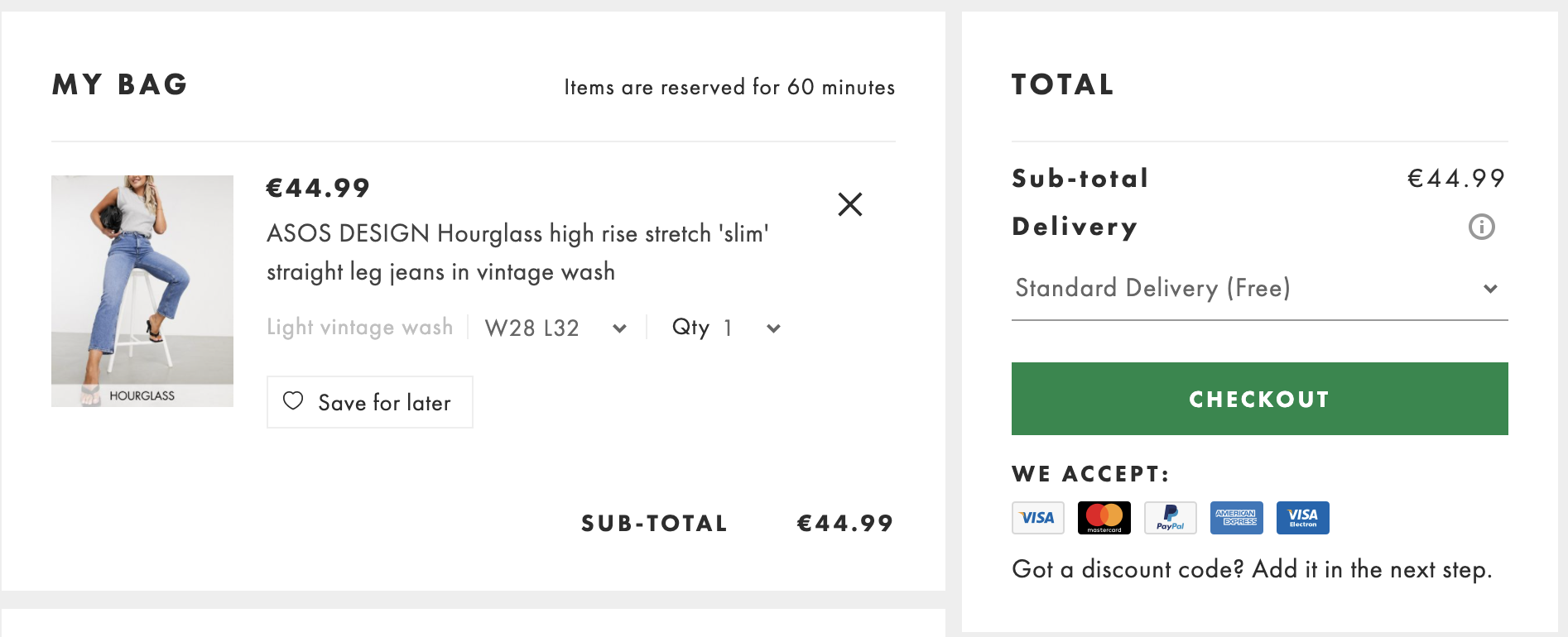 3. Awards
If your site has won any kind of award, don't be afraid to show it! Customers will appreciate it, and they'll automatically trust you more.
If you can back it up with a link that leads to more details about the award, you can add even more credibility.
Check out how OptiMonk highlights its awards and third-party endorsements in the footer:

4. Money-back guarantee badges
If you haven't yet implemented a money-back guarantee policy for unsatisfied customers, you should definitely consider adding one—and showing it on your website with a trust badge. In most cases, the number of happy customers will exceed those who end up claiming the money-back guarantee offer by a considerable margin.
Here's an example from BOOM By Cindy Joseph. They highlight their money-back guarantee badge on product pages.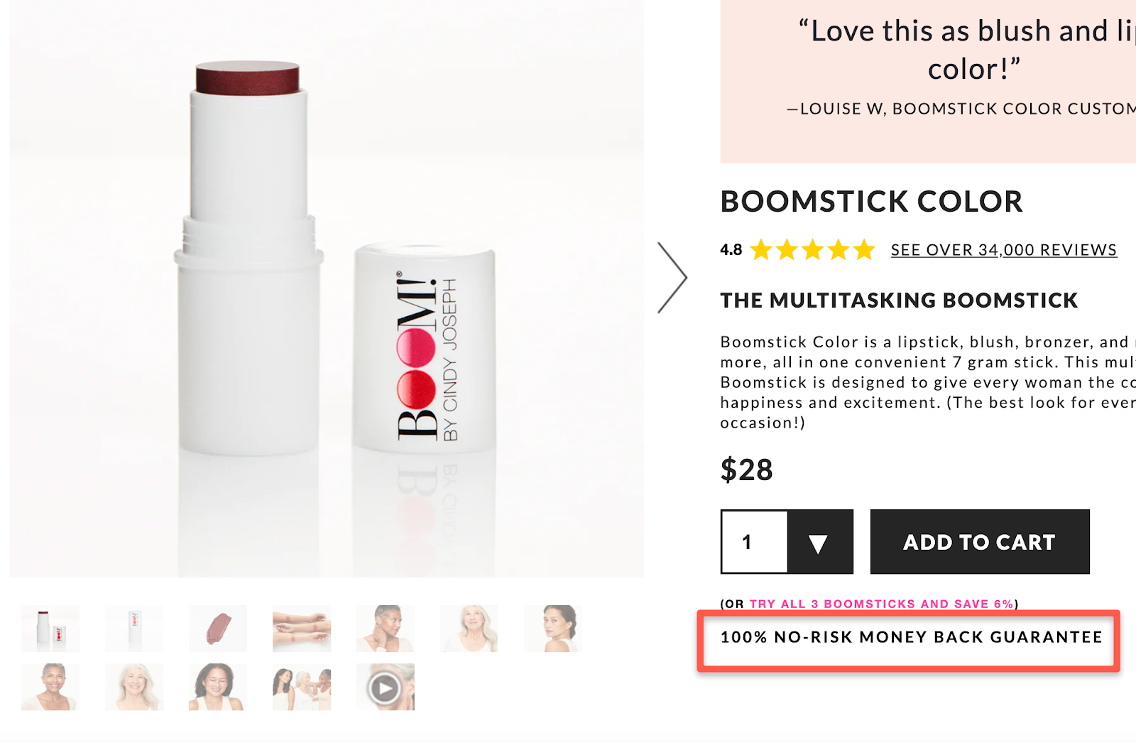 Free trials also fall into this category: if a visitor still hasn't made up their mind to sign up for your service, a free trial might just make all the difference.
5. Free shipping badges
A free shipping badge tells your customers that you offer free shipping. For many customers, this is a must-have, and it also helps to build trust and credibility.
You can place this trust badge basically anywhere on your website, but it's worth highlighting on your checkout page, too.
Urban Outfitters uses a sticky bar on the checkout page as a free shipping trust badge:

How you can set up your own trust badges
Displaying your badges depends on what kind of trust badges you want to use. Awards or free trial offers are super easy: you just need to create an appealing image (if you don't have one yet) and show it to visitors where it matters most.
If your website is built on a custom CMS, you need to figure out how to connect it to external services that offer reliable trust verifications.
But if you're using Shopify or WordPress, you're in luck! Getting your first trust badge can be as easy as installing a plugin.
Here's the tutorial for installing Shopify's own website security trust badge.
To build more trust with your customers, there are a number of free trust badges you can use. Here are a few of the best:
Finding your favorite trust badge is just as easy for a WordPress site. Here's a link to help you explore your choices.
Trust badges are a powerful tool to make your website more trustworthy. They're definitely worth using in your ecommerce store to gain users' trust and help potential customers overcome their doubts about buying online.
Trust badges can help improve your conversion rate and increase sales. But even more importantly, trust badges help establish your store as a credible, trustworthy place to shop—and that's priceless.