While the ecommerce industry continues to grow, it seems that the shopping cart abandonment rate of online stores is, unfortunately, following the same trend.
According to our own statistics from ecommerce sites, the average ecommerce cart abandonment is 66.5%.
In other words, nearly 7 out of 10 visitors who add an item to their cart will leave your store without buying.
Business Insider estimates that approximately $4 trillion worth of merchandise is abandoned in online shopping carts each year. While these figures paint a dark picture of cart abandonment in ecommerce, there's a bright side.
The high level of cart abandonment can be seen as an opportunity. By taking the time to learn and apply best practices to keep buyers proceeding through checkout, millions of dollars worth of lost sales can be saved.
When it comes to improving sales for your store, you can do more than improve your average cart value. By improving your cart abandonment rate, you can improve your odds against the competition—and maybe even recover some of the sales they lost!
In this guide, you'll learn how to track shopping cart abandonment in your ecommerce store, and you'll also get 20+ actionable ideas to start improving your cart abandonment rate today!
(Are you already tracking cart abandonment on your site, and you just want those 20+ tips? Jump to the third bullet point and get started!)
Tracking shopping cart abandonment in your online store
To best serve your customers' needs, you need to monitor and understand their online shopping habits. Here are some questions to consider about your shopper's behavior:
What are they doing before they click on the "Add to cart" button?
What stage in the buying process are your shoppers in when they abandon their cart and leave your site?
Where do they go after they leave their online shopping carts?
What is your conversion rate at each step in the buying process?
Instead of guessing the answers to these questions, you can setup Google Analytics and get definitive results based on actual data from your site.
By setting up and monitoring a sales or conversion funnel in Google Analytics, you can see exactly where you need to make improvements to reduce your cart abandonment and increase your sales.
Let's take a look at how to start tracking visitor behavior on your ecommerce site.
Prerequisite: Integrate your online store with Google Analytics
The first step to learning how your shoppers behave is to integrate your ecommerce site with Google Analytics.
Please use Google's Help Center to setup your account and get started with Analytics. It's free to setup a standard account and it's an invaluable tool for growing a business on the web.
If you already have a Google Analytics account, simply log in and you're ready to follow the steps below and set up your conversion funnel.
To collect ecommerce data from your online store, you will need to add JavaScript code to your site that will send Analytics all the necessary information.
There are two choices for the code to install on your site. You can use Traditional Ecommerce Reporting on your website, or you can use Enhanced Ecommerce Reporting. In this guide, we'll show you how to set up both options.
Here's a quick review of the differences between the two: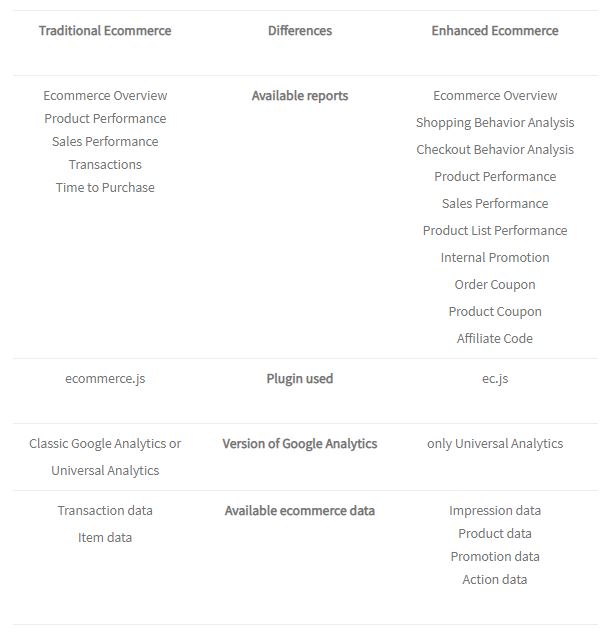 Okay, let's take a look at how to set up ecommerce reporting in both cases.
Traditional Ecommerce Reporting
Step 1. "Enable Ecommerce" and start gathering ecommerce data
First and foremost, you'll need to enable ecommerce reporting in the "Admin" menu. In the "View" column, click on "Ecommerce Settings".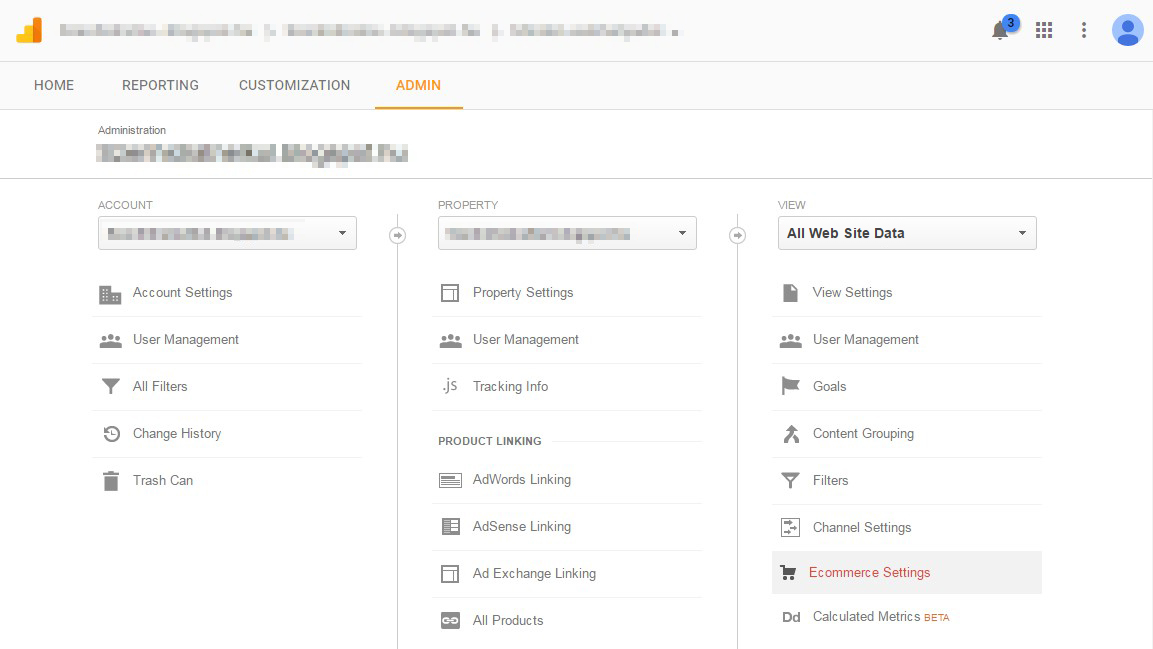 On the next page click "Enable Ecommerce" to toggle ON ecommerce reporting and optionally click the "Enable Related Products" toggle ON as well. Click on "Next step", then "Submit".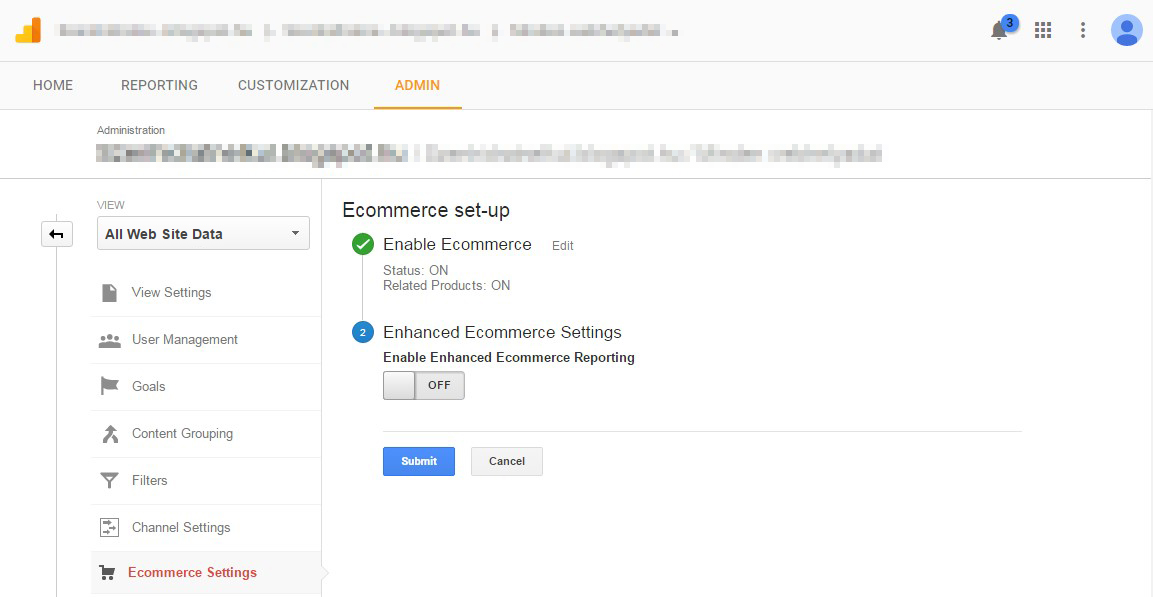 Note: To collect traditional ecommerce data from your website, you will need to add the "ecommerce.js" JavaScript code to your site. This will send Analytics your ecommerce transaction and item data.
We recommend you ask your web developer to add the JavaScript code into the source code of your website by using this guide on how to collect ecommerce data using analytics.js.
Step 2. Setup a "Checkout complete" goal
Now that you've setup ecommerce reporting, let's configure your conversion or sales funnel. Start by clicking on the "Admin" menu. In the "View" column, click on "Goals".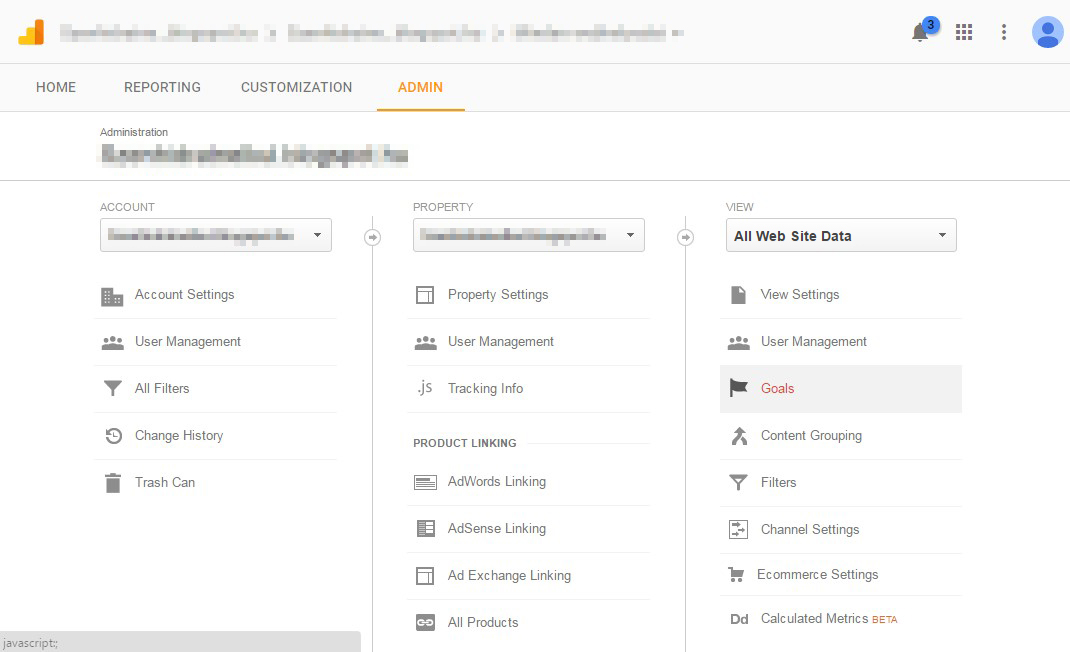 The "Goal" page will appear. Click on the "+New Goal" button to create a goal.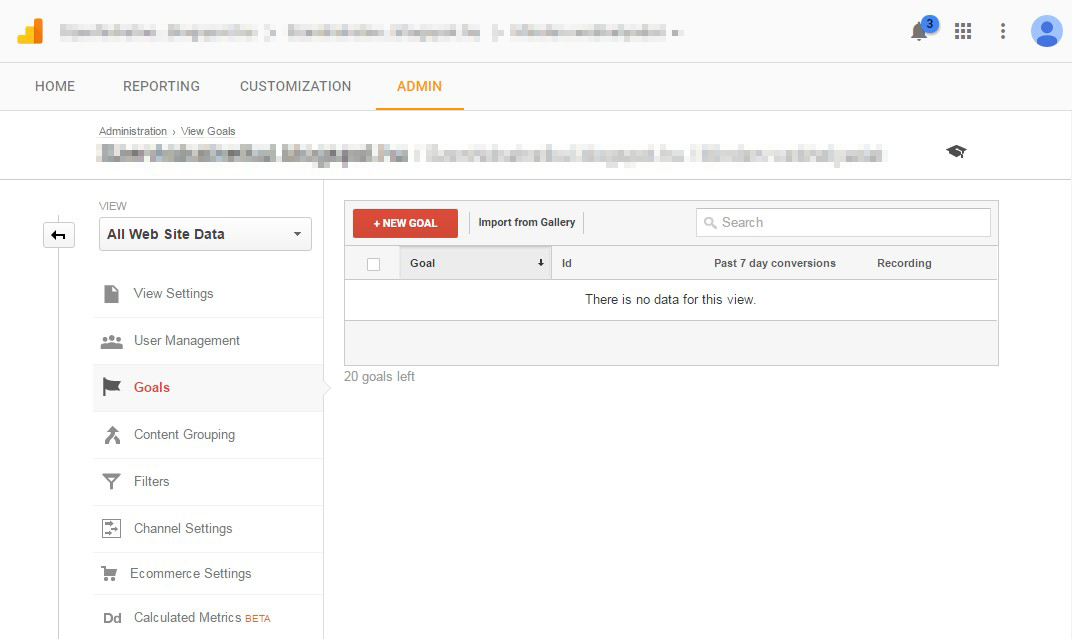 Next, select a template that defines what kind of goal you want to track. For cart abandonment, select the "Place an order" option under the "Revenue" section.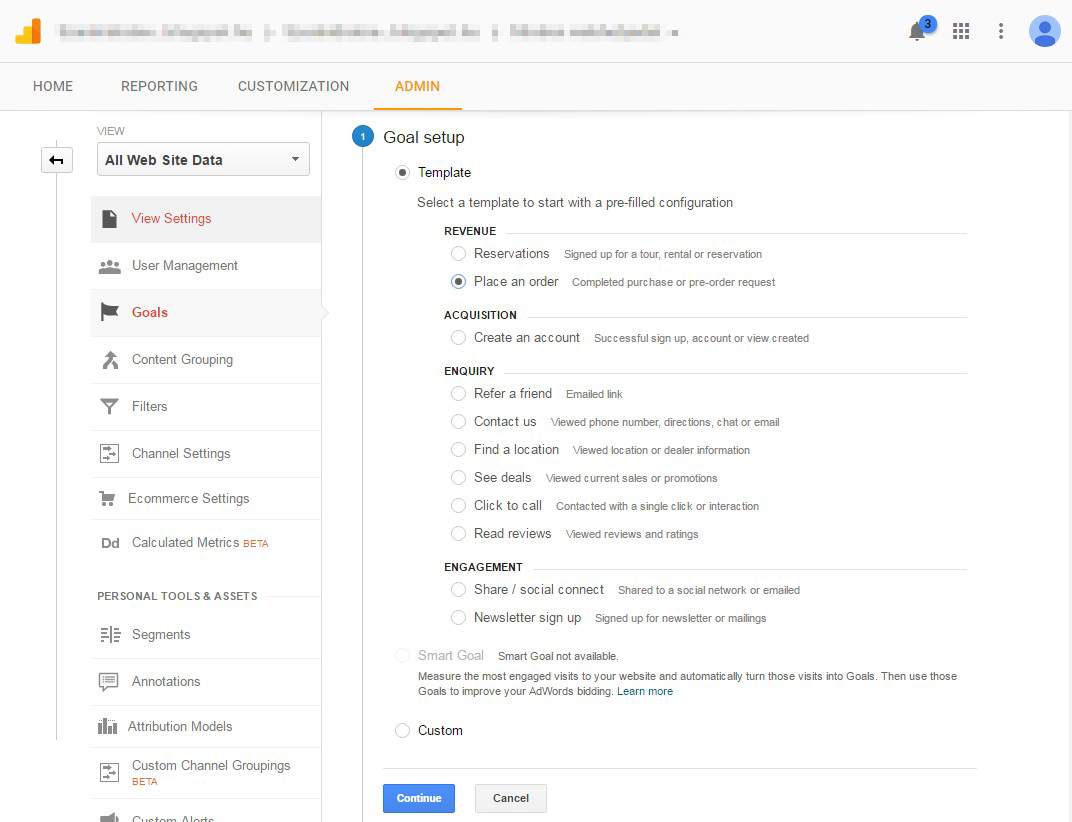 After clicking on the "Continue" button, you'll enter a name for your goal. We recommend a descriptive name that's easy to remember, for instance, "Checkout complete". Then select "Destination" for the "Type" of goal to track.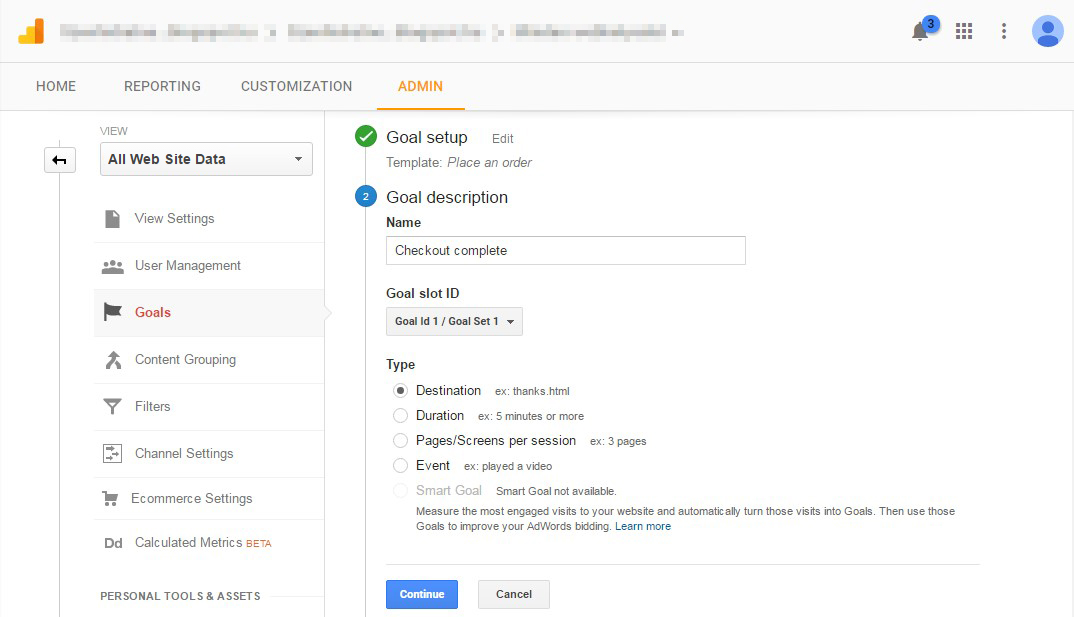 After clicking on the "Continue" button, you'll need to specify the "Destination" address. This is the URL of your "thank you" or "success" page: the page a customer sees after they complete checkout indicating that they've made a purchase.
Step 3. Create a sales or conversion funnel
Next you'll want to create a sales or conversion funnel by turning the toggle for "Funnel" ON, then defining the path that customers take to conversion. You want to provide every URL that a customer will pass through before completing their purchase.
Start by entering your cart page and the "thank you" page or "Destination" URL should be the last step.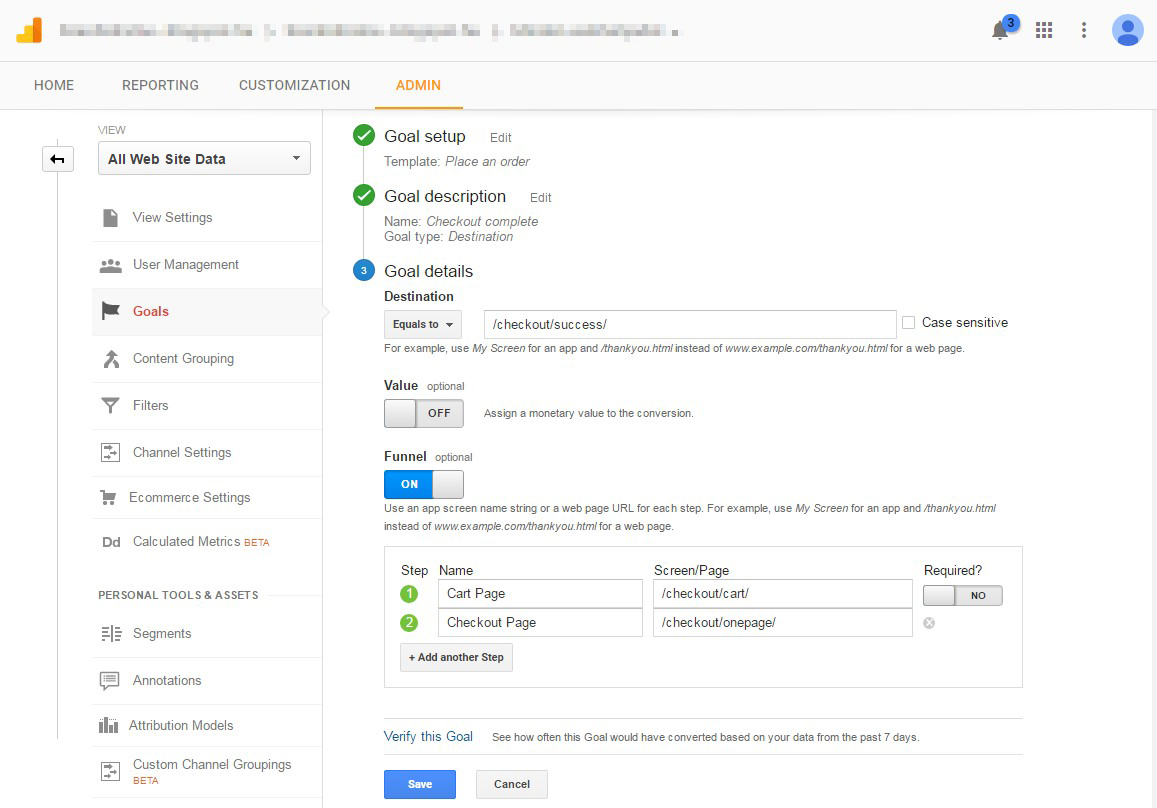 Note: The number of steps can vary by ecommerce platform – it can be up to 7 steps for certain platforms. It's worth to run through your store and make a test purchase to be sure you capture all the URLs correctly.
After you click on the "Save" button, Google Analytics will be able to track your sales and conversion funnel.

Step 4. Review your ecommerce data in a report
After configuring ecommerce reporting and setting up your conversion funnel, you'll be able to check your goal data and funnel statistics.
You can check your report by selecting the "Reporting" tab and clicking on "Conversions" > "Goals" > "Funnel Visualization". Make sure that the "Checkout complete" goal you created is set as a goal option.
It can take a few days to display the data in your first report. Once the data is available, you'll be able to see exactly how your customers are moving through the conversion process.
Among the information in the report, you can learn which products are added most often to your shoppers' carts.
In addition, you can also see which products have been added to your visitors' carts, but were ultimately not purchased.
At the bottom of the funnel you can see the funnel conversion rate. By subtracting this value from 100, you can see what your cart abandonment rate is.
Here's an example from an online store where the cart abandonment rate is 89.34%. This exceeds the average cart abandonment rate, so it's essential that this ecommerce site starts taking steps to keep their buyers in checkout.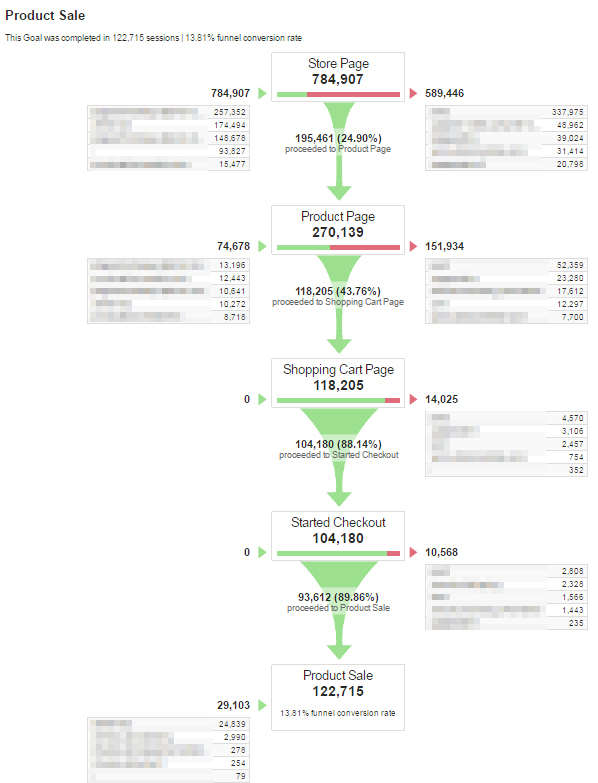 Enhanced Ecommerce Reporting
Step 1. "Enable Enhanced Ecommerce Reporting"
To use enhanced ecommerce reporting, first enable traditional ecommerce reporting following the steps above, then enable Enhanced Ecommerce Reporting following these steps: select "Ecommerce Settings" again in the "View" column under the "Admin" menu item.
This time turn the "Enable Enhanced Ecommerce Reporting" toggle ON.

Step 2. Setup Universal Analytics and install "ec.js" JavaScript code
To collect enhanced ecommerce data from your website, you will need to use Universal Analytics. Universal Analytics requires you to add the "ec.js" code on your site to send your ecommerce data to Google Analytics.
For this step, we suggest you ask your web developer to add this JavaScript code into the source code of your website following this guide.
Step 3. Checking the results in a report
With Enhanced Ecommerce Reporting, you can see more ecommerce data about different types of abandonment and other negative indicators you will want to improve:
No Shopping Activity
No Cart Addition
Cart Abandonment
Checkout Abandonment
You can see all this information in the "Shopping Behavior Analysis" report. To find this report, select the "Reporting" tab and click on "Conversions" > "Ecommerce" > "Shopping Analysis" > "Shopping Behavior". As it can be seen, Google Analytics now distinguishes cart and checkout abandonment rates.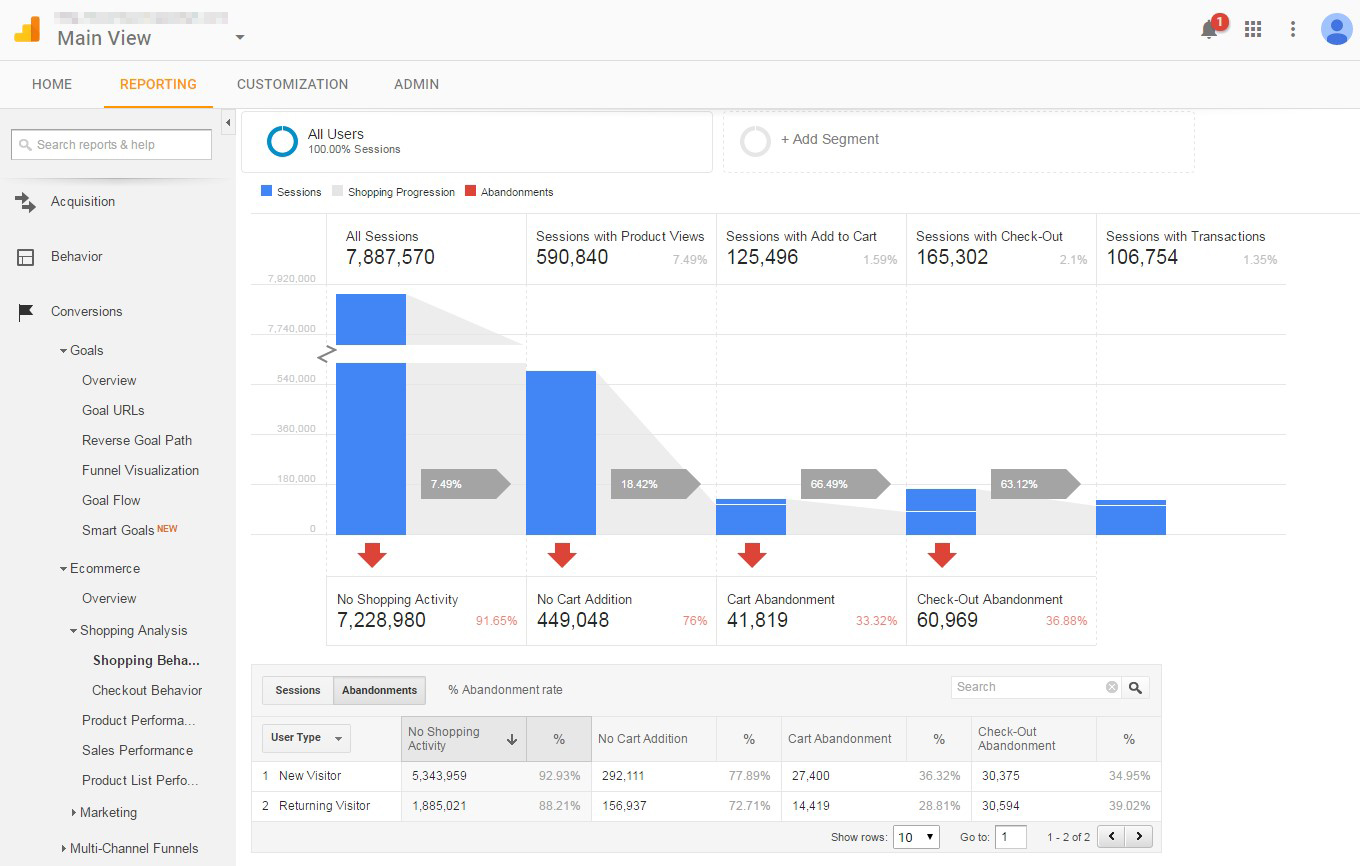 The example above shows that this online store's cart abandonment rate is 33.32% in the period of time being considered.
There is a lot of data in the Enhanced Ecommerce Reporting which you can use to help you decide which of the 20+ tips we provide below are the best for your store. To learn more about using Enhanced Ecommerce Reporting, check out Optimize Smart's comprehensive guide.
If you want to learn more about eCommerce Analytics you should definitely check this definitive guide.
Why do online shoppers abandon carts?
Before we look at how to improve cart abandonment on your site, it's worth taking a moment to understand why visitors abandon their carts. Once you know why your visitors are leaving the checkout process, you can learn how to best address the issue in your ecommerce store.
According to the latest information from Statista regarding online shopping cart abandonment, 56% of consumers drop out of the checkout process when they're presented with unexpected costs.
Digging deeper into the data, many of the reasons for cart abandonment are related to transparency: showing the total cost, high shipping costs, and no up-front information about additional charges. In addition to pricing, some usability and security issues also cause buyers to abandon their carts.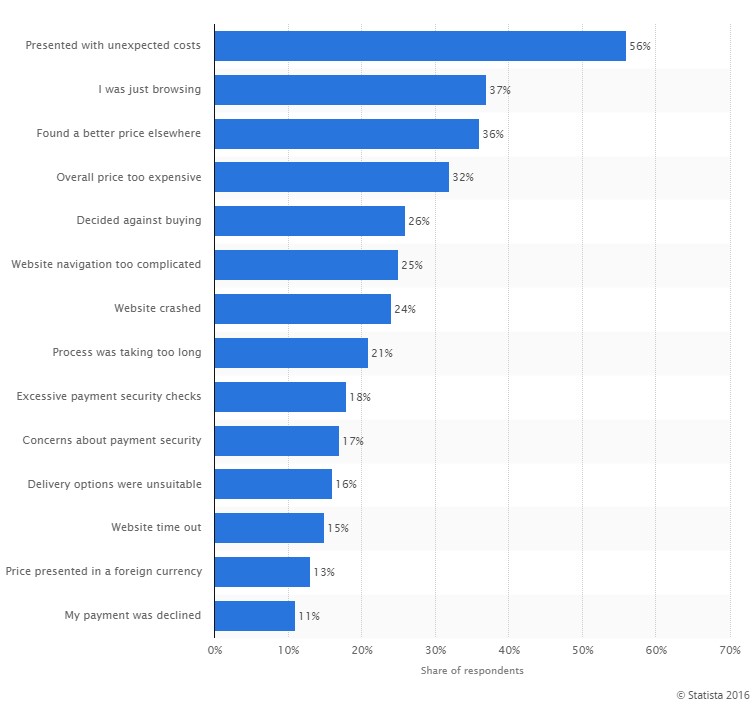 These reasons help you understand why almost 70% of visitors abandon their cart without paying. Let's not look at the downside of this data. Instead, let's look at these "problems" as "guidelines" that can help you improve your online store.
Below, you'll find more than 20 exciting ways to boost your sales by addressing each of these reasons for cart abandonment and turning them into opportunities for greater success.
20+ ways to reduce cart abandonment rate, improve your checkout page and increase sales
Now that you've got an ecommerce reporting setup, you can see how many of your online shoppers are leaving the checkout process and where to address the problem.
With an understanding of why buyers leave the checkout process, you'll also know what solutions may prove the most effective for your site.
It's impossible to reduce your shopping cart abandonment rate to zero, but you should reduce it as much as you can to improve the overall performance of your store.
Let's look at more than 20 ways you can optimize your checkout process to reduce shopping cart abandonment and increase sales in your ecommerce store.
1. Clearly present any additional costs
Making your checkout process transparent is vital to reducing cart abandonment. The most common reason that buyers leave the checkout process is that shipping and other costs are not clearly stated. You should make sure that any additional costs are clearly presented in your online store – throughout the buying process.
Walmart.com is a great example of how to be transparent with costs. After adding an item to your cart, all the additional costs appear immediately. A potential buyer can easily see what the total cost will be and the list of additional costs. In the example below, it's absolutely clear that $4.97 will be charged as a shipping fee, and a $0.90 tax also increases the final cost.
There are additional concerns buyers have regarding cost, so it's worth optimizing more payment-related elements of the checkout process. Let's take a look at some of the most important issues.
2. Offer free shipping and highlight free shipping options
Free shipping is one of the most effective incentives. If you can offer free shipping on your products, you should. If free shipping on everything isn't profitable for your store, another option is to use free shipping based on a minimum cart value—for instance, "Free Shipping on Orders over $100".
Whatever approach you take, be sure to emphasize your free shipping options, because it can dramatically reduce shopping cart abandonment.
Here's an example from Keurig, which promotes free shipping right on their homepage. This way visitors are encouraged to make a purchase, and are not surprised by seeing the free shipping message for the first time at the checkout.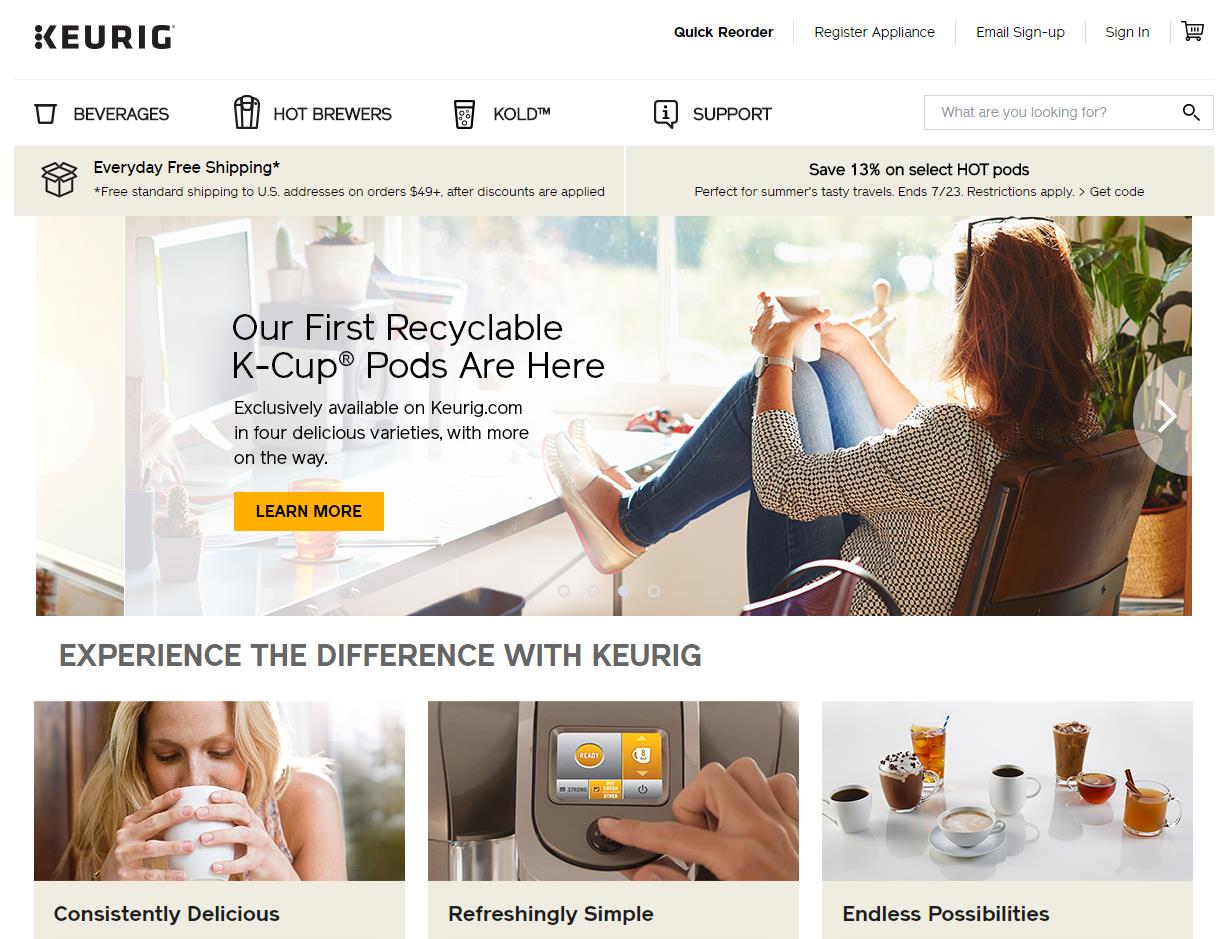 On their product pages, the product description also contains the free shipping message, and the limitation on the offer. After adding an item to the cart, the free shipping message is presented again.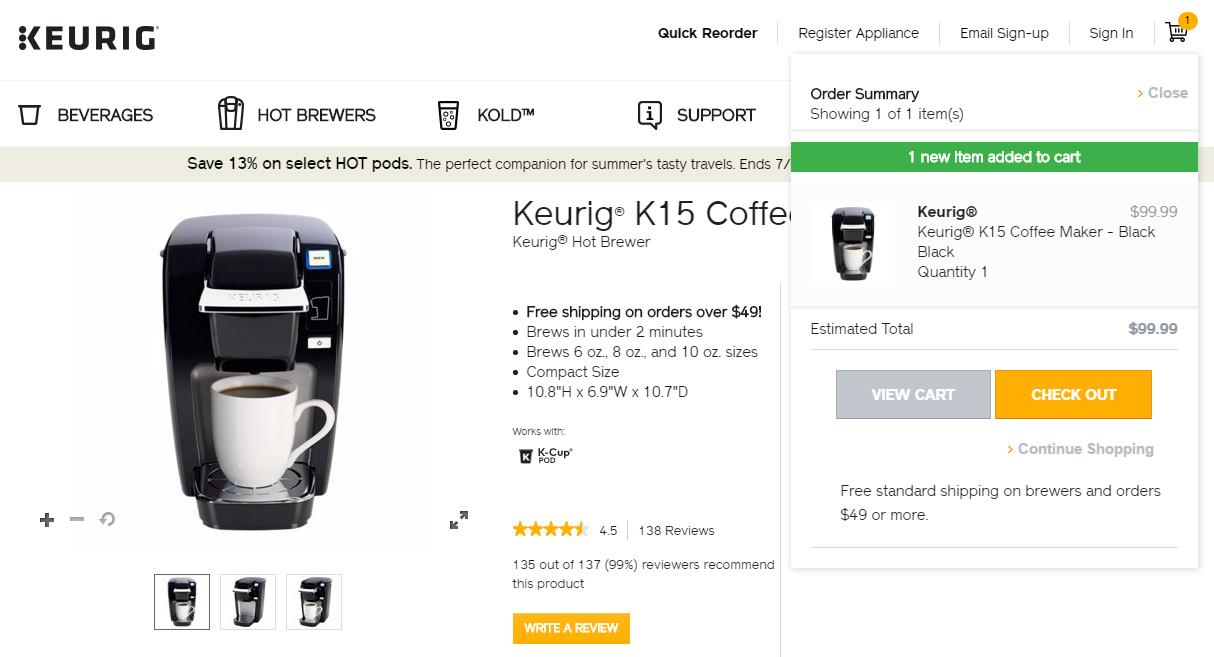 On the cart page, the total cost is clearly shown item by item, and free shipping is highlighted here as well.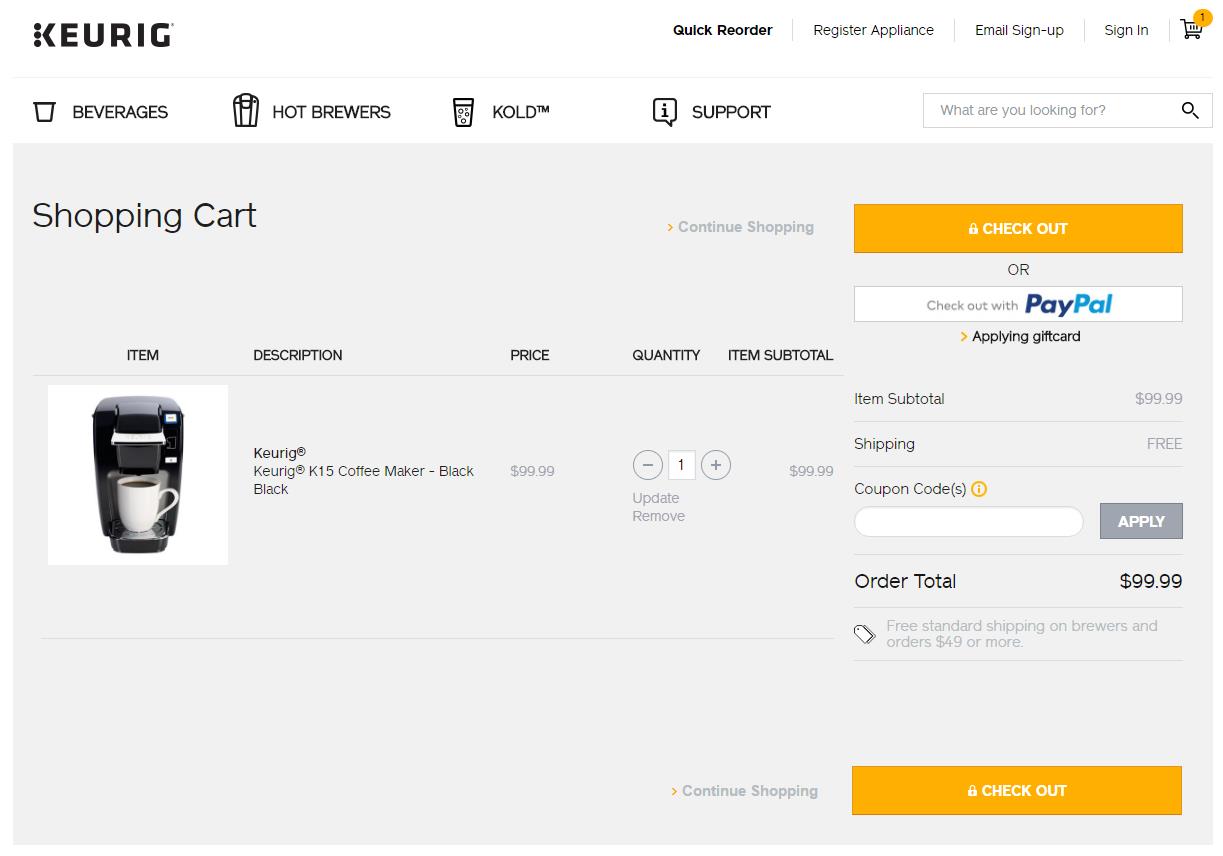 3. Clearly show all available payment methods
Many customers want to know what payment methods are available before going through the checkout process. Clearly display the logo of all payment methods that are available in your store: credit cards, PayPal, MasterPass and any other payment method you accept.
Instead of writing a list, it helps to use icons like Harry&David which provide instant recognition and also help build credibility and trust at checkout.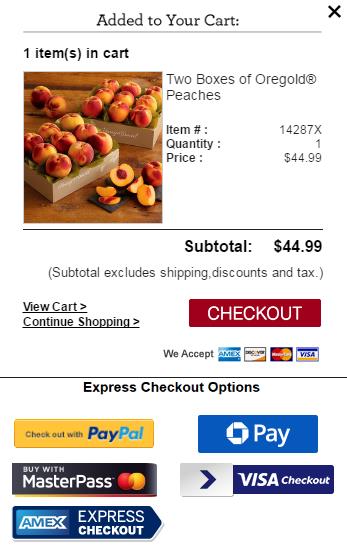 4. Allow checkout with PayPal
Many successful online stores specifically emphasize PayPal as a payment method. PayPal was one of the first payment methods designed for ecommerce and it continues to be trusted by millions of people as a safe and fast way to pay online. Buyers who are concerned about privacy and security, and don't like sharing their credit card details, are pleased when they see the option to checkout with PayPal.
Office Depot highlights PayPal in two places on their cart page: above and below the shopping cart. They want to be absolutely certain that buyers know they can use PayPal as a payment option.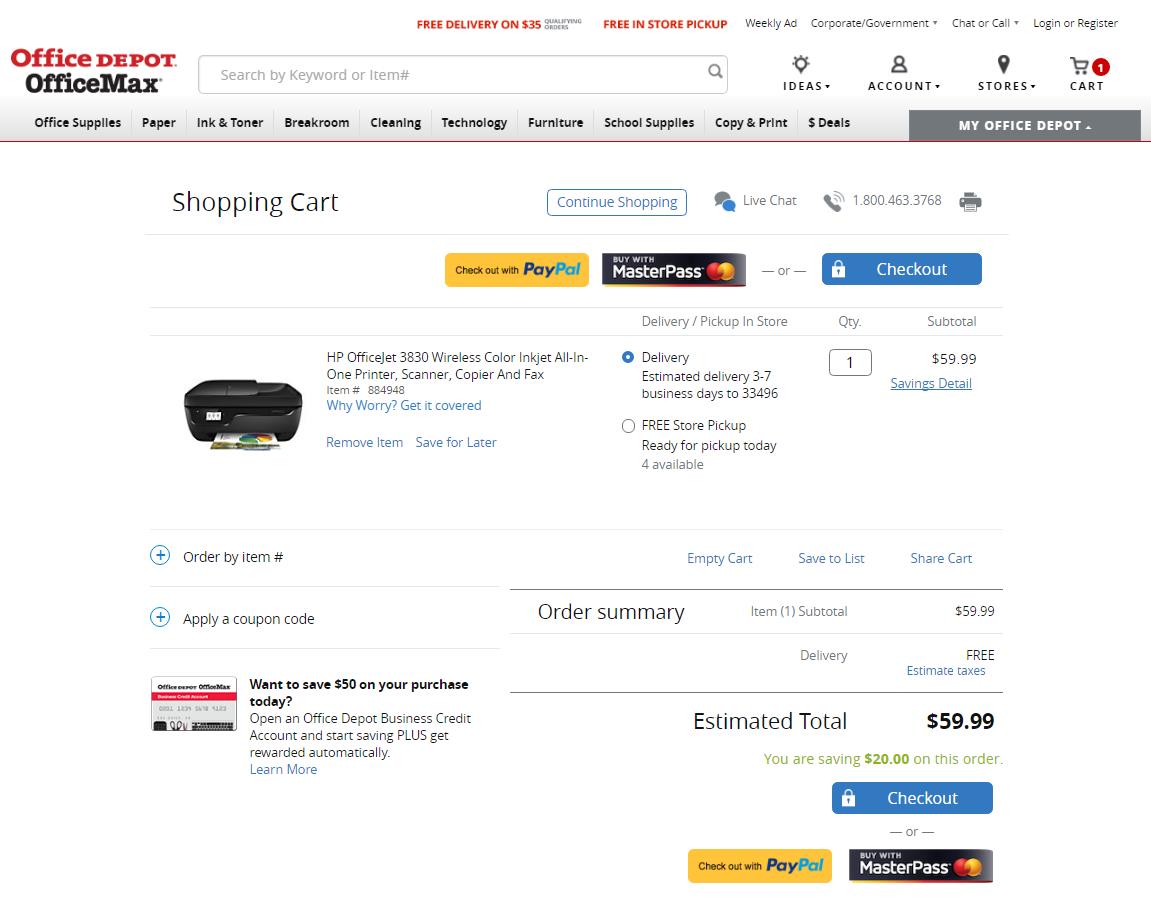 5. Display the estimated delivery date
Customers love to know exactly when their order will be delivered. For this reason, you should display the estimated shipping date and make it as accurate as possible. It's more meaningful for a customer to see the estimated shipping date instead of seeing the number of days remaining until their package arrives.
SwimOutlet.com clearly shows the estimated delivery date and also includes the estimated transit time for the chosen shipping method.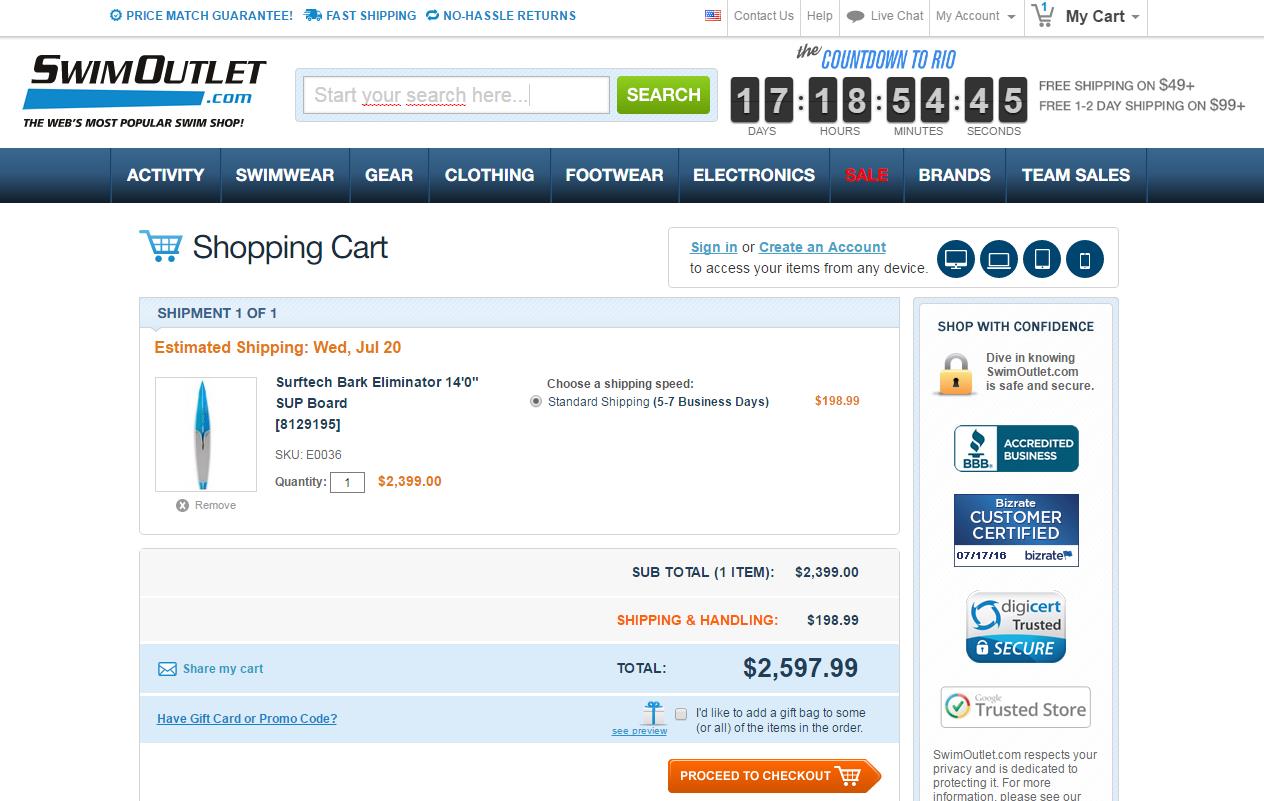 6. Use meaningful product images
Visitors can easily forget which products they've added to their cart, and product names may not be enough to indicate what they're planning to purchase. You can remind them by displaying a smaller version of the main product image in your cart page. Be sure the image size you use is not too small – buyers must be able to clearly recognize what is in their cart based on a photo.
The items on ProFlowers' cart page can be easily recognized by their clear photos, cropped to show only the product.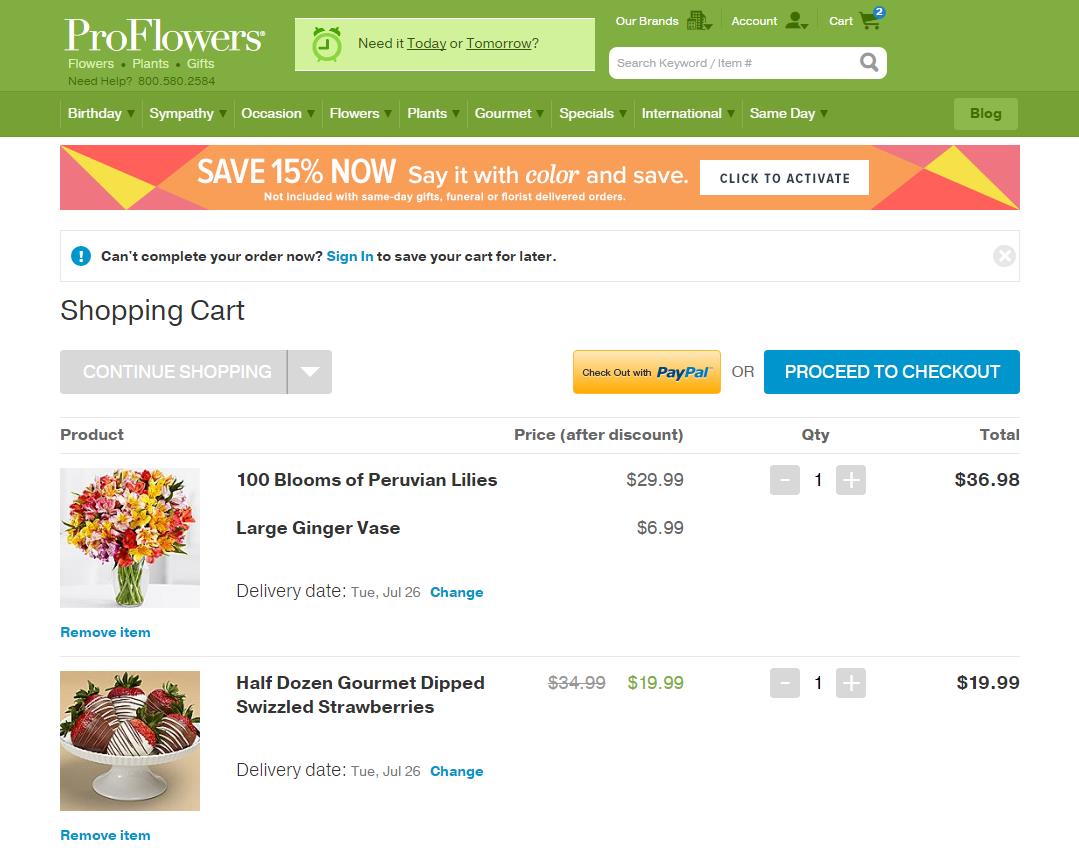 7. Make your cart content editable
Your visitors may want to edit their product preferences after adding an item to their cart. For example, they may want to change the color, size, or quantity. Cart content can be edited in many different ways depending on your products and variations, but the most important thing is that the cart content can be edited to meet your buyers' needs – without them leaving the checkout process.
JCPenney's cart page contains an "edit item" option which is displayed with the item details: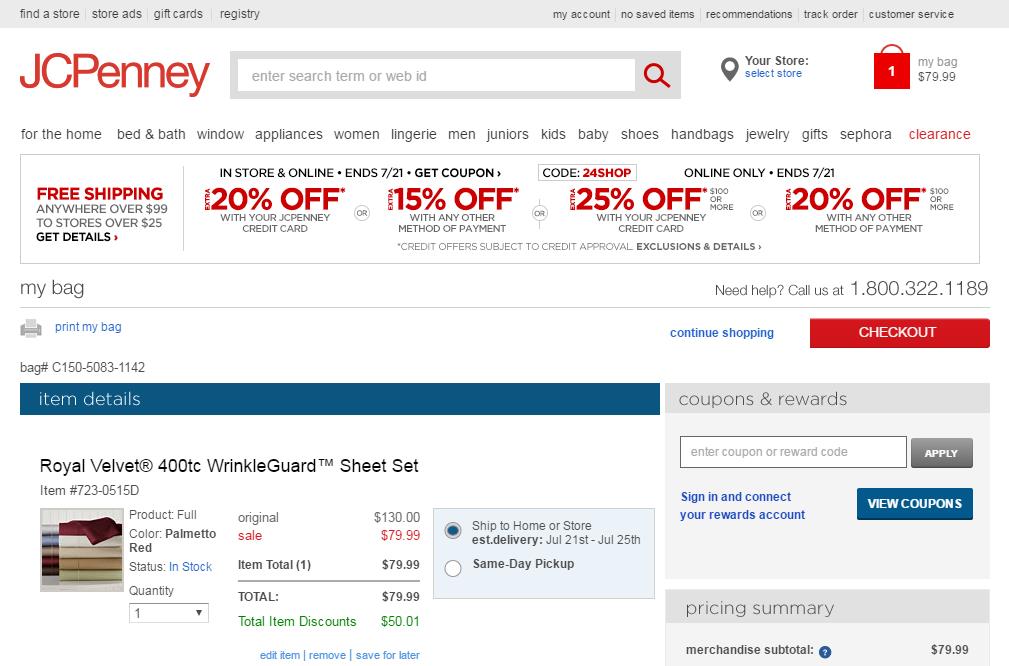 After clicking on it, visitors can easily edit their product preferences: color, quantity and size.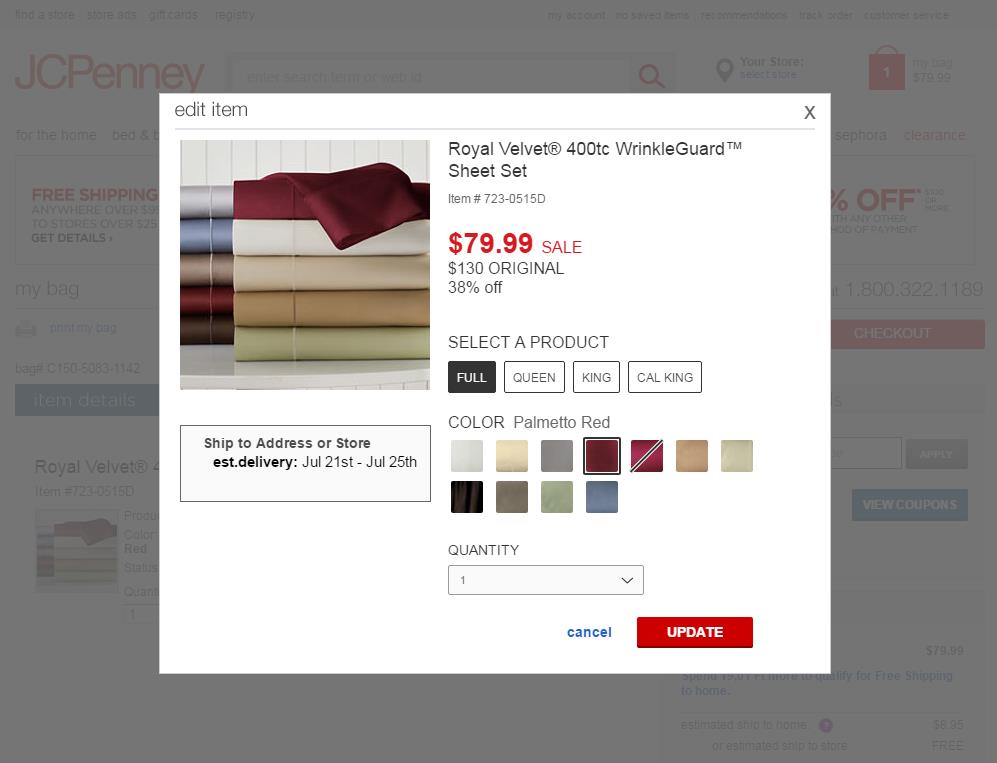 8. Let your cart refresh itself after editing quantities
Depending on the products offered, or the type of online store, it may not be possible to edit the product preferences in the cart. However, quantity can typically be changed in all ecommerce stores by a simple click. It's important that all information in the cart is updated automatically when the quantity is adjusted. You can't expect your customer to click on their browser's "Refresh" button to update the cart content each time they adjust the quantity.
Geekbuying.com provides a good example. After the quantity is adjusted in their cart page, there is a short period of loading, and then the total cost increases automatically.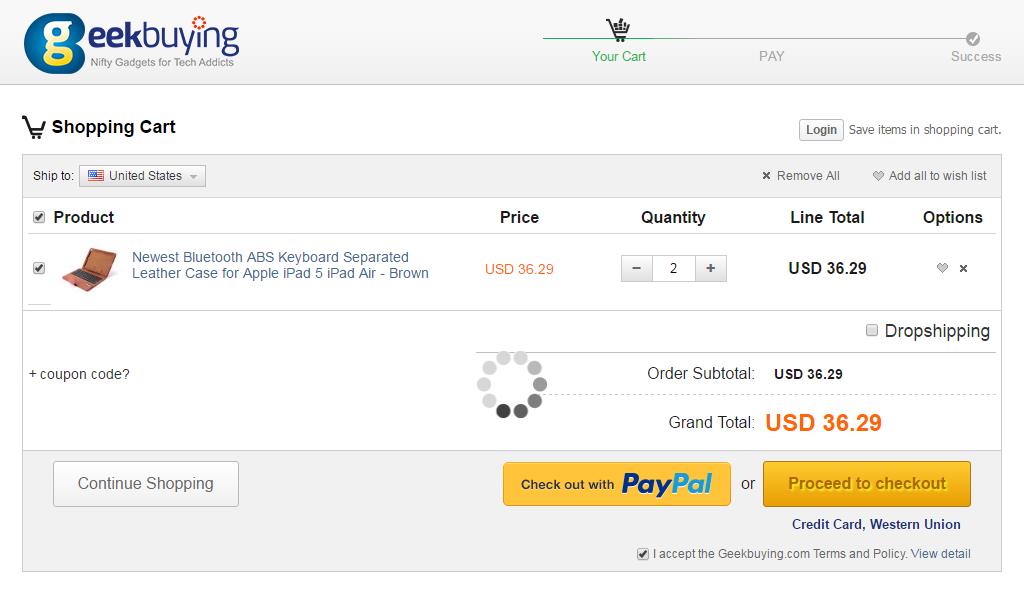 9. Display your stock availability
It's also worth displaying your stock availability on your cart page to reinforce to your visitors that the products are readily available. This is especially important for limited edition or exclusive products to ensure buyers know that they will get them when they place their order.
The cart page at TouchOfClass.com provides information about stock availability and goes a step further. They also inform customers when an item is in "preorder" status and show the date when the product will be delivered if they order immediately.
Plus, when only a few items are available in stock for a particular product, their cart page tries to raise the sense of urgency in buyers by highlighting the quantity remaining.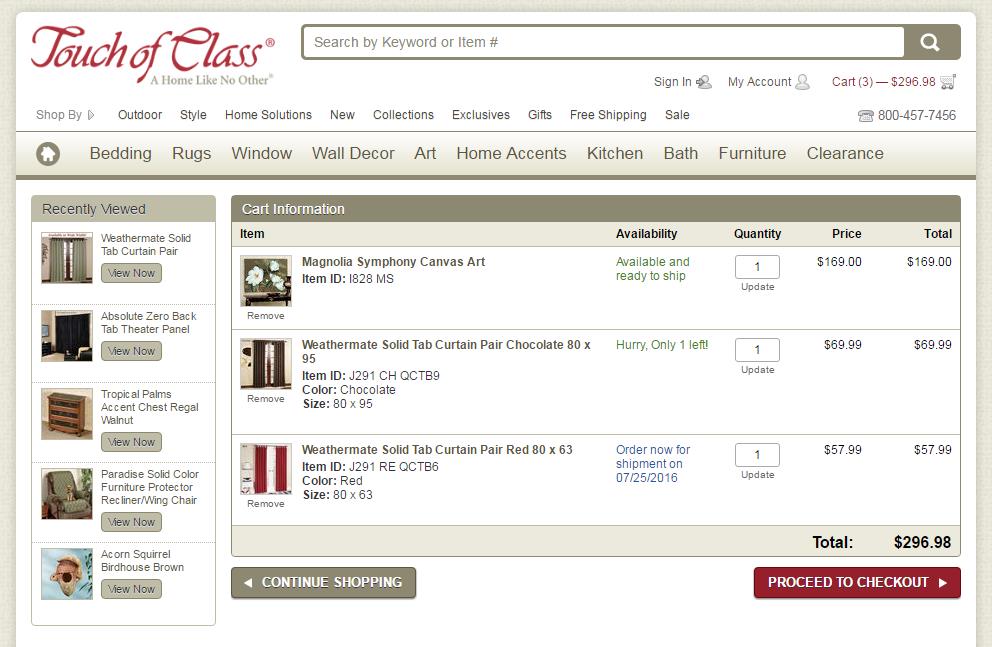 10. Highlight gift wrapping and gift message services
If you provide gift wrapping or allow your buyers to add a message to the recipient with their, you should integrate this service into the first step of the checkout process.
On Apple's cart page, customers can easily add a free gift message. Buyers can also request gift wrapping and create a personalized greeting card – right on the cart page.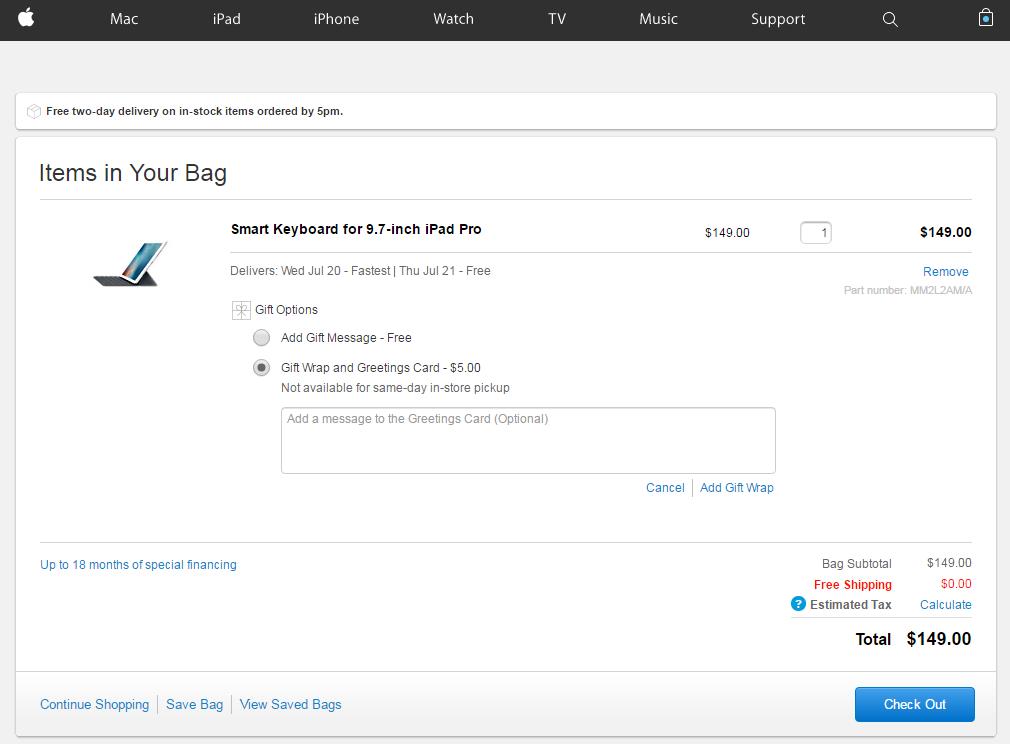 11. Allow your visitors to save their carts
Unfortunately, not every visitor will complete their purchase the same day they put something in their cart. This is where, "save cart", "wish lists", and "favorites" lists are helpful. It doesn't matter which approach you take.
The important function of "save cart" is that that buyers can easily recreate their order at a later date. "Wish lists" also allow buyers to save the items in their cart and easily access them after leaving your site, and then returning to complete checkout.
By clicking on the "Move to Wish List" button on Backcountry's cart page, visitors need to sign in or register to add their preferred items to the wish list. Registration ensures visitors can access their list later, and is also an effective mechanism for building your email list. In addition to their "Move to Wish List" button, Backcountry has a dedicated "Wish List" tab on their cart page.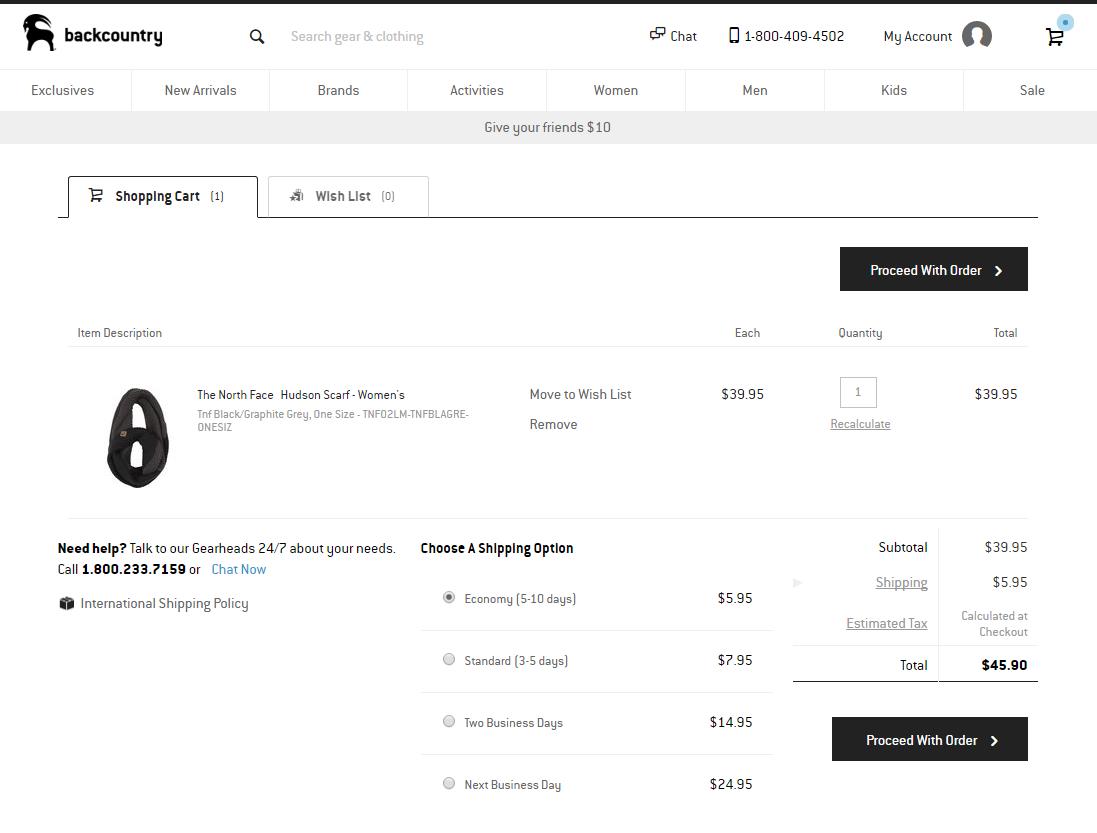 A similar solution to wish lists is the ability of visitors to "save for later". Lists like these also allow you to send advanced recovery emails that convince visitors to return to your site by mentioning the specific products they were considering.
Here's an example from PCM.com. After clicking on the "Save for later" button, the item is removed from the cart…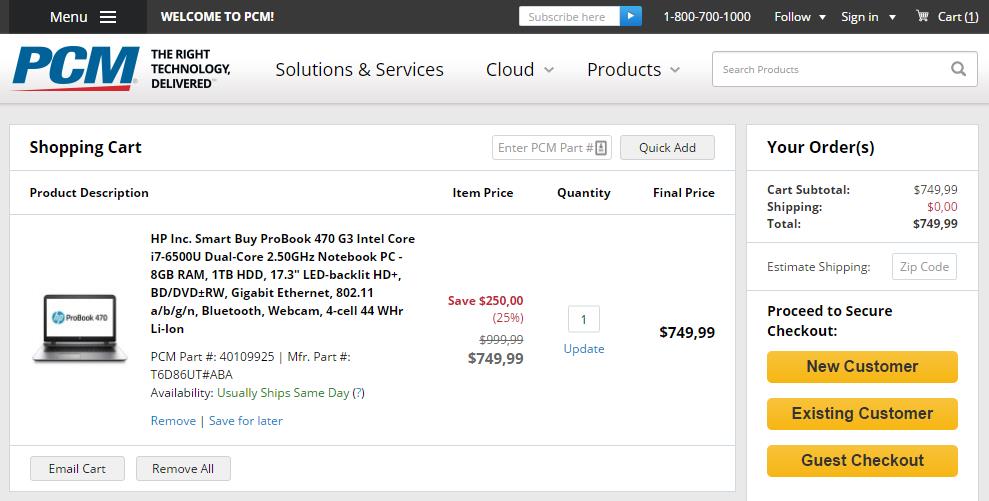 …and now the product will appear in a list "Recently Viewed Items" that buyers can easily access.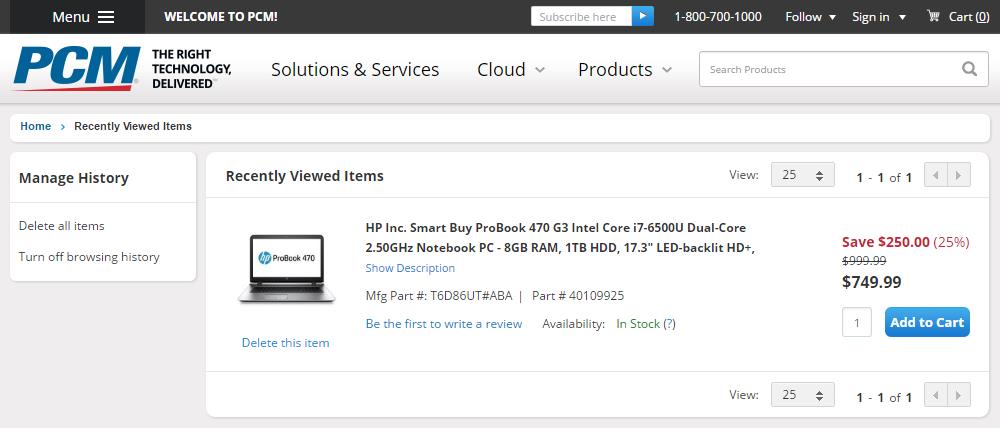 12. Always show the next step
The "Checkout" or "Checkout Now" button is the most important button in your cart page. You should place it above "the fold" on your site, which means visitors do not need to scroll down to find the button. Your checkout button should also be prominently displayed on every size screen.
To account for these requirements, it helps to use two buttons – like HorizonHobbydoes. They use a big, contrasting button above and below the cart content.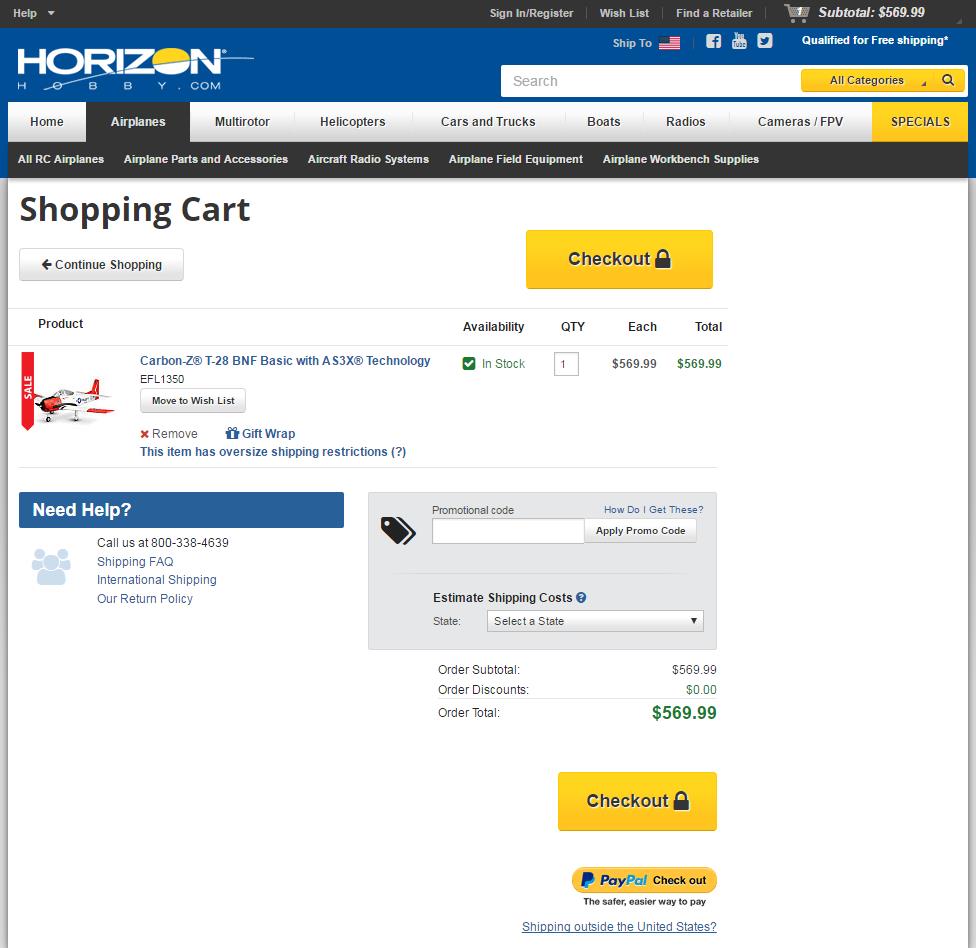 13. Use badges to build trust and show shopping is secure
Customers want to know that they're buying from a safe and reliable online store. Displaying third-party security badges helps you build trust with your customers. You can build trust and credibility with your customers by putting security logos on your cart page, and throughout your ecommerce site as well.
Take a look at the example from SwimOutlet.com again and make special note of the tall column they use on the right side of their cart page to prove their store is safe and secure.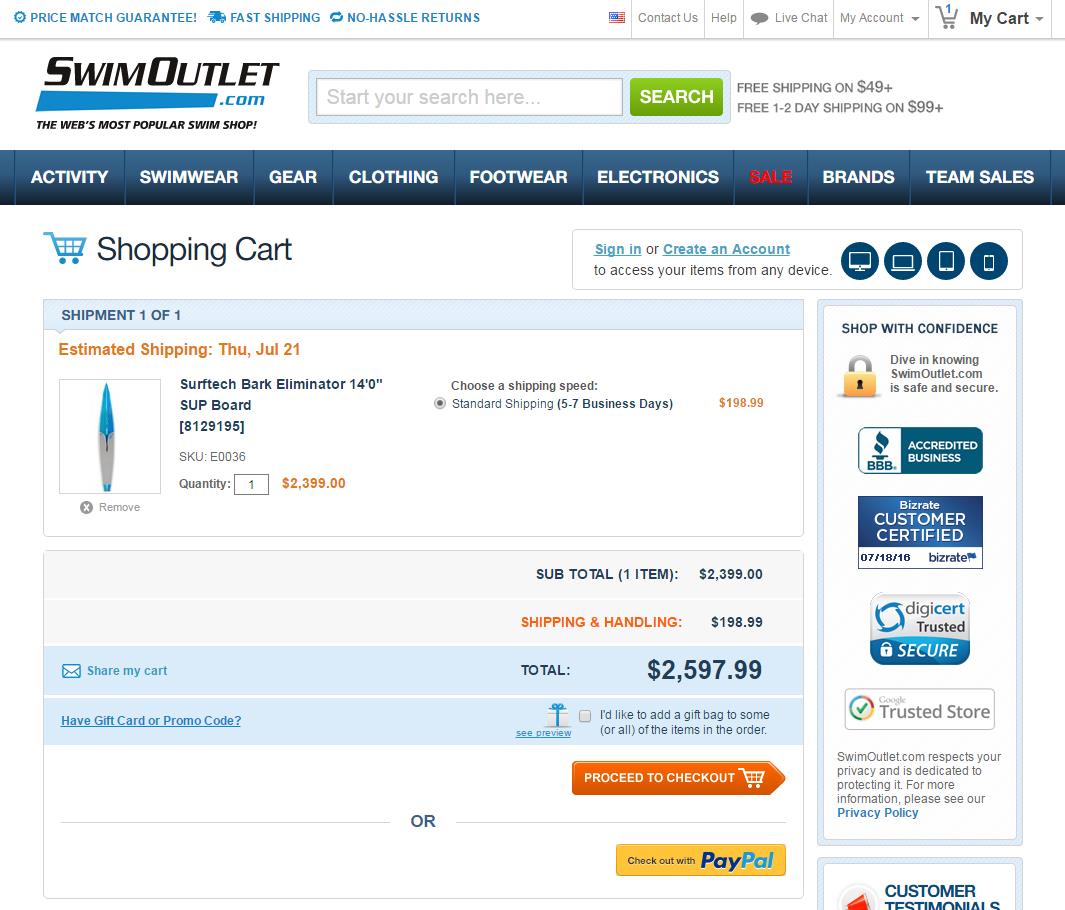 14. Allow buyers to "Continue shopping"
Sometimes a product name, and even an image, are not enough to remind customers about the details of the items in their cart. Often customers like to return to a product or category page to check the product details or add new items to the cart before completing their purchase. You can help these visitors find what they need by including a link that allows visitors to continue browsing your products.
Here's the cart page from Flipkart which uses a very large and bright "Place order" button, but also includes "Continue shopping" button which is clearly displayed, but isn't emphasized as much.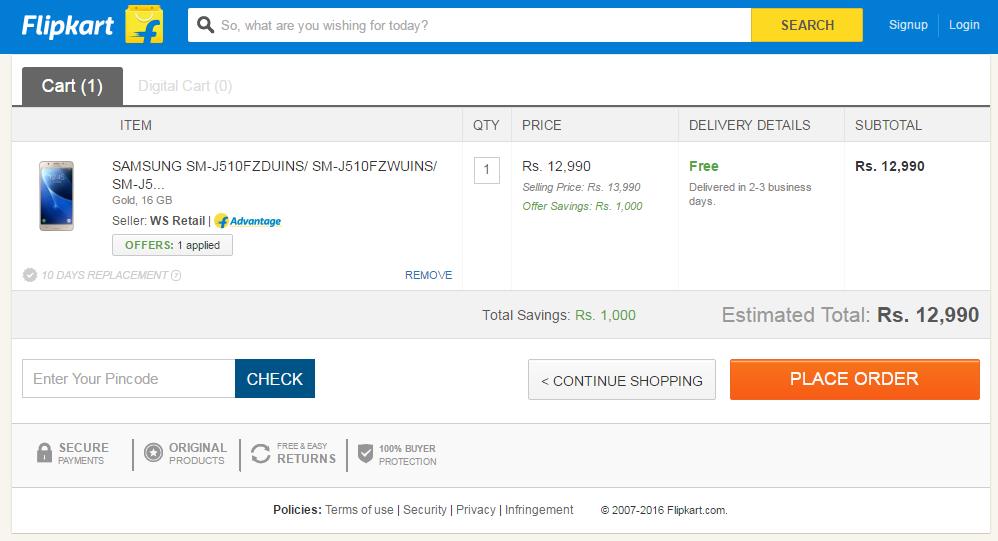 15. Use a progress bar
If your cart page is the first page of your checkout, it's worth displaying a progress bar right away, and throughout the checkout process. A progress bar tells your customers that the purchase process is fast and simple, and it helps them determine where they are in the checkout process.
TeeFury uses a simple 3-step progress bar right on their cart page.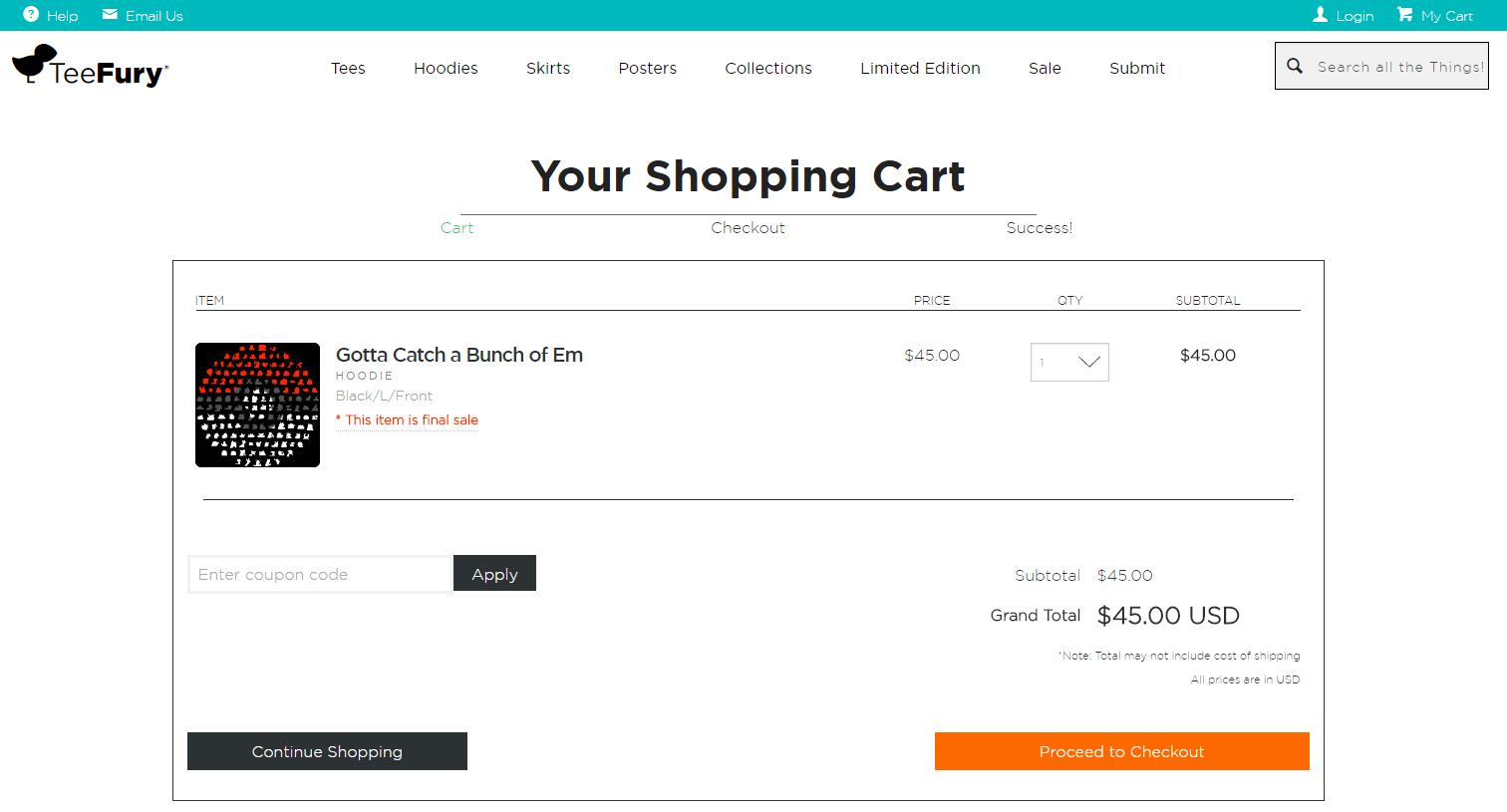 Here's another example from John Lewis which provides more information about their four-step checkout process – this progress bar can only be seen after clicking on the "Checkout" button.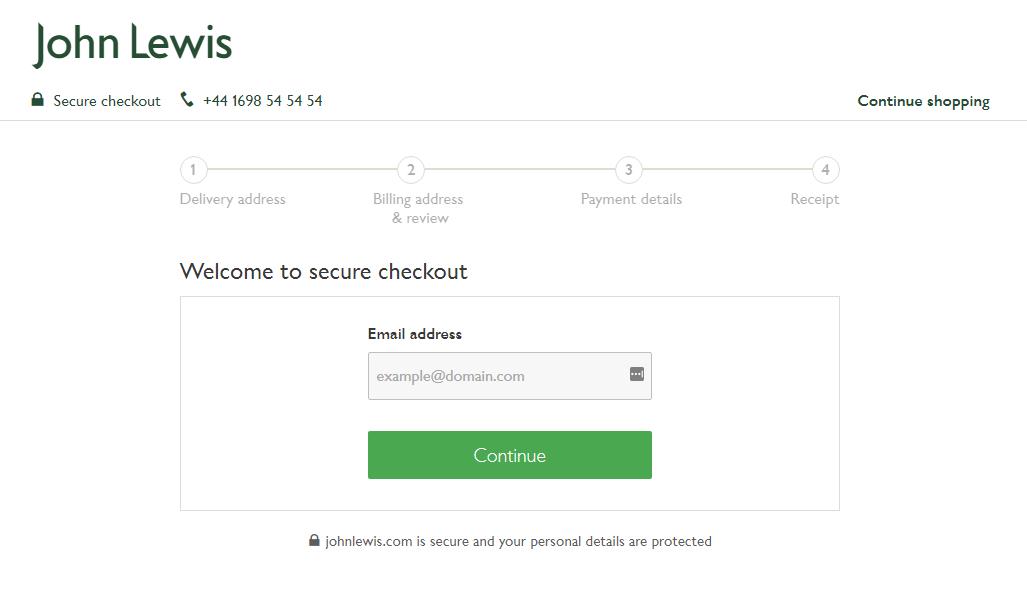 16. Allow visitors to enter coupon codes
Be careful when using promotional codes on your cart page. Before including this field, make sure any available deals, discounts or coupons are prominently displayed in your online store. Otherwise, your customers may not complete their purchase if they start to look for coupon codes, but can't find a discount.
It may sound like a small detail, but it was proven by this study to have an impact on shopping cart abandonment.
Here's an example from SmartHome that shows the coupon code field on their cart page: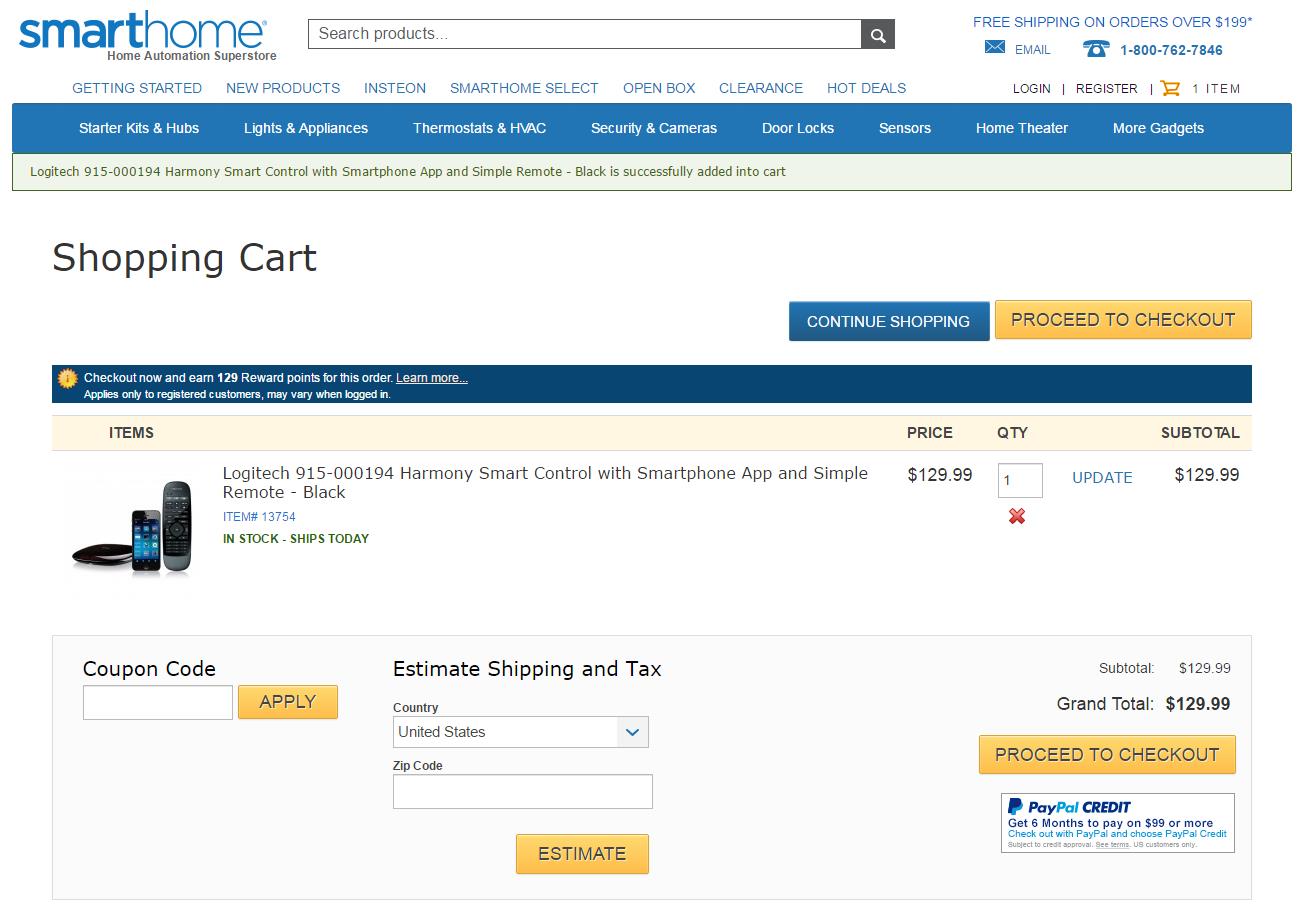 17. Show the amount of savings for any sales or discounts
When visitors add a product on sale to their cart, they like to see the amount they are saving. The easiest way to do this is by displaying the original and the discounted price at the same time on the cart page – like PotteryBarn does on their cart page.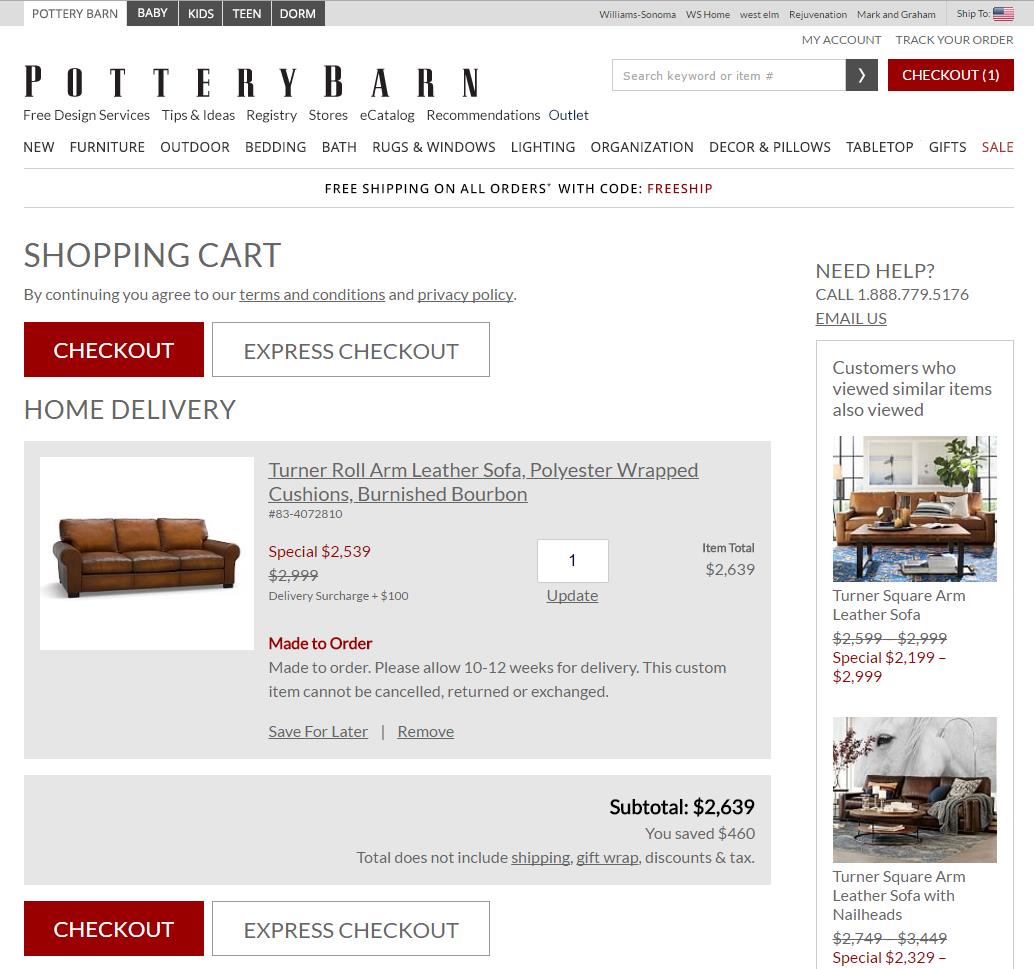 However, it's more effective to display the exact amount a visitor saves with the deal. eBay says "You are saving US $18.00 off the list price of your items".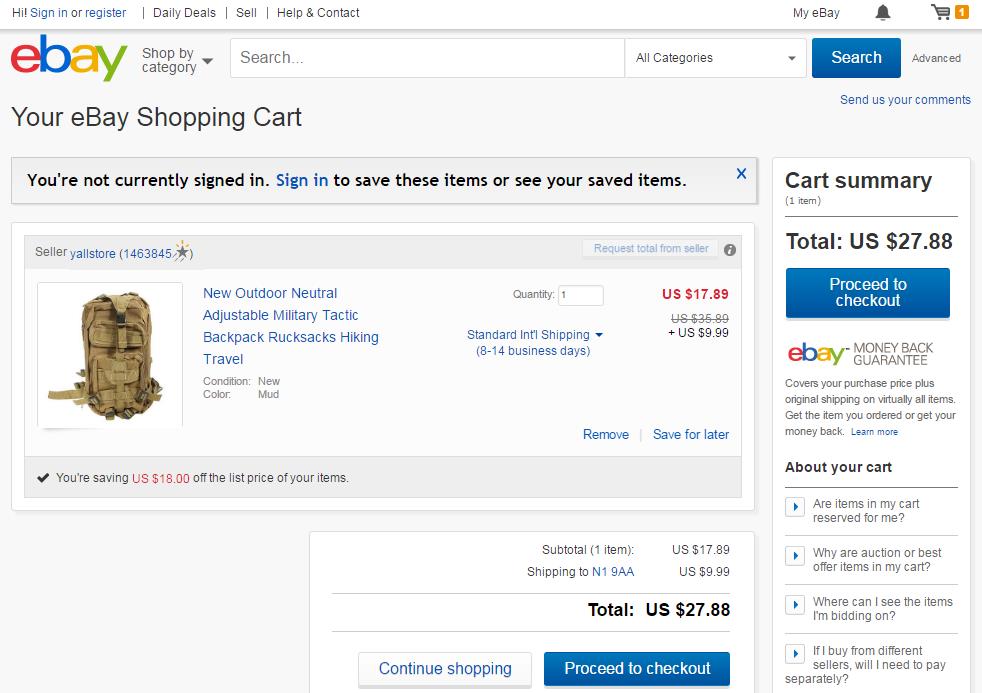 18. Provide freebies (product samples, promotional items, gifts, etc.)
You can encourage your customers to finish the checkout process by providing some free bonuses to increase the value of their purchase. The Body Shop offers the option of a free product sample to their buyers.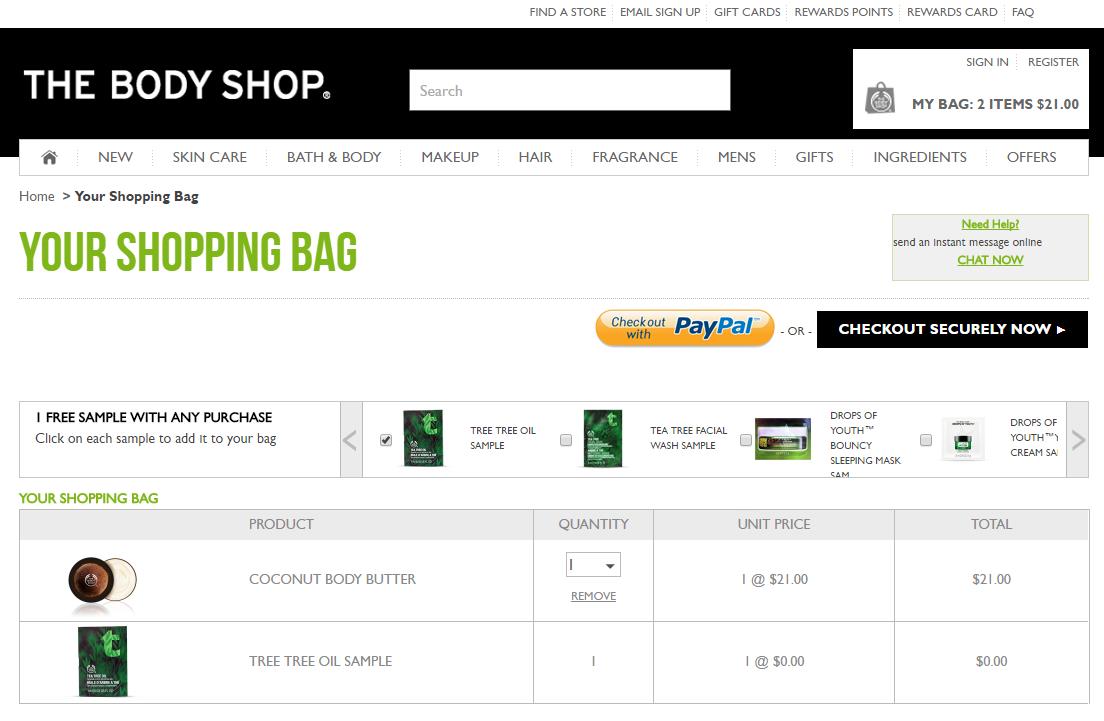 You can even use limitations to make sure the deal is profitable for your store. For instance, you can offer free items an incentive, but only when the visitor spends a certain amount. This is what ULINE does on their cart page. They include a message that tells buyers how much they need to spend to receive a free item. Plus, they limit the offer to one free item per order.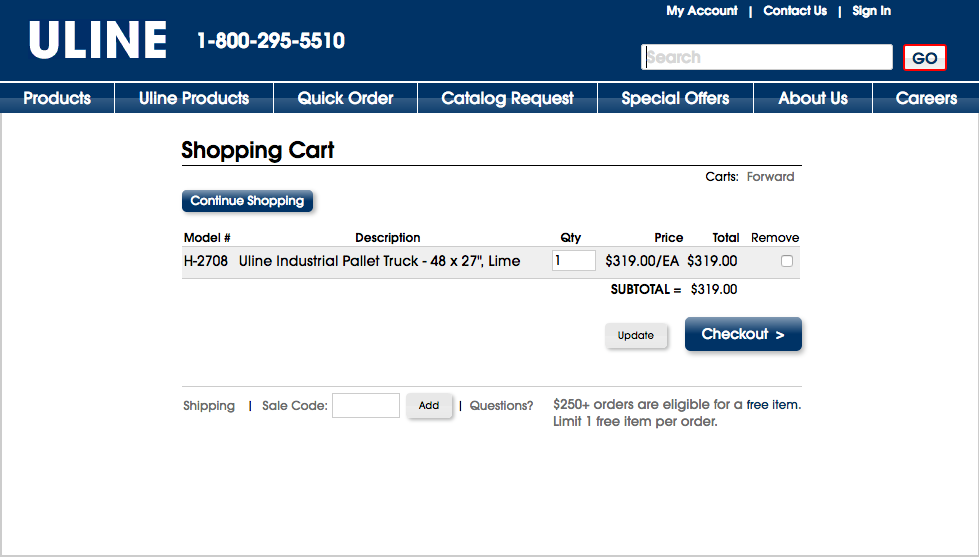 19. Increase the sense of urgency
There are several techniques to increase the sense of urgency, and they can be used effectively throughout your whole site. The cart page is the most important place to increase urgency in buyers and is often overlooked, don't forget to add countdown timers, limited stock notices, and other features increasing the sense of urgency here as well. TicketMaster's countdown timer on their checkout page increases the sense of urgency that buyers must purchase their tickets immediately or risk "losing their place in line".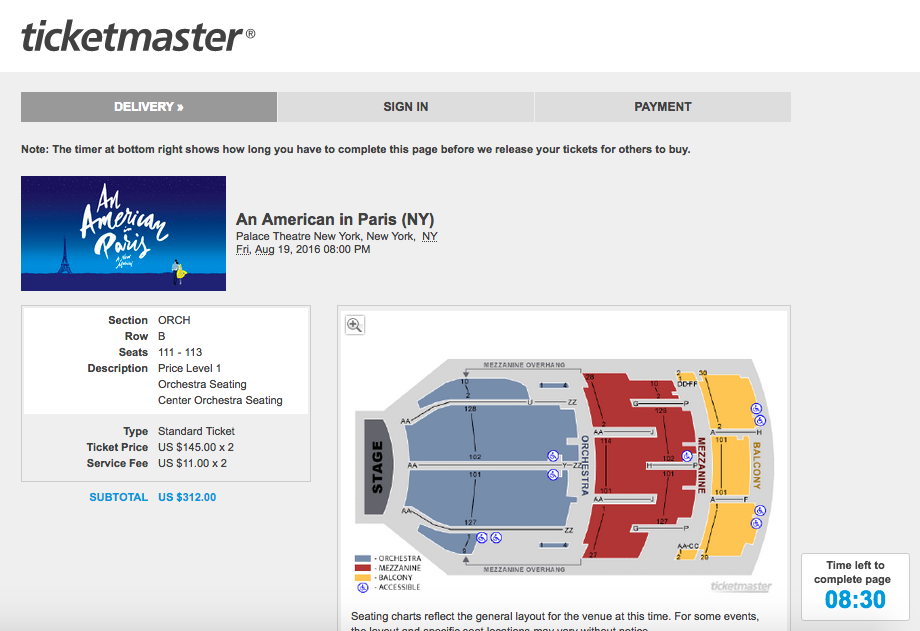 Of course, tickets to some events are sold out very quickly, however, TicketMaster uses this same countdown timer to increase the urgency for events that may not sell out. You can use the same approach with limited stock, and even time-limited discount offers on your site.
20. Use loyalty and rewards programs
Loyalty and rewards programs are another great way to encourage buyers to complete their purchases. If you have a loyalty or VIP program, you should display how many points the customer can gain with their current purchase. Here's an example from Sephora for their "Beauty Insider Program".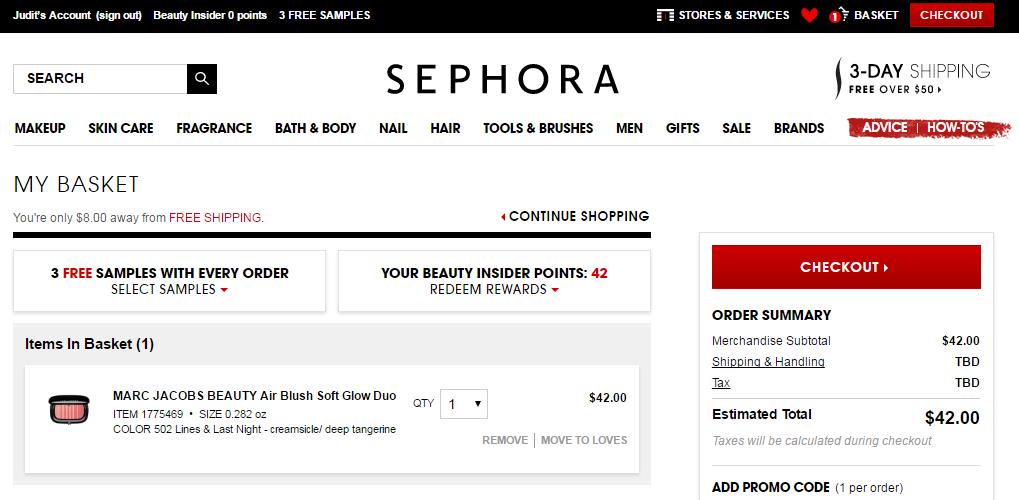 Amazon's solution is another great example where they promote the benefits of signing up for their "Prime" VIP program which includes special discounts.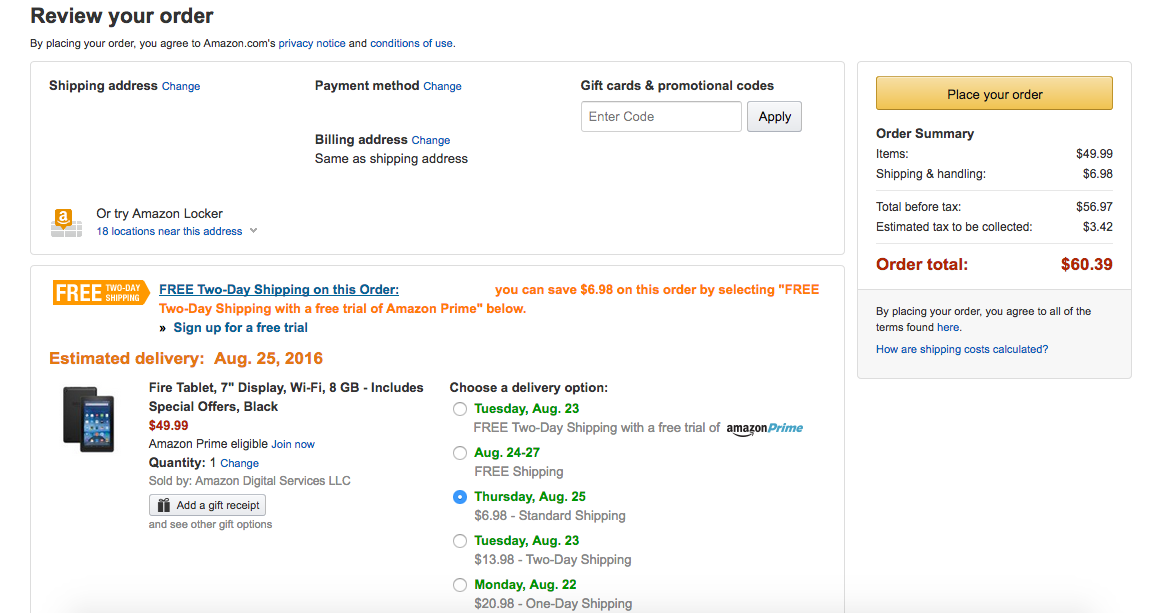 21. Use proactive product recommendations
Your cart page is an excellent place to recommend additional products. You can show similar products, supplementary items (cross-selling) or you can suggest products or add-ons that increase the value of the purchase (upselling).
Eileen Fisher recommends supplementary products (a bag and scarf) that match the style of the item added to the cart (a poncho). It's a smart upselling solution for a fashion retailer.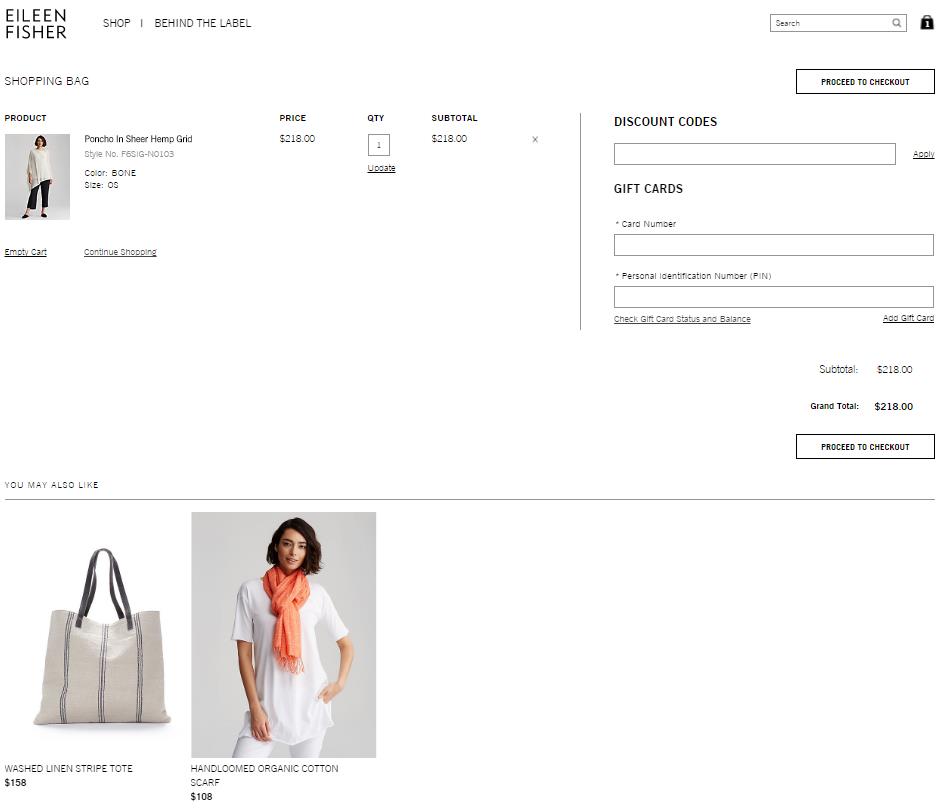 22. Highlight your warranty and return policy
Not knowing whether a product can be returned is one of the most common reasons for shopping cart abandonment.
To ensure your buyers stay in the checkout process, emphasize your return policy on your cart page so buyers know they can send the product back if they don't like it.
BestBuy uses an eye-catching pictogram under their cart content that shows they offer easy returns. After clicking on the link, a new window pops up containing detailed information on their return policy.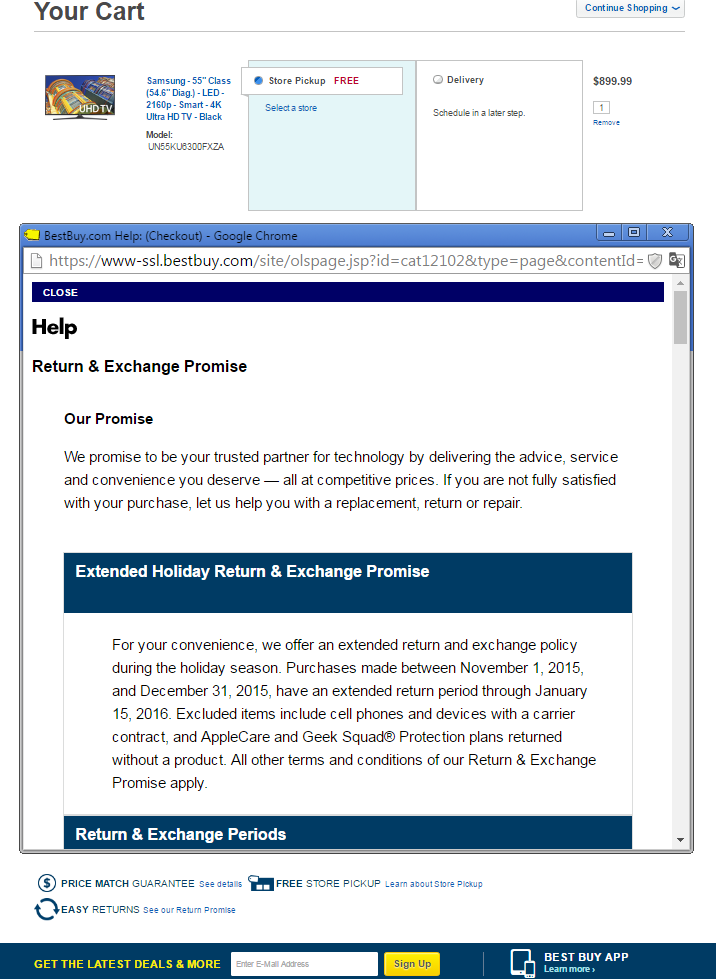 23. Use onsite retargeting before visitors leave your site
The first step you can take is proactive, to prevent visitors from leaving your site in the first place. You can recover a significant percentage of abandoning visitors by using onsite retargeting. Creating a well-timed popup that appears when a visitor is about to leave your site allows you to save lost customers and their carts. Zooji's exit-intent popup is a good example that appears to visitors leaving the site and offers an 8% discount to encourage them to complete their purchase.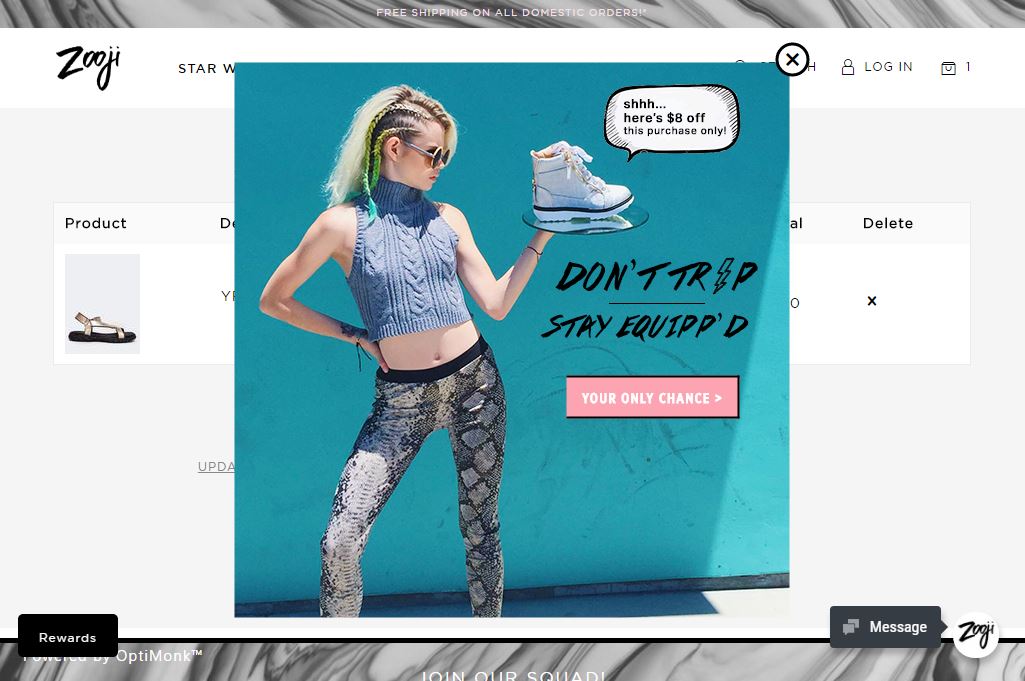 Onsite retargeting is another opportunity where you can increase the sense of urgency for buyers on your site. Using countdown timers and limited-time offers is a great way to improve the success of your re-engagement efforts.
Here's a great example from BootCuffsSocks.com.
Their cart abandonment popup provides a 10% discount. To raise the sense of urgency, their offer is only available for the next 15 minutes – and the countdown timer in their cart abandonment popup highlights it well.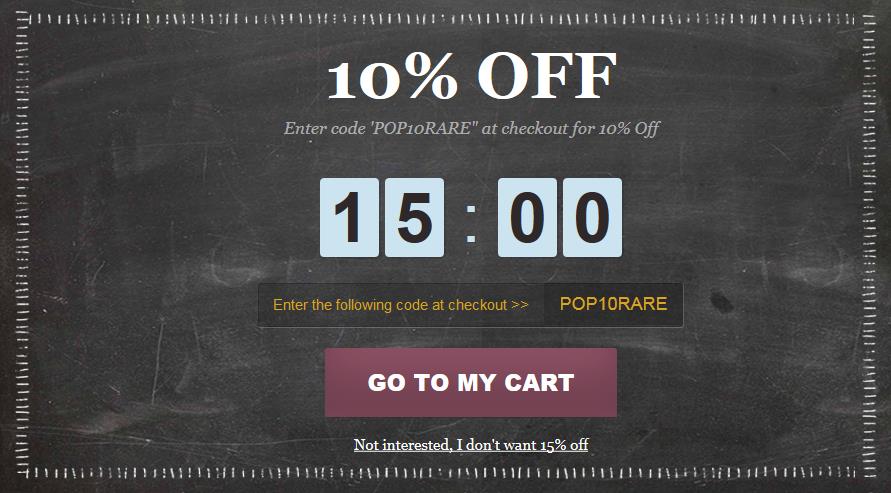 (Note: Do you know OptiMonk? It provides a powerful onsite retargeting solution that helps you convert up to 15% of abandoning visitors to sales and leads. Let's give it a try. Click here and create your free OptiMonk account now.)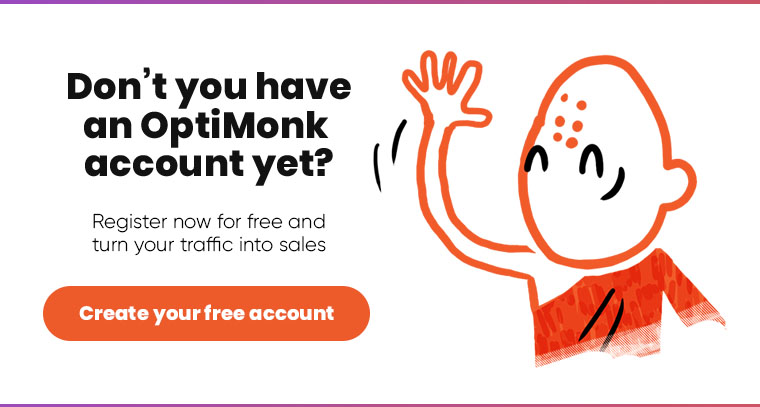 24. Use offsite remarketing after visitors leave your site
After a visitor leaves your site, you still have a chance to get them back. Unlike onsite retargeting which shows a popup while a visitor is still on your site, traditional remarketing occurs off of your site and could be called "offsite retargeting" or "offsite remarketing".
The most popular remarketing solutions, Facebook and Google Ads, target visitors with your ads while they are checking their newsfeed, reading their email, or browsing other websites.
Red Balloon's Facebook ad is a good example of how to retarget past visitors who have left items in their carts. In addition to reminding them about their abandoned carts, the ad also offers a discount to convince visitors to return to the site and complete their purchase.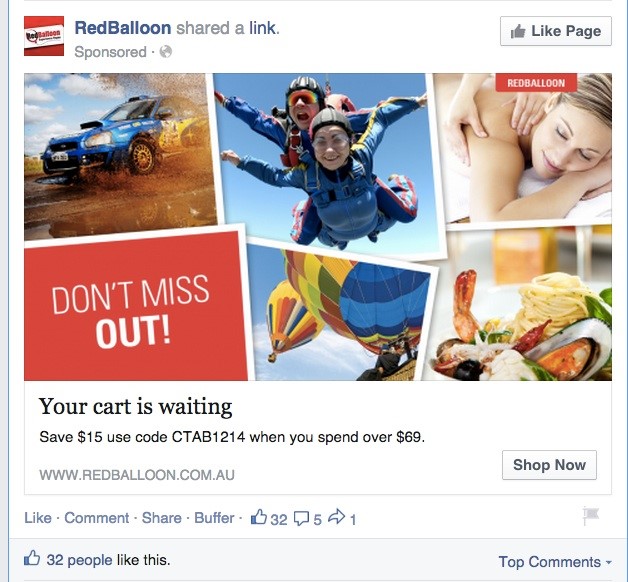 25. Use email recovery after visitors leave your site
Another great way to convince buyers to return to your site is to email them after they leave with items in their cart. You can set up an email automation process that automatically emails past visitors about the items that they've left in their cart and persuades them to finish the checkout process.
Like onsite retargeting and offsite remarketing, you can improve the success of your cart recovery emails by including an incentive for buyers to complete their purchases. This can be a discount, coupon, or free shipping.
Kate Spade uses a 15% discount in their cart recovery email to convince visitors to complete their purchase.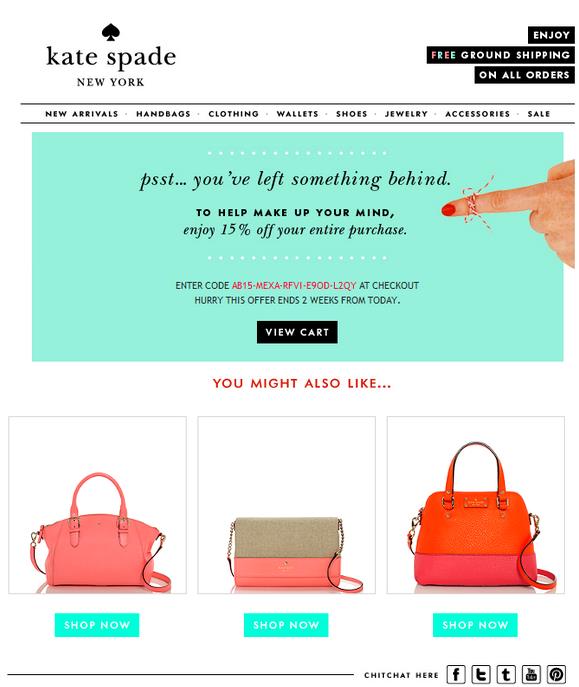 As we've seen, people abandon their cart for many reasons – despite all your best efforts to sell great products at great prices. That's why you can't afford to ignore your shopping cart abandonment rate. With nearly 70% of visitors abandoning their carts in the average online store, improving your ability to keep these buyers in checkout can significantly improve the performance of your online store.
Setting up ecommerce reporting with Google Analytics allows you to find out how high your cart abandonment rate is. Whether your store's performance is above or below the average rate, you should work continuously to keep your buyers at checkout. It's vital to your success.
Thankfully, there are some powerful ways you can reduce cart abandonment. We looked at 25 tips from some of the best online stores in the world, including how to:
make your shipping and paying process more transparent
optimize your cart page
optimize the user experience for your visitors
use incentives to persuade buyers
retarget visitors before and after they abandon their cart
While you may not be able to use all 25 tips right away, work to improve your store in areas where it needs the most attention, and build an email list to follow up with your visitors after they leave your site.