With the 2020 summer season putting us in an unprecedented circumstance, it's important for brands to find different ways to engage with their customers and make the most out of a rather slower period using SMS.
We've talked about SMS marketing before – the novice and still unsaturated channel, which gives merchants the opportunity to scale their business with its 100% deliverability, unheard of 99% open rate and click-through rate of above 35%.
Putting this aside though, what makes SMS the perfect channel to adopt for your summer marketing campaigns?
Think about it: It's well known that consumer behavior changes with the seasons. As the weather gets warmer, people are more likely to be outside and less likely to stay indoors, despite the current global situation.
In terms of marketing, summer means a slump in desktop usage, but stable mobile consumption.
Led by the belief (and first-hand experience) that brands need to be where their customers are, it's safe to say that targeting your customers on the devices they are using with appropriate seasonal offerings is crucial for the success of your business.
And what better way to reach your customers on their phones than SMS?!
Like we already said, SMS will always reach its recipient, it's direct and gives you the opportunity to personalize copy, images and offers so they appeal to the individual needs and wants of your customers.
Not to mention – conversational and brief nature of SMS allows shoppers to read your entire message without even unlocking their screen, making its content easy to digest and retain.
Remember: a short message doesn't mean less powerful, especially in today's fast-paced world with busy consumers juggling between a number of different communication channels. Its brevity is what makes SMS an attention-grabber!
Let's find out how you can use SMS to connect with your customers, entice them with good deals and boost sales.
Summertime: grow your SMS subscribers & get to know them better!
In order to be able to text prospects, you first need to have them opt-in for your SMS marketing services.
Laws on that are pretty strict, but that doesn't necessarily mean you can't make subscribing a truly enriching experience. And even give incentives to inspire potential subscribers and turn them into an engaged customer base – the foundation of all successful marketing strategies, regardless of the channel.
For any text marketing enthusiast, the first step to expanding your SMS subscriber base is through checkout. Because your customers are now one step away from completing their order, they would be more interested to receive offers from you in the future as well, and thus – more prone to provide you with their phone number.
Look at how one of SMSBump's users Sand & Sky takes advantage of this little space at checkout to generate subscribers with just one click.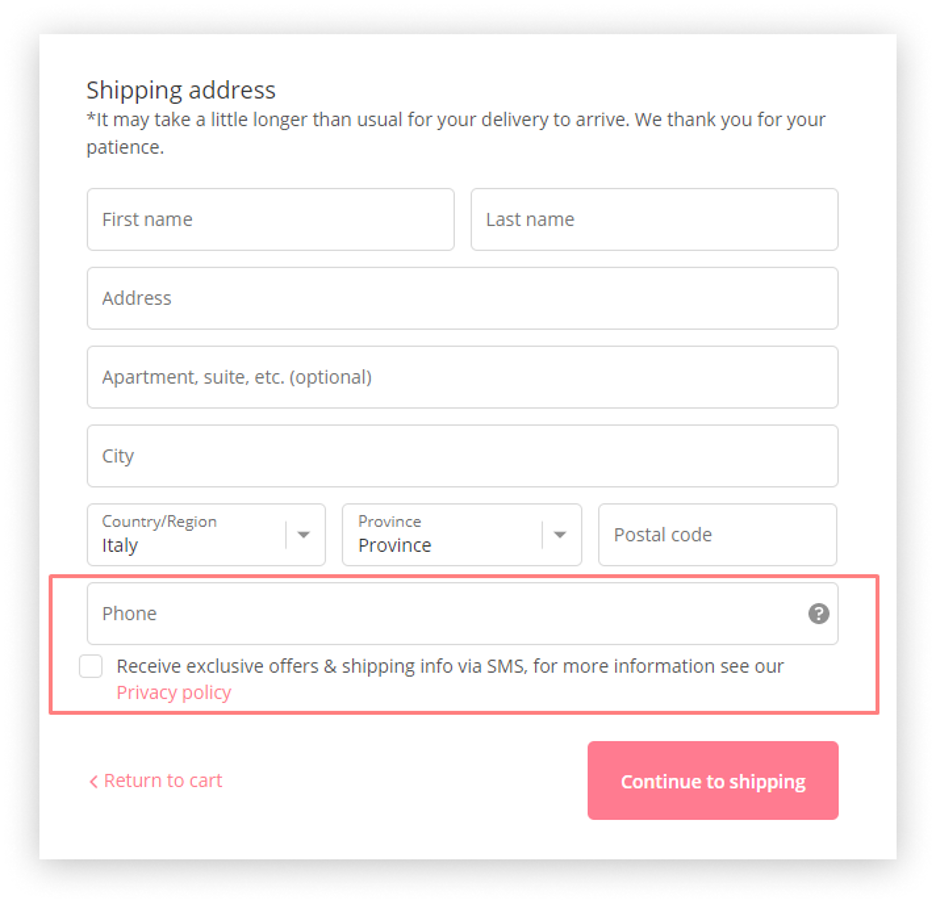 From here on out, it's important to keep an ongoing conversation with your new subscribers, making them feel welcomed at your store and opening the door to a purchase.
What better way to do that than ask them what they are most interested in shopping for, and send them relevant offers based on their response. And do so via SMS, where it would be easy for them to access their special promotions and move forward to make a purchase.
At this point, you might be wondering how you can do that without dedicating a support team of a 100 people to take care of all of your customers individually. Not to worry – with SMSBump you can even automate this process, and only spend a couple of minutes setting it up.
One of the latest features is Conversational Flows, which essentially allow you to ask customers relevant questions and have them text you back their answer via keywords. Every reply will trigger a different follow up message, allowing you to start a meaningful and entertaining two-way conversation with your customers on autopilot. Perfect for the summer, right?
Each flow will then send them a link to a relevant product or collection, personalizing their experience with your brand to the tee.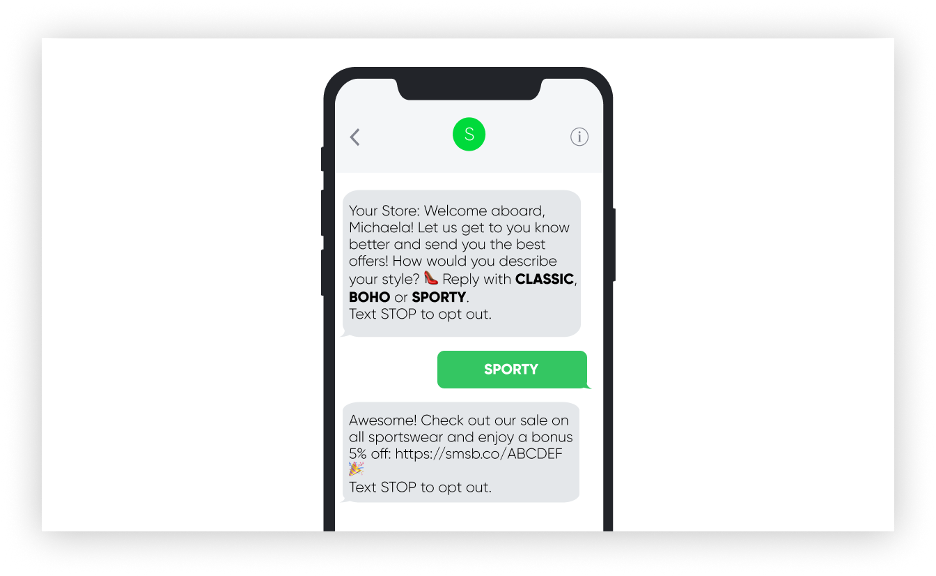 This step is the natural continuation of your checkout opt-in as it gives your subscribers the feeling that you aim to offer the best experience and deals that will truly speak to them, right from the get-go.
Besides checkout subscribers, though, you can use flows to continue the conversation with all other subscribers, coming from different sources.
If you look at our integration with OptiMonk, you have at least one additional way to gather more opt-ins. Popups – one of the most effective ways to collect subscribers! Here's an example where one of the fastest-growing Shopify stores offers an incentive to its visitors in exchange for their phone number.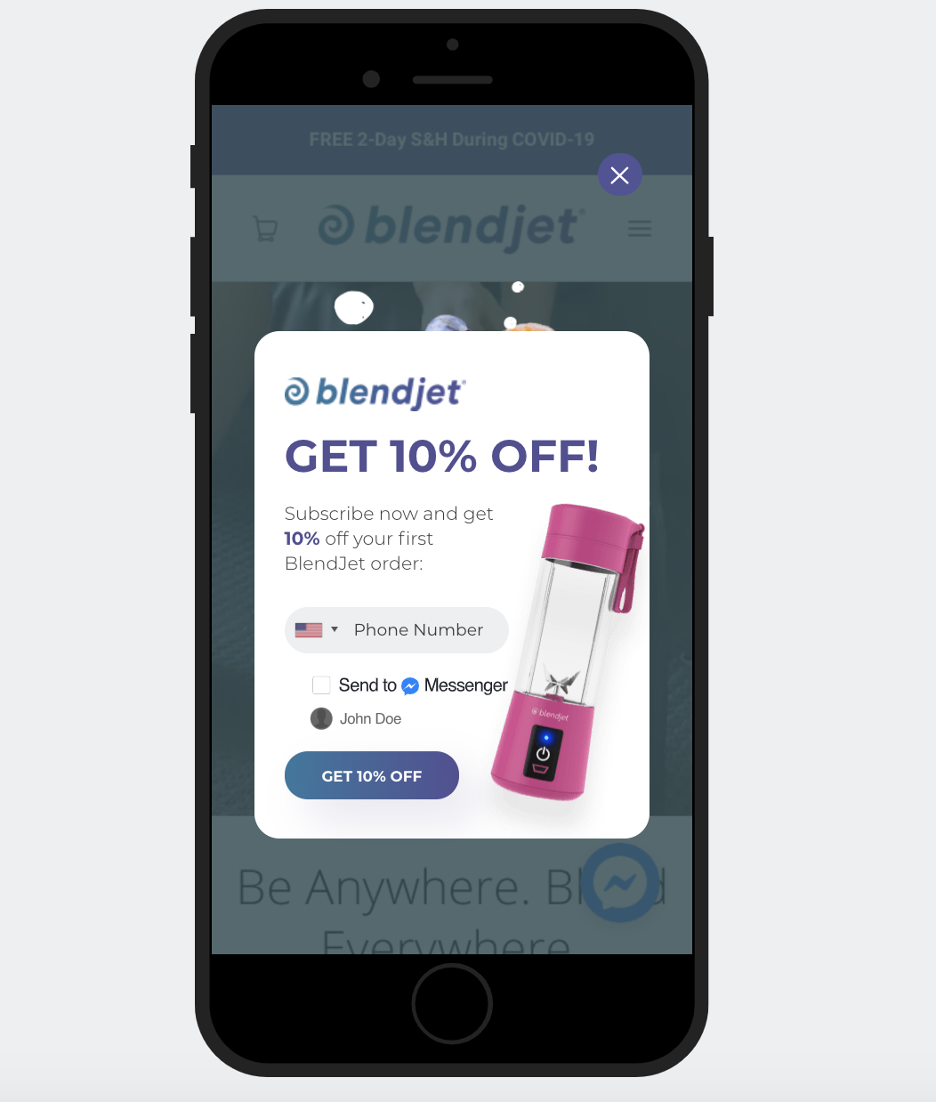 No matter how much you decide to experiment with your subscriptions processes, your next step should always be to keep the conversation going.
Ride the Summer Holiday Wave
Who says you need a special occasion to have a special sale?! Still, themed promotions do much better, especially if you team them with some witty copy to convey the mood of that particular holiday.
Although it might not seem that way, summertime is filled with small, but exciting holidays that could easily turn into celebrations and a reason for you to contact your subscribers with some sweet offers.
Just as an example, August is packed with "holidays" that you act as your sales boosters. Literally every day next month is dedicated to a certain something – International Cat Day (Aug. 8), National Book Lovers Day (Aug. 9), International Youth Day (Aug. 12) and many more.
The point is: the summer months present all merchants, no matter the niche, with an opportunity to find new audiences and customers, and make some additional profit.
Are you a make-up brand looking to clean up some inventory – send an SMS campaign to your lady subscribers with a BOGO offer on lipsticks for the International Sisters Day.
Or are you in the sweets business – celebrate National Chocolate-Chip Cookie Day with your text subscribers and invite them to your physical locations to enjoy your heavenly goods at a bundle price.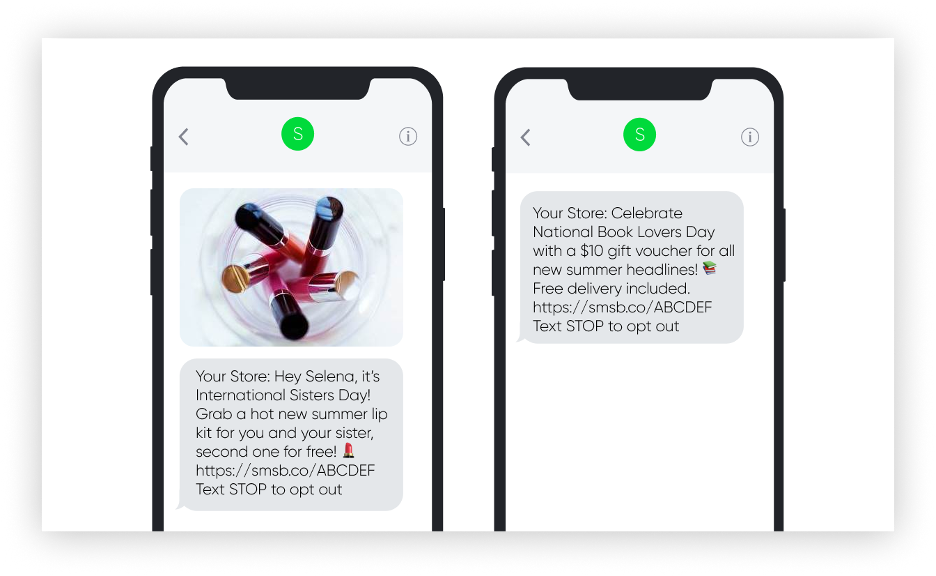 While you can always find a reason to text your customers, make sure to never overdo it.
SMS is a very personal channel and subscribers who have provided you with their phone numbers expect to only be contacted when your brand has something of real value for them.
So plan your August campaign so it is relevant to the type of business you run, tailor your promotions and don't forget to benefit from these fun viral holidays, and make an impression with your out-of-the-box marketing efforts.
Now that you've decided to definitely celebrate National Everything Day, let's see how you can give your text messages a vivid personality and make them shine!
Give Your Offers Some Hot Summer Flare
Spicing up your SMS promotions will surely help you stay ahead of the competition this summer. Since you have limited time to make a good first impression on your customers (and get them to spend a few more minutes in your e-store, as opposed to in the pool) giving your text messages a zing is essential to turn it into a successful conversion tool.
One of the most effective ways to grab your customers' attention quickly is by emphasizing that your offer has a time constraint and/or will only last until your inventory does.
This way you are both tapping in on their fear of missing out and implying that they should act quickly so they don't let your special promo slip through their fingers.
A call to action such as "Hurry! We're running out of…", "Offer ends in 24 hours", "Grab yours now with a X discount" etc. will stir up their intrigue and will be an additional trigger for your customers tо make a direct purchase.
Another popular summer campaign you can successfully carry out via SMS is the Flash Sale. At times of slow sales, a flash sale can act as a hype generator around a product that you have an abundance of, driving customers to instantly buy it.
To flare it up some more, use wording such as "12-hour everything-must-go sale…", "Mid-summer Clearance", "Today only", Shop fast" etc. and have customers running for your offers.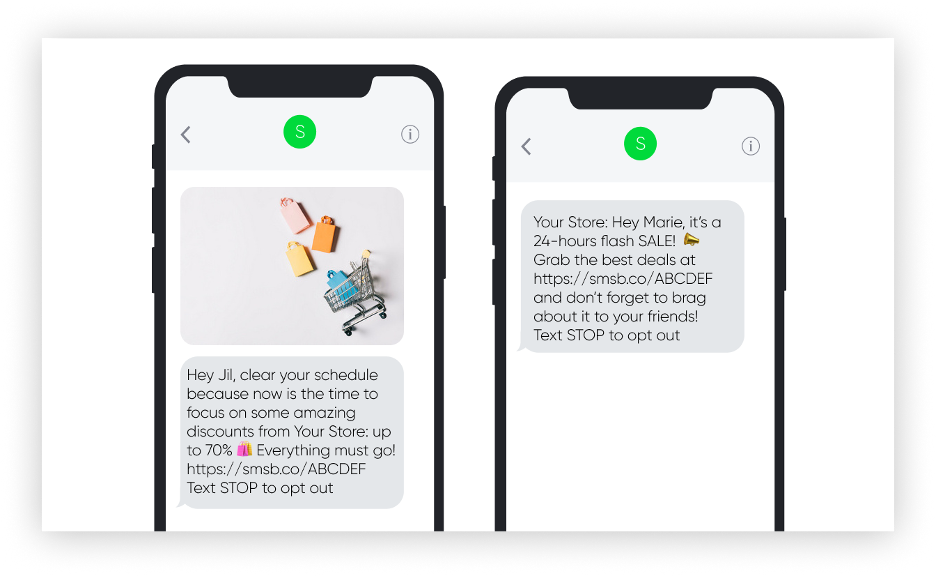 Making such a bold move (with a bold discount) will give your customers a good reason to choose your store for their summer shopping.
But besides such nudging factors and marketing tricks, people respond even better to freebies. With small freebies you hold the power in your hands that can turn your customer into a real brand ambassador and share their insight of your brand with the world.
Small Gifts for a Big "Thumbs Up"
Summertime is also the best time to think in advance and gear up your store for the upcoming hectic Q4, when every merchant is for themselves, vigorously looking to attract customers and beat the competition.
One of the most important deciding factors for people looking to purchase from an unknown store, is social proof.
Investing in getting reviews, comments and feedback is what will ultimately help your brand stand out and make more sales over the next few months. And what's the easiest way to get somebody to share their thoughts with you – make them feel appreciated and know their feedback is valuable to you.
Adding an additional touch-point such as a "Thank you" card with every purchase, a small gift, or a personalized physical coupon code could be your way to win their hearts.
Or if you are more of a fan of digital appreciation, you can simply set an automated SMS flow so that every time customers make a purchase, they will be greeted by a kind thank you message and a discount code for their next purchase.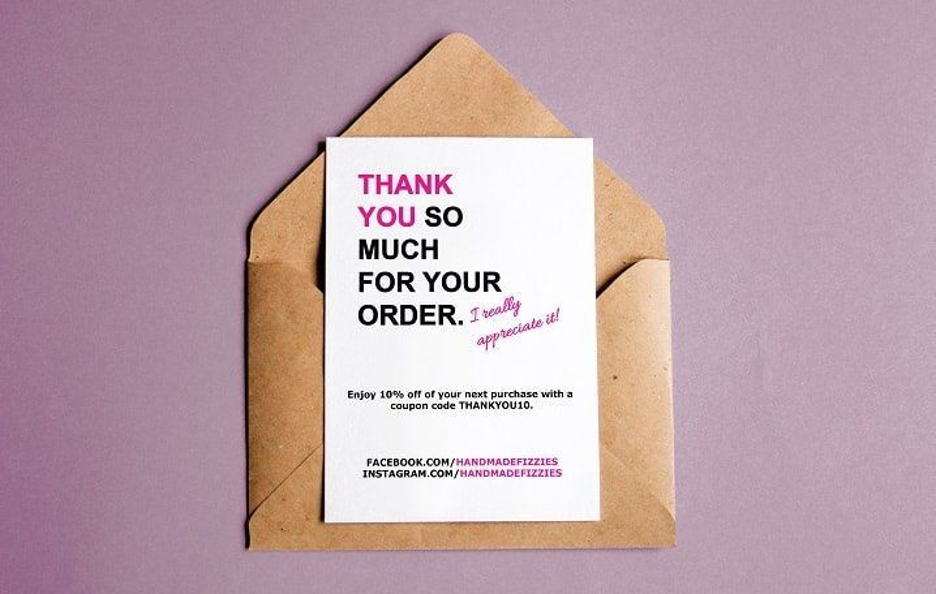 Source: Pinterest
This will inspire them to share their amazing experience at your store with their friends and family, spread the word about your brand, turning from just "customers" into loyal advocates.
SMS to Rock Your Summer Sales!
The versatile applications of SMS make this channel a must-have for any brand looking to maintain a close relationship with their customers with a 1-on-1 conversation.
As we discussed above, you can use SMS marketing to essentially build your entire sales funnel – from gathering subscribers, through sending them offers, making sales, all the way to establishing a relationship with them and turning them into loyal brand followers, bringing you sustainable growth. Start today!