You're probably already using email marketing to deliver messages to your customers. But have you considered SMS marketing? It's a powerful strategy that deserves to be at the top of the list as a tool to reach people. 
In fact, 66% of consumers prefer to use text messages to talk to businesses, and 85% of consumers would actually reply.
Clearly, people view texting as an easy and convenient way to interact with brands and ecommerce stores.
In this post, we'll go over the ins and outs of SMS marketing to boost your sales and improve customer experience. 
Let's get started! 
6 reasons to use SMS marketing campaigns in ecommerce
Let's start by looking at 6 reasons why you should be using SMS marketing for your ecommerce store.
1. It reaches a broad group of consumers
SMS marketing has a broad reach because 92% of smartphone users still text, despite having access to Instant Messaging apps (IM).
This means that you can reach several demographics through the same campaign. Young or old, zoomer or boomer, everyone uses SMS.
2. It's personal and engaging
SMS marketing provides an incredible opportunity to generate customer engagement. An SMS has a remarkable 99% open rate, in sharp contrast to emails, which are only opened between 12%-25% of the time.
Furthermore, a text message feels more personal—it's more like a conversation with a friend than a transactional message. The bare-bones nature of text messaging is what keeps it authentic, practical, and appealing.
3. It's efficient for customer service
Text messages reduce the number of customer service calls.
Written text messages are shorter and take less time to write than emails. Customers can send a quick text message when it's convenient for them. Businesses can even respond in real-time.
You can start a text message conversation, and shift to a call only if—and when—needed. In contrast to live chat or email, texting automatically provides real contact info.
4. It's an extension of mobile-friendly ecommerce
Did you know that 71% of orders on Shopify come from mobile? Furthermore, 61% of Google search traffic is now mobile.
When you send SMS marketing messages, you're engaging your customers on their mobile devices and directing them to your mobile website where they're likely to decide to make a purchase.
5. Younger customers love receiving (and sending) messages
Text messages are the best way to get to your younger customers who use their phones on a daily basis.
91% of teens with cell phones actively text and 58% of teens list texting as their preferred communication method. And adults who are in the age range of 18-24 send and receive over 128 text messages every day.
6. It creates trust
When buying from an unfamiliar store, customers feel uncertain: Is the store credible? Is it trustworthy? This uncertainty can prevent your potential customers from taking action.
Text messages allow ecommerce businesses to overcome the virtual barrier, helping customers feel listened to, respected, and—ultimately—closer to your brand. And this is exactly what builds the trust required to close a transaction.
The benefits of SMS messages in ecommerce
With SMS marketing campaigns, you can expect the following benefits for your ecommerce store:
An increase in the value of latent traffic (potential buyers are 2-3 times more likely to reach out)

Less shopping

cart abandonment

More feedback and reviews

A larger list (with a conversion rate 2-4 times higher than email)

Less time and money spent on customer support

Increased customer satisfaction

The ability to automate customer conversations with a chatbot

Direct marketing with IM ads on Facebook Messenger, Kik, Line, and other platforms
It might surprise you to hear that an SMS strategy isn't limited to your existing customers who have already provided their phone numbers.
In our own study, we found that 35.5% of customer messages were from shoppers who hadn't added anything to their cart, while another 15.5% were from shoppers stuck at checkout.
This means over 50% of messages were from customers who haven't made a purchase yet and needed a quick and easy way to reach out. These "almost conversions" represent significant potential revenue if you use SMS to make your business "reachable."
How to get started with SMS marketing
Ready to incorporate SMS marketing as part of your strategy? 
Getting started is simple if you plan your first steps carefully. Here's how to do it right:
1. Decide on your SMS priorities
You don't have to start using all the different types of text message campaigns immediately. Instead, think about where SMS marketing could make the biggest impact. 
If you're having trouble promoting special events and sales through email marketing, perhaps you should start there. Or you might feel that you need more customer feedback, so sending out SMS surveys could be a good place to begin.
2. Define your success metrics
As with any project, it's important to set goals for your text message campaigns so you can track your progress. These goals are most effective if they're specific: define exactly how much you want to increase customer satisfaction or set the exact number of customers you'd like to join your SMS list. 
By having clear goals, you'll make it easy for your team to stay on target and continue to improve your SMS marketing strategy.
3. Decide on engagement channels and plan your engagement strategy
Text messaging is the most universal form of messaging. While it may be the "baseline," your strategy really depends on your audience. Some demographics might prefer to be contacted via Facebook Messenger instead of SMS.
When we tested SMS vs. Facebook Messenger in the US, over 80% of customers preferred texting. However, your customer base might be different, so it's important to conduct your own version of this research.
4. Find a great tool
Select an SMS tool for maintaining your list and automatically sending texts. Giving your employees the capability to text (and reply to texts) at scale means that they can focus on content rather than worrying about compliance issues, spammers, and list management.
There are lots of SMS tools on the market that make running SMS campaigns nearly effortless, like Klaviyo, SMSBump, PostScript, and Attentive.
5. Start growing your SMS list
You have your goals and priorities in place, and you've chosen a great tool. Now it's time to start growing your SMS subscriber base.
Popups are one of the best ways to collect your customer's phone number and grow your SMS list while staying compliant.
Popups work much better than simple opt-in forms on your site because they allow you to target visitors based on their behavior. This way, you'll only reach the people who are ready to see your message.
Here are a couple of amazing SMS List Builder templates to get started: 
If you'd like to take list building a step further and use a tested and proven popup strategy that generated $281K extra revenue for Biktrix, check out this great example.
First, they presented a beautifully designed popup offering a mystery discount for new customers in exchange for an email address. This was the "hook."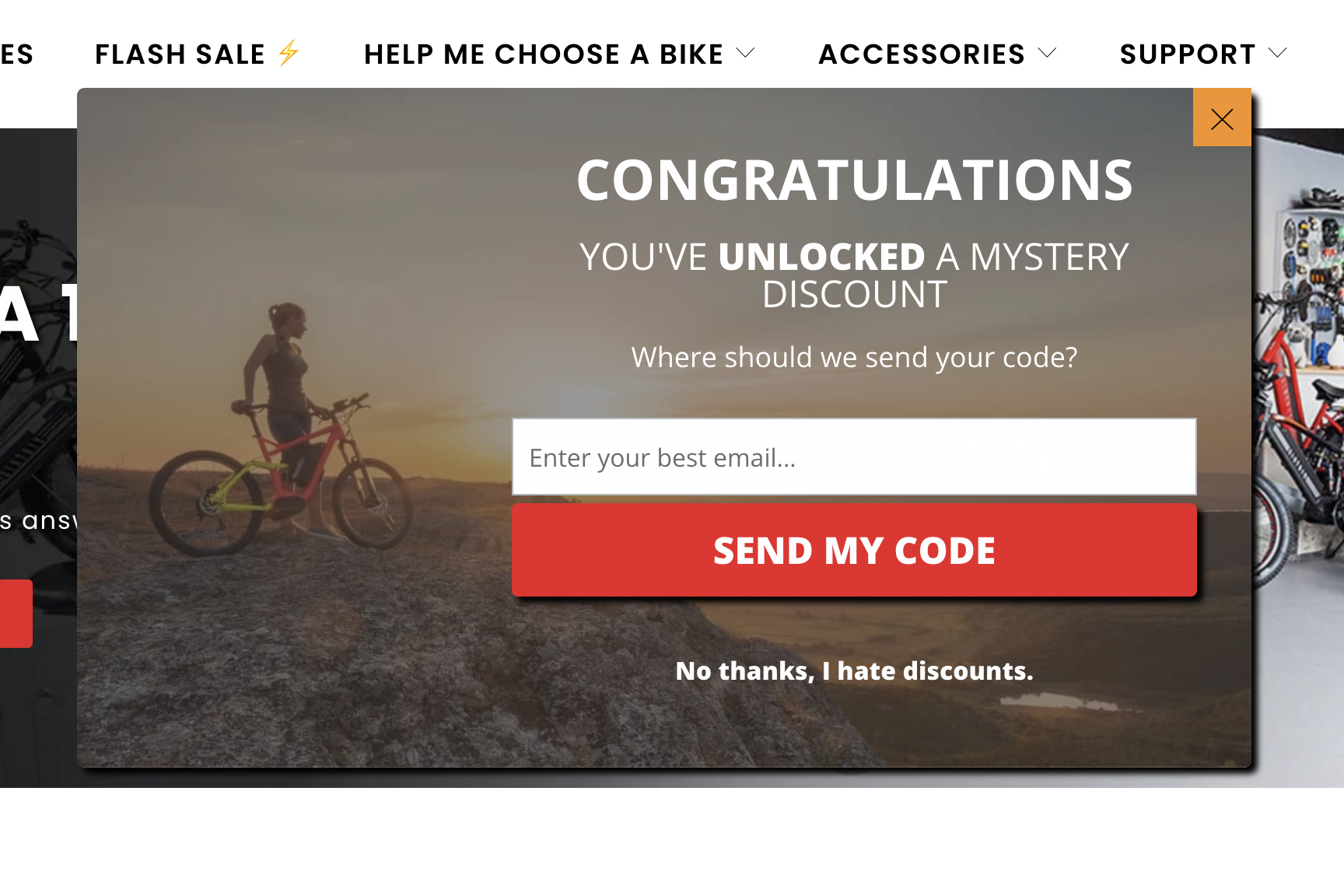 After people subscribed with their email address on the first screen of the popup, the Biktrix team took advantage of the good mindset visitors were in (after all, they're happy they've secured their discount) and displayed the second page of the popup. 
Here, they encouraged customers to double the discount by subscribing to their SMS list.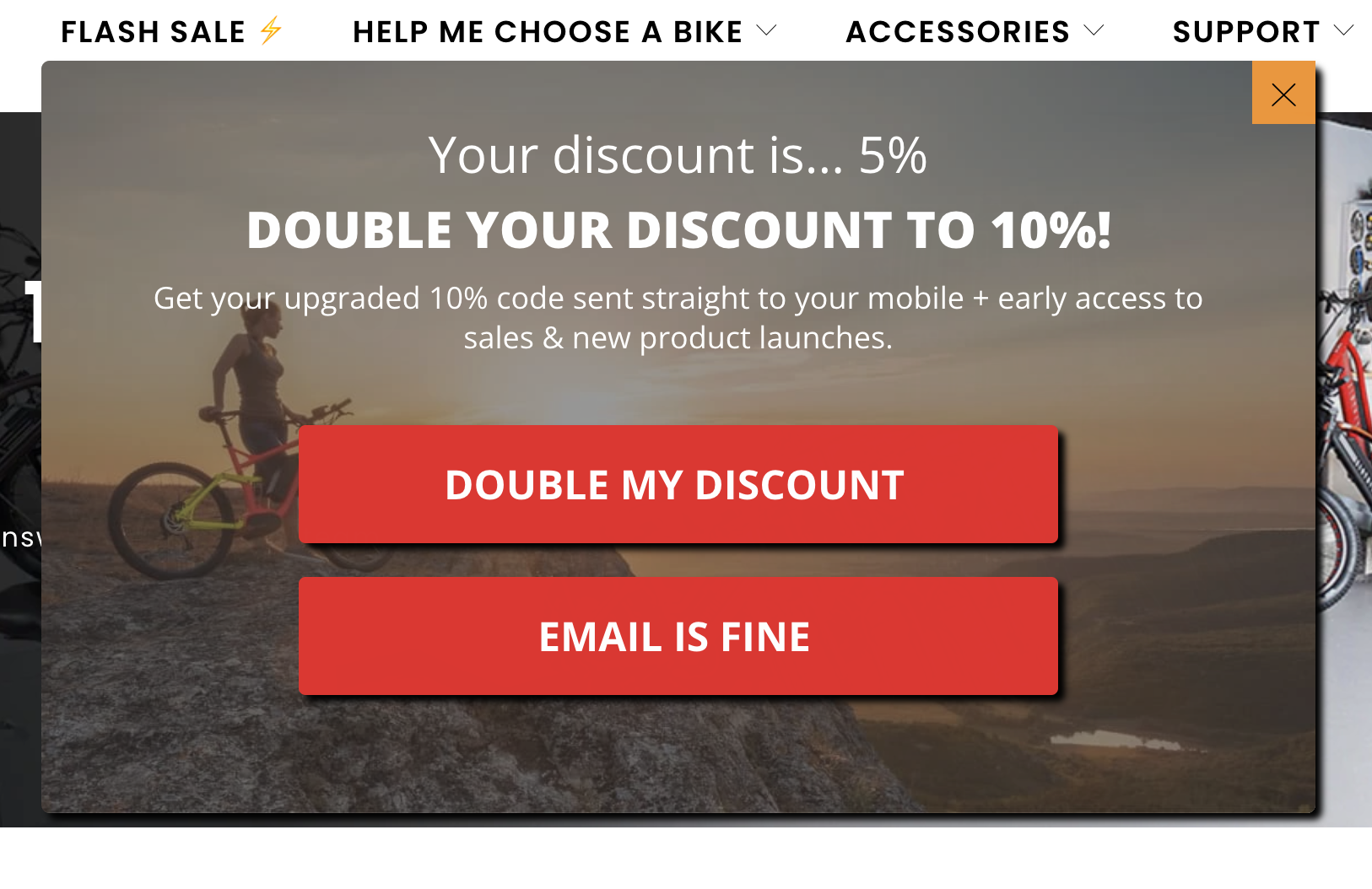 After clicking on the "Double my discount" button, the third page of the popup appeared where visitors could provide their phone numbers.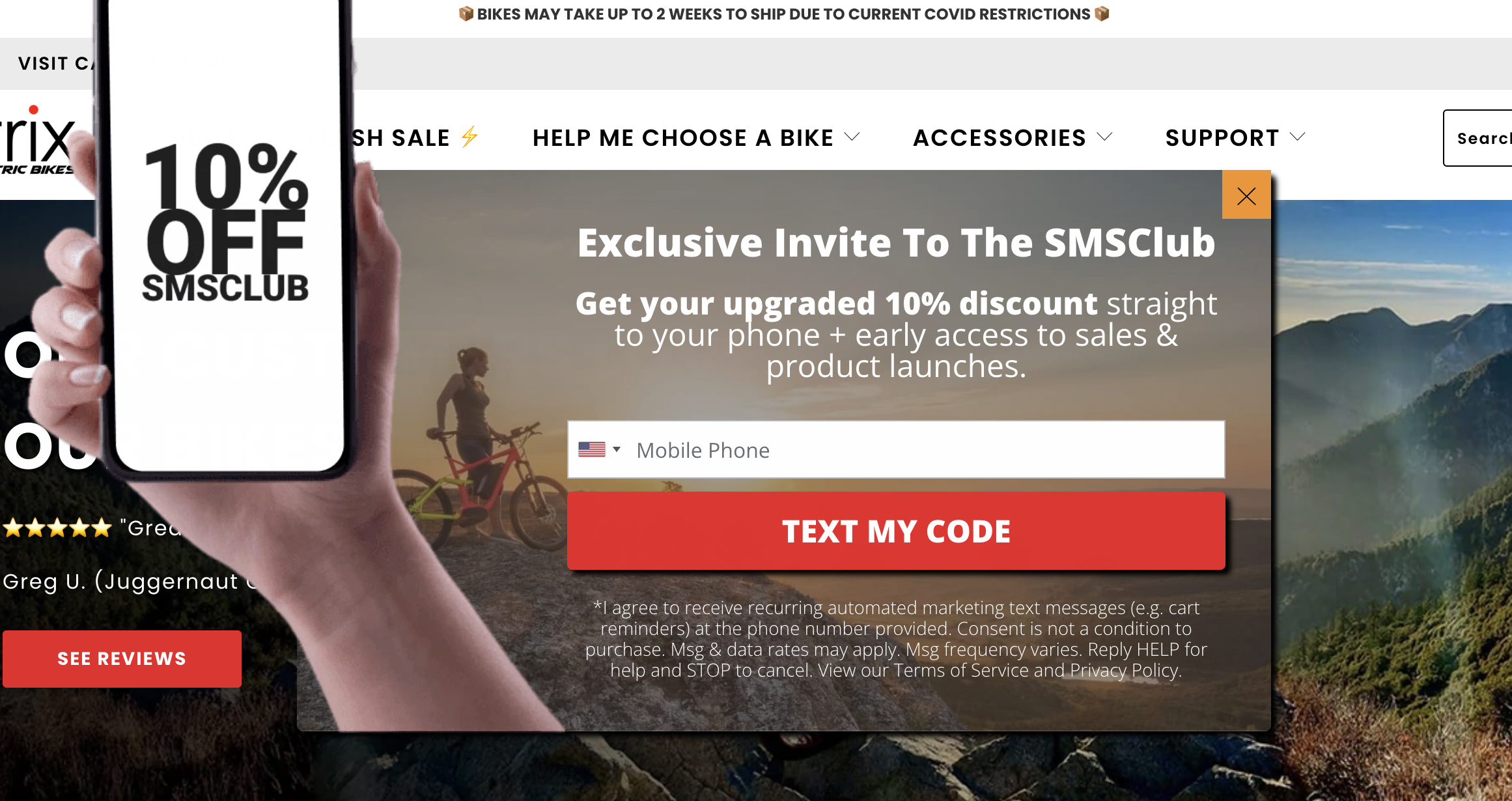 Now you might wonder: why collect email addresses in the first place if phone numbers are the real goal?
First, email is a valuable nurturing channel in the long term, and it's one you don't want to neglect. Second, the team discovered that they could collect more SMS subscribers if they started by asking for an email. This opened the gates for SMS marketing.
Note: If you'd like to "steal" Biktrix's strategy and achieve similar results, watch Jason K Williamson's free training where he will openly reveal this brand new method that helped him to acquire customers at dirt cheap prices.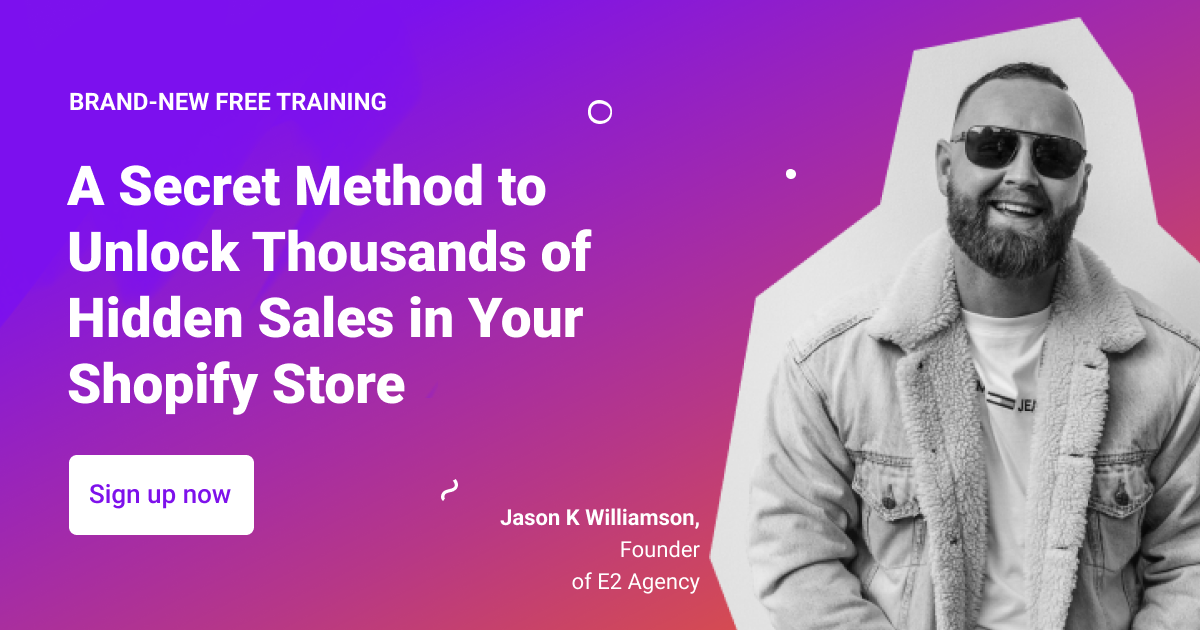 Another great way to grow your SMS marketing list is to add a checkbox to your checkout page. 
Here's an example: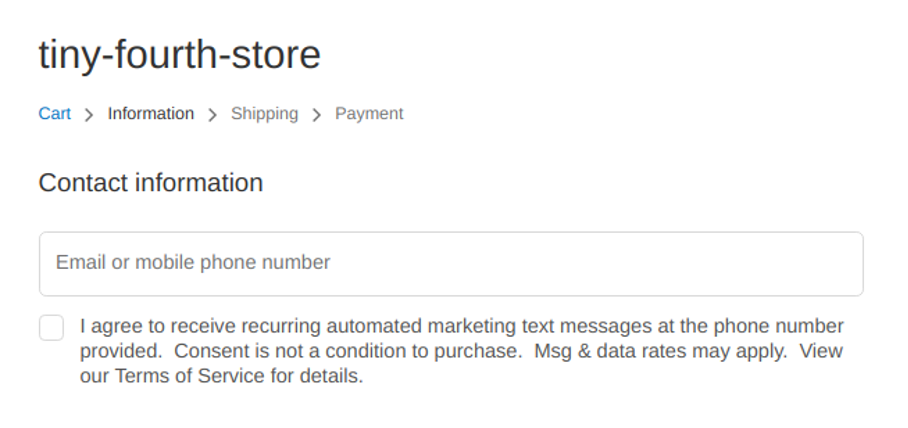 12 tips to get the most out of your SMS marketing strategy
Now let's check out some important best practices and key insights to ensure your SMS marketing efforts succeed.
1. You need to be accessible everywhere, but never intrusive
There's a fine line between subtly letting your customers know you're there for them and distracting them with information that they don't need (which is one of the surest ways to compromise the customer experience).
After multiple iterations, we settled on displaying our text messaging widget as a bar that sits at either the bottom (on mobile) or side (on desktop) of the webpage. 
The key is that it's always present, meaning the customer doesn't have to scroll or look around. At the same time, the positioning of our phone number doesn't get in the way.
On mobile, clicking the texting widget opens the customer's texting app: no need to remember a number! Our design is all about simplicity and ease of use for the customer.
Another option is to have a button on your website that automatically opens the texting app. 
2. Customize how you present your texting option to customers
Change your prompts to say "text or call." Placing "text" first encourages less costly texting over calling. 
It's a good idea to tell customers about your texting option in your newsletter, emails, and receipts. You can even add an image, like the one below, to your thank you note or review request that comes with the product.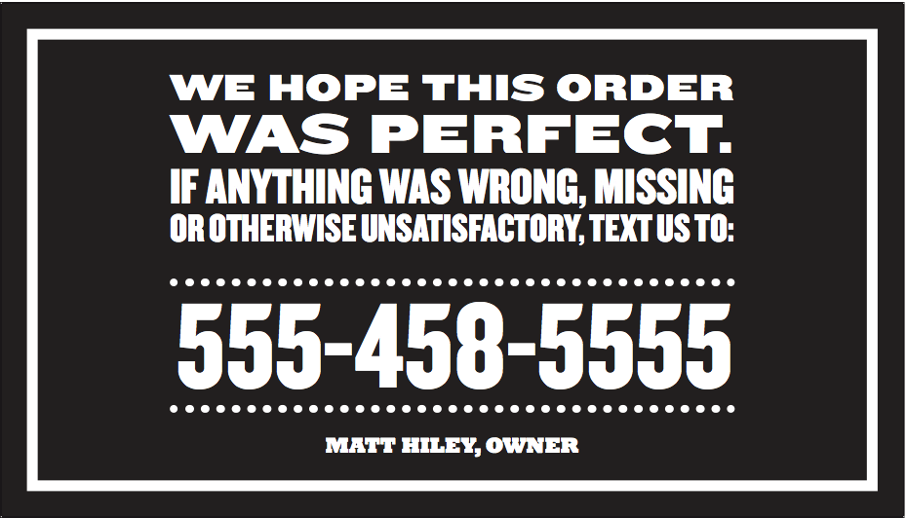 This note prevented several returns, resulted in some great reviews, and some customers reached out to rave about the product. For example: "YES! This order was perfect. This is THE look I needed."
3. Setting the right customer expectations is key
When someone sends a text, they expect it to be answered quickly. But don't worry if you don't have the resources to reply as soon as you receive SMS messages. Just set up an auto-reply that says "We will respond to you by…". 
Even if they have to wait a few hours to hear back, this will increase customer satisfaction…as long as you keep your promise.
4. Adjust your current template responses for the texting environment
Message templates are great for consistency and speed, but they should not be more than 160-320 characters (1-2 texts). 
We recommended having two sets of templates: shorter for texts and regular length for emails (although brevity is always appreciated in emails, too).
5. Informal is better
Don't be afraid to use abbreviations, emoticons, etc. Stay authentic. We recommend setting an informal tone from your welcome messages. It helps establish your online store as a friendly presence from the start. 
6. Being in a customer's "Contacts" is priceless
The "Contacts" app on the customer's phone keeps your business at the top of their mind. This is especially important for ecommerce stores that rely on subscriptions and repeat purchases (for example, those in personal care). You want to position yourself as always available to care for your customers—they'll appreciate it. 
7. Position texting as an exclusive VIP offer
If you want to make SMS marketing more unique, you can create "exclusive SMS deals" for customers.
One of our customers (a cosmetics brand) achieved an 88% opt-in rate for their texting offers and 15% conversion rates for the offer itself when they extended text offers to VIPs only.
8. Resist the urge to automate everything with chatbots
Many brands have been embarrassed by chatbots that don't run smoothly, especially when they send out silly answers to customers. 
It's good to remember that SMS messages are powerful enough without having to jump to marketing automation before you're ready. When you do automate, start with a semi-automated suggestion chatbot before going into full SMS automation.
9. Send replies immediately or at lunchtime
If you're not replying immediately, it's best to send replies at lunchtime or towards the end of the day. Why? Because that's when people are more likely to have time to complete their purchase.
10. Don't build it yourself
The SMS marketing space evolves rapidly, and it's not worth developing your own system with internal engineers. Instead, take advantage of an SMS content marketing manager that comes with everything you need.
11. Texting is not just for millennials
Grandma does it, too! People 65 and older use SMS just as often as people in their 40s, and even more than people in their 50s. 
The reason: grandparents pick up texting because it's the best way to communicate with their grandchildren. Once they get the hang of it, they realize it's often better than calling, where they might have trouble hearing and get disconnected.
12. Don't forget to reply
This may seem obvious, but some ecommerce brands ignore this very basic concept. If you're not planning to reply, it's best to delay texting until you're ready.
Getting started with SMS ecommerce
Getting started with SMS marketing is easy. Just remember to respect your SMS subscribers and only send them messages that carry real value. And find a great tool to build your SMS subscriber list (OptiMonk is a great choice). 
If you can accomplish that, then your SMS strategy is off to a great start. As you build your list, you'll benefit more from having instant access to your customer's SMS inbox.
Start looking beyond email marketing and take advantage of SMS!
Adi Bittan is the co-founder & CEO of Owner Listens Inc. and IMpower.solutions. Since 2011, Owner Listens has been helping brands text and instant message with customers safely and at scale. Over 15,000 businesses have used Owner Listens to text and IM with customers, including brands like Man Crates, Stitch Fix, the SF 49ers, Philz Coffee, and the Better Business Bureau.