Are you struggling with customers leaving your Shopify store without completing their orders?
Don't worry, you're not alone.
Cart abandonment is consistently one of the biggest pain points for ecommerce store owners, and for good reason. The average cart abandonment rate is around 66.5%. That means three-quarters of visitors aren't completing their purchasing journey.
That's a lot of missed revenue. But why aren't visitors finishing their purchases?
The truth is cart abandonment is always going to happen, and sometimes it's for reasons outside of your control. But there are a few ways you can reduce cart abandonment with the help of exit-intent popups.
And we're going to show you how you can do this in your Shopify store. Let's get started.
Would you like to see more cart abandonment popup examples? Get our free swipe file and get inspired by 22 examples.
What is an exit-intent popup?
Exit-intent popups use specialized technology that tracks your visitors' behavior and mouse movements, looking at how they interact on your Shopify store.
That data is used to accurately predict when a visitor intends to leave the page. And when they try to leave, your popup appears moments before they bounce.
You can use exit-intent popups to grab your visitor's attention before they leave. This gives you the opportunity to persuade on-the-fence customers to complete their purchase by enticing them with a discount or deal.
The right exit-intent popup can convert 25% of your abandoning visitors into subscribers and paying customers. Ready to learn how?
How you can stop cart abandonment with popups
Now that we've talked about the incredible value exit-intent popups have, let's look at how to use them. We've come up with 5 great popup strategies to help you reduce cart abandonment in your Shopify store.
1. Nudge visitors by offering free shipping
Did you know that shipping costs are one of the most common reasons for cart abandonment?
A 2021 Baymard survey found that a jaw-dropping 49% of customers abandon carts because of shipping costs and other hidden fees.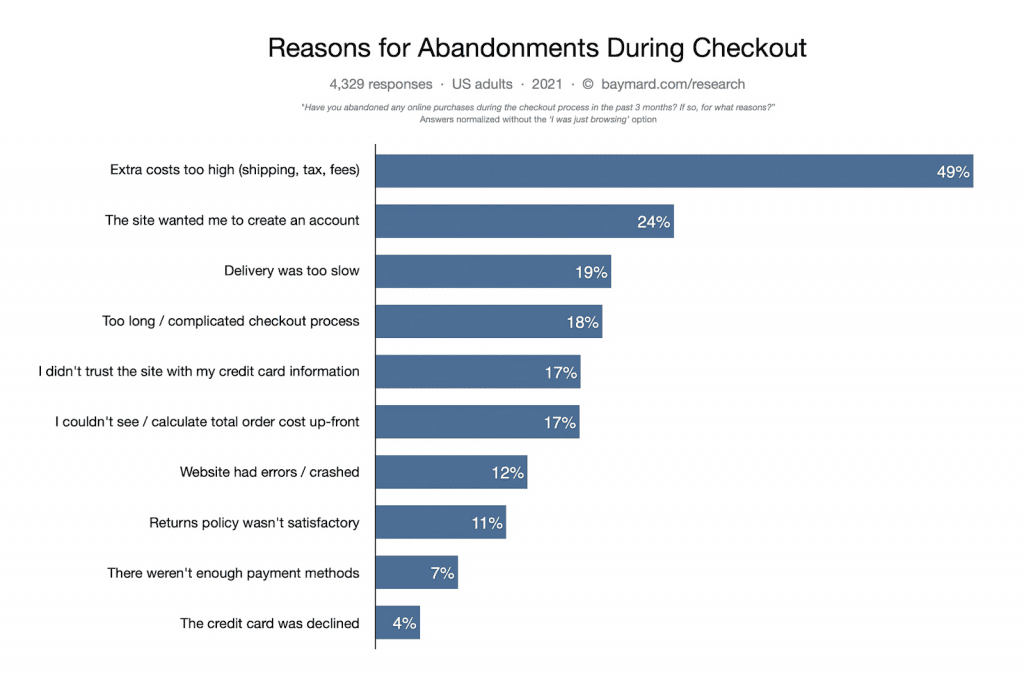 Source: Baymard Institute
You can recover some of those abandoned carts by offering free shipping on orders over a certain value.
Luxury furniture company, OKA, offered free shipping to anyone that spent more than £150 (approximately $207) on their site.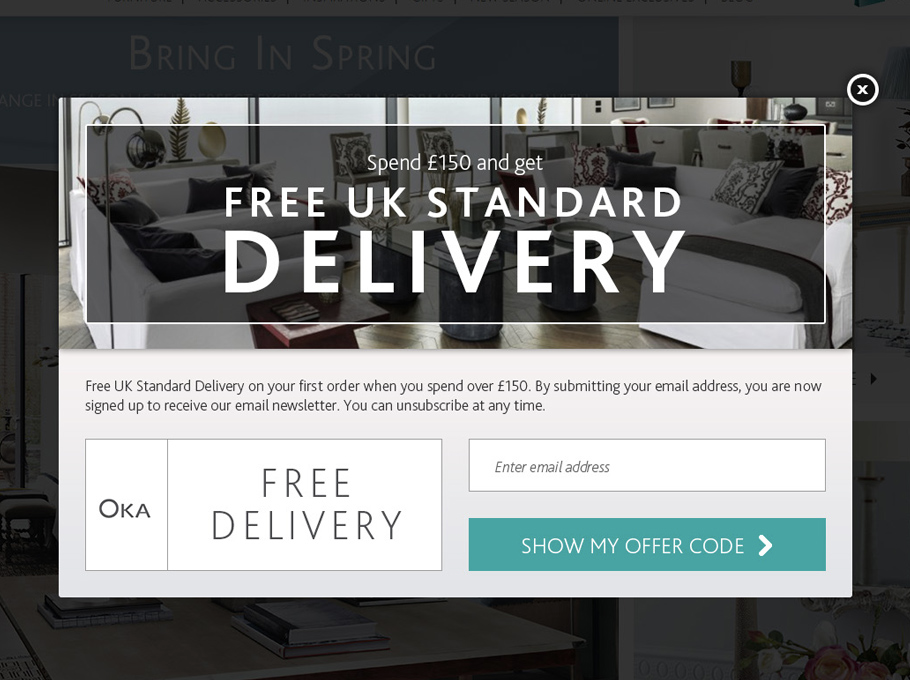 There are two reasons why we love this Shopify popup:
Cart abandoners who are put off by shipping costs and other hidden fees are encouraged to complete their purchases—and many will.

Setting a free shipping threshold encourages shoppers to spend more money at your store to qualify.
2. Promote a special offer right before visitors leave your website
Shoppers abandon carts for a variety of reasons. Sometimes it's triggered by an inconvenient checkout process, other times it's because they're simply not ready to spend money.
As we saw in the Baymard graph above, nearly half of customers abandon carts because of costs. You can recover some of those carts by offering customers a discount with an exit-intent popup.
All you have to do is offer customers an irresistible offer.
This cart abandonment popup speaks directly to the visitors' pain point, which increases your odds of completing the purchase.
3. Offer discounts for a limited time only
Everyone loves a good discount. But sometimes, you're going to need to give a little extra push to convert those visitors who're still shopping around. That's where urgency and a little bit of FOMO can help.
It's basic psychology. We like sales—and we really don't like missing out on something good. Offering customers a discount for a limited time only taps into that FOMO–the fear of missing out. This motivates customers to quickly complete their purchase so they don't lose their discount.
You can use the power of urgency to boost conversions by adding a countdown timer to your popup.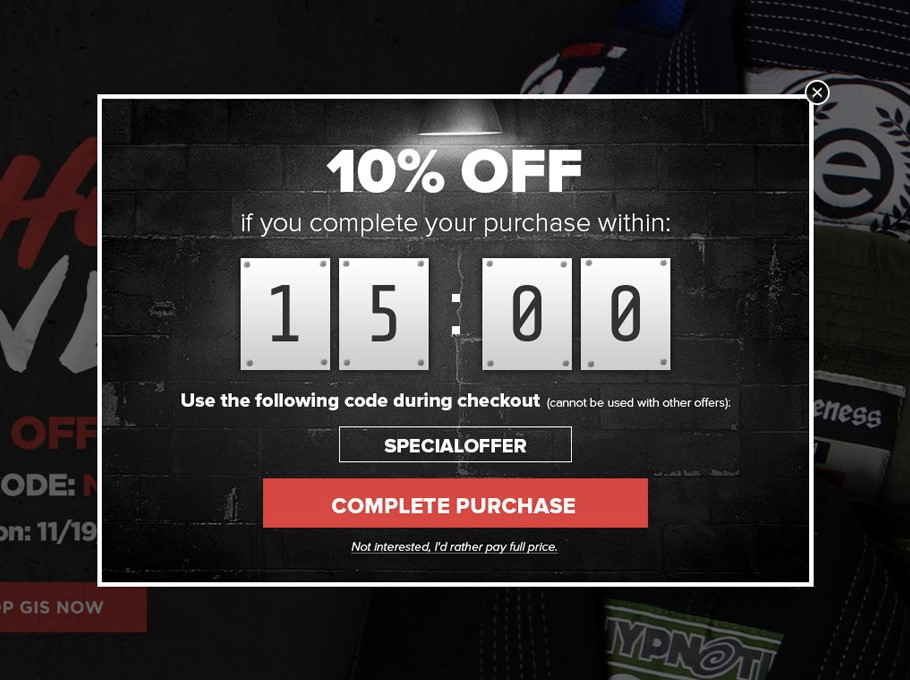 Offering a 10% discount incentivizes the purchase—because we all love a good deal. But it's ultimately the countdown timer that helps customers make their purchasing decision.
When you create a sense of urgency, you give on-the-fence customers that nudge they need to complete their buyer's journey.
Notice how the purpose of this popup is different than the previous one we showed? This type of popup focuses on driving sales by using urgency. The other popup focuses on growing your email list (alongside encouraging customers to complete their purchasing journey).
Protip: Get the attention of your visitors and increase your coupon usage rate even more by adding a sitewide sticky bar at the top of your ecommerce site.
The sticky bar appears as soon as visitors close your popup. That way, you can remind them of their coupon code and remaining time without interrupting their browsing experience with additional popup messages.
4. Offer gifts based on customers' cart value
What if there was a way to strengthen brand loyalty, increase customer spending, and reduce cart abandonment? This hat trick might sound difficult to pull off, but it's easier than you think. All you have to do is motivate customers with a small gift or free sample.
Here's how you can do it:
Set a spending threshold for gifts and samples

(e.g.,

If you sell cosmetics, give customers free makeup samples when they spend more than $150)

.
Create an exit-intent popup for cart abandoners that offers them a gift if they complete their purchase.
Increase customer spending by including a message like "You're almost there! Spent $4 more to get a gift!"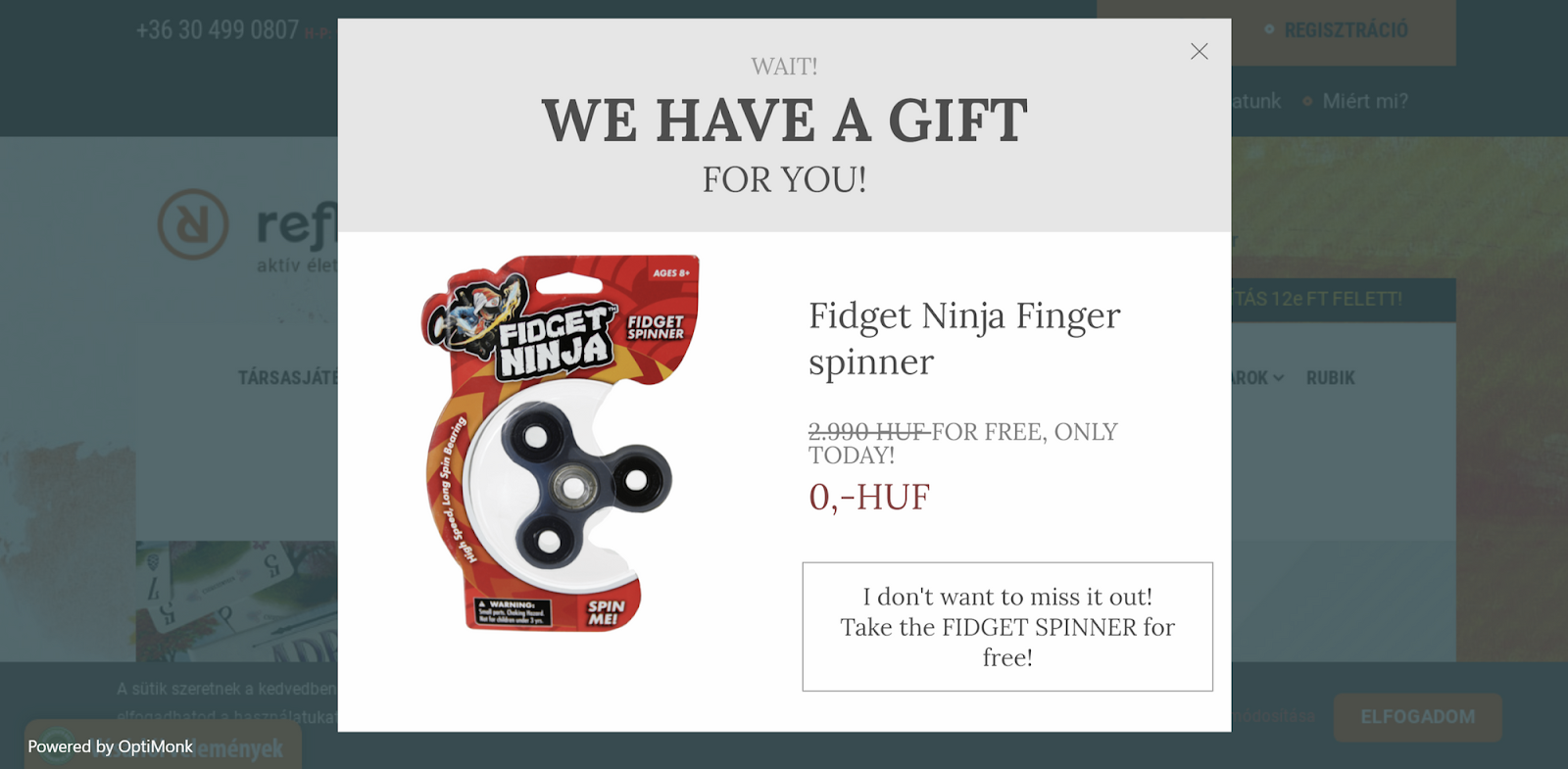 Rewarding customers with small gifts and samples doesn't just fight cart abandonment. It's also great for building brand loyalty. According to the 2021 Loyalty Barometer Report by Merkle, approximately 58% of customers believe offering small rewards is the most important thing brands can do to strengthen relationships and increase loyalty.
In other words, that small gift might be the thing that turns your one-time customer into a lifelong supporter.
5. Collect feedback from abandoning visitors
The most effective way to address cart abandonment is by getting to the root of the problem and fixing it. Some of your visitors may be abandoning their carts because of bad UX (User Experience).
UX reasons for cart abandonment include:
Not allowing guest checkout

You have a long or complicated checkout process

Difficulty navigating your website

Your return policy isn't in a visible location
The good news is that these things are easy to fix. But you'll never know what to change if you don't ask. So, start collecting feedback from your customers.
You can do this by targeting cart abandoners with an exit-intent survey popup.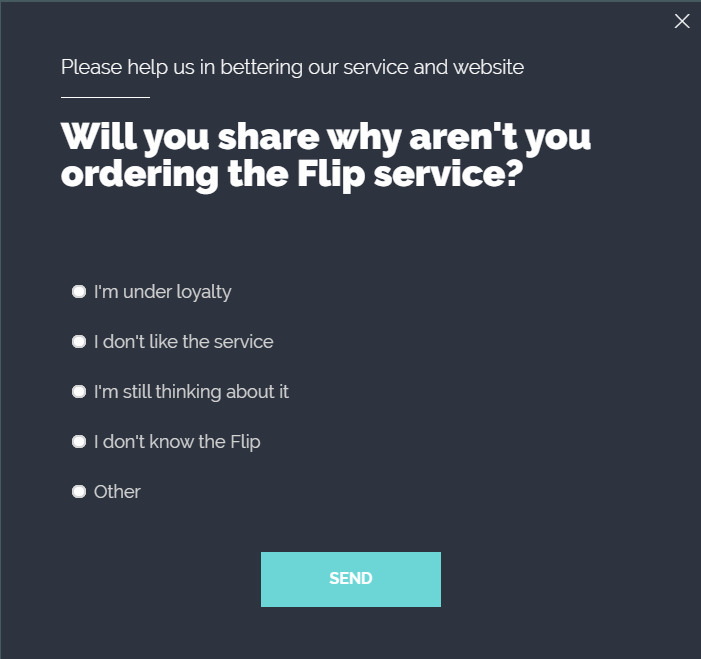 Surveying abandoning visitors may not stop cart abandonment in the short term, but it will help prevent abandonment in the future.
That's because good customer feedback gives you valuable insight into your checkout experience and tells you how to improve your sales journey.
If you'd like to improve the effectiveness of your popups and save even more cart abandoners, check out these 5 hacks:
Stop cart abandonment from eating into your profits
There you have it. Five easy ways to reduce cart abandonment on your Shopify store using exit-intent popups. Now, it's time to create some popups of your own.
You can use OptiMonk's drag-and-drop editor to create a sophisticated popup from scratch—no coding knowledge required. Or you can choose a ready-made template from our expansive Template Library and deploy your first cart abandonment popup in a couple of minutes.
Create an OptiMonk account today to get started. It only takes 30 seconds to sign up.