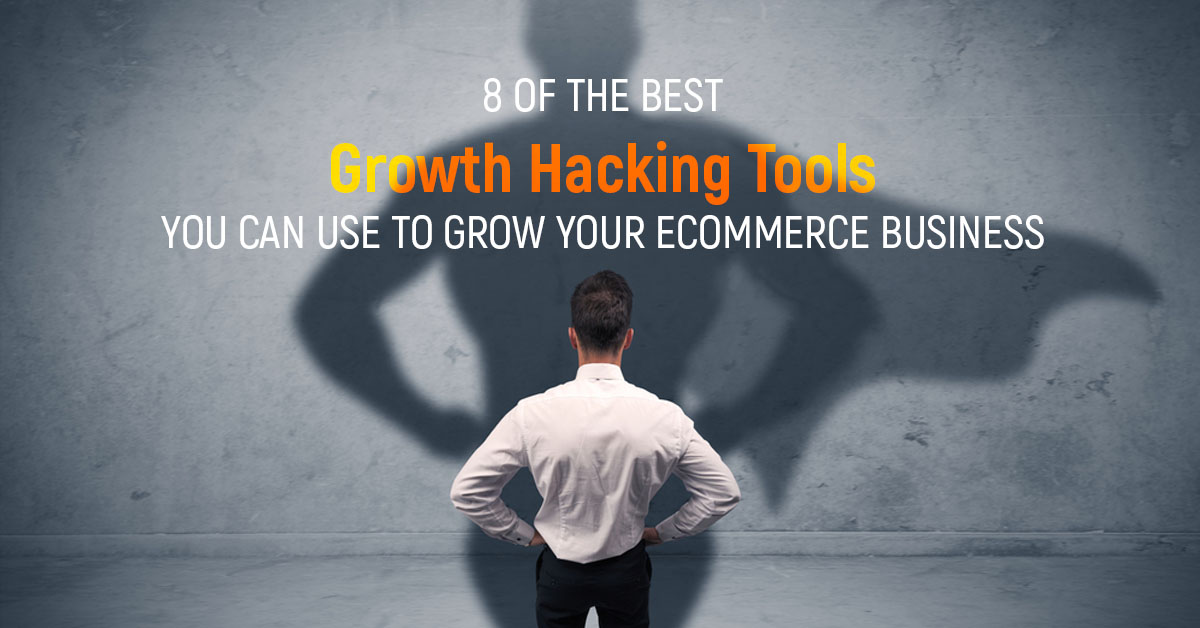 A growth hacker is only as good as the tools he has.
With the right tools, a growth hacker is able to run rapid experiments across the entire marketing funnel, identify the right tactics that work, and scale them up efficiently.
What this means simply is – a growth hacker must constantly be on the lookout for the best tools on the market, those that can help them do his/her job better.
That's why I've compiled 8 of the best growth hacking tools that you can experiment with to make your marketing processes more efficient.
These are tools I've used personally to acquire more customers, retain them or simply to scale certain tactics.
To help you get started fast, I've also added tactics that you can test immediately with each tool.
Ready?
Let's go!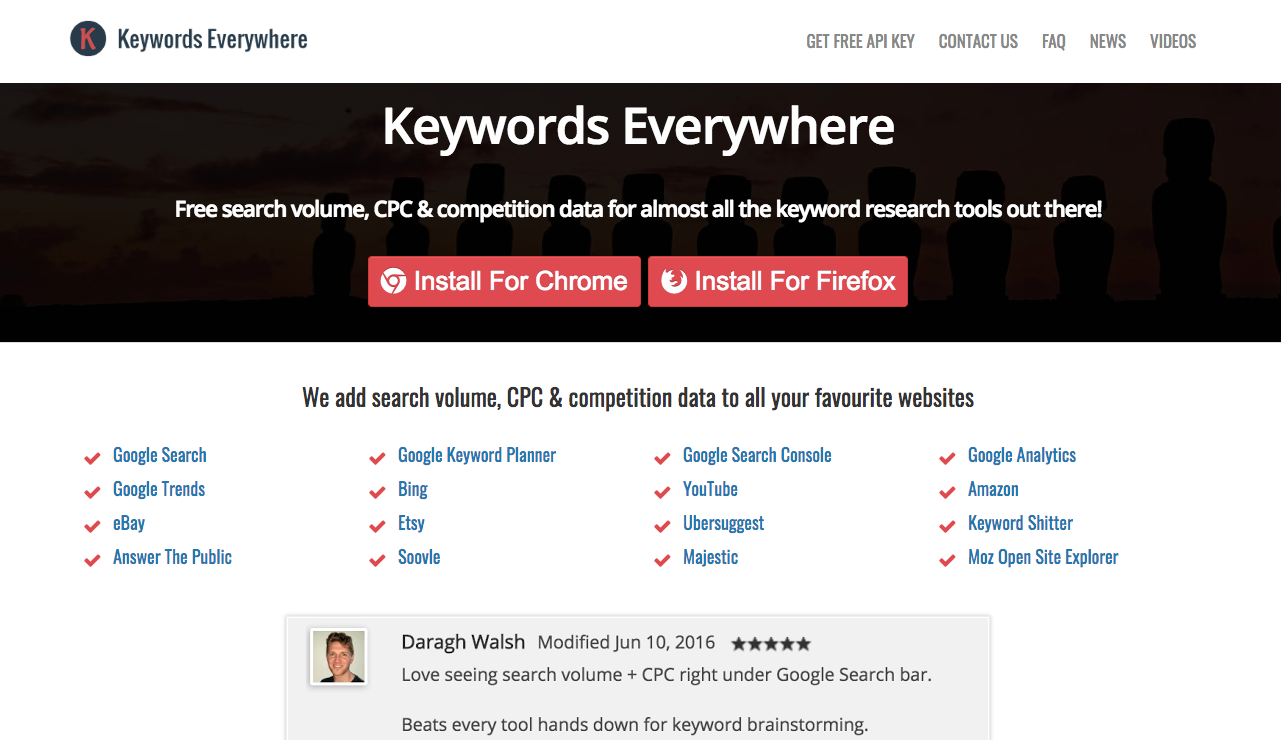 Free Trial: N/A
Pricing: Free
Keyword research is one of the most valuable activities you can do as a growth hacker. Yet, keyword research is one of the most tedious activities you'll ever do.
A major issue many marketers face when doing keyword research is having a huge list of keywords without any data appended to it. Solving this problem means having to switch between multiple tools, uploading keyword sets, waiting for data, double checking and all sorts of time-sucking activities that makes you wish you haven't started in the first place.
But… What if you could get the keyword data immediately? What if you didn't have to toggle between multiple tools?
Enter Keywords Everywhere.
Keywords Everywhere is a free Chrome/Firefox Extension that adds search volume, cost-per-click and competition data into the websites most marketers use to do keyword research. I'm talking about Google Search, eBay, YouTube, and other long-tail keyword research tools like Keyword Shitter and Answer The Public.
In short, Keywords Everywhere turns this:

Into this:

Here's how you can use Keywords Everywhere:
A. Combine Keyword Shitter with Keywords Everywhere
Once you've installed Keywords Everywhere, you should see a "K" logo somewhere on the top right hand of your browser (I'm using Chrome):

Clicking the logo presents a drop-down menu: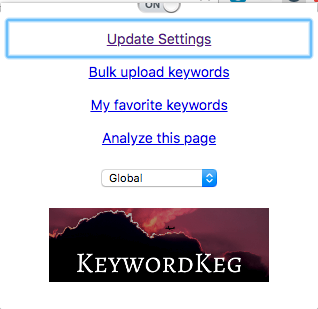 Notice the "Bulk upload keywords" function? This is one of the most powerful things you can do with Keywords Everywhere.
To make full use of this function, I'll head over to a long-tail keyword research tool likeKeyword Shitter, and key in my seed keyword (in this case "growth hacking"):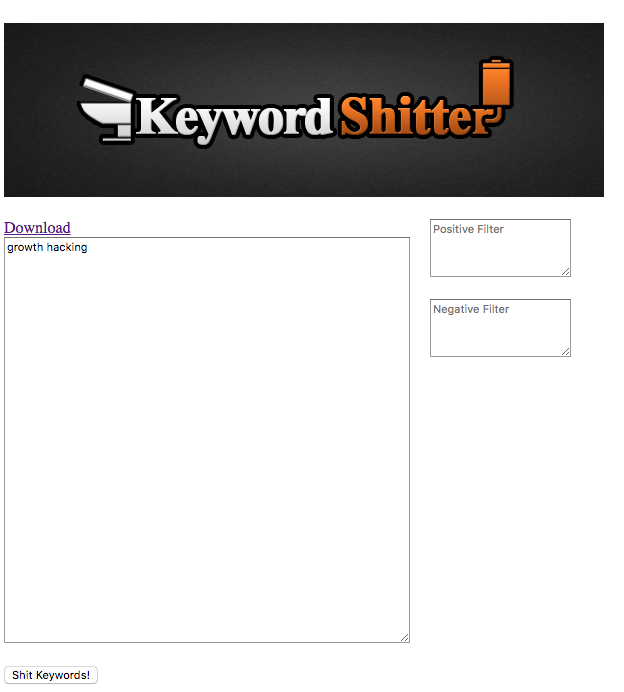 Hit "Shit Keywords" and wait for it to finish loading. (In this example, I hit "stop" at 300 keywords, but you can wait as long as you need):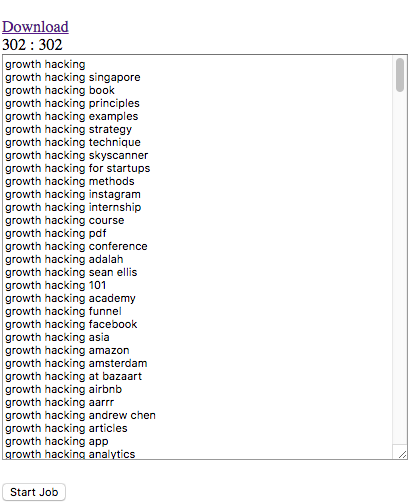 Copy all the keyword Keyword Shitter has produced, open your Keywords Everywhere menu, and hit "Bulk upload keywords". You should see this: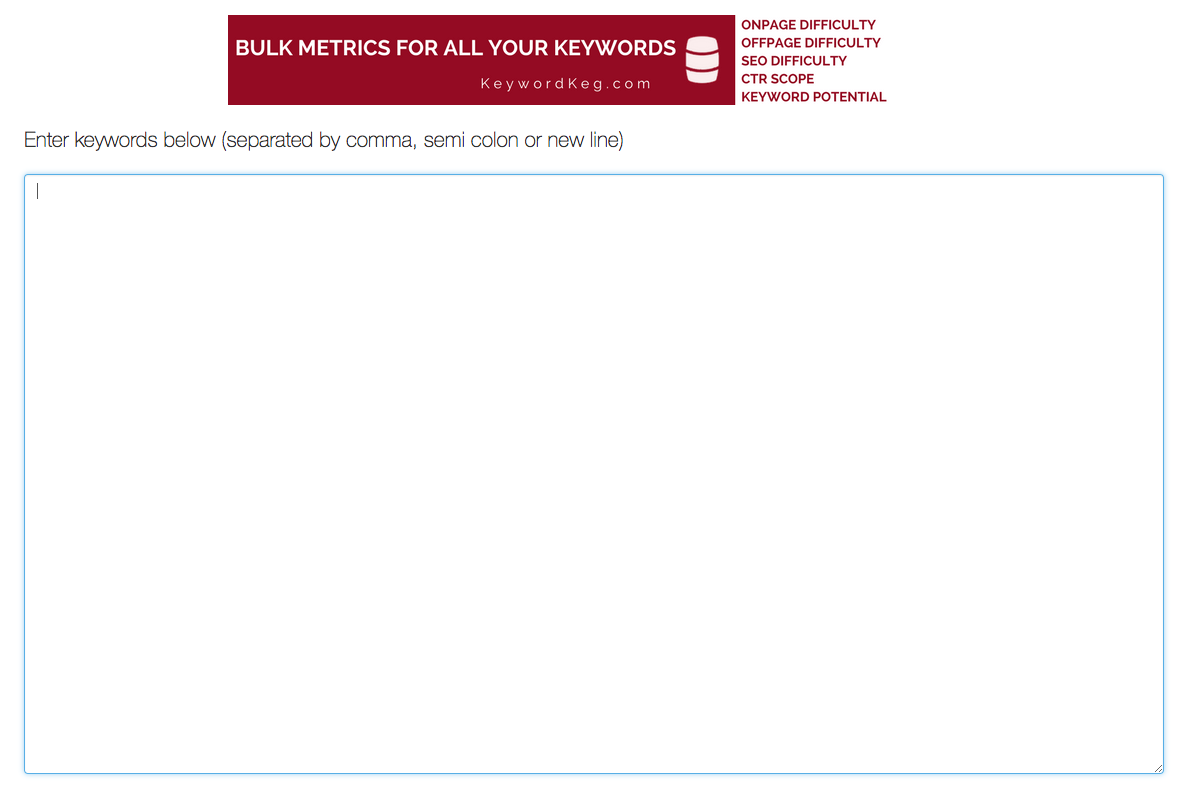 Paste your keywords in and hit "Get Metrics".
Voila!
You now have all the necessary metrics you need for keyword analysis: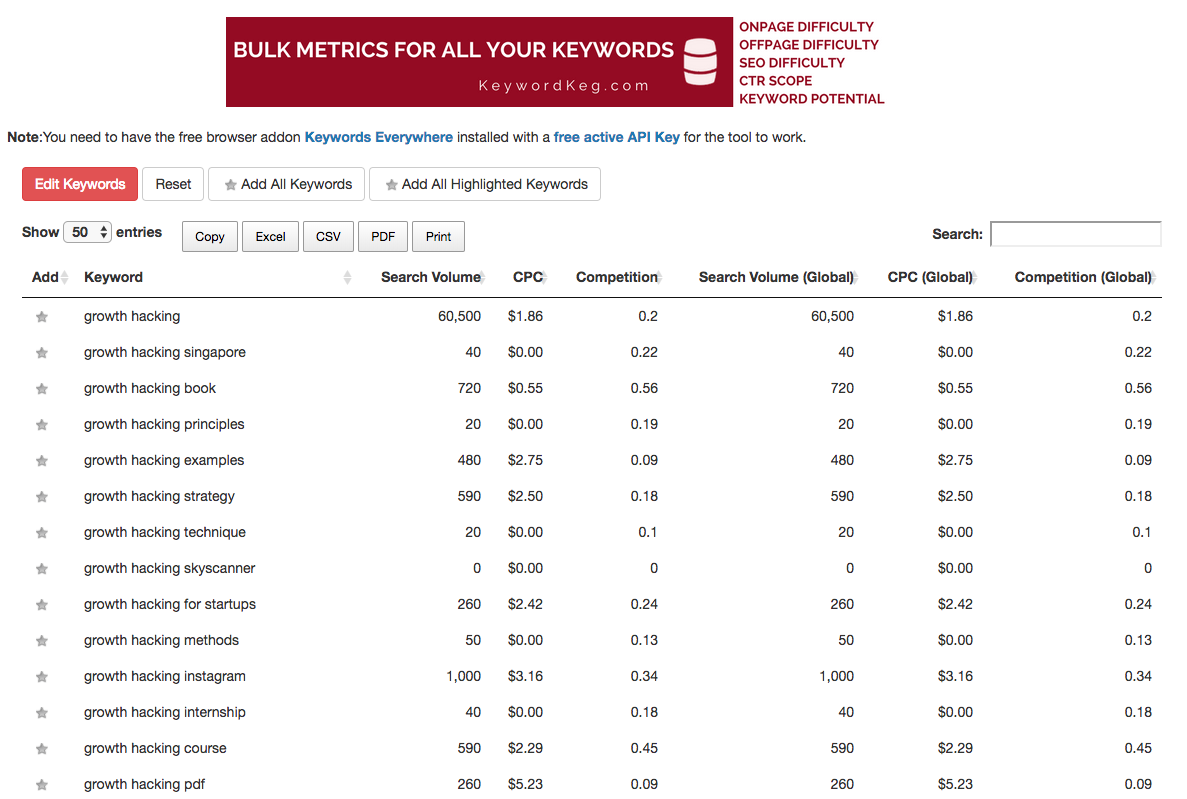 Download the file (Excel/CSV) and sprinkle your SEO magic on it.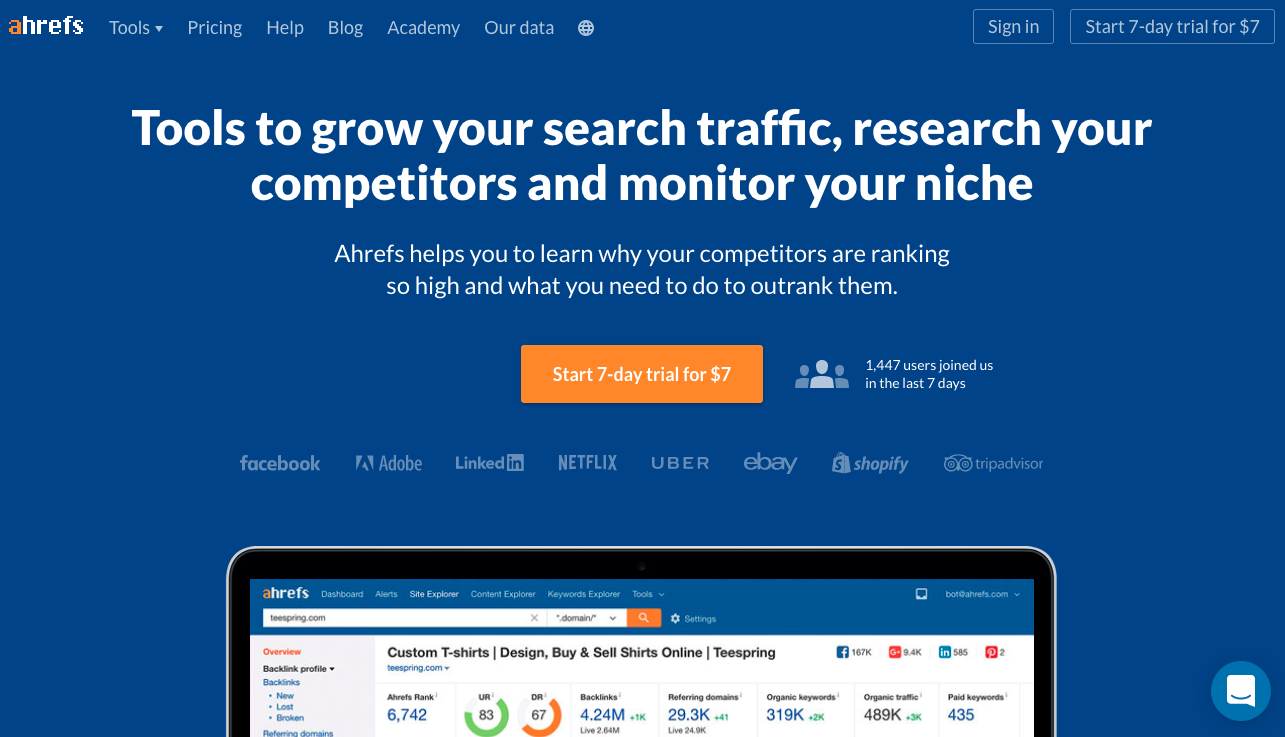 Free Trial: No, $7 for 7-days trial
Pricing: Lite – $99, Standard – $179
Here's a surprise:
You don't have to build your marketing strategy from scratch. If you have competitors (and you probably have one, or several), then all you have to do is to replicate what they've done.
Take a deep dive into everything they're doing and succeeding with, and squeeze them dry (not literally).
How do you uncover what your competitors have been up to?
Easy – use Ahrefs.
As the website clearly says, Ahrefs help you learn why your competitors are ranking so high, and what you need to do to outrank them.
Here are some tactics you can execute with Ahrefs:
A. Find what's sending your competitors the most organic traffic, and steal them
One of Ahrefs' features is allowing you to discover the pages that are sending your competitor the most organic traffic.
Head to Ahrefs Site Explorer, enter your competitor's domain and hit "Top Pages":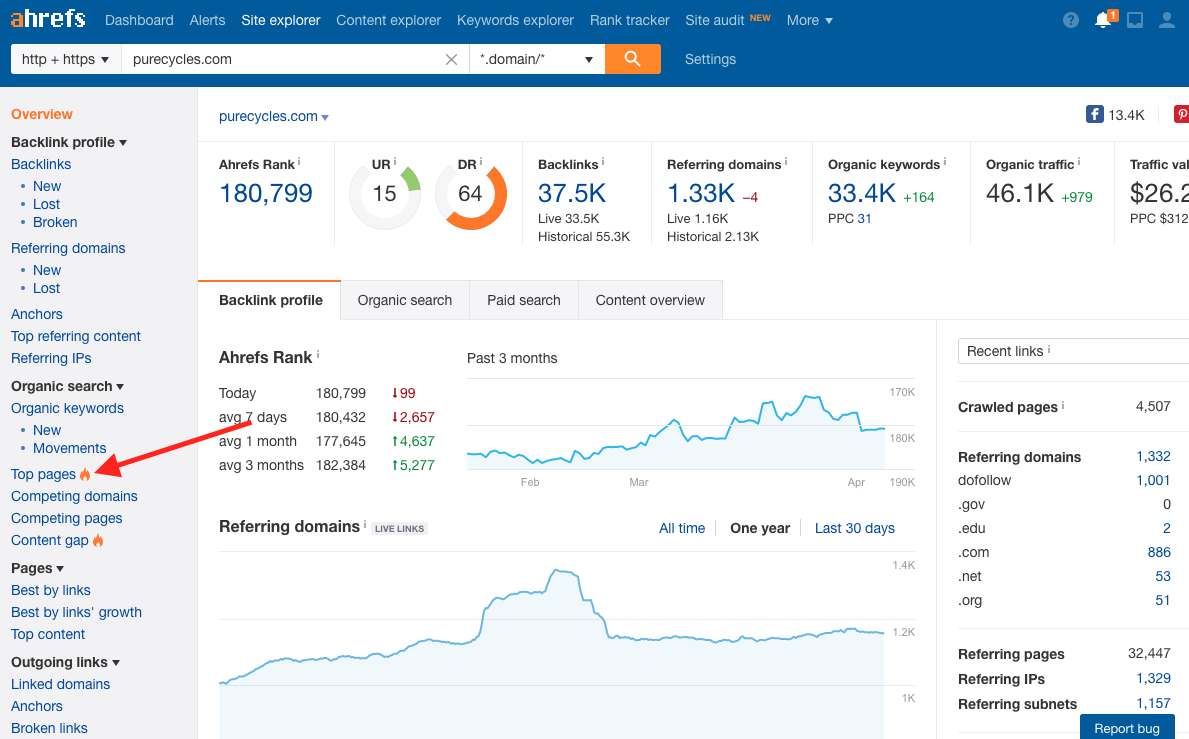 This surfaces all the pages on Pure Cycles sending them the most organic traffic: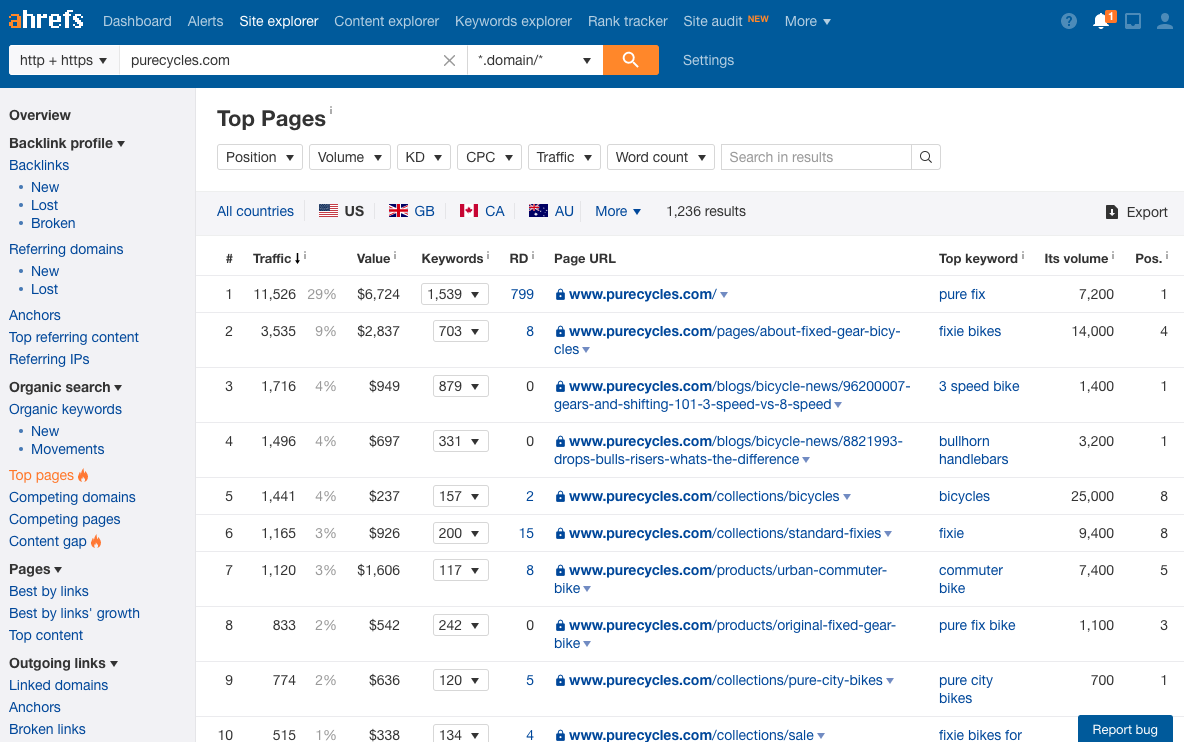 Look at the top keyword sending them the most traffic, and create a page/post that targets the same thing.
B. Find out what kind of links your competitor is earning, and copy
Take your competitor's site, put it inside Site Explorer, and choose the Referring Domains report: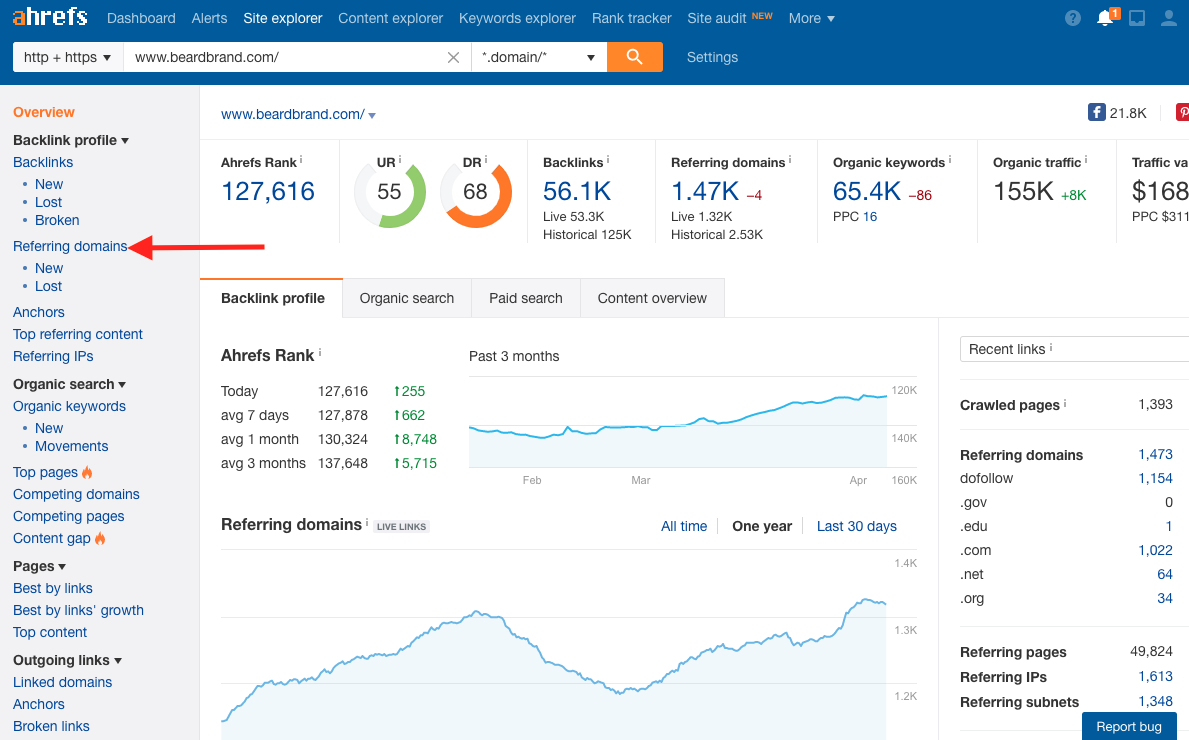 This shows you all the sites that has linked to your competitor before, sorted by Domain Rating:
Review the list.
Running through the list will give you an idea of how your competitors have been building their backlinks. Have they been writing tons of guest posts? Are they getting backlinks from places like Reddit or forums? Or have they been creating content that is generating them tons of backlinks?
You'll soon notice that some of these backlinks are replicable, and some aren't. The purpose of this activity is NOT to replicate everything, but find opportunities that you have missed out on.
For example, if your competitor has acquired a backlink via a guest post, chances are, you'll be able to pitch the same publication and offer a guest post on your own too.
C. Find out who has linked to your competitor, but not to you
Hitting "More" on the Ahrefs navbar will bring you a drop-down menu. Choose "Link Intersect":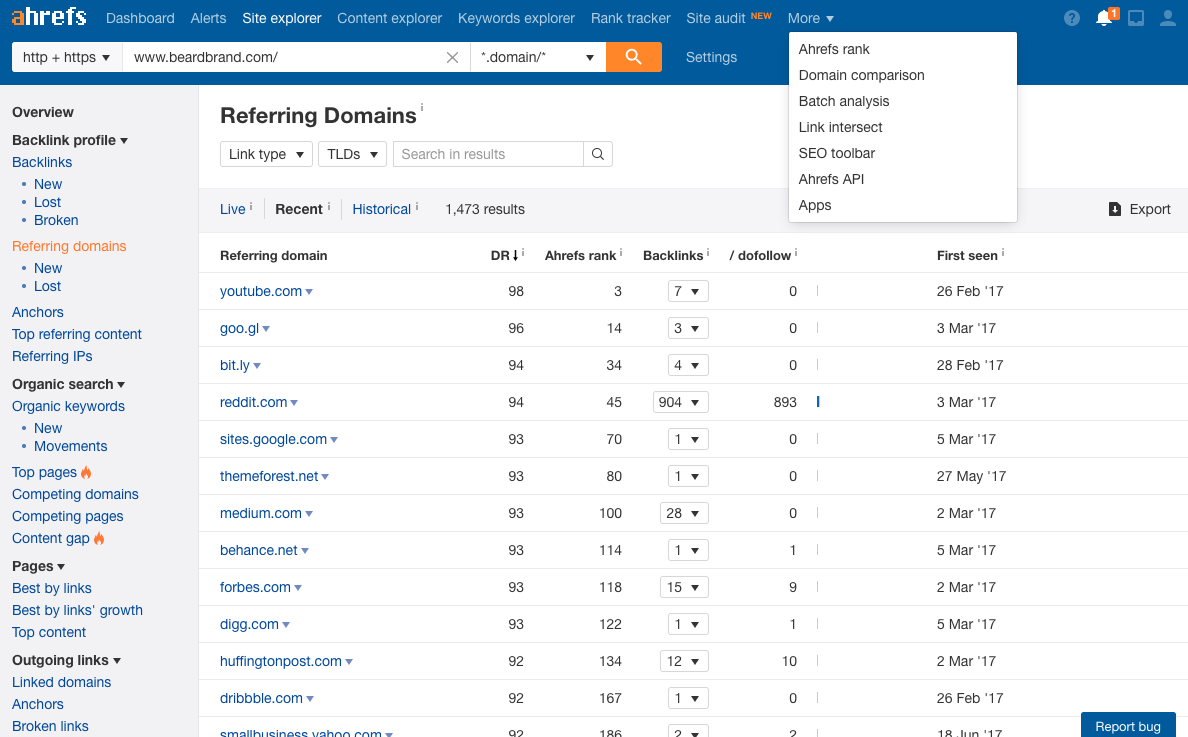 The Link Intersect feature allows you to find out who's been linking to your competitors, but not to you. You can choose between linking to all or any: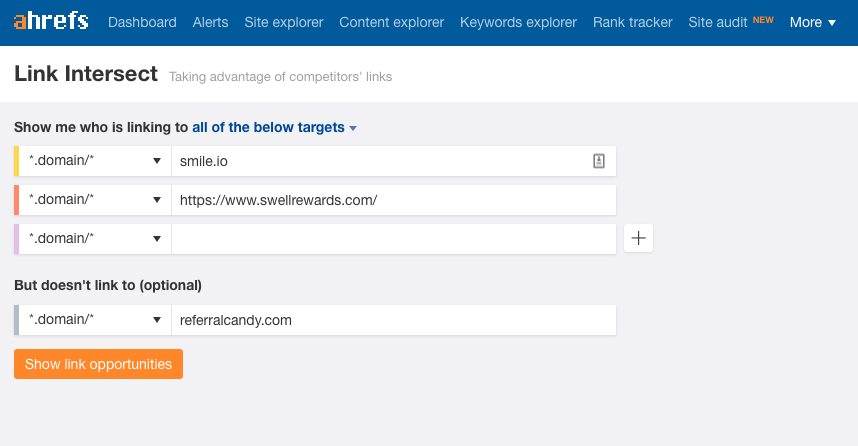 When I hit "Show link opportunities", Ahrefs shows me who's linking to BOTH Smile and Swell, but not to ReferralCandy: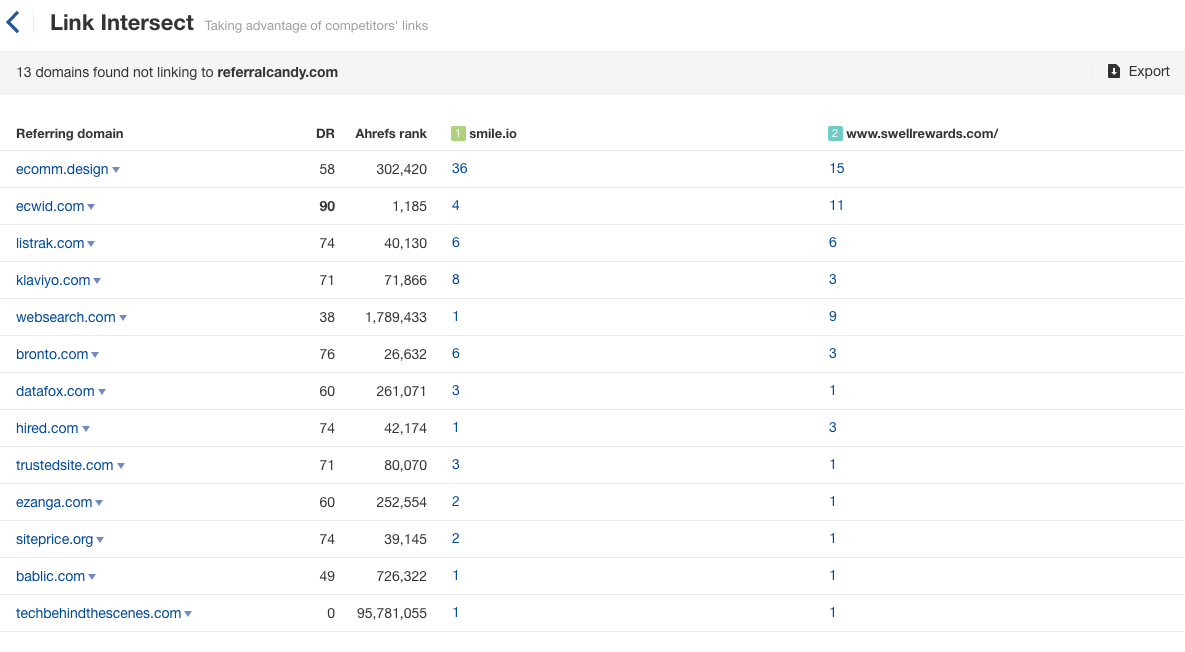 If they have linked to both of my competitors, chances of them linking to me is pretty high. All I have to do is to reach out to these sites and try to get the link.
There are tons of things you can do with Ahrefs, and these just scratches the surface of things. You can check out their Academy to learn more.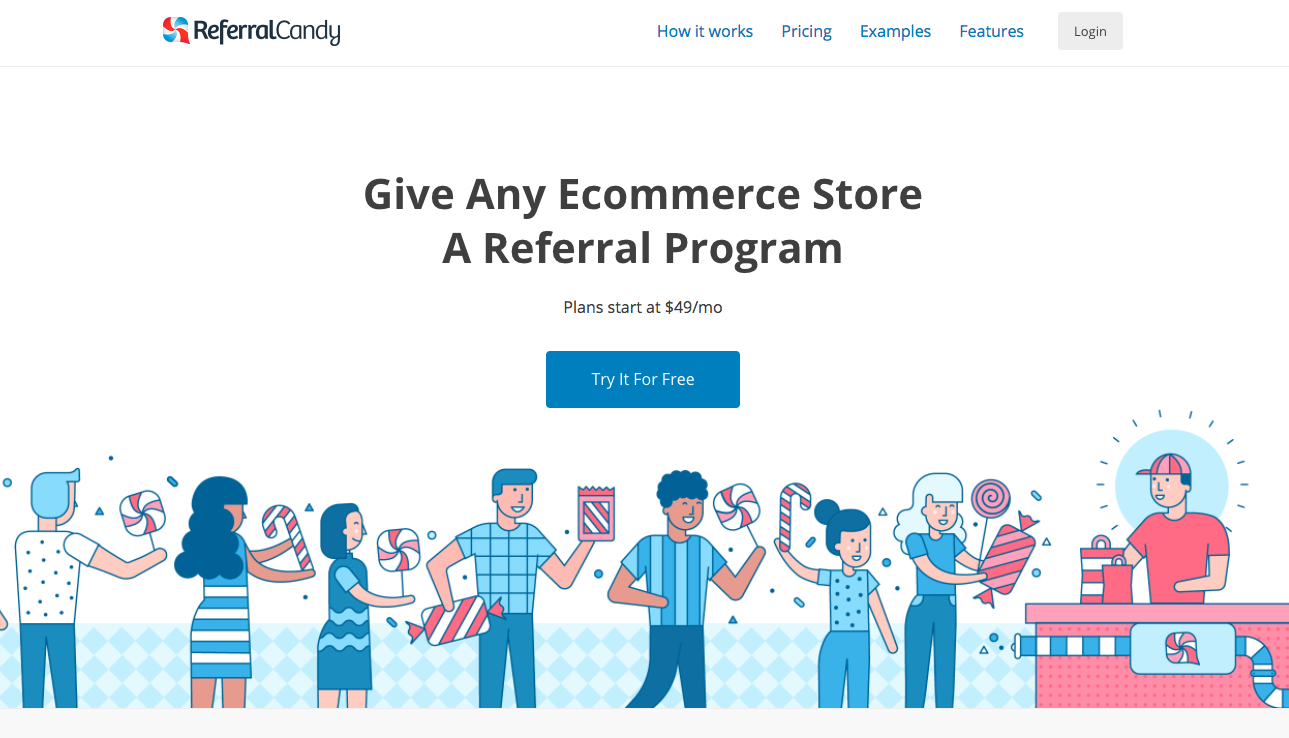 Free Trial: 30 days
Pricing: $49/month + monthly commission
Uber. Dropbox. PayPal. Airbnb.
Besides being some of the largest tech companies today, what else do they have in common?
Successful referral programs.
All 4 of these major tech companies have successfully utilized referral marketing as a channel to grow and build their user base.
The best part about a referral program is that it is a tactic that growth hackers would describe as k > 1 (k refers to the viral coefficient). It is one of the rare tactics that is truly exponential – your customers refer more customers, who refer more customers, who refer more customers, and so on.
The loop is never-ending.
Creating a referral program is not a tactic reserved only for the tech elite. ReferralCandy allows you to set one up fairly quickly.
All you have to do is to install it on your preferred ecommerce platform, set up your incentives and you're good to go.
Here are some ideas on how you can fully utilize ReferralCandy:
A. The Cash Or Discount Strategy
One of the most popular (and important) questions when setting up a referral program is about the incentives.
I understand. After all, the strength of a referral program is dependent on giving out the right incentives.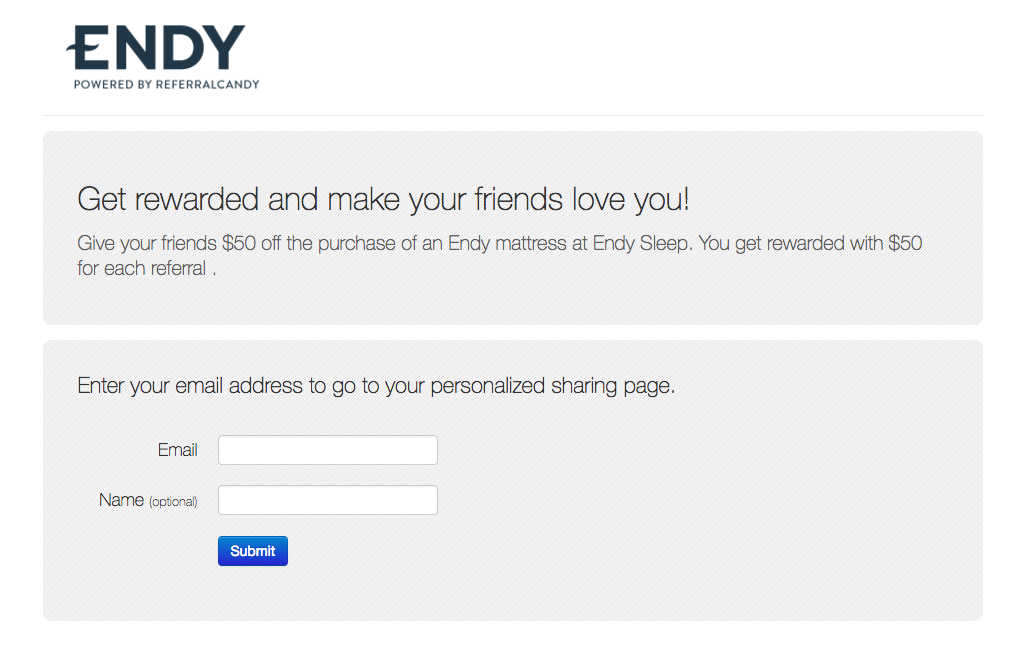 So, here's a rule of thumb you should follow:
If you're selling something people need frequently, give a discount coupon.
If you're selling a product that most people only buy once (or a product that someone would buy once in a long while), give a cash incentive.
B. Use the referral widget to encourage people to join
For your referral program to succeed, people must know about it. This means that it is important for you to raise the awareness of your referral program.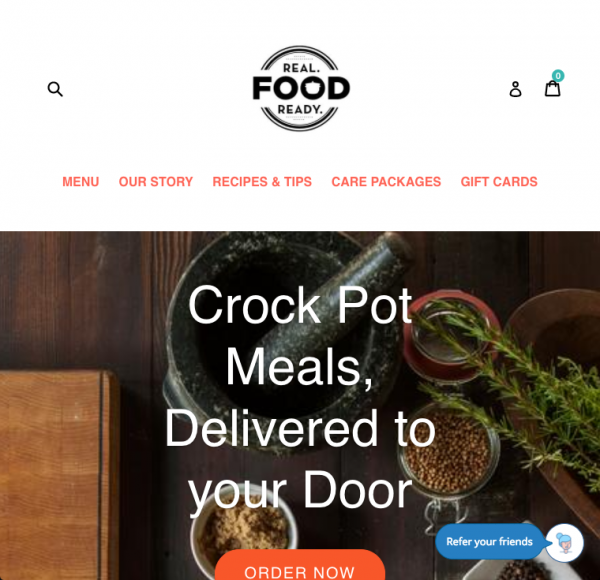 The referral widget allows you to promote your referral program on autopilot. Any visitors or returning customer to your website will be able to learn of your referral program, and be excited and incentivized to join.
Of course, the more people who learn of your referral program, the more people will join and the more successful it will become.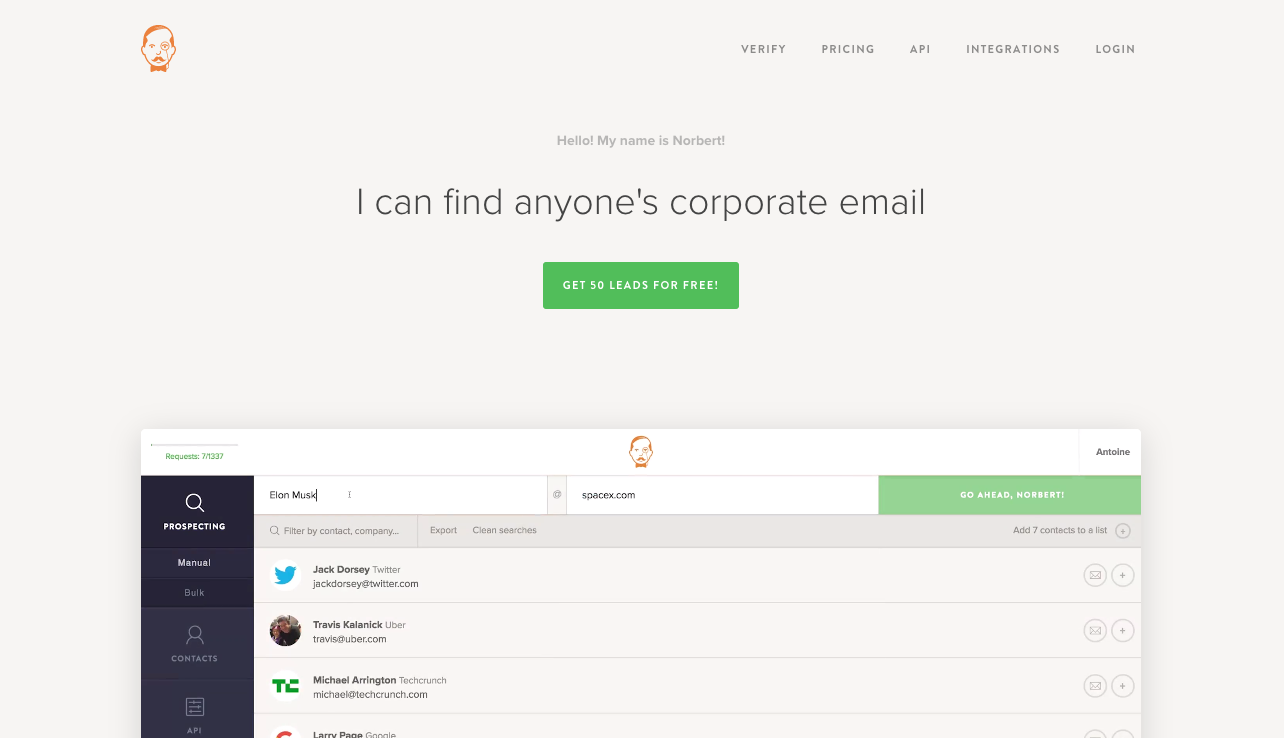 Free Trial: 50 free leads
Pricing: $39/month for 1,000 leads, $79/month for 5,000 leads
Many successful marketing strategies are executed with flawless outreach.
No matter whether you're reaching out to acquire a link, collaborate with another company, or get an influencer to promote your product, you'll need to craft a personalized email that persuades him or her.
But before you even craft that email, you'll need that person's email address.
Sometimes that is easy to find. Simply hit the "contact" page of their website, and their email will be staring right back at you.
That's rare though.
Most of the time, you'll struggle to find the person's email address.
And that's where Voila Norbert comes in.
Voila Norbert is a email finding tool that helps you search for, and verify email addresses. All you need is the person's name, and the domain.
Here's how you can use Voila Norbert:
A. Find the email address of the important person you want to reach out to
Once you sign up for an account with VoilaNorbert, you'll be given 50 free credits. That means you can get started right away with searching for the person you want to look for!
All you have to do is type in the name and domain of the person you're looking for, and VoilaNorbert will return the best email address for you.
In this example, I am using myself:

Hitting the "Go ahead, Norbert" button will return an email address VoilaNorbert thinks is correct:

(It even tells you how sure they are about the email address.)
If you have a list of people you want to reach out to, you can use their Bulk Upload function: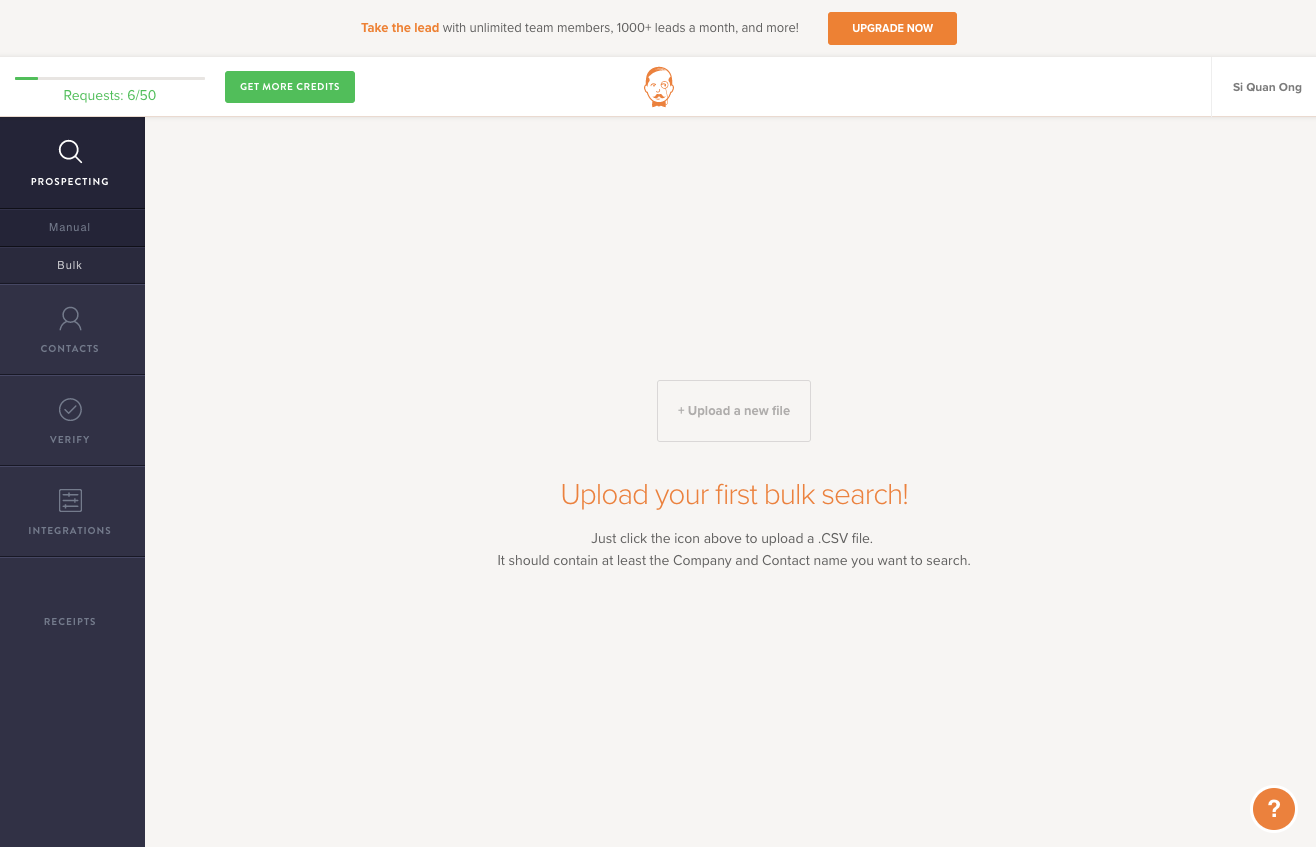 B. Verify the email addresses you've found
As growth hackers, you're probably big on scraping email addresses. Whether you're using Scrapebox, XPath or virtual assistants, you're likely collecting a large list of email addresses so that you can do some cold outreach.
However, with such a large list of emails, you are probably unsure whether the emails you have are accurate.
With VoilaNorbert, you can find out whether they are real.
Simply upload your list of email addresses to VoilaNorbert, and let them verify for you:
Free Trial: 14 days
Pricing: $29/month for Bronze Plan, $99/month for Gold Plan
It feels good to have thousands of visitors visiting your site. Yet the truth is somewhat unfortunate.
Most of them will leave, never to return again.
Unless of course, you get them to join your email list, and keep your brand top of their minds.
You can do that with OptiMonk.
OptiMonk is an onsite retargeting tool that captures leaving visitors with more than just a simple Exit Intent technology.
Here are some ideas on how to use OptiMonk for your website:
A. Capture leaving visitors with onsite retargeting
Onsite retargeting works by presenting a highly targeted offer at the exact moment the visitor is leaving the page.
OptiMonk is able to integrate two highly important pieces of information, namely:
What they're currently reading/visiting on your page
The referring source (e.g Facebook, Google, etc.)
The integration of these separate pieces of information allows OptiMonk to send highly relevant offers to the visitor who is currently leaving.
Here's an example from Digital Marketer. If a person visited their site and had the word "facebook" in the URL: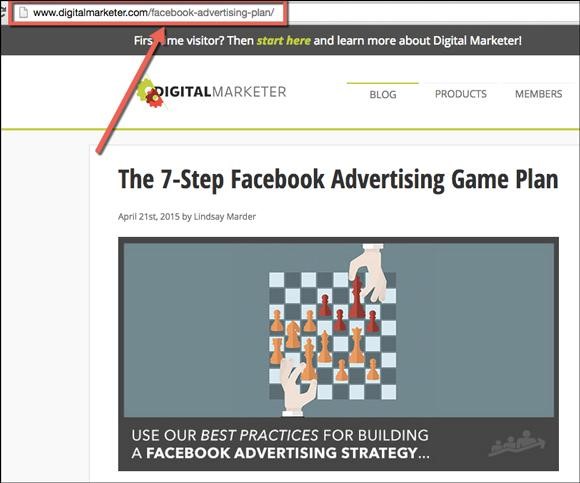 This particular offer will trigger instead of a generic offer sent to the other visitors.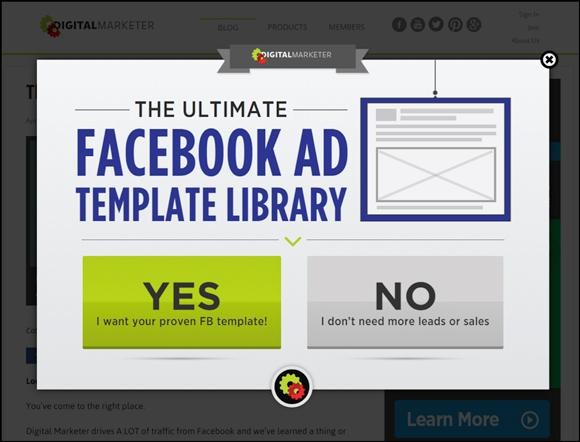 The more personalized an offer you can make, the better your conversion rates.
(Note: Would you like to learn more about onsite retargeting? Click here to download our free eBook with over 100 pages of tips and best practices for engaging and reengaging your customers with onsite retargeting to boost the revenue on your site.)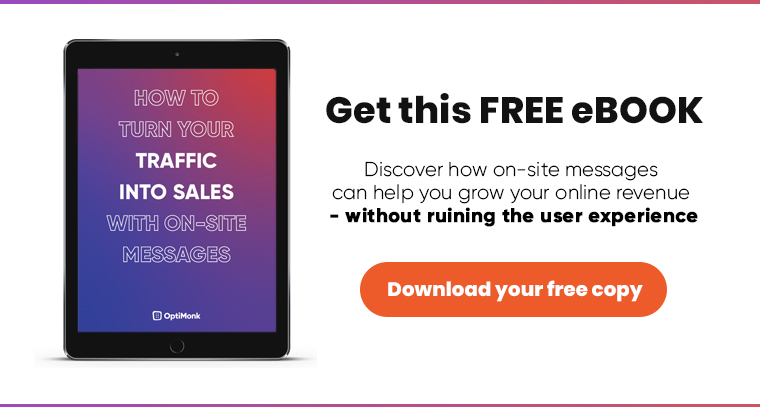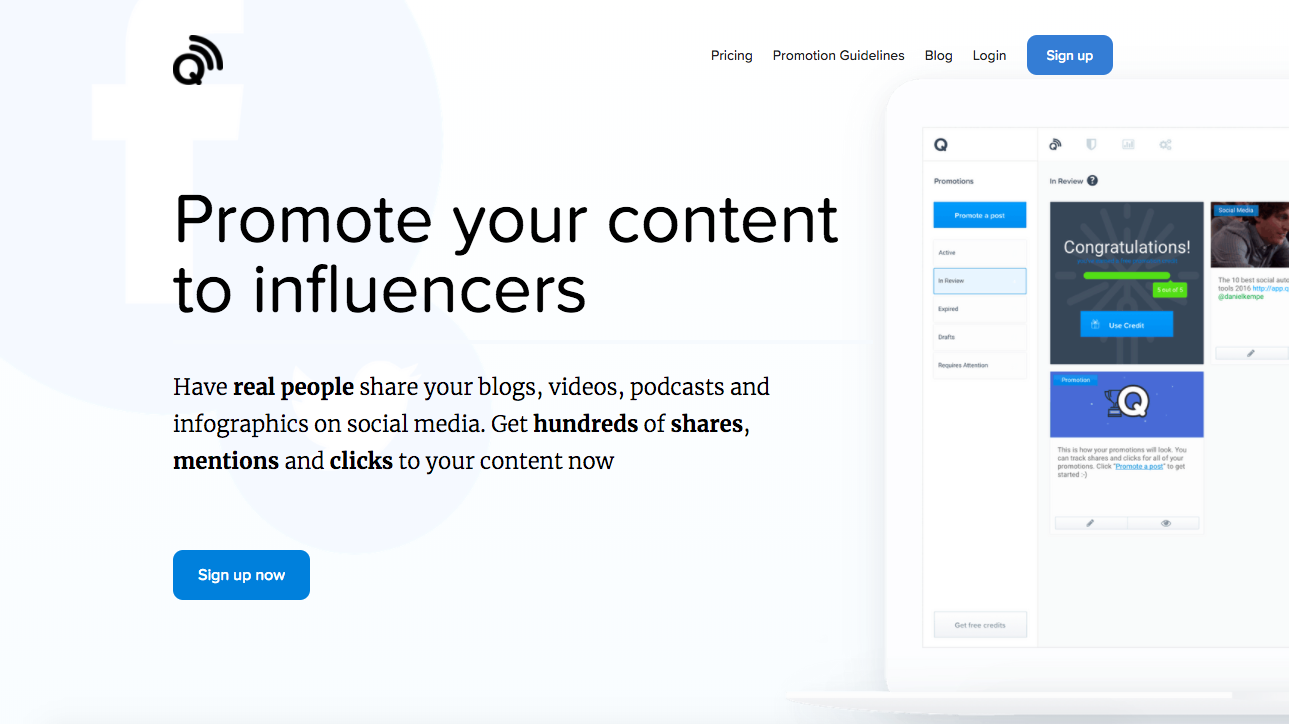 Free Trial: No
Pricing: $40/month
Publishing tons of blog posts, yet no one is sharing it?
Quuu is the answer to your prayers.
Think about it. Social media influencers are looking for content to promote every day. Publishers look for people to promote to.
Quuu solved the problem by being the middleman. Influencers subscribe to Quuu for content suggestions, which Quuu supplements by allowing publishers to promote via their platform.
Win-win.
This is how you can use Quuu to gather hundreds of social shares for your new piece of content:
A. Let hundreds of influencers share your content on social media
Once you've signed up with Quuu, you'll see this dashboard: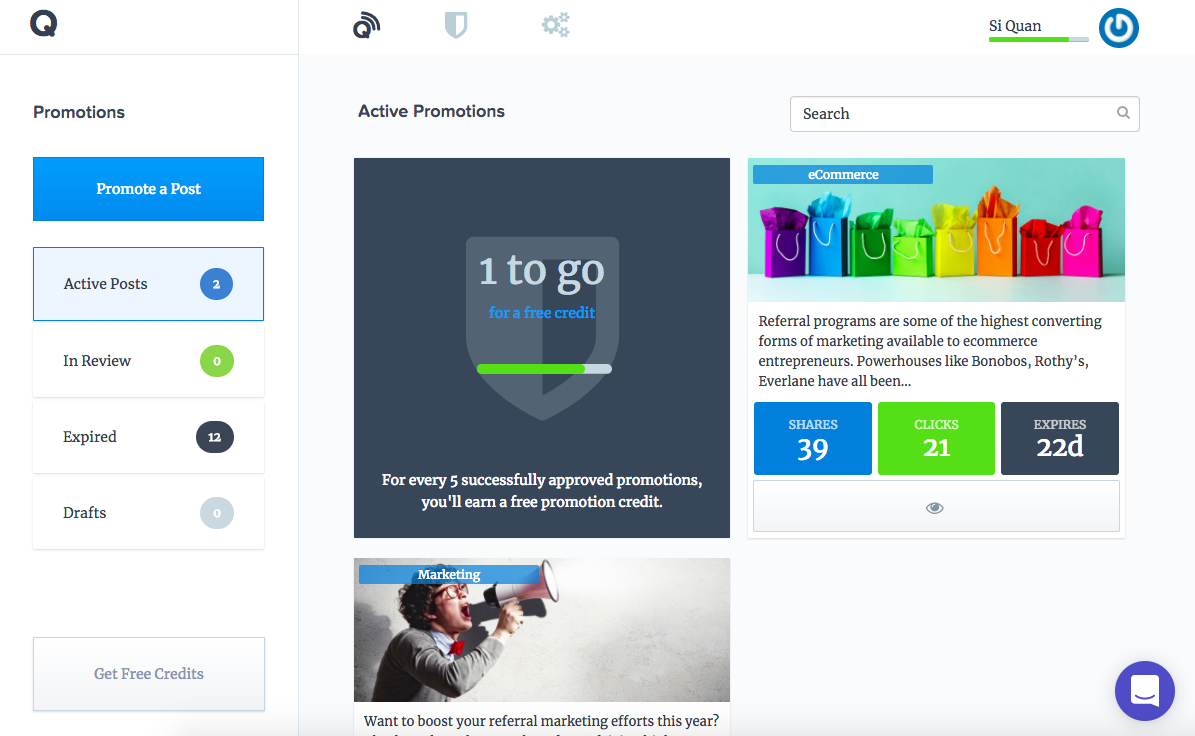 Hit "Promote a Post". Quuu will prompt you to submit an URL: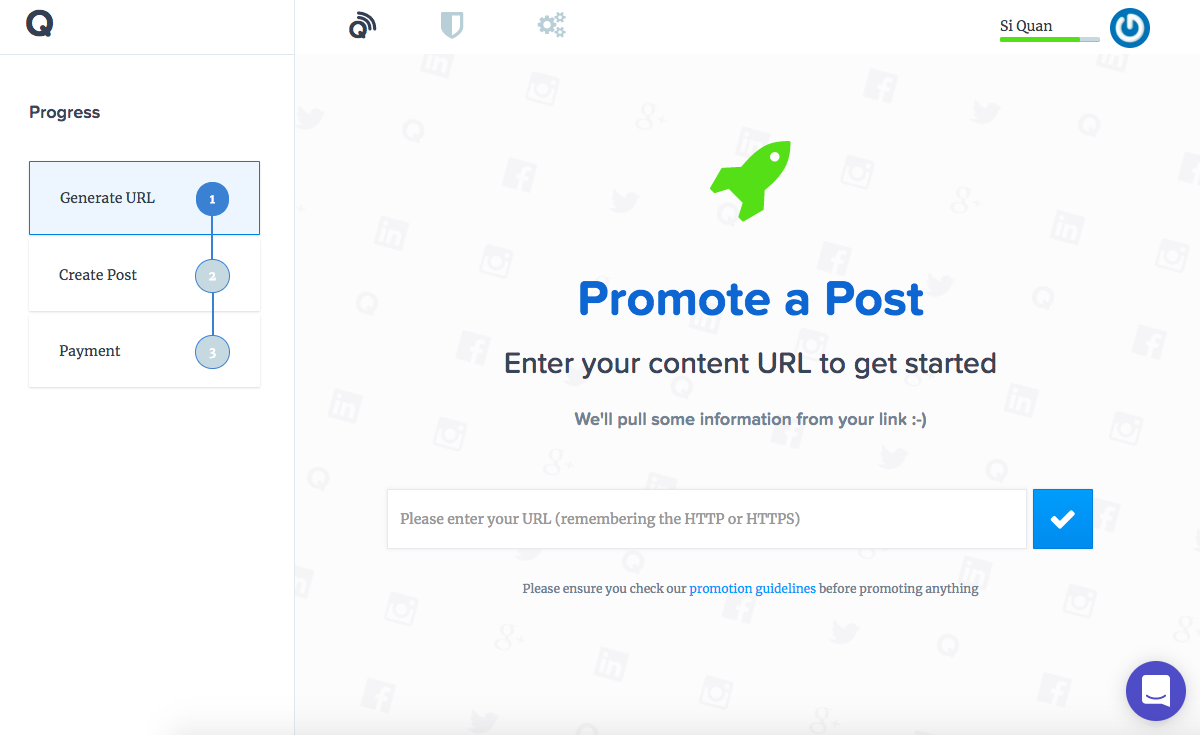 Simply enter the URL you wish to promote. Quuu will then show you how the social sharing will look like in Twitter and Facebook: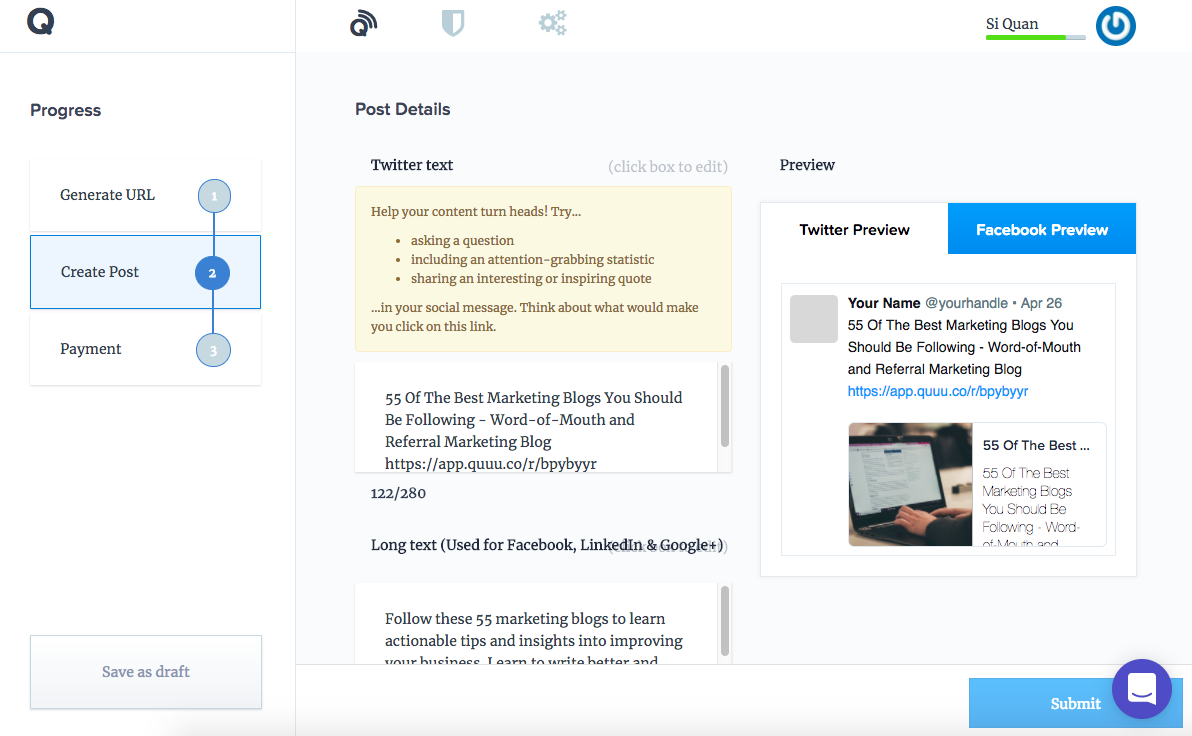 Remember, this is what the influencers will share once your post is approved. Make sure you write copy that's engaging and will entice people to click through and read it.
Another tip I have is to tag your own Twitter or Facebook account so that you can gain extra followers in this way too.
Once you're done filling up your desired copy, scroll down and choose the right category your post belongs to: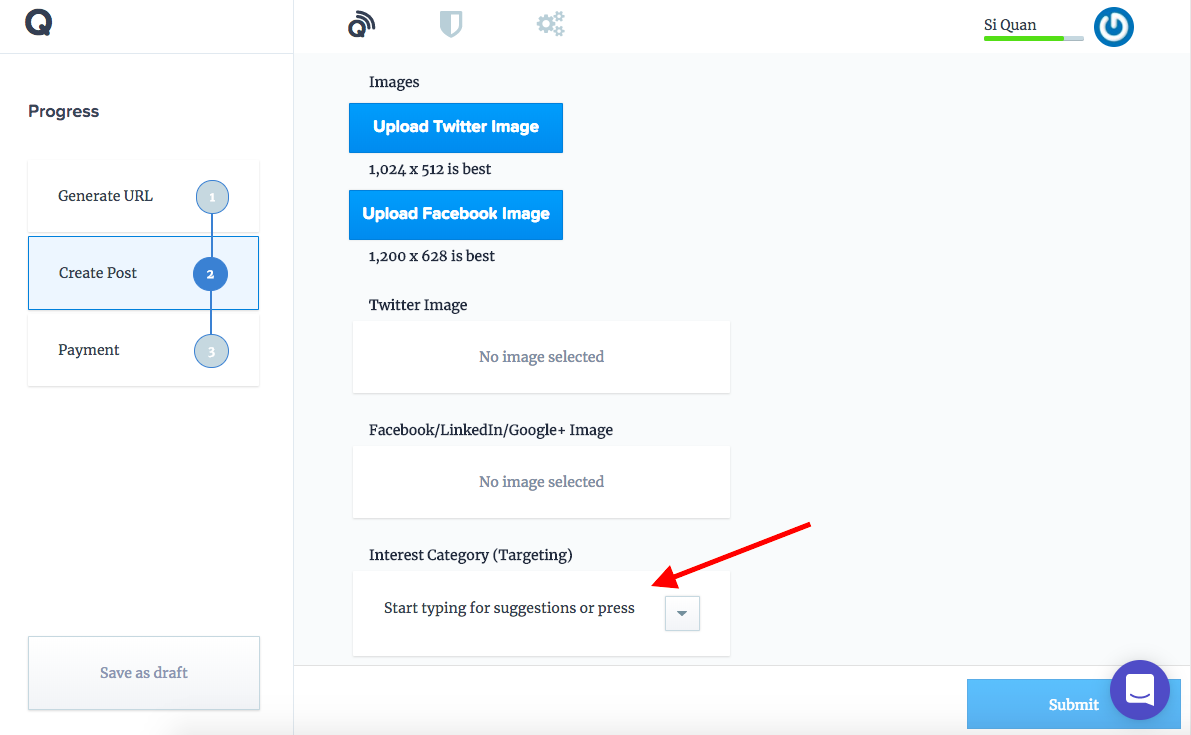 Quuu has several suggestions which you can select. When you're done, hit "Submit" and wait. Quuu will have to manually approve your post before it gets slotted into the influencers' social media.
As long as your content is not spun or spam, chances of your content being approved is high. Of course, the influencer at the other end will still have a choice as to whether they want to share it – so make sure you use Quuu on your best content.
This is what happens when Quuu kicks in: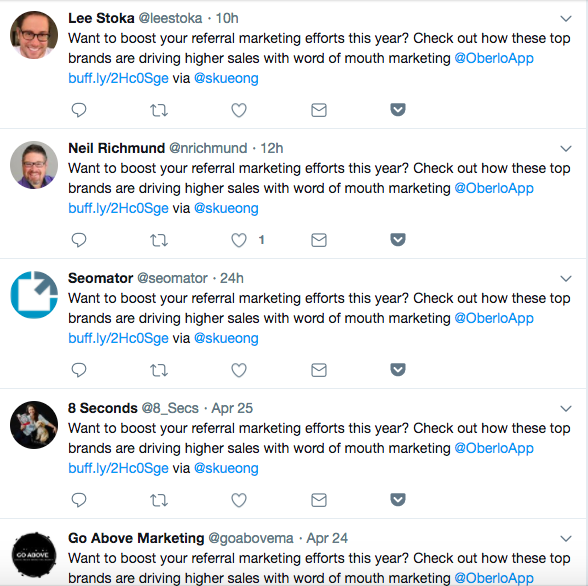 Feels good, doesn't it?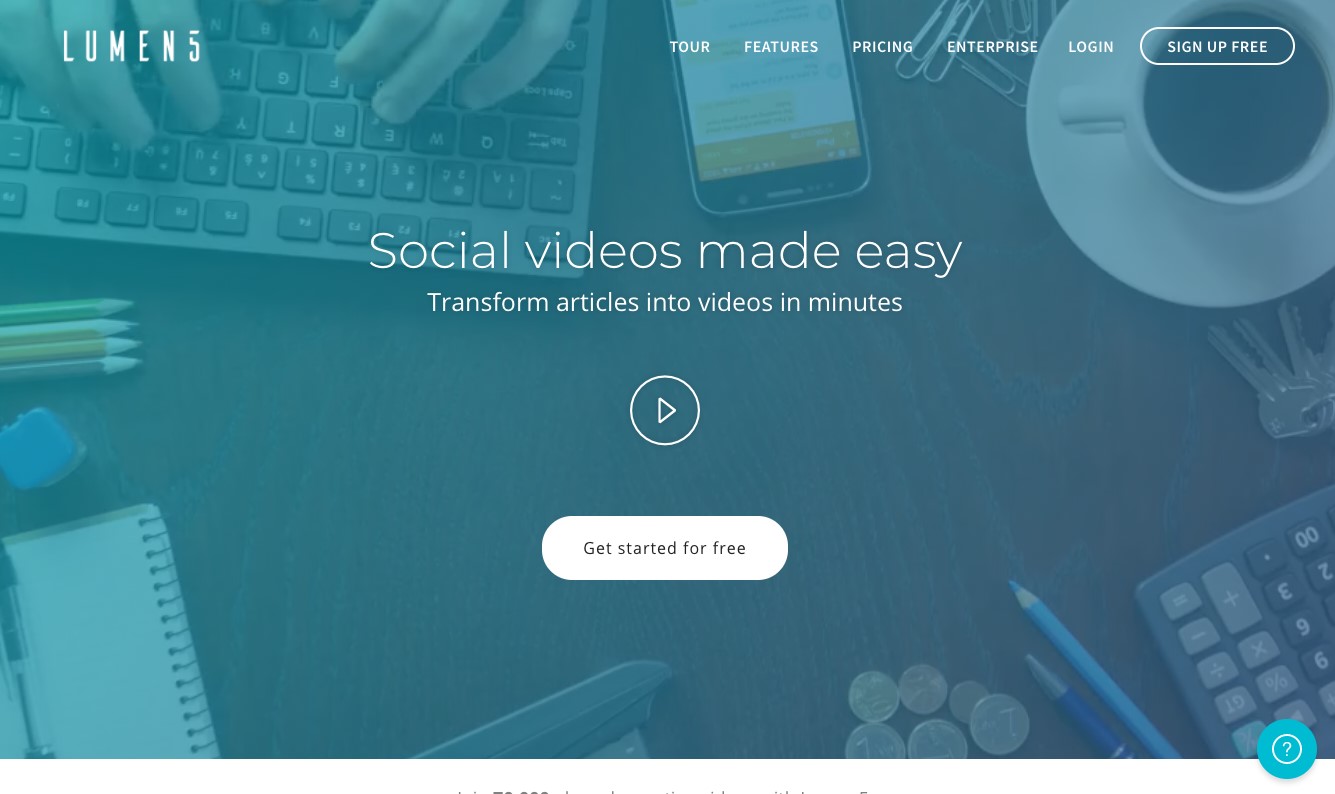 Free Trial: Free for 480p video quality + Lumen5 branding
Pricing: $49/month for 720p video quality w/o Lumen5 branding
Check this out: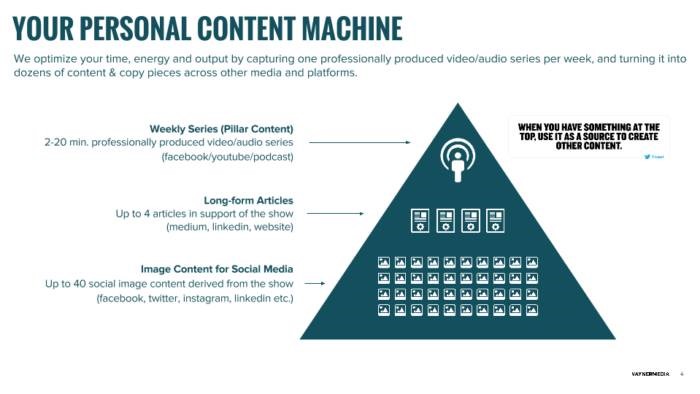 This is Gary Vaynerchuk's version of how to dominate the Web with your content. First, you decide on your pillar content – something "large" (like GaryVee's DailyVee) that you can produce at least weekly.
Then, you can turn the content from the video into multiple blog posts, which you can then turn into social media content (for e.g tweet lines from the blog posts, create images from the video, etc.)
This is a great strategy to create more content in less time.
Turn your existing content into something that you can repurpose over and over again.
However, GaryVee has the luxury of a large team – most of us don't. How can you then replicate his strategy without burning yourself out?
This is where Lumen5 comes in.
Lumen5 is a video creation platform that allows you to transform blog posts into vibrant videos. This platform was created solely for marketers with no technical background – just simply drag and drop and you're done!
Here's how to use Lumen5 to supercharge your content marketing:
A. Turn popular blog posts into engaging videos that you can then share on YouTube, Facebook, Twitter or Instagram
When you first sign up for Lumen5, Lumen5 will prompt you to enter a preferred blog post URL: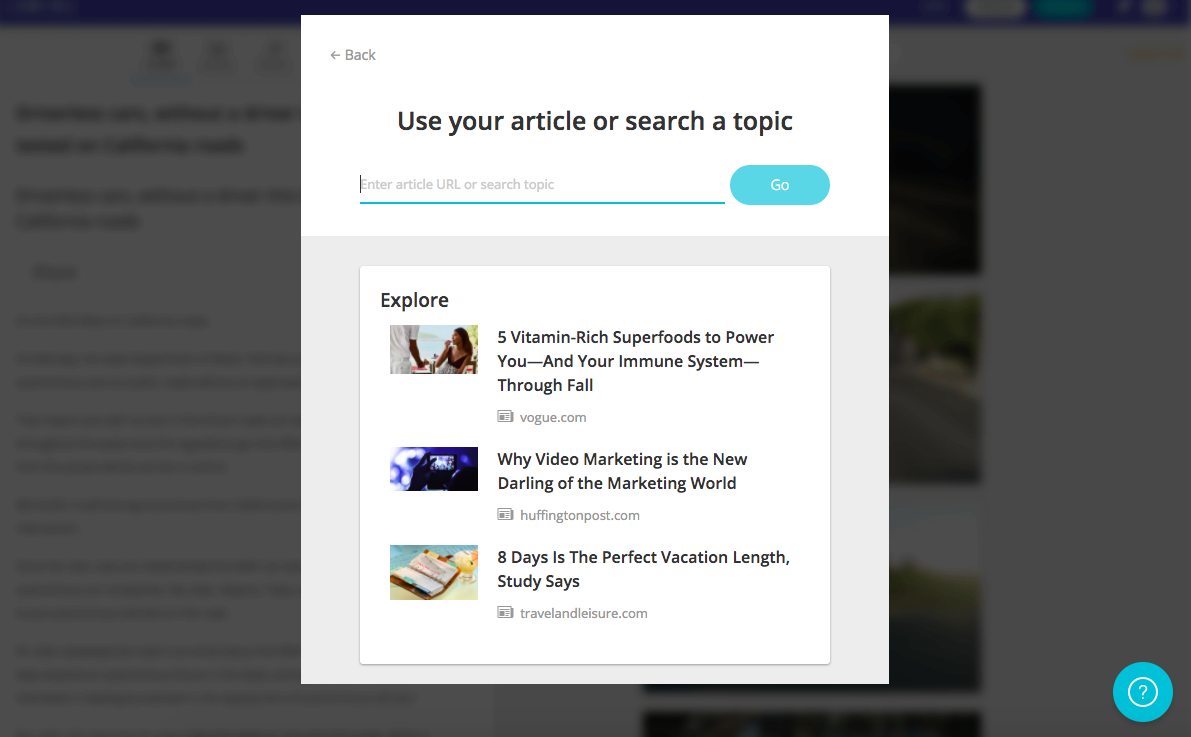 After entering a blog post about Luxy Hair's marketing strategy, Lumen5 brings me to this screen where I can edit the storyboard, make changes to the script and so on: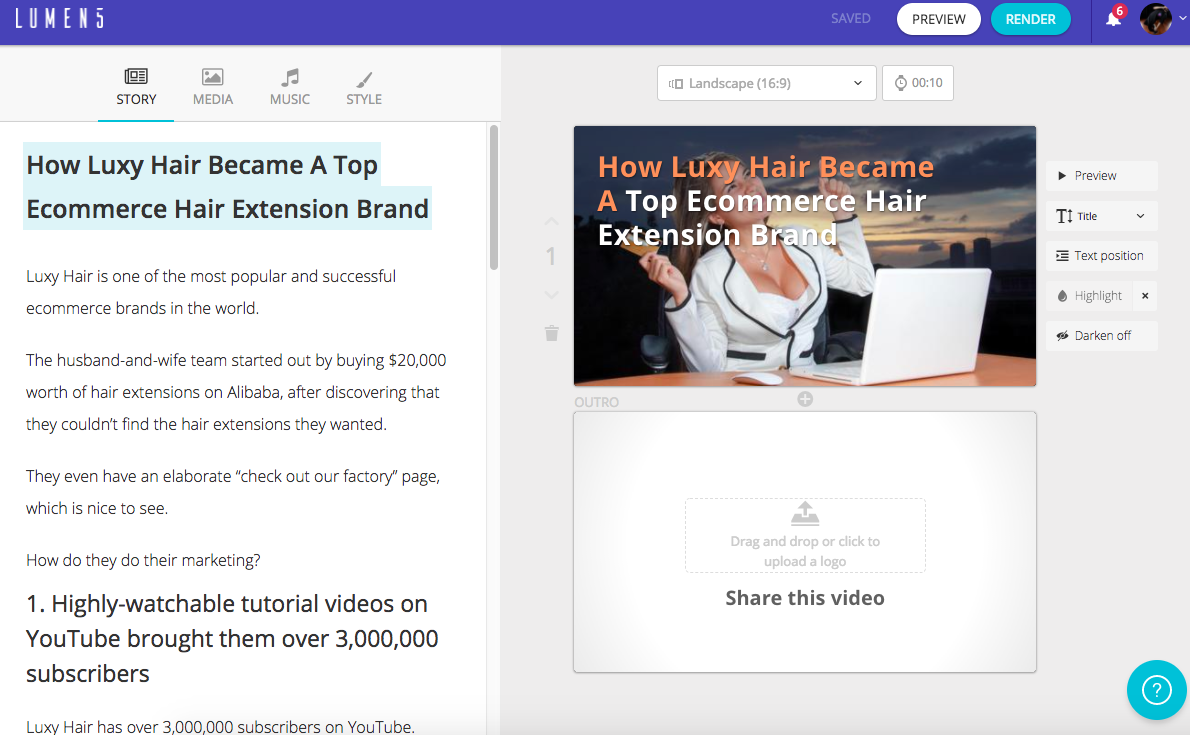 Clicking the Media option brings up tons of free stock videos that Lumen5 has in its library: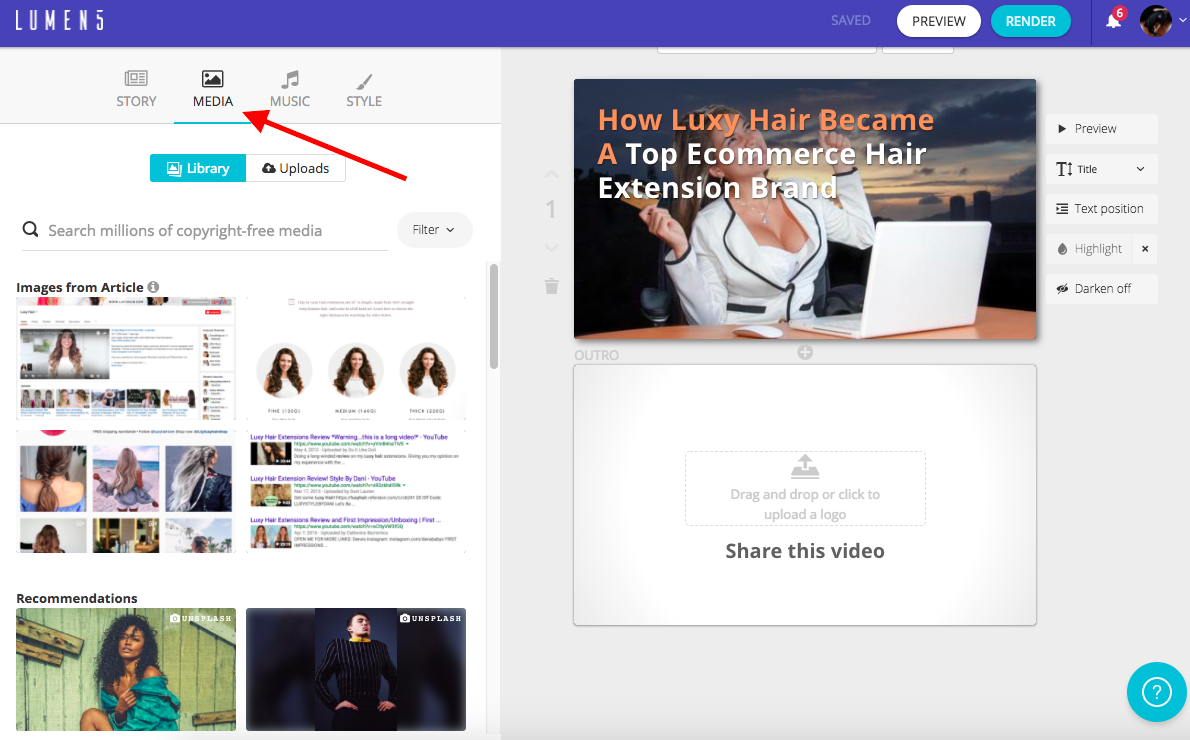 Drag and drop them into your desired storyboard – and boom!
Those viral social media videos you see on Facebook?
It's yours now.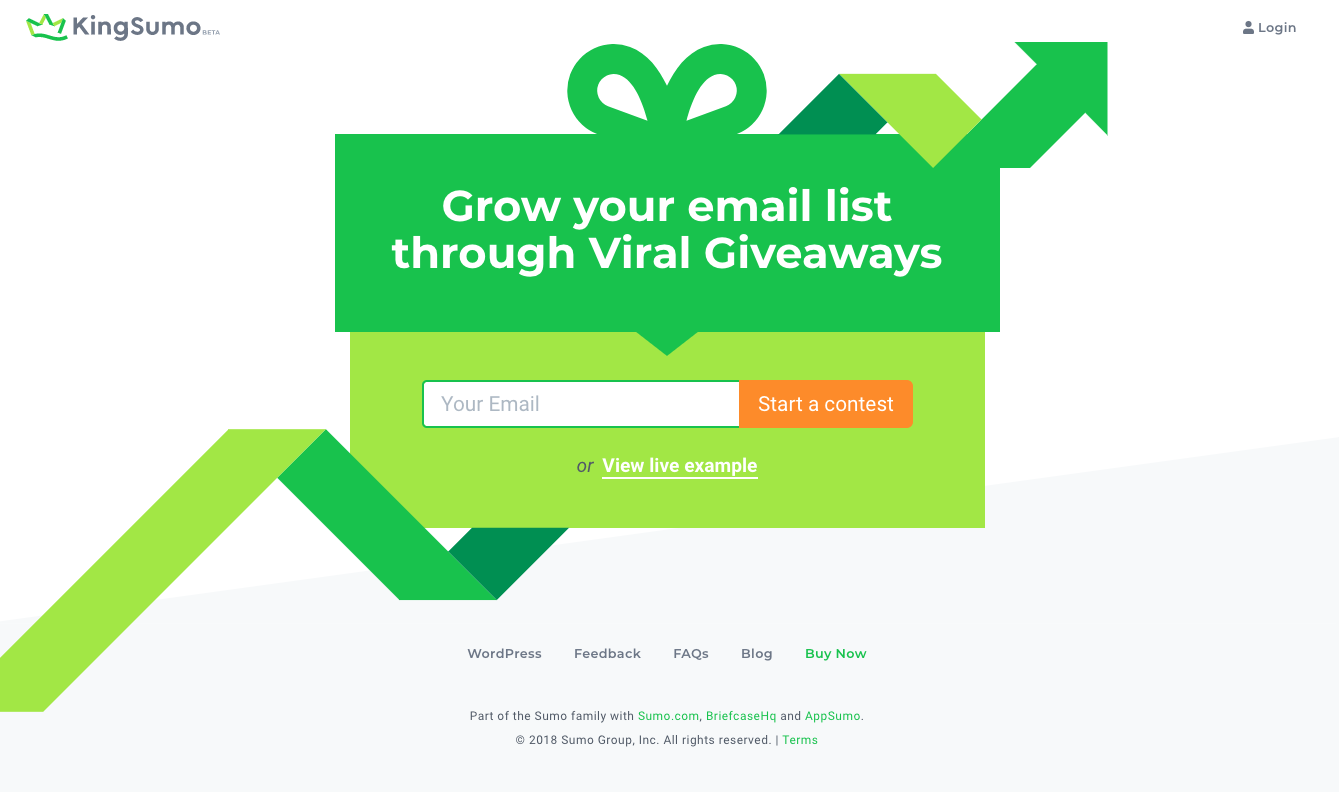 Free Trial: Free with brandin
Pricing: $8/month with custom branding
If you're trying to build your email list fast, giveaways are one of the best ways to do it.
Noah Kagan famously grew AppSumo's email list by 200,000 people through giveaways: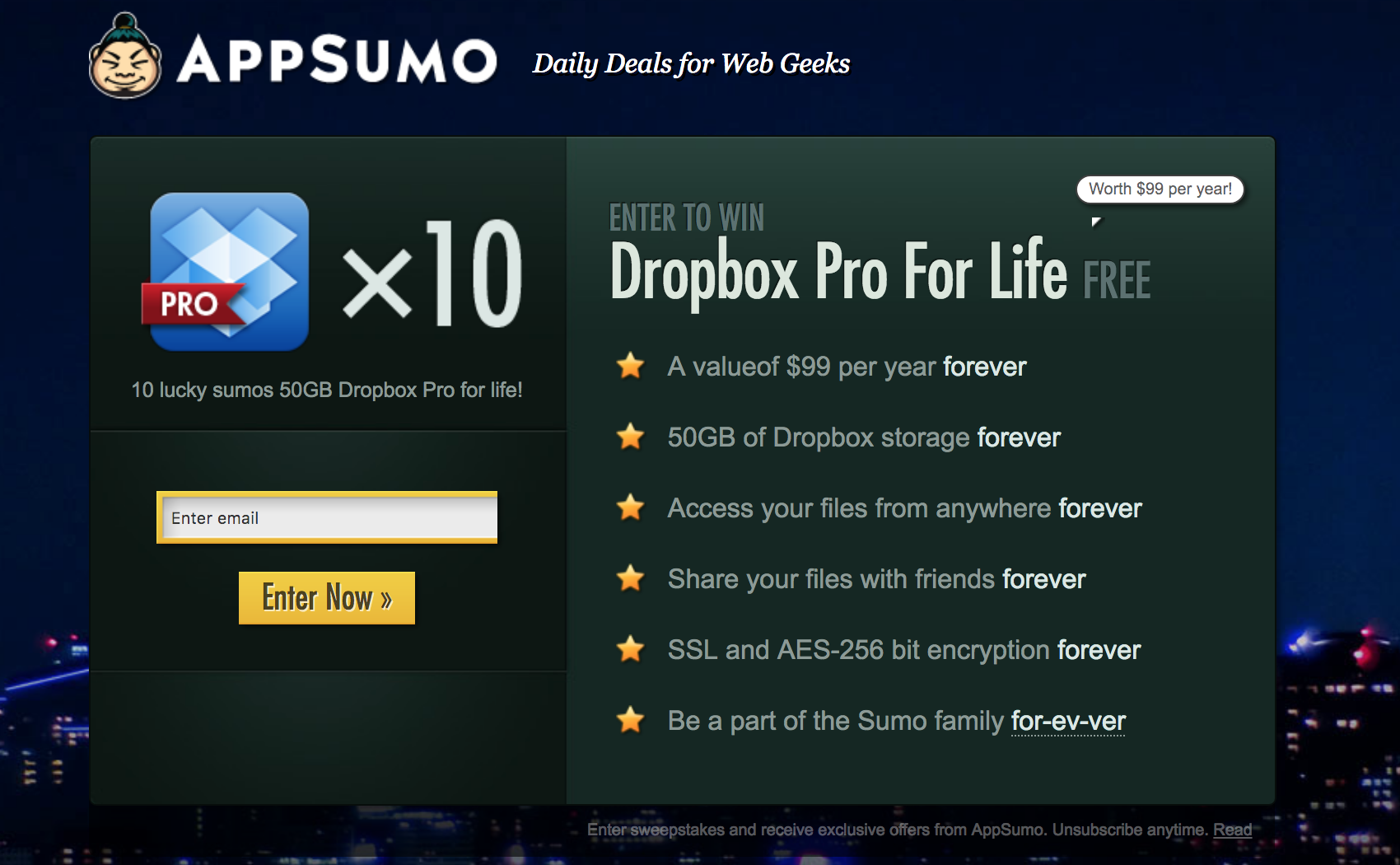 Not only that, Josh Earl also had a similar experience and collected 364,104 email addresses through giveaways.
Giveaways work.
And KingSumo is the app behind these viral giveaways.
Best part?
It's free!
Here's how you can set up a viral giveaway with KingSumo:
A. Set up an email-generating viral giveaway
On the KingSumo homepage, all you have to do is to key in your email address and hit "Start a contest":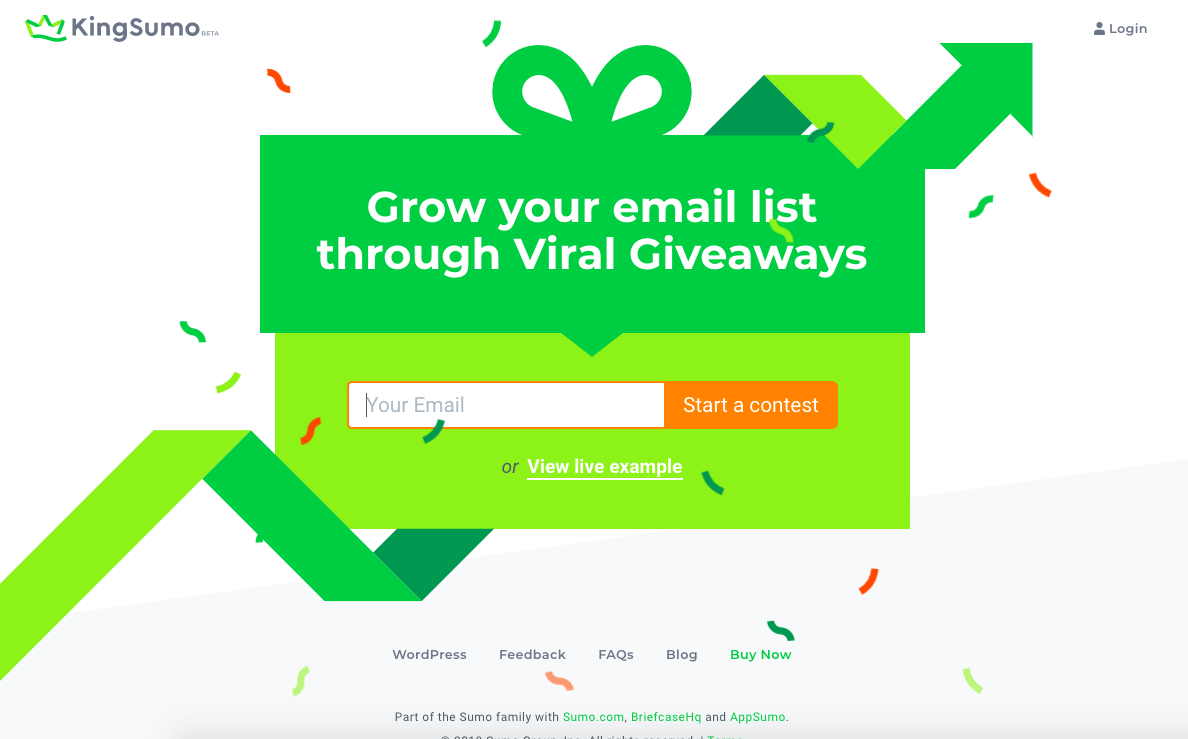 KingSumo will bring you to this page where you will fill in the competition details: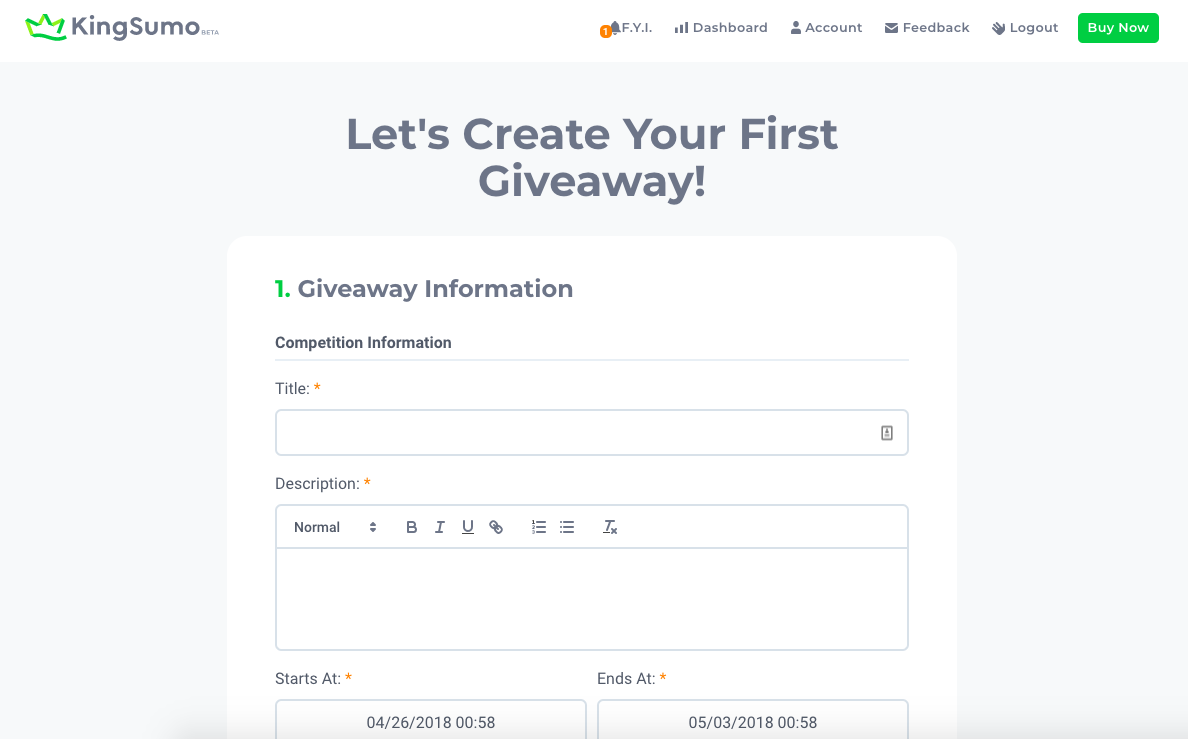 Once you hit "Save", you're ready to go!
Of course, the most important thing in a giveaway is the prize. Make sure you giveaway a prize that is valuable to who you want to attract. Don't just give away generic prizes like MacBooks or iPads as those may attract a general audience (or spammers!)
Read Bryan Harris' guide to viral giveaways to learn more about how to set it up successfully and promote it.
Final Thoughts
A growth hacker is only as good as his toolbox.
Therefore it is important he is always on the lookout for more and better tools.
The 8 tools profiled above can help you acquire customers at scale, or do your existing tasks more effectively.
The best part?
They offer a free trial for you to test it out and play with.
Take advantage of that, and try out the tools.
Who knows?
They might just become an indispensable part of your toolbox.
About the author
Si Quan Ong is the Content Marketing Manager at ReferralCandy. ReferralCandy has helped thousands of online retailers run successful referral programs, and recently launched CandyBar to serve offline retailers too.