Leads are the lifeblood of every business. With a great lead capture strategy, you can reduce your bounce rate and convert your visitors into quality leads. 
In this article, we'll take a look at the best practices that will help you capture more leads. We'll also discuss how to generate leads by using OptiMonk's lead capture software.
Let's dive right in!
Lead capture is a way to collect information about your visitors (i.e. name, phone number, email address, etc.). This is so you can get in touch with them in the future and convert them into paying customers. This data is usually gathered through a lead capture form.
The two most popular types of lead capture forms are in-page forms and popup forms. 
In-page forms are embedded into your regular web page and usually have one or two fields and submit buttons. 
With popup forms, the sign-up appears in a popup, and typically, they display offers to your visitors. You can also use sticky bars, sidemessages, and dedicated lead capture pages to grow your leads database.
Usually, visitors enter their contact information into a lead capture form in exchange for some type of benefit. This can either be a discount code, free ebook, a free webinar, or a free trial.
How to create a lead capture form?
Now that we know what lead capture is and why it's important, let's see how you can jumpstart your lead generation strategy. 
1. Build an irresistible offer to capture leads 
Boring offers rarely motivate visitors to share their contact information. Successful lead capture forms need to be backed up with an irresistible offer that grabs your visitors' attention. 
Discounts are the most surefire way to generate more conversions and leads. Visitors will be happy to give you their contact info in exchange for a great deal like 15% or 20% off their first purchase.
If you don't want to offer a percentage discount, here are some other great incentives to motivate your users to fill out those form fields:
A useful ebook or other types of content upgrade

Entry into a giveaway or contest 

Access to free webinars or educational videos

A free trial or demo 
For more ideas, check out this article. 
2. Use a popup to capture leads across your website
Popups are the best and easiest way to display your lead capture form because they grab your visitors' attention. By nature, when a popup activates, it takes over a user's screen and makes it impossible for your visitors to miss your message. 
Using popups allows you to show different messages to different visitor segments. It also lets you delay your message and only show it when your visitors are ready for your lead capture form. 
Here's how to create your lead capture popup with OptiMonk: 
Step 1: Pick a template
The first step to create popups to generate leads: head over to OptiMonk's Template Library and choose a template that fits your needs. You can find tons of great lead capture forms that you can use and custom-design. 
Pro tip: sorting by "build your list" is a handy way to see all of your options for generating leads at once.
Here are just a few examples of the lead generation forms that we have available:
Step 2: Customize your popup 
Once you've chosen a template, it's time to customize it in the Popup Editor. OptiMonk's user-friendly drag and drop interface allows you to insert your own copy, choose colors that complement your website design, and many other changes.
Don't forget to edit your Thank You page as well.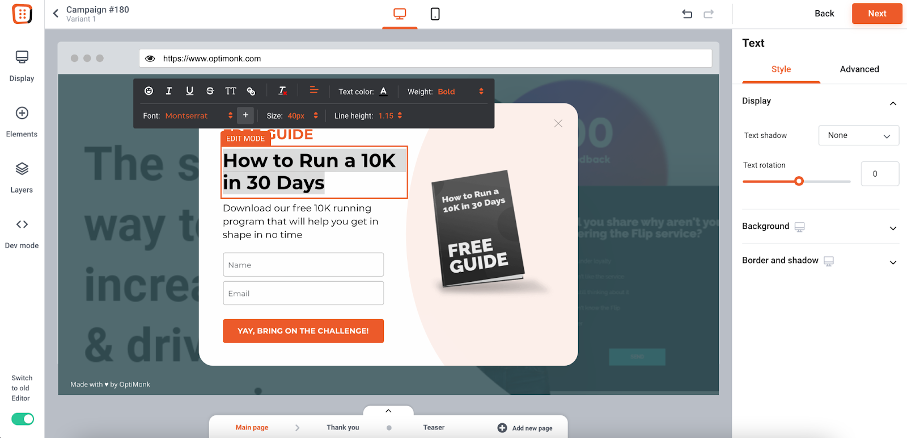 Step 3: Set up the triggering and targeting options
After you're happy with how your new lead capture popup looks, it's time to customize when and to whom it appears. Luckily, all the lead generation templates in OptiMonk's admin interface come preloaded with triggering and targeting settings that work for the popup's specific use case.
But if you want to display your lead capture popup at a specific time or to a specific target audience, you can take a look at the linked support resources that cover OptiMonk's advanced features.

Step 4: Set up your integrations
If your business uses a sales CRM to keep in contact with your leads, chances are—you can integrate that software with OptiMonk.
To do so, head over to the integrations section on the Settings page. 
Here you can link your CRM, email marketing, or other communication tools. 
After that, all the data collected by OptiMonk popups will be sent directly to your chosen software.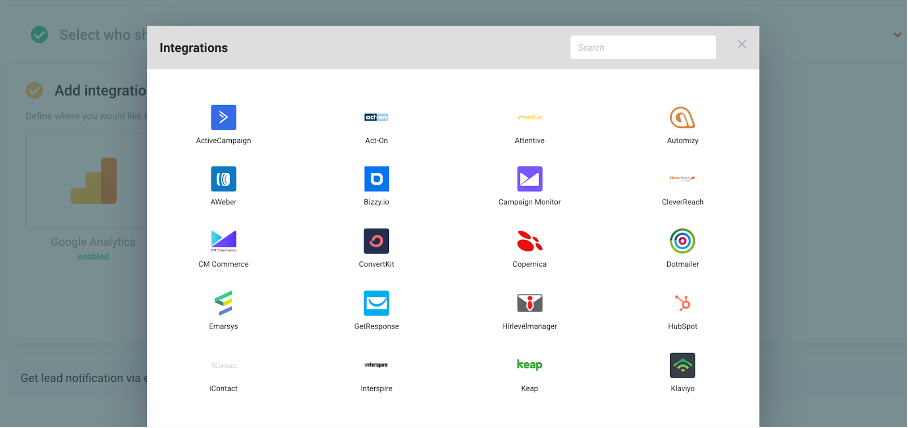 Step 5: Activate it 
And that's it! Now you just need to activate your lead capture campaign.
3. A/B test and optimize your lead capture form 
If you want to ensure that you're collecting as many leads as possible, it's crucial to continually A/B test your lead capture form and see which one produces the best results. 
You should change the various elements of your popups one at a time, so you can see what changes lead to improved results. For the best conversion rates, you should A/B test your headline, your call-to-action, and even the offer itself.
With the premium version of OptiMonk, you can easily A/B test your popups. Check out our how-to guide. 
How to optimize your lead capture form?
Now let's see three best practices that can help you to create high-converting lead capture forms from the very start.
1. Use multi-step forms 
As a general rule, longer forms will have a lower conversion rate than shorter ones. A form with fewer fields takes less effort to complete.
If you want to collect a few different types of customer data, it's better to break your form into multiple steps. This will prevent your visitors from feeling overwhelmed.
The people who make it past the first page of your lead capture form are generally excited about your offer. So they won't mind giving a little extra info (like their phone number) when they reach the second page.
Check out how Obvi used a multi-step popup to collect email addresses and phone numbers at the same time: 

2. Gamify your lead capture form 
Gamification is a great way to boost the conversion rate of your lead capture forms. 
With gamified popups, you can offer shoppers the chance to win discounts or free products by spinning a lucky wheel or "scratching" a scratch card. The price of entry: their contact information. 
Gamification comes with several benefits including greater engagement and increased sales. They're fun to play, and they make your users feel more enthusiastic about your store (and therefore more likely to make a purchase). 
Here are some examples of successful gamified popup templates:
If you're interested in learning everything you need to know about popup gamification, check out this article. 
3. Segment your visitors and create personalized lead capture forms
Showing the exact same lead capture campaign to everyone will collect some leads—but not nearly as many as adapting your popups to different target audiences. 
You'll want to personalize your offers based on your visitors' interests and their specific stage in the customer journey. This will ensure that all your visitors will see an offer that's relevant to their needs. 
Some of the best ways to increase conversions include segmenting based on:
Page:

Are your visitors reading an article about a specific topic? Or are they on a category or product page?

Web traffic source:

Where did they come from? Facebook, email, Google ads?

Their stage of the customer journey:

Are they just becoming aware of your brand or have they been loyal customers for some time?
Take a look at our recently published Ultimate Guide to Popups to learn the ins and outs of user segmentation. 
5 lead capture popup examples
Let's take a look at five lead capture forms that use these best practices we've just gone over.
1. Obvi
Obvi uses a free weekly giveaway to entice visitors to sign up for email and SMS marketing. Their attention-grabbing headline is bright pink, so no one will miss their free entry message.
Notice that they've also used only two form fields: an email address and a phone number field. They assumed that fewer website visitors would have converted and completed the form if they'd also asked for their visitors' names.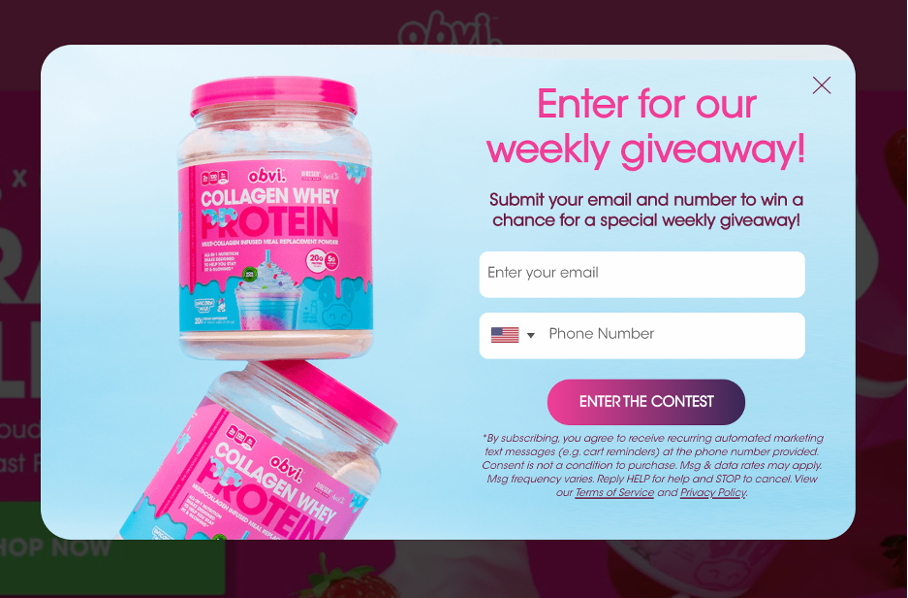 2. Native Deodorant
This example from Native Deodorant offers their customers a chance to win a product demo. They also use a countdown timer to increase the Fear Of Missing Out (a.k.a. FOMO), which motivates more visitors to convert now rather than later.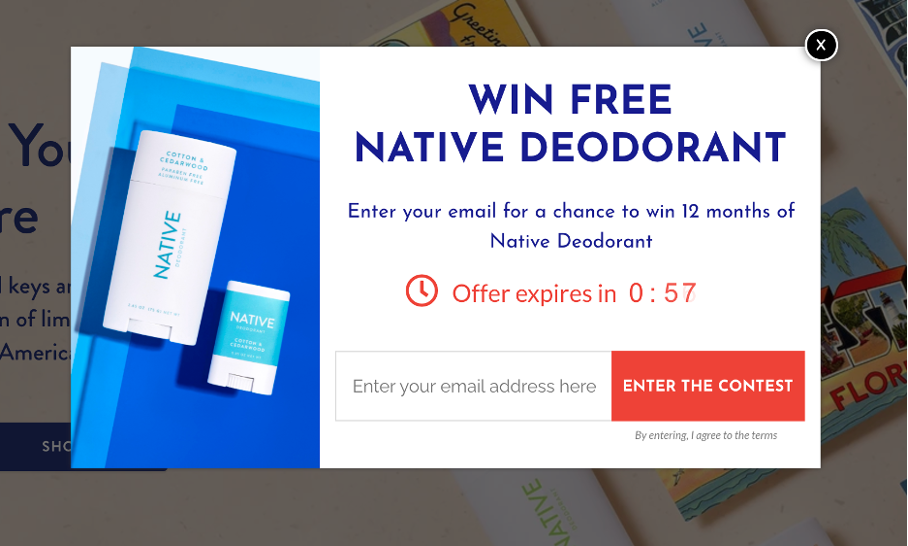 3. Ecommerce Influence
This lead capture campaign explains exactly what visitors can expect from entering their email addresses. This specifies that there's an ecommerce business newsletter that goes out every Thursday.
They also provide additional value by giving subscribers immediate access to their podcast series and a guide.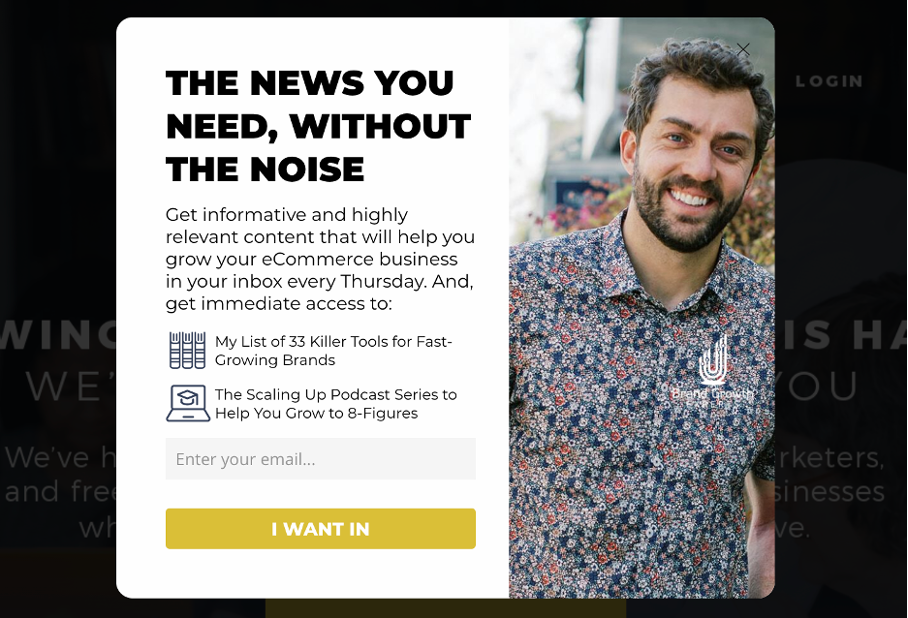 4. Fuller's Flips
This lead generation popup from Fuller's Flips does a great job of proving that their offer holds value. Notice how their before and after picture shows the types of results that their video tutorials can bring.
They simultaneously announce access to exclusive sales for subscribers.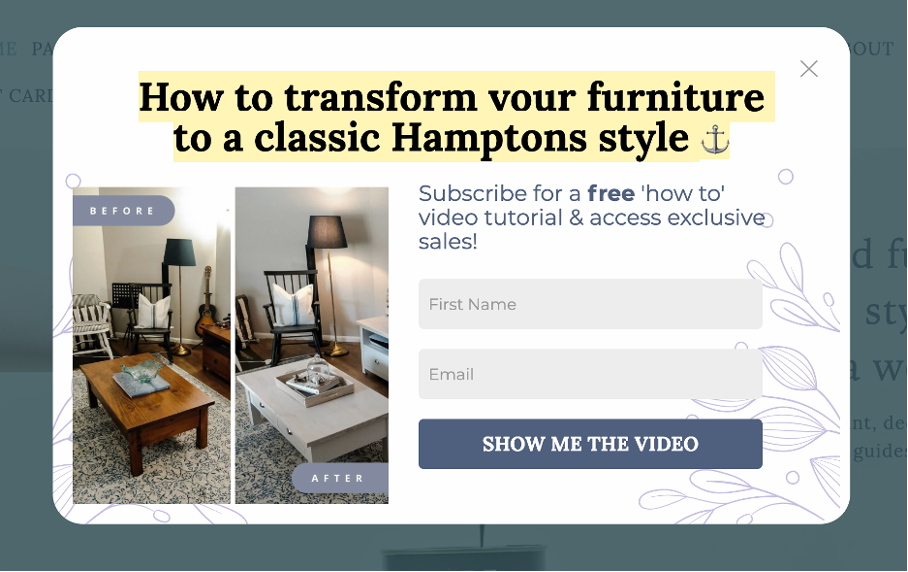 5. Earthlove Box 
Earthlove Box nails their lead capture popup by offering a "FREE Gift". It makes their customers excited to sign up, so they can get their free serum in the mail.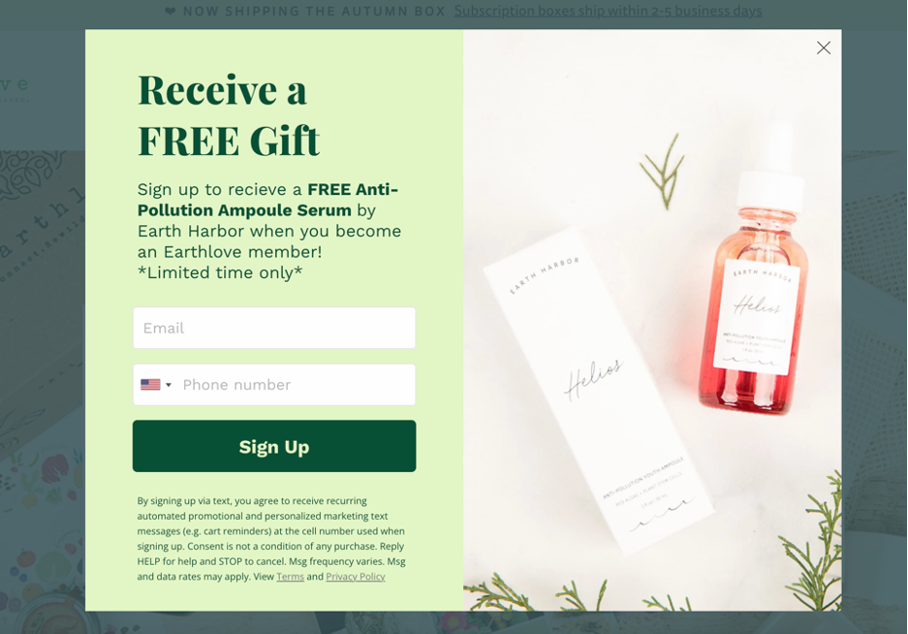 What considerations should be made regarding privacy policies in a lead capture form?
In today's world, where regulations like GDPR, CAN-SPAM, and CASL exist, it's essential to ensure that your forms are compliant, especially if you're targeting users in the European Union, the United States, or Canada.
Understanding your target audience and taking the time to ensure your forms and email practices align with these regulations are vital steps to ensure compliance. By prioritizing privacy and obtaining consent, you can provide users with a more secure and trustworthy experience on your lead capture page.
How to ensure you collect all necessary information without overwhelming the customer?
It's important to strike a balance between the number of fields and the quality of leads generated. While single-field forms may generate more leads, longer forms with 5+ fields are more likely to generate qualified leads.
You can take inspiration from all of these great lead capture popup examples so that you can start to grow your leads database today!
When you use OptiMonk to create your lead capture forms—like all the companies above did—you'll be able to take advantage of all our advanced marketing tools. So head over to the Template Library and start looking for the perfect template for your next lead capture campaign.