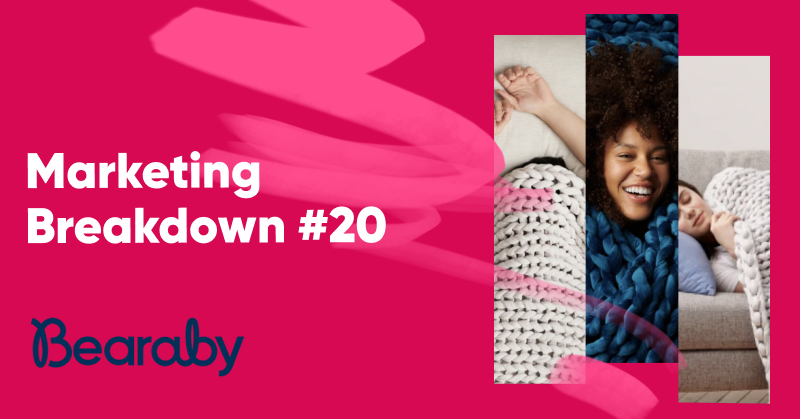 Launching a business just before the global pandemic spelled failure for most entrepreneurs. Surprisingly, this wasn't the case for Bearaby.
While companies struggled to stay afloat during the pandemic, Bearaby was busy somewhere fulfilling orders. And by the end of 2020, they had reached $21 million in annual sales.
And it didn't stop there. The following year, their revenue nearly doubled. Now, with three-year revenue growth of over 4,999%, there's no stopping them.
Bearaby, a direct-to-consumer company that produces sustainable weighted blankets, ranks 82nd on the 2022 Inc. 5000 list, just four years after its launch in 2018.
Their weighted blankets are made without artificial fillers or synthetic fabrics. Naturally heavy, cooling, and hand-knit with organic materials.
As you might imagine, weighted blanket sales are pretty seasonal. In fact, Bearaby CGO Joaquin Arce confirmed that they see more sales in Q4 and Q1, and less in the others. That's why the brand has an off-season strategy and a peak-season strategy. In this article, we'll analyze both.
From seeing how Bearaby managed to build a multimillion-dollar company during uncertain times, you can learn a few marketing lessons to build a failure-proof business. Let's get started!
Bearaby noticed that their sales skyrocket during holidays, which suggests they have to get their products in front of lots of people during these times.
But there's a challenge: advertising costs can be really high during the holiday season. Promoting a product that's mainly in season during the holidays (when ad costs can be at their highest) isn't easy.
Let's see how Bearaby does it!
1. Get featured in gift guides
Bearaby strategically put their products in front of customers who are already in gift-buying mode by getting included in lists and gift guides of top online magazines like The New York Times Wirecutter or The Strategist.
According to Joaquin Arce, this strategy gets them lots of sales, and the companies use affiliate links in these guides… a win-win for both parties.
2. Focus on SEO
Having an outstanding SEO game plan in place allows them to cash in on organic traffic while cutting back on search ads, especially during holidays when ad costs are high.
While they rank for bottom-of-the-funnel keywords like "bearaby," or "bearaby weighted blanket", they also organically rank for middle-of-the-funnel keywords such as "weighted blanket," "knitted weighted blanket," or "knot pillow."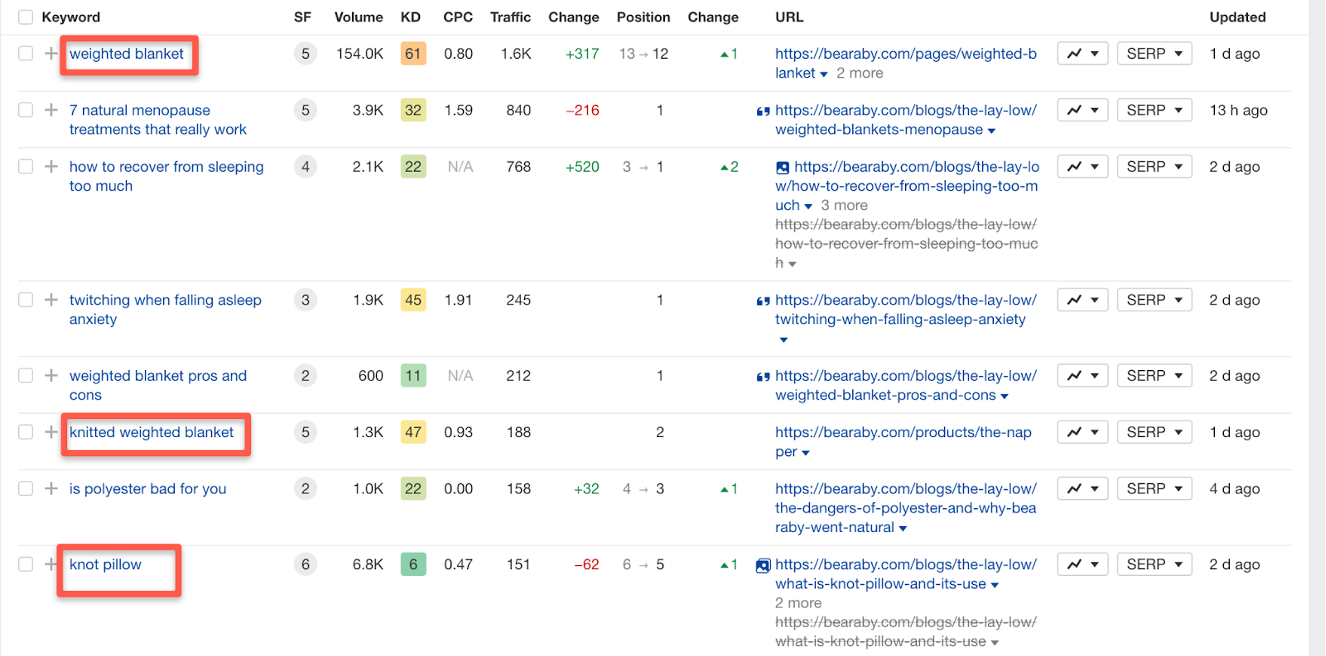 In addition to that, their blog is optimized to rank for top-of-the-funnel keywords like "how to recover from sleeping too much," "how to sleep on a body pillow," and "pregnancy pillow." This helps them to get people to their website who are potential customers.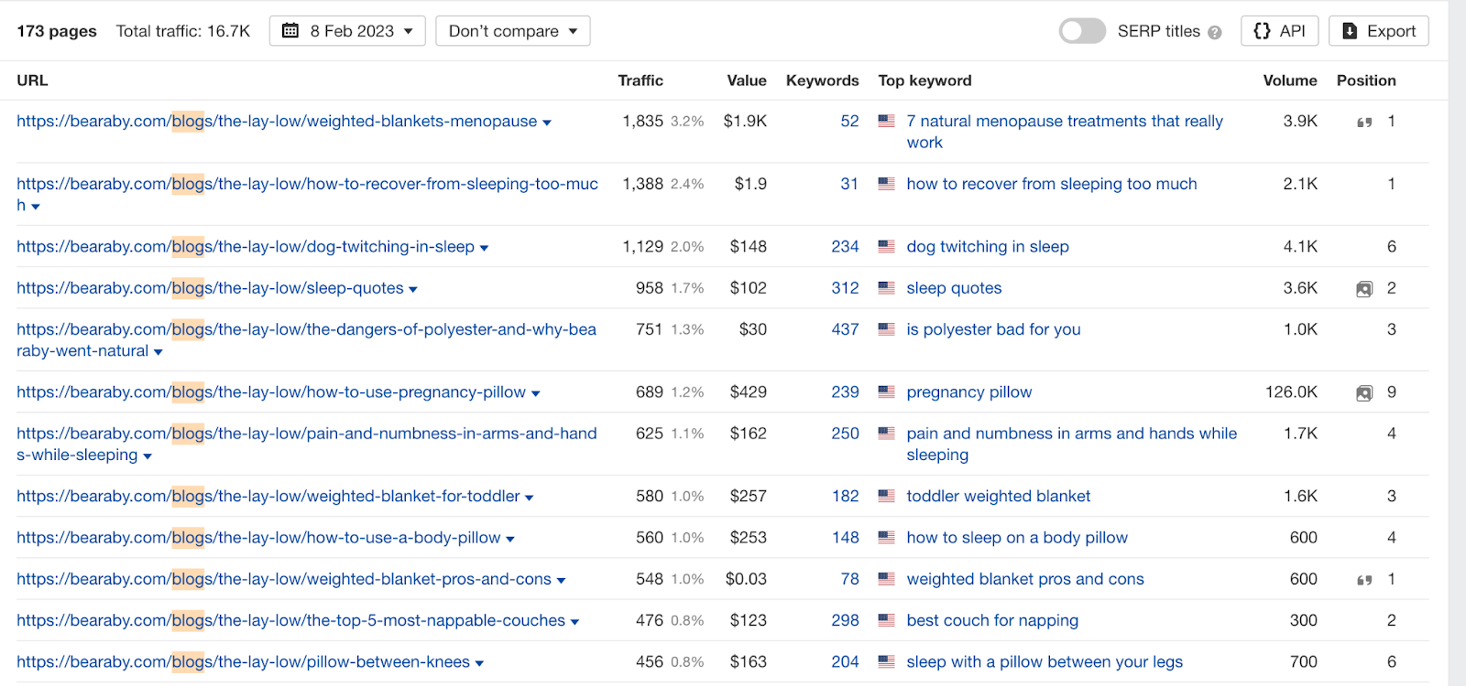 In these blog posts, they mention relevant products and use embedded product promos as well as teasers that can be opened into a side message.
These product promos allow them to make early-stage visitors product-aware and convert them into customers.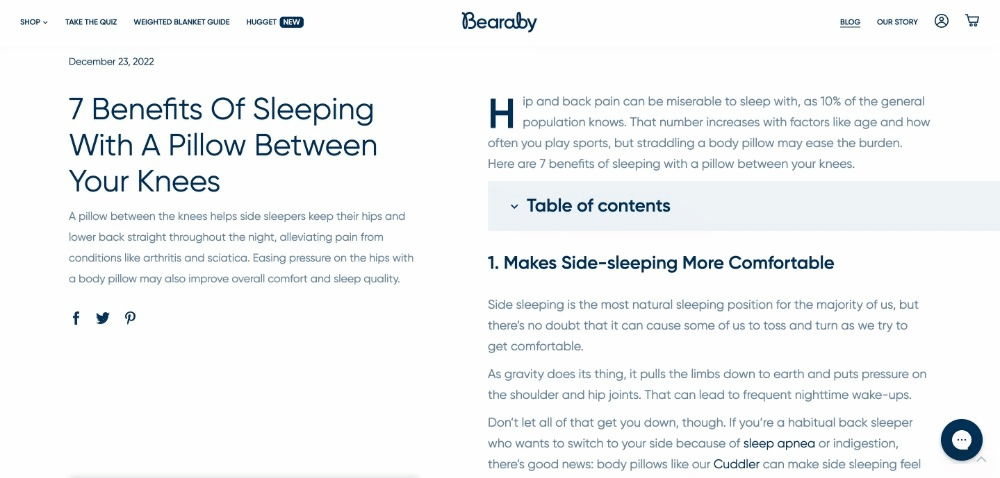 3. Use paid ads wisely
While they have a great SEO strategy in place, Bearaby also invests heavily in paid ads. This way, they can reach customers who've never heard of them and retarget users who've shown some kind of interest.
Spending on ads when the cost is high may seem tricky, but they do it wisely.
You might be wondering "how?" Well, it's quite simple.
They follow a hyper-localized digital advertising strategy, which helped the brand increase revenue by 600% in 2020. It drove 142% more product page views while decreasing cost per purchase by 53%.
"Instead of doing three to five ads, we're going to do [thousands of versions] of the ads and [target] hyper-local audiences based on the demographics… [of] different parts of the country," said Diana Lee, co-founder and CEO of Constellation Agency.
Q2 and Q3 show a decline in sales for Bearaby. However, this doesn't mean the company slacks off during this period.
In fact, the company uses these times to put better structures in place to allow for sales growth in the upcoming peak season.
Let's see how Bearaby makes sure they get sales during the off season, too.
1. Launch new products
Running a business in this industry requires on-demand creativity, and Bearaby has it in loads!
Bearaby makes sure to always have something new to talk about, even during the off season. They launch a series of new products, like the Huggets in summer colors…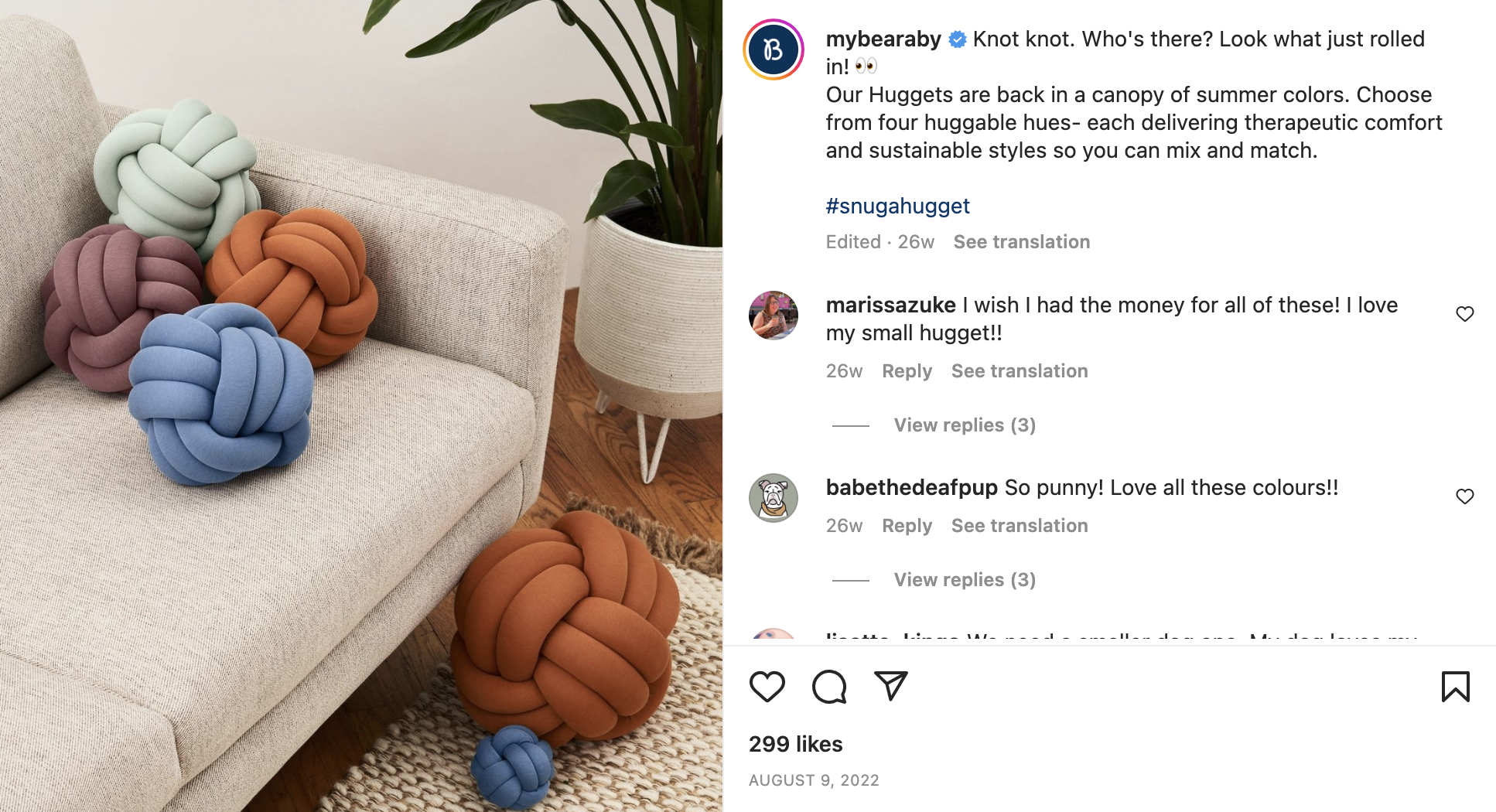 Or the cooling summer Tree Nappers…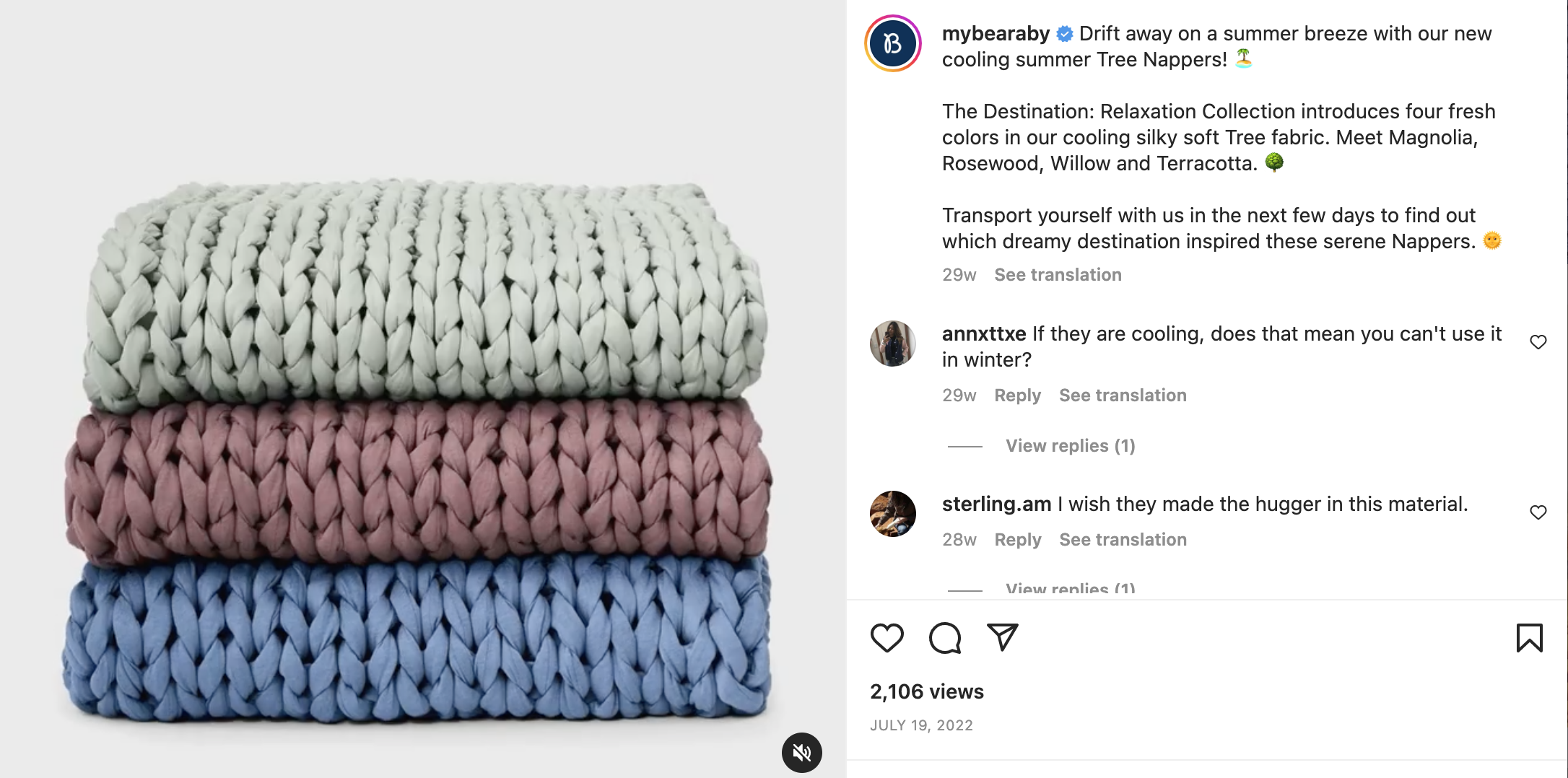 Whenever they launch a new product, that week will be all about the new product on their social media pages, creating buzz around it and driving as many eyeballs to it as possible: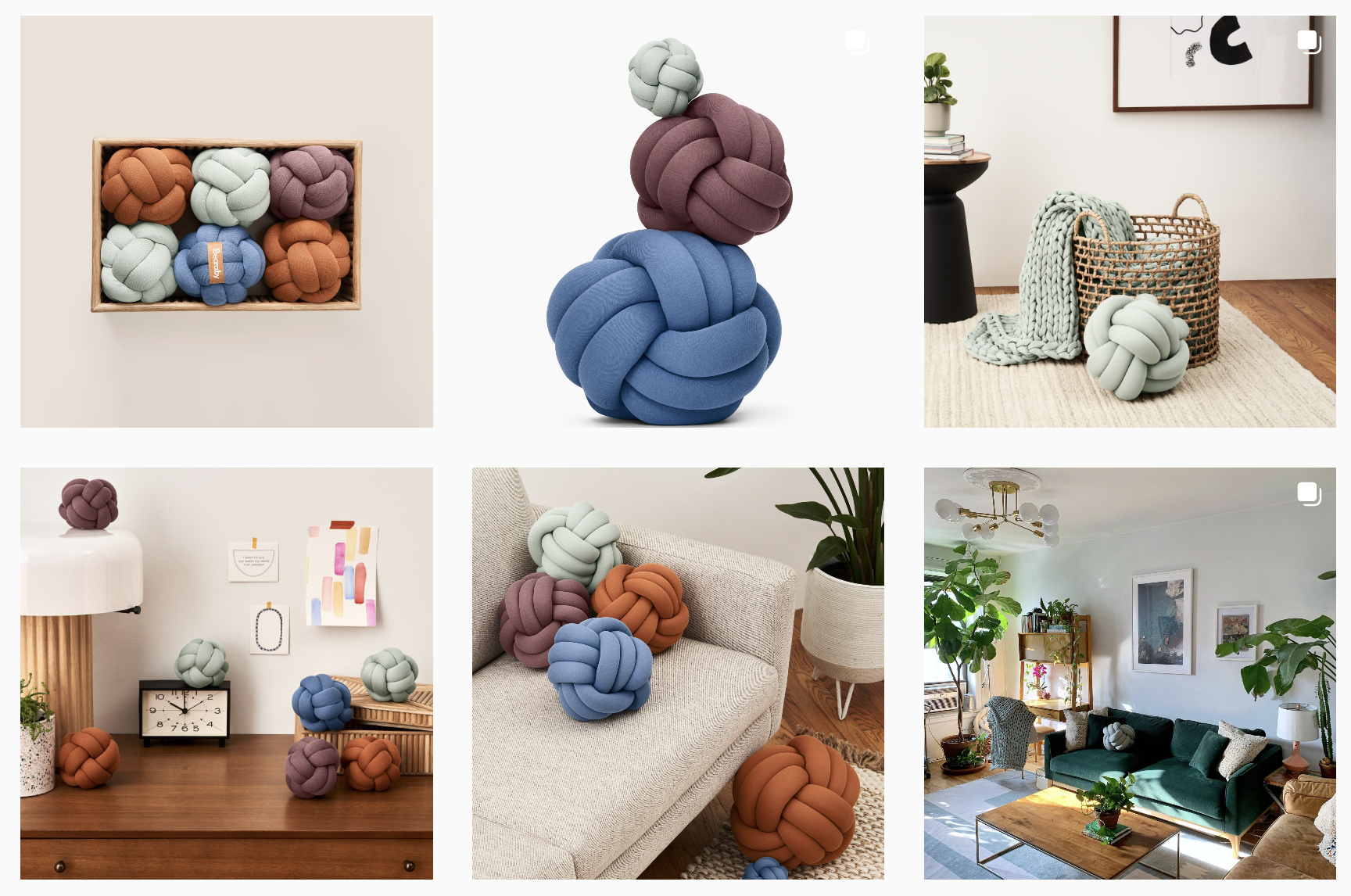 2. Announce new partnerships
Building partnerships is a great way to introduce your product to new users and lend your brand credibility in markets that wouldn't be accessible in other ways.
Bearaby also uses the off season to build strategic partnerships like Bearaby's summer partnership with Quilt, when they launched the Cotton Napper in Bloom.
Their partnership supported The Mental Health Coalition, and they even held a giveaway on Instagram to generate some buzz.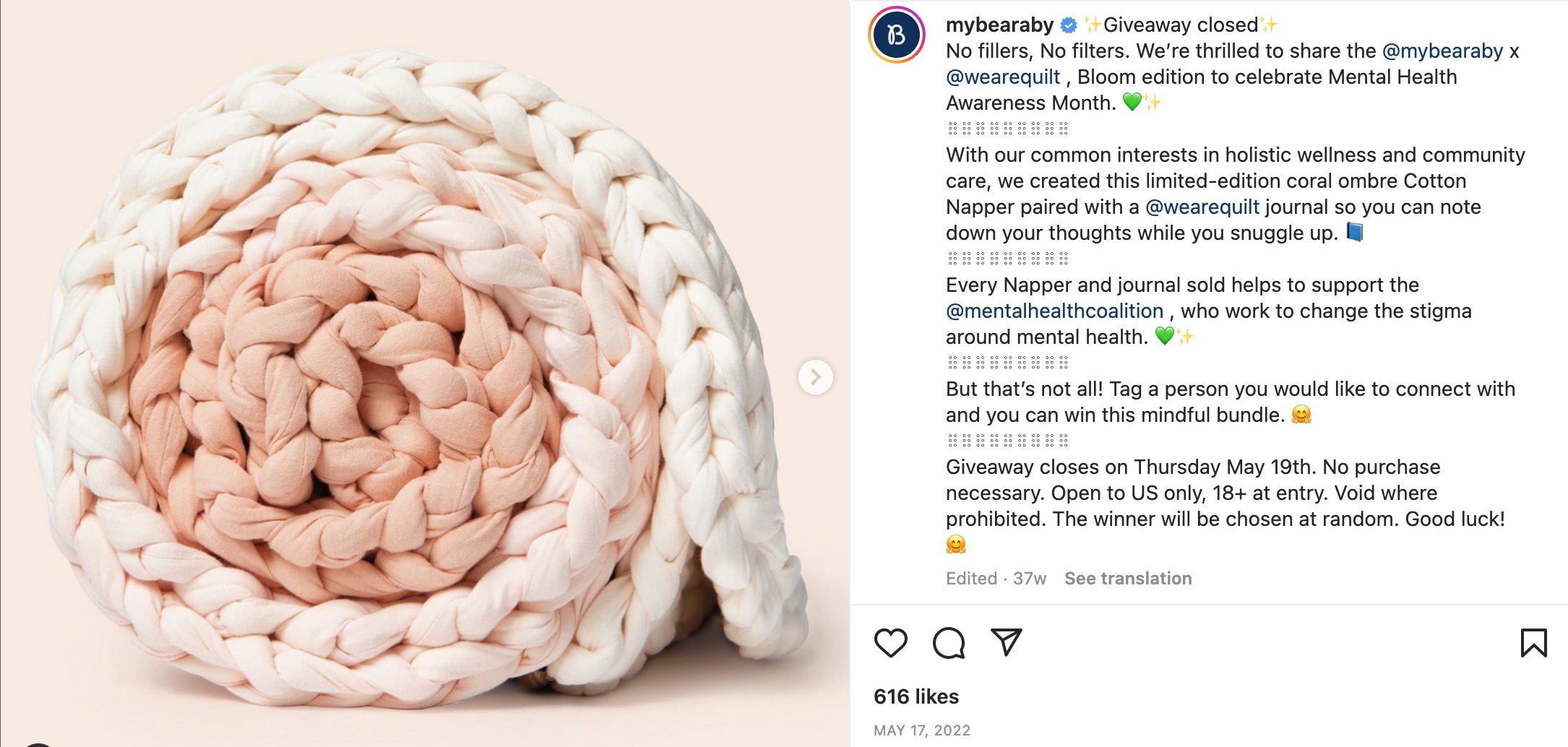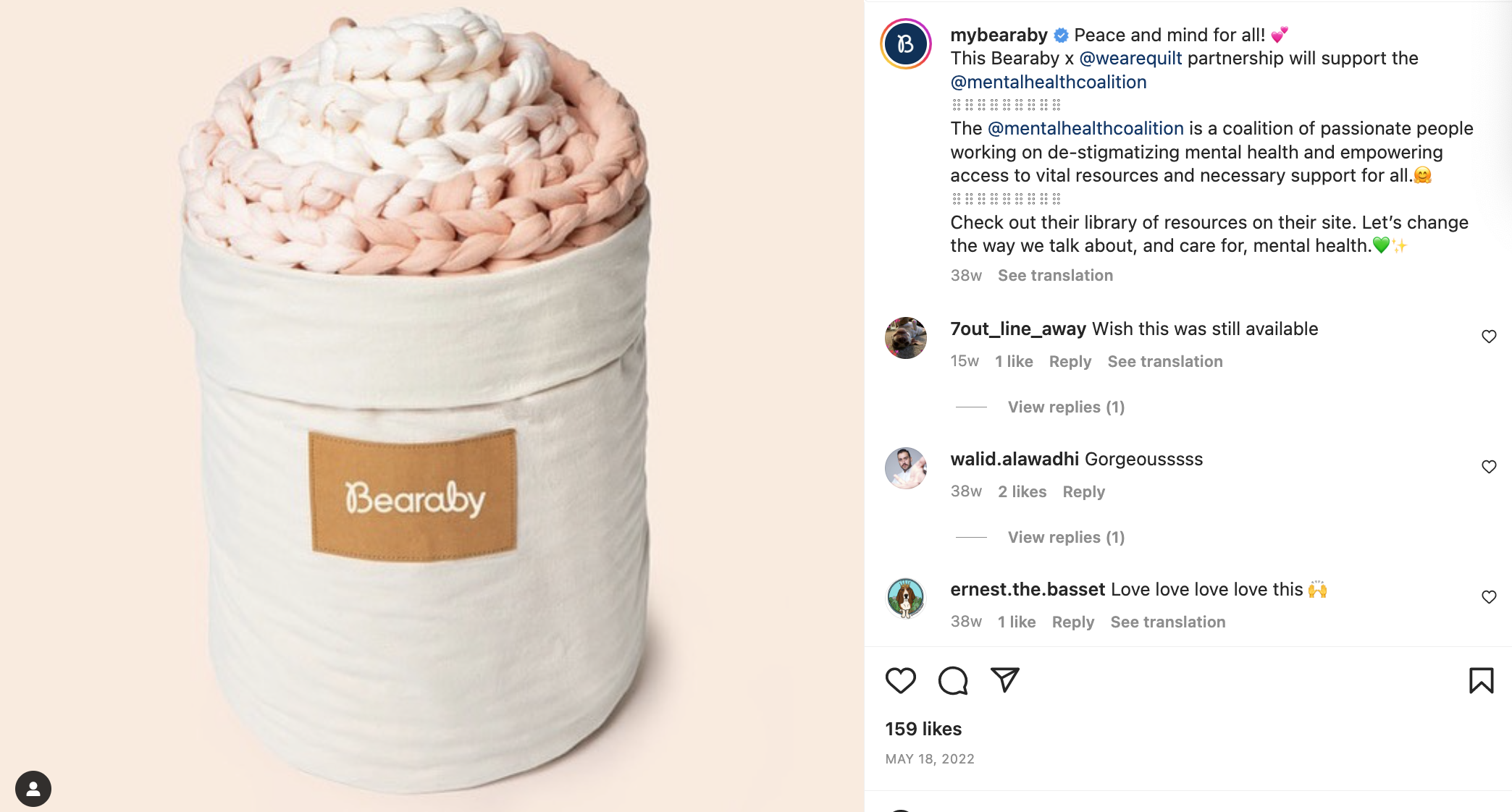 3. Focus on conversion rate optimization
Online businesses have one primary function: drive conversions. If they don't achieve this, everything will fall flat and the business will go off the grid immediately.
Instead of spending lots of money on driving more traffic, they focus on getting the most out of the traffic they already have, and they have specific ways of doing this.
For example, by creating a quiz funnel that helps people find the right product after answering a few questions, they were able to optimize their lower-funnel ad campaigns.
This "question lead" is also a great way to get visitors' email addresses to reach out to them later on.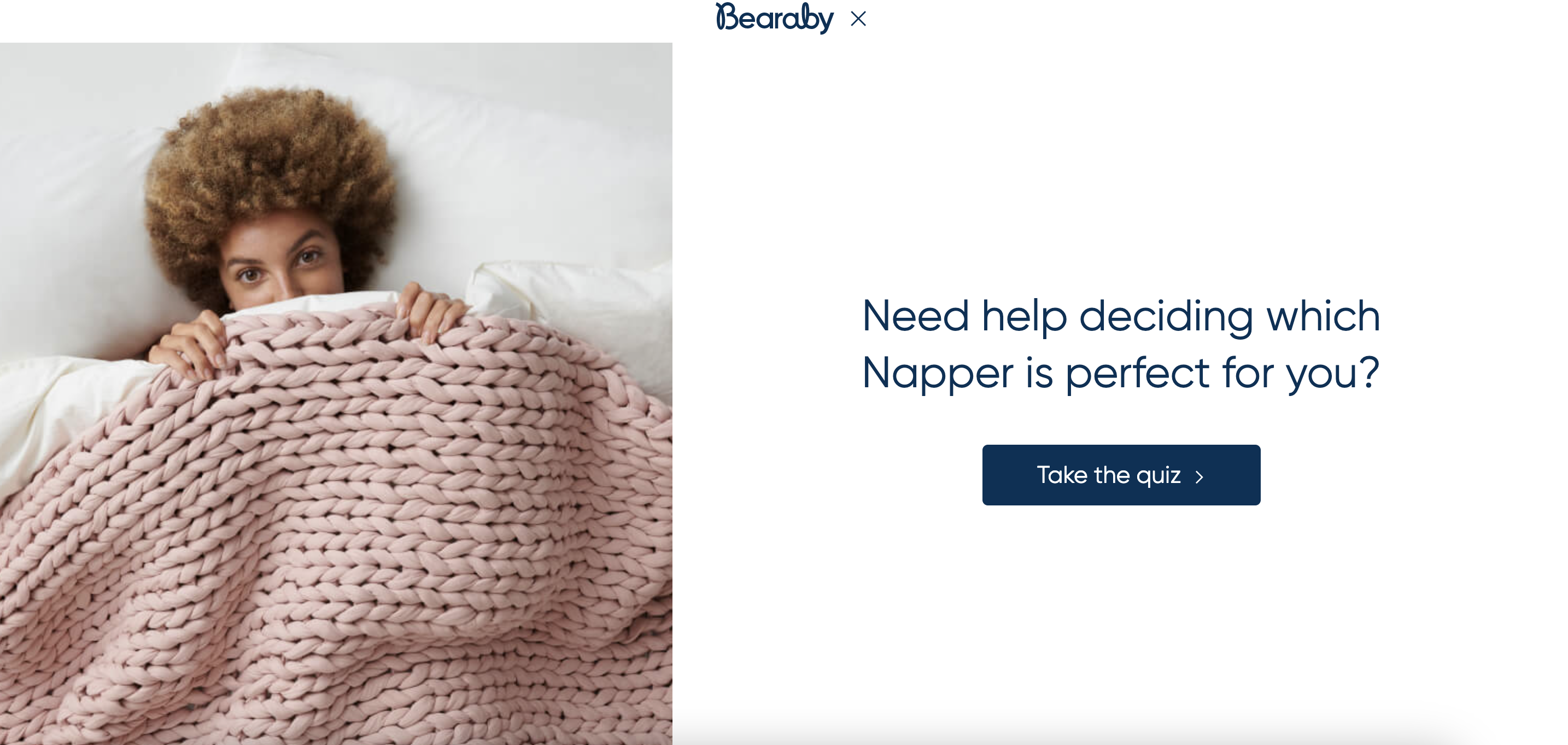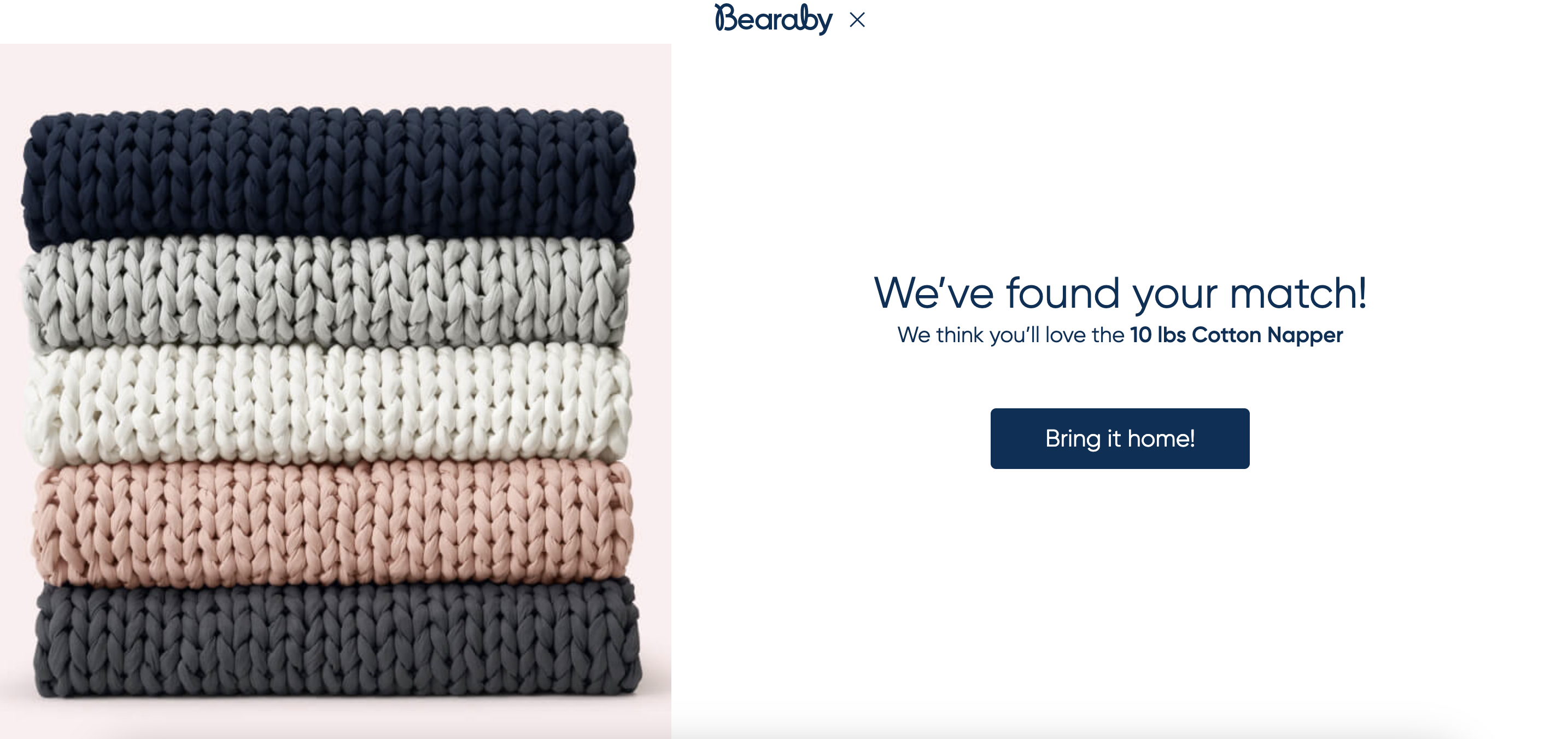 51.7% of customers say visual content like product images make them more likely to buy. No wonder Bearaby invested in featuring high-quality product photos across all their product pages!
As soon as you arrive on a product page, you can also see lots of social proof, like in the example below where we see the best-seller badge and the 5-star rating, plus more than 2,000 reviews.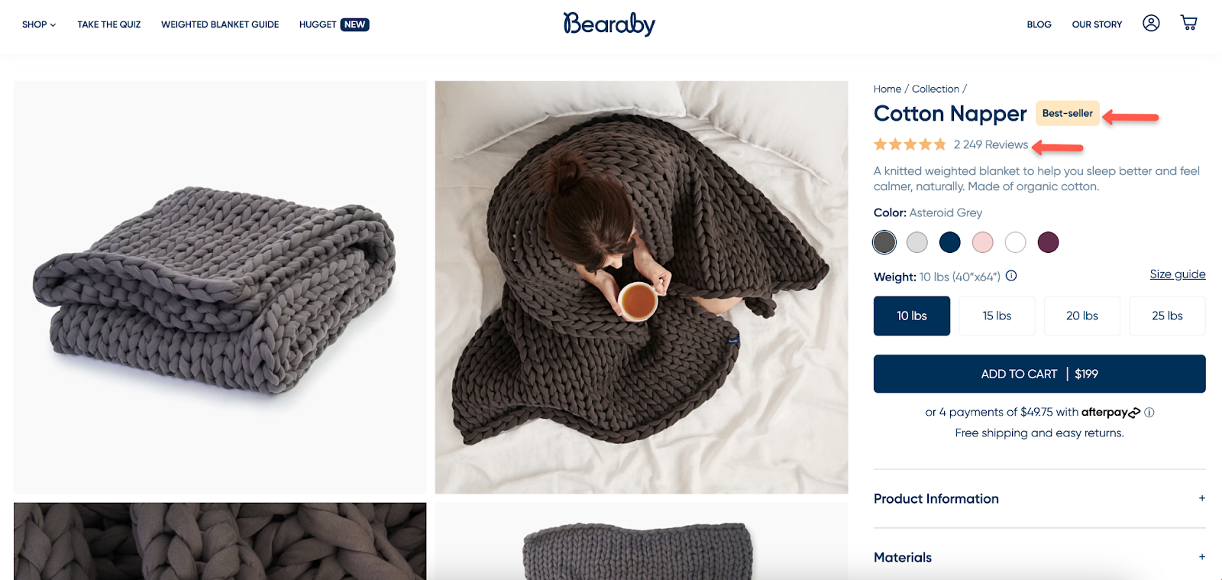 As you scroll down, you can see some main value propositions highlighted that might be just the final nudge for people to convert:

Bearaby also added a sticky bar to the top of the page, so visitors can easily add the product to their cart even if they've scrolled down.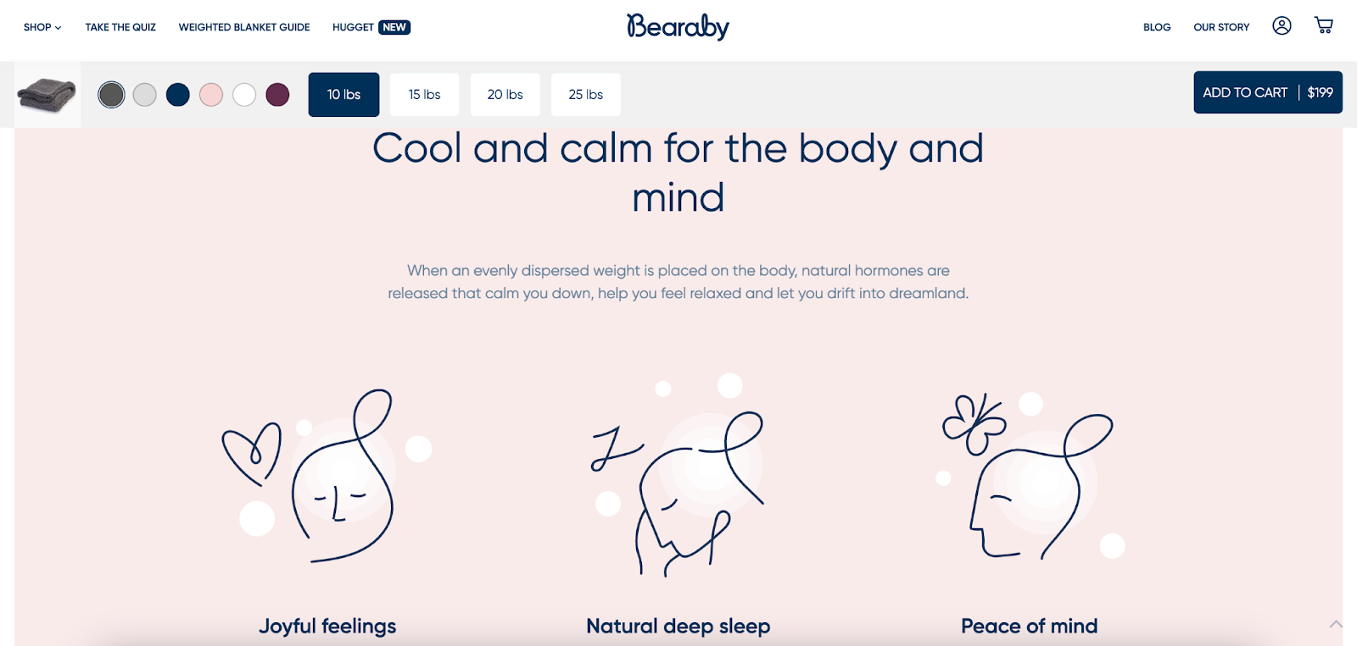 At the bottom of the page, visitors can check out the reviews if they need more social proof:

And there's also a product recommendation for those who want to discover more products: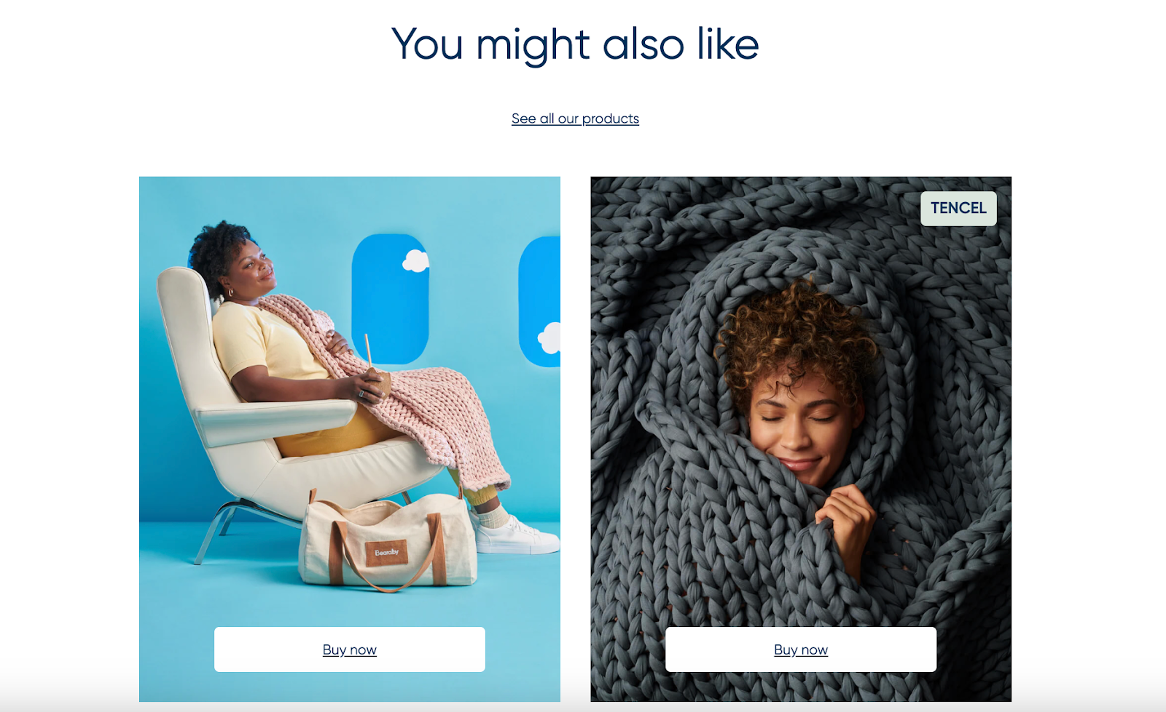 Now that you've carefully looked through Bearaby's marketing breakdown, you should have picked up some great lessons you can use in your own business.
By being clear about their product, and their target audience and when they tend to sell more, they steered the company to growth, both in their peak season and the off season.
Go ahead and implement Bearaby's marketing strategies to achieve the same outstanding results they do.
Did you find this breakdown insightful? Then you might also want to check out how Casper built a billion-dollar company in a similar industry!