There are no two ways about it: shopping cart abandonment is a big issue for online retailers. On average, 66.5% of all shopping carts are abandoned in ecommerce stores.
These lost sales are a frustrating and costly problem, and the only way to reduce shopping cart abandonment is to understand the reasons behind it. If you can successfully encourage users to complete their checkout process and make a purchase immediately, you'll see a spike in revenue coming from the same amount of traffic.
In this article, we'll not only discuss the main reasons for cart abandonment, but also provide actionable strategies to reduce it and lead to more sales. Whether you're just starting out or looking to optimize your existing ecommerce store, this article is a must-read for you.
Let's dive right in!
What is cart abandonment?
Before we get started, it's important to get clear about exactly what cart abandonment means.
Cart abandonment occurs when a customer adds items to their online shopping cart but leaves the website without completing a purchase. Customers abandon carts for a number of reasons, such as high shipping costs or their preferred payment method being unavailable.
Understanding the reasons for cart abandonment is crucial if you want to implement strategies to reduce it. But why is a high shopping cart abandonment rate such a big problem for so many ecommerce stores? Let's see.
Why is shopping cart abandonment a problem?
You don't have to look far to find the top reason shopping cart abandonment is a problem for ecommerce sites: it results in lots of lost sales. And those lost sales are all the more painful because these are individuals who have been almost all the way through the conversion funnel.
Think about it. They've found your site through organic search or a paid social media ad, browsed through your product pages, and found an item that they really love (which they've added to their cart). After all of that, they decide not to make a purchase. It's like stumbling at the final hurdle.
Luckily, online shoppers who abandon shopping carts likely still have a high purchase intent. If you can figure out what prevented them from completing the checkout process and address it, you've got a very good chance of saving the sale.
Top 10 reasons for abandoned carts
Now, let's get into the top 10 reasons that shoppers abandon shopping carts.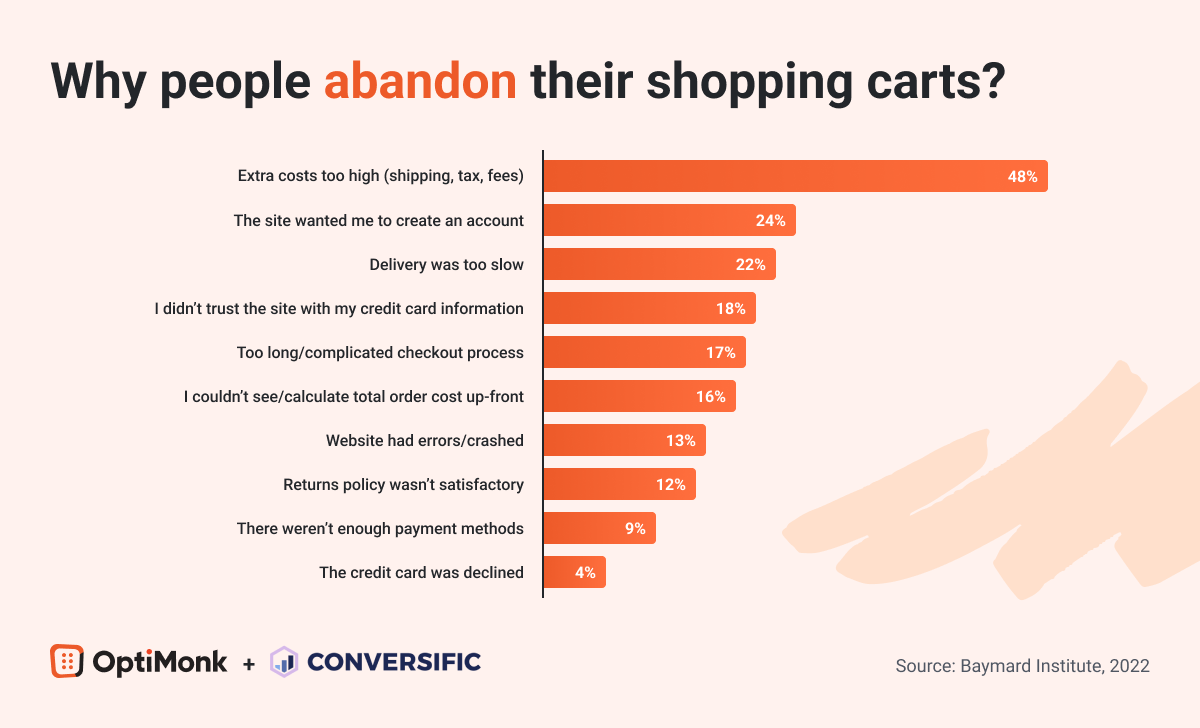 1. Unexpected costs (usually shipping costs)
By far, the number one reason for abandoned shopping carts is hidden costs that a customer doesn't find out about until after they've started the payment process. Usually, these extra costs are related to shipping costs, but they can also include taxes and other fees.
2. No guest checkout option
When an online store requires customers to create an account or login before completing their purchase, many online shoppers will abandon the site (and their cart). Account creation is a hassle that harms the customer experience and holds up ecommerce sales.
3. Delivery options are too slow
How long delivery will take is a deciding factor for many shoppers. If they find out they'll have to wait weeks for their order, they'll probably abandon their carts. Consider offering expedited shipping as an option.
4. Reluctance to share credit card information
Concerns about the legitimacy of an online store can also lead to abandoned carts. Common issues include concerns about security, privacy, and order fulfillment, all of which can erode any sense of trust and make it unlikely that a shopper will be willing to put in their credit card information.
5. Complicated checkout processes
A long or confusing checkout process will deter customers from completing their purchases immediately. Frustrated shoppers will abandon the checkout page without a second thought.
6. Visitors struggle to locate the order's total cost 
Sometimes it's difficult to find the total cost of an order on the checkout page. If this happens, customers leave as a result of confusion about how much they'll actually be charged for their order.
Ecommerce sites that have lots of errors will also have a high shopping cart abandonment rate. Customers will get impatient and simply leave the site.
8. Inadequate return policies 
Customers care a lot about return policies, especially when they're making their first purchase from an ecommerce store. They don't want to get stuck with a product that they don't like. So, if a return policy is too restrictive, it can lead to high shopping cart abandonment rates.
9. Too few payment options
Your checkout process should allow for many different payment methods, including Paypal, Apple Pay, and Google Wallet. Online wallets like these help customers shop online without needing to use their credit card details.
10. Declined credit cards
If a customer's card is declined, this will definitely stop them from making a purchase. Unfortunately, this is not something you can prevent.
How can I reduce my cart abandonment rate?
Now that you're familiar with the main reasons for shopping cart abandonment, it's time to focus on how you can alleviate these pain points and get your visitors to complete the checkout process.
Here are 11 great cart abandonment solutions.
1. Use cart abandonment popups 
Cart abandonment popups use exit-intent technology to target customers that are just about to abandon their shopping cart. As soon as the customer's mouse starts to move toward the exit button, a cart abandonment popup appears on their screen. 
According to our in-house statistics, cart abandonment popups like the one below have a 17.12% average conversion rate. This means that almost 2 out of 10 visitors change their minds, which can be a huge boost to your bottom line.
You can further increase your conversion rate by adding coupon codes or discount codes as an incentive for completing a purchase. It's also a good idea to make your discount code time limited so there's a sense of urgency associated with the offer.
2. Precisely present shipping costs & any additional costs
Make sure that your shipping costs are clearly outlined on your site. After all, the problem isn't the fact that there are shipping costs associated with a purchase, it's when the shipping details are poorly explained and visitors aren't expecting those costs.
One way to present your shipping policies is by using a sticky bar to provide all the necessary shipping details that your visitors need.
3. Offer free shipping and highlight free shipping options
Although you don't have to use a free shipping offer, it is one of the most powerful incentives for combating cart abandonment. If you're able to use a free shipping offer, then you definitely should.
A particularly effective strategy is using a free shipping threshold to increase average order value. You can offer free shipping only on orders above a certain value, and display a dynamic sticky bar that informs your users how much more they need to spend to qualify.
4. Offer guest checkout
It's crucial to allow customers to complete their purchases as a guest rather than requiring them to create an account. This greatly reduces friction in the checkout process.
Here's example from Lush Cosmetics.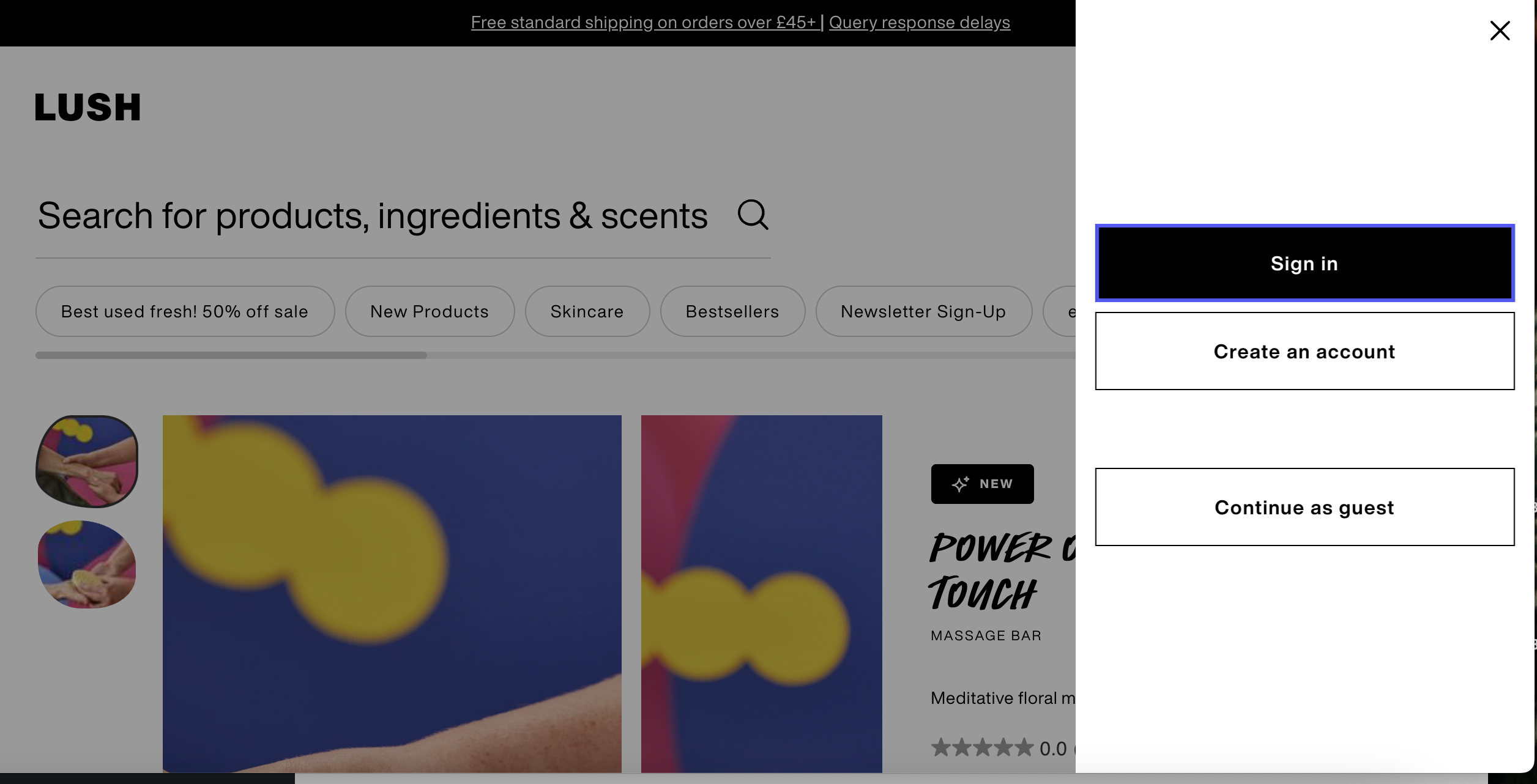 5. Show all payment options
With all the various payment options available, you need to make it easy for your customers to see which they can use in your store. This is an important step in making your checkout process smoother.
Here's what it looks like on Lush.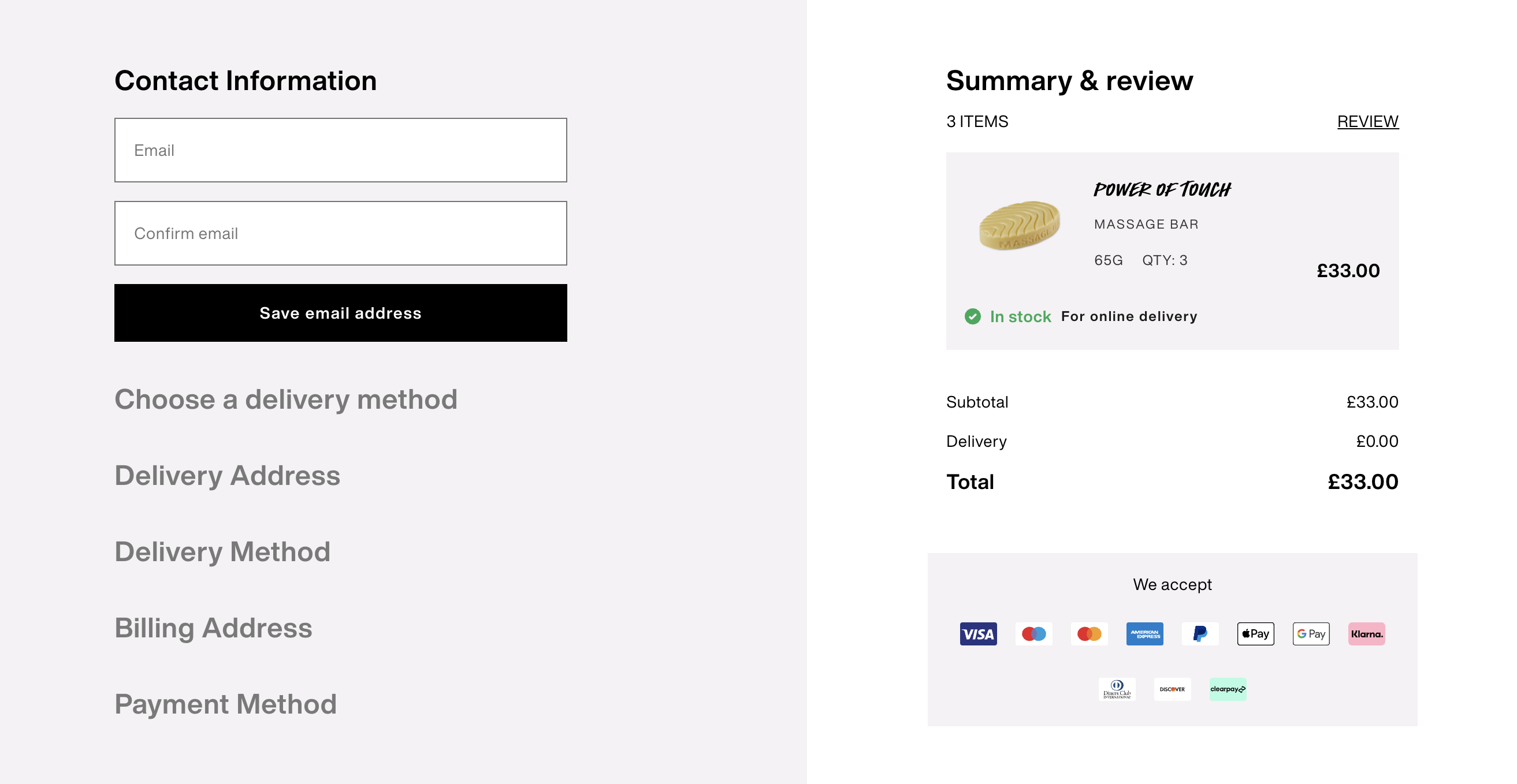 6. Display trust badges
Trust badges, such as secure payment icons and money-back guarantees, are a great way to let customers know that they're buying from a safe place.
When you display third-party security badges (like an SSL certificate), customers won't be worried about using their credit card details with you. Building trust is essential in ecommerce, like SwimOutlet does in the example below.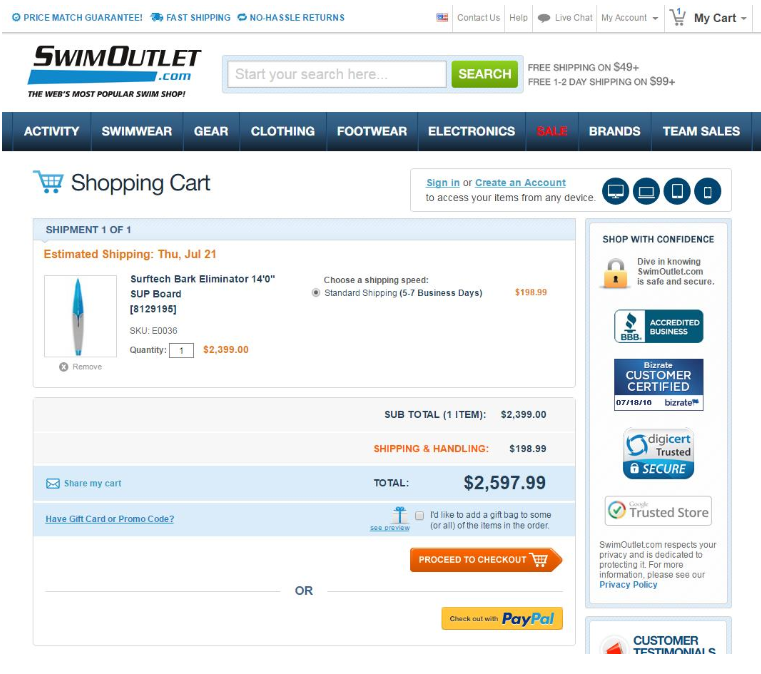 7. Send abandoned cart emails
If your abandoned cart recovery popup doesn't convert, you can give yourself a second chance by sending targeted email campaigns.
These emails can remind visitors about the contents of their cart and provide them with a direct link to complete their purchase.
Here's a great example from Bonobos that uses humor to encourage people to return and complete their purchase.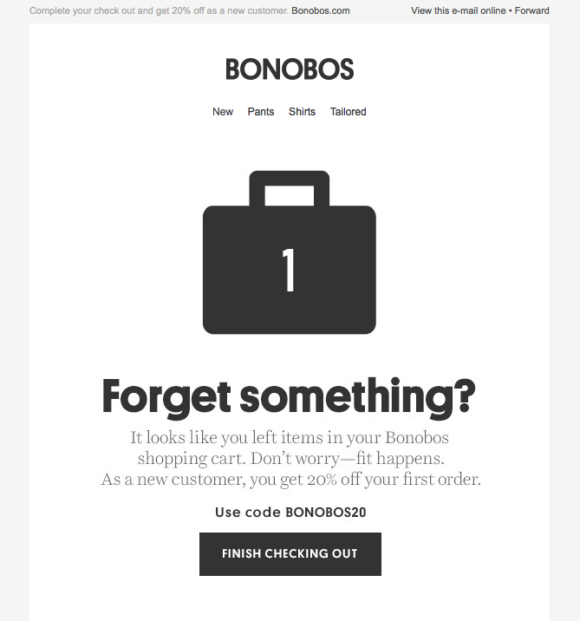 8. Use loyalty and purchase programs
We all love to feel like a VIP, which is why loyalty programs are so popular in online shopping. They make your loyal customers feel invested in your business and give them a reason to come back and shop for more.
You can promote your loyalty program as a way to combat cart abandonment, displaying all the benefits it has for your users.
Sephora uses their beauty insider program on their checkout pages.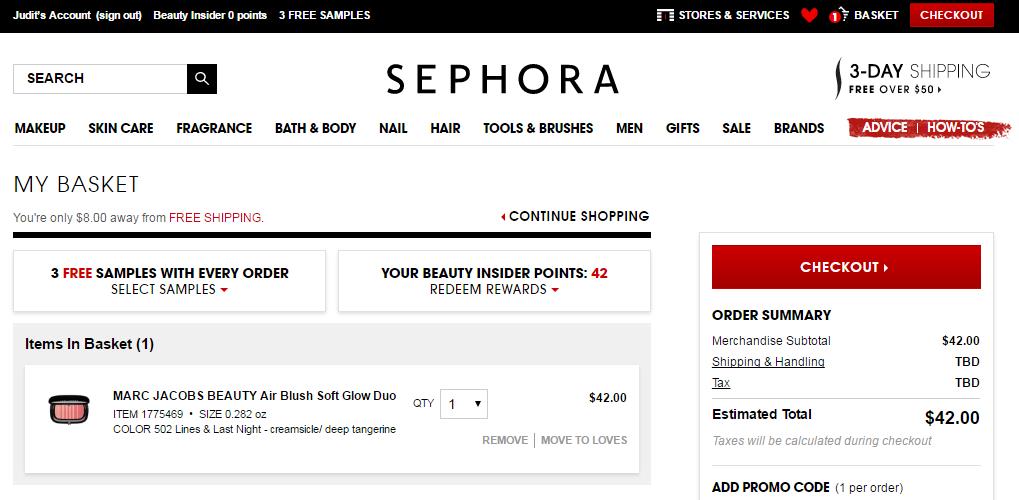 9. Use product recommendation
Another tactic for reducing your cart abandonment rate is recommending other products as part of your checkout process.
This is a great opportunity to cross-sell (i.e. show complementary/supplemental items) and raise your average order value. This means you can fill any unmet needs and make sure your customers don't abandon their carts.
Here's an example from Lululemon of product recommendations as part of their checkout process.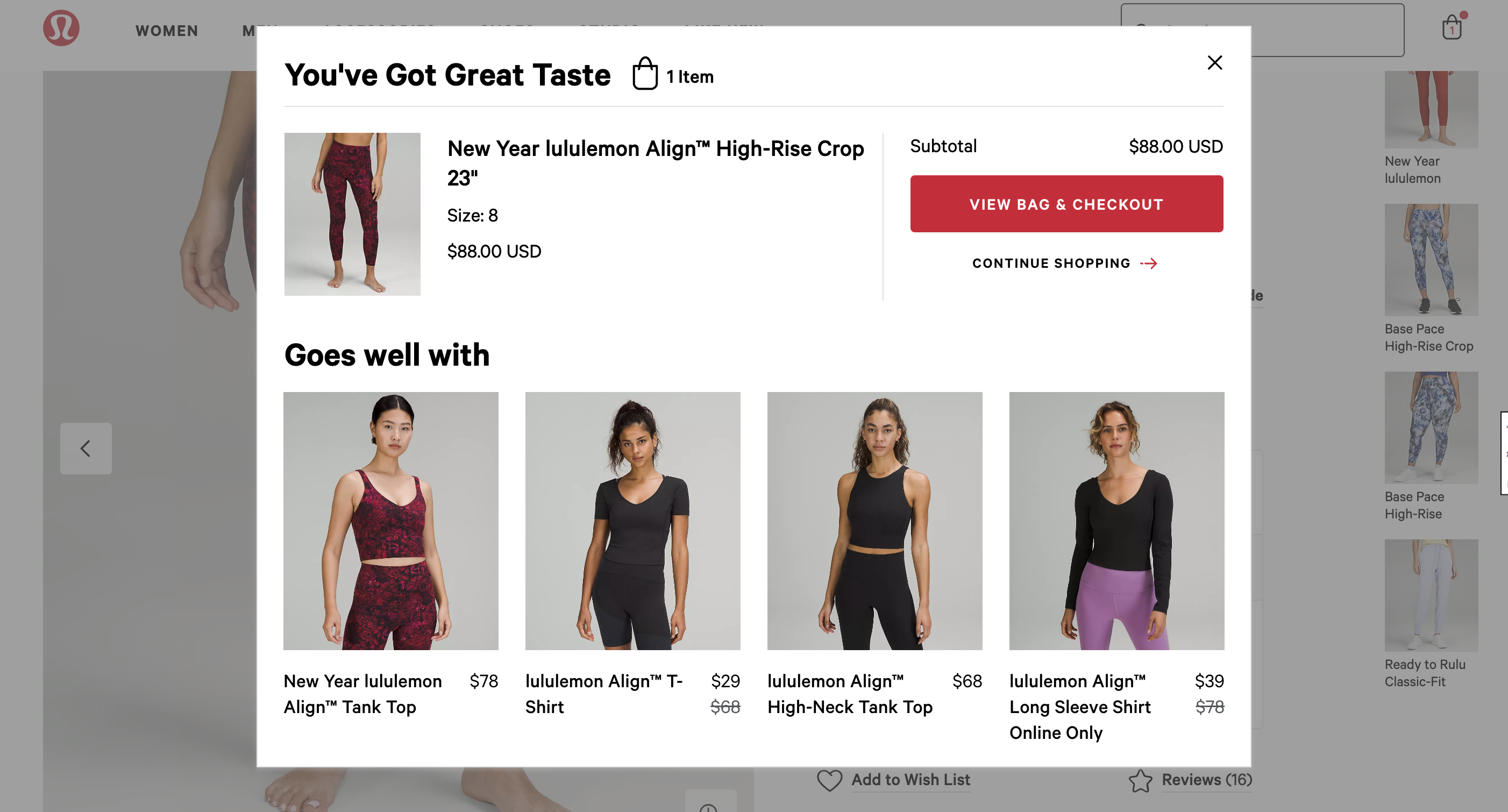 10. Create a sense of urgency
Limited-time discount codes are a great way to increase the sense of urgency and encourage users to buy now rather than later.
However, you need to make sure that your countdown is real. If you mislead customers about the time-limited nature of your offer, they'll figure it out and lose interest.
Popups are a great place to show a coupon code that has a countdown timer associated with it.
Here's a great example of what a cart abandonment popup like this could look like.
11. Personalize offers based on cart value 
Last, but not least, you can personalize each coupon code based on how much value a user has in their cart. Every time a customer adds more to their cart, their discount gets larger.
This is a great way to give customers the discounts they love without negatively affecting your revenue. 
Check out our video on how to save more cart abandoners!
Try out these 11 bulletproof strategies to fight cart abandonment and boost your sales and conversions. The fewer customers leave without making a purchase, the higher your revenue will be.
OptiMonk is a free website personalization tool that's great for stopping cart abandonment. You can use it to implement any of the strategies in this article.
Make a free account today and start reducing your shopping cart abandonment rate immediately!