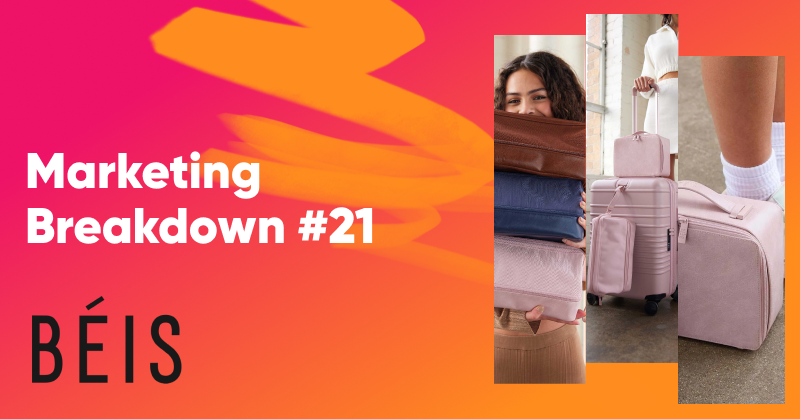 BÉIS Travel has become one of the fastest-rising ecommerce DTC brands out there. In 2018 (the year it was founded by actress Shay Mitchell) it brought in $20 million in revenue by selling luggage and travel accessories.
Since then, BÉIS Travel has quadrupled in size and become a leader in the travel industry. 
They've signed deals with Nordstrom and Revolve while remaining focused on the DTC side of their business. And they've stayed true to the principles that inspired Shay to found the company, namely the need for "functional, but affordable and chic-looking luggage."
In this marketing breakdown, we'll examine the strategies that enabled such rapid growth. 
Let's get started!
1. Have a great product launch strategy on Instagram
BÉIS Travel relies heavily on Instagram to reach their audience. In fact, the social media platform is responsible for 80% of their ecommerce traffic. And it makes sense, as their core customers are predominantly female millennials.
That's why the company promotes its product launches (and even restocks of popular products) on their Instagram page.
Here's their formula as used in one recent restock. 
The day before the restocked items would become available, they shared multiple stories to announce and hype up the newly available product line. Take a look below.
Notice how these stories use both clever copy ("We Have Some Trash News") and a countdown timer to build a sense of anticipation and urgency. 
They also use posts to generate hype before restocks, like in the examples below.
How about new product launches? 
Their promotional strategy for completely new products has a few extra steps. Let's examine their recent launch of the BÉIS SPORT line in more detail: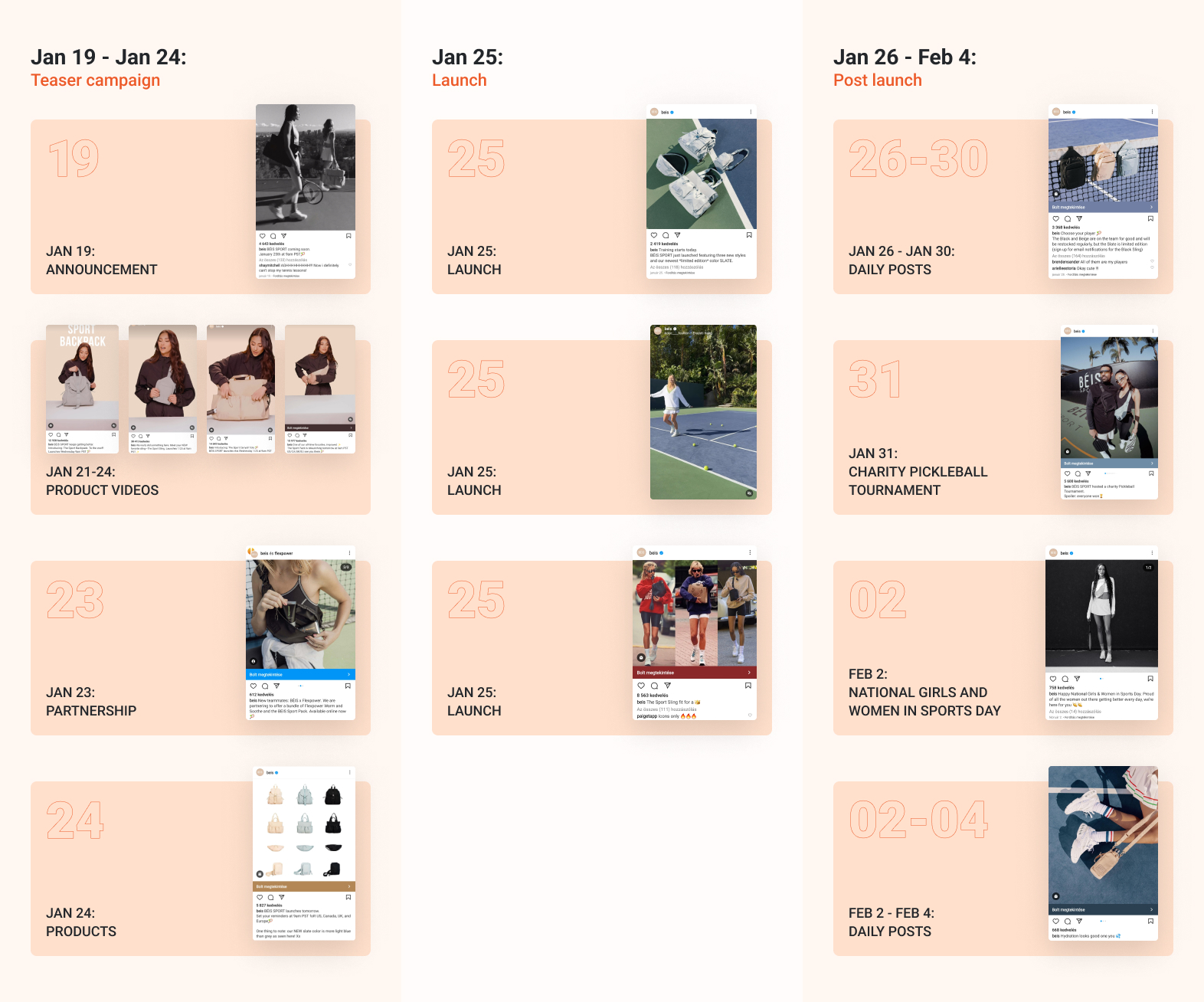 Jan 19 – Jan 24: Teaser campaign
Five days before the launch, BÉIS Travel started running a big pre-launch campaign with different posts each day. They slowly unveiled the new products in order to build a sense of anticipation around the launch. 
Here's a breakdown of the pre-launch campaign.
Jan 19: A brand video announced that the BÉIS SPORT line was coming on Jan 25. Shay commented on the Instagram post. 

January 21-24: Each day, an Instagram video featuring Shay introduced a new product from the upcoming line. 

Jan 23: They announced a partnership with Flexpower, making their BÉIS Sport Pack available in a bundle.

Jan 24: A final post showcased all the products at once.
Jan 25: Launch
On launch day, the BÉIS Travel social media team was busy. 
They made three posts announcing that the line was now available as well as a video that showed the new products in action.
Finally, they recreated an iconic photo of Princess Diana using products they'd just launched, which showed people their inspiration for the design of the new products. 
Jan 26 – Feb 4: Post-launch
After the new products went live, BÉIS Travel continued making daily posts to promote them. Here's a selection of what they posted about. 
Jan 26 – Jan 30: Daily (or even twice daily) posts with new images and videos featuring the products. 

Jan 31: The brand hosted a charity Pickleball Tournament.

Feb 2: A post about National Girls and Women in Sports Day, which is proof that they really thought about the timing of the launch.

Feb 2 – Feb 4: Daily posts about the new products.
Lessons
BÉIS Travel's product launch strategy shows an amazing example of how you can use social media. Instagram provides a fantastic opportunity for brands to generate hype around products and let followers know what's happening. 
In a podcast interview, Adeela Hussain Johnson, President of BÉIS Travel, opened up about the reasons why the company relies so heavily on social networks to market their products.
"People want to be able to experience and purchase and interact with the brands that they love through every channel that they interact in. And that means you have to invest in those channels and understand them. Social media tends to be, I think, the way we receive a lot of that information," she said.
2. Drive brand awareness with Facebook ads
BÉIS Travel made the decision not to pay influencers to post about the brand. "If we have anybody posting about us, that's always organic," says Shay Mitchell.
However, they do use lots of paid ads, which Shay regularly appears in. They often run walkthrough videos as ads, where the founder introduces a product in detail.
According to Adeela, these videos are the best performing content because "at the end of the day, consumers, when they're wanting to buy a product, they want to know what that product does."
Just like Instagram content, it's important to adjust your Facebook ad strategy when needed. 
For example, when COVID hit, BÉIS Travel had to change some ads that were focusing on plane travel.
So they pulled ads that spoke to plane travel and repurposed those dollars to driving home the brand message of being a versatile, on-the-go brand. They also focused on creative content that highlighted the functional aspects of their products.
This realignment brought great results. Products that were useful on a day-to-day basis saw a jump in sales. Adeela said that "the weekender, as an example, drove 4x DTC revenue and the work tote 2x DTC revenue, almost overnight, as we pivoted the message and creative."
3. Create different content for each channel
Many brands make the mistake of simply reusing the same content on each social channel. BÉIS Travel, on the other hand, recognized early on that their audience expects to see different types of content on different platforms.
"What works on a paid ad won't work on social and what works on social won't work on TikTok and won't work on email or your website… This is something we're learning here as we are trying to move into TikTok," said Adeela. 
When they first started getting their TikTok up and running, the BÉIS team tried to reuse the videos they created for YouTube. 
However, nobody on TikTok found them even remotely interesting, despite the fact that they had performed well on YouTube. So they had to change their strategy. 
Today, they share totally unique videos on TikTok that work well on the platform, like these examples:
4. Listen to customer feedback
BÉIS Travel takes customer feedback very seriously, and it means more than just listening to their customers on social media.
For example, before the company released their Baby collection, they sent prototypes to lots of moms and asked them for feedback. 
"We very much took that feedback and changed the product. Our first version was far too big. The handles weren't working properly," said Adeela. 
Sending prototypes of new products to your best customers allows you to collect information from your audience and adjust your product to better fit their needs. It will also make these early adopters even more loyal to your brand.
As we can see from BÉIS Travel's rapid rise to the top of the ecommerce game, a little bit of marketing savvy goes a long way. They're great at adapting their message to different platforms and different audiences, effectively communicating what makes them different from their competition. 
Now it's your turn! How do you adapt your marketing content to different audiences?