Today, the email marketing process is easier than ever. The challenge lies in surprising and impressing your readers. To do that, you'll need an email marketing platform that's both powerful and user friendly. 
In this post, we'll share 4 Shopify email marketing apps that help business owners make the most of their email lists, increasing conversions and customer engagement. 
Why is email marketing so important?
It's a common question: Is email marketing still relevant as other digital marketing tactics grow?
Email marketing, like other forms of marketing, has a significant role to play for online entrepreneurs. A strong email marketing strategy lets you engage with your target audience and customers in a personalized way, which is something customers expect from online stores today. Email marketing also helps boost sales with reasonable marketing costs.
So yes, email marketing still matters! Here are four ways email marketing can benefit your business: 
1. Maintain contact with customers
Email lists are an easy, automatic way to stay in touch with your customers. Want to announce a new product or promotion? Share some exciting news about your business? Just send out an email! When you keep your email subscribers informed and "in the loop," you're building a long-term relationship. 
By sending emails that contain value (at a reasonable frequency), you'll ensure customers look forward to them and want to engage with your brand.
2. Boost sales to increase revenue
Email is the most important source of traffic in terms of ROI for 59% of marketers. 81% of small businesses use email marketing to get new customers. And according to Campaign Monitor, marketers who used segmented campaigns saw a 760% increase in revenue.
You can increase sales by personalizing the emails you send to customers based on their previous browses or purchases.
3. Collect customer feedback and surveys
Email marketing allows you to understand your consumers' shopping experiences and gather opinions about product quality. An email prompting customers to leave a review of your product is a great way to obtain this data.
In addition, it's the ideal way for you to identify your loyal customers and picky consumers. The information you collect can also help you understand where you could improve, from customer experience to your brand's reputation.
4. Reach the right person at the right time
For email marketing to reach the right people at the right time, you need to make sure every message aligns with the 3 variables known as PTC: Person, Time, and Channel.
You need to define your audience and segment contact data into different groups based on a set of characteristics, preferences, or behaviors, which will allow you to send relevant content to each group. When you send emails to targeted lists, your open and click rates will climb.
Figuring out the best time to send an email requires an understanding of who your audience is, what they do, what a typical day in their lives looks like, and how can your product help them solve their problems.
Quick tip:  sending emails over the weekend is usually a bad idea, and an email marketing study found that Tuesday and Thursday are the best days to send emails.
Choosing the right email marketing app for your store
Now that you know why email marketing is such an important part of your overall marketing strategy, it's time to decide which app is right for you. Most email marketing platforms have the same basic features, but there are some key differences.
Here are a few things to consider when deciding which is the best email marketing app for you to use:
Is it easy to use?

Is smart automation available?

Are there pre-designed and customizable email templates?

Does it have audience segmentation features to send targeted emails based on customer profiles?

Does the pricing fit your budget?

What is the app's rating in Shopify's app store?

Does it offer 24/7 customer service and assistance?
Below, we'll cover 4 fantastic email marketing apps to help you grow your business.
What are the best Shopify email marketing apps?
Shopify App Store rating: 4.2/5 (1,506 reviews)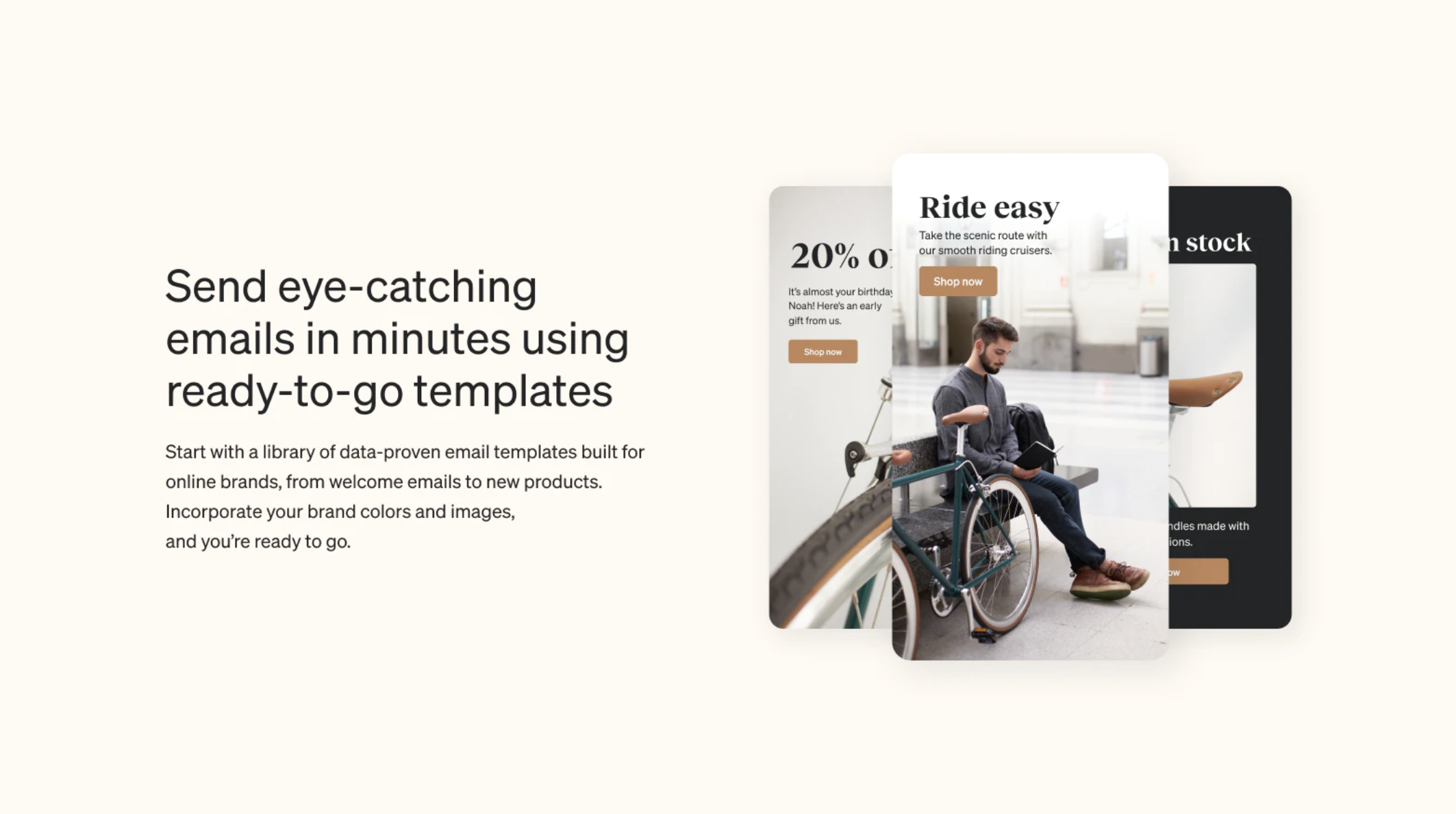 Shopify's leading email marketing app, Klaviyo, is one of the best eCommerce email marketing services on the market. It provides all the tools you'll need to segment your audience and build effective email marketing campaigns. You can also use it for SMS marketing and automated workflows.
Klaviyo lets you sync data to create Lookalike audiences for Facebook and Instagram ads, allowing you to easily find more customers that might be interested in your brand.
Key features and abilities:
Pre-built templates, signup forms, and automation.

Send targeted messages using unlimited data to personalize product recommendations and dynamic content.

Automate your brand's welcome series and abandoned cart messages.

Grow your email list fast

and collect more information about your customers by adding forms directly to your website. 

Target customers with relevant messages based on how they've interacted with your brand in the past.

Track what matters most to your business and understand how much money you're earning with Klaviyo.

Reach customers via SMS marketing.
Pricing: A free plan is available, and paid plans start at $20/month.
Shopify App Store rating: 4.7/5 (4,159 reviews)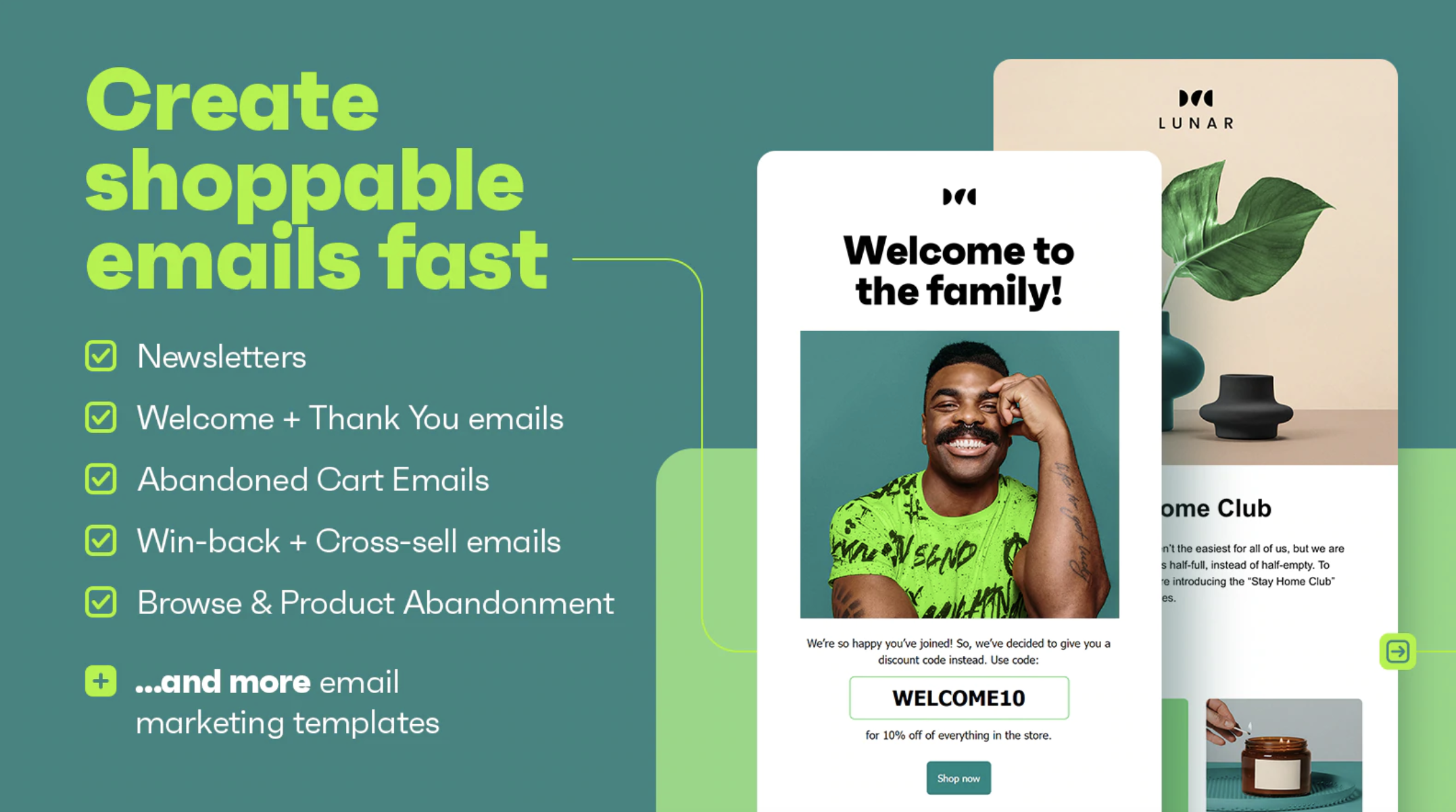 More than 70,000 Shopify business owners use Omnisend to automate their email and SMS marketing campaigns. The platform gets a G2 ease-of-use rating of 9.2 out of 10.
Setup and management of your campaings is simple with Omnisend's pre-built automated workflows and codeless editing abilities. 
Also, Omnisend has a conversion feature set that can help you increase your sales.
Key features and abilities:
Target cart abandoners with recovery emails.

Send post-sale and order follow-up emails.

Product and browse abandonment emails.

Welcome emails for new subscribers.

Target customers likely to churn (win-back, cross-sell, and reactivation emails).

Gather customer feedback and product reviews.

Pre-built subject lines and workflow settings.
Pricing: A free plan is available, and paid plans start at $16/month.
Shopify App Store rating: 4.9/5 (439 reviews)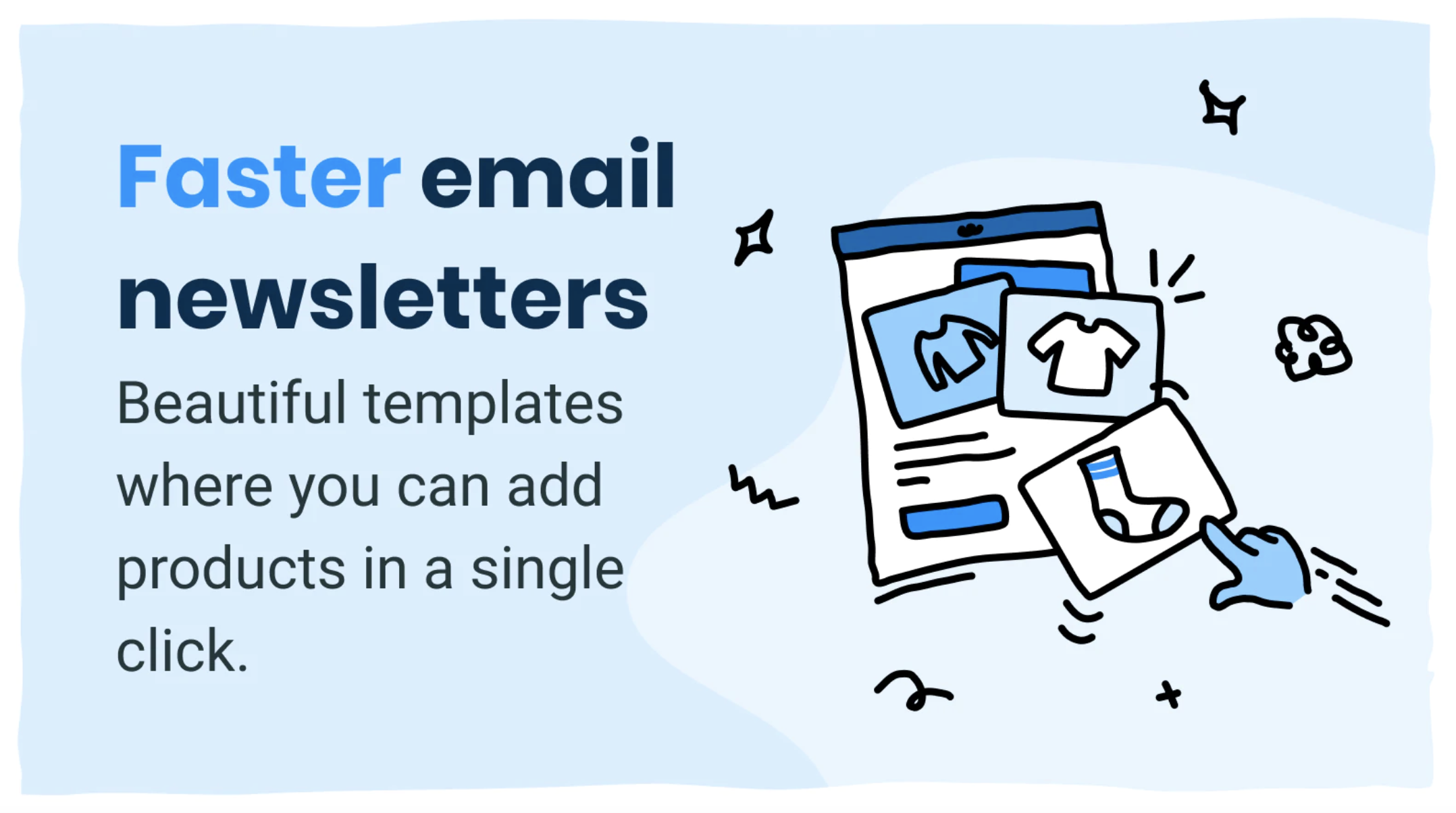 With SmartrMail, generating an email campaign is easy as pie. The app provides email and SMS marketing services like abandoned carts, welcome and thank you messages, and more. Automation processes based on triggers and customer segmentation help you achieve excellent results.
Using data from your Shopify store, SmartrMail recommends products to customers, helping you boost sales.
Key features and abilities:
Set up automatic welcome emails, abandoned cart emails, thank you emails, and win-back emails.

Drag, drop, add products with a click, or let SmartrMail pick the best products for you.

Re-target your visitors to convert subscribers into first-time buyers. 

Build pop-ups from scratch or pick one from SmartrMail's library. 

Show your forms where and when it matters, without annoying your visitors.

Access hundreds of professionally designed email templates and pop-ups.

Send up to 5,000 emails monthly with the free email marketing plan.
Pricing: 15-day free trial. A free plan is available, and paid plans start at $19/month.
Shopify App Store rating: 4.6/5 (64 reviews)
Want total control over all the details of your email and SMS marketing campaigns? Drip is a terrific app that lets you build and manage them easily. The app allows you to do simple A/B testing and build up automation for the entire process. It also provides triggers like the customer's location, the total amount spent, or even the brand your customer selected to buy.
Email and SMS campaigns with Drip are personalized based on your customers' purchases, browsing behaviors, and click-throughs.
Key features and abilities:
Pre-built welcome series, abandoned cart emails, and post-purchase playbooks.

Target the right audience using pre-built or custom segments that update in real-time.

Add more personalization with dynamic content blocks like top sellers, product recommendations, and abandoned cart items.

A/B testing and smart segmentation.
Pricing: 14-day free trial. The paid plan is $19/month.
How to ask for reviews through email campaigns?
In addition to product introduction emails, promotional emails, and thank you notes, emails asking for reviews are also critically important. That's because more than 89% of shoppers read product reviews before making a purchase.
It's also been shown that up to 70% of post-transaction reviews come from review request emails. So why not use your email list to build your brand's trustworthiness and turn visitors into customers?
Here are some review request email examples you can learn from: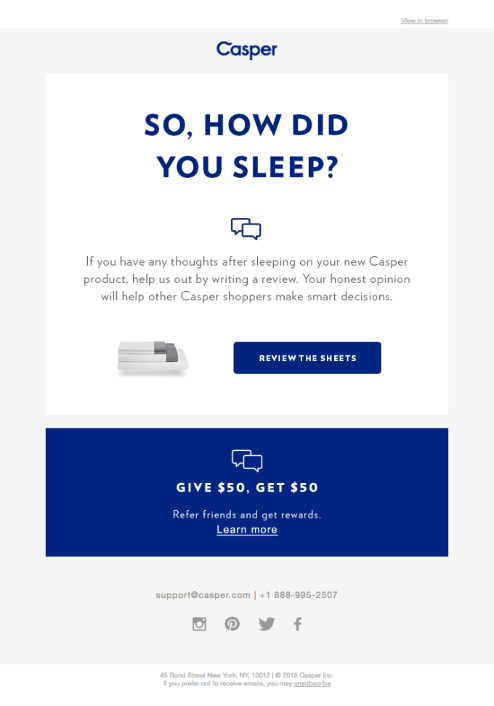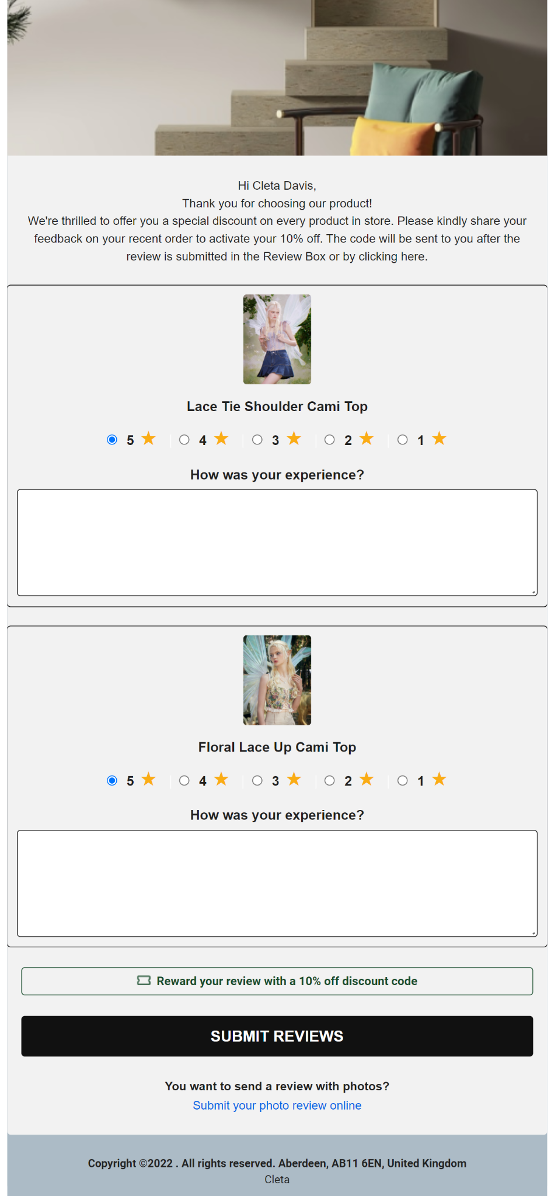 Now let's see some tips on how to improve your results with review request emails. 
1. Automate review request emails
Email automation is essential and saves you time. Once set up, the system will send an email to customers requesting a review when an order is fulfilled. 
You can use Shopify product review apps to schedule automated review request emails and set up friendly email reminders to guarantee that your customers don't forget to write a review for your store.
2. Personalize your email
When you send out review request emails, remember to treat each customer as an individual. Your primary aim when sending emails is to get customers to open the email and provide a review. If your email is impersonal and generic, you won't get a high response rate.
To ensure your emails are attractive and effective, take the time to look carefully at email templates or use an app to help with this.
Our recommendation is the Ali Reviews review app by FireApps, which offers you personalized email templates designed by experts. It also includes pre-written subject lines, content, and more advanced options, making Ali Reviews the perfect app to help you collect reviews easily.
Check out this example of a personalized review request email from Mack Weldon: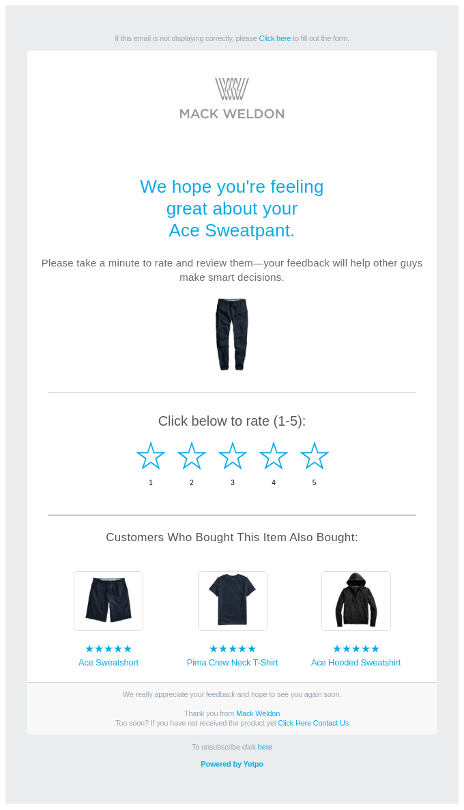 3. Reply to customer reviews via email
Always respond to every customer review (both positive AND negative) to show that you care.
If you receive a negative review, it's important to respond as soon as possible so you can resolve the issue and keep customers from abandoning your store.
And by sending a thank you message to people who give positive reviews, you'll boost engagement and create a long-term customer base.
By now, you should be able to make a wise decision on which email marketing tool is right for your business. 
Choosing an email marketing app based only on the price is risky. Instead, consider all the factors outlined in this article to ensure that you're getting an effective tool that will help you grow your business. You can also take advantage of a free trial or free plan to test drive an email marketing app's features before you commit.
Most of all, remember that behind every email address is a real person. If you use your email marketing app's advanced features to build engaging, personalized emails, you'll be setting your store up for success!