While building an email list can be a challenging task, it's an essential one for any online business that wants to reach its target audience directly. That's why our team has collected the best list-building strategies to help you grow a healthy email list in 2023.
Let's get right into it!
Why is email list building important?
Email marketing is a relatively cheap but effective way to reach and communicate with your target audience.
While some marketers think that it's an old-school tactic, it's actually one of the best ways to boost your sales. It delivers a killer return on investment: for every $1 of marketing spend on email, the average ROI is $44.
That sounds pretty impressive, but it doesn't stop there… here are some other benefits of building an email list:
It helps to establish a personal connection with your new subscribers through a direct communication channel.

You can develop a loyal customer base of individuals who are committed to your brand.

It allows you to effortlessly market to individuals who already have a positive perception of your brand.
Now let's take a look at some general best practices you should keep in mid while you collect email addresses.
Dos and don'ts when building an email list
Following these dos and don'ts will help you create high-converting email signup forms and gather tons of new subscribers—the right way.
1. DO give a good reason to subscribe
You need to make sure to give your website visitors an answer to the question, "What's in it for me?"
You want to provide a compelling reason for your visitors to subscribe, since you're asking them to take the time to complete a sign-up form and hand over their email address.
What counts as a good reason? Coupons, free gifts, valuable resources, or unique "subscribers-only" incentives usually work well.
2. DO follow GDPR and basic email marketing rules
In email marketing, it's critical that you follow all applicable regulations, like only sending your campaigns to people who have chosen to receive them.
Online businesses that buy pre-built email lists end up sending email campaigns to people who have not opted in, which results in high unsubscribe rates. Plus, buying an email list violates GDPR rules.
When you create marketing campaigns for people who have opted in and are interested in your product or service, you'll get much better results.
3. DO use a trustworthy email marketing service
Not all email marketing tools are created equal. It's important to use one that's trustworthy and reputable.
Using an excellent email marketing service has several benefits:
It will help ensure your email campaigns land in your subscribers' inboxes, rather than their spam folders. This means a higher open rate.

You'll get access to robust security and privacy features to stay compliant with GDPR laws and keep your subscribers' data protected.

You'll be able to track your email marketing performance with advanced analytics.

You'll improve your email marketing efforts with automation, triggering, segmentation, and personalization.
4. DO maintain a healthy email list
Since the main purpose of having an email list is to have a direct line of communication with your audience, you need to make sure you maintain a healthy list of email subscribers (i.e. subscribers that are engaged and interested).
Here are a couple of tips for maintaining a healthy email list:
Remove duplicate addresses and inactive subscribers.

Use double opt-ins to ensure your email subscribers are enthusiastic about being on your email list.
5. DON'T buy lists
As we discussed already, purchasing email addresses violates GDPR rules, and it can damage your reputation.
Most email addresses on these lists are outdated or fake, which means that you'll see a high bounce rate. Not to mention that spam complaints can ultimately lead to your email domain being blacklisted.
6. DON'T forget email personalization
Personalization is becoming more and more important in ecommerce, and this goes for email marketing, too. When you personalize your emails, your subscribers will be more likely to find them valuable.
Make sure to gather data about your customers' interests and preferences when building your list so that you can use that information to personalize your emails.
7. DON'T spam your list
We all receive plenty of emails every day. Don't be that email sender who constantly bombs their audience with irrelevant emails. This can overwhelm and annoy your subscribers, causing them to unsubscribe.
Segmenting your list based on interest or past interactions with your emails can help you send fewer emails with more impact.
How to build an email list from scratch in 2023?
Now that you've got the dos and don'ts down, let's go over some effective lead generation strategies. 
Implementing these lead generation campaigns on your high-traffic pages is a great way to capture email addresses. Hopefully you'll find a few ideas that will work for your ecommerce business below!
1. Offer a powerful incentive
A strong incentive is the first step if you want people to opt in to your newsletter.  
Discounts are a great option, but they're not the only one. Exclusivity and informative content are great incentives if you don't want to offer a discount. By highlighting the value proposition of your newsletter (like in the example below) you can get people excited about becoming new subscribers!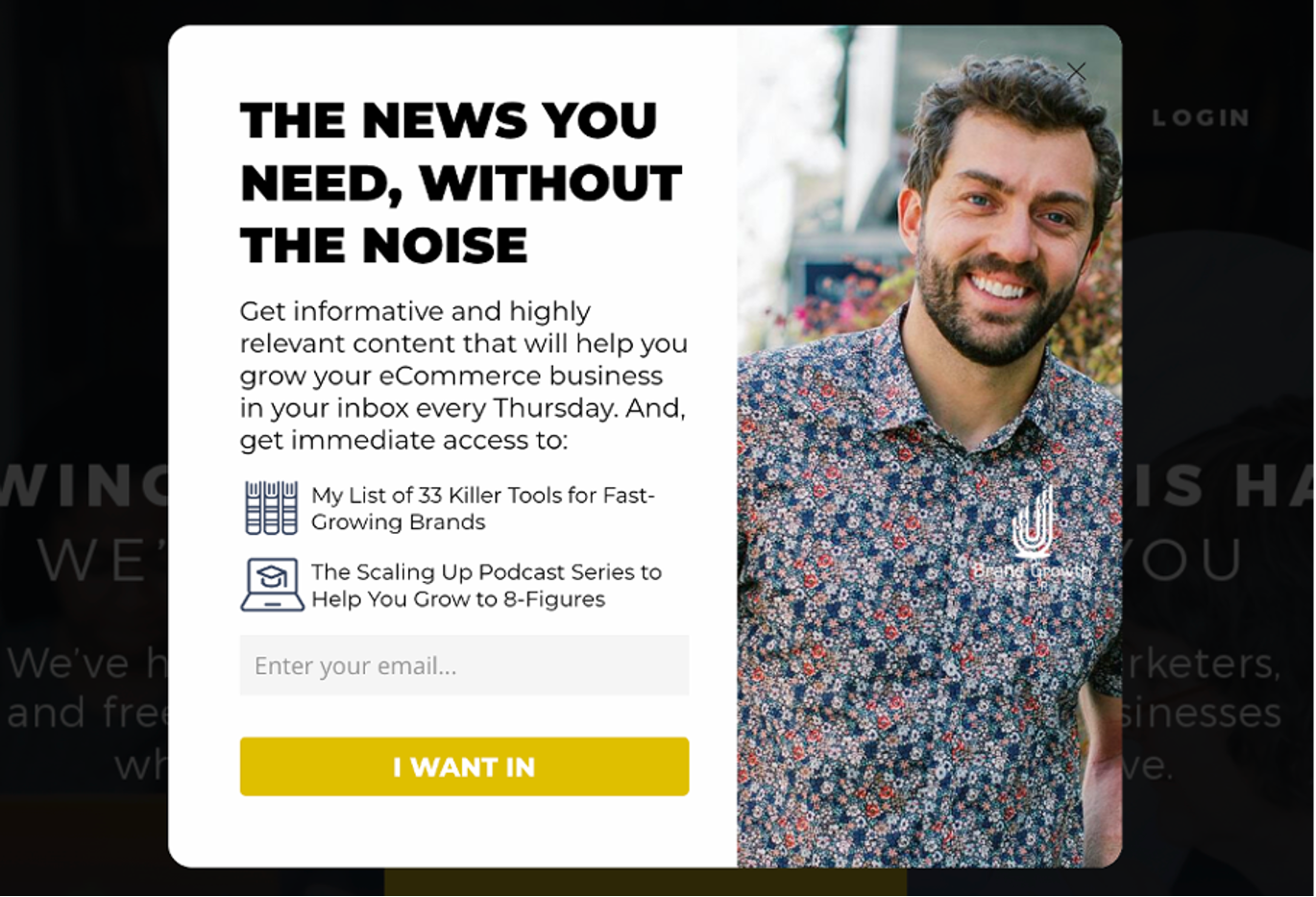 You could also use coupon codes, free gifts, free shipping offers, or samples to promote your email list. For some great lead magnet ideas, check out this article. 
Take a look at this popup, which offers a mystery discount: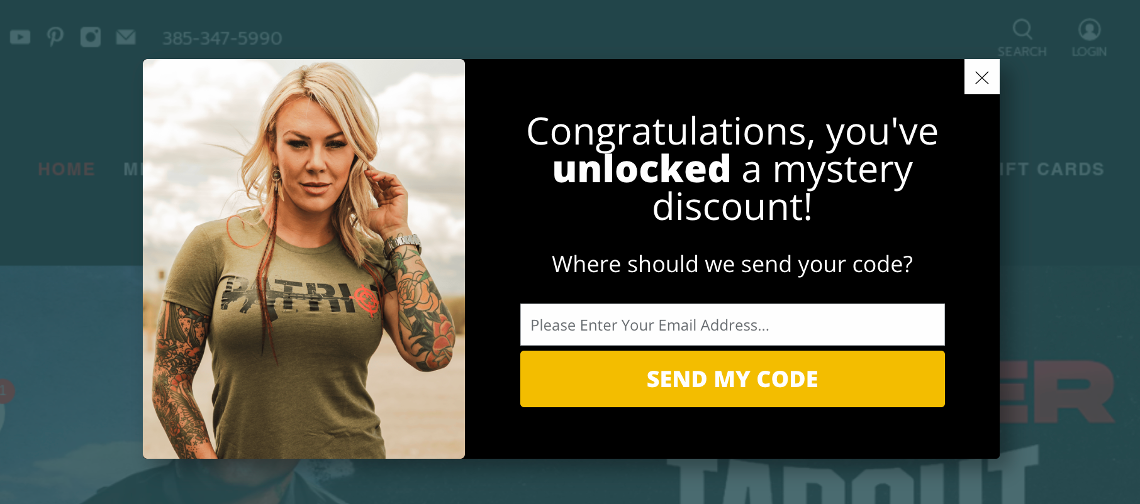 2. Run seasonal campaigns 
Running seasonal campaigns is a great way to build your email list and keep your signup forms fresh at the same time. 
Instead of offering a generic 10% discount for new customers, you can promote a seasonal sale or offer. This will make it clear that your discount offer is only available for a limited time, which will create a sense of urgency.
For example, during the holiday season, you could use a Christmas-themed design for your opt-in forms:
Then, you can switch to a New Year's theme:
Then, switch to Valentine's Day:
And so on…  
OptiMonk has a variety of pre-made seasonal templates that make it easy to set up seasonally-specific campaigns. You can keep your popups fresh and boost your conversion rates (by up to 40%) in just a few minutes!
3. Personalize your list-building campaigns based on interest
If you want visitors to pay attention to your list-building campaigns, try tailoring them based on their interests. This is a great way to boost your opt-in conversion rates, since your offers will be relevant to each user who sees them.
To segment your visitors based on interests, you can use their browsing behavior, the ads they've clicked on, or a survey form to ask them what types of products they prefer. 
For example, if someone clicked on an ad about weight loss, then they're probably interested in products that will help them lose weight: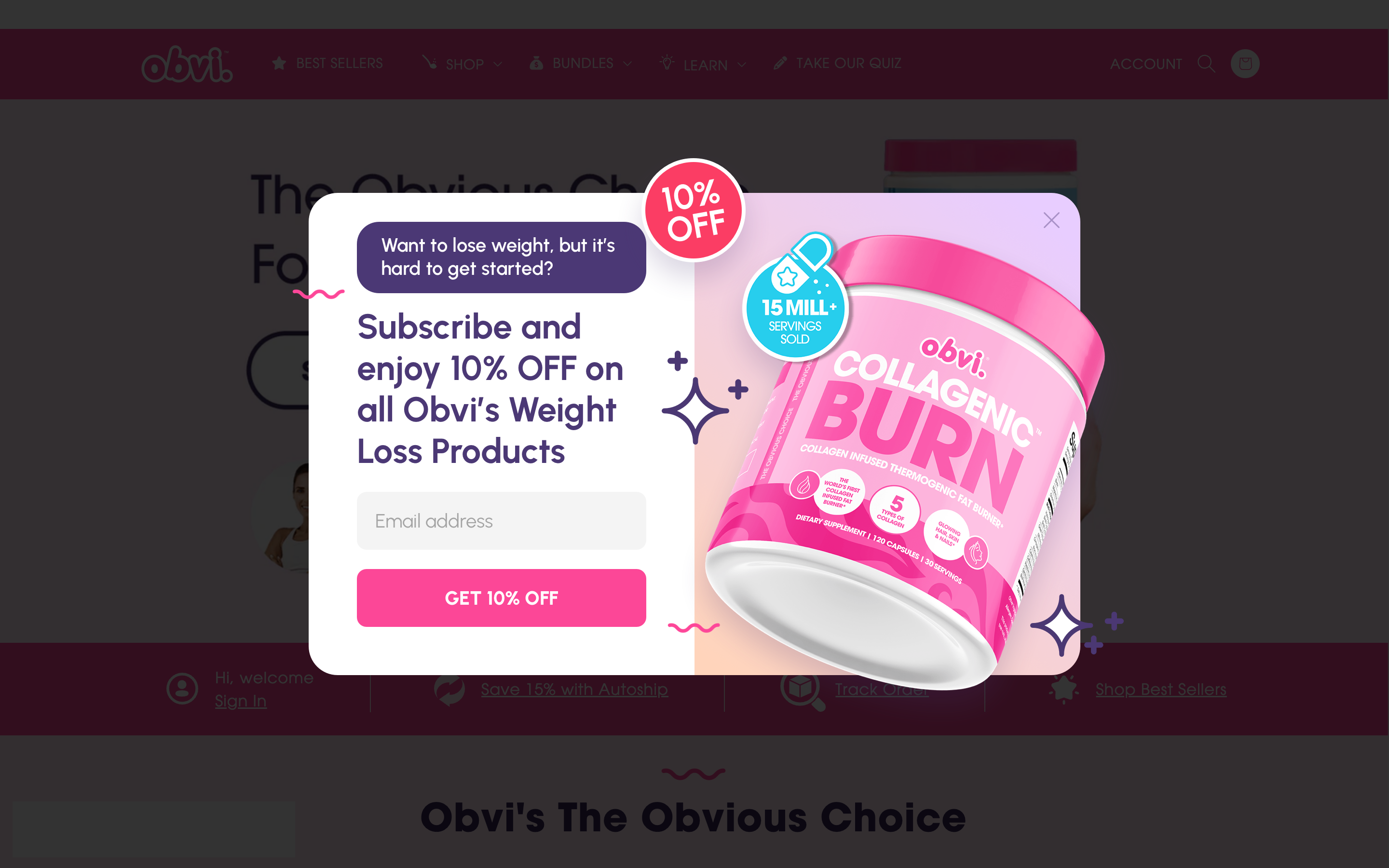 But if someone clicked on an ad promoting sleep recovery, then they're probably interested in that: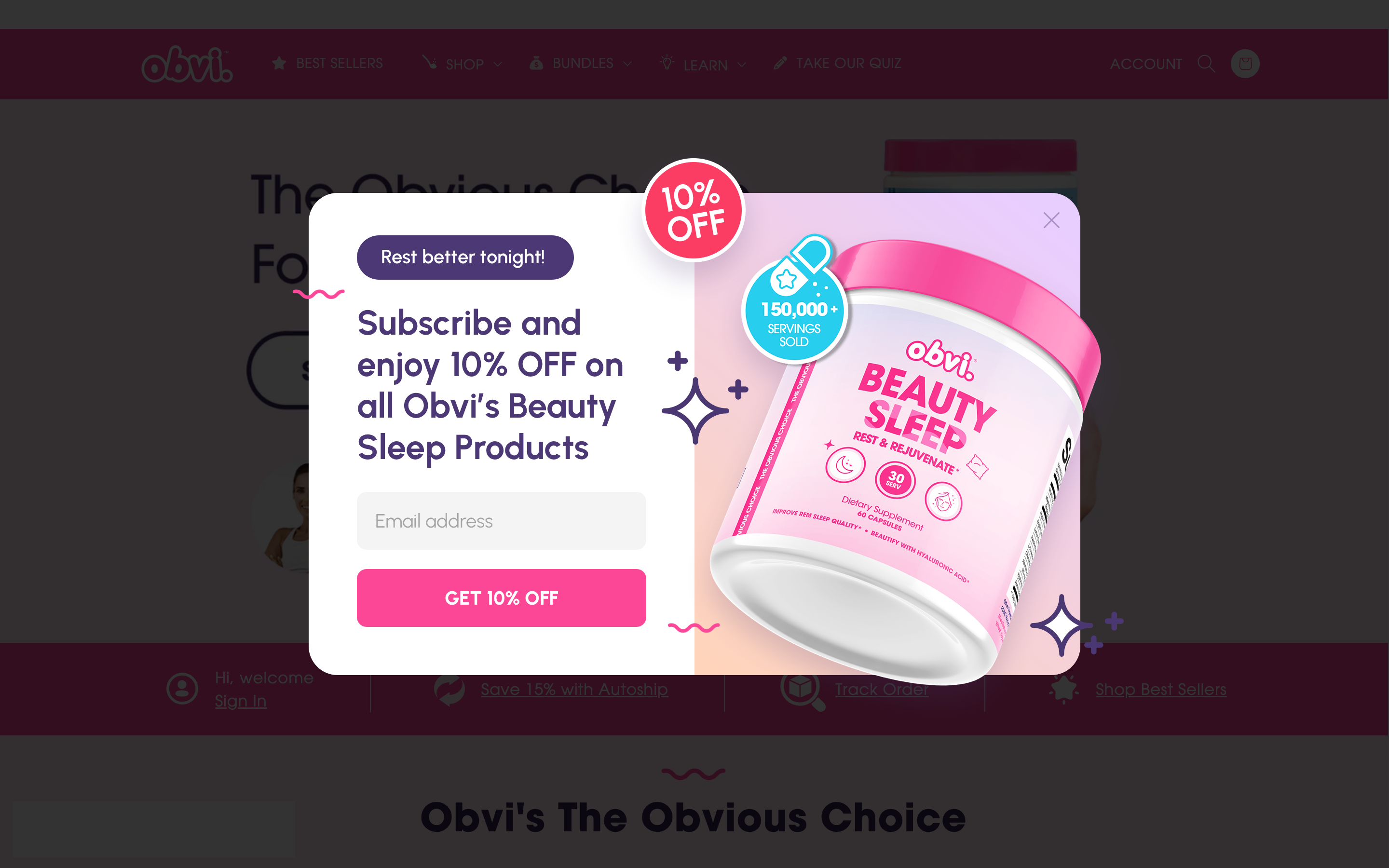 Personalizing your popup messaging based on information like this can increase the conversion rates on your lead generation sign-up forms by 30-50%.
4. Run a giveaway
People love free stuff, which is why giveaways are such an effective way to capture visitors' email addresses. Influencers on social media often use this tactic to get more followers, but it can work just as well for your email list.
A giveaway can be a great lead magnet, bringing in a huge number of new subscribers. Just make sure that you're clear about the terms and conditions of your contest, as well as what people need to do to enter.
Using a popup is the best way to promote your giveaway. Check out how Magic Spoon Cereal does it: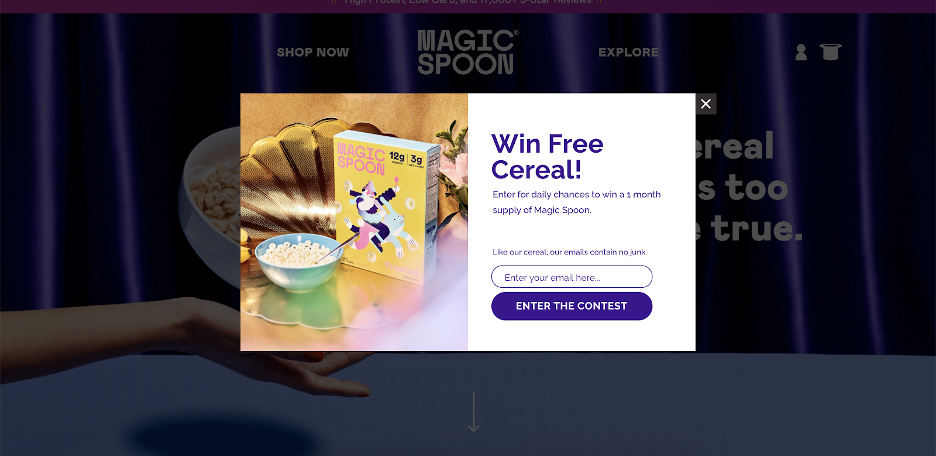 5. Use country-specific welcome popups
Ecommerce stores that have a lot of customers from all over the world should consider using country-specific lead generation campaigns to increase sign-up conversion rates and collect more email subscribers.
Mentioning the name of your visitor's country in your welcome popups creates a memorable user experience and instantly answers their top question: "do they ship to my country?" 
With OptiMonk's Smart Tags, it's easy to personalize your popups based on geographic location without needing to create separate messages for each country.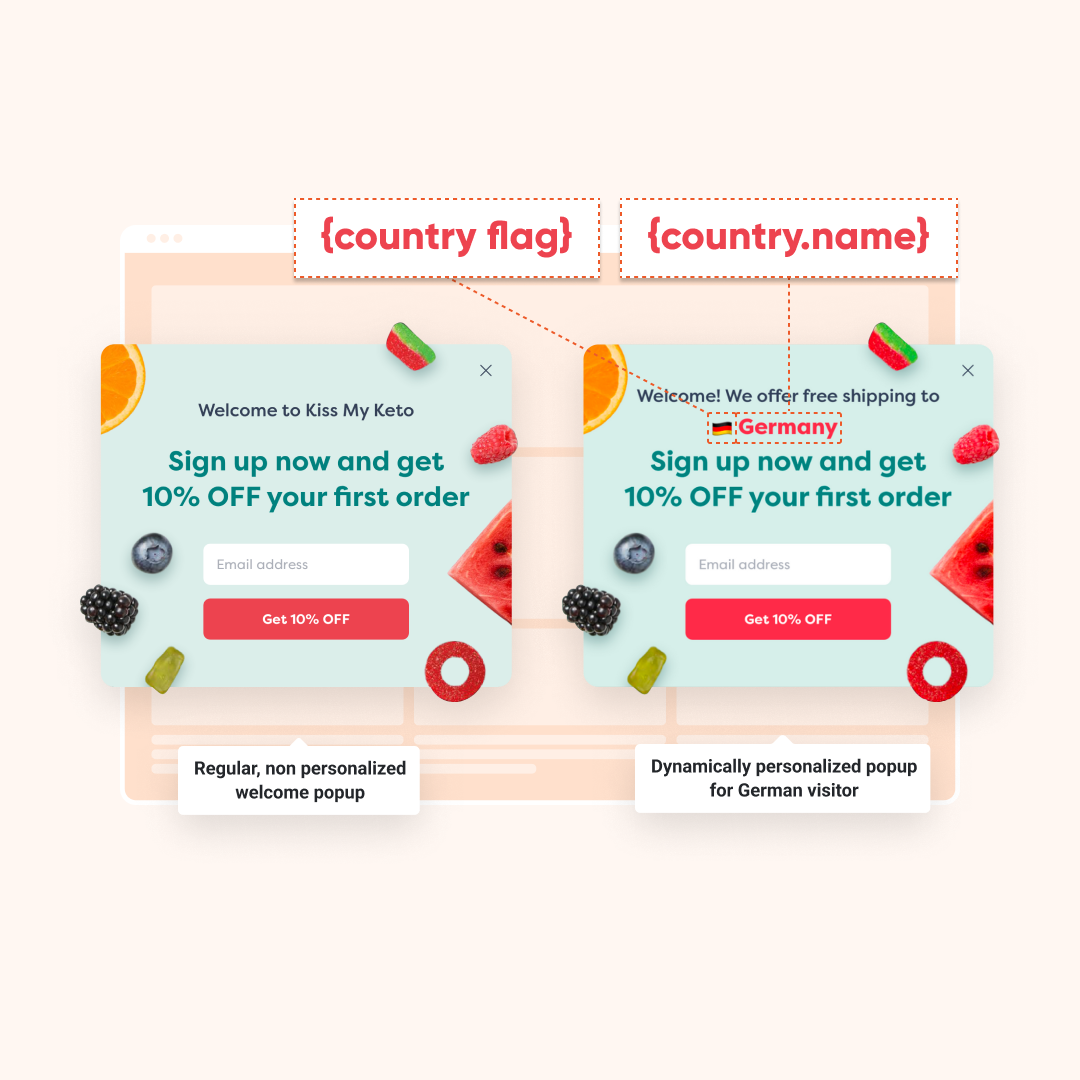 6. Use conversational popups
Conversational popups are like a mashup between a classic welcome popup and an engaging quiz. They're an excellent way to build your list and segment your contacts based on interest.
First, you can ask a question about your visitor's interests or which problem(s) led them to your website. This can help you learn what your potential customers are interested in and what types of products you should feature in personalized recommendations for them.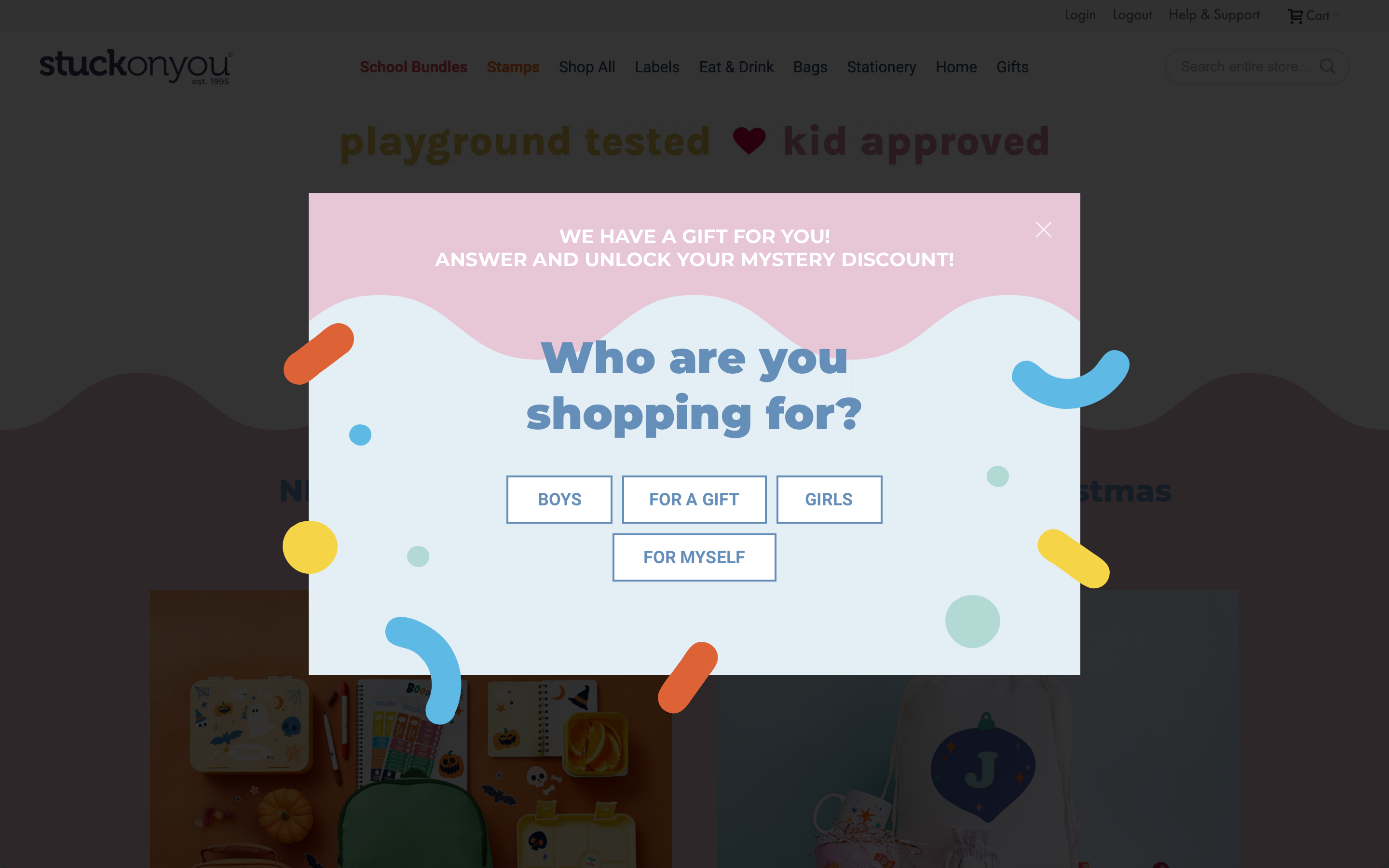 Then, you ask for their email address in exchange for a discount: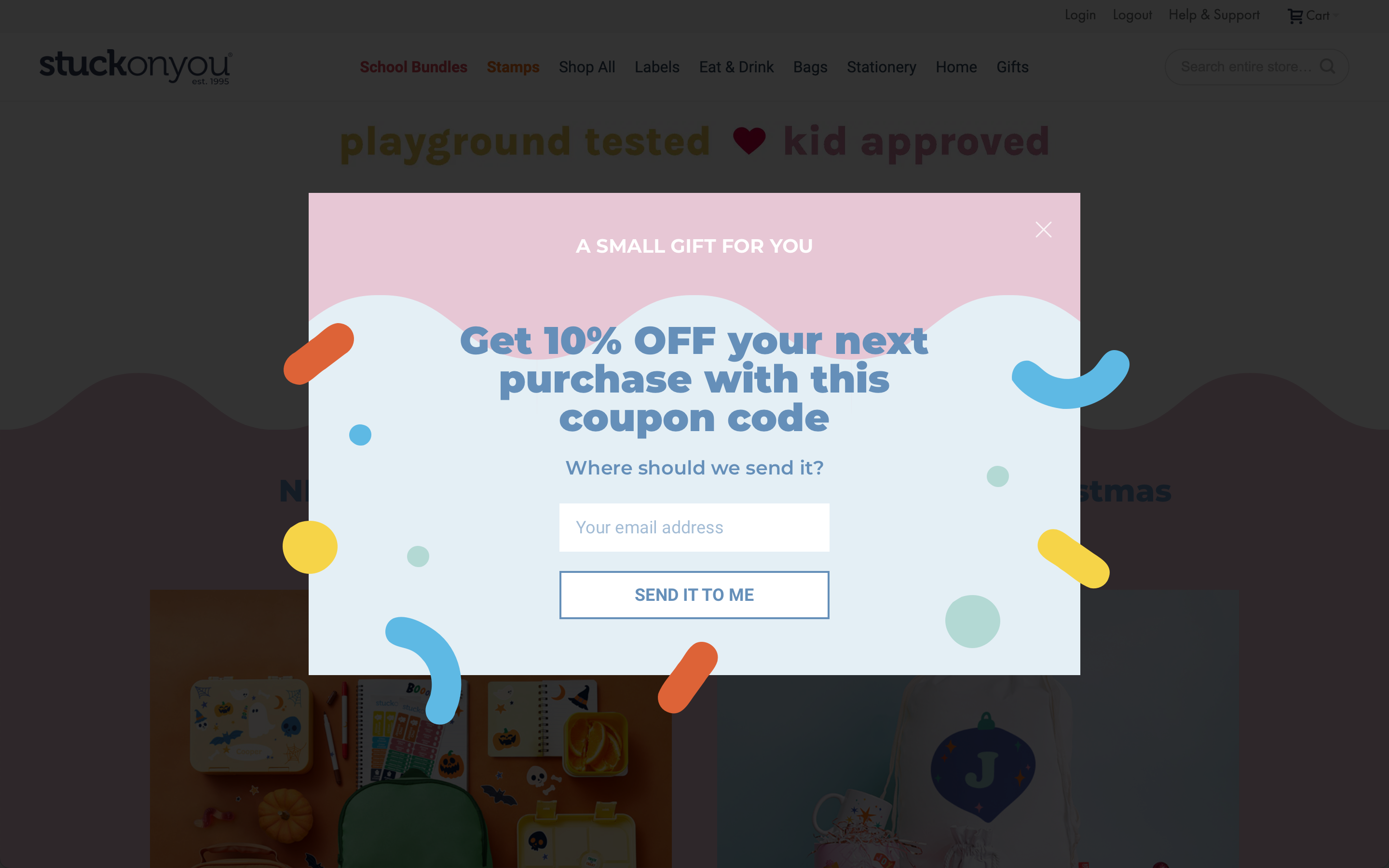 And finally, you display relevant product recommendations based on their answers to your question. This improves the user experience by getting your customers to the products they're interested in more quickly than if they had to find the products themselves.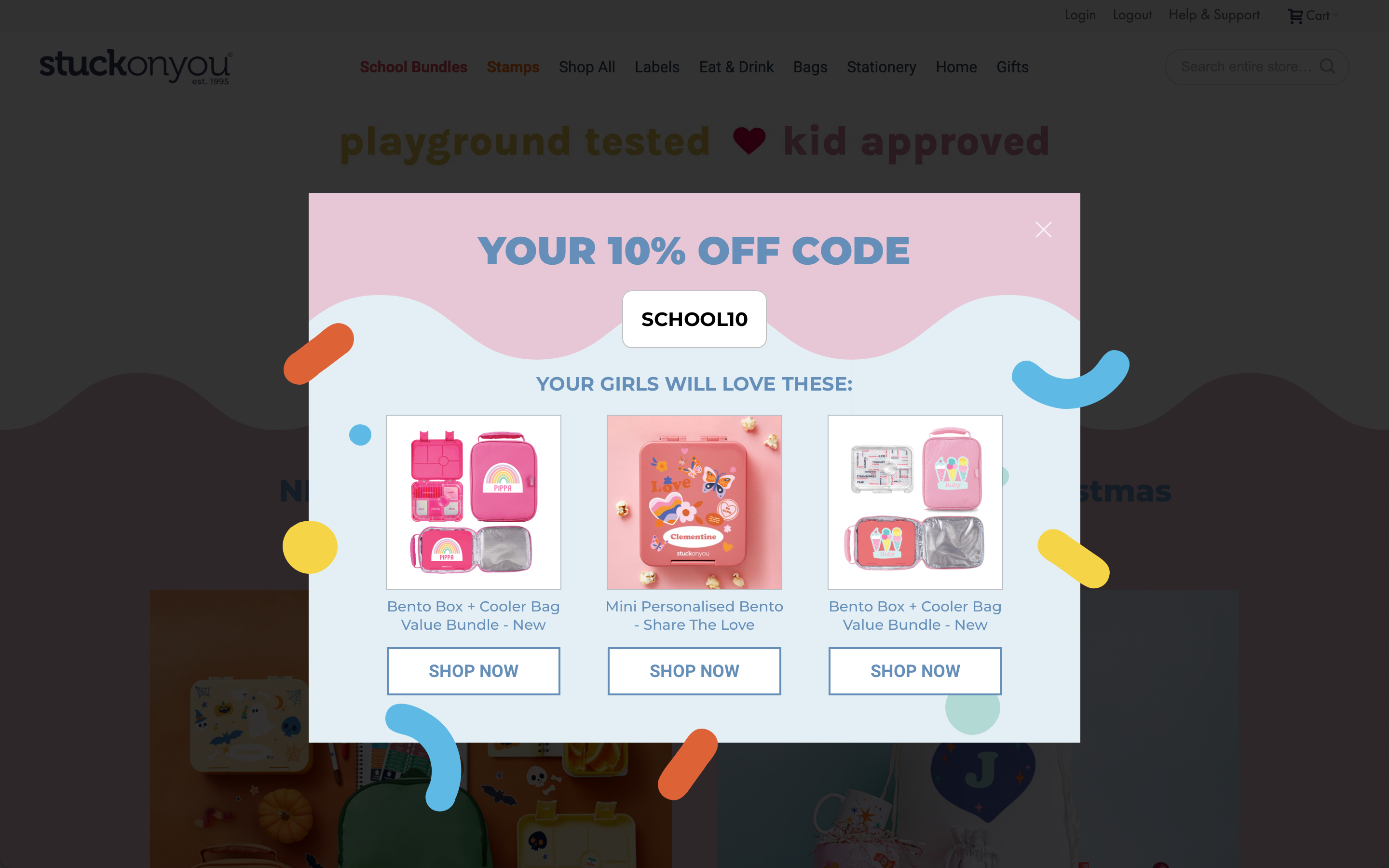 This will naturally increase your conversion rates!
And as an added bonus, you can use this valuable data to create personalized emails for your new subscribers down the line.
7. Use gamification
When you're developing your list-building strategy, you should always try to think outside the box. After all, online shoppers are so used to seeing email list signup forms that in many cases, they simply tune them out.
That's why gamified popups can really boost your conversion rates. Rather than offering a specific discount, you can give your website visitors a chance to try their luck and win something (several different discount levels, free shipping, etc.).
Lucky wheels, scratch cards, and pick-a-gift popups are great interactive sign-up forms.
Check out these gamified popup templates from OptiMonk:
8. Use quizzes
Quiz funnels are another way to enhance your sign-up form and gather more information about your customers.
The key to creating a high-converting quiz is finding a question that your website visitors will be interested to find out the answer to. 
Here are two effective types of quizzes:
Knowledge tests:

These quizzes test your audience's knowledge about a topic that's relevant to your ecommerce business. For example, a women's footwear company might have a quiz that features questions like: "Which Italian Designer released this shocking boot in 2012?"

Personality quizzes:

These quizzes promise to reveal something about the person taking the quiz, such as their hair or skin type. They can be a great sales tool because you can use the answers that a user gives to send them tailored product recommendations. 
Quizzes are fantastic because your visitor gets the immediate satisfaction of knowing their quiz results, while you get an excited person on your email list. Win-win.
Here's a great quiz example from WWF: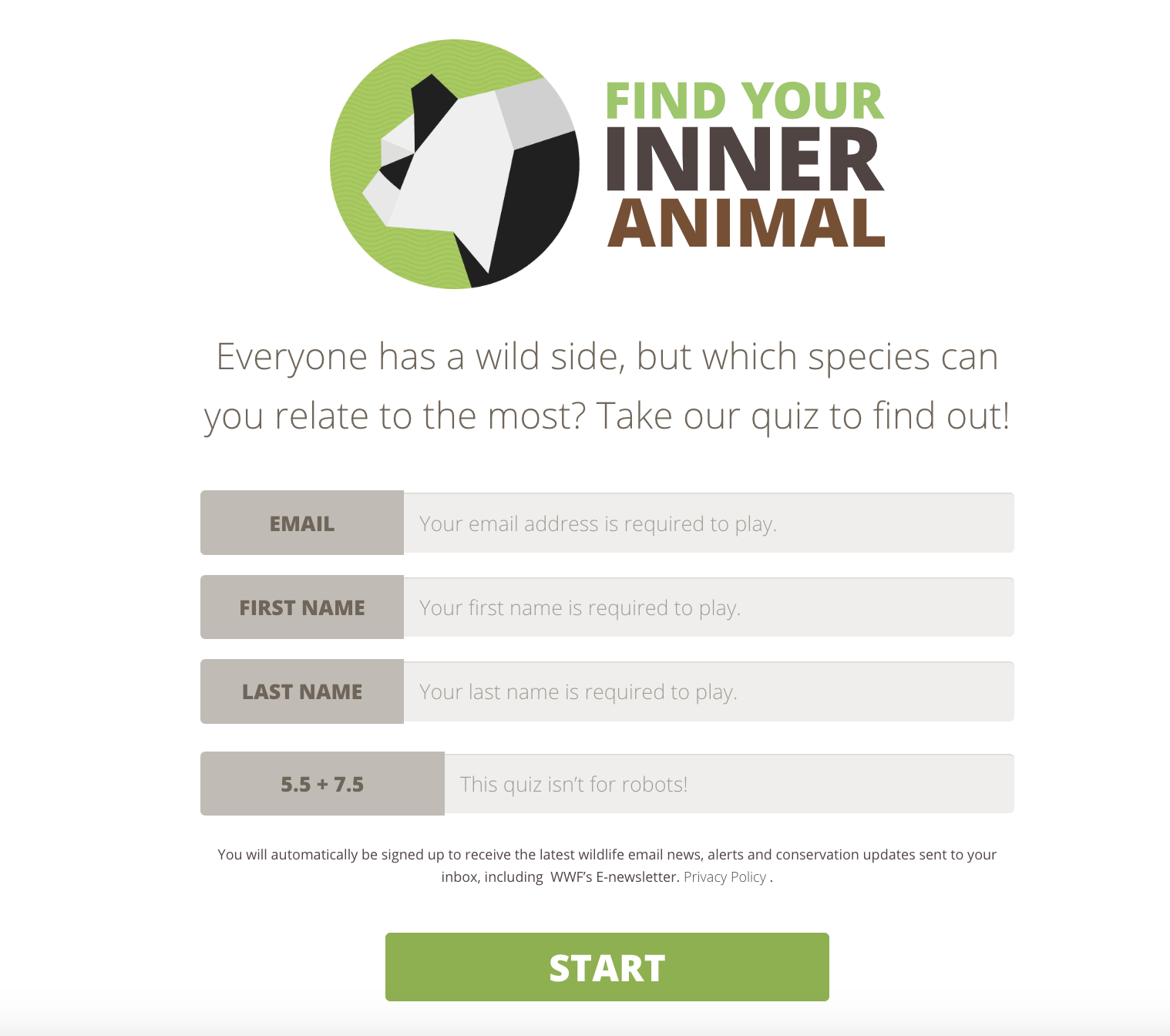 9. Use exit-intent popups
Exit-intent popups are a great way to capture new subscribers by targeting visitors who were about to leave your website.
You can offer any of the incentives we discussed above, but the key here is that you want to do it at the precise moment right before a user leaves your site. You can detect this moment by using software that tracks user behavior to sense when they're about to leave.
Another benefit of exit-intent opt-in forms is that they allow you to build an email list without interrupting your visitors' browsing experience. 
Here's a great exit-intent popup example from BlendJet: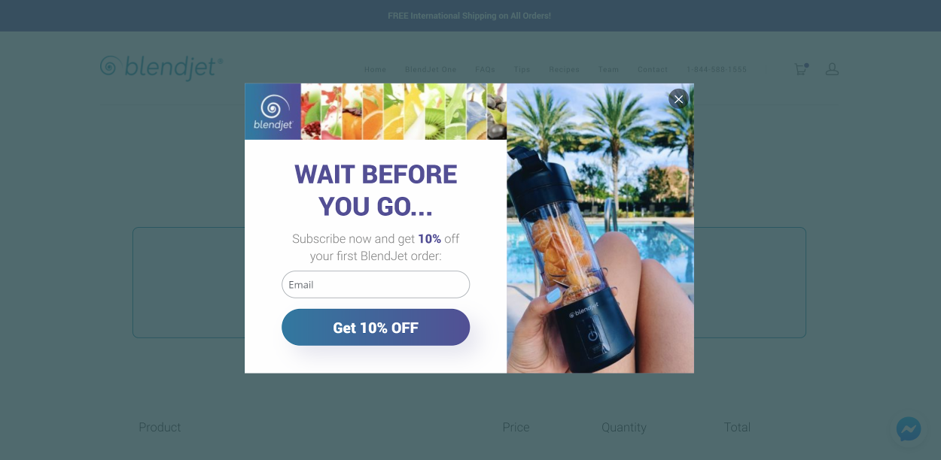 If you'd like to get started with an exit-intent popup, check out our pre-made templates:
10. Create cheat sheets
Cheat sheets are short, concise packets of information that introduce a reader to a topic. Instead of writing a detailed blog post about your niche, you could offer a cheat sheet as a lead magnet.
Make sure that you organize the information in a clear, concise format like a list or a step-by-step guide. You'll also want to make it visually appealing.
Here's an example from Curbly that promotes their cheat sheets on a popup: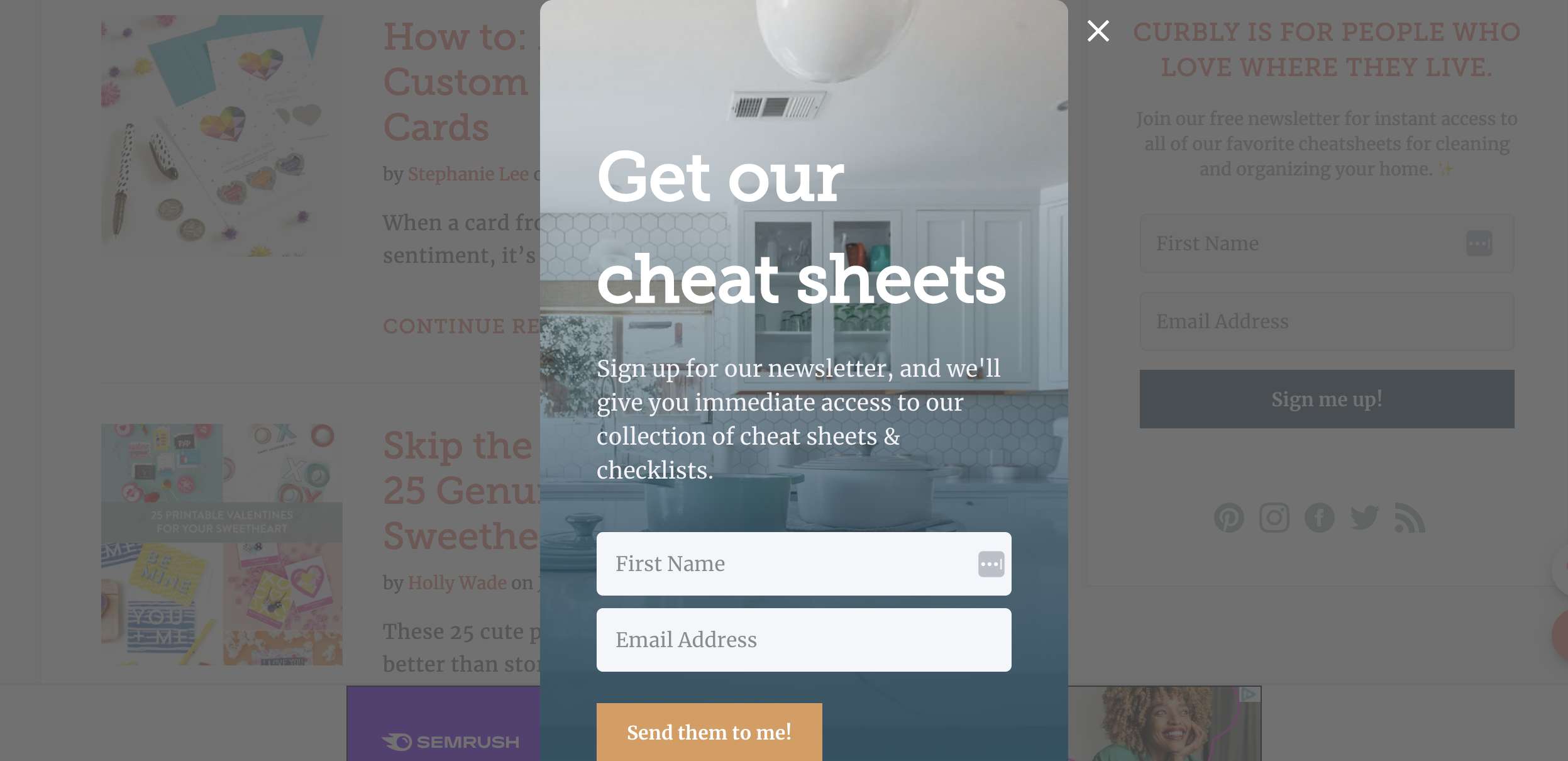 11. Offer case studies
When you're working on your content marketing strategy, you should always try to provide content that your audience will be interested in. Some audiences prefer longer-form content (like case studies) rather than shorter articles.
Case studies not only work as great lead magnets, they also demonstrate how your product or service can solve a specific problem using real-world examples. This makes case studies an exceptionally persuasive type of social proof.
12. Offer access to webinars
You can also use webinars as a lead magnet for customers who prefer video content.
And they're incredibly effective: over 73% of sales and marketing leaders say that webinars are among the best lead magnets in ecommerce.
Hosting a webinar is a great way to reach a large audience and provide them with engaging, valuable content. But remember that you'll need to put resources into it, like building your webinar landing page, preparing for the event, and so on. 
Here's a webinar landing page example from Neil Patel: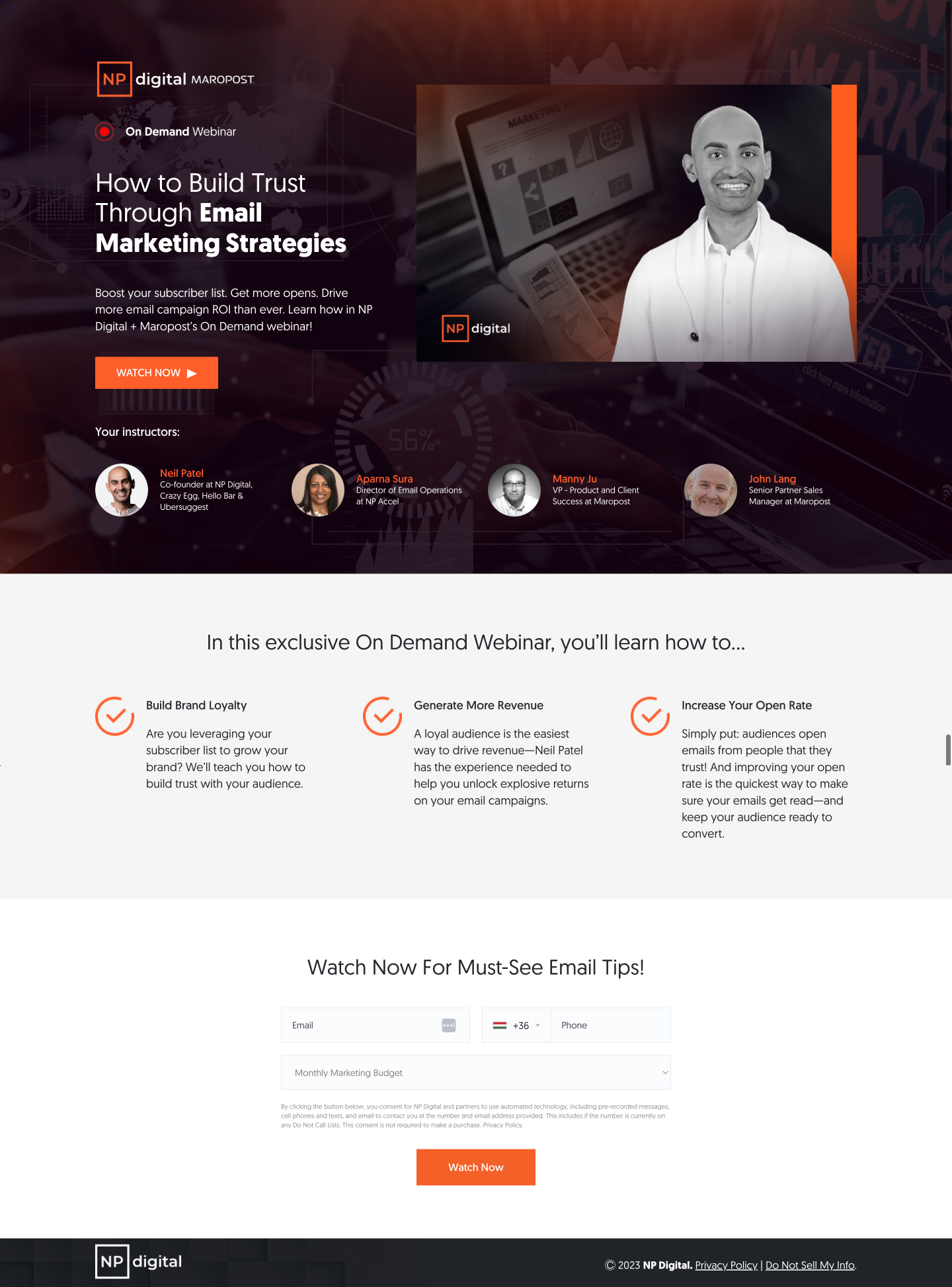 13. Use social media channels
Think you can only run email list-building campaigns on your website? Think again! You can also leverage your reach on social media to collect email addresses. Twitter's lead generation cards, for example, can convert extremely well.
You can use your social media accounts to create simple subscription opportunities, such as a sign-up link in your bio. Here's an example of how to build an email list on Pinterest: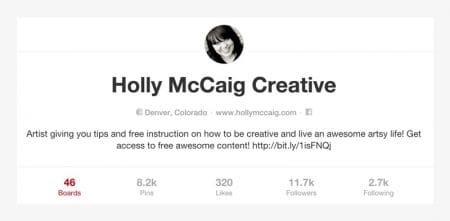 14. Referral marketing
Referral programs are one of the most effective ways to build an email list, since they leverage the power of word-of-mouth marketing. 
When you incentivize your paying customers to spread the word about your products or services to their friends and family, you'll be able to attract leads that already have a high degree of trust in your brand.
Plus, referral programs can help increase customer loyalty by making your existing customers feel more invested in your brand. If you're offering a discount as an incentive for making referrals, then you can also boost sales.
It's crucial that the terms of your referral program are clear and easy to follow. And don't forget to make the rewards worthwhile for your customers.
15. Use paid marketing campaigns
If you have the budget to invest in paid marketing, it's a great way to grow your email list from scratch and do it quickly. 
Paid marketing channels, like social media ads, search engine ads, and display ads, can help you target the specific audience that will be most interested in your brand. This ensures that your ads will reach the right people and be well received.
There's also the option of using retargeting ads to target people who have already visited your online store but haven't subscribed to your list.
16. Give out product samples
Offering free samples for your new subscribers is a great way to get them excited about joining your list. 
You can choose a popular product as your free sample, or maybe a new product that you're trying to spread the word about. This can help you introduce your visitors to your products and convert more of them into paying customers.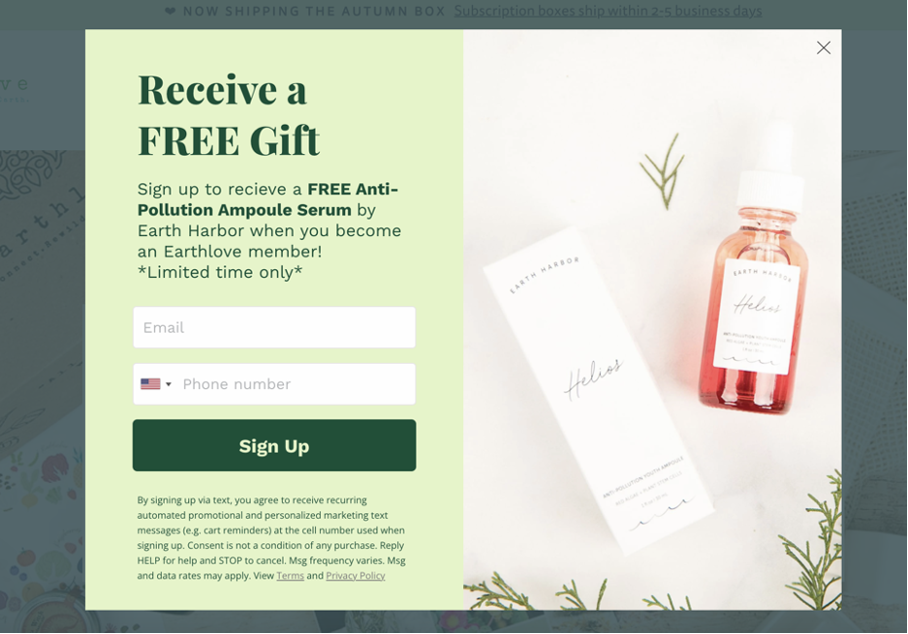 17. A/B test list-building tactics 
It's hard to know which list-building strategies will get you the most email subscribers, which is why testing is so essential. 
A/B testing can help you discover which list-building strategies and incentives work best for your target audience. And by using OptiMonk's Experiments feature, you can easily test any campaign type against any other.
Making decisions based on real data (not gut instincts) means you'll be able to increase your conversion rates quickly and confidently.
18. Build your email and SMS list at the same time
Given how important mobile shopping is in ecommerce, you should definitely consider collecting phone numbers for SMS marketing. 
Text-based marketing boasts extremely high open and click-through rates, which leads to a lot of extra revenue.
With the Trojan Horse method, you can easily collect both email addresses and phone numbers without hurting your email opt-in conversion rates. 
First, you start by asking for an email like you would with any normal welcome popup. Then, you offer an extra incentive in exchange for a phone number. You can expect between 30-80% of your email subscribers to become SMS subscribers, depending on the value of your extra offer.
Here are a couple of pre-made Trojan Horse popup templates:
How to design your landing pages to convert more email subscribers?
Landing pages are a great way to build your email list quickly, because the entire page's content can be devoted to convincing visitors to sign up.
Let's take a look at how you can create high-converting landing pages. 
1. Use a standard opt-in form on your landing page
This is a basic tactic, but don't let its simplicity deceive you: Your landing page should have an easy-to-find field for collecting email addresses. There will always be visitors who look in your footer or sidebar for a way to sign up, and these simple opt-in forms are perfect for them. You can also consider using a sticky bar with a sign-up form.
Intercom displays a standard opt-in form on their landing page in line with best practices.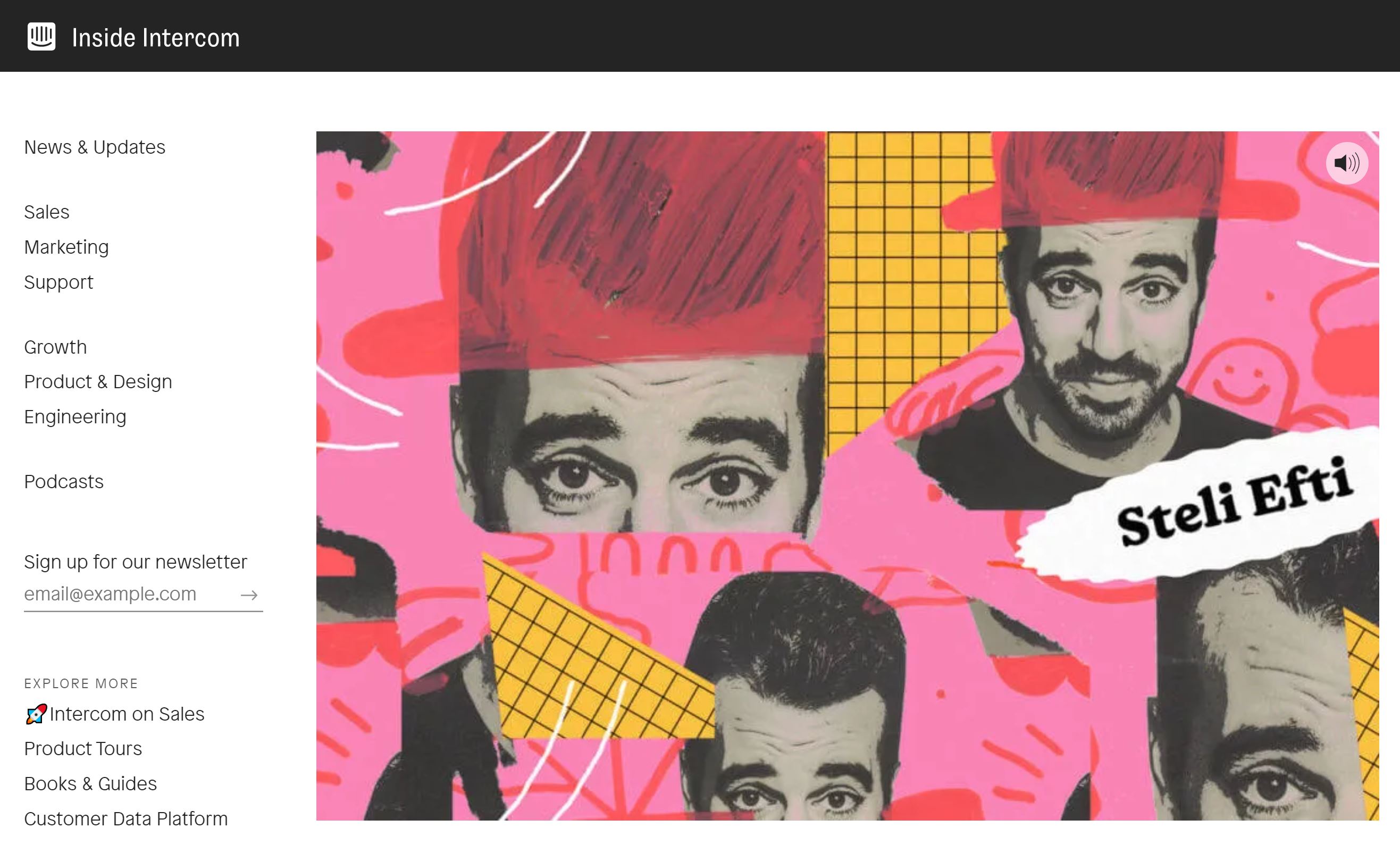 2. Create a separate landing page for opt-ins
Instead of just adding a "Join Now" call-to-action to one of your regular landing pages, why not create a dedicated landing page for growing your list?
This is the perfect place to offer that free ebook, webinar, or another lead magnet you've created. A separate landing page with a strong image, powerful headline, and enthralling copy can do wonders for your lead-gathering strategy.
3. Use your 404/error pages to build your email list
404 pages appear when a user tries to access a page that doesn't exist. Instead of using a standard 404 page like most brands (simply redirecting users to the homepage), why not set up a contact form to get some value from your 404 page?
With a little bit of creativity, you can turn it into a lead generator and showcase your brand's personality.
Check out this 404 page from eHarmony: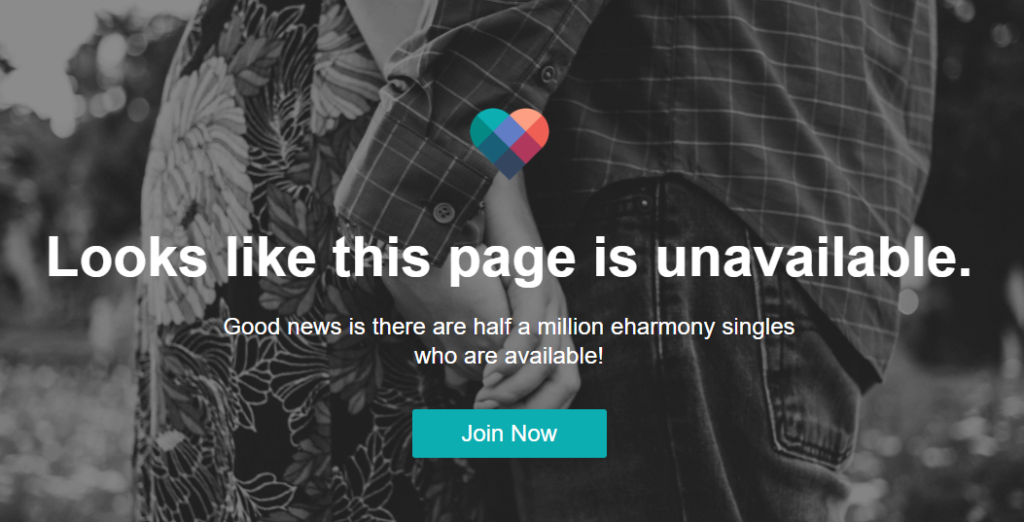 The best email list-building platforms in 2023
Now, let's take a quick look at some of the best email list building tools that will help you grow your subscriber list using embedded signup forms, popups, and more. 
1. OptiMonk 
The best email list-building tool you can use in 2023 is OptiMonk. Whether you need a simple campaign for your landing page or you want to spice things up with a fun gamified popup, OptiMonk has a template for you.
And it has a range of other optimization tools that can help you raise your conversion rates without needing to write a single line of code.
Let's see the main benefits of using OptiMonk:
A huge template library:

300+ beautiful, mobile-optimized templates at no additional cost.

An easy-to-use drag & drop editor:

creating beautiful list-building forms has never been easier. No coding skills needed.

Customizable form fields:

gather information beyond email addresses (like birth date, gender, address, etc.).

30+ targeting & triggering options:

target different audience segments with personalized messages using URL targeting, cart value, & more. Trigger your campaigns at precisely the right moment.

Google, AdBlock, and GDPR compliant:

OptiMonk campaigns are Google friendly and fully GDPR compliant, so there are no security worries for you or your customers. 

Detailed analytics & insights:

get a better understanding of how your list building campaigns are performing and why.

30+ email, CMS, and ecommerce integrations

: including popular services like MailChimp, Klaviyo, and HubSpot.

A/B testing:

compare alternate versions of your campaigns to find out what works best and boost your conversion rates.
2. MailChimp

MailChimp is one of the best email marketing platforms on the internet. They have an email list-building tool, as well as features that make segmenting, advertising, customization, and analyzing the results from an email marketing campaign a breeze.
MailChimp has been able to perfect email marketing, and they've created an indispensable tool for any list-building strategy.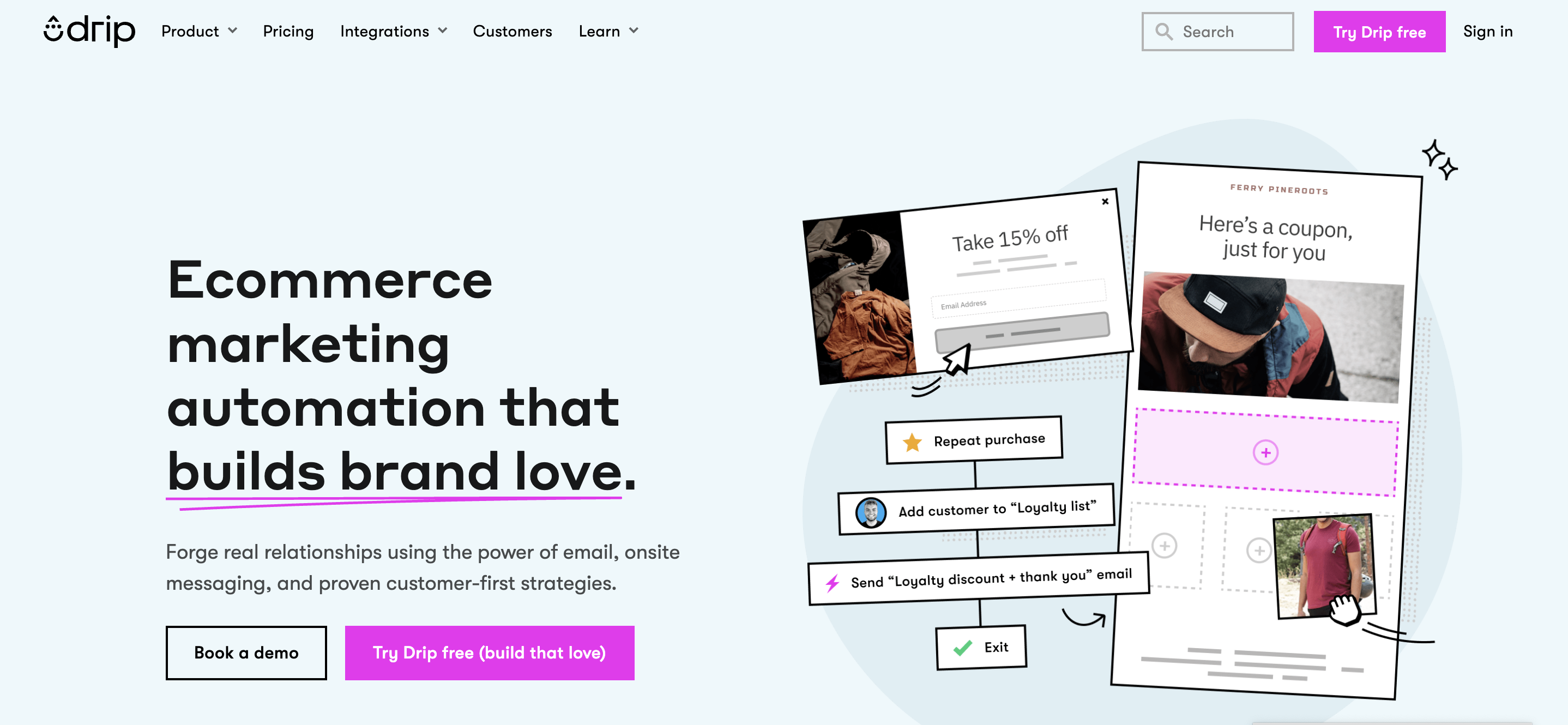 Drip is another email marketing service that can help you collect emails, segment your list, and personalize your email campaigns. It's built for small- to medium-sized ecommerce businesses and offers a variety of integrations with other tools.

Campaign Monitor is another popular option in the email marketing space. The tool specializes in creating personalized customer journeys by splitting your target audience into smarter segments. They also have a suite of custom sign-up forms that you can use to rapidly build your email list and create an engaged audience.

ActiveCampaign is another all-in-one marketing platform with a strong focus on automation. They have advanced tools that marketers can use to dive deep into advanced reporting stats and automation goals.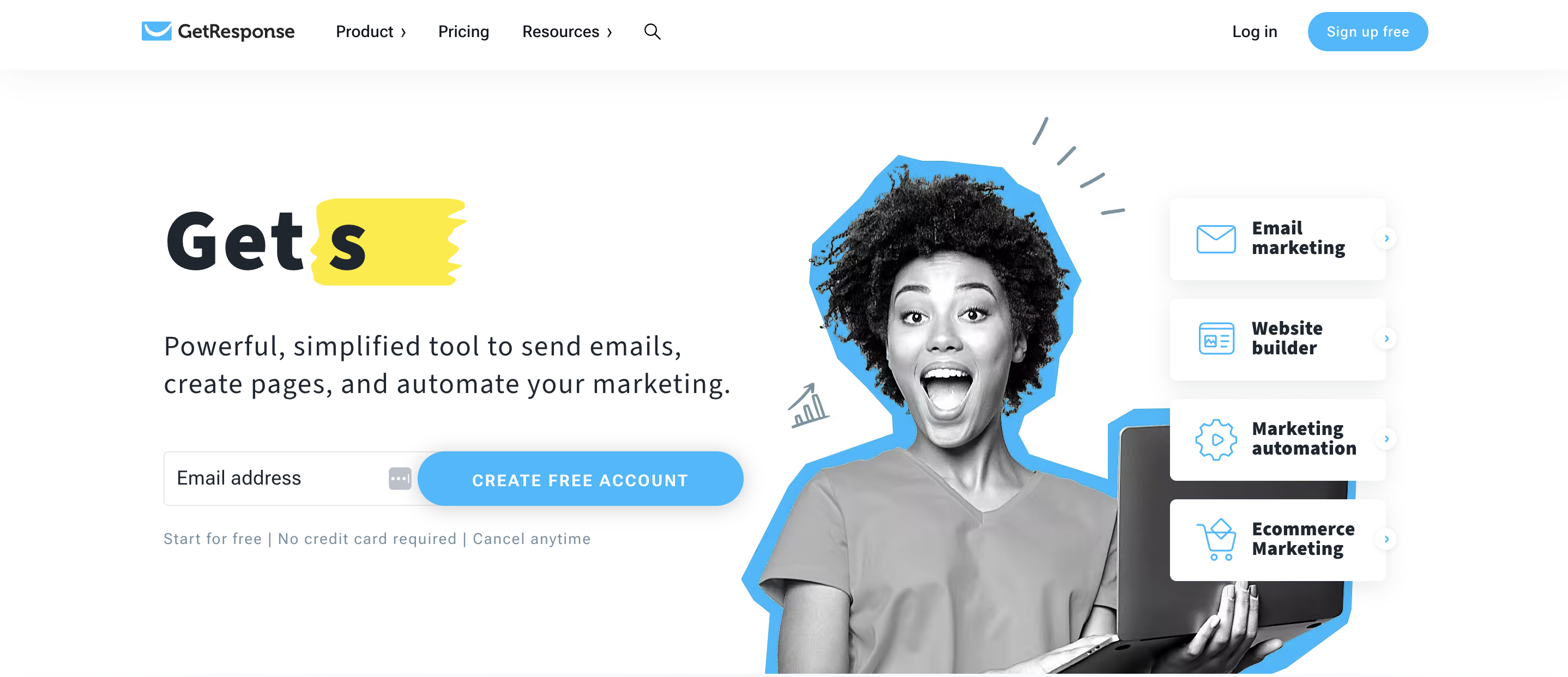 GetResponse is a reliable option for running your email marketing. They boast an impressive 99% email delivery rate, meaning more eyes on your emails.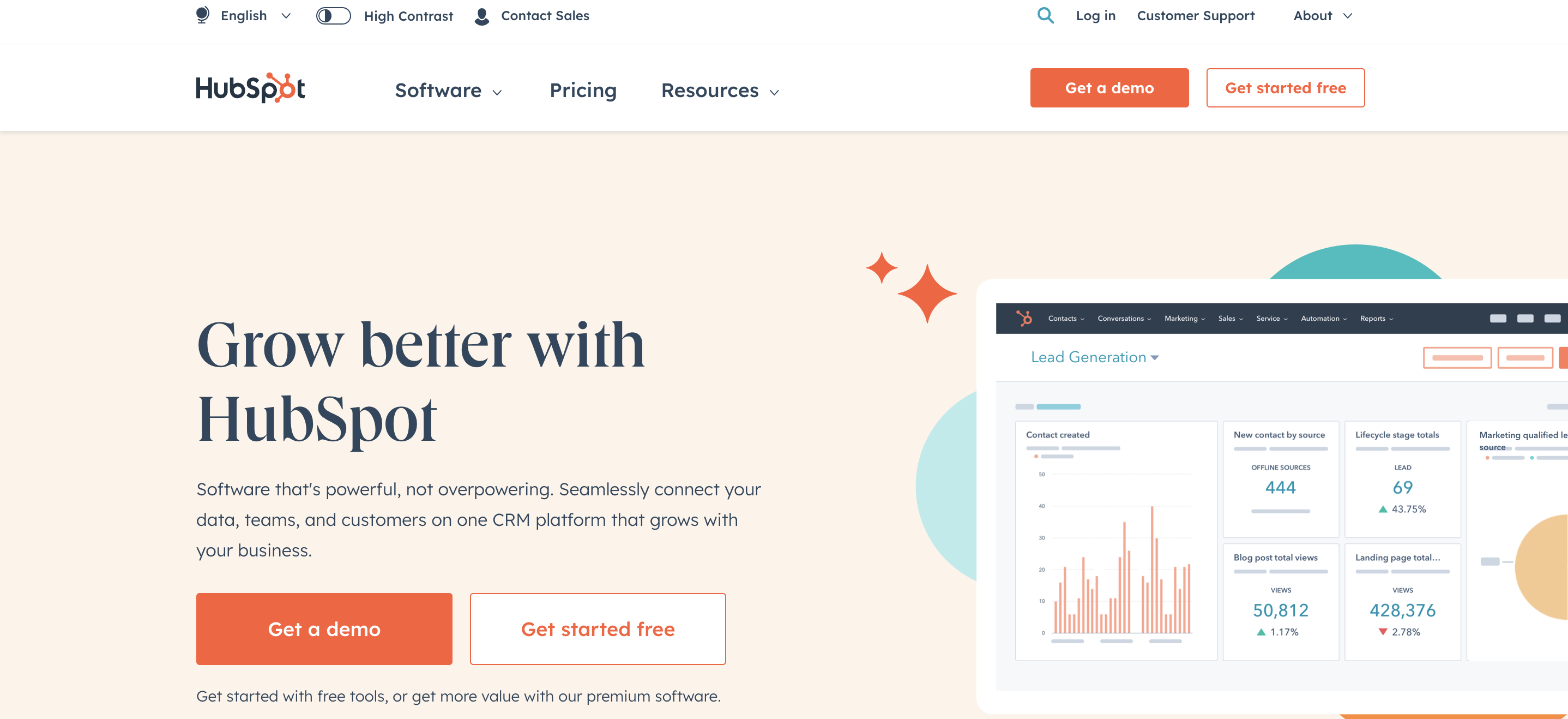 HubSpot is a leader in the digital marketing space, offering an astounding number of features for ecommerce stores. And luckily, their email marketing software is free to use without committing to their all-in-one marketing suite. 
What is email list building?
Email list building is the process of collecting email addresses from people who have shown some degree of interest in your brand. Its goal is to create a list of potential customers who you can reach by sending email marketing campaigns. It's an important aspect of digital marketing as it allows you to build a relationship with your audience and keep them engaged with your brand.
Is building an email list worth it? 
In a word, yes! It's the only way for you to maintain a direct line of communication with your audience. Otherwise, you'll always have to rely on third parties like social media networks to communicate with them. Furthermore, email is a channel that boasts very high conversion rates and is incredibly cost effective compared to other forms of marketing.
How much does it cost to build an email list?
How much building an email list will cost depends on how large a list you want to grow and what methods you plan to use. It will be much less costly to promote lead magnets on your site than to run paid ads on search engines or social media ads. That means that the cost of building an email list can range from very little to several thousand dollars.
By following the advice from this article, you'll be able to supercharge your list-building strategy and collect more emails than ever before. Even if you're just starting to build an email list, you can have a healthy subscriber database in no time!
OptiMonk can help you implement any of the strategies we've covered in this article quickly and easily. Creating a free account will get you access to all the email popup templates that OptiMonk has to offer, as well as customizable sign-up forms. Give it a try today!