Can you remember the last shipping email you received? What did it look like? It probably included all the details of your order, like the item number, order date, and shipping status— standard stuff.
But did it actually make an impression?
Shipping emails have immense potential, but they're rarely used to their fullest.
In addition to providing the basic information, a good shipping confirmation email should be able to captivate and connect with the reader. That can be achieved in numerous ways, from including related offers to providing a social message or reinforcing your brand identity.
As an ecommerce business owner, you should take advantage of this opportunity to transform shipping confirmation emails into a powerful tool for your business.
In this article, you'll find six valuable tips to help you boost the effectiveness of your shipping emails, increase their engagement rate, and build a strong relationship with your clients.
Let's jump right in!
1. Offer additional functionality in your shipping email
A simple shipping confirmation email that includes a tracking link and delivery date will definitely serve its purpose if your only aim is to provide information to your customer about their purchase.
However, the emails you send can provide much more than that.
For example, for those who didn't pay for your order yet, you could add payment details with a link to your online payment gateway. Nowadays, services like Weave Payments offer multiple payment options, so customers can choose the one that is most convenient for them.
A "pay now" button somewhere in the email template is simple and practical.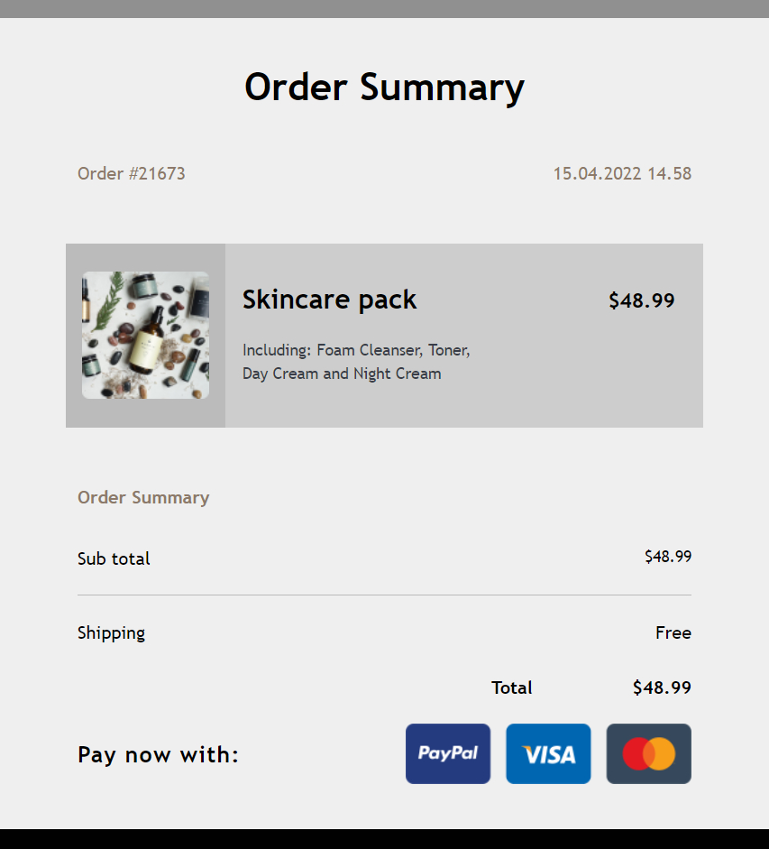 2. Keep it relevant with shipping confirmation info
The two most common ways of sending order confirmations are short text messages sent to the customer's phone number and emails sent to their email address.
The former, due to its nature, should only include the essential shipping details like the package's whereabouts.
The latter, however, allows you to include much more information to help your customer identify the order, which can be quite convenient when they receive lots of notification emails from your store.
The shipping confirmation email should include the parcel service used, the tracking number, the item name or description, and the expected delivery date.
If you're a retailer who sells multiple products from different brands, consider adding a product page URL or an image of the item so that your customers can quickly identify it.
But remember, there's such a thing as too much information. You don't want to frustrate your customers with long emails, so including similar products that other customers purchased might be overkill.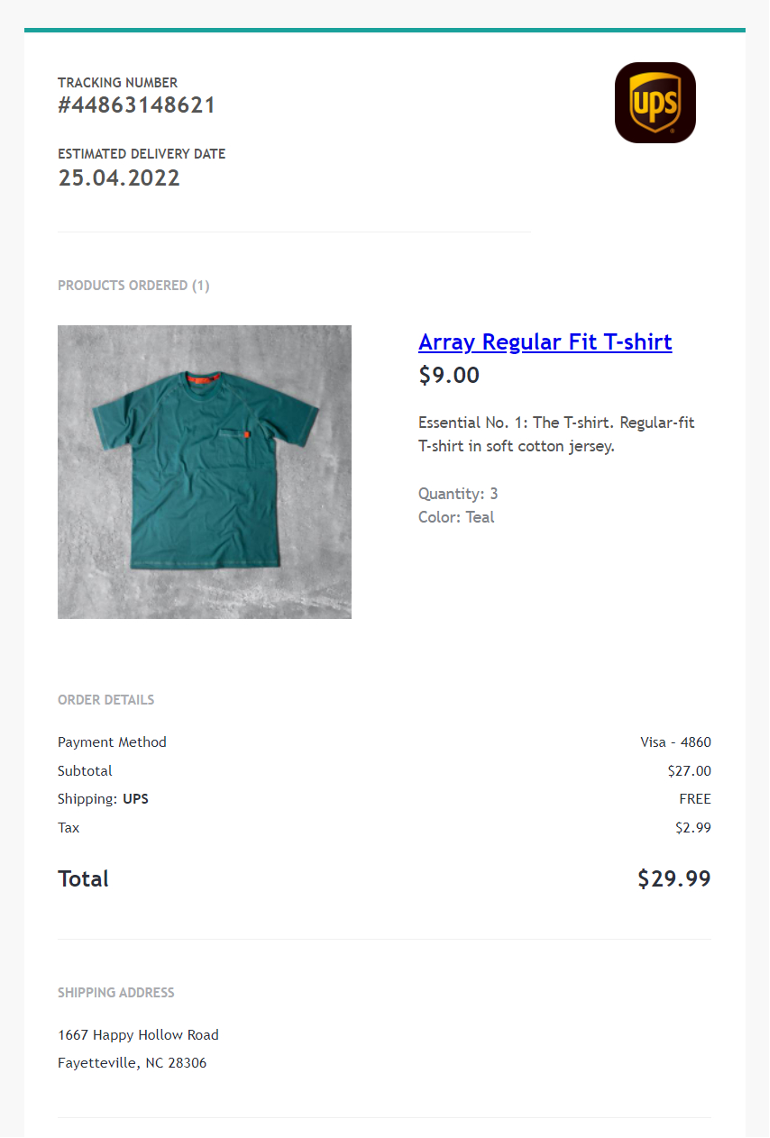 3. Personalize your shipping confirmation email
When creating shipping confirmation emails, the most important thing to remember is to put your customers first.
As mentioned above, the shipping information you include in the message shouldn't be too long or too difficult to understand. By keeping the text concise and user-friendly, you'll create a good customer experience.
Consider adding your customer's name in the subject line—doing so will make the confirmation email feel more personal. Similarly, adding a "thank you for ordering this product" message can help your customers feel more valued, making a world of difference to the customers' experience and overall perception of your brand.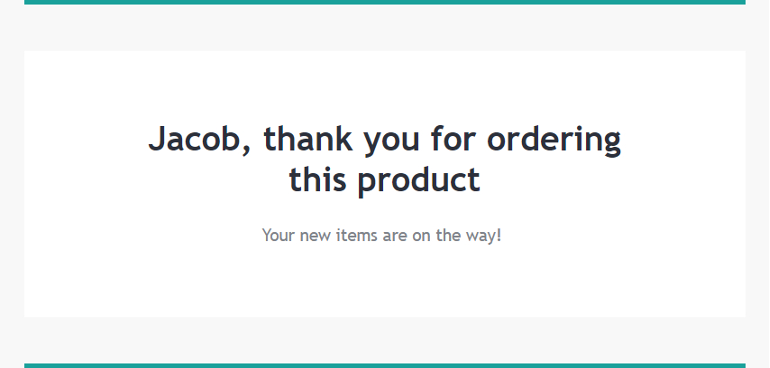 4. Provide additional support
A standard order confirmation email contains contact info that the customer can use to ask questions or make changes to their order details, shipping method, etc.
While this information is important and worth including, you can take it a step further by offering additional support to build customer loyalty.
If you sell physical goods, you could include the assembly instructions or a user manual in your shipping emails; for digital products, try adding tips on how to use them most effectively.
In your transactional emails, you can include a snippet with the customer support resources related to their order, or a link to the FAQ page of your website so that customers can quickly find answers to their questions without contacting the support team directly.
This can save you time and money while providing your customers with the information they need to fully enjoy their recent purchases.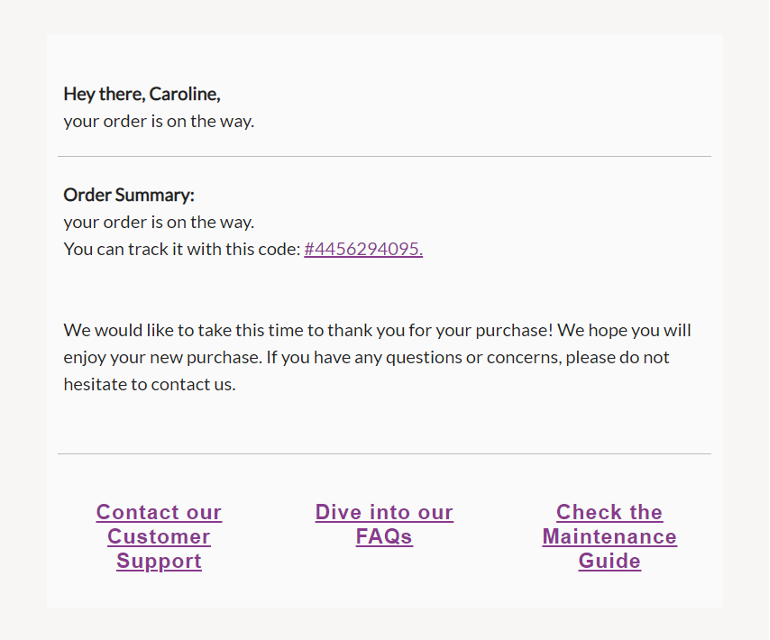 5. Make the shipping notification email mobile friendly
This goes without saying. Just like your webpage, your order confirmation emails should be fully responsive and mobile friendly.
More than 60% of all ecommerce traffic comes from smartphones, which means nearly two-thirds of your customers are likely to read your emails on the go. It's important to make sure that your email template is easy to read and navigate on a mobile device so that customers can access the information they need quickly.
Make sure that your confirmation email template follows a single-column design and includes a tracking link, estimated delivery date, and general product specifications right on the very top of the screen, as this will provide them with easy access to the main message while also making space for other valuable messages.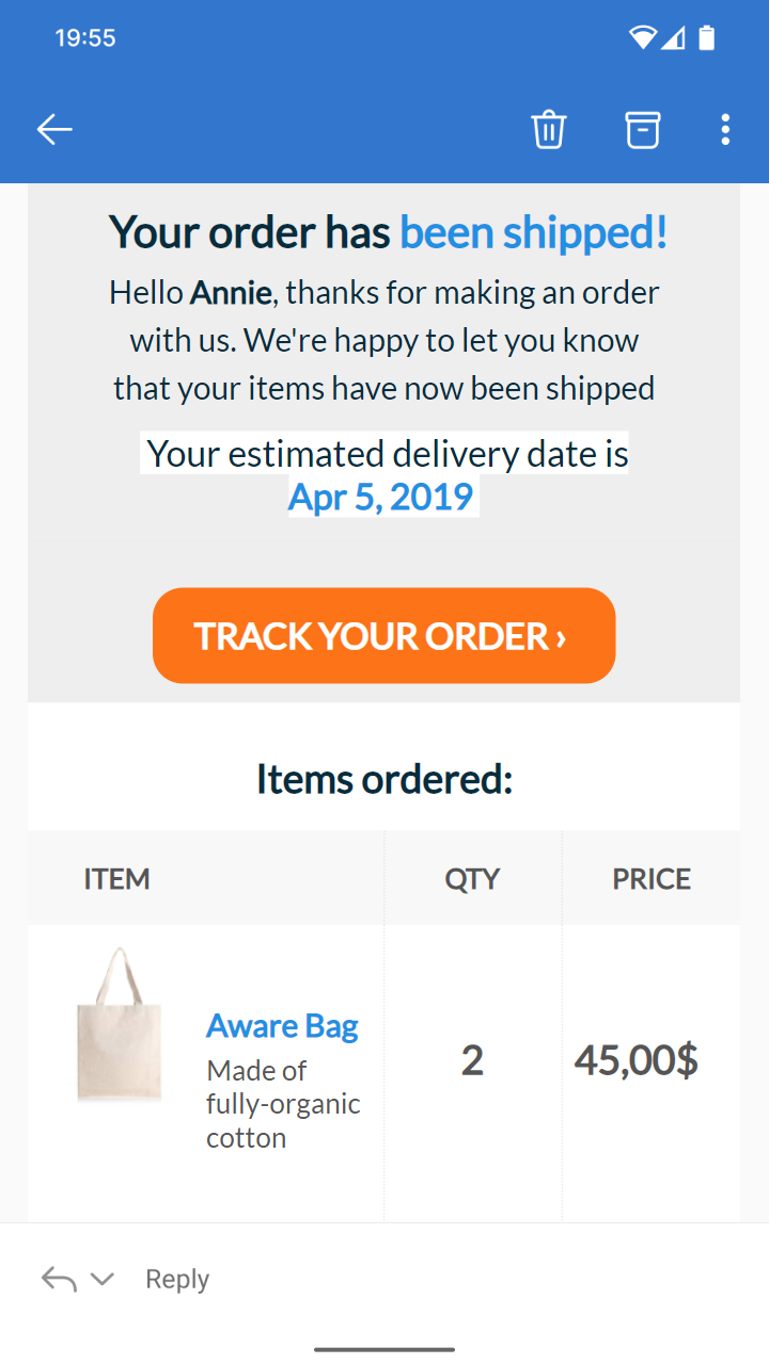 6. Add calls-to-action to your emails
Every shipping confirmation email you send should contain a call-to-action (CTA) that will encourage the customer to take action and visit your website, invite their friends to your referral program, or participate in some other way.
The CTA should match your customers' interests and needs to boost customer engagement, ultimately leading to more sales.
Since customers care more about shipping confirmations than promotional ones, they have a greater open rate and click-through rate compared to other marketing emails. This is exactly why the call-to-action in your shipping confirmation email is such a valuable opportunity to move your excited customers towards another future purchase!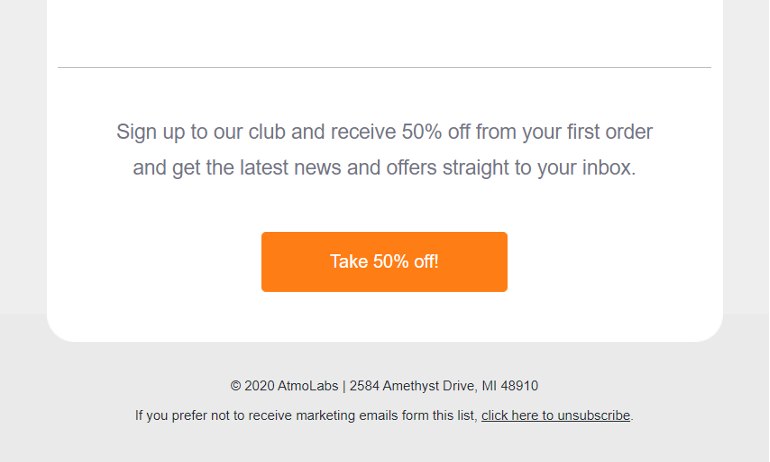 Shipping confirmation emails can be a powerful marketing tool for any ecommerce business, as they allow you to do much more than just provide your customers with their order confirmation.
A shipping notification with a customer's name in the subject line that includes reminders, tracking information, and a call-to-action is a winning formula for a confirmation email that will create a positive brand impression in your customer's mind.
Did you find this article helpful? Have another idea for something to include in your emails to improve the customer experience and make them more enjoyable? Share your thoughts and comments below!