Ready to escape the clutches of customer-chasing chaos? Say goodbye to old-school tactics and brace yourself for the gains you can make with a lead generation tool.
With a range of dynamic lead generation tools at your disposal, you'll be able to revolutionize your approach and achieve extraordinary results. Prepare to supercharge your business and leave your competitors in awe.
By the end of this article, you'll be armed with a wealth of knowledge on how these tools can revolutionize your lead generation efforts.
Top 20 lead generation software
Let's get right into exploring the top 20 lead generation tools that will assist you in attracting and capturing potential customers, propelling your business to new heights, and achieving remarkable growth.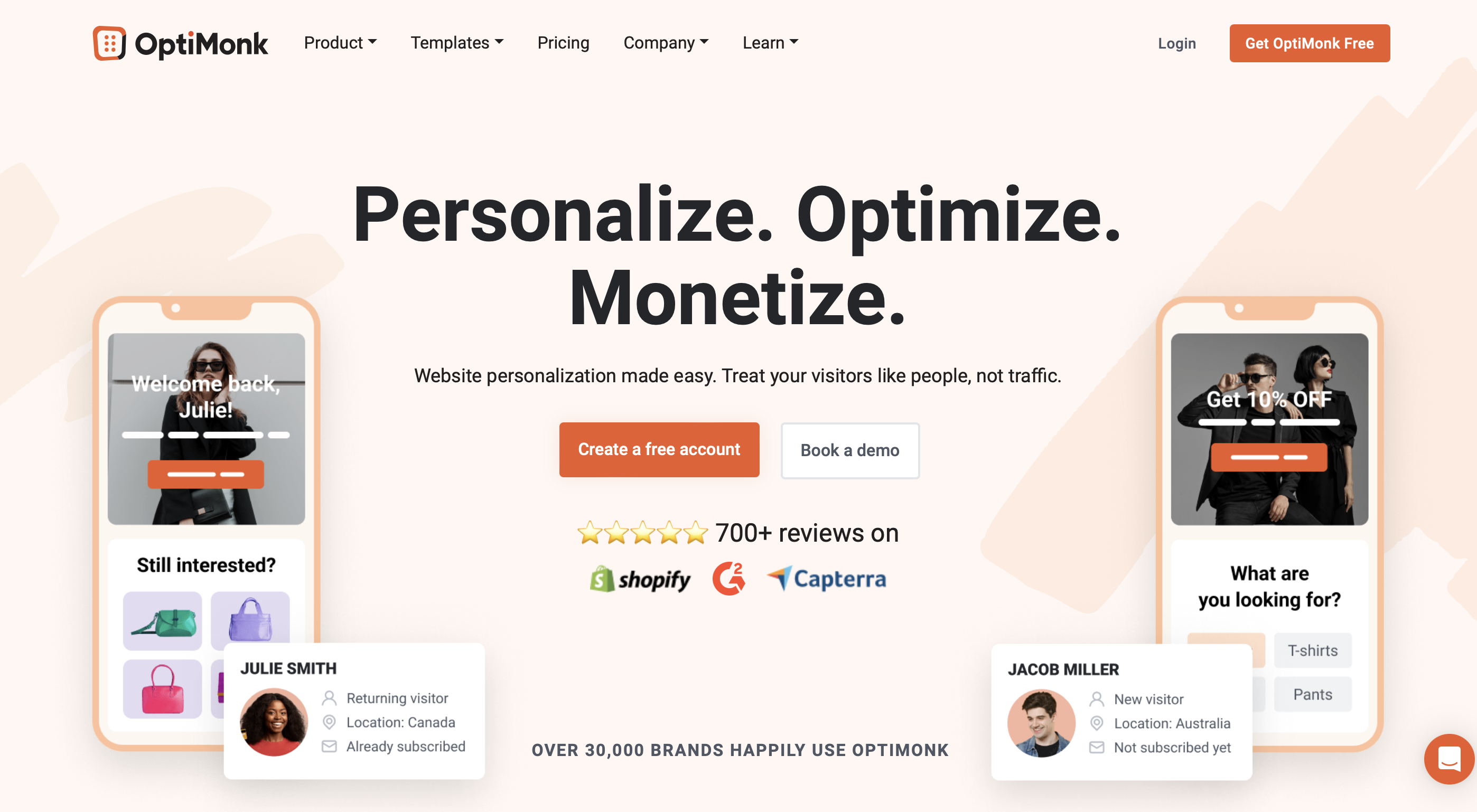 OptiMonk is an all-in-one CRO toolset that provides popups, website personalization, and A/B testing. It also offers exceptional assistance to businesses in their efforts to attract and convert more leads.
With OptiMonk, you have a powerful arsenal of features at your disposal. Captivate your visitors with eye-catching popups and personalized messages that inspire them to take action.
OptiMonk provides you with robust analytics and reporting capabilities, giving you deep insights into your lead generation campaigns. Real-time data and detailed metrics empower you to make data-driven decisions and continuously optimize your strategies for maximum impact.
Let's break down some of the ways OptiMonk can help you with your lead gen efforts:
1. Gamification popups
By implementing Gamification Popups, you turn your website into an immersive playground, enticing your visitors to participate and engage. Imagine wheels of fortune, scratch-off cards, or slot machine-inspired interactions.
With Gamification Popups, you have the power to configure the winning odds for every interaction, ensuring an exciting and personalized experience for your audience.
Try the gamified experiences today:

2. Build your list and gain valuable data
With OptiMonk, you can create a warm, interactive welcome experience for your website visitors.
You can use Conversational Popups to collect valuable data about your audience while building your list. Each conversation provides insights into their preferences, pain points, and interests, enabling you to refine your marketing strategies and create targeted campaigns.
Use these templates to build your list:
3. Seamless integration with your marketing stack
With OptiMonk, you can enjoy deep, comprehensive integration with your existing marketing tools and platforms. Our solution allows you to effortlessly send leads and profile data directly into your preferred email marketing software, CRM tool, or customer data platform, enabling you to trigger powerful automation and personalized campaigns.
By seamlessly integrating with popular platforms like Klaviyo, Shopify, and Mailchimp, we ensure that your data flows smoothly, eliminating the need for manual data entry or cumbersome processes.
Additional features:
Targeting based on source:

This feature enables the display of campaigns to visitors originating from specific sources.

Code-free editor:

This tool allows you to customize campaigns without requiring coding knowledge or technical expertise.

Mobile-optimized templates:

This ensures that your campaigns look great on all devices.

Klaviyo lists and segments:

This comprehensive integration option facilitates the extension of personalized marketing efforts across various channels.

Audience recommendations:

This feature assists in reaching predefined segments, including new visitors or active shoppers, helping you select the ideal audience for your campaigns.

Exit-intent technology:

OptiMonk's exit-intent technology ensures you never miss an opportunity, as it detects when visitors are about to leave and presents them with an irresistible offer or message.
Pricing: Freemium plan is available, and the Essential plan starts at $39/month.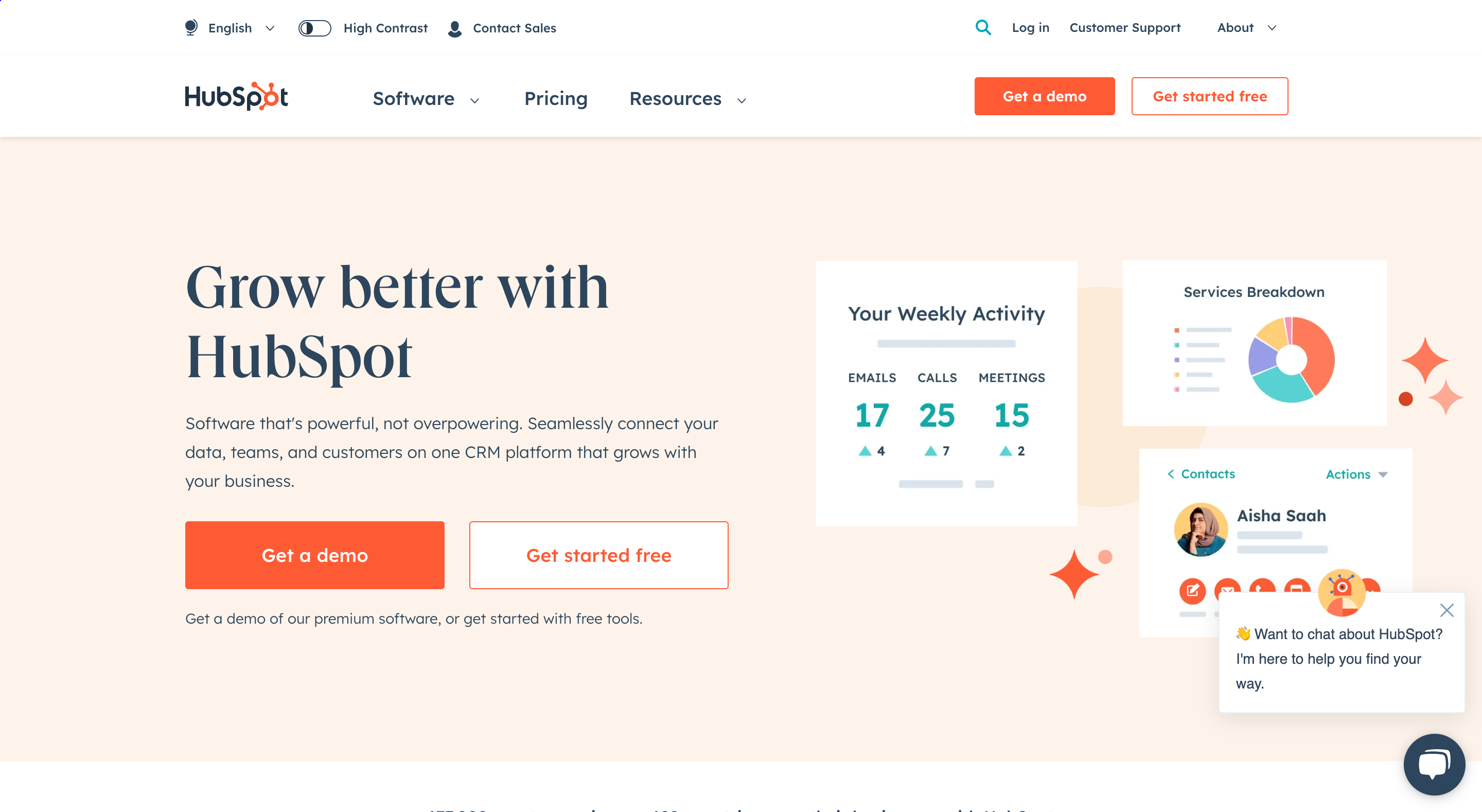 HubSpot is a robust all-in-one lead generation, CRM, and inbound marketing platform. It offers a comprehensive suite of tools that allow businesses to manage their marketing, sales, and customer service efforts seamlessly.
HubSpot's feature-rich platform includes email marketing, social media management, blogging tools, SEO, website content management, and analytics.
Pricing: Prices range from $30 to $3,200/month.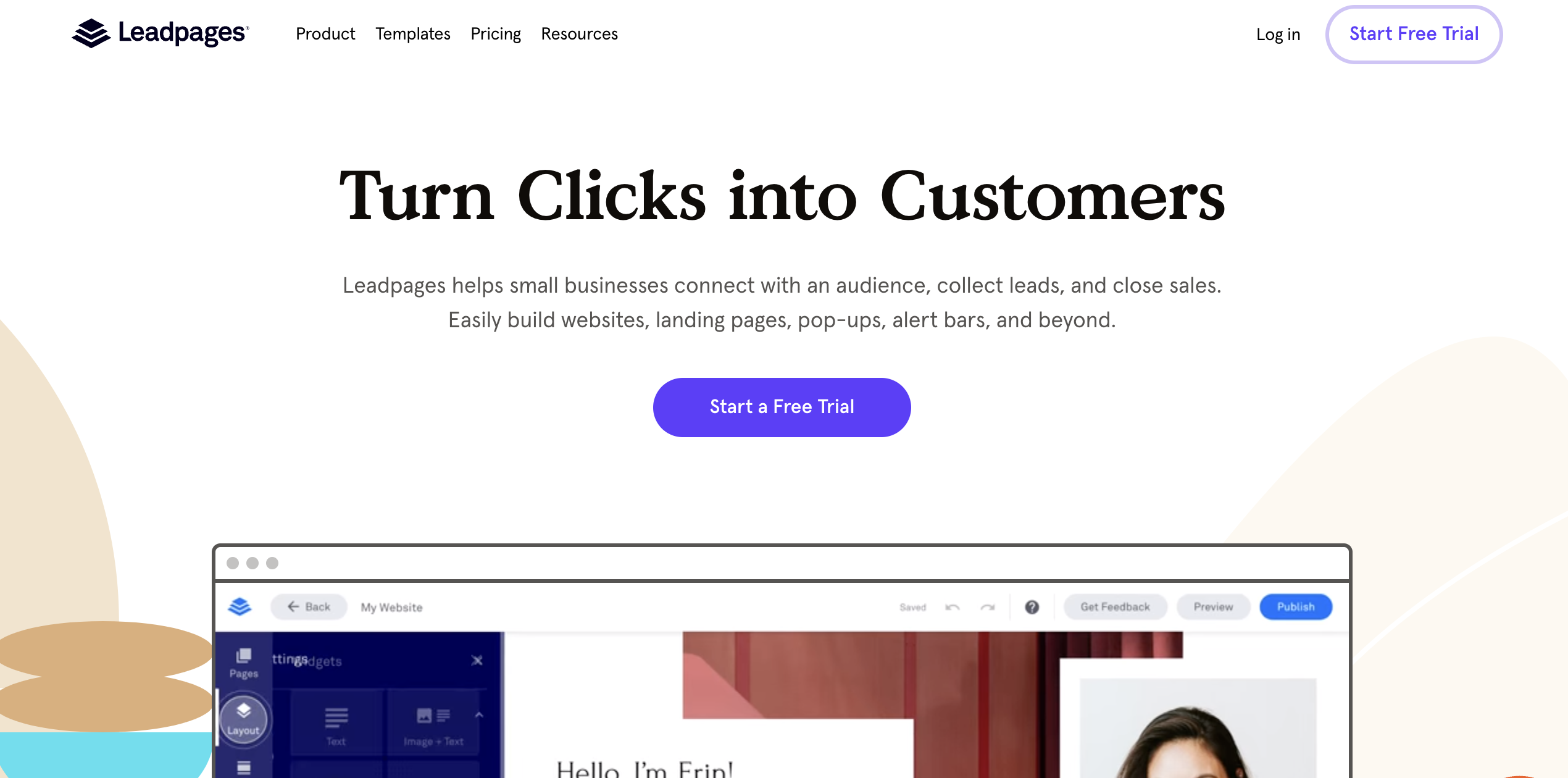 Leadpages is a specialized lead generation software that's engineered to create landing pages that excel in lead conversion.
Its offerings include customizable templates to suit a variety of business and campaign needs, a user-friendly drag-and-drop editor for effortless page creation, A/B testing capabilities to optimize performance, and integrations with popular marketing tools like email marketing software and analytics platforms.

Pricing: Pricing starts at $37/month for the standard plan.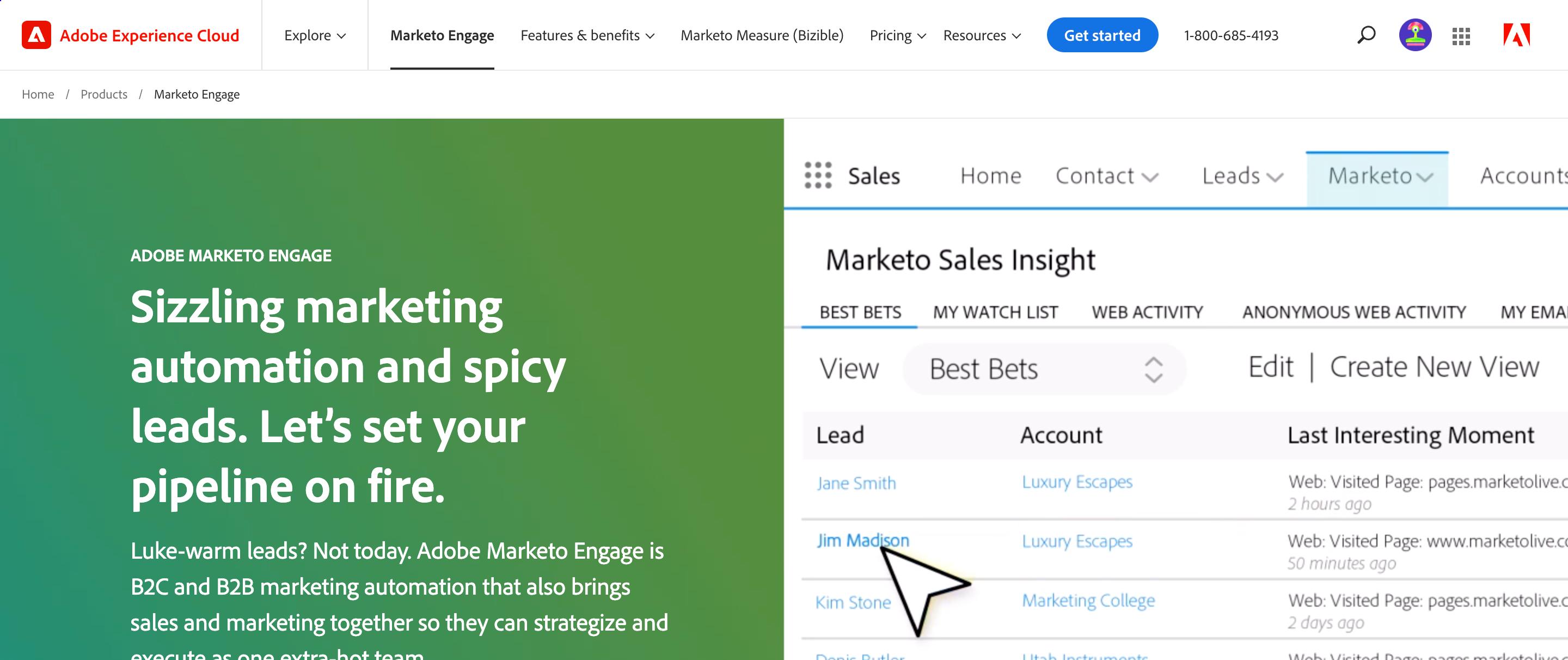 Marketo Engage, an enterprise-level platform, provides sophisticated lead generation and marketing automation capabilities.
This comprehensive solution includes advanced features such as lead scoring and nurturing, email marketing, social media marketing, detailed analytics, and comprehensive campaign management.
Pricing: Pricing is available upon request.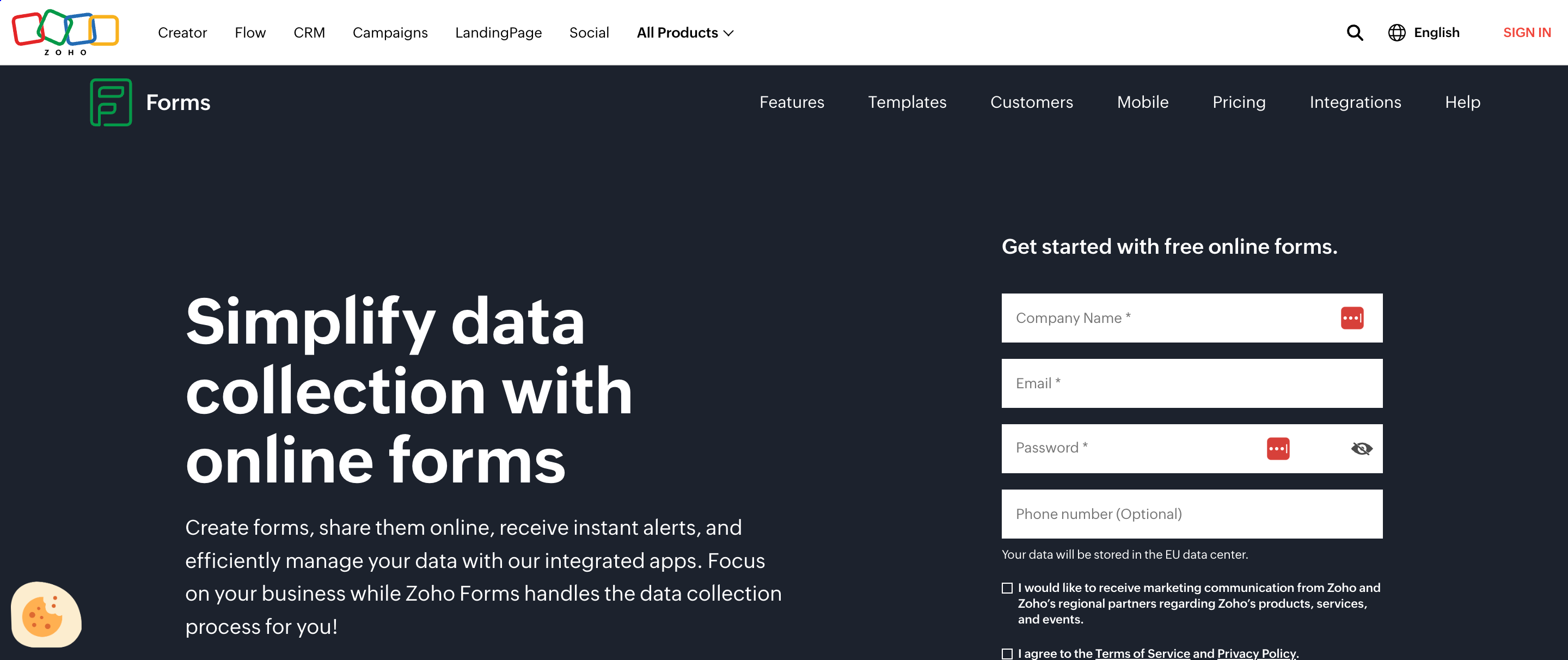 Zoho CRM is an all-in-one lead generation and customer relationship management solution. It boasts a suite of features that aid businesses in contact management, lead tracking, sales forecasting, email marketing, and performance analytics.
Pricing: Free plan available, paid plans range from $49 to $250/month per user.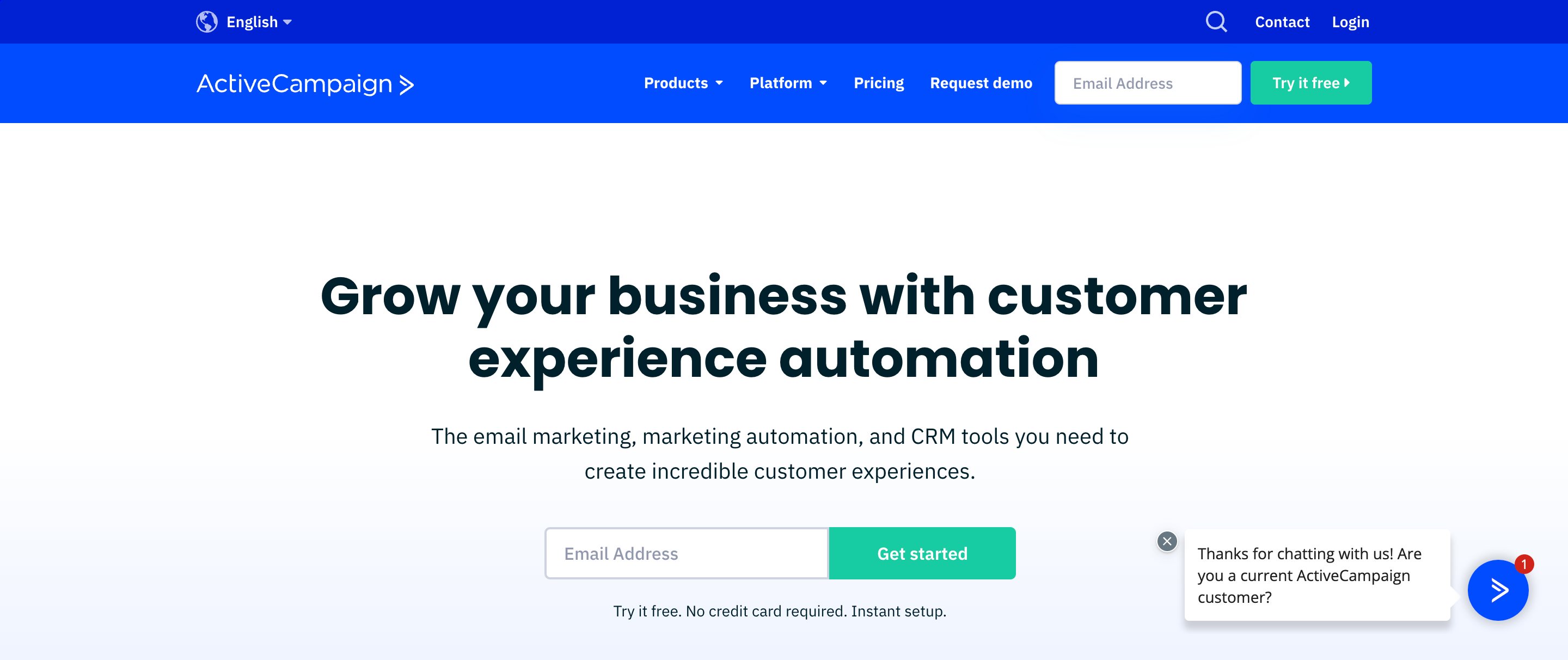 ActiveCampaign is a comprehensive marketing automation and lead generation software that caters to businesses of all sizes. Its wide array of features includes email marketing, lead scoring, CRM integration, behavioral tracking, and messaging.
ActiveCampaign's ability to provide a holistic view of customer interactions across various channels makes it a standout option for businesses.
Pricing: Pricing starts at $49/month.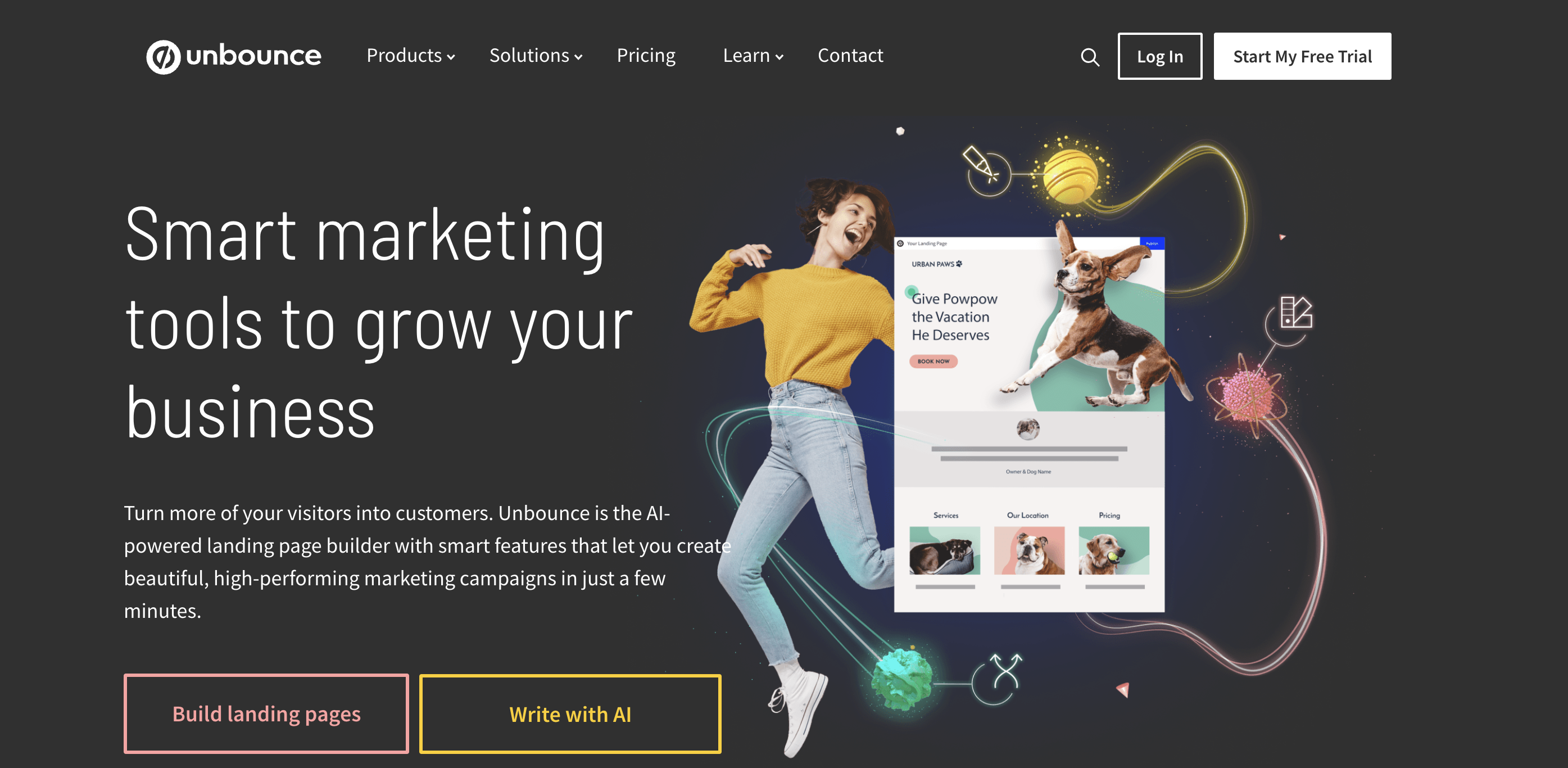 Unbounce is a platform that specializes in the creation of high-converting landing pages for lead generation and customer acquisition.
Key features of Unbounce include a drag-and-drop interface for ease of use, A/B testing for performance optimization, seamless integration with popular marketing tools, and comprehensive conversion analytics.
Pricing: Pricing starts at $74/month.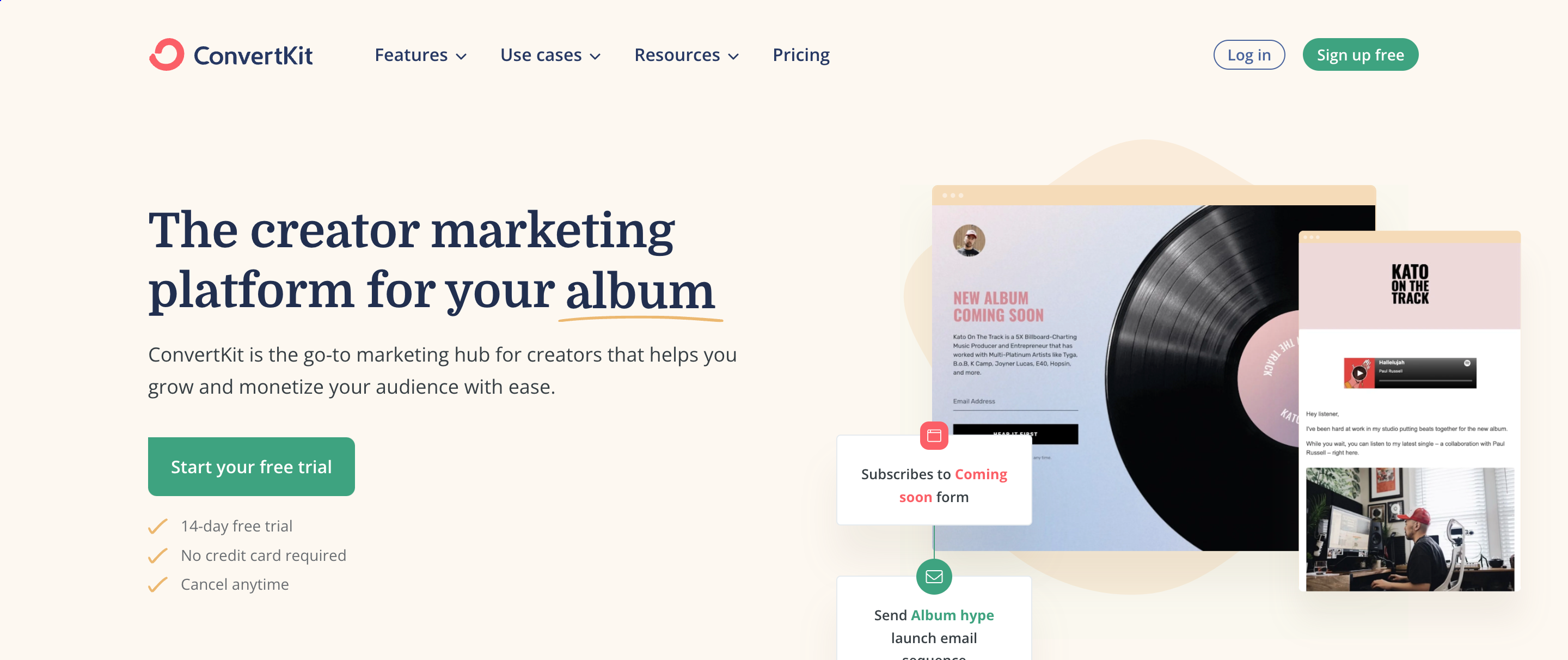 ConvertKit is an easy-to-use email marketing and lead generation platform specifically designed for content creators, bloggers, and small businesses.
It offers key features such as customizable opt-in forms to capture leads, automated email sequences for nurturing leads, and subscriber tagging for better segmentation and personalization.

Pricing: Pricing starts at $9/month.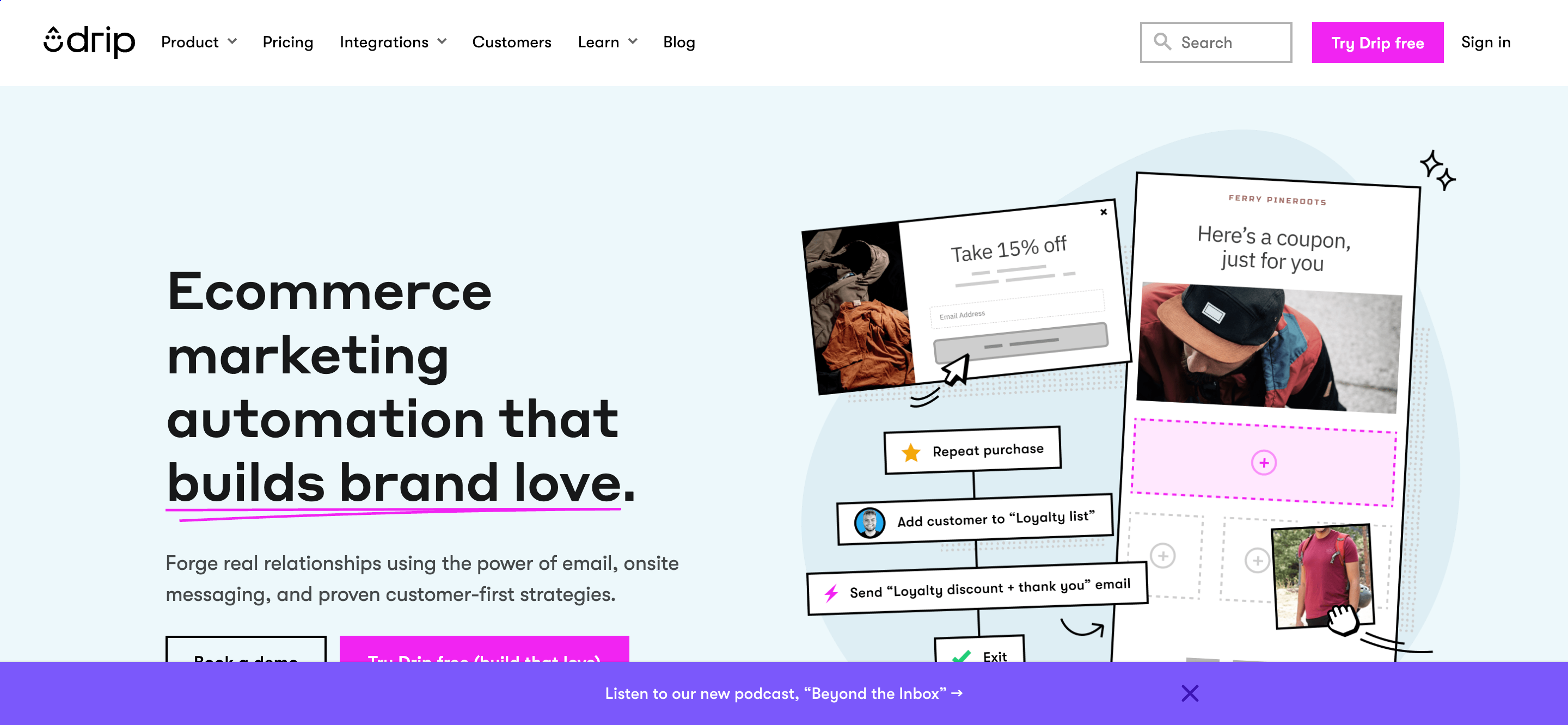 Drip is an ecommerce CRM and marketing automation platform designed to help businesses generate leads, nurture customer relationships, and drive sales. It offers features such as email marketing, automation workflows, personalized product recommendations, and customer behavior tracking.
This platform provides a powerful toolset to engage customers at every touchpoint of the buyer's journey, ensuring optimal lead nurturing and conversions.

Pricing: Pricing starts at $39/month.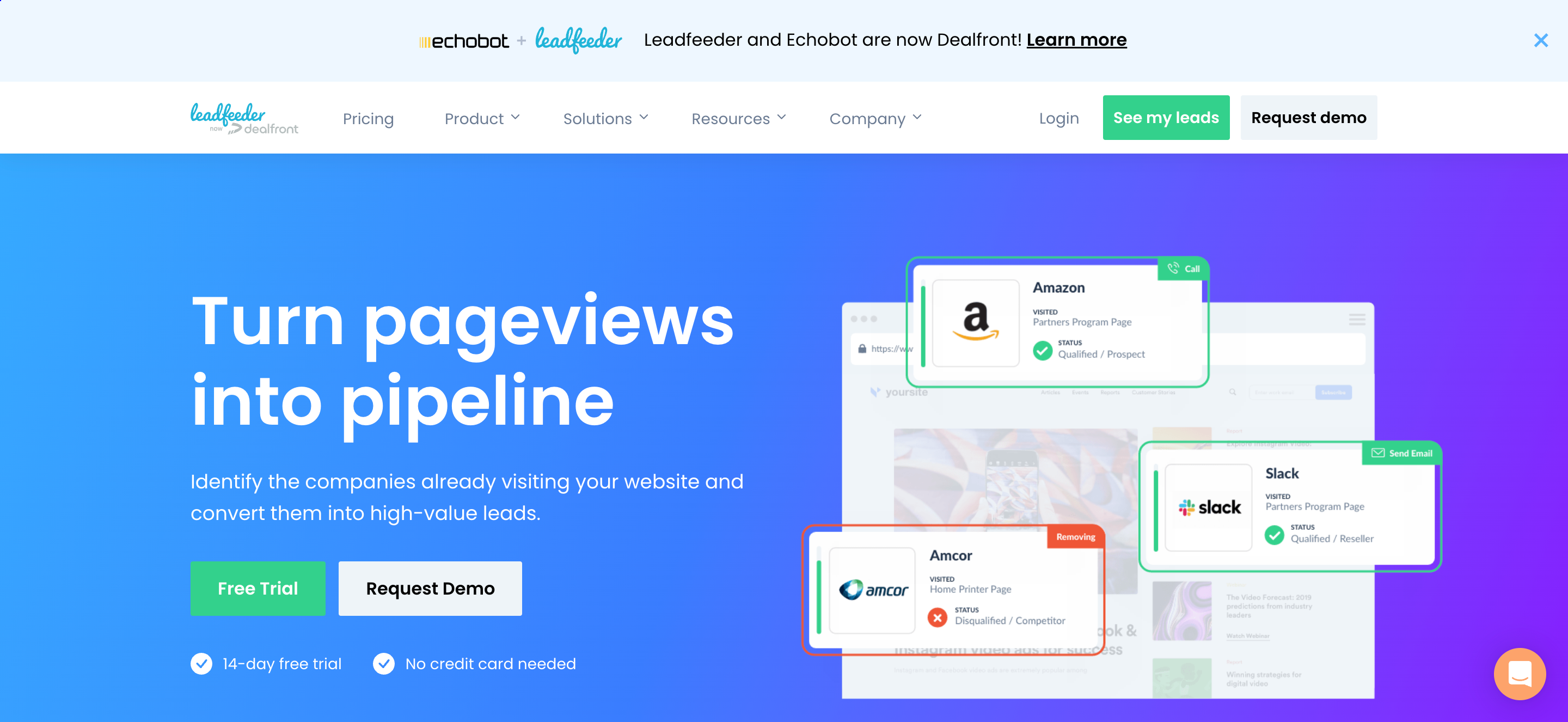 Next on our list is Leadfeeder, a powerful lead generation tool that helps businesses identify and track website visitors, turning anonymous traffic into potential leads.
Its integration with Google Analytics allows Leadfeeder to identify the companies visiting your website, giving you a chance to prioritize your outreach, focusing on the most promising prospects.

Pricing: Leadfeeder offers different pricing plans starting at $199/month.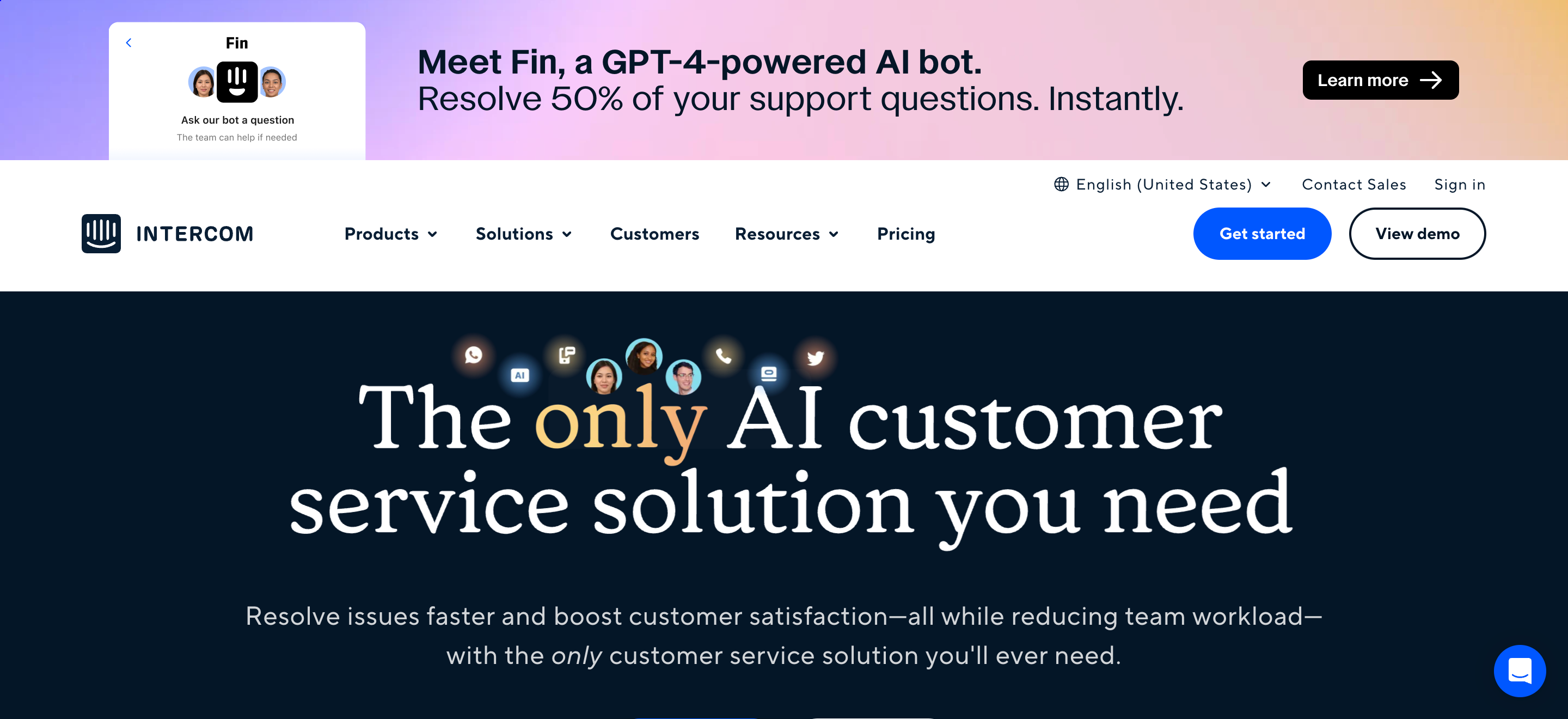 Intercom is a powerful lead generation tool that combines lead generation with customer engagement. It uses chatbots and live chat to engage potential customers, making it an effective tool for increasing conversions and improving customer service.
Pricing: Starter pack from $74/month.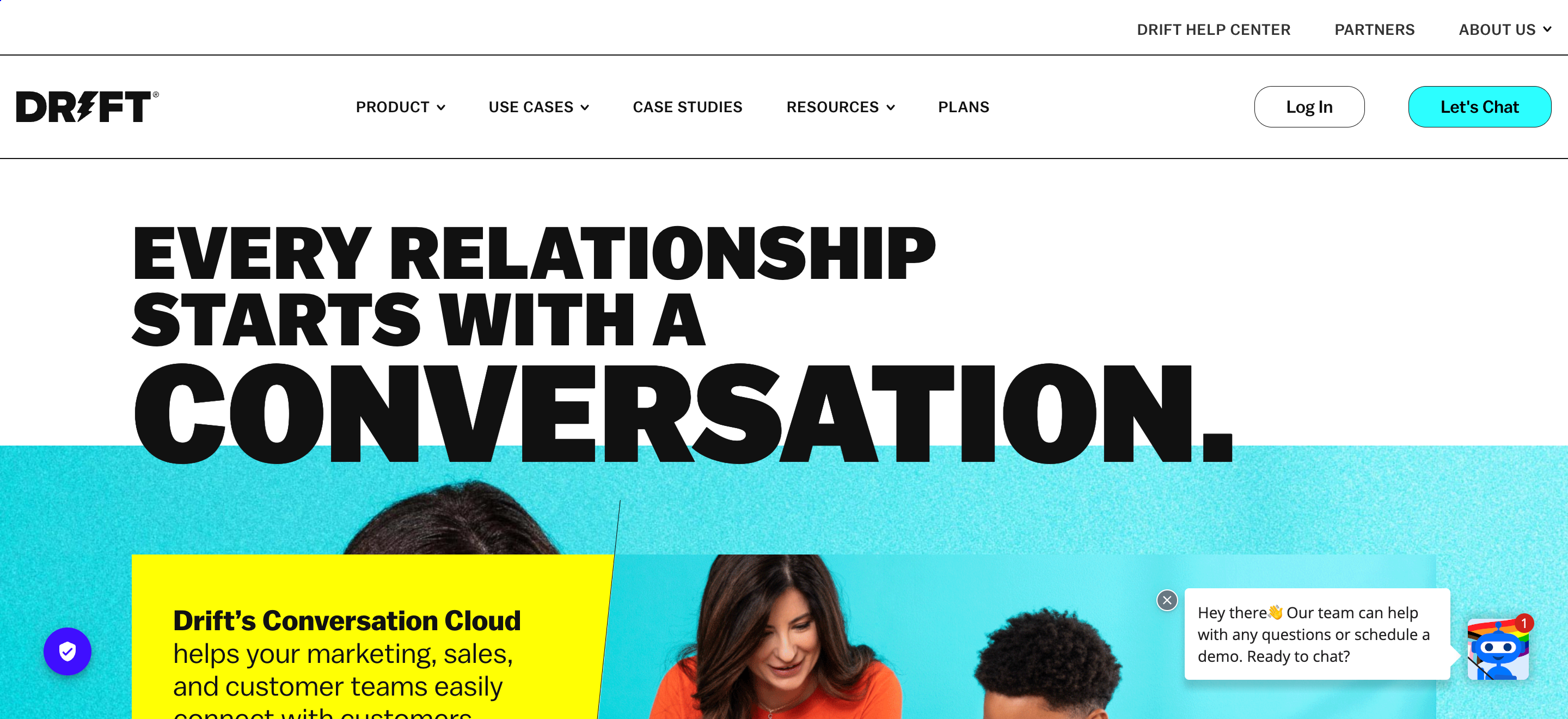 Drift is a conversational marketing platform that offers chatbots and other engagement tools. These can be particularly useful for businesses with a heavy website traffic flow, helping to engage visitors in real-time.

Pricing: Premium for small businesses starts at $2500/month.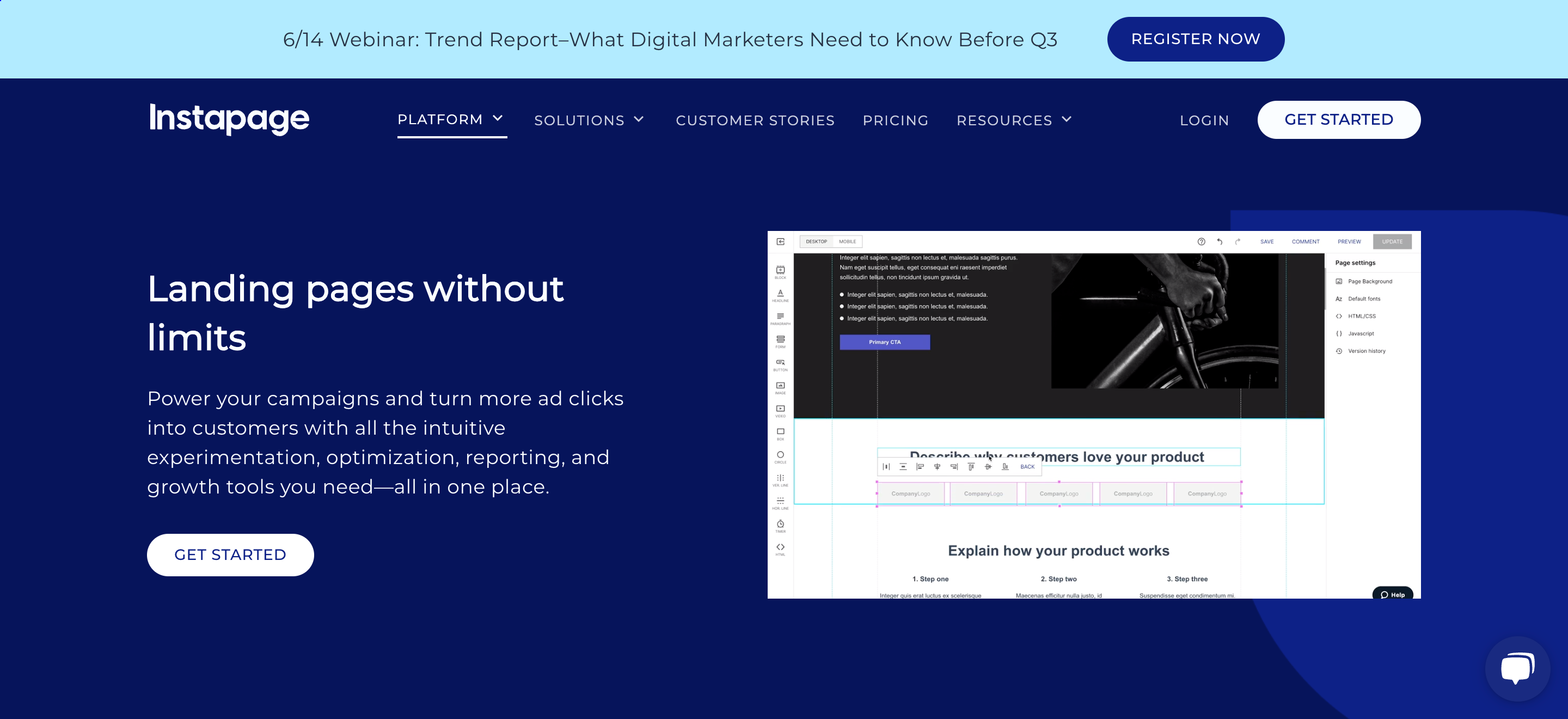 Instapage is a landing page software that helps you turn traffic into leads. It offers A/B testing, heatmaps, and advanced reporting to optimize landing pages for conversions. With its intuitive drag-and-drop editor, users can easily create stunning, high-converting landing pages in minutes.
Additionally, Instapage integrates with popular marketing tools like Google Analytics and Salesforce, allowing seamless data tracking and lead management.

Pricing: The Build package starts at $199/month.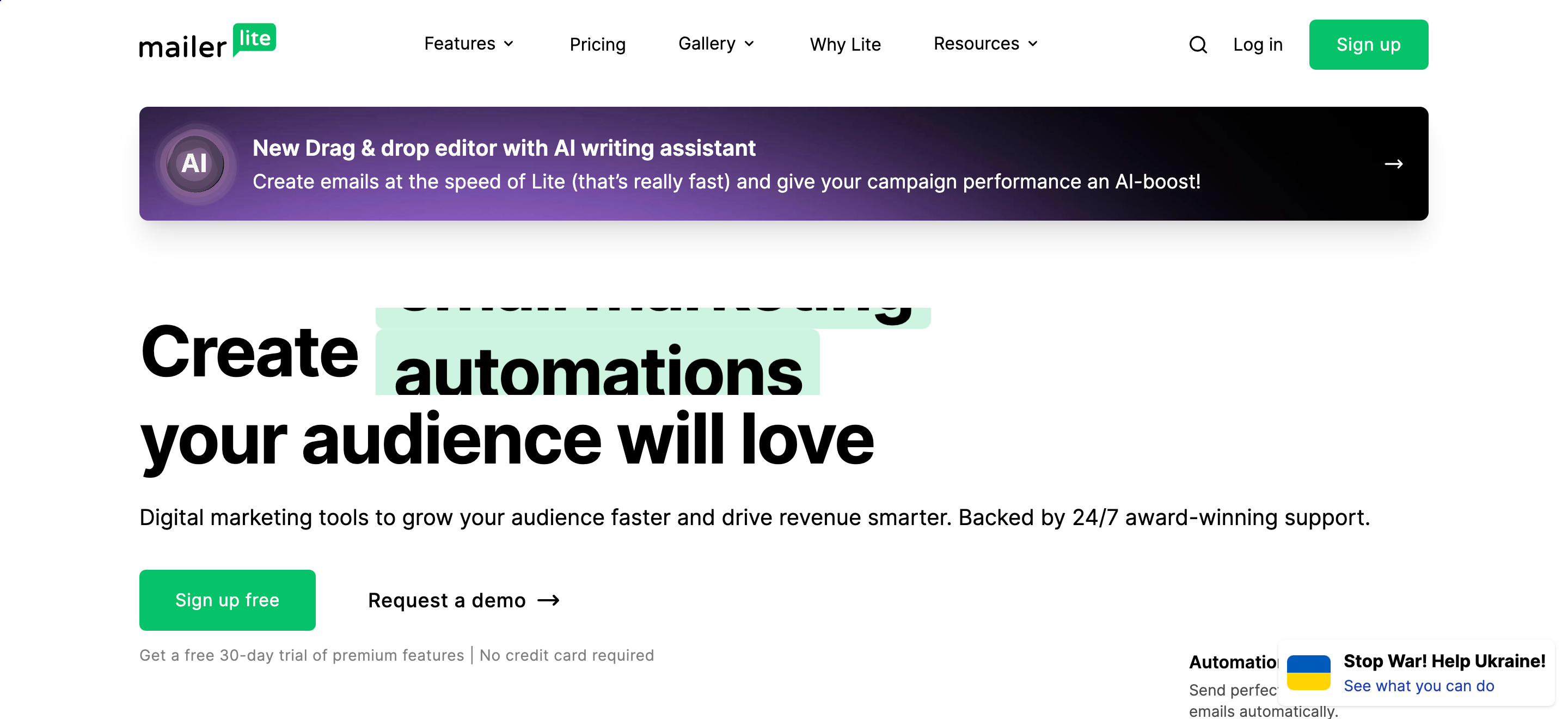 MailerLite is an email marketing tool that allows businesses to design custom landing pages, popups, and email newsletters to attract leads. It also includes features for automating your email campaigns and tracking their performance.
With MailerLite, users can create visually appealing landing pages and popups without any coding knowledge. Furthermore, MailerLite provides in-depth analytics to track open rates, click-through rates, and other metrics to optimize email marketing strategies.
Pricing: There's a free version, and pricing starts at $19/month for the advanced package.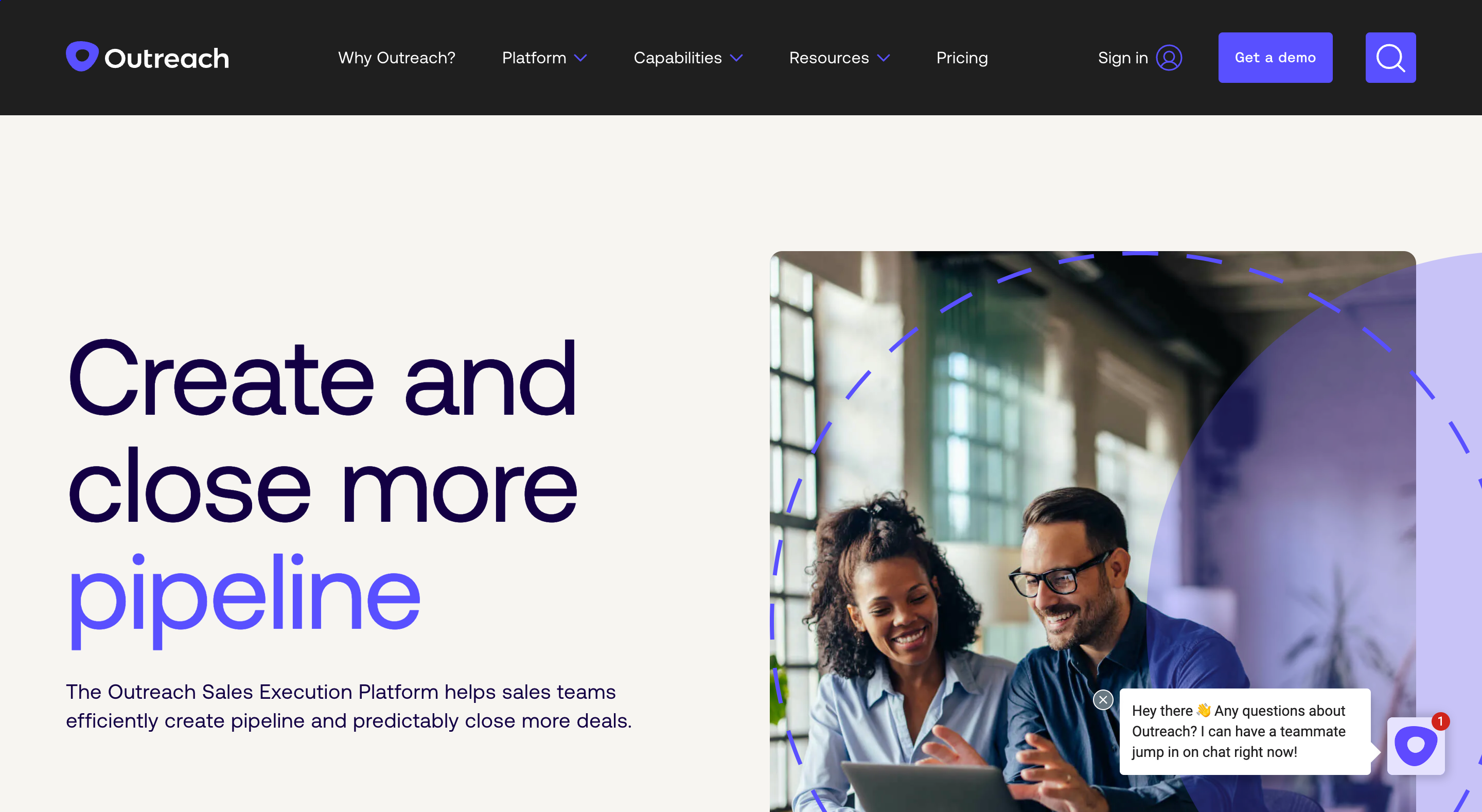 Outreach is a sales engagement platform that helps sales teams generate and nurture leads through email sequences, call automation, and performance analytics.
With Outreach, sales representatives can streamline their outreach efforts by automating repetitive tasks like email follow-ups and scheduling calls.
By leveraging Outreach's comprehensive suite of tools, sales teams can improve their efficiency, drive more conversions, and close deals faster.
Pricing: Outreach has custom pricing, so you'll have to reach out to the sales team for more information.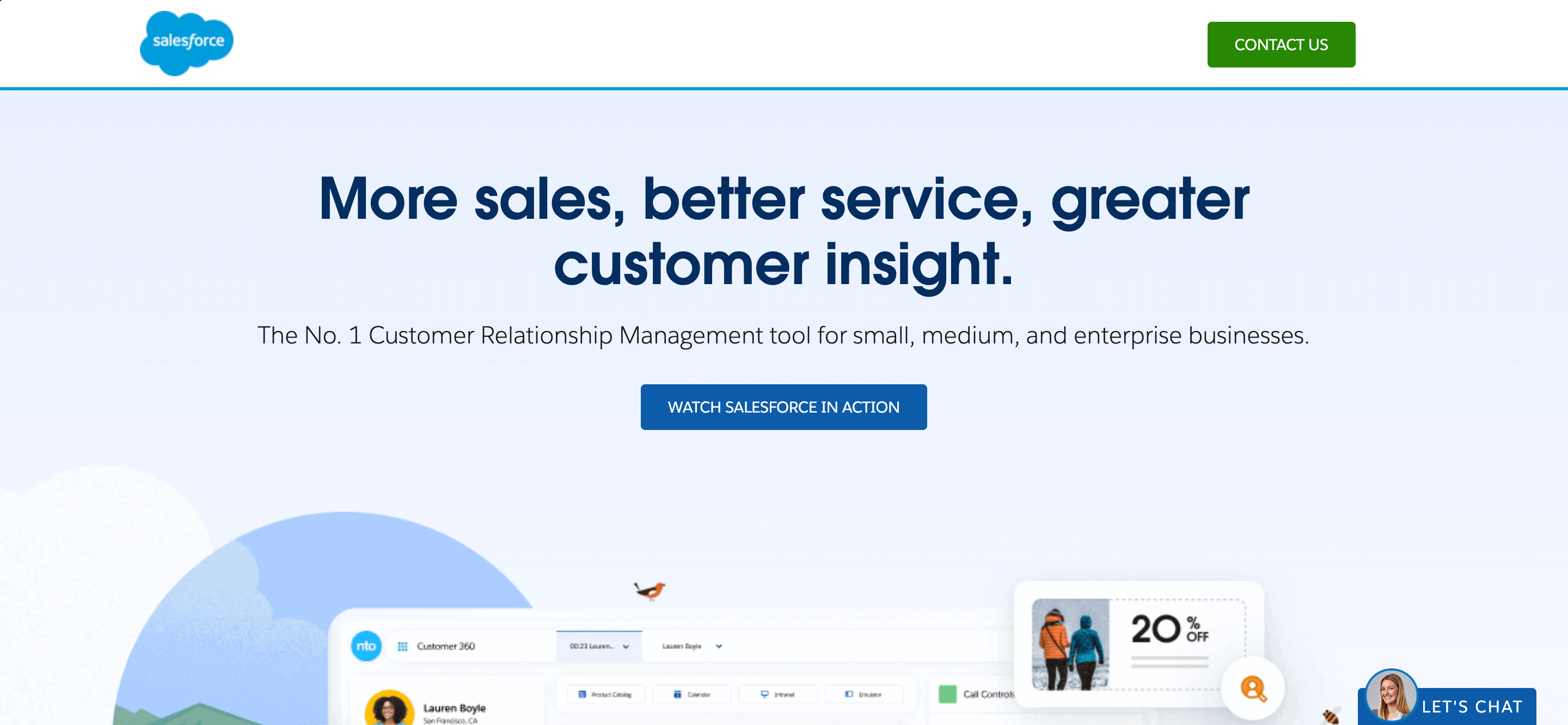 Pardot is a B2B marketing automation tool by Salesforce. It offers powerful features such as email marketing, lead nurturing, ROI reporting, and lead scoring.
With Pardot, businesses can create personalized email campaigns to engage prospects at every stage of the buyer's journey.
The platform's lead nurturing capabilities enable marketers to deliver relevant content and targeted messaging to move leads closer to conversion.
Pricing: Contact sales for pricing information.
17. Linkedin Sales Navigator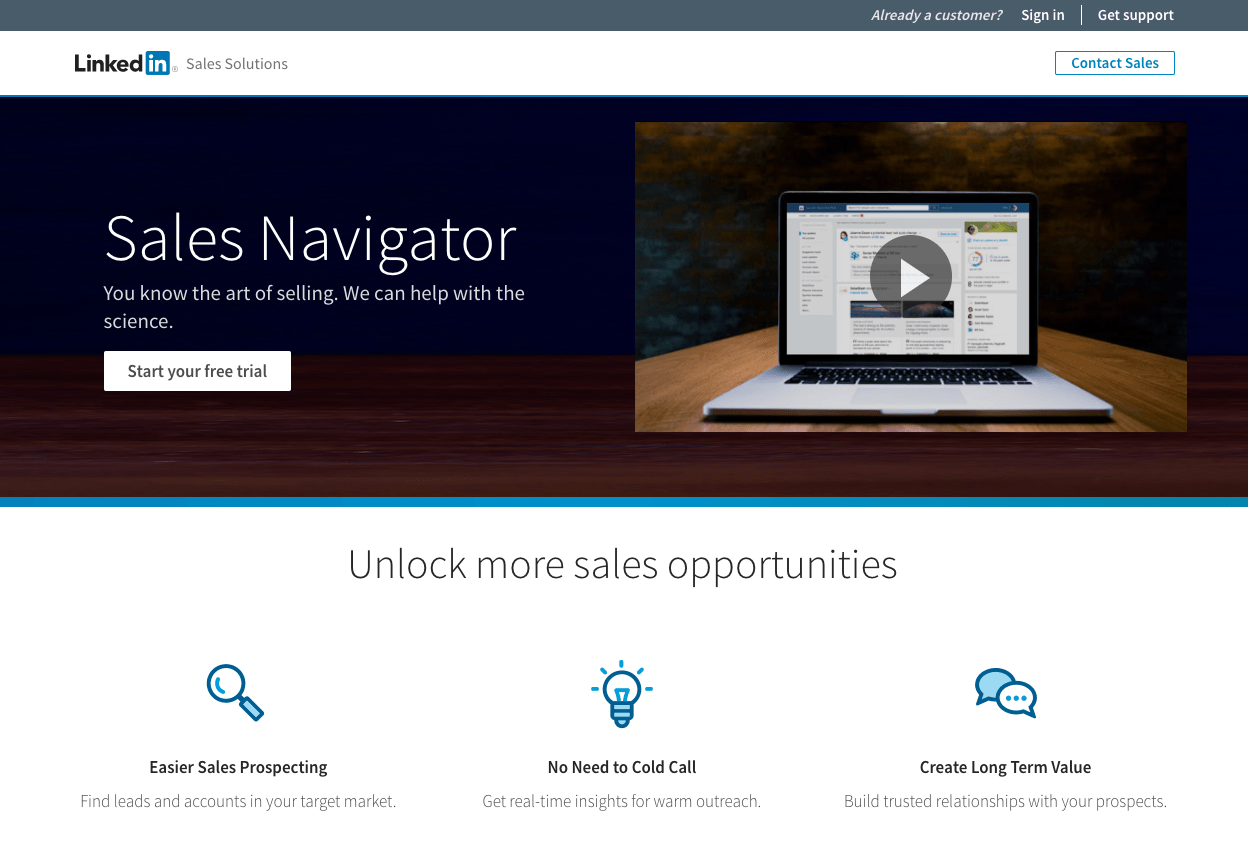 LinkedIn Sales Navigator provides an enhanced way to target potential leads, understand key insights, and engage with customers. It's particularly useful for B2B businesses, helping them generate more leads and gain valuable insights.
With Sales Navigator, professionals can leverage LinkedIn's vast network to identify and connect with decision-makers in their target industries.
The platform offers advanced search filters and lead recommendations, enabling users to find the most relevant prospects. Sales Navigator also provides valuable insights about prospects, such as job changes, company updates, and shared connections, helping users personalize their outreach and build stronger relationships.
Pricing: Sales Navigator Professional is $79.99/month, or $64.99/month when billed annually.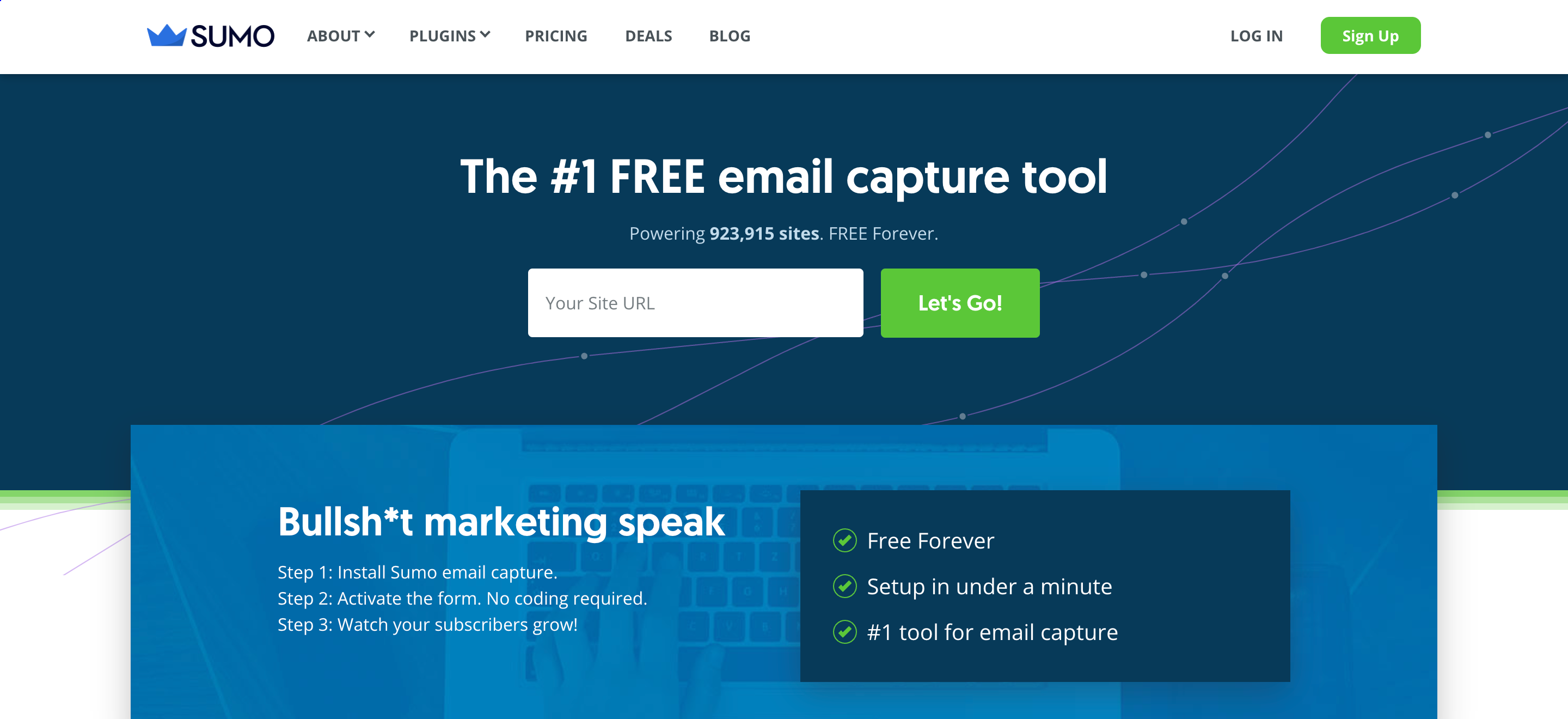 Sumo offers a range of solutions for growing your website's traffic and converting visitors into leads.
With Sumo's email capture popups, businesses can collect visitor emails and build their subscriber list.
By utilizing Sumo's comprehensive suite of tools, businesses can drive more qualified traffic and improve their lead generation efforts.
Pricing: Sumo's pricing starts at $39/month.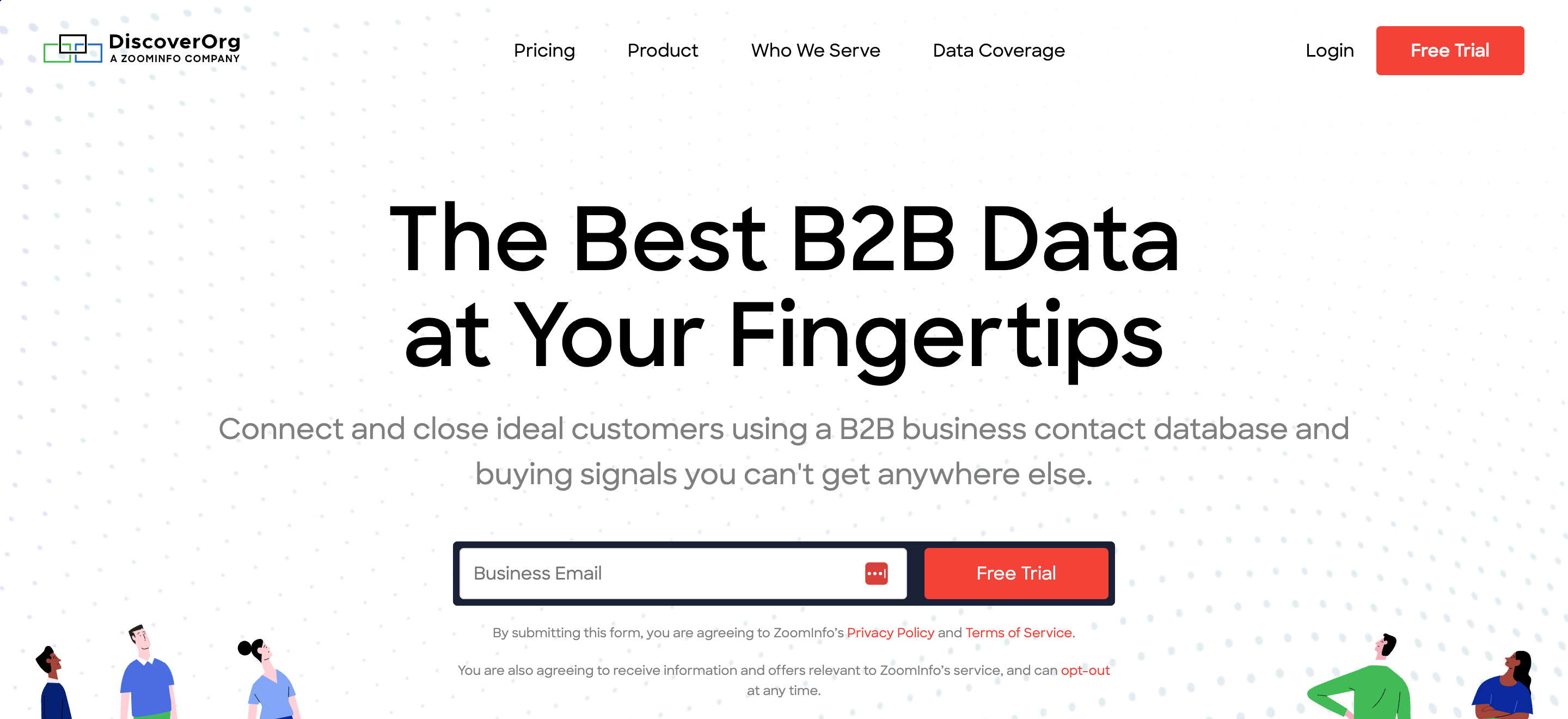 DiscoverOrg is a sales and marketing intelligence platform that goes beyond basic contact information. It provides users with the most accurate, comprehensive data, including detailed org charts and real-time projects, allowing businesses to identify key decision-makers and stay updated on industry developments.
By leveraging DiscoverOrg's insights, sales teams can streamline their lead generation and prospecting efforts, targeting the right people at the right time with personalized messages, ultimately driving higher conversion rates.
Pricing: Available upon request.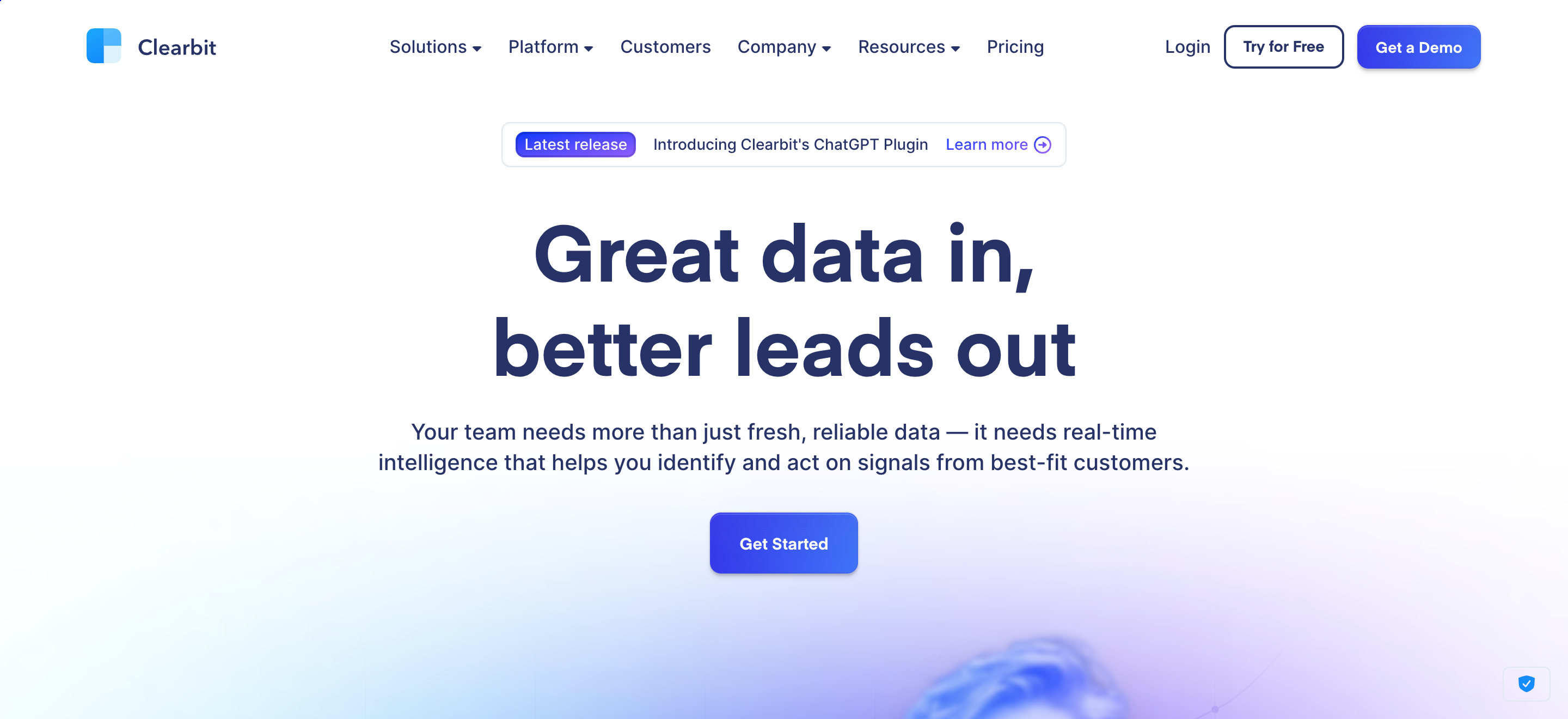 Clearbit is a powerful marketing data engine that enhances customer interactions. By leveraging Clearbit's extensive data sources, businesses can gain a deeper understanding of their customers, including their firmographics, technographics, and online behavior.
With this information, companies can identify future prospects that closely align with their target audience and tailor their marketing and sales interactions to be highly personalized. Clearbit's data enrichment capabilities ensure that every touchpoint with customers is relevant and valuable, resulting in improved engagement, conversions, and customer satisfaction.
Pricing: Pricing is custom based on specific needs.
What is a lead generation tool?
A lead generation tool is a software or platform that helps businesses find and collect contact information from potential customers. It enables businesses to capture leads' details like names and email addresses, allowing for further communication and, ultimately, conversion into customers.
What are the 7 types of leads?
In the world of lead generation, different types of qualified leads exist, each offering unique opportunities for sales and marketing teams. The seven types are:
Marketing Qualified Lead (MQL): These are prospects who have shown interest in your content or marketing efforts but are not yet ready to receive a sales call.
Sales Qualified Lead (SQL): These are prospects who have taken actions indicating their interest in becoming a paying customer.
Product Qualified Lead (PQL): These are customers who have used your product and taken actions that indicate a likelihood of becoming a paying customer.
Service Qualified Lead (SQL): These are leads who have indicated through their actions that they are interested in becoming a paying customer for your service.
Webinar Qualified Lead (WQL): These are people who have participated in your webinars and have shown interest in your product or service.
Event Qualified Lead (EQL): These are leads that were generated from an event.
Social Media Qualified Lead (SMQL): These are leads who have shown interest in your product or service through engagement on social media channels.
How do you collect data for lead generation?
Collecting data for lead generation is a multi-pronged process, incorporating different tools and tactics. Here are some ways businesses collect data for lead gen:
Website forms

: Visitors fill in their details for access to newsletters, free trials, or resources.

Content upgrades

: This could be in the form of e-books or exclusive articles available in exchange for contact information.

Landing pages

: These are dedicated web pages created specifically to collect visitor information.

Webinars and events

: Attendee information from online or in-person events can be a valuable source of leads.

Social media lead generation

: Platforms such as Facebook and LinkedIn have lead generation ad formats that allow you to collect information on leads without leaving the platform.

Third-party lead generation

: Services or partners that specialize in lead generation can provide qualified leads for a fee.
How do you generate leads in marketing?
Generating leads is a science and an art, involving a mix of understanding consumer behavior, strategic planning, and effective execution:
Understanding the target audience and creating buyer personas

: Knowing your target market inside and out helps in crafting messages and offers that resonate with them. Creating detailed buyer personas can help you tailor your marketing strategies.

Content marketing

: This involves creating valuable, relevant content designed to attract and engage your target audience. The content can take the form of blogs, videos, e-books, infographics, webinars, podcasts, and more.

Social media marketing

: Using social media platforms effectively can help you reach a large, engaged audience. By creating and sharing engaging content, you can spark conversations, increase brand visibility, and generate leads.

Email marketing

: Building an email list is one of the most effective lead generation strategies. By nurturing your leads with personalized content, you can gradually lead them through the buyer's journey.
Collecting data for lead generation is vital for business growth. Lead generation tools can automate this process, providing key insights and analytics about potential customers, while managing an increasing volume of leads effectively.
When it comes to selecting lead generation software, the right choice depends on your specific needs, strategies, and budget. OptiMonk emerges as an excellent solution for boosting lead generation efforts with a mix of powerful features and an incredibly user-friendly interface.
So what are you waiting for? Sign up for OptiMonk today—you can get started for free!