Black Friday is getting closer and closer. Since it's one of the biggest online shopping days of the year, you're probably getting your campaigns ready to go.
We hope that popups are a central part of your marketing strategy to maximize your Black Friday revenue.
They're the most effective way to simultaneously promote your Black Friday sales, grow your email list, and increase your conversions.
To help you out with your popup promotions, we've collected the best Black Friday popup campaign examples from 12 of our customers.
Read on to see the creative ways these businesses have used popup campaigns to promote their Black Friday sales.
Wodbottom.com used a popup that promotes their Black Friday deals and encourages visitors to join their email marketing list.
Popups are one of the best ways to grow a healthy email list that's filled with people who are truly interested in your offer. By grabbing the attention of your website visitors, you're ensuring that they understand the value that comes with subscribing.
Notice how Wodbottom.com creates a sense of scarcity by saying, "Be the first to access exclusive offers." This makes shoppers wonder if they won't get a chance to buy their favorite products without the early access.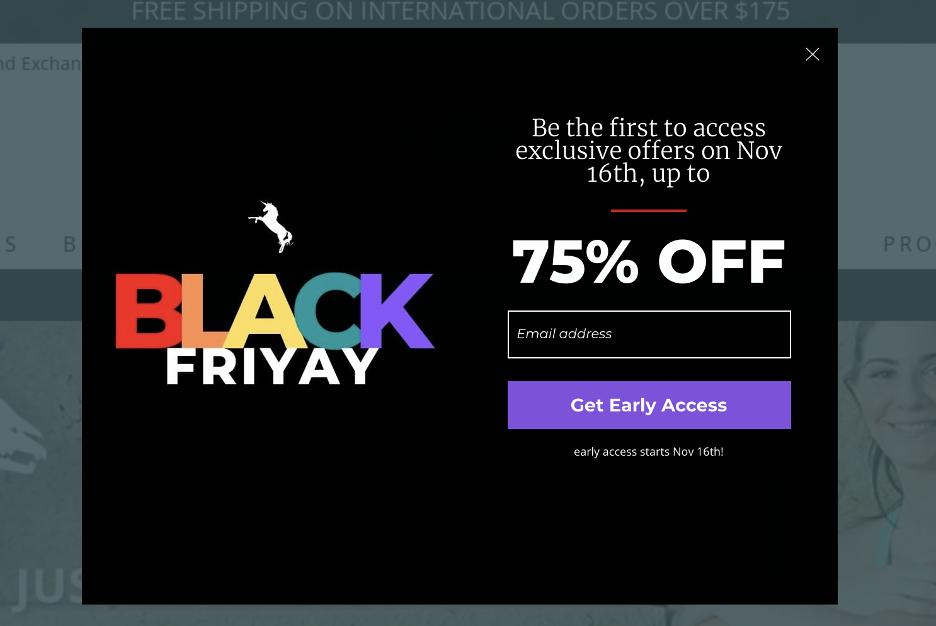 Myobvi.com went with a similar strategy. They used a 'first access to deals' incentive for signing up to their marketing list.
The key difference is that Myobvi.com asked for phone numbers instead of emails.
That's because recipients open SMS messages as high as 98% of the time. On the other hand, only about 20% of emails end up being opened. That means that customers will actually see your Black Friday deals if you text them rather than email them.
One final aspect of this popup is the countdown timer that increases the urgency.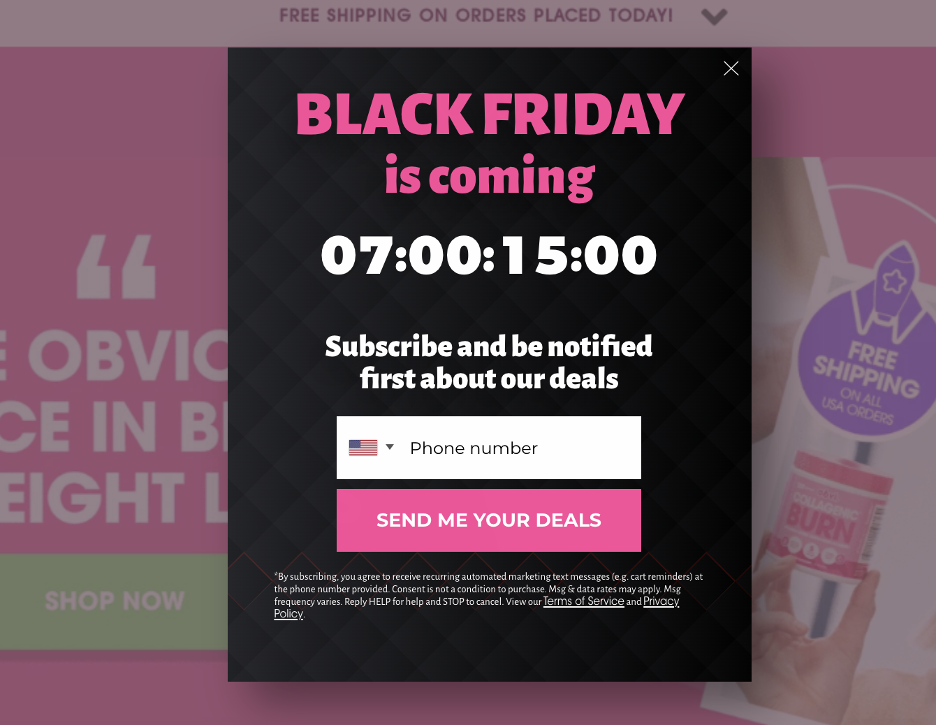 Once the subscription campaign was over and the Black Friday sale started, they set up exit-intent campaigns for abandoning visitors. They used a "Hurry, stock is limited" message to increase a sense of urgency and scarcity.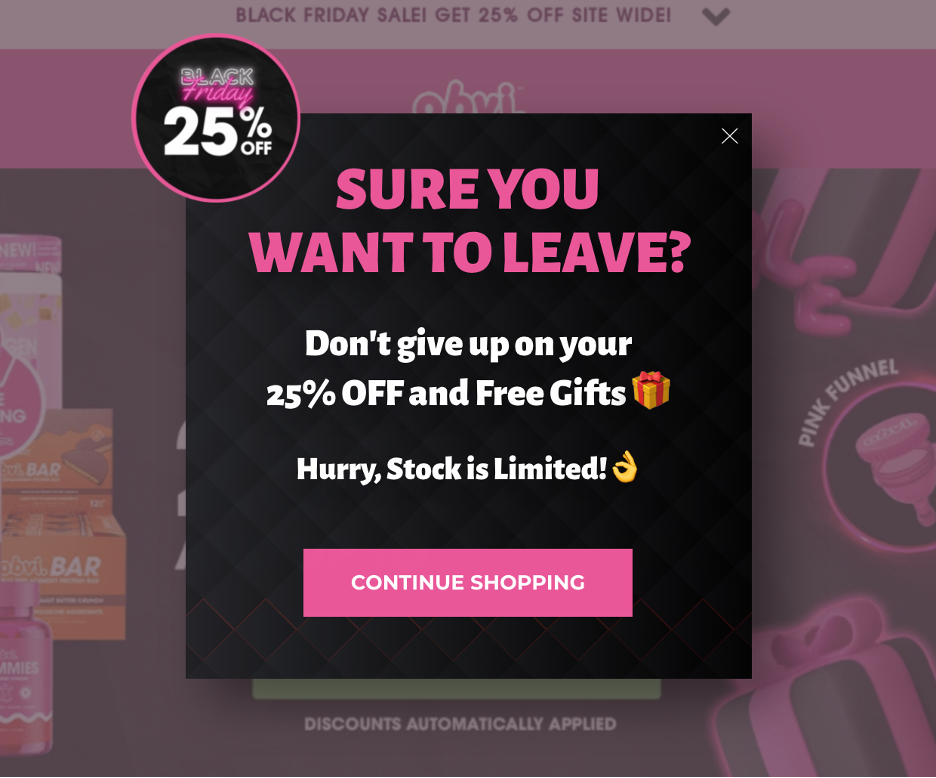 Illumiseen.com used a different strategy for their Black Friday sales campaign. Their approach was all about maximizing the number of orders during the Black Friday/Cyber Monday period.
They used a popup that offers 20% off and free shipping during their sale.
They added the coupon code to the first page of the popup so that as many people as possible get the message.
Like other ecommerce sites, they added a countdown timer to increase urgency.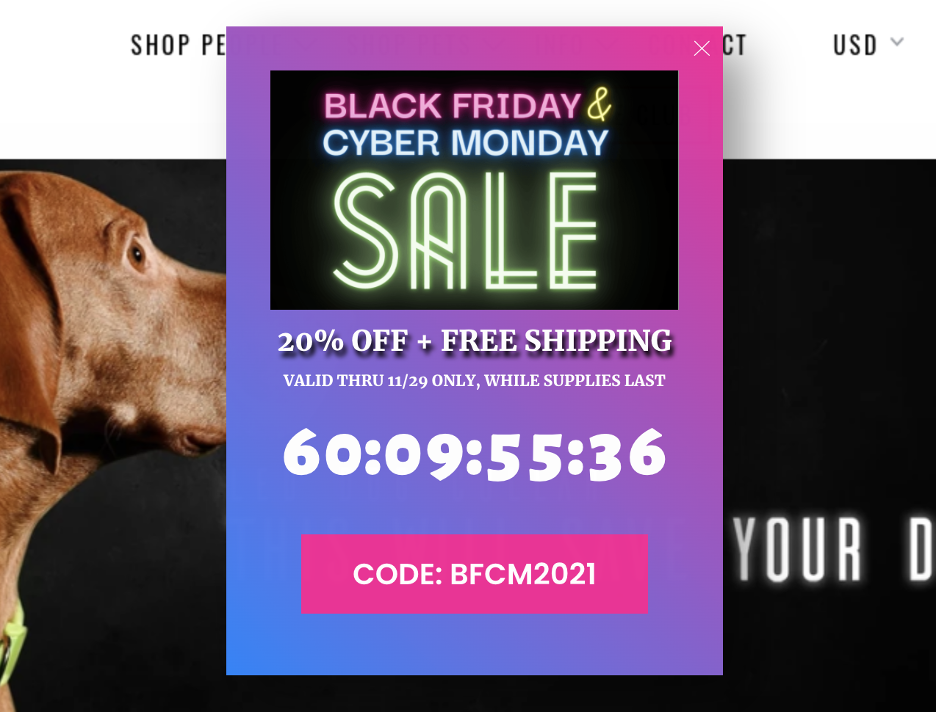 The first thing you notice about Craft-ease.com's Black Friday sale popup is the beautiful design. They use a fullscreen popup that directs their visitors' attention to their deal. This works well because of the beautiful design.
They don't ask for email addresses because their main goal is to increase the number of orders.
The contrasting colors they used for the coupon code (orange on black) and the button (pink on black) help people notice the important parts.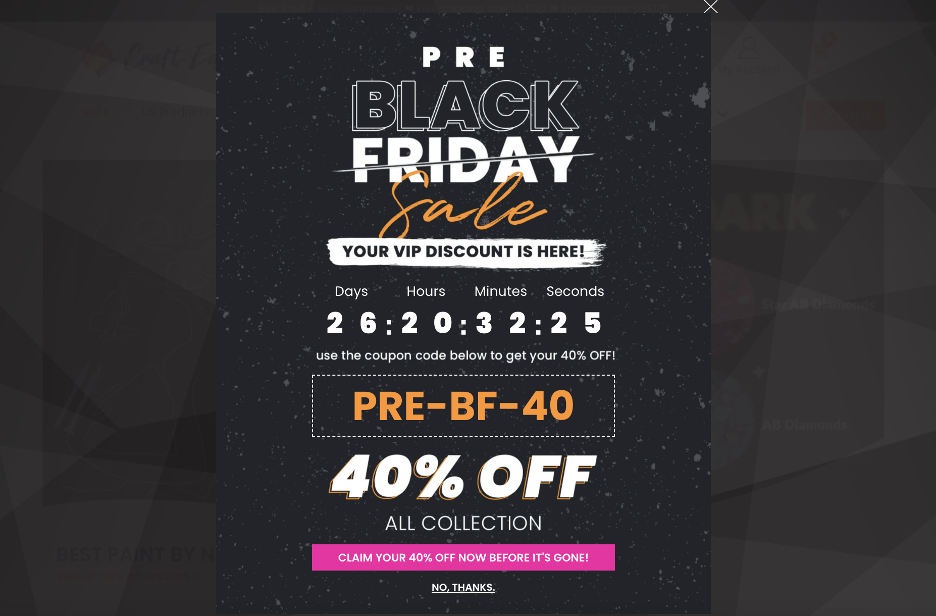 Zawatech.com.br uses a lucky wheel template for Black Friday. A lucky wheel is a type of gamification popup that lets your visitors spin a wheel and win a discount in exchange for their email address.
Gamified popups add a bit of fun to signing up for an email list. That's why they have such a high conversion rate!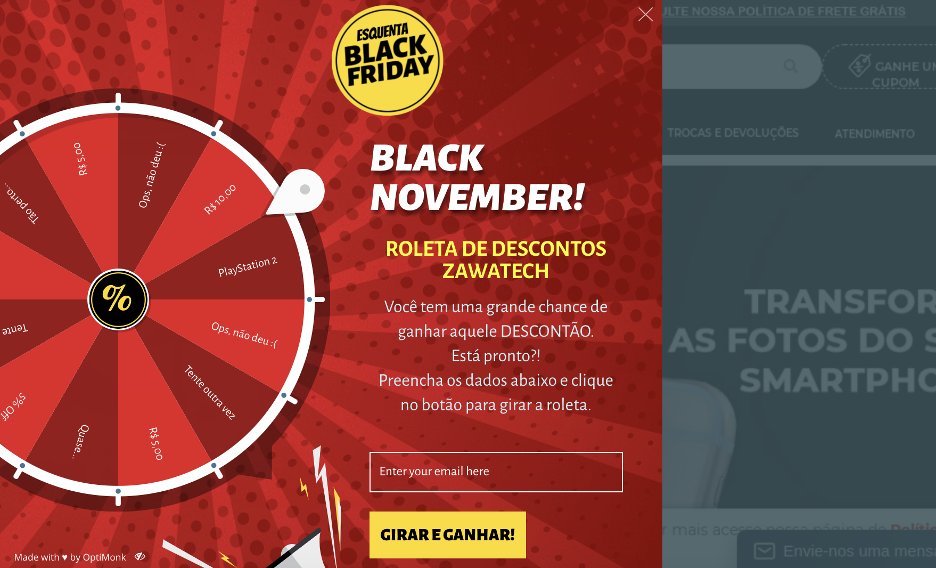 Give these delightful popups a try by using this ready-to-use template:
Ninjashark.com.au uses a sticky bar to promote their insane sale.They included a call-to-action: "Get early access." The button redirects visitors who are interested in their sale to another page, where they can find more information and an email subscription field.
By only including the most important info on their sticky bar, they don't overwhelm any of their visitors.

Csimpistore.com uses a popup to offer customers a number of values leading up to Black Friday.
They promoted a 30% off deal and offered a gift card that has a $3.50 USD value (1,000 HUF).
To take advantage of the in-store credit, visitors had to subscribe to Csimpistore.com's email marketing. Notice that Csimpistore.com also asked for a name. This helped them personalize their promotional emails.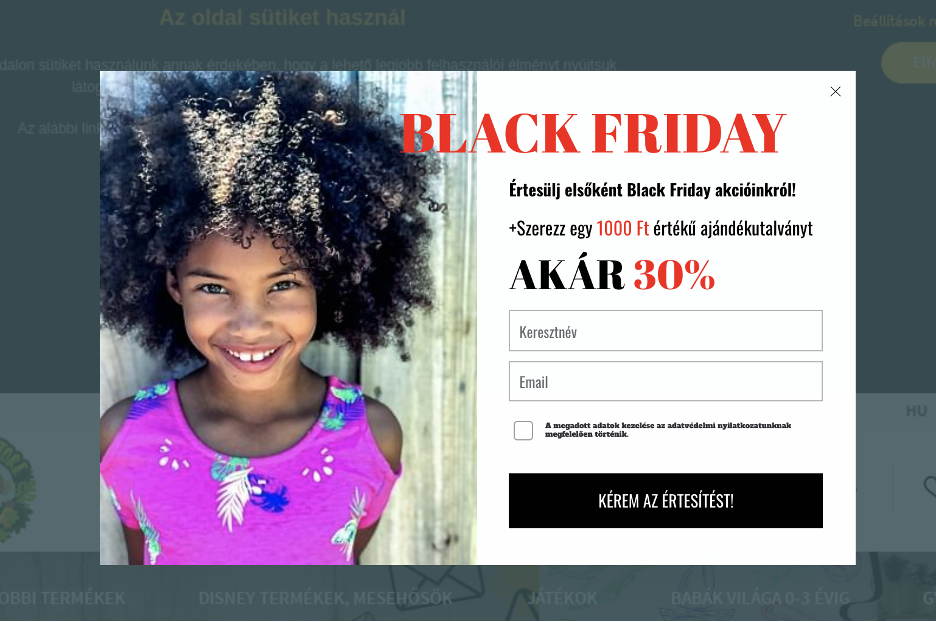 Csimpistore.com used a pre-made OptiMonk template. If you like their approach, you can try it out below.
Joovv.com uses a simple reminder popup to tell visitors they're having a Black Friday sale, rather than promoting it in advance.
The clean and attractive design gets the message across effectively—building a sense of excitement for the deals they offer.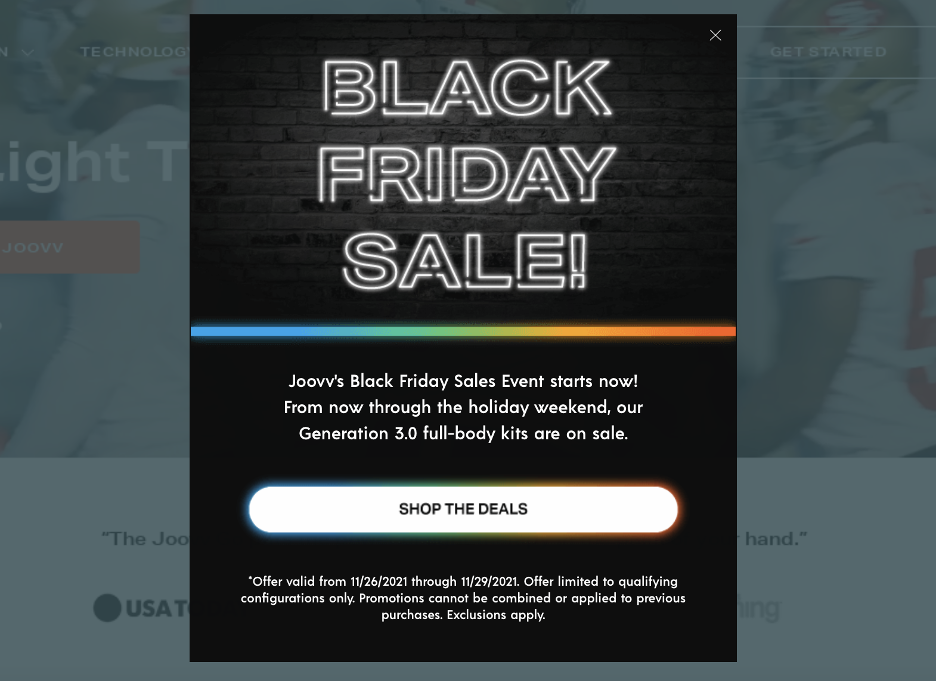 Thecueshop.com.au designed a beautiful popup to promote their Black Friday sale. The picture in the background gets customers into the right frame (of mind, that is).
By signing up, people get exclusive access to the site's pre-sale. This method gets people shopping even before Black Friday starts.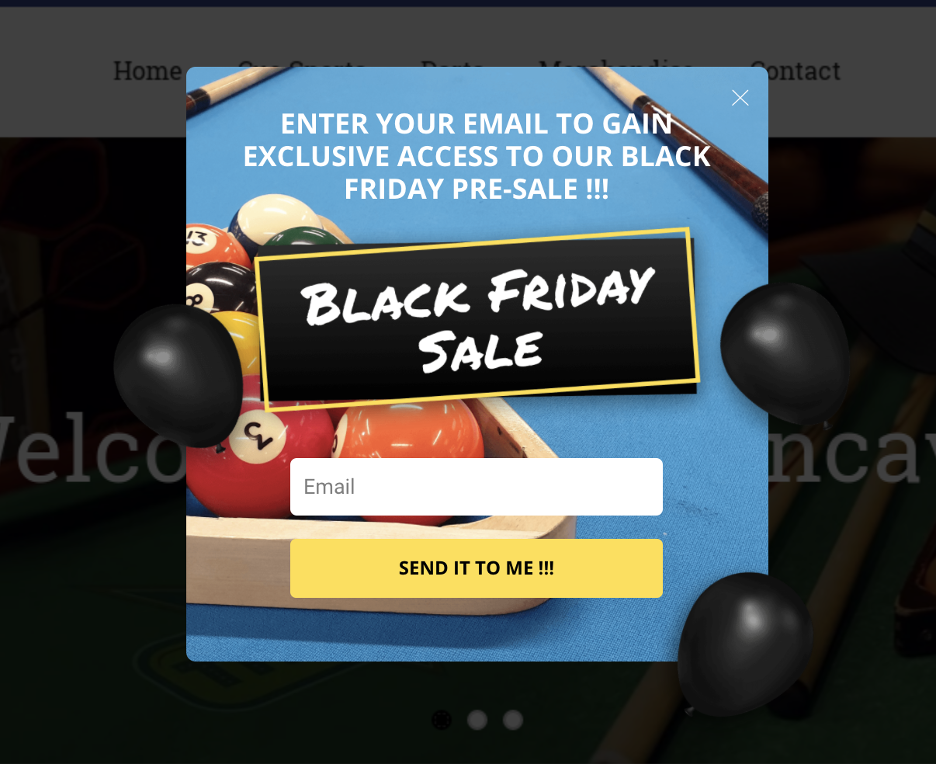 Buckaroobling.com also wanted to promote their early access Black Friday sale. So they used a sitewide sticky bar.
In order to access the Black Friday deals early, people had to sign up for their email list—which they could do within the sticky bar itself.
While sticky bars aren't as noticeable as a popup, they do let people browse the site while considering the offer.
Finally, Buckaroobling.com also added a countdown timer to increase urgency.

11. Mosaicfineartcollective.com
Mosaicfineartcollective.com used a pre-made OptiMonk template to promote their Black Friday sale.
The goal of this campaign was to promote their Black Friday sale and grow their mailing list.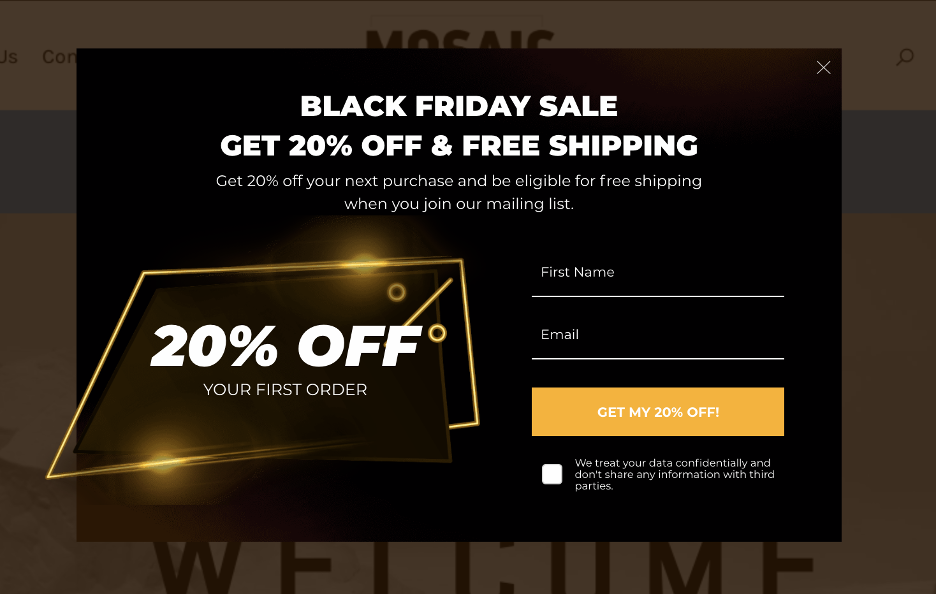 You still have time to try out this template for your Black Friday sale.
Awesomedice.com uses a simple yet informative, fullscreen popup to promote their Black November sale.
The popup's main message is crystal clear. Visitors can get a free item with orders above a certain price point. It's a great way to nudge people to spend more—thereby increasing the average cart value.
They don't ask for an email address; they just make sure that people know about the offer. Sometimes doing less allows your message to echo louder.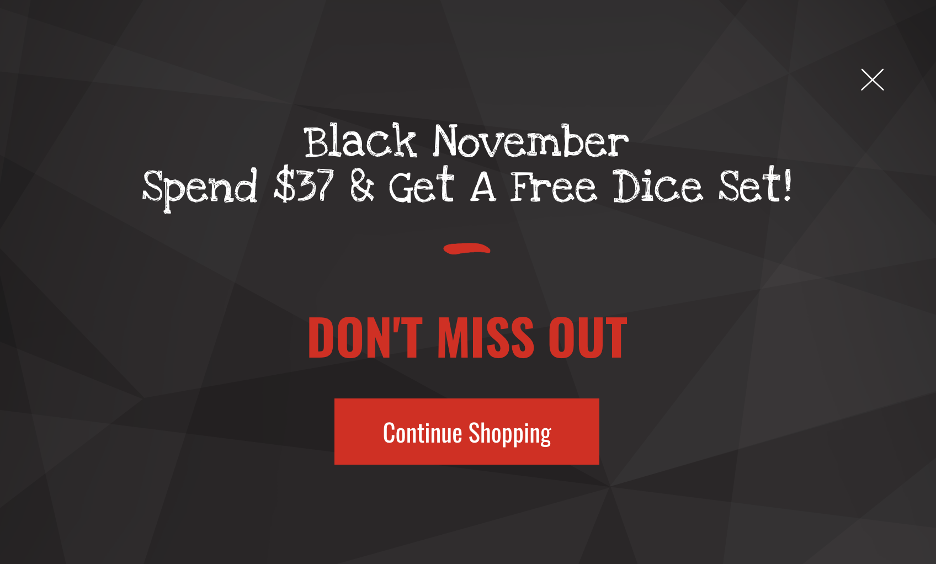 If you have a deal you need your customers to be aware of, try making one yourself using OptiMonk's popup editor.
Hopefully, you've seen something you like in our list of Black Friday popups!
No matter what type of sale you're running on Black Friday, there's always a perfect popup for it. You've got sticky bars and fullscreen popups for conveying essential information, as well as lucky wheels and email signup popups for building your list.
Have you prepared everything for your Black Friday sale or are you still setting up your campaigns? Let us know in the comments!
And, if you'd like to see even more Black Friday popup options, take a look at OptiMonk's template library!