There's no question that Black Friday is one of the biggest online shopping days of the year. Last year, 88 million Americans shopped online on Black Friday and they spent $8.9 billion.
If you're wondering how to capitalize on the busiest shopping season of the year, I'm here to tell you that personalization is the way to go!
Studies show that consumers are more likely to buy from a company that provides a tailored experience. So if you'd like to maximize your Black Friday revenue, website personalization should definitely be a central part of your marketing strategy. 
To help you out, we've collected the best Black Friday personalization ideas (with some examples from OptiMonk users). 
Read on to see the creative ways these businesses have used personalization to promote their Black Friday sales.
1. Promote your upcoming sale for new visitors
Differentiating new and returning visitors is the most basic segmentation that you can use when you're getting started with personalization.
New visitors are often not quite ready to make a purchase. They're probably just looking around and collecting information, which means that a great incentive can be just the push they need to subscribe to your email list! 
Promoting your upcoming deals before Black Friday is exactly the kind of incentive that could do the trick. 
WodBottom used a popup for this strategy since it's one of the best ways to grow a healthy email list. The popup targeted their new visitors and invited them to join their email marketing list.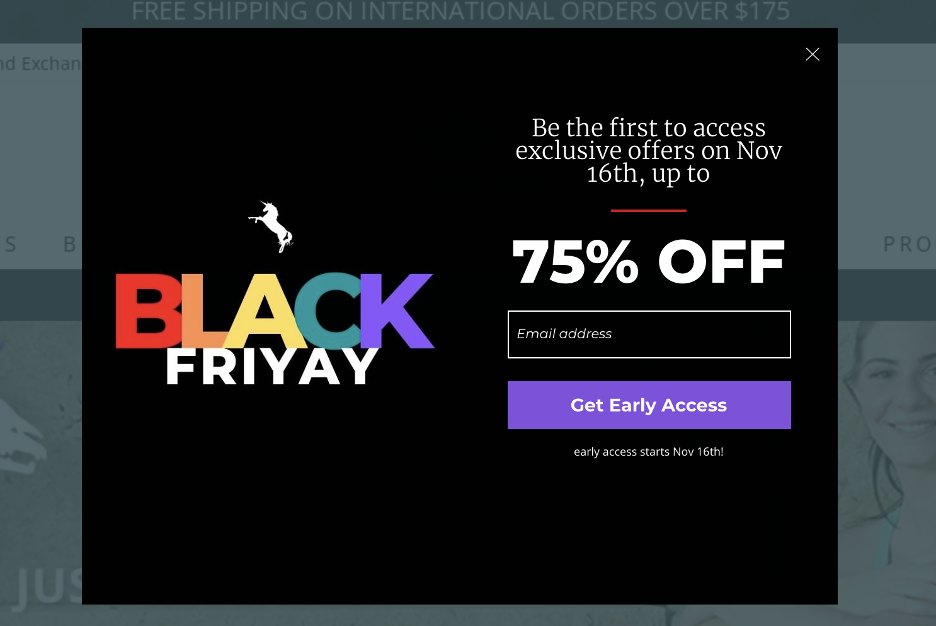 Obvi went with a similar strategy. The only difference is that they asked for phone numbers from their new visitors instead of emails.
Why? Because recipients open SMS messages as much as 98% of the time. On the other hand, only about 20% of emails end up getting opened. That means that customers will actually see your Black Friday deals if you text them rather than email them.  
Another important aspect of this popup is the countdown timer, which increases the urgency.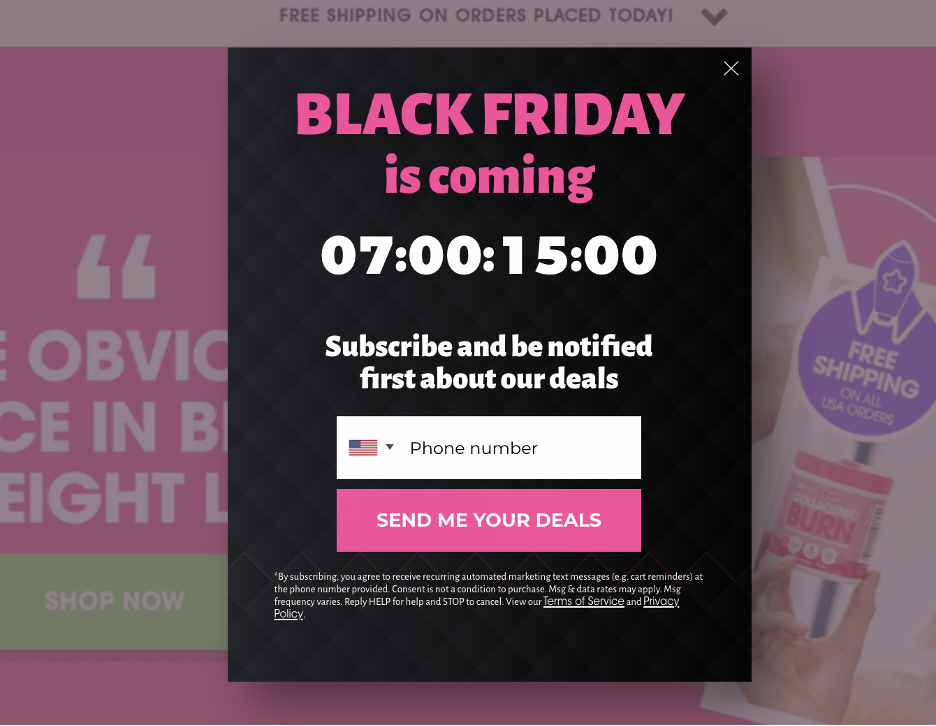 If you like this approach, check out one of these pre-made templates:
2. Grow your email list during Black Friday
The weeks leading up to the sale are a great time to grow your list, but you can do it during Black Friday, too. 
Keep in mind that you should only show this message to new visitors or to people who haven't subscribed to your email list yet. 
Mosaic Fine Art Collective used an OptiMonk popup to promote their Black Friday sale. They offered 20% off and free shipping.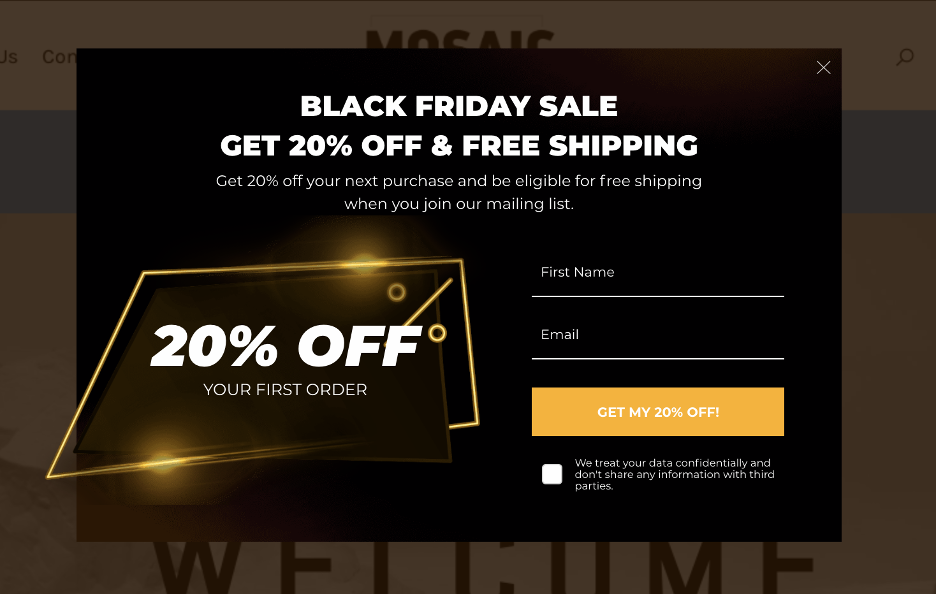 Try out one of the templates below and grow your list during Black Friday:
3. Launch an exit-intent popup for subscribers
Remember how Obvi used a popup to tease its upcoming Black Friday campaign? 
Once the teaser campaign was over and the Black Friday sale started, they set up exit-intent campaigns for abandoning visitors. 
Notice how they didn't ask for an email address on this popup? It's because they only targeted visitors who have already subscribed to their email list.
They also used a "Hurry, stock is limited" message to increase the sense of urgency and scarcity. This message is perfect for visitors who are already browsing your product pages but haven't added anything to their cart yet.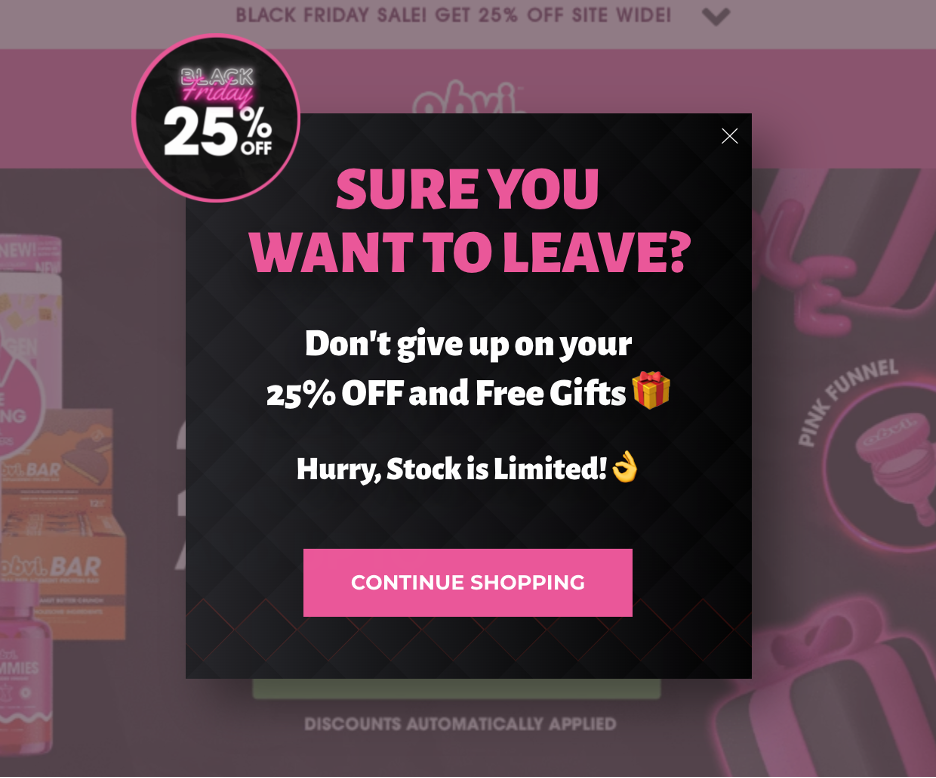 Another strategy for visitors who browse your product page and try to leave is to promote your best-selling products. 
Cart abandonment is one of the biggest challenges ecommerce store owners face. And it's no surprise, since the average cart abandonment rate is a whopping 66.5%. 
Luckily, there are ways to save these visitors, and cart abandonment popups are one of them.
A cart abandonment popup with a countdown timer can increase the sense of urgency, convincing customers to buy now rather than later.
Try one of the templates below for your cart abandoners:
5. Gamify the user experience
Gamified popups add a bit of fun to the process of signing up for an email list. And they have amazing conversion rates: 13.23% on average! 
That's why Zawa Tech used a spin-to-win (or lucky wheel) template for Black Friday. A lucky wheel is a type of gamification popup that lets your visitors spin a wheel and win a discount in exchange for their email address.
Lucky wheel popups are perfect for less engaged visitors. For example, new visitors who only visited one page on your site and try to leave.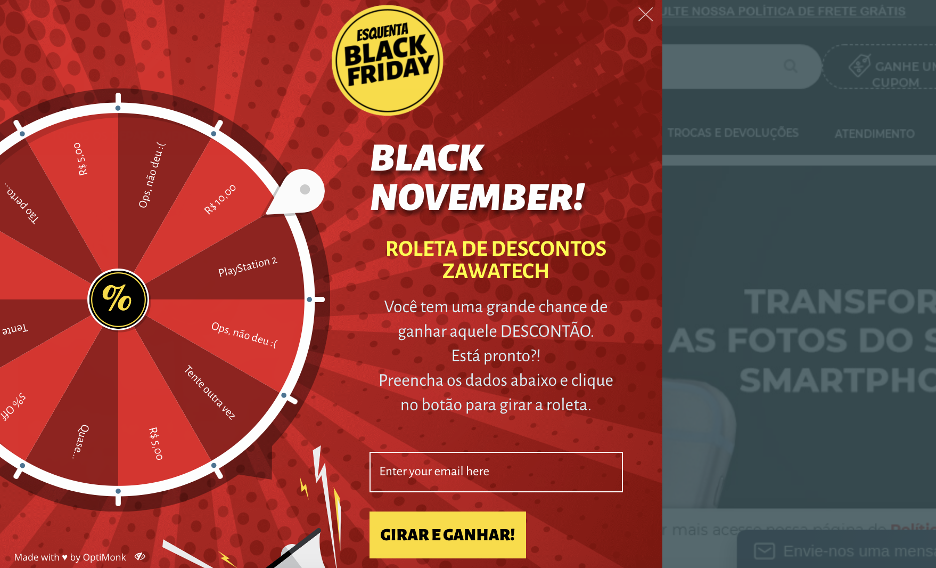 Give these delightful popups a try with one of these ready-to-use templates:
6. Use a subtle reminder for all visitors
If you'd prefer to tell all your visitors about your sale, you certainly can.  But you should use a subtle reminder, like a sticky bar. 
Ninjashark.com.au does exactly that. They use a sticky bar to promote their insane sales, and include a call-to-action: "Get early access." The button redirects visitors who are interested in their sale to another page where they can find more information and an email subscription field. 
By only including the most important info on their sticky bar, they don't overwhelm any of their visitors. 

Buckaroobling.com also uses a sitewide sticky bar. To access the Black Friday deals early, people have to sign up for their email list—which they can do within the sticky bar itself.  
They also added a countdown timer to increase urgency.

Hopefully, you've seen something you like on our list of Black Friday personalization ideas!
Have you prepared everything for your Black Friday sale or are you still setting up your campaigns? Let us know in the comments! 
And if you'd like to see even more Black Friday template options, take a look at our template library!