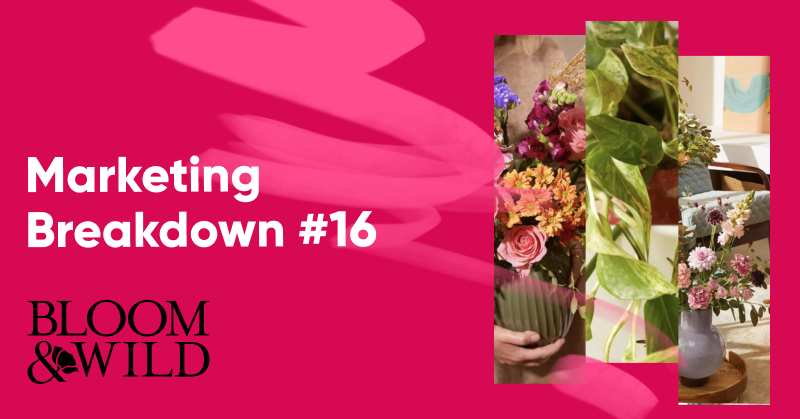 Bloom & Wild is an online florist that operates in the UK, Austria, France, Germany, and Ireland.
They market themselves as "the UK's most-loved online florist" and they're one of the fastest-growing online businesses in the category.
Launched in 2013, Bloom & Wild set their brand apart by creating a simple process for ordering flower arrangements. Co-founder Aron Gelbard said, "I'd tried to order flowers online many times, I'd struggled to do it on my mobile and there just wasn't a brand that stood out."
Based on this business model, Bloom and Wild became the UK's 2nd fastest-growing startup in 2017. Continuing with their success, the company raised $102 million of investment capital in 2021.
Let's explore the marketing strategy that Bloom and Wild used to fuel this growth!
1. Care about your customers
Showing customers that you really care about them (and not just your bottom line) has a big impact on the way your brand is perceived. And to show that you care, your actions have to back up your words.
Bloom and Wild showed that putting their customers first was their priority during an important time of the year for them: Mother's Day.
Since seasonal campaigns are a major revenue driver for most online stores, you'd expect that Mother's Day would be one of a florist's most profitable days.
So, according to conventional wisdom, what should any florist do around Mother's Day? Send dozens of marketing emails to remind their customers to place an order and offer lots of discounts!
But Bloom & Wild did something different in 2019…
Before they started sending email campaigns about the holiday, they first sent an email to all their customers giving them the option to opt out of Mother's Day reminders.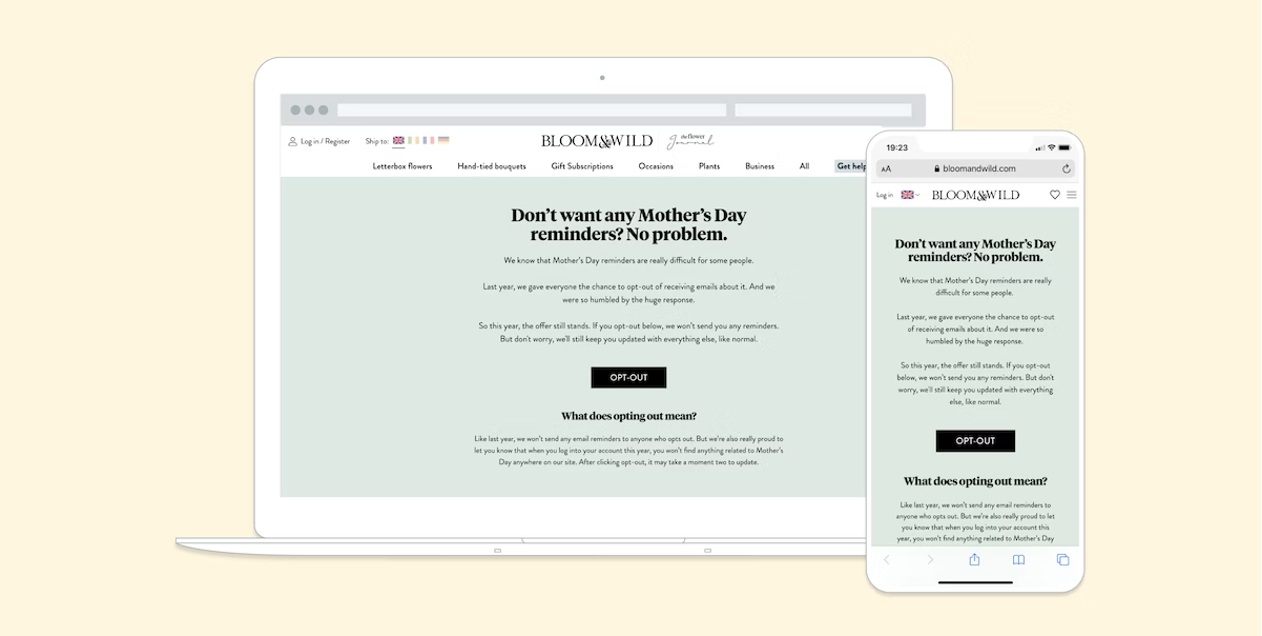 Image source: Braze
As a result, almost 18,000 Bloom & Wild customers opted out of the Mother's Day campaigns.
Now, you might think that's terrible news—18,000 potential customers won't get sales emails and probably won't buy, right?
Wrong. It wasn't really bad news, because Bloom & Wild's audience appreciated that the company understood not everyone wants or feels comfortable seeing messages about Mother's Day.
As soon as the opt-out campaign was sent, Bloom & Wild's interactions on Twitter quadrupled: going from 4-5% to 20%.
They also received positive feedback over the phone and via email—spiking at 1,500 responses, which is 5X the average amount of messages Bloom & Wild was getting from their customers.
All that positive feedback motivated Bloom & Wild to start the Thoughtful Marketing Movement in 2020, encouraging brands to communicate with their customers in an empathetic manner.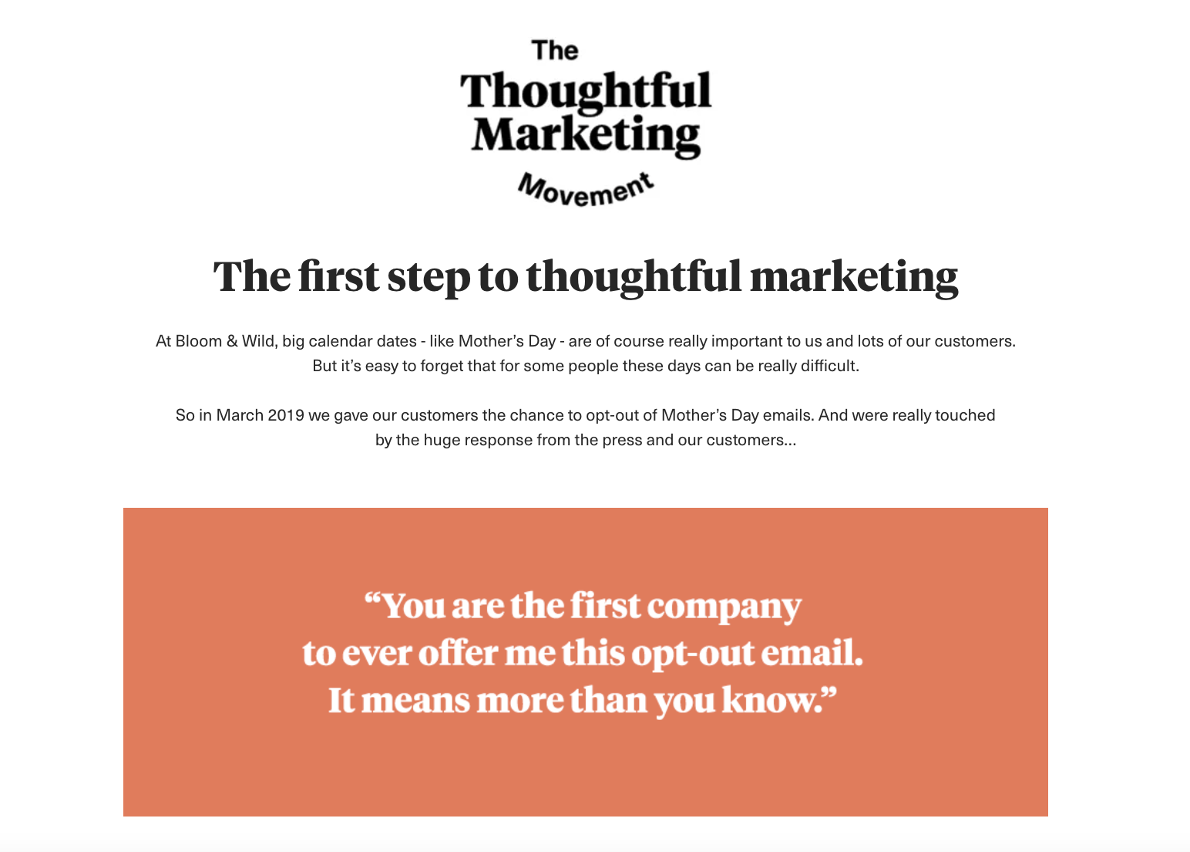 "Our campaign assured customers that we uphold our core values, and put customers first," said Lucy Evans, Retention Lead at Bloom & Wild, about the Mother's Day opt-out campaign.
"Allowing customers to decide for themselves if they wanted to receive messaging about occasions that might be sensitive for them led to a lot of positive feedback and the launch of the Thoughtful Marketing Movement, which now has over 100 brands taking part."
Brands that take part in the Thoughtful Marketing Movement agree to send their own opt-out offers for holiday campaigns.
Customers that decide to opt out receive alternate messaging, ensuring that nobody feels uncomfortable due to messages from their favorite ecommerce companies.
2. Focus on raising brand awareness
Getting potential customers to become aware of a brand's identity is at the top of the agenda for any ecommerce startup.
This was particularly important for Bloom & Wild because their floral business faced strong competition from local providers.
"The flower category was, and still is, a very Google-led category. People will Google 'flower delivery Manchester' for example and then compare the prices, usually ordering from the cheapest of the options," explains Gelbard.
The goal of Bloom & Wild's awareness campaigns was to get customers to see them as a high-quality, convenient, and consistent alternative.
Gelbard continued: "We thought that if we could create a brand that people trust, and really enjoyed using, then maybe one day people wouldn't just say: 'I want flowers', they'd say 'I want Bloom & Wild flowers.'"
One of their first major campaigns designed to raise brand awareness was an old-school TV spot. Called "Care Wildly," it shows a woman sending Bloom & Wild flowers to her sister.
The campaign was astoundingly successful and allowed the company to "tell a story of who we are," according to brand and communications director Charlotte Langley.
They were also able to reach a large and diverse audience on television. Langley said that "TV drives that broader reach that it's difficult for us to get with more targeted audiences on social."
Just before their ad played on TV, Bloom & Wild carried out a brand tracking survey so they would have a baseline to measure its performance.
The TV campaign doubled Bloom & Wild's top-of-mind awareness and increased their brand consideration by nearly 50%. Brand consideration "can be really hard to move," said Langley, so increasing it by such a large margin was a big win.
Although they don't release a television ad every day, Bloom & Wild does work hard to dominate search results to drive traffic to their page using ads like these: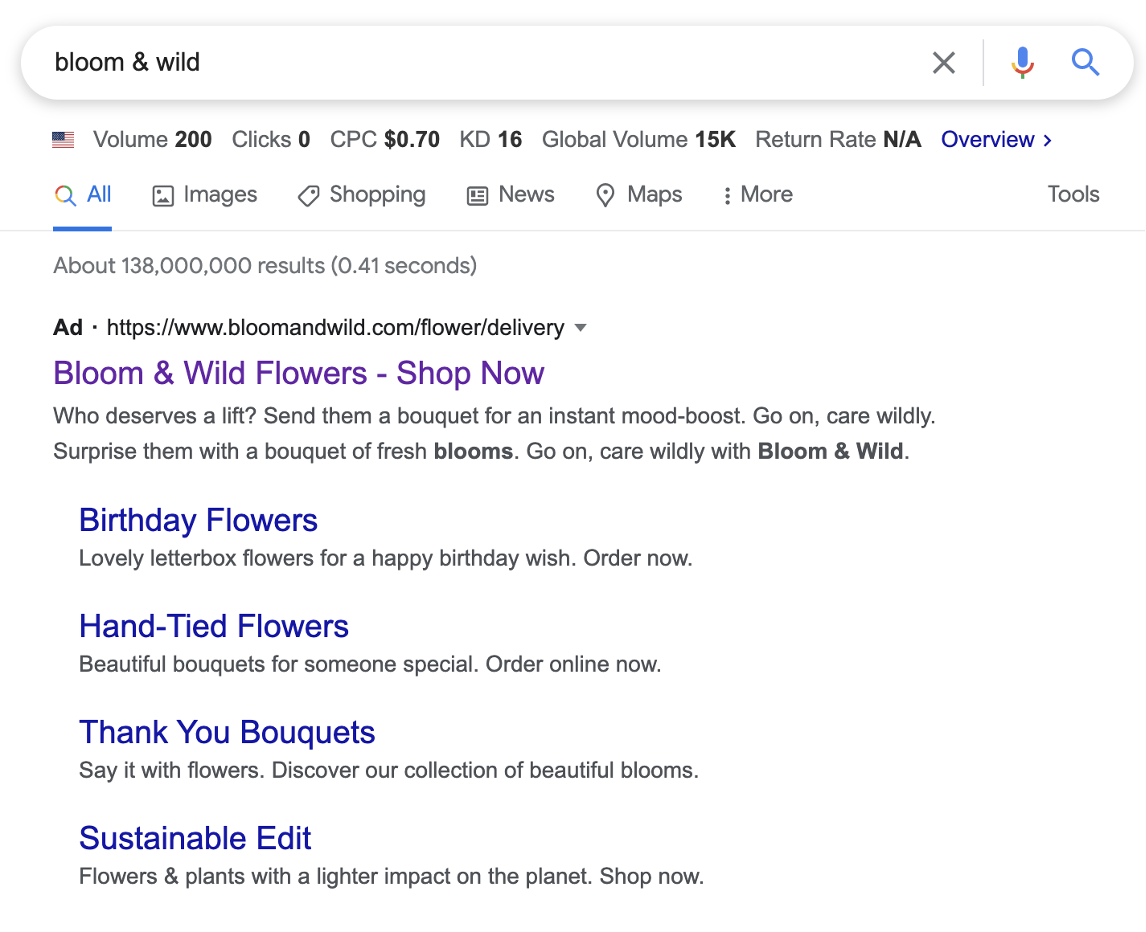 These ads keep a steady stream of highly motivated potential customers moving to Bloom & Wild's site.
3. Customize content for each social media channel
Having an active social media presence is an essential part of running an online store. You've got to connect with your customers where they are.
Unlike many companies, Bloom & Wild's social media team creates unique content for each channel they're on (instead of sharing the same posts everywhere).
This strategy allows them to create posts that utilize each platform's strengths and unique features.
For example, their Facebook content is focused on getting people to make purchases on the platform (taking advantage of the Facebook shop feature):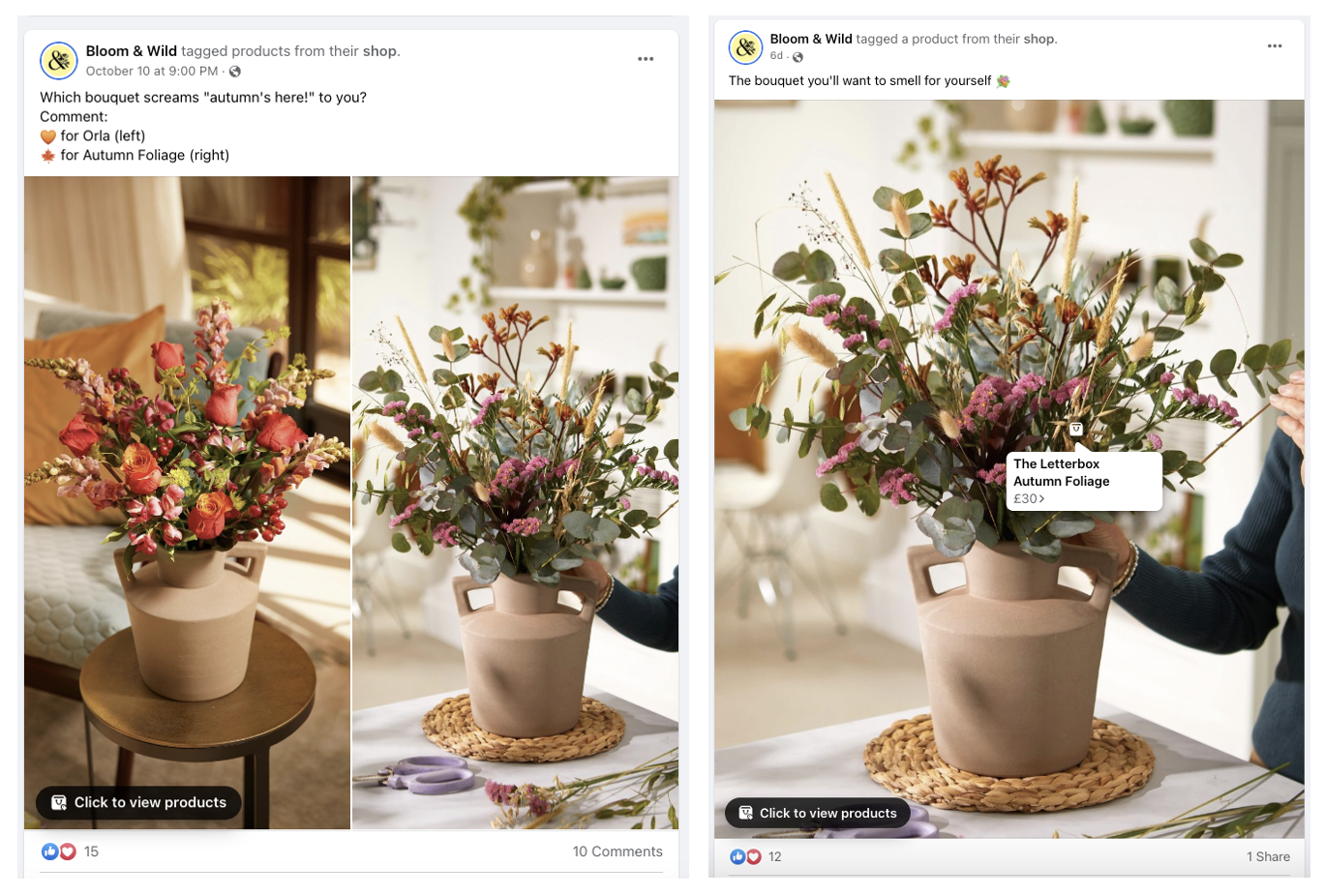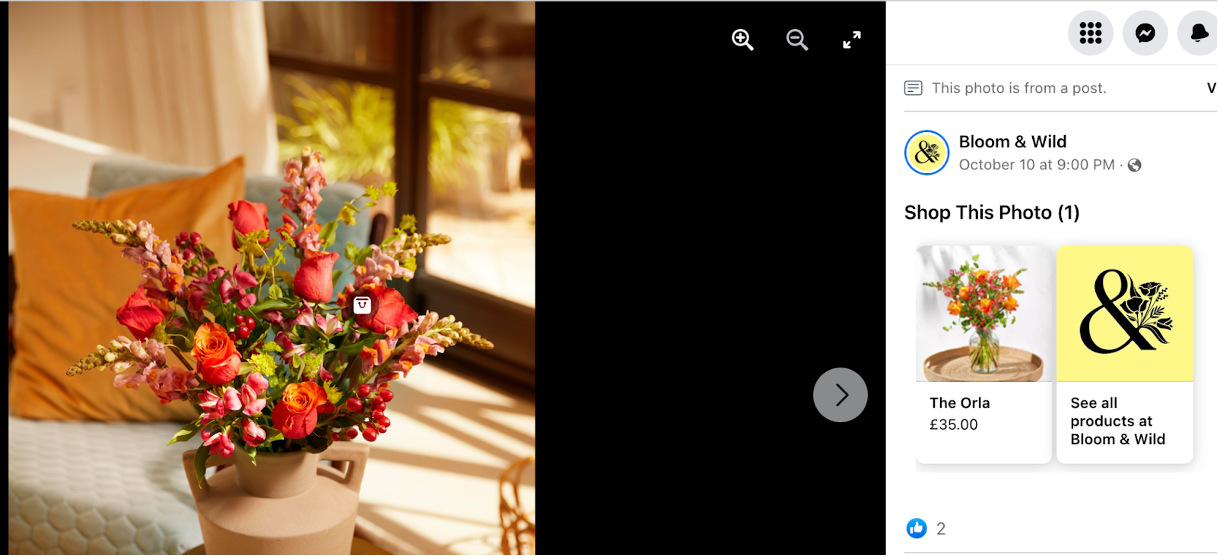 On Instagram, however, they mostly share helpful tips about flowers and plants. This promotes their brand while also offering valuable information to their followers.
Furthermore, Instagram's short reel format is great for creating these engagement-driven posts.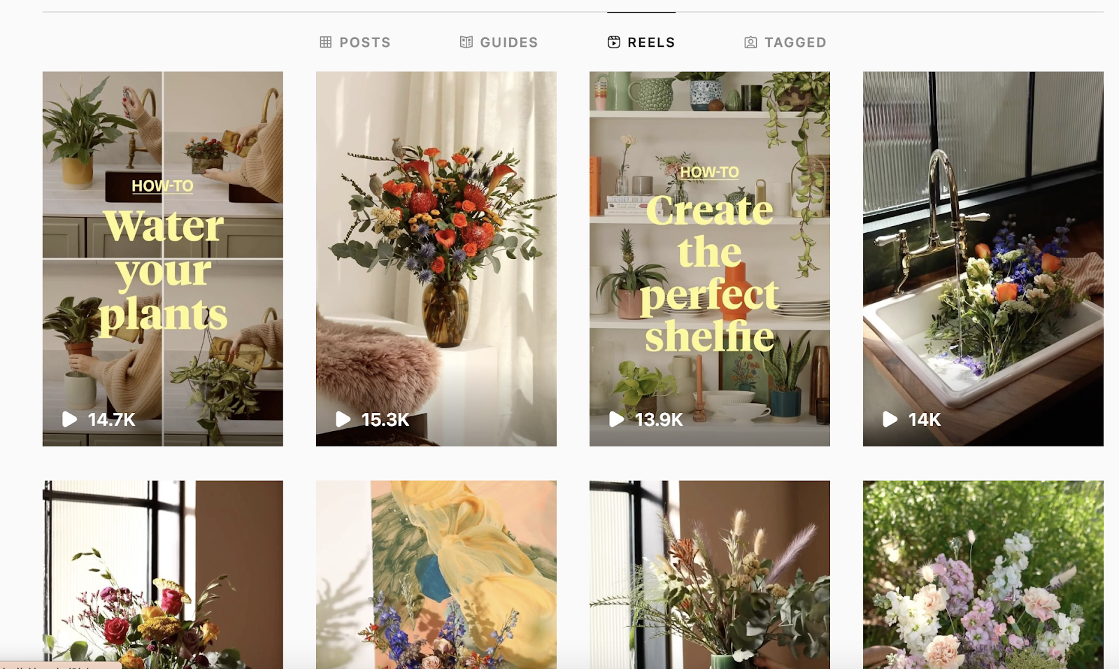 They also use their platform on Instagram to drive sales, but only from time to time. Being too aggressive on Instagram can cause you to lose followers: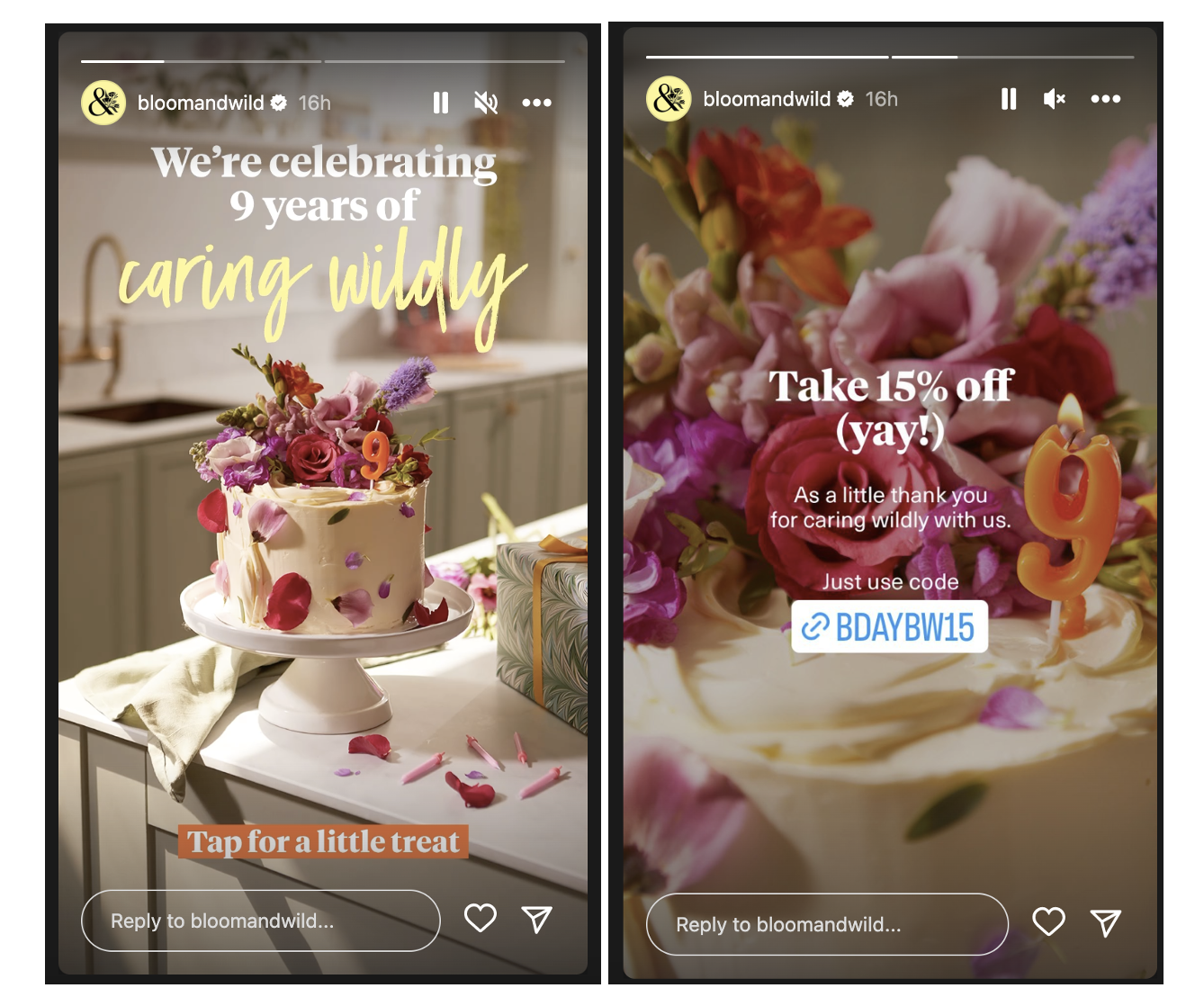 Finally, Bloom & Wild encourages their customers to act as promoters by posting and tagging the company's account in pictures of their floral orders.
Showing that their customers are enthusiastic about Bloom & Wild products is excellent social proof.

Bloom & Wild created a referral program to encourage customers to spread the word about their brand.
They offer their customers a £10 credit for each referral, which both helps them find new customers and incentivizes existing customers to purchase more.
Bloom & Wild has generated £17m in sales as a result of their referral program.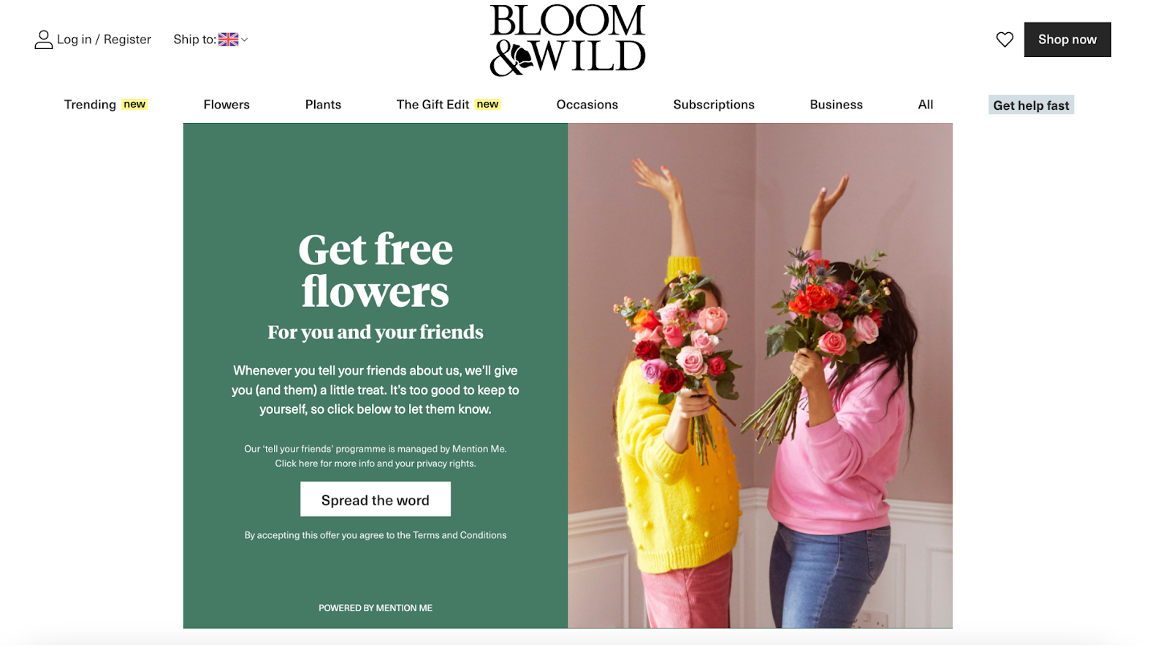 5. Build loyalty with a subscription model
Bloom & Wild offers a monthly subscription model to help build a loyal customer base. Once someone gets used to receiving flowers on a regular basis, they're likely to stick around as a long-term customer!
Many ecommerce stores would be wise to follow Bloom & Wild's lead and offer subscriptions in addition to one-time orders.
If you don't think your niche is right for monthly product subscriptions, you're probably underestimating how much customers like to sign up for a subscription, forget about it, and then receive great products every month! Customers really value convenience.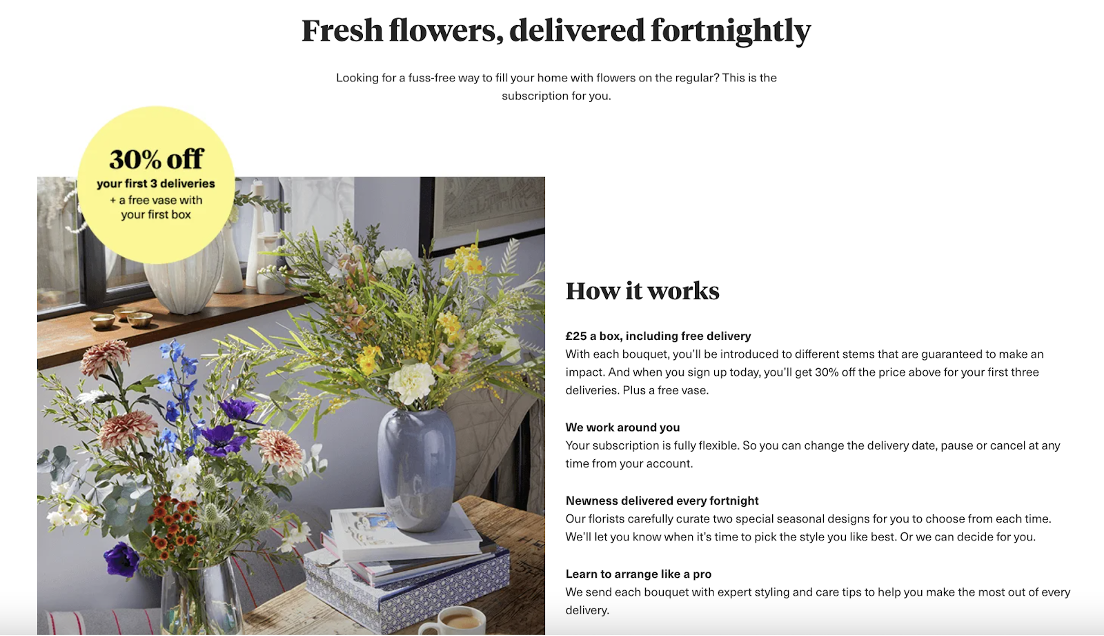 Hopefully, you've been able to pick up some inspiration from our Bloom & Wild marketing breakdown.
Their most unique marketing strategy was the opt-out campaign they ran in the lead-up to Mother's Day, proving how much customers appreciate being given a choice about what marketing messages they see.
Let us know what you think of Bloom & Wild's bold opt-out campaign and their Thoughtful Marketing Movement in the comments.