Looking for the best online form builders that offer features like drag-and-drop form creation, customizable templates, and conditional logic?
You're in the right place! We've done the research for you and compiled a list of the 11 best online form builder apps in 2023.
Let's dive in!
What makes the best form-building software?
When selecting the best form-building software for your website, there are a few key factors to consider.

Let's take a closer look at what makes a form builder stand out:
Customization:

Customization options like themes, styles, and colors allow you to have full control over the look and feel of your forms.

Integration options:

These enable you to automate, streamlining your workflows and increasing productivity.

Security:

Security features like SSL encryption and HIPAA compliance ensure that data is protected.

Customer support:

Assistance through live chat and tutorials can help tackle any issues that arise.
What should your online form include?
As you're creating an online form, it's important to take into account the following factors:
Clear, concise instructions:

In order to make the data collection process seamless, make sure you clearly state the purpose of the form and provide any necessary instructions to guide users in understanding what information is being collected and how to provide it.

Required fields:

Clearly indicate which fields are mandatory and which are optional. This distinction will help avoid confusing people and lead to a better user experience.

Relevant fields:

Include only fields that are directly related to the form's purpose. Avoid including irrelevant or unnecessary fields that might confuse users and lead to lower completion rates or incorrect form entries.

Accessibility:

Ensure the form is accessible to all users, including those with disabilities. For visually impaired users, use alt text for images and provide video captions. Additionally, choose an accessible color scheme that accommodates users with visual impairments.

Security:

Prioritize user data protection by implementing security measures. Use SSL encryption to secure data transmission and incorporate a captcha system to prevent unauthorized access by bots or hackers.

Confirmation and thank you message:

After a user submits the form, provide a confirmation message to acknowledge the successful submission. Expressing gratitude with a thank you message can also leave a positive impression and show appreciation for the user's time and effort.
Now that you know what you should look out for in an online form builder, let's dive into our roundup of the best apps in 2023: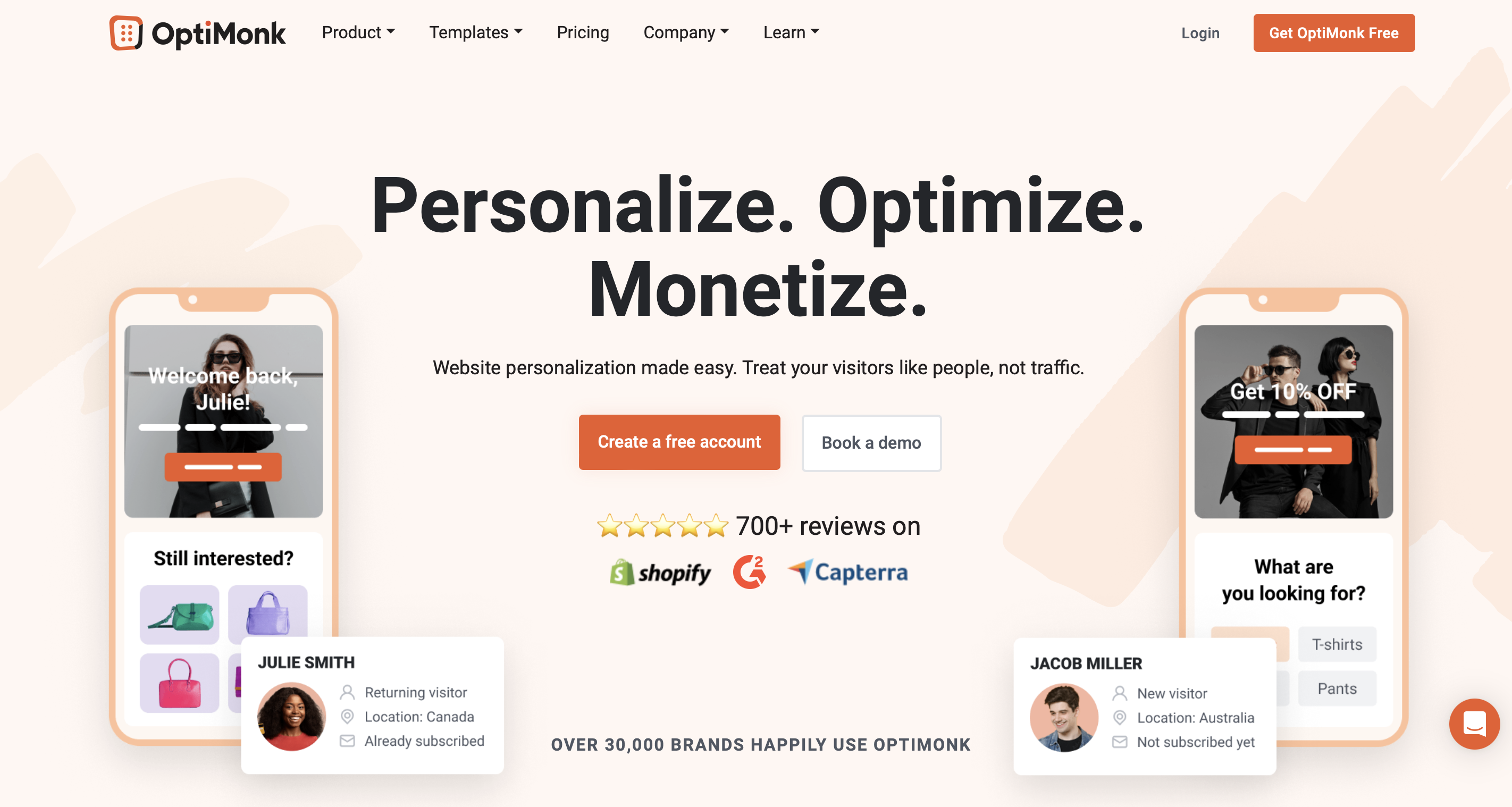 OptiMonk is an all-in-one conversion rate optimization platform that provides popups, website personalization, and A/B testing for ecommerce stores that want to boost the performance of their marketing activities. Keep reading, because we're about to shine some light on OptiMonk's excellent features.
Key feature #1: Customizable templates
Our template library is full of ready-to-use designs: just choose your goal and message type, and you're good to go!
You can choose from that templates that let you build a list, collect feedback, or you can even create surveys. You can ask your visitors if they found what they were looking for, what they thought of your site, what stopped them from purchasing, and ask for post-purchase feedback.
Let's take a look at some of the templates that you can get started with:
Key feature #2: Sync with your tools
OptiMonk enables seamless integration with various platforms including Shopify, Klaviyo, Zapier, Active Campaign, and more.
This wide range of integrations ensures that you can easily synchronize OptiMonk with your preferred tools and maximize its effectiveness.

Key feature #3: User-friendly drag & drop editor
With our user-friendly drag & drop editor, you can easily create custom forms and surveys all on your own—you don't need a designer or a developer's help to set them up. You can create professionally designed messages that fit perfectly into your website's design.
Additional features:
Mobile-optimized templates:

These are designed to look great on both desktop screens and mobile devices, ensuring a seamless experience for your visitors regardless of what device they're on.

Smart Tags:

This feature allows you to alter text based on any element you wish, so you can deliver personalized messages that speak directly to your visitors, driving true personalization and engagement.

Dynamic Content:

Use Dynamic Content to maximize user engagement by displaying compelling content that adapts to each individual visitor's interests and behavior.

Intelligent targeting and triggering options:

Take advantage of over 30 different factors to intelligently target and trigger campaigns to visitors, increasing the chances of conversion.

Google, AdBlock, and GDPR safe:

Compliant with Google, AdBlock, and GDPR regulations.
Pricing: Free plan available, paid plans start at $39 per month.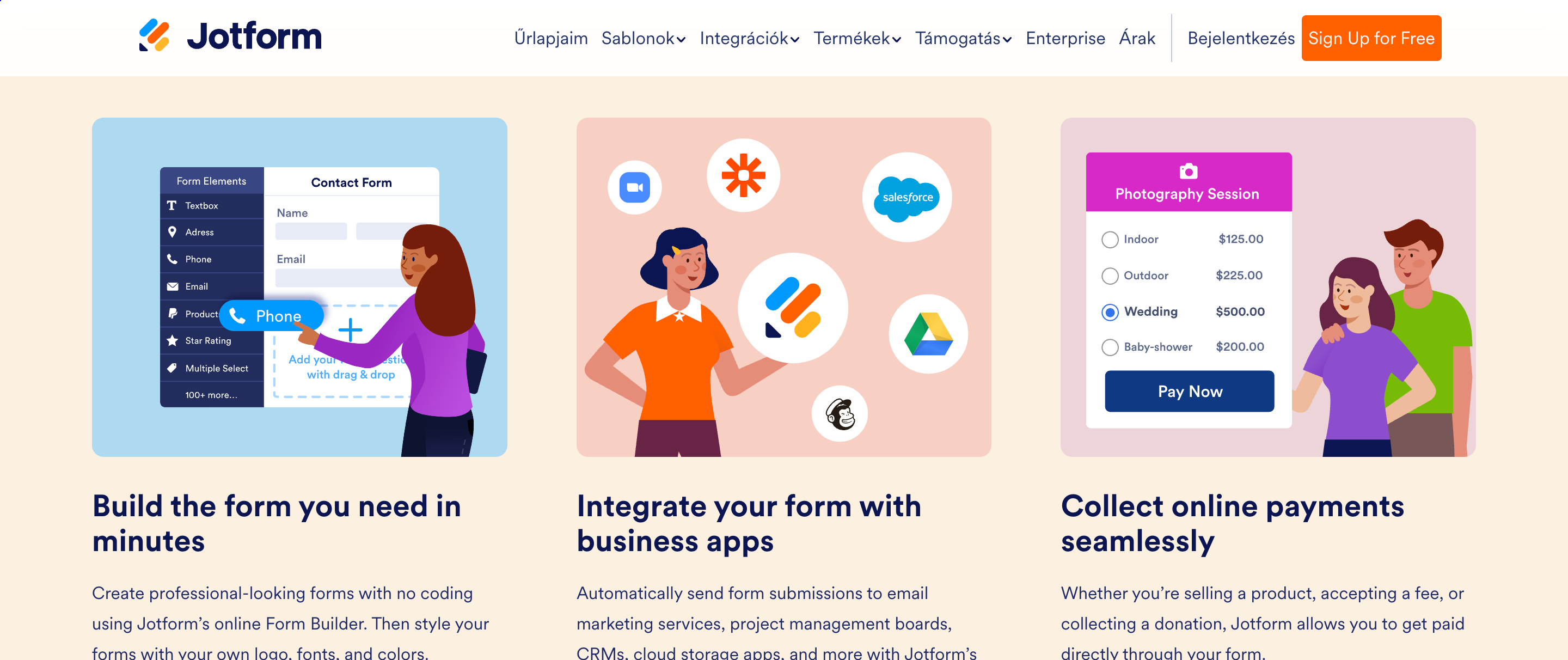 JotForm is a form builder that offers a user-friendly interface and a wide range of templates to choose from. It also offers advanced security features like SSL encryption and HIPAA compliance.
Jotform also offers a variety of customization options to suit various industries and goals. It also provides powerful integrations with popular apps like Google Sheets, Salesforce, and PayPal, ensuring seamless data flow and improving your workflow.
Pricing: Starts at $24 per month.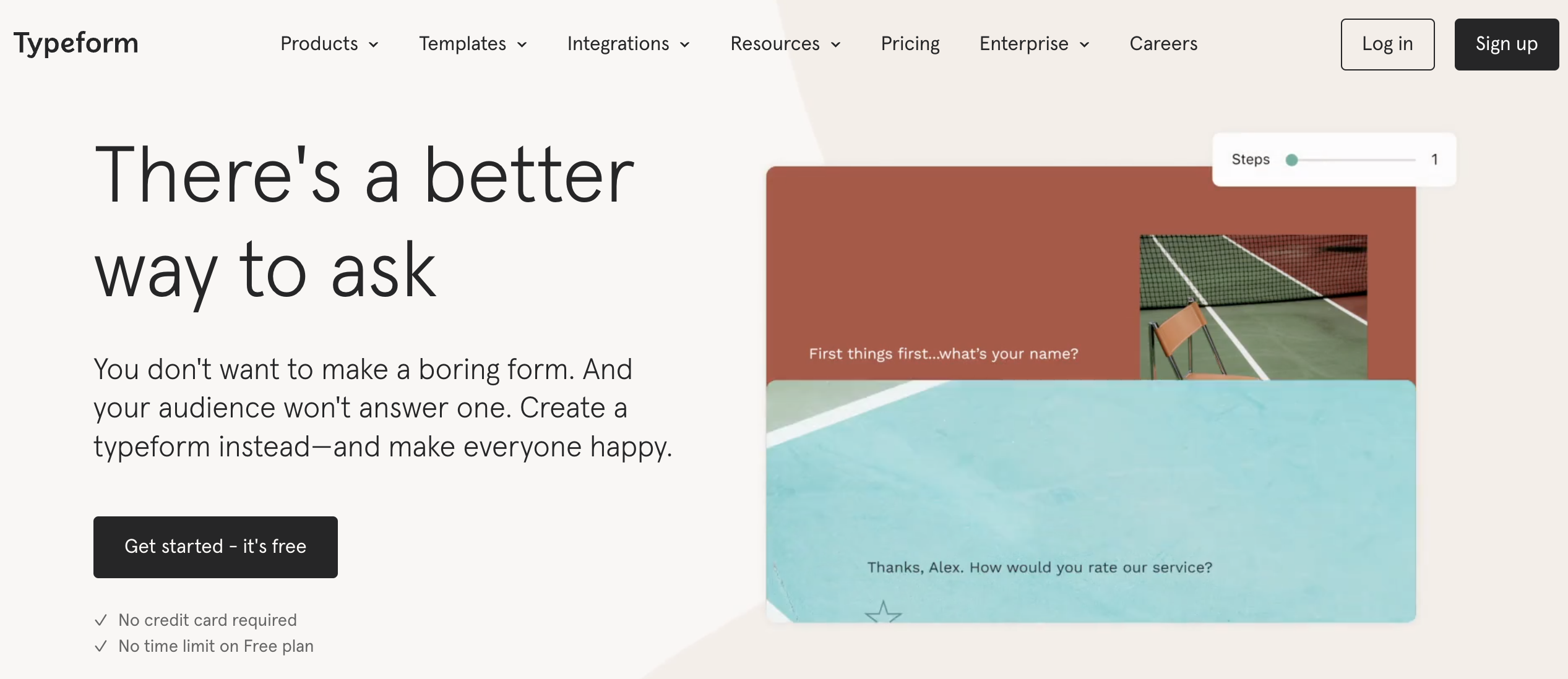 Typeform stands out with its visually appealing, conversational form-building approach. It enables you to create interactive forms that engage respondents through an innovative conversational interface.
Typeform's logic jumps and conditional questions make the form completion process personalized and user friendly. With its seamless integration options, you can connect Typeform with your favorite apps like Zapier and Hubspot.

Pricing: Starts at $35 per month.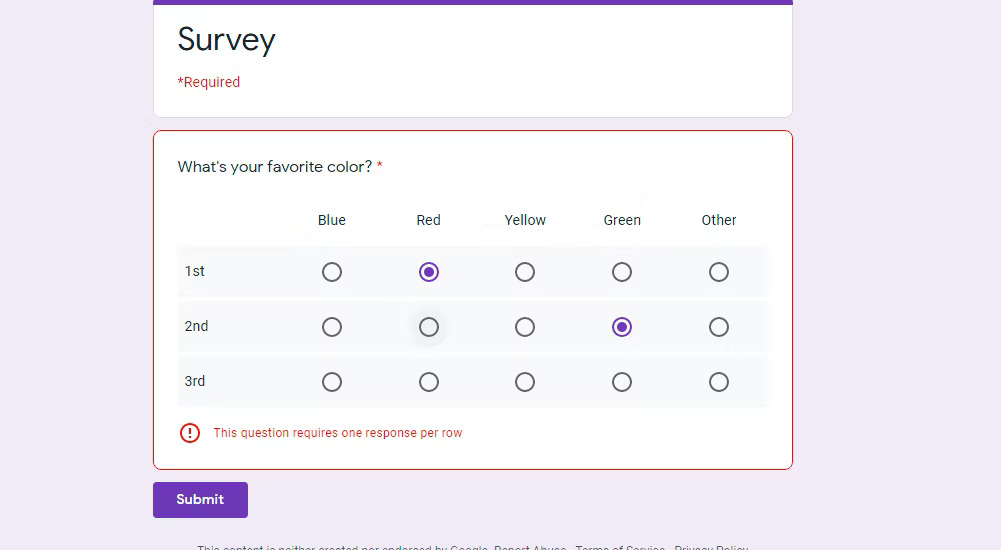 As part of the Google Workspace suite, Google Forms offers a straightforward, free solution for creating online forms. It provides a clean and intuitive interface with a range of question types. Google Forms excels in collaboration, allowing multiple users to work on the same form simultaneously.
Furthermore, it seamlessly integrates with other Google tools such as Google Sheets and Google Drive, making it an excellent choice for teams already using the Google ecosystem.
Pricing: Google Forms is available for free.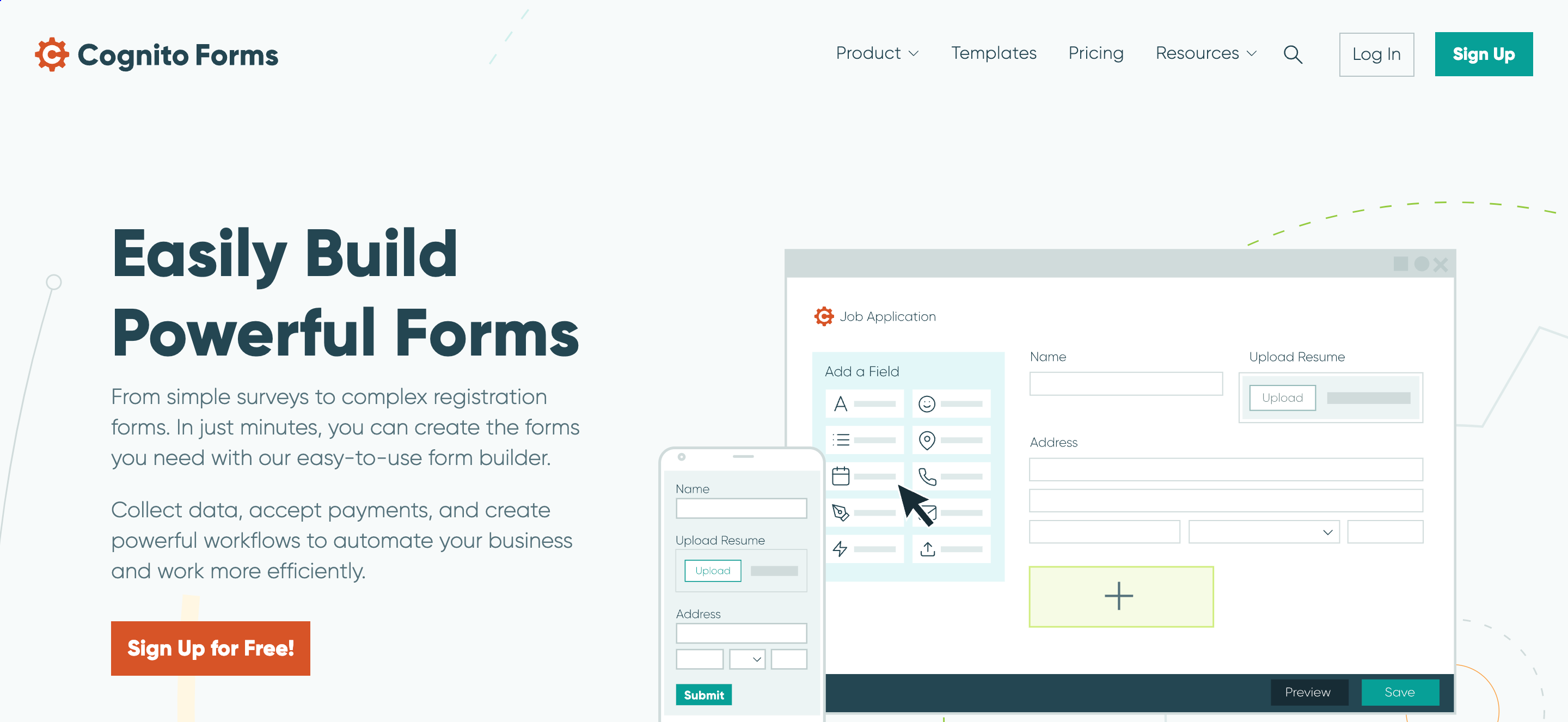 Cognito Forms is a powerful form builder that offers advanced features, allowing you to create complex forms without any coding knowledge. It provides a user-friendly interface and offers robust customization options, including conditional logic, calculations, and repeating sections.
Cognito Forms also integrates with various payment processors, making it a great choice for creating order forms, event registrations, and online payments. It also offers HIPAA compliance for healthcare organizations.
Pricing: Starts at $10 per month.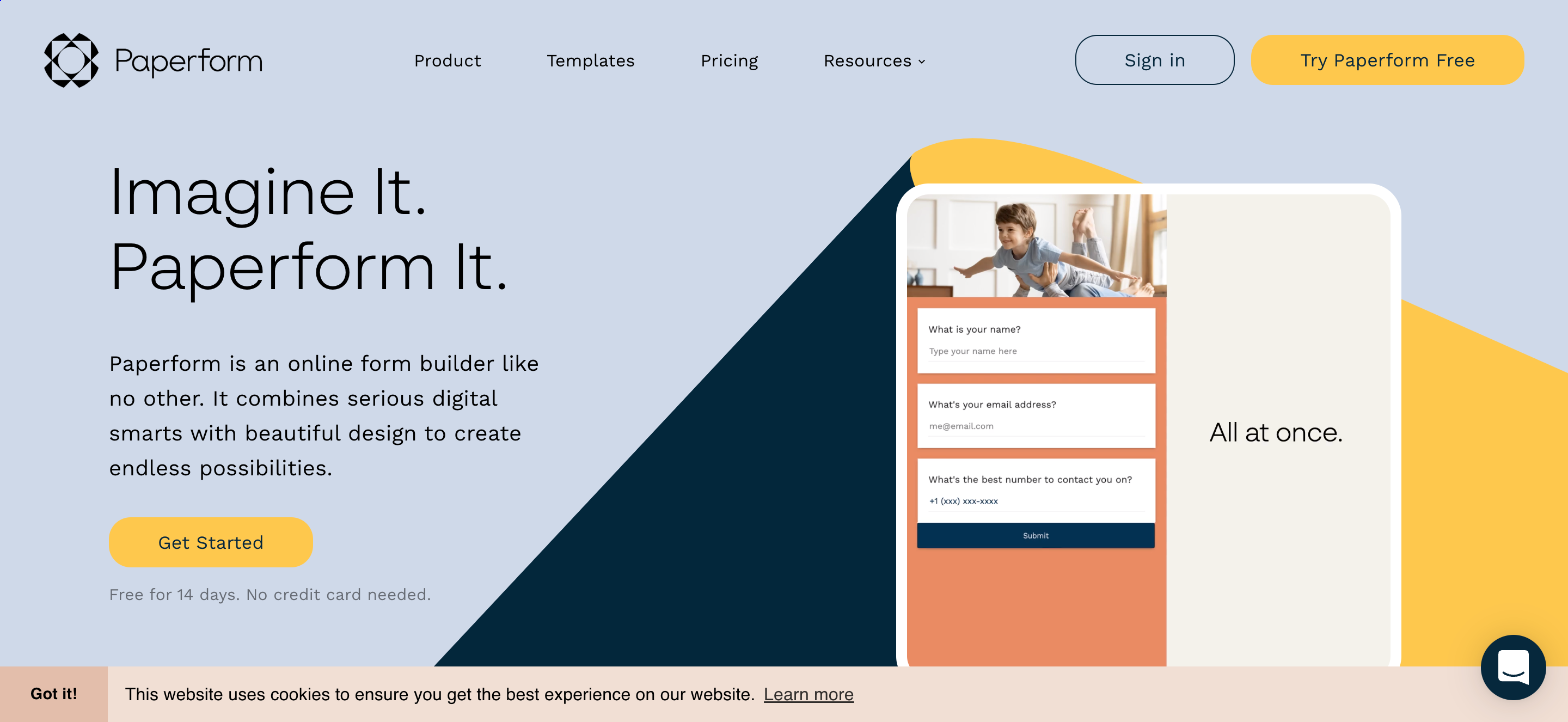 If you're looking for a form builder that combines simplicity and flexibility, Paperform is worth considering. It allows you to create visually stunning forms with its rich text formatting and media embedding capabilities.
Paperform's unique "Calculator" feature enables you to create dynamic forms with real-time calculations, making it ideal for pricing calculators, quizzes, and surveys. With its Stripe and PayPal integrations, you can easily collect payments through your forms.
Pricing: Starts at $20 per month.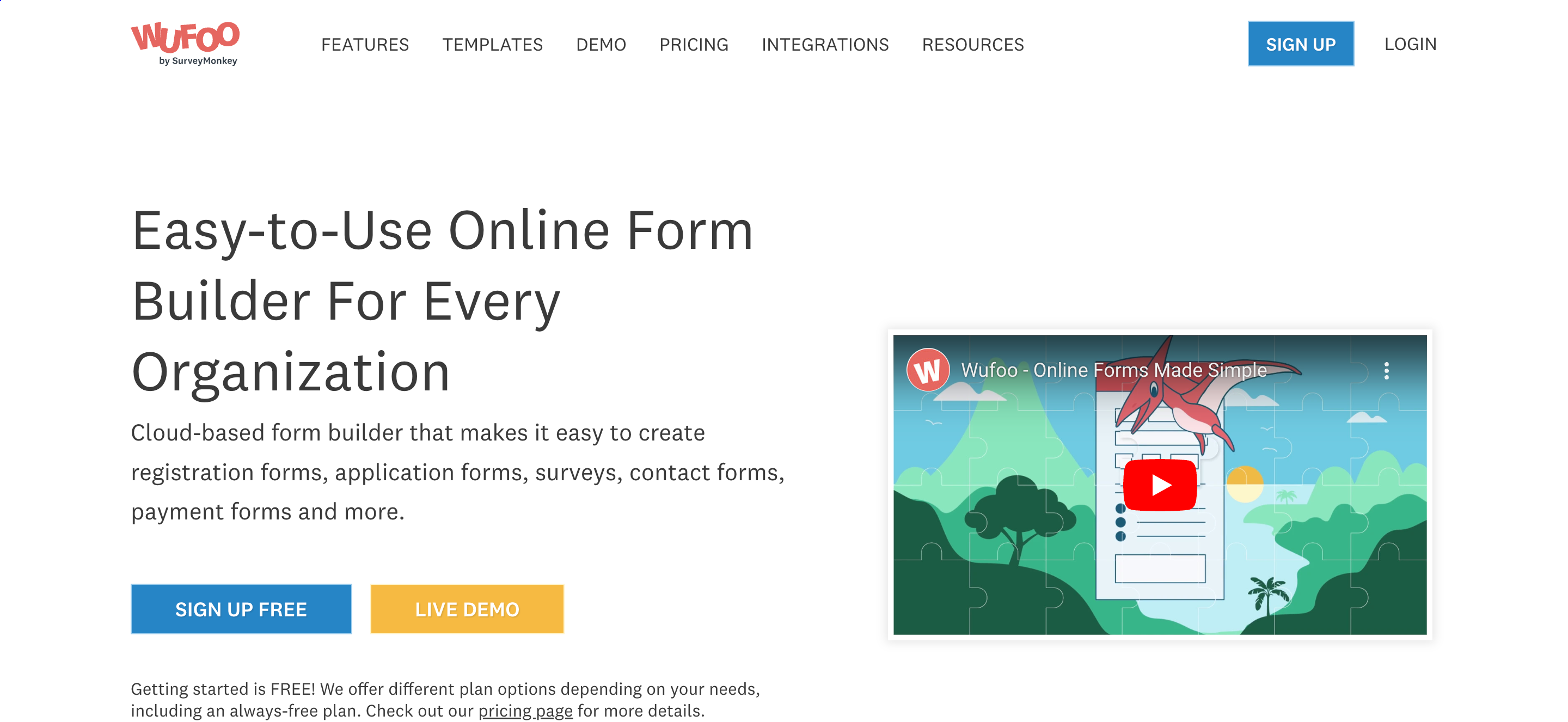 Wufoo is a user-friendly online form builder that offers a wide variety of templates and customization options. It provides a drag-and-drop interface for effortless form creation.
Wufoo's extensive form field options, including file uploads and digital signatures, make it suitable for a broad range of use cases. It also offers seamless integrations with popular apps like Mailchimp, Slack, Paypal, and Zapier, enabling efficient data management.
Pricing: Starts at $14.08 per month.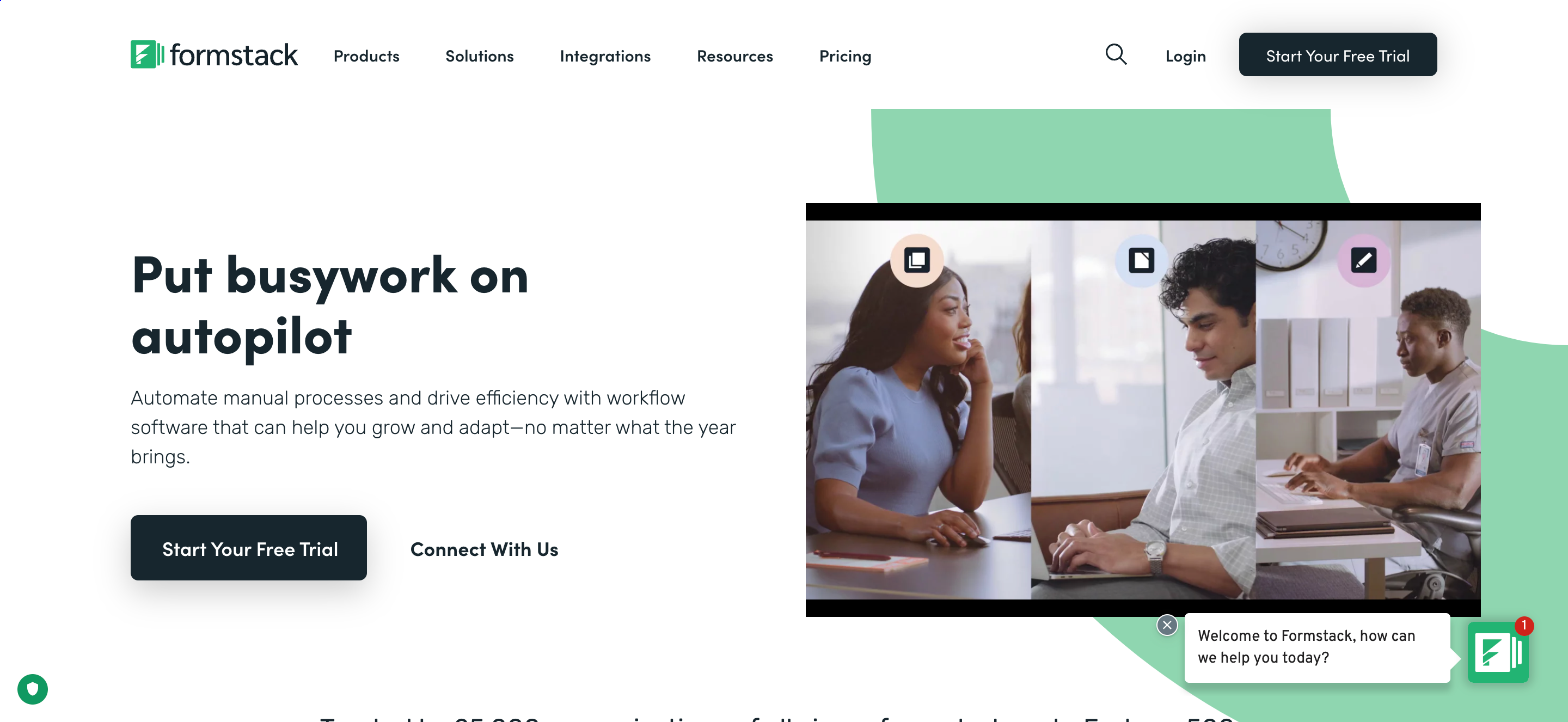 Formstack is a comprehensive form builder that caters to businesses of all sizes. Its robust features include conditional logic, data routing, and powerful analytics. Formstack's intuitive interface allows for easy form creation, and its advanced security measures ensure data protection.
It also offers plenty of customization options, integrations with over 50 popular tools, and HIPAA compliance for healthcare organizations.

Pricing: Starts at $19 per month.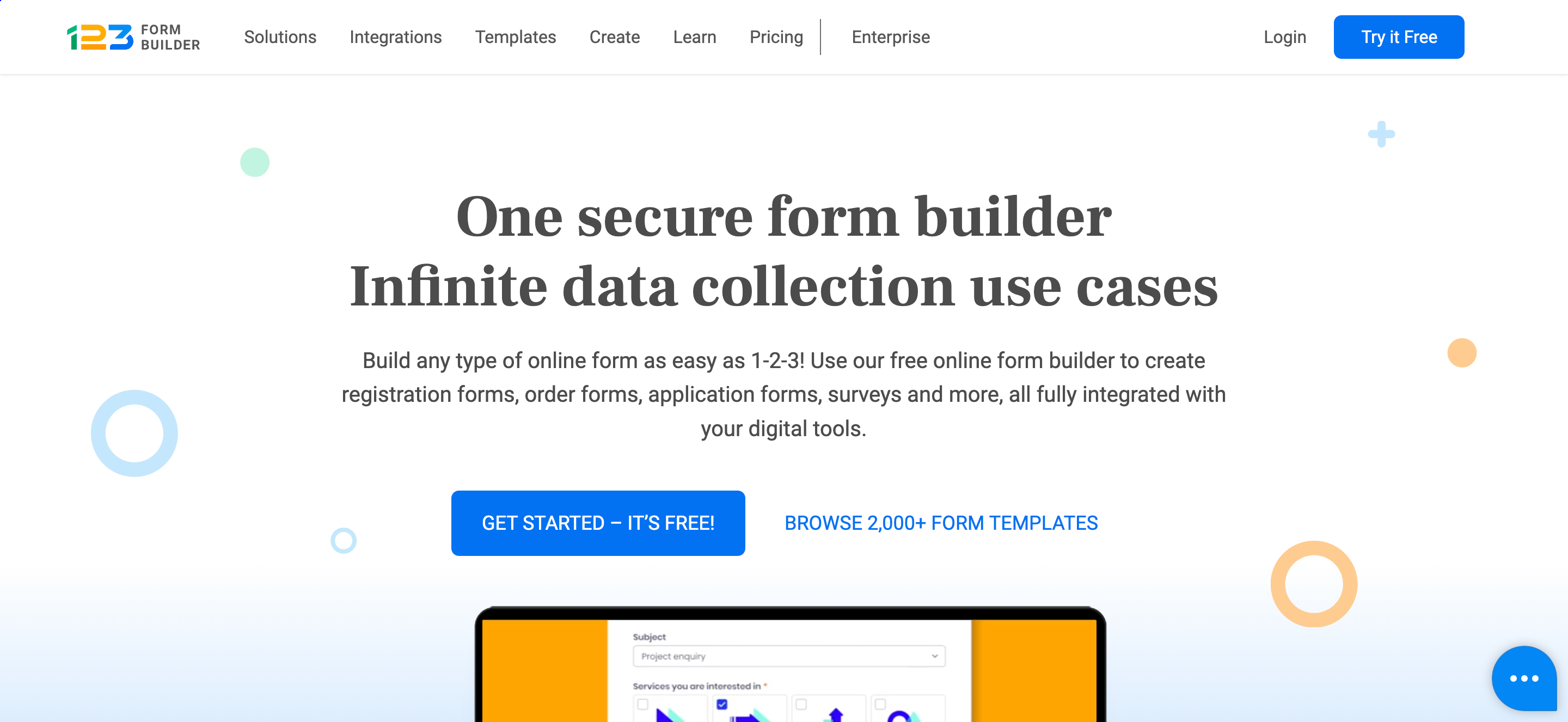 123FormBuilder simplifies the process of creating forms with its user-friendly interface and drag-and-drop functionality. It offers a wide range of form templates and customization options, including conditional logic and file uploads, allowing you to create personalized forms that align with your brand.
With its extensive integration capabilities, you can seamlessly connect 123FormBuilder with popular tools like Mailchimp, Google Drive, Paypal, and Google Analytics, enabling efficient data management and analysis.
Pricing: Starts at $24.99 per month.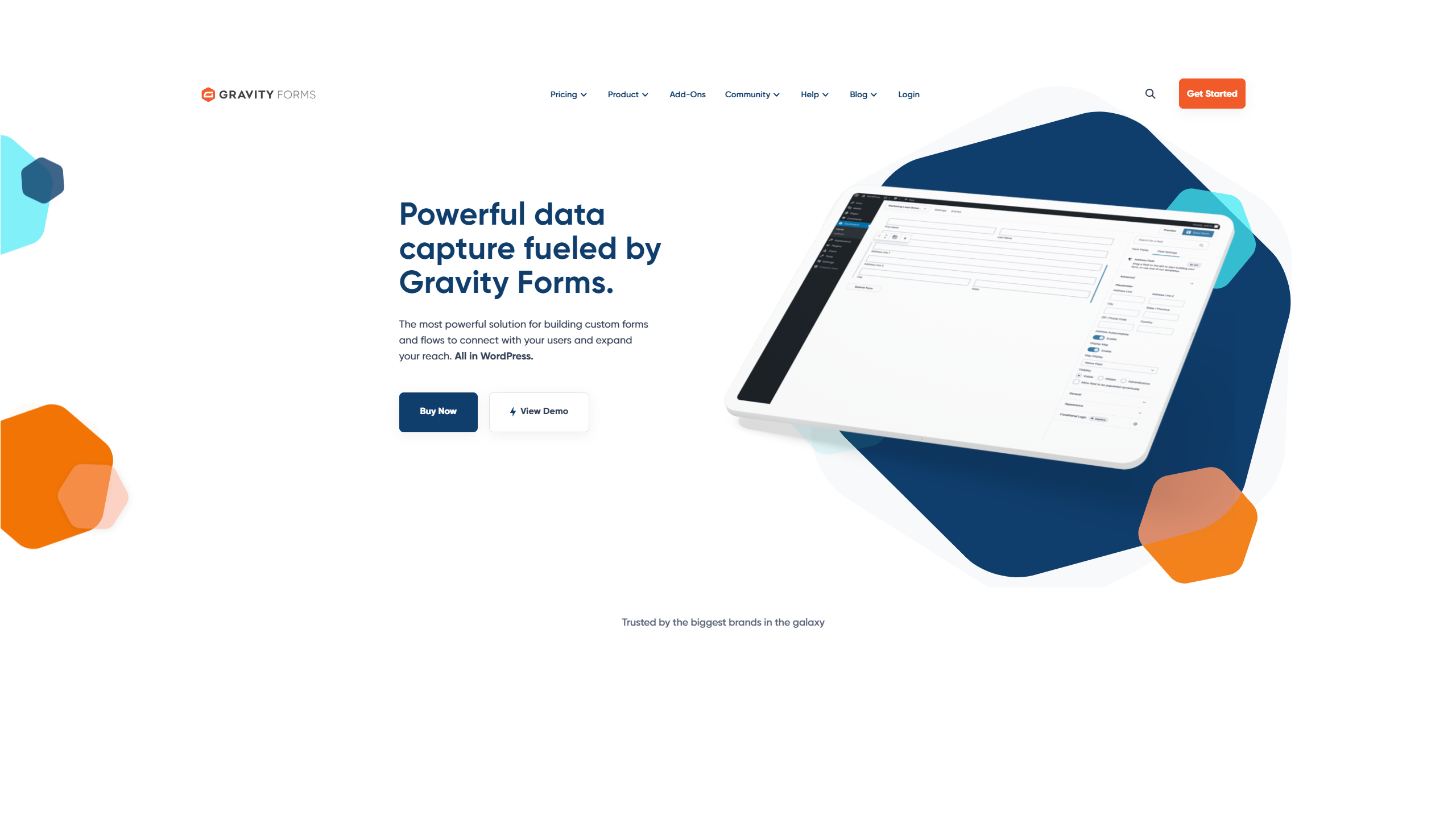 Gravity Forms is a powerful WordPress plugin that provides highly customizable forms. With its extensive add-ons and integrations, you can extend the functionality of Gravity Forms to meet your specific requirements. It offers advanced features like conditional logic, file uploads, and multi-page forms.
Gravity Forms is an excellent choice for businesses and individuals who require flexible and feature-rich form building capabilities within the WordPress environment.
Pricing: $59 per year for a single site license.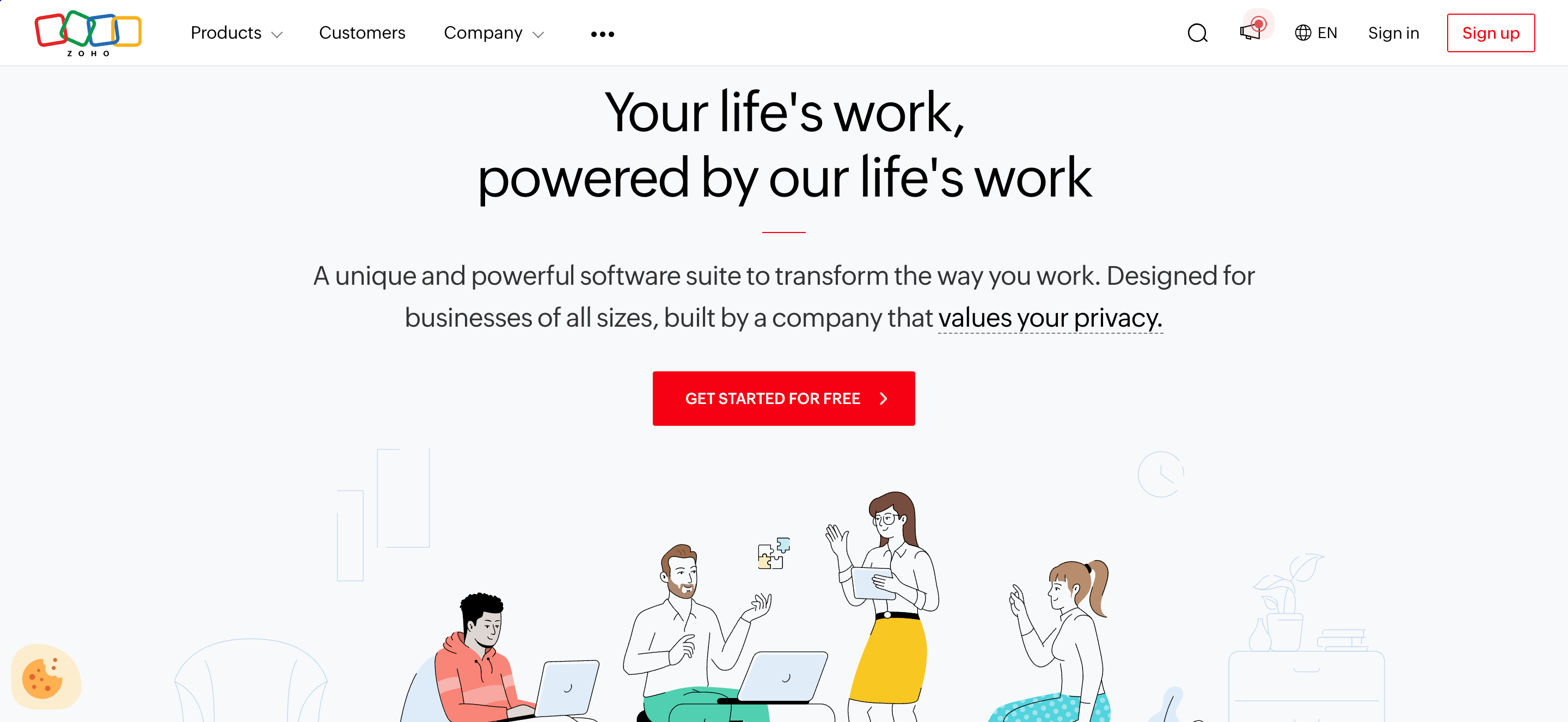 Zoho Forms is a comprehensive online form builder that offers a variety of features for businesses of all sizes. With an intuitive drag-and-drop interface, users can easily create custom forms, surveys, and quizzes. Zoho Forms also provides robust customization options, such as branding, conditional logic, and field validation.
With its seamless integration with other Zoho applications, you can automate data transfer and enhance your productivity.
Pricing: Starts at $10 per month for the Basic plan.
How to create online forms?
There are several ways to create online forms, such as using an online form builder, building a custom form using HTML and CSS, using a CMS plugin, or hiring a developer. No matter how you choose to build it, be sure to test your form thoroughly before publishing.
How do online form builder apps work?
Most form builder apps provide a user-friendly interface where you can drag and drop form elements, customize fields, and design the layout. Once you've created the form, you can embed it on your website or share it via a unique link.
Responses submitted through the form are typically collected in a centralized dashboard or sent to your email, allowing you to manage and analyze the data easily.
Is there a free app to create form?
Yes, you can find some apps that offer a free plan, allowing you to create new form and use limited features.
In the world of online form builders, your options are abundant. Whether you need customization options, seamless integrations, advanced security features, or user-friendly interfaces, there is a form builder app to suit your needs.
From OptiMonk's personalized templates to Google Forms' simplicity, these 11 best online form builder apps of 2023 offer a range of features and pricing options.
Explore the possibilities, select the best form builder for your requirements, and bid farewell to the days of drowning in paperwork. Say hello to the convenience and efficiency of online form creation and sharing!