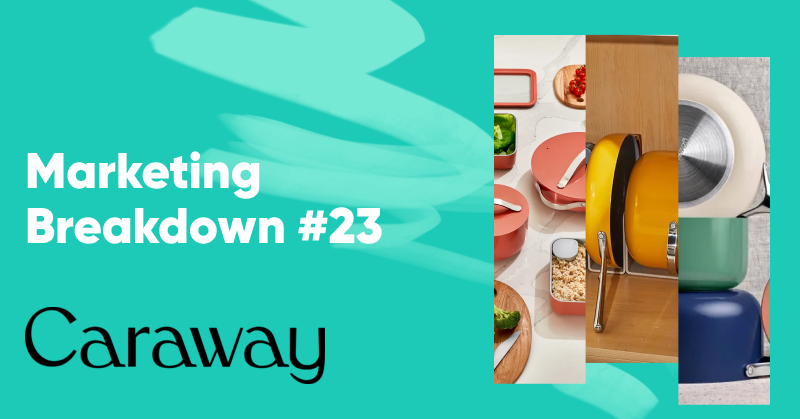 Caraway is a DTC cookware brand that launched in November 2019 with the mission of providing their customers with a variety of non-toxic, design-forward kitchen options.
By making products that are both beautiful and functional, Caraway gives consumers the opportunity to elevate their homes.

The idea for Caraway was born after founder Jordan Nathan had trouble finding quality cookware that wasn't coated in harmful PTFE or Teflon.
With this basic idea—giving consumers access to healthier cookware options—Caraway raised $35 million during a funding round in 2022. But in order to get to that point, the company first had to get their name out there and build a customer base.
That's why we're going to check out the marketing tactics that Caraway used to get on the map as a startup company.
By taking a look at Similarweb, we can see that organic search, paid search, and social media were the top channels Caraway used to drive new visitors to their website. In this marketing breakdown, we'll take a look at each of those channels.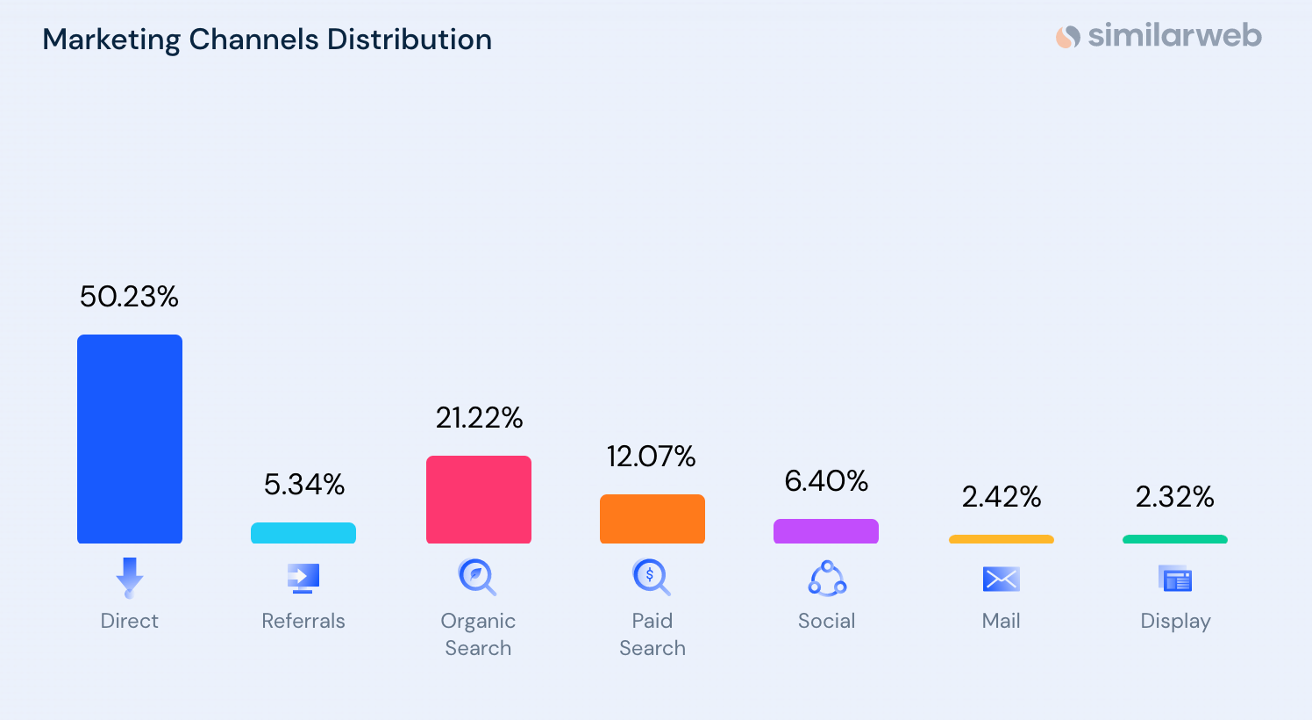 1. Get organic traffic from branded and non-branded search
Let's start by looking at Caraway's most important marketing channel: organic search.
Like many ecommerce businesses, Caraway invests a lot into search engine optimization as a way of driving traffic to their site.
Here are Caraway's top organic pages and the search keyword that brings the most traffic to each page: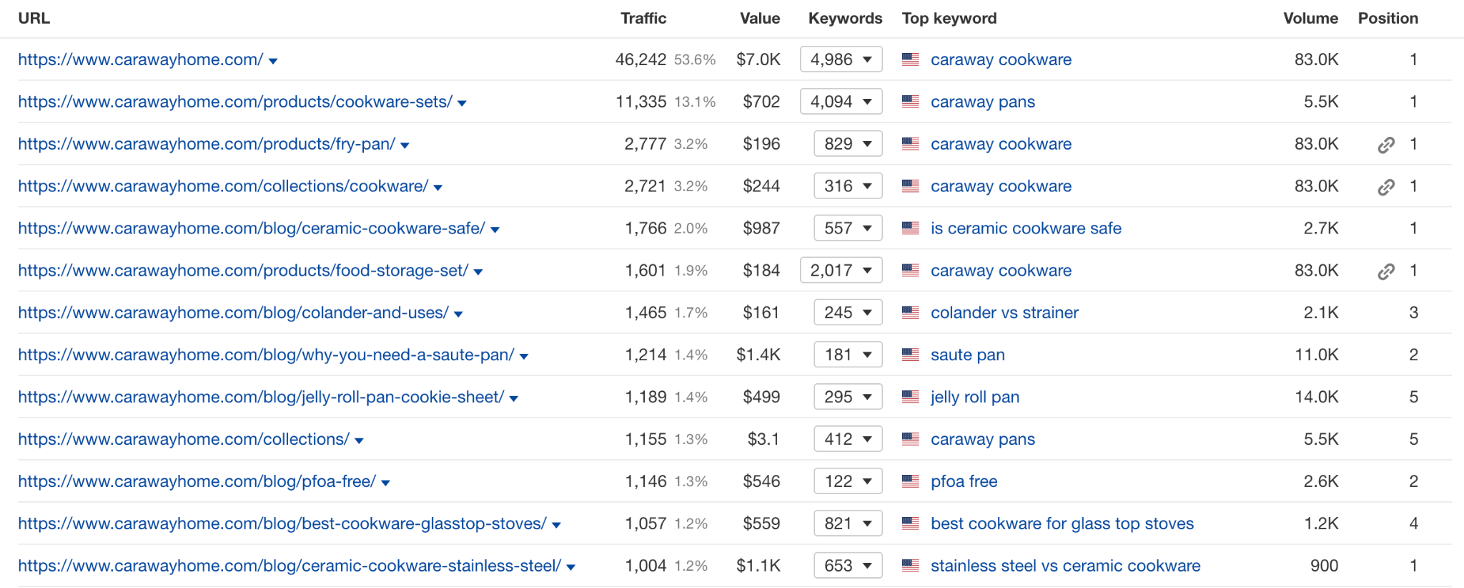 Examining these top pages, you can see that there are two distinct groups of page/keyword combinations:
Homepage and product page traffic, driven by branded search keywords like "Caraway Cookware"

Blog post traffic, driven by non-branded search keywords like "saute pan"
Traffic that originates from branded vs. non-branded search keywords brings in very different types of visitors.
Firstly, people who reach your website via branded search terms are already aware of you, which suggests that your brand-building strategy is working. These customers are highly interested in your products and are very likely to be making a purchase in the near future.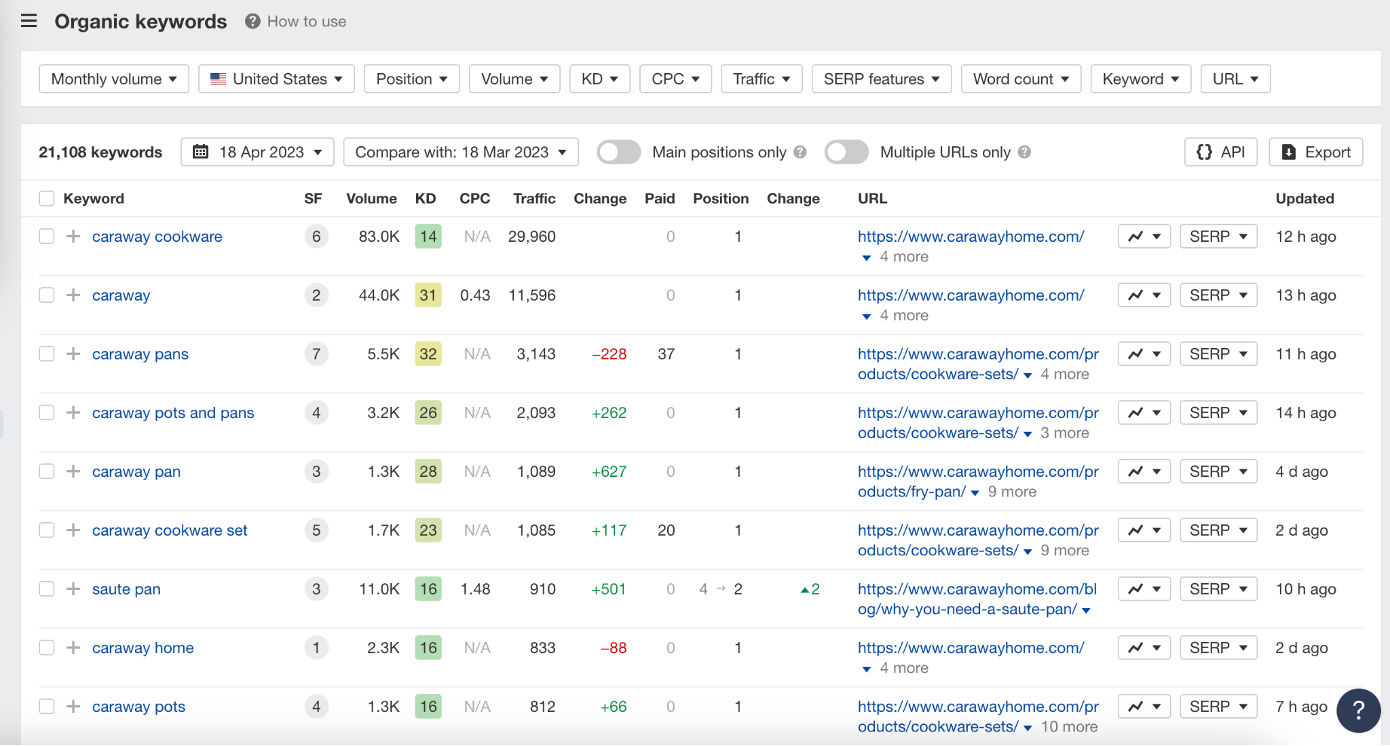 As you can see, some of Caraway's top branded keywords include:
"caraway cookware,"

"caraway pans," and

"caraway cookware set."
Organic searches like these, especially at the volumes you can see in the above chart, bring a lot of revenue for the company.
Secondly, non-branded organic traffic brings in users who are just starting to research a purchase and probably haven't heard of your brand. Rather than name recognition, this type of traffic is the result of strong content marketing and SEO.
Caraway generates a lot of traffic by outperforming their competitors and getting their blog posts to the top of Google search for keywords like:
"saute pan,"

"is ceramic cookware safe," and

"stainless steel vs ceramic cookware."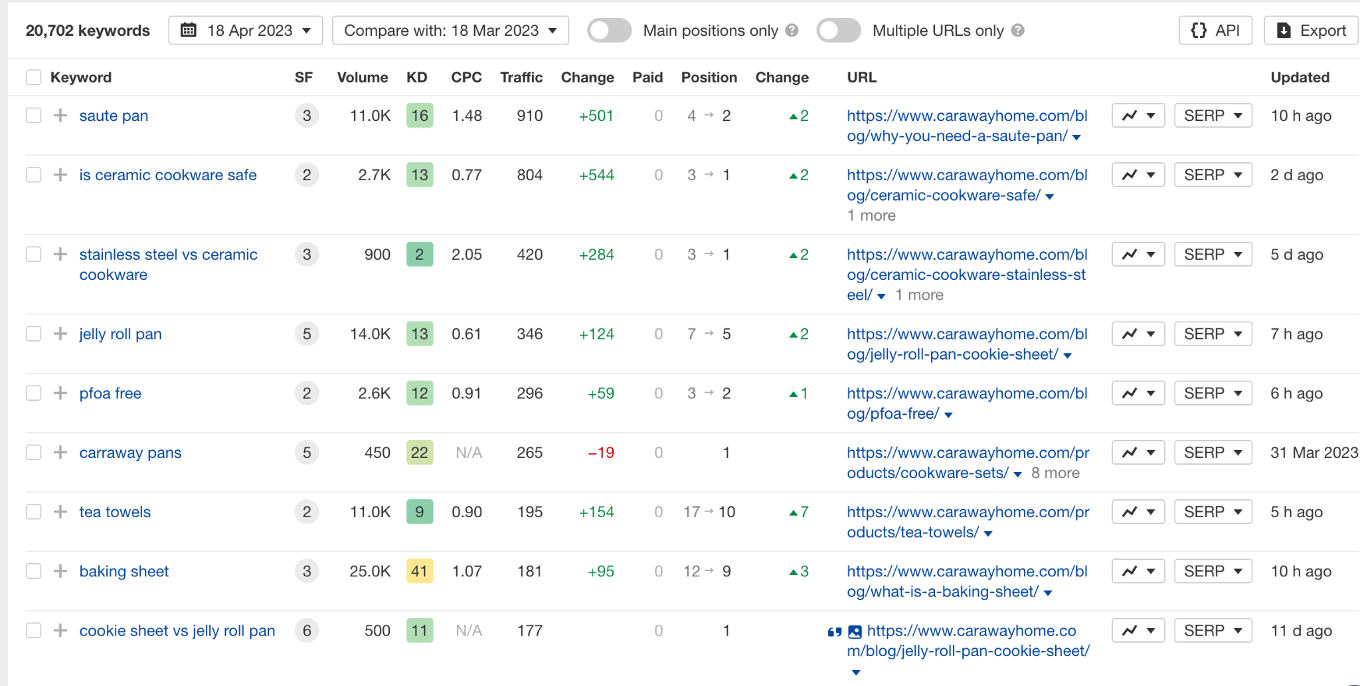 However, as Caraway knows, driving traffic to a website is only half the ecommerce equation. You also have to convert that traffic into sales.
Let's see what happens on Caraway's website when someone arrives from organic search.
For example, a Caraway blog post ranks at the top of the Google search results for "cookie sheet vs jelly roll pan":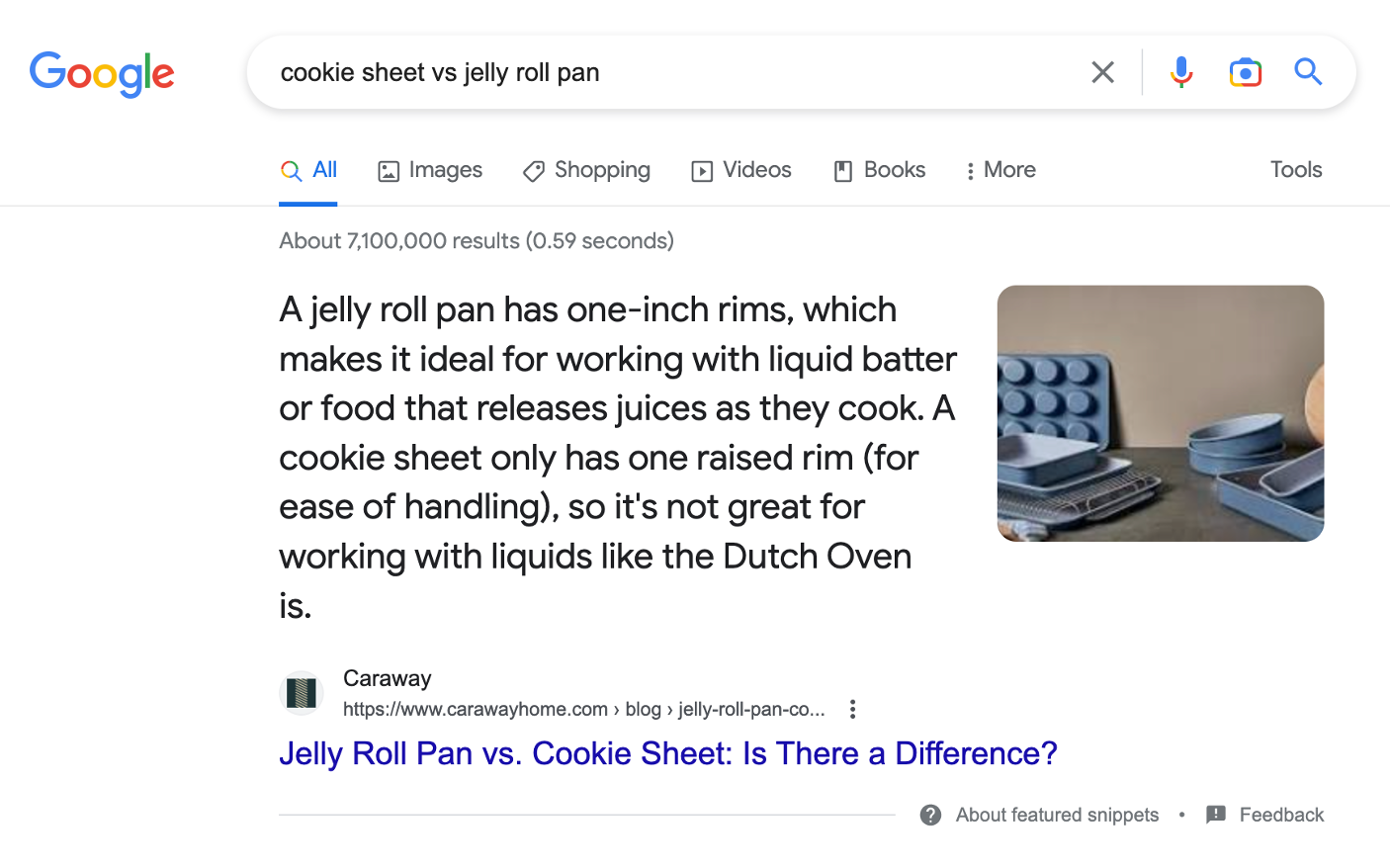 This article covers the difference between types of sheet pans, which provides real value to bakers who might be confused about the difference between jelly roll pans and cookie sheets.

They also—and this is key—recommend products that are related to the topic of the article at the bottom of the page.
This step ensures that anyone who wants to make a purchase after reading the blog post has options at their fingertips.
2. Use paid search to drive more immediate sales
Caraway doesn't just rely on organic search traffic, they also run paid search ads in the US and Canada.
They pay to rank their website for:
Branded keywords like "caraway reviews," "caraway frying pan," and "caraway pans"

Non-branded keywords like "white nonstick cookware," "green cookware sets," and "best rated non stick ceramic cookware"
All of these search ads focus on their USP, which is the fact that their cookware is made without toxic chemicals.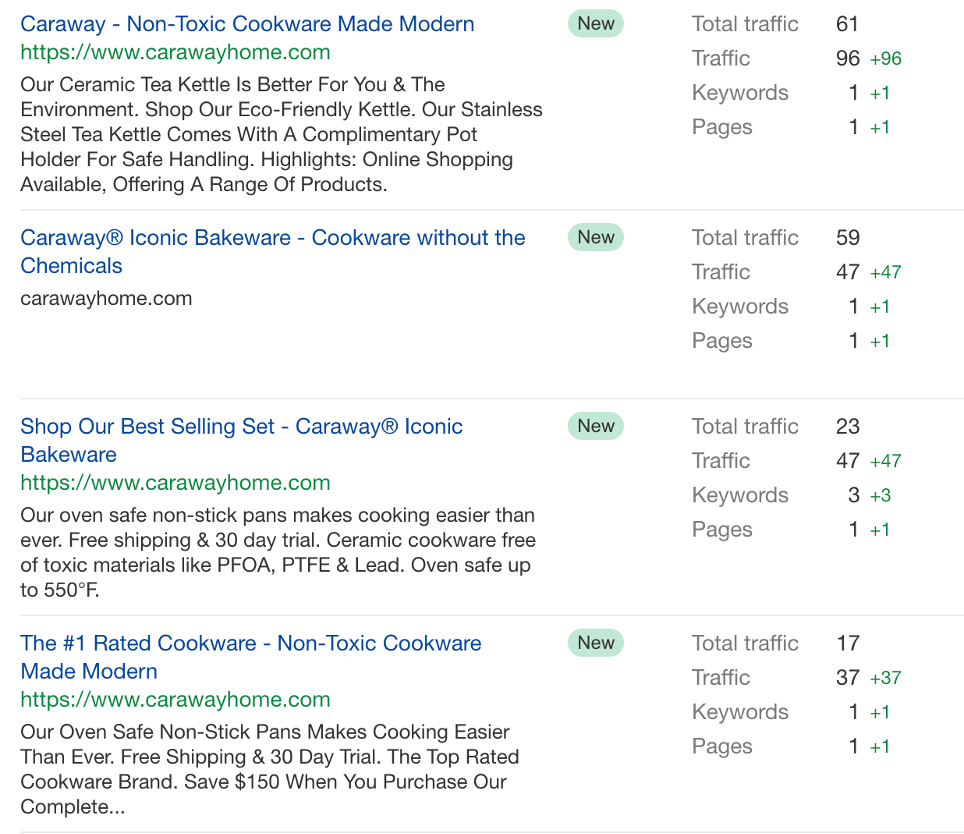 In addition, they run Google shopping ads: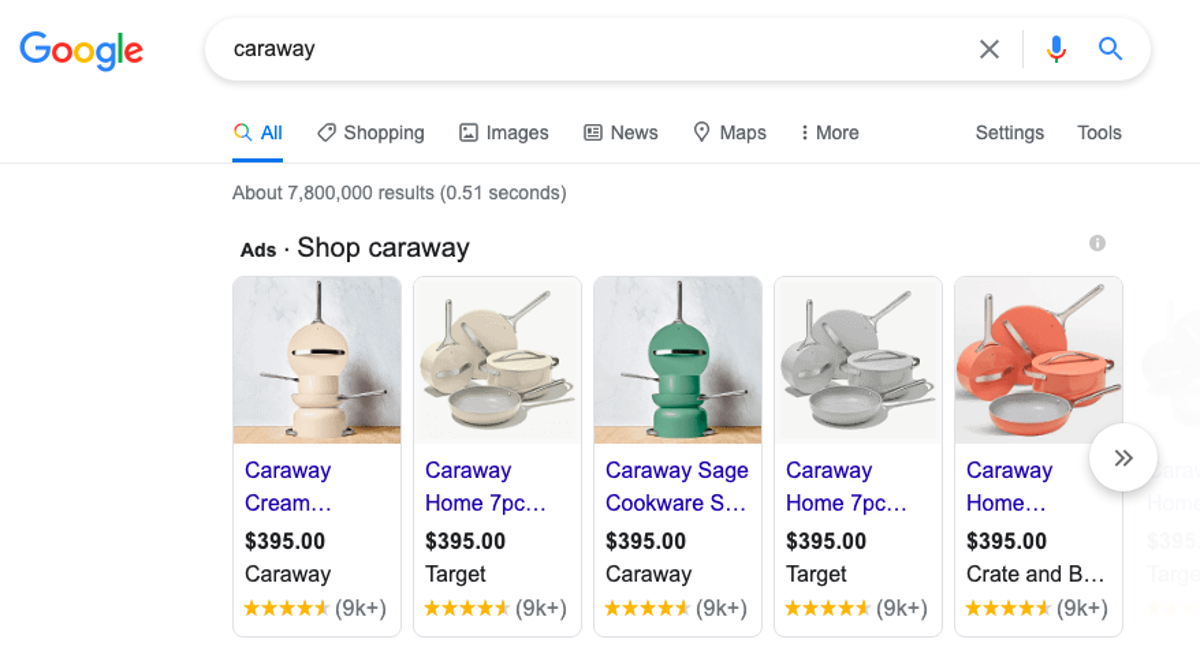 3. Get the most out of social media
Social media, particularly Instagram, is a big part of Caraway's marketing strategy. They try to make the most of the advertising possibilities on these networks in a variety of ways.
Caraway's social media team puts a lot of effort into creating beautiful, informative Instagram content. The goal is to help their audience understand how Caraway products can improve their life in the kitchen (while looking great).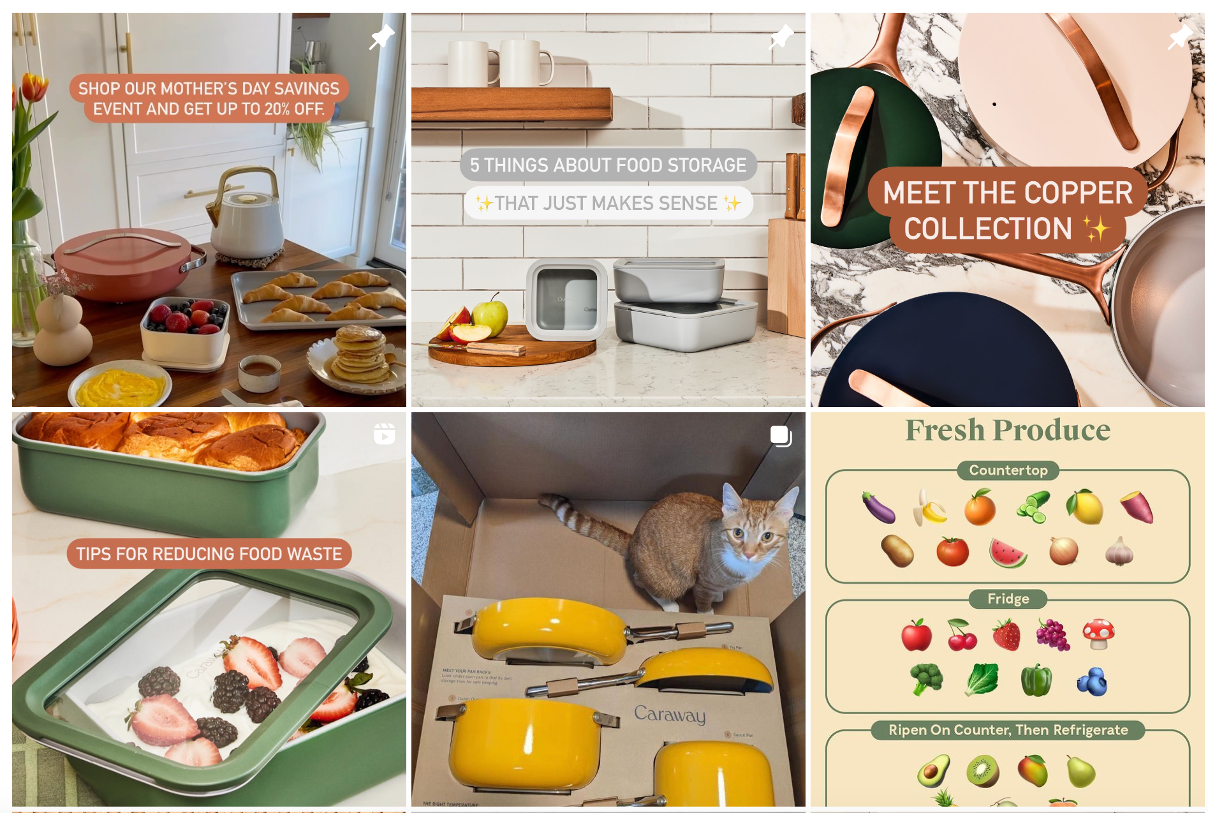 In fact, Caraway works with a number of design-focused influencers, which sets them apart from their competitors who tend to ignore the demographic that cares a lot about what their cookware looks like.
Of course, in their 1,000-strong group of brand ambassadors, there are lots of cooking-focused accounts too.
They also run ads with influencers, which look like this: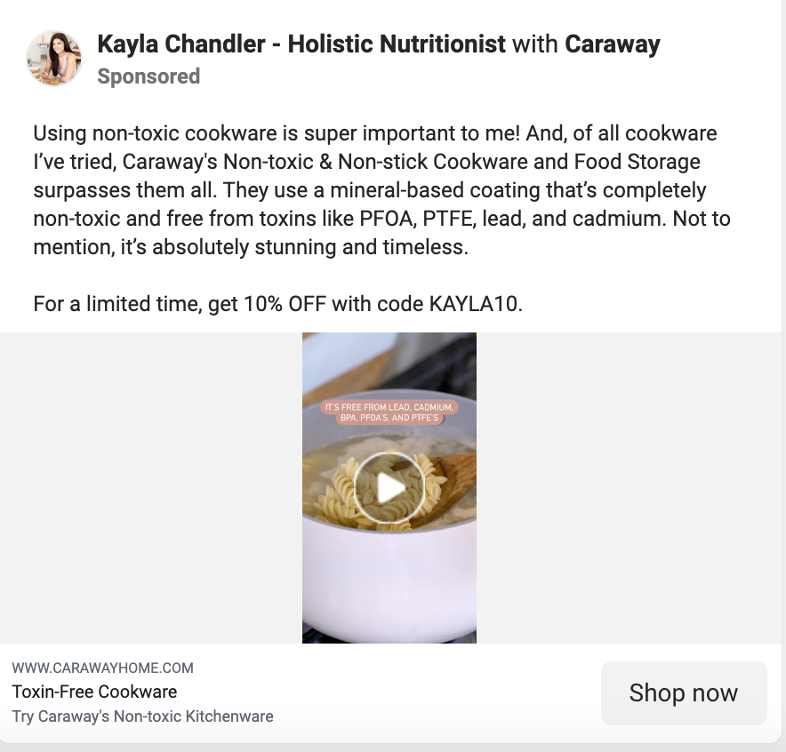 Another key tenet of Caraway's social media marketing strategy is their paid ads on Facebook.
They test out lots of different versions of these ads to figure out what works best on several metrics, including return on ad spend (ROAS), cost per acquisition (CPA), and the revenue driven from specific ads.
For some examples, we can look at how they compare video vs. static ads…

Ads that feature different color schemes…

And even how different landing pages (after an ad click) perform across various segments of their audience.
They're always looking to identify ads that work well for specific audiences and then landing pages that lead to high conversion rates among a group of customers.
Caraway also keeps their paid advertising fresh by using seasonal events as part of their pitch. Here's what their ads looked like in the lead-up to Mother's Day.

Finally, Caraway always uses lots of social proof in their advertising in order to highlight how happy customers are with their purchases. This can help alleviate any concerns that first-time customers might have.
Once Caraway drives traffic to their page through their marketing efforts on organic search, paid search, or social media, they're laser-focused on making sure these users don't just bounce.
That's why they show this fullscreen popup promoting free shipping to all new visitors, no matter which marketing channel they arrived from.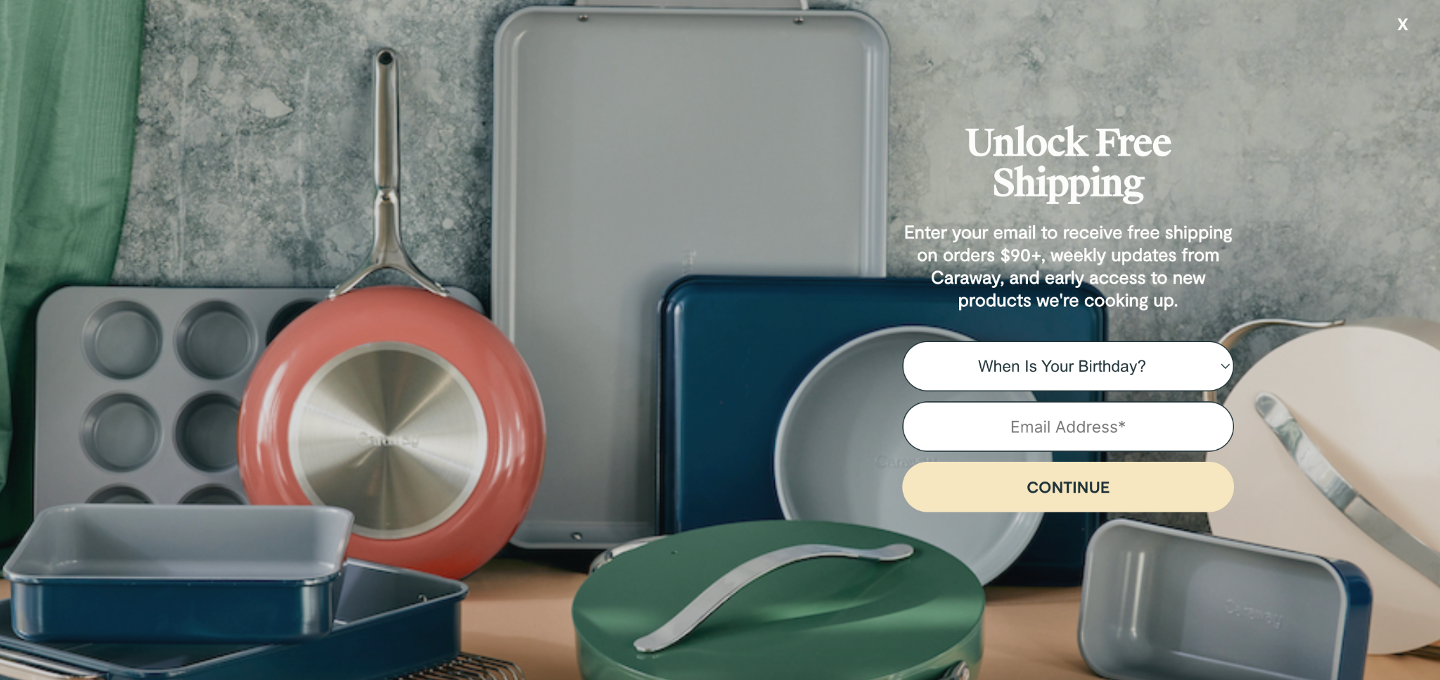 By asking for an email address in return for receiving free shipping on their first purchase, Caraway grows their email marketing lists and ensures that they have a way to stay in touch with each new lead.
On the second page of the popup, they also ask for a phone number. This extra bit of information allows them to use highly-profitable SMS marketing to encourage new visitors to make their first purchase.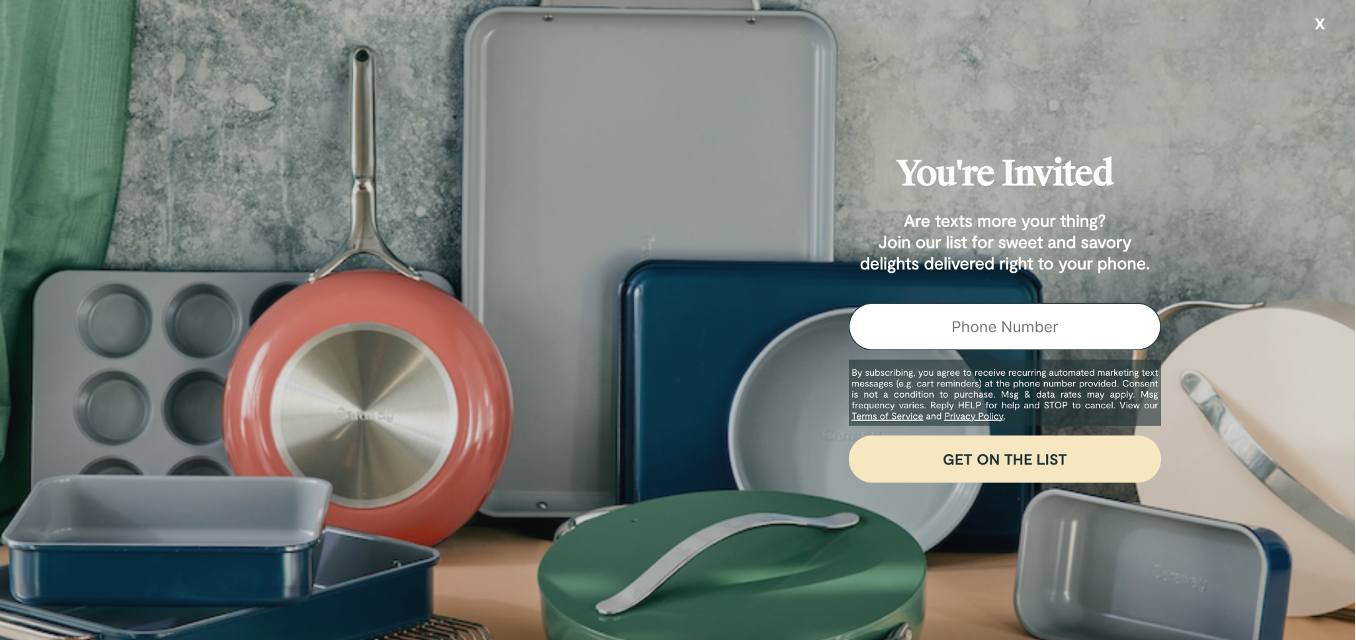 They also do a great job of highlighting their special offers on their website. Here, Caraway promotes a seasonal sale using a homepage banner and sticky bar: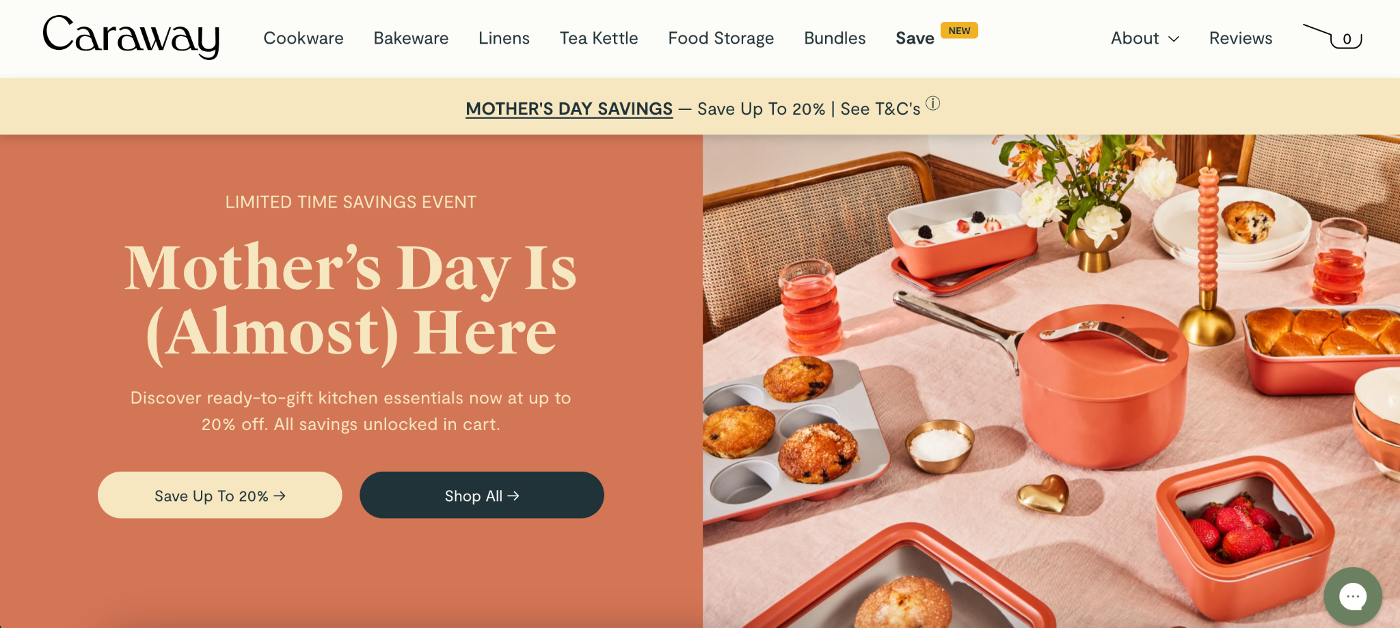 Take a cue from Caraway's phenomenal marketing tactics and witness the true power of nailing the fundamentals.
By adopting compelling content marketing and strategic search and social ads, you too can pave your way to becoming an unstoppable force in your industry.
Let Caraway's success story inspire you to break boundaries and transform your marketing strategy!