Feedback defines our lives in many ways. Without feedback, we couldn't improve or learn because we wouldn't know what we do well or poorly. We would be full of questions. Am I doing it the right way? How could I do it better?
If you don't ask your customers for feedback, you won't be able to improve your processes.
But how should you ask for feedback?
The answer's easy: use a customer feedback questionnaire popup.
Flip has also recognized the importance of feedback, so they made customer feedback popups an integral part of their marketing strategy.
We've interviewed them about how they got nearly 300 amazing responses from their clients.
Let's see!
Interview with Balazs Laktos from Flip
Hello Balazs, could you please tell us a bit about the company and the website?
Flip (www.flip.hu) is a telecommunication service, started by Telekom. It's a simple, and high-quality basic service for people who aren't looking for anything fancy.
It's reasonably priced. And customers don't have to worry about signing a loyalty period.
Compared to our competition, we don't offer extensive personal customer support. Instead, we provide our users with more of a DIY approach. We do this to be able to keep costs low. Indeed, this is one reason, why we want to maximize our online channel's user experience.
What is your role in the company and what is your most significant responsibility?
I am responsible for Flip's online appearances and online sales numbers as well as certain aspects of digital marketing and conversion optimization.
However, I want to say that my primary goal is for Flip to be successful, and not only its online platform. I genuinely believe in omnichannel cooperation, which seems to be successful.
Who is your target audience?
Those people who want a high-quality service without strings attached. Let it be about cable internet, TV or telephone.
What kind of challenges did you face to consider conversion optimization?
Unlike the rest of the telecommunication service providers, we are entirely online, meaning we don't have brick-and-mortar shops. This is why the conversion rate is of utmost importance for our brand to be successful.
We saw from analytics, that many people visit our site, flip.hu, but for unknown reasons they left without ordering. We knew we have an awesome product offer and we could get the conversion rate higher.
However, for that, we needed to do some research and testing. Thankfully, I got all the support and help I needed from my colleagues and we managed to achieve some great, quantifiable results.
What was the primary goal of the feedback campaign?
Our goal was to understand those visitors who have got to a specific point in the sales funnel (given their address, and Flip is available for them) but haven't ordered the service.
We showed an exit-intent popup to these people. Based on the responses we learned what kind of information we should display on the site to greatly improve the conversion rate.
Thank you for all your answers so far, Balazs.
Based on these, Flip created this feedback campaign to find out why their website visitors leave without buying their service.
In the end, more than 1,000 visitors saw this questionnaire. And the popup had a 28.71% conversion rate.
Now, let's have a look at their popup and what settings they used.
On the campaign's first page, they displayed those general options which they thought were the reason visitors were leaving without buying.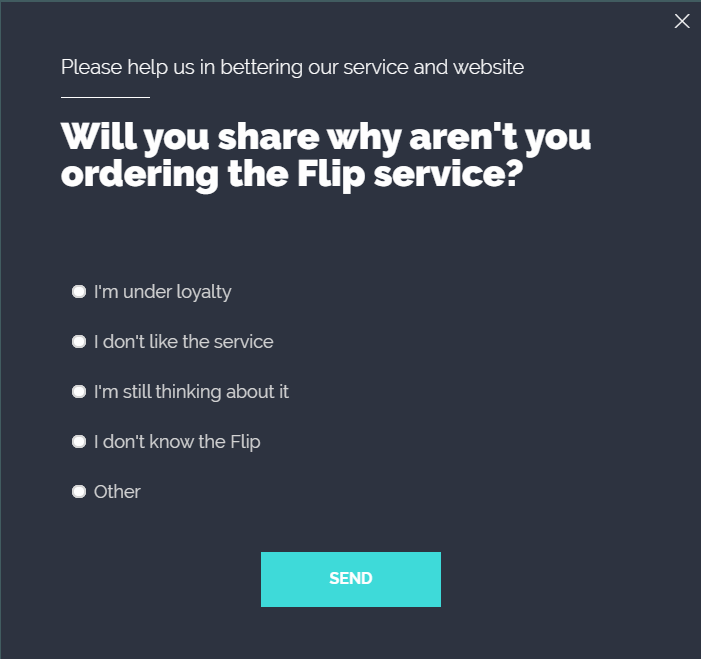 On the second page of the campaign, the visitors had the chance to express themselves in more detail and depth.
They could tell their opinion on the service, supporting the idea that their view is important: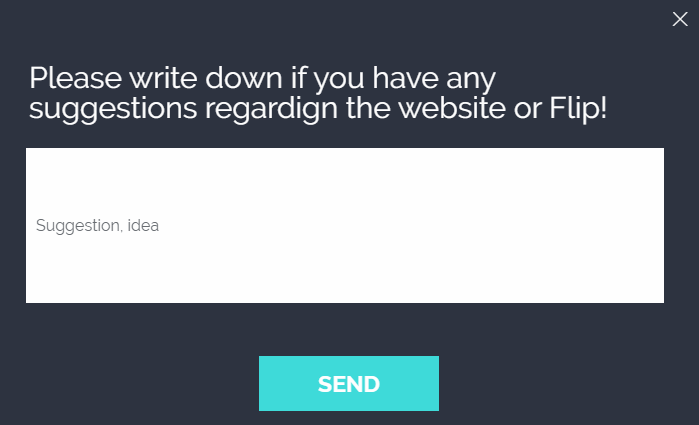 Finally, visitors were faced with a closing "Thank you" page: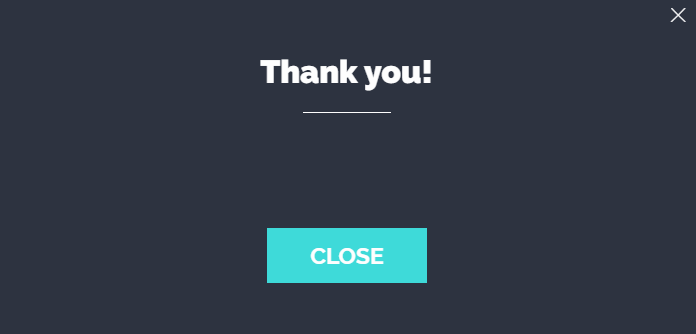 Now, let's have a closer look at what kind of setting Flip used with this questionnaire.
What were the settings that you decided on? (To whom, when, did you exclude any group, etc.)
The questionnaire appeared to those visitors who have provided their address and the service is available for them but decided not to go through with the order. For this kind of targeting, we needed to set a custom Event in Google Tag Manager. At this point, I got stuck, but the support team helped me out.
For this, they used these settings:

As the Flip team was curious about why do people leave their site without ordering the service, the campaign was only shown on exit-intent:

And only to people who have spent at least 3 seconds on the current page:

They wanted to exclude those visitors who already own the service and have gone through the sales funnel. So the popup was only shown to visitors who haven't been on the "thank you" page yet.

By only showing the popup to visitors who have not seen this message before and have gone through their sales funnel, Flip could keep the user experience smooth running on their website.
There are numerous solutions for gathering feedback from visitors; some are more effective than others. Why did Flip choose OptiMonk?
Will you tell us why did you choose OptiMonk?
I have looked at many software that offers exit-intent popups. I have trialed some, compared function, price, customer service, etc. As I did my research I realized, OptiMonk wasn't the cheapest, however in knowledge and in customer service they were in a league of their own, incomparable.
How did you measure whether it was worth it?
I needed answers. In a short amount of time, I got them, thanks to the questionnaire. What was even better, is that I could easily export it and convert it into a diagram.
How long did it take to see the campaign's results?
In a week I got all the information I needed, so I turned it off and focused on incorporating my newly found knowledge.
Measured in percentage, how much did your conversion rates increase with this campaign?
As it was more of an experiment, this isn't realizable in a direct manner, yet.
Don't be afraid to ask for your visitors' opinion. They will be happy to share their feedback, they will feel more involved and appreciated.
Flip dared to ask and with a well-targeted campaign, they reached their goal and received nearly 300 constructive criticisms. Now they are working on improving the site based on the feedback to make their sales funnel more natural and more appealing to their visitors.
(Note: Do you want to get feedback from your visitors too? If so here's the perfect chance to create a free OptiMonk account. Just click here and you can start building your own campaigns immediately.)