Popups can be tricky. They are perceived differently by almost every person. A popup might be annoying to an older person; it might be a good deal that a teenager is waiting on or it might be an offer for an amazing marketing tool for ecommerce site owners.
This list could go on and on, but one thing is for sure, average people–who have never worked with popups–think of them in a much different light compared to those who use them frequently and see their benefits.
Regardless of the occupations and the stage of life of people; popups are being perceived in a negative way. And maybe these misconceptions are the reason why some people are afraid or resistant to jump into the colorful world of onsite messages.
In the following, the top 5 +1 most common misconceptions will be taken under the microscope. We will see whether popups deserve the negative light they get.
Maybe we will come to the conclusion that they are an amazing resource that could be very useful to increase conversion rates. Who knows?!
1. Popups are annoying and they ruin the user experience
First of all, let me clear the air and say: yes, poorly optimized popups can be annoying and bad for business.
However, popups that are well optimized and are created with the user in mind usually aren't bothersome. Instead, they can extend and improve the user experience.
You should make sure of a few things to be able to create amazingly optimized popups. Thankfully there is only three component to this equation.
First off, as in every marketing campaign, you should identify your target customer.
Once you have a persona in mind, you can craft the right message, because you already have the right people.
Finally, you have to decide the right time to display the popup. We will talk about timing later on, so keep on reading.
As for ruining the user experience, if you have met all three criteria mentioned above, it is almost impossible to create popups that ruin the user experience, rather it will enhance it. You will be able to communicate to your visitors ongoing special offers, even based on their browsing history; give them coupons to incentivize purchases or encourage them to subscribe to your newsletter in exchange for an eBook; just to give you some ideas.
2. Popping windows vs overlays
Another misconception lies with the name. Original popups are the truly annoying, popping windows. The kind of popups that we are talking about are usually called overlays or on-site messages.
We use the term popup for ease of understanding, but we should get on the same page here, so there won't be misunderstandings.The original popups are those, that browser extensions, like Adblocker block. They usually open in another tab or window and while they are open, they take all your attention away; also you cannot access the navigation bar. So, in short, these are the "bad" popups.
Overlays, on the other hand are much more friendly. As the name suggests, these "popups" appear on the same page as an overlay, allowing the visitor to access the navigation bar. The best thing about overlays is that both Bing and Google are fine with these kinds of overlay popups. At OptiMonk we use these kinds of overlays, popups or on-site messages (as we like to call them), so there is no risk in using them.
3. They can only be used for exit intent
One thing is for certain, exit intent popups are still the most widespread around the web. However, the good news is; there are plenty more ways you can leverage the power of on-site messages, these can be triggered based on various actions and settings:
Based on the time spent on page: Display your message after a specific time your visitor has spent on your page. But do not display it straight away when they arrive, that will make them close your site. Wait a few seconds, let them get to know you offerings first and then, show them the message you want to communicate. This timing will depend on your average time on page (you can check this in Google Analytics), but we advise you set it at least to 3 seconds per page.
Based on scrolling: You can show your message to visitors when they have scrolled down half you page, for example. This will be affected by the length of your pages. As an example, we can assume if a person has scrolled down to the bottom a blog post, they have read the post and are ready for a new message.
Based on inactivity: Display your popup to encourage your visitor to act and not forget about the page (s)he was on. We all live hectic lives, so it is not uncommon to be distracted. As webshop owners, we all want our visitors to interact in some way with our website, and when our potential customers get distracted, interaction stop. This is why it is a great way of triggering popups.
On click: You can have popups being triggered when your visitor clicks on something you have already set. This 'something' can be any element, text or picture, that triggers the popup and the message.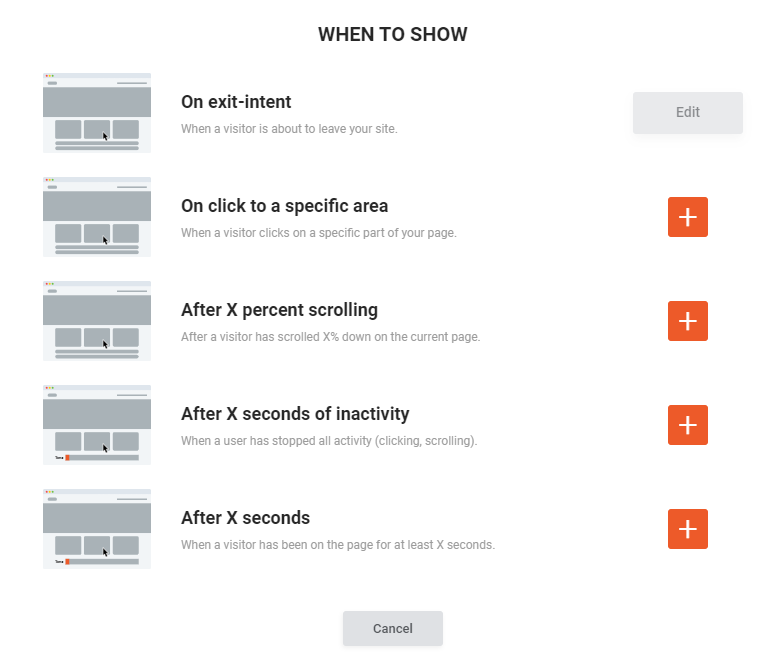 4. They are not effective
Some people, whenever they see a popup they just click close and don't even pay attention to these little messages. Yes, for them popups are ineffective, however, thankfully, many people think otherwise, so it is a prominent way to communicate messages toward your audience.
Let it be about warning them that your stock is running low and they should act fast or incentivizing them by providing coupons to ease their purchase process. Or just simply asking them a few questions regarding your service or maybe why do they leave your site without buying, which hopefully no-one does.
Businesses that use OptiMonk's intelligent on-site messages, for various reasons experience an increase in leads, newsletter subscribers and revenue. Just take a look at one of our many case studies.
We are proudest of Avon, who increased their sales by 150% in a short period of time with both popups and sidebars. (the picture below displays a popup that they used)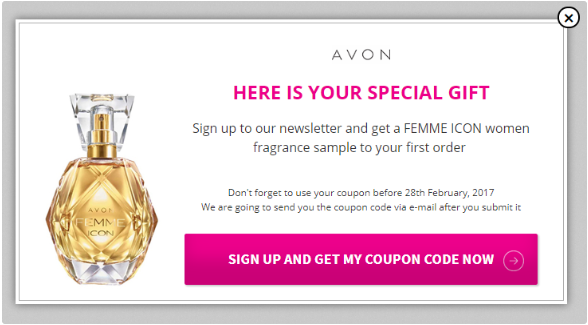 As another example, have a look at Extreme Digital, who gained over 65,000 new subscribers in 41 days. They used this and similar other popups in order to gain more newsletter subscribers.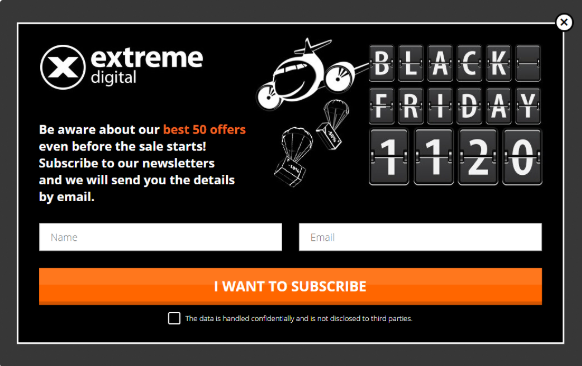 We have many more success stories, which showcase the power and effectiveness of on-site messages.
5. They are not SEO friendly
When in 2016, Google announced that they are changing their policies regarding "intrusive popups" many didn't know what they were talking about. In short, Google only kept their increasing mobile users in mind and wanted to make sure their experience was just as smooth as it would be on computers. The basic takeaway is that Google treats those popups that cover the main content or cannot be closed badly.
Instead, if your popup is there to warn your customer about your cookie policy or to verify their age you won't be punished. The good news is most of OptiMonk's popups are like the latter, so you won't be penalized by Google. We pay very close attention to these industry musts so you don't have to.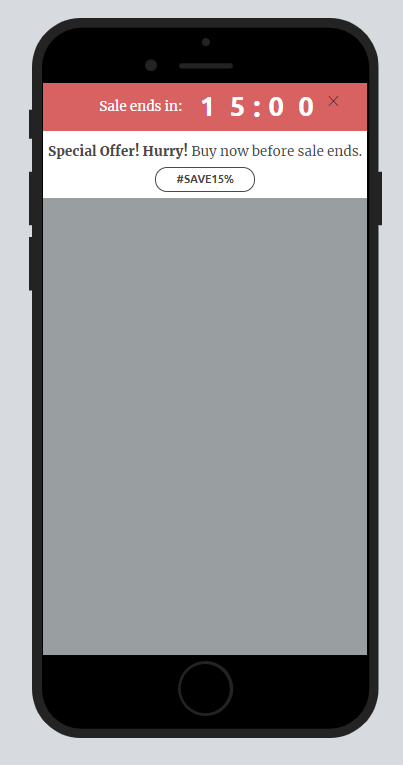 If you want a more detailed explanation about this topic, read this article about SEO-friendliness of popups.
+1 Popups are not GDPR complient
As a bonus, let's talk about the newest addition to regulations that affect our everyday work, the General Data Protection Regulation (GDPR). This is a new regulation which was introduced on 25th May. It is aimed at enhancing data protection and privacy for all individuals within the European Union. It applies not only to the European Union but to any business that controls data of EU citizens.
As some popups require the visitor to enter their name and email address, GDPR affects them as well. You must receive an active opt-in from your visitors in order to be able to send letters or contact them in any other way. In order to make your popups GDPR compliant, you must include a checkbox which assures the visitor that you won't be giving their data to third parties. The only exception is when the primary purpose of you popup is to sign your visitors up to a newsletter.
At OptiMonk we made this process very easy, you can make your popups GDPR compliant with just a few clicks.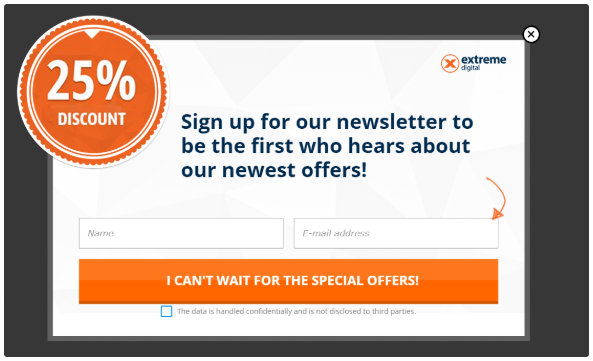 In conclusion; popups come in many shapes and forms and still, there are many people out there who are confused when they hear about popups and have stereotypes towards them.
There are things we need to keep in mind though, for example, there is a big difference between "original" popups – that appear in a separate window – and overlays or on-site messages. Thankfully, overlays are more widespread, so it is much easier to engage your visitors in a different and much more effective way.
Also, it is good to remember that there are more ways you can trigger an overlay than just exit intent, even though it is the most used form of popup. Furthermore, you don't have to worry about being penalized by Google – SEO wise -, if you abide by the rules, detailed in this article. Finally, if you want to, or already are, using OptiMonk don't worry about the latest regulations, like GDPR, because we always try our best to create a solution that is easy to integrate and is in line with the newest regulations.
Did we covered some of your misconceptions regarding popups? Whether your answer is yes or no, let us know in the comments below!