Some days you just decide it's time you send a newsletter.
Some other days you know you MUST send a newsletter. If, that is, you want to skyrocket your sales and conversions.
And you should feel thankful for those days, because oh dear, they are a goldmine waiting for you to exploit it.
The name of this goldmine?
Seasonal email campaigns.
What exactly is a seasonal campaign?
Well, actually it's what the name implies.
An email marketing campaign aiming to capitalise on certain holidays or events appealing to the consumer.
In other words, open your calendar and mark all the days people out there find a reason to celebrate.
Because these are the days when your readers are willingly to pay their festive mood more than you can imagine.
Be it a religious holiday, the beginning of a season or an annual festival, it's always a great chance to create an email marketing plan and supercharge your strategy to see your sales and KPIs soar to greater heights.
Yes, you do.
And there are a couple of reasons for this.
7 actually.
1. It shows you care
About both your brand perception and your customers. By using various holidays to offer your readers deals, discounts, and freebies you promote customer loyalty, super effective for increasing your ROI.
2. It can increase sales
According to research, ecommerce sales were expected to grow by 17% during the holiday season of 2018. Great chance even for an otherwise quiet period.
3. It provides a memorable experience
Send your readers an email that catches their attention and trust me, next time they want to buy online you will be the first brand to come to mind.
4. It increases brand awareness
An emotional email can invoke nostalgia, FOMO, and memories and finally make customers decide with their hearts. These buys are usually the ones that become the word of mouth and help your brand stand out and gain new audiences.
5. It increases your company's visibility
A successful seasonal email marketing campaign can help you create a more loyal fanbase and increase your sales cycle.
6. It works for everyone
You don't have to run a seasonal business in order to take advantage of seasonal email marketing. All you have to do is customize your email accordingly, or even your products to match the festive season.
7. Customers ask for it
We all want a snugly Christmas jumper for the family photo and will never get tired of showing our best friend what a great Valentine she is by sending her a box of chocolate hearts.
Tap into the seasonal goldmine
If you open a calendar you can make an endless list of events that can make of a seasonal email marketing opportunity.
There's Mother's Day, the first day of school, the Chinese New Year and the National Coffee Day. God, there's even a Star Wars day (best day if you ask me)!
But there's no need to give your sunglasses a Darth Vader revamp or bake coffee cakes to see your sales going up.
You just have to set up a stellar seasonal email campaign for the most important marketing days and get a piece of the holiday pie.
To do that there are countless newsletter templates for you to get inspiration from.
Pro tip: Leverage social listening to understand your customers as well as draw inspiration for your campaigns!
1. Trick - AND - Treat - Them
Last but not least, our good old Halloween.
Personal favourite, Halloween is hands down the most fun seasonal campaign where you can go crazy with your puns guilt – free and get mercilessly creative.
Let alone that it's one hell of a season to sell your goodies and engage with your customers.
To prove it, here are some wicked Halloween shopping statistics for 2018 from the National Retail Federation:
69.8% planned on celebrating Halloween.

More than a third had plans to start their shopping in September or earlier.

958% planned to buy candy while 72% decorations.

Celebrans planned to spend an average of $87.
Halloween's language is moons, witches, pumpkins, ghosts and the like. And if you don't speak it, you will never get to haunt your customers' heads.
Use a festive color palette that screams "Halloween", try retro and go bold on "creepy" textures that bring dynamic and depth to your design.
Of course, that doesn't mean you should go spooky all the way if that's not your thing or doesn't match your brands' identity. A dash of magic can do the trick as well.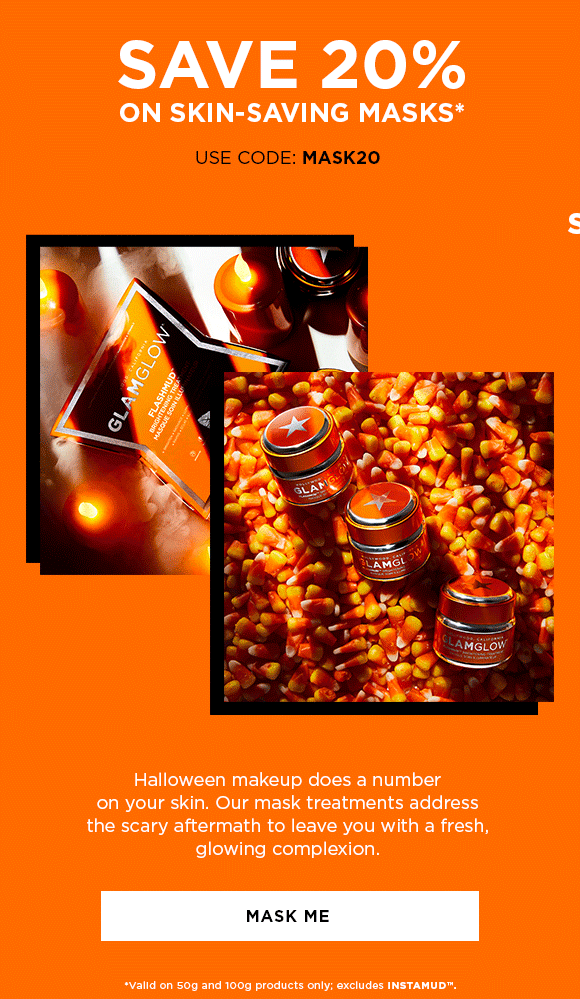 GLAMLOW's seasonal newsletter keeps it simple yet gives the required tone by using an orange palette, from the background to the products. The witty quote running the screen is just enough to make the email pop up and catch the readers' attention.
Of course, you don't have to sell costumes, candy or decorations to grab this spookalicious marketing opportunity. You just need to get creative and Halloween-ize your products to match the spirit.
If, for example, you are in the coffee business you can create some boo-tiful personalized cups or drinks with a Halloween flavor in them (and no, pumpkin is not the only option out there!).
And if a Halloween photo shooting is not in your plans, no problem! You can always add some spooky sketches to your photos and – bam! you have a super unique and easy design that your readers will remember.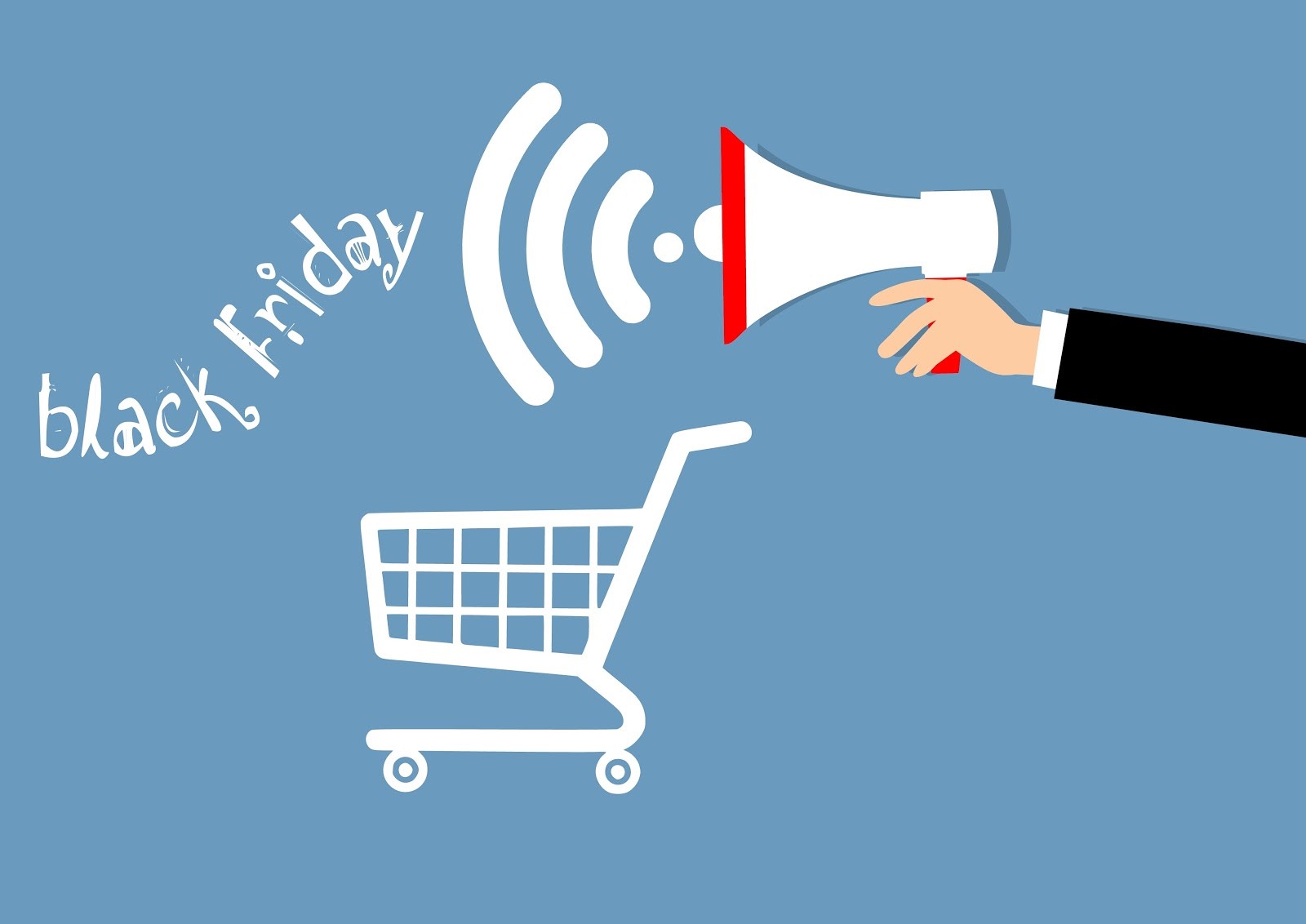 No surprise here, since Black Friday is one of the most anticipated and profitable days when it comes to retail.
And it's your best chance to get your consumers crazy over your products by sending them an email with some hard – to – ignore offers and discounts.
Since it is close to Christmas, Black Friday is a one of a kind opportunity for your customers to buy presents for their loved ones, grab the perfect party dress or stack up their favourite wine for the Christmas Eve soiree.
It's the biggest online shopping day ever. But it's only a day.
What does this mean?
That it's your chance to create a sense of urgency and trigger FOMO to make your customers grab your offer "before it ends".
Remind your customers your sale will be ending soon and make sure you highlight how popular your products have been the past month or week. It also helps to set up a pre – Black Friday email campaign to get your customers excited about your upcoming sale.
Some powerful words to express urgency are:
Limited Time

Only

Last Chance

Don't Miss Out

Offer Expires

Exclusive Offer
Another great way to engage your readers and followers is to create anticipation by sending them an email which informs them of your upcoming Black Friday sale.
Give them something to expect, arouse interest and create one more opportunity for your Black Friday newsletter to be opened.
However, remember that Black Friday is a crazy offers day anyway, so you have to go the extra mile and surprize your customers by using your creativity and unique style.
Forever 21 for example created a playful and simple Black Friday newsletter by incorporating GIF's that offer three different prizes. Who wouldn't play along?
Need some great ideas to make your Black Friday newsletter stand out?
Offer your subscribers a free gift with a purchase, create hourly deals, offer free shipping or even an upgrade to your subscribers.
3. The Email That Stole Christmas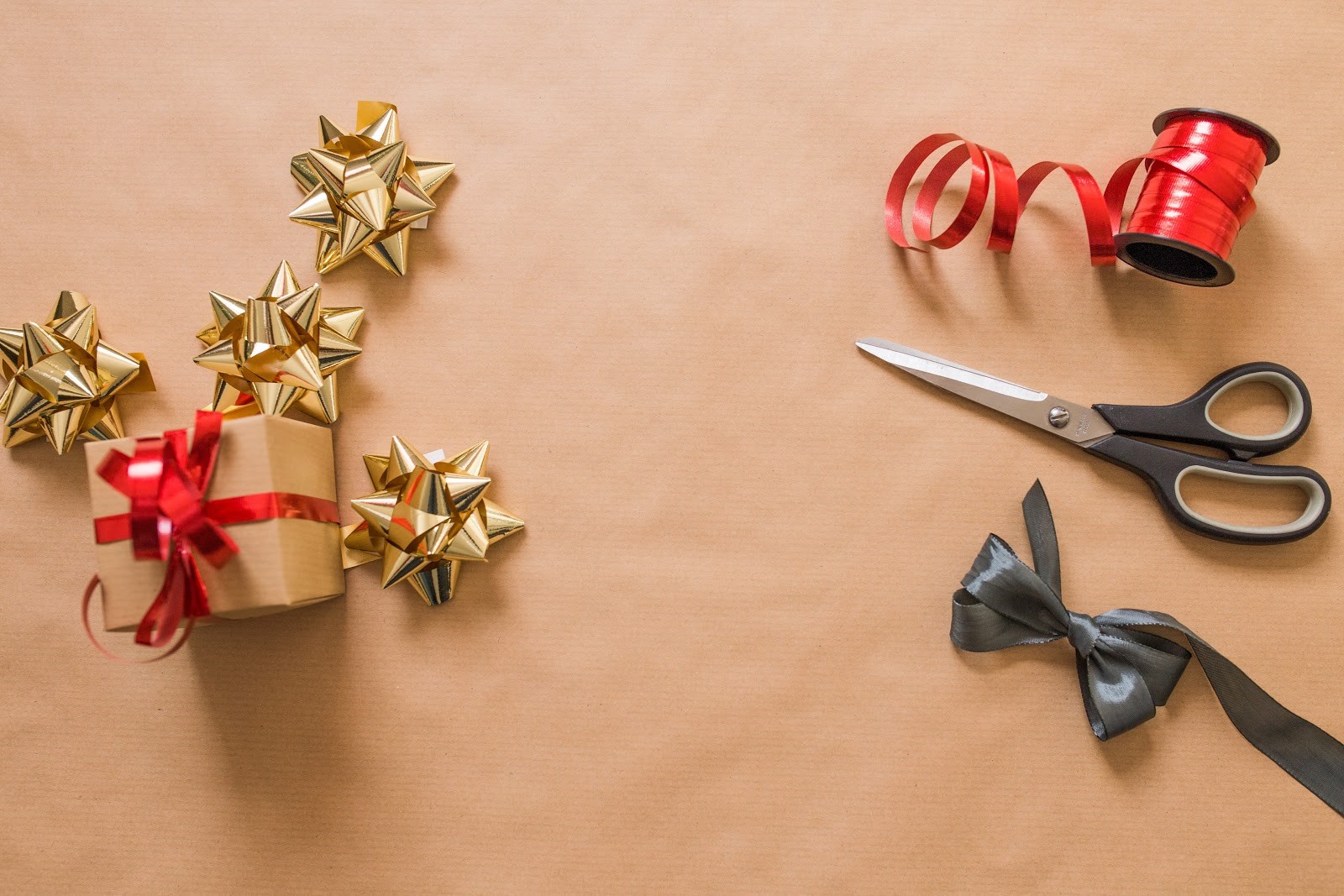 Oh deer! Christmas! The season of joy, warmth, smiles. And marketing. Because, what would Christmas be if not for the Coca Cola adverts or your TV or a Starbucks toffee nut latte in your hands?
And I don't think it's just me. Something gets us every time during Christmas and we can't wait to shower our friends and loved ones with presents and frantically spend our money in cute, shiny things.
Sounds like taking candy from a baby, right? Well, it's not exactly the case, since competition is extremely fierce on Christmas and you really need to put an effort if you want to stand out from the crowd.
But, hey, good news. Unlike other holidays, that Christmas feeling starts very early and lasts for a couple of months at least. So there's your big chance to build a strong list by dividing your campaign into three or more stages.
Since it's such a special time of the year for customers, they want to make mindful buys so you have to gradually win them so you become their first thought when it's finally shopping time.
Don't forget, it's the holiday of love and warm feelings.
The more you invest on your relationship with your customers, the more they will appreciate it.
As a rule of thumb, content is king. But, guys, we're talking about Christmas here.
The season where the word extravagant is what cream cheese is to a bagel, where red, golden and sequined whatever is everyone's' bread and butter.
And you think you can get away with just a few ho ho ho's and a mistletoe?
Nop. Sorry. Not gonna happen.
In email marketing, visuals are your best friend when it comes to getting your message across so don't be a Scrooge and surrender to the festive madness.
Create a responsive newsletter that will reflect the mood of the season, combine it with a simple yet fabulous design and don't be afraid of using animated GIFS and videos to add that extra something that will make your sales explode.
Finally, don't forget to customize your email with a seasonal Christmas message that will spark interest and motivate your customers to choose you.
Like Volotea did here!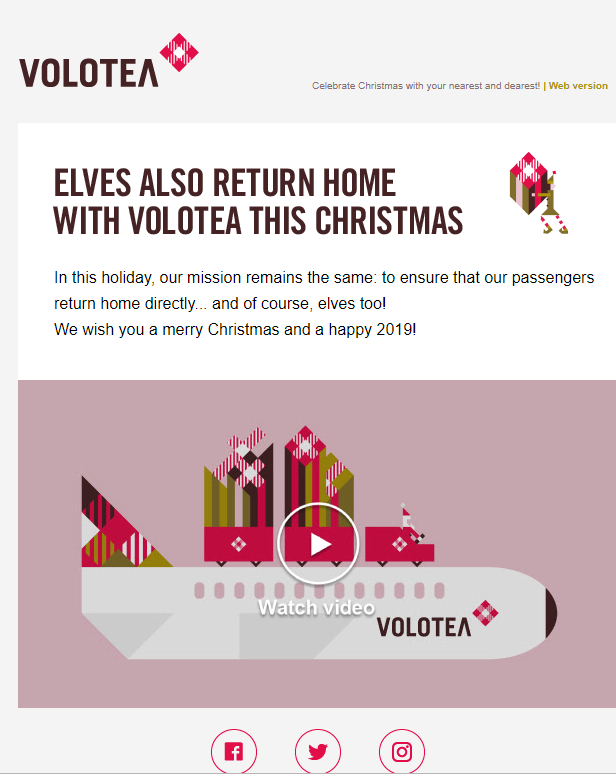 The airline company teams up with elves, incorporates a subtle yet festive palette and creates an oh so Christmassy plaid pattern that adds a cherry on the ice cream.
Nostalgia creeps in suddenly you want to fly home. Now. With Volotea.
Need some extra inspo for your amazing campaign?
You might want to:
Create a Christmas guide. They can be a lead magnet.

Offer last minute deals the week before Christmas

Send Christmas recipes.

Show your love for the holiday by sharing Christmas staff photos or videos.

Customize your Christmas gift packaging.
Who said Valentine's Day is for kids? Cheesy as this day might be, it still represents a major revenue driver in countless sector.
Not convinced? According to the National Retail Federation "between 2009 and 2019, the average amount consumers planned to spend on Valentine's Day gifts increased by $60" and studies have shown that the average online spending for the day increases every year.
So be a sport and spread the love, never forgetting to divide your contacts up depending on their age, gender, interests and of course by their relationship status. Single people out there don't need a significant other in order to celebrate love.
I find this Kate Spade newsletter a great example.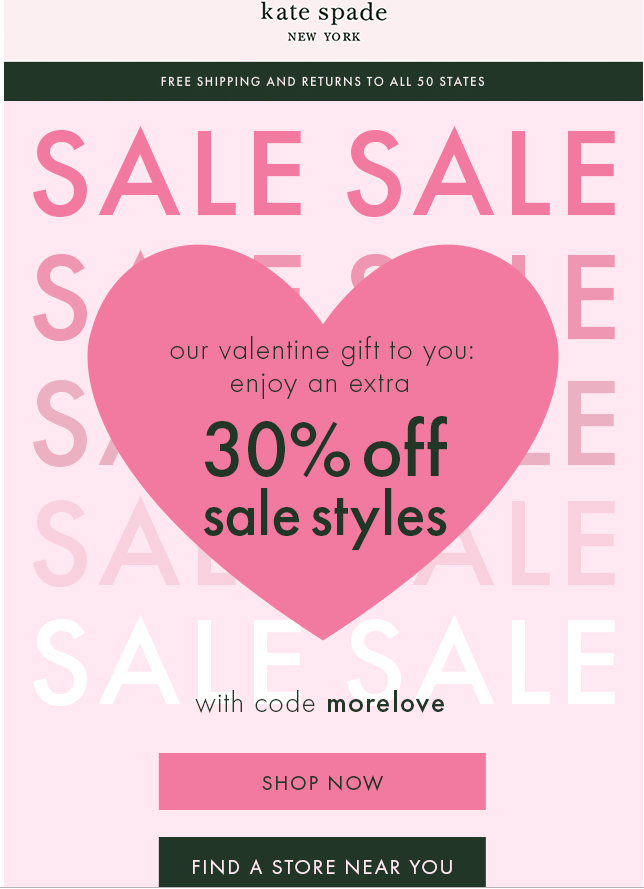 Ok, there's a big, pink heart in it. But it's pumping.
The rest is quite simple and that's what makes it so effective. It doesn't use any corny language to promote their offer. You don't need to be a woman to dig in their sale styles.
You don't need to be looking for a present. Heck, you don't even need to be a lover searching for their perfect date dress.
All you need is to love Kate Spade (this is why you subscribed in the first place, right), and so a 30% off is always enthralling.
And would you please look at that morelove code!
It may be a day of love, but it is also a day of stress. Customers fear that they might be late for giving their presents and it's your job to reassure them it will be on time as well as send the email right on time.
Not too early, not too late.
Early delivery ahead of the big day sure is a huge plus.
Mastercards' survey on Valentines Day showed that the majority of Valentine's purchases happen on the 11th February. So it might be a good idea to craft a pre-Valentines Day email a week before informing your customers for your upcoming offers, and then sending your full – of – love newsletter to melt their heart once and for all.
And if melting hearts isn't exactly your thing, then my Valentine's Day newsletter checklist might be of help:
Have you segmented your email list?

Have you scheduled your emails for the right day?

Have you added a name personalization to your subject line?

Have you created a special Valentine's Day themed design?

Have you added a Valentine's Day countdown timer?
It's the most beautiful time of the year. And, apologies to Mr. Williams but no, it ain't Christmas.
The trees are blooming, the birds are singing, the lovers are uniting and everyone is happy and more receptive than usual.
And this is where you come in. Apart from its religious character, Easter is also associated with family time, spring cleaning, food and new beginnings.
Alright, and chocolates.
According to the National Retail Federation's annual Easter survey, $151 is the average planned amount those celebrating the holiday will spend.
What is even more interesting is that 85% of Millennials (ages 18 – 43) plan to celebrate Easter, so you might want to target your younger audiences and plan your email campaign accordingly.
Paperchase is not seasonal, of course. But they grabbed the chance and customized their product joining the festive spirit, incorporating some clever puns.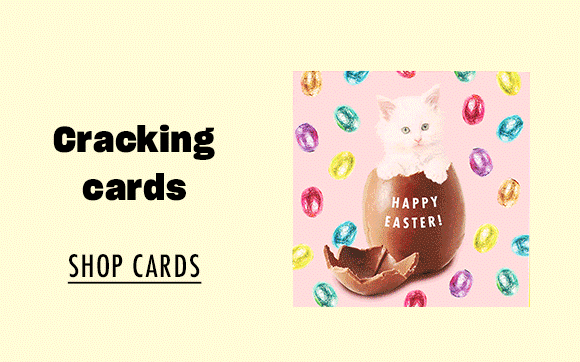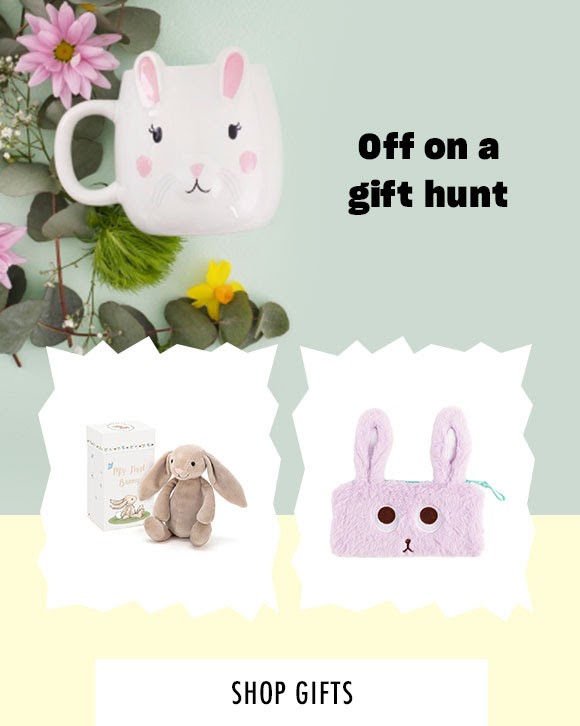 Grab this wonderful chance to re-engage with your customers and make an "egg-stra" special newsletter to promote any seasonal offers or take the chance to say hello with a promotional code.
Whether you are in the travel, hotel or food business or sell candy, chocolates and toys, this is a great opportunity for you to improve sales and ramp up engagement for your brand.
Easter is all about color and joy. Use pastel hues, bright greens and yellows, add some cute bunnies, chicks and flowers and make your newsletter pop!
And let's not forget that now is the time to put your humor to work and brighten up your newsletter with some egg-ceptionally bad (let's not hide it) but funny puns.
If you want to avoid cliches, consider adding a charming emoji on your subject line, like a bunny or chick.
An Easter newsletter is usually a sweet and cheerful one that will make your readers raise a laugh and hit your CTA with pleasure.
Place your offer inside an Easter basket, create a virtual egg hunt or just grab the opportunity to say hello and wish them a happy Easter.
So now you know. Seasonal newsletter campaigns are a biggie and you can drive up your sales while delivering your brand directly to your audiences.
You just need to hit the right notes.
Make sure you optimize your content for mobile, segment your lists and consider adapting your logo to the season.
And no matter what you do, pay extra attention to the title and copy. Just because you've added some visual love to your newsletter doesn't mean the rest shouldn't be as magnetic.
Also, don't forget to add sharing buttons to increase traffic and please, please, please do some A/B testing. You'll need those results for your next year campaign.
So, have fun creating your fabulous Easter newsletter (no eggs-cuses for the lazy)!
And while you are at it, share your best tips and practices for seasonal newsletter campaigns.
We carrot wait to hear them!