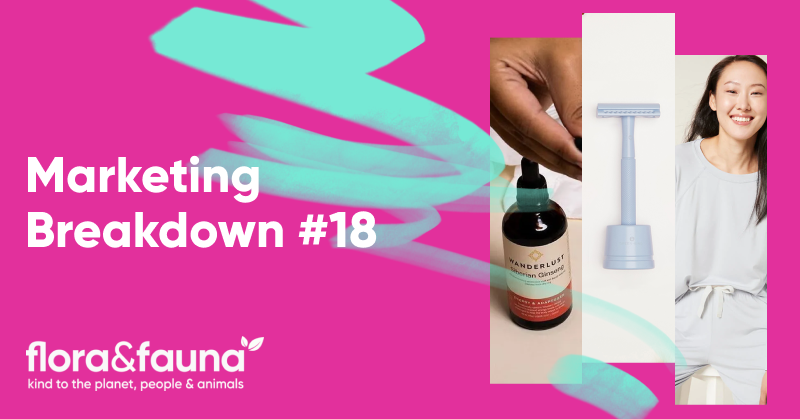 I was binging the second season of Down to Earth, a Netflix documentary series about environmentalism, when Flora & Fauna's description of all their products as helping "reduce waste in some way" caught my attention. I love companies that make a clear commitment to environmentalism and actually follow through.
When I started doing some research, I found out that Julie Mathers founded Flora & Fauna in 2014. After working in retail for over 20 years, she wanted to start a business that pays attention to its impact on the world and strives to make a positive contribution to society.
Today, Flora & Fauna is among Australia's largest retailers that exclusively sell vegan, cruelty-free, and eco-friendly products. They carry over 9,000 products made by over 300 brands. This amount of growth in such a short time is really impressive, so I decided to analyze their marketing strategy.
Let's have a look!
Step 1: Conduct market research before launching your business
Mathers believes that many first-time entrepreneurs make the mistake of neglecting to do enough market research before starting their business, saying "people are not doing their research. If I see one more natural deodorant I'm going to scream! I really wouldn't advise anyone to start a skincare brand unless you have a huge point of difference."
Even if you have a brilliant idea, you need to gain a deep understanding of what's already on the market.
Your competitors not only already have products and services out there, but they also have a customer base that sees a lot of value in their products.
It's essential to figure out how you're going to promote your new alternative and what your main value proposition will be. Differentiating your brand and products will be key.
At the end of the day, the most important question is: will your new idea be game-changing enough to convince those customers to jump ship to your new brand?
Answering this question will also require some research into the needs and preferences of your target audience. After all, that's who your brand has to resonate with in order to be successful.
Recommended reading: What is a Unique Selling Proposition? With 15 USP Examples (2023)
Step 2: Engage with customers on social media
Social media is an amazing tool for communicating with customers. Yes, it's a great way to get your message out there, but you also need to use it to listen and engage with your followers.
This way of using social media is an integral part of Flora & Fauna's strategy.
"I think it's really important that you're close to the customers and what they're saying and what they're asking for," says Mathers. "One customer said, 'I've supported you for years,' and I wrote back to her and said, 'Yeah I know, Belinda, I remember you from the start.'"
Relating to customers on a personal level also encourages their community to talk to each other. This builds a network of loyal customers that, through strength in numbers, can persuasively advocate for a company they love.
However, that community can also hold a business accountable for the decisions it makes. But Mathers doesn't have a problem with that: "We listen and listen and listen on social… If you've got 20 people saying the same thing then you kinda go, 'there's something in this.'" says Julie.
Flora & Fauna also sends out short surveys to their customers. "Like really short because we actually want them to answer it," clarifies Mathers.
Again, this responsiveness makes customers feel like they're a valued part of the business instead of just a number.
Flora & Fauna is active on social channels including Instagram, TikTok, and Youtube. The company uses these channels to promote the business in ways that are appropriate for each social media platform.
For example, their Instagram page is full of aesthetic pictures of eco-friendly products and often promotes discounts: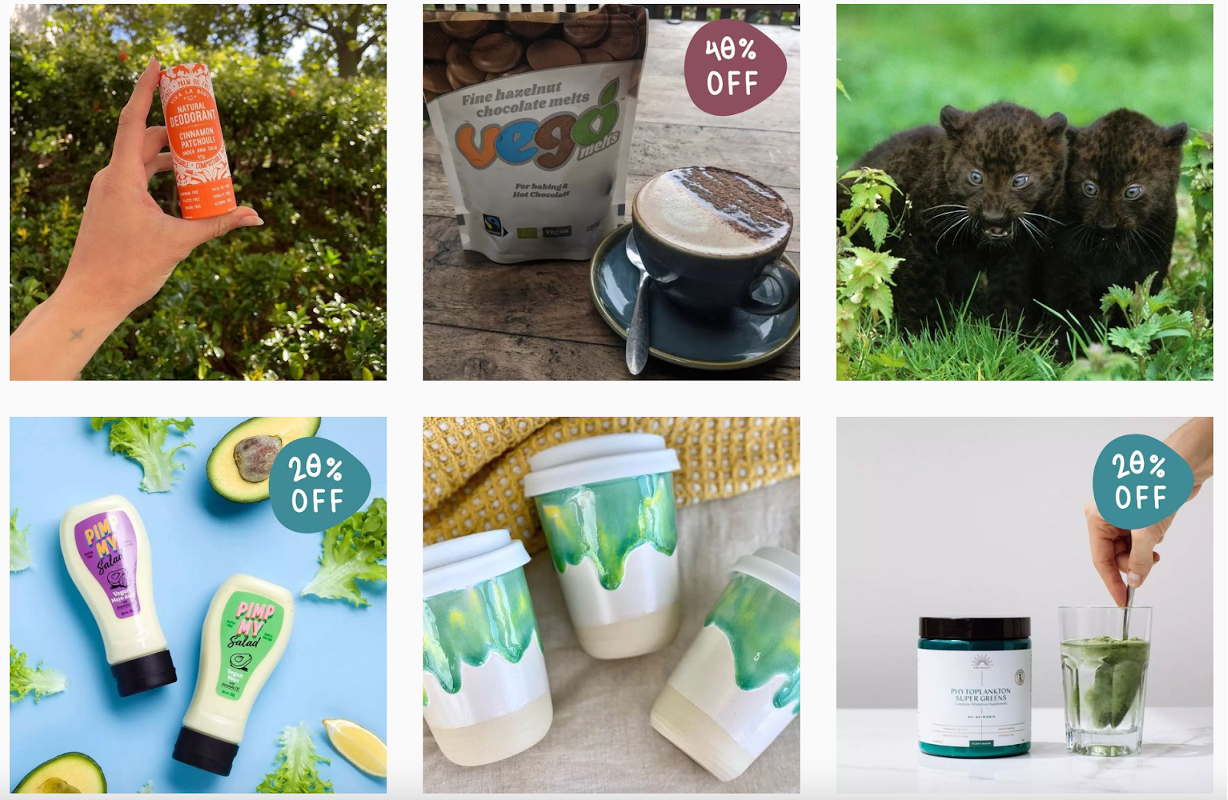 They're also always looking for unique ways to jump on popular internet trends, as they did in this post about "veganuary bingo":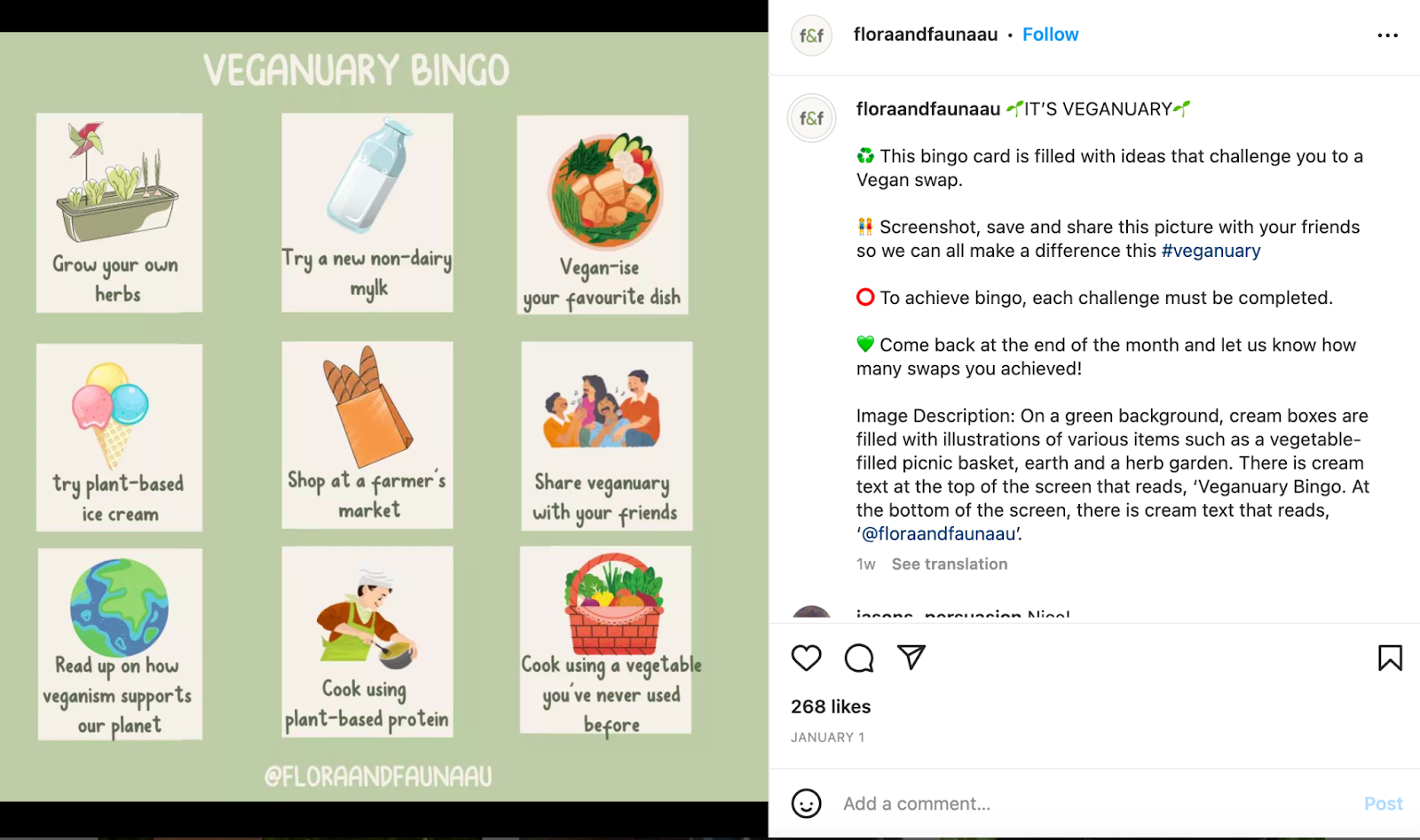 They also use reels to share vegan recipes, which provides a lot of valuable information to their followers.
Step 3: Optimize your website for conversions
Although it's always a good thing to have more incoming traffic, you've got to remember that the main goal of your website is to generate leads and sales.
That means you should use conversion optimization strategies to ensure that you're benefiting as much as possible from the traffic you have coming in.
Let's have a look at the strategies Flora & Fauna uses.
On this version of Flora & Fauna's homepage from January, the first thing you'll notice is the great hero banner that promotes their seasonal sale. As soon as a visitor sees this page, they'll know that there are great deals available.
They also highlight some of their main value propositions right above the hero banner (including their carbon offset program and free shipping offer).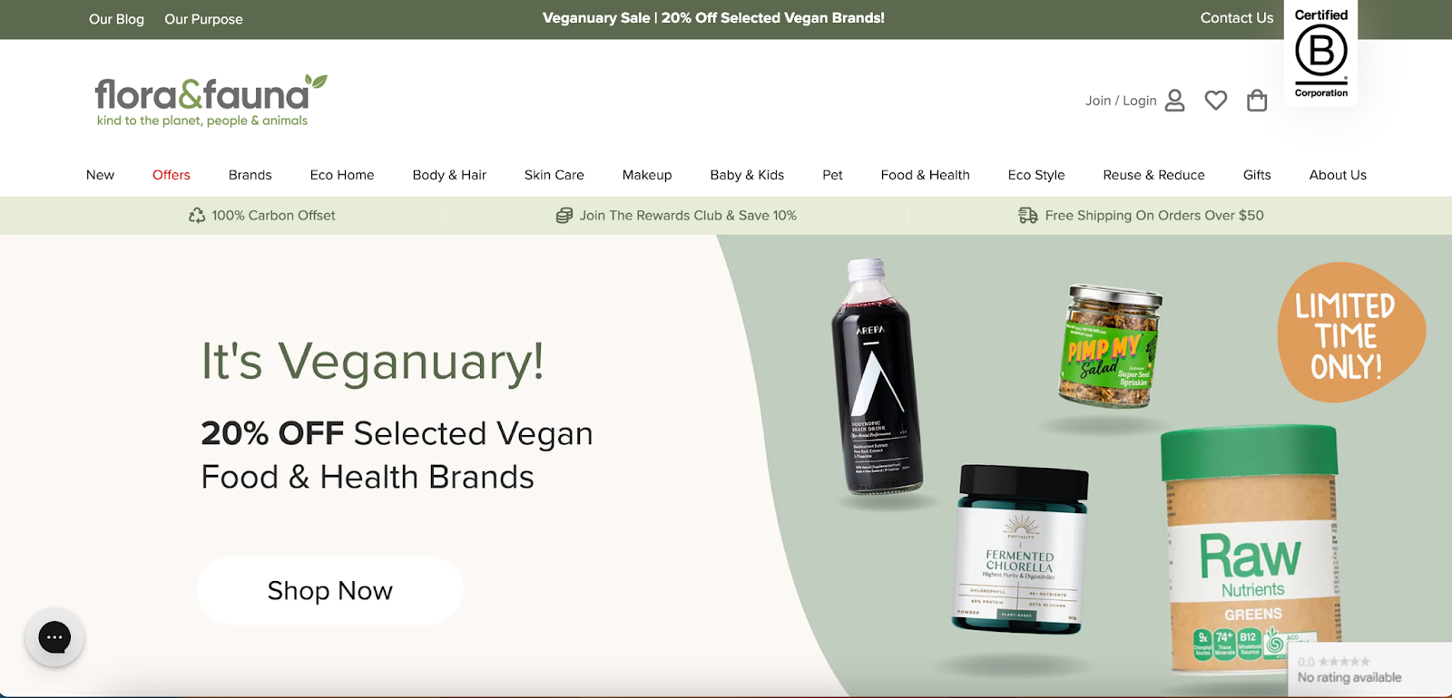 If you take a look at the very top of the screenshot above, you can also see the sticky bar they use to promote the seasonal sale across the rest of their site. This ensures that nobody forgets that they can save up to 20% while they're browsing through the category and product pages.
For new visitors, they use a second sticky bar to help them gather email leads. This is a great strategy because your loyal customers won't get annoyed by seeing signup offers all the time, but new visitors get the chance to sign up in exchange for access to the "latest offers, new arrivals & eco tips."
It's a good idea to promote your newsletter to early-funnel users, since this segment usually isn't ready to start making purchases quite yet. When they sign up for your newsletter, it gives you a chance to nurture them as a new lead.

If you'd like to use a sticky bar to promote newsletter subscription, check out these templates:
Scrolling down on the homepage, we can see the brand highlights their main value propositions using visual language.
The easy-to-understand illustrations plus the copy, "our gorgeous community loves," create the impression of an ethical, welcoming brand.

They also promote new arrivals on the homepage. This is important for an ecommerce company that has a huge inventory like Flora & Fauna. Customers need a little help to find new products they'll love.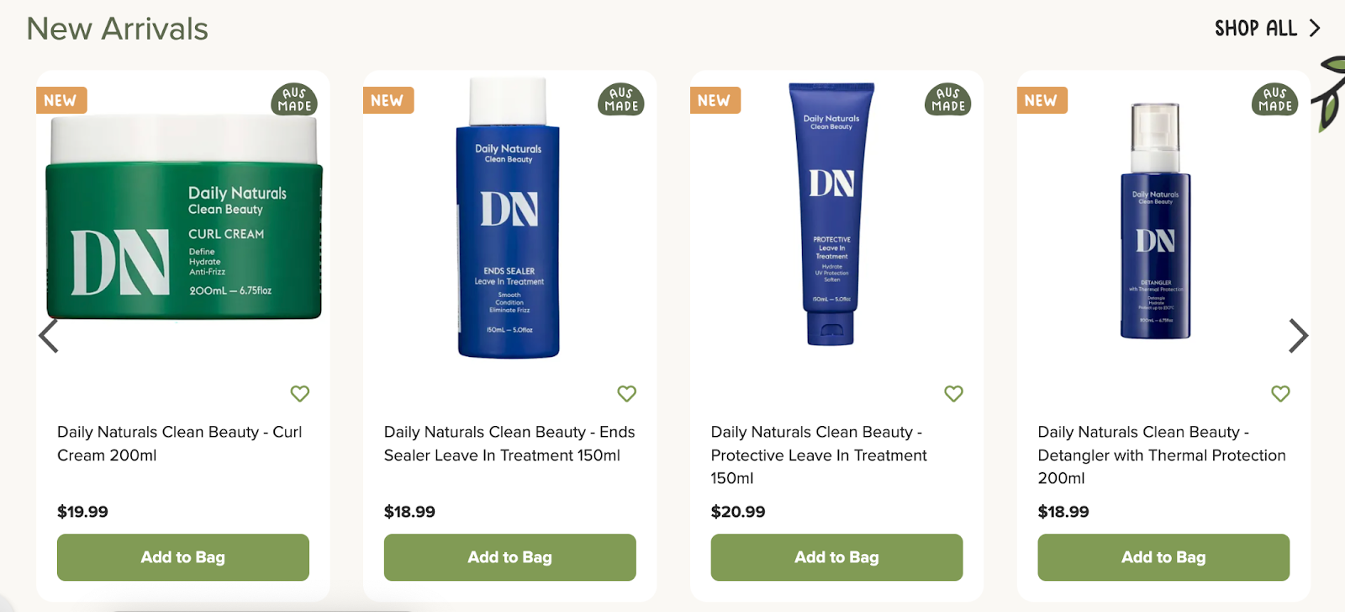 They have a social proof section on their homepage that points users towards Flora & Fauna's multiple appearances on Down to Earth.
Watching celebrities like Zac Efron use and react to their products helps people get over their concerns about shopping with a company that's new to them.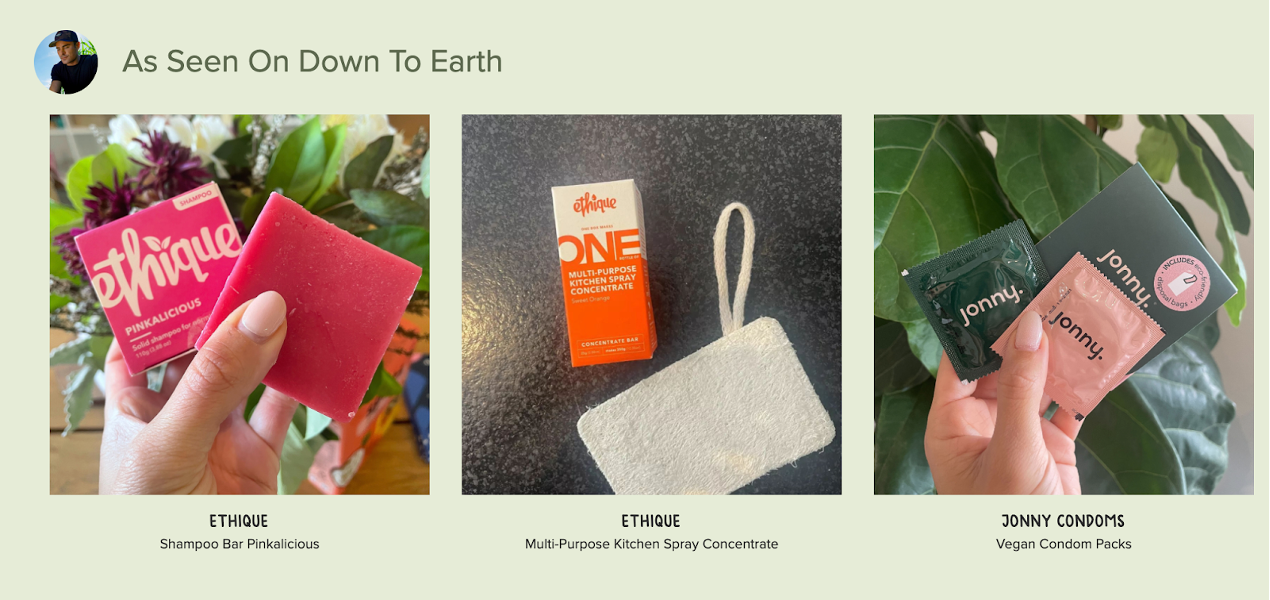 Another way Flora & Fauna helps customers navigate through their huge inventory is with their detailed faceted search options.
Users can filter their results according to category, brand, and other facets, while suggestions automatically appear as the user types.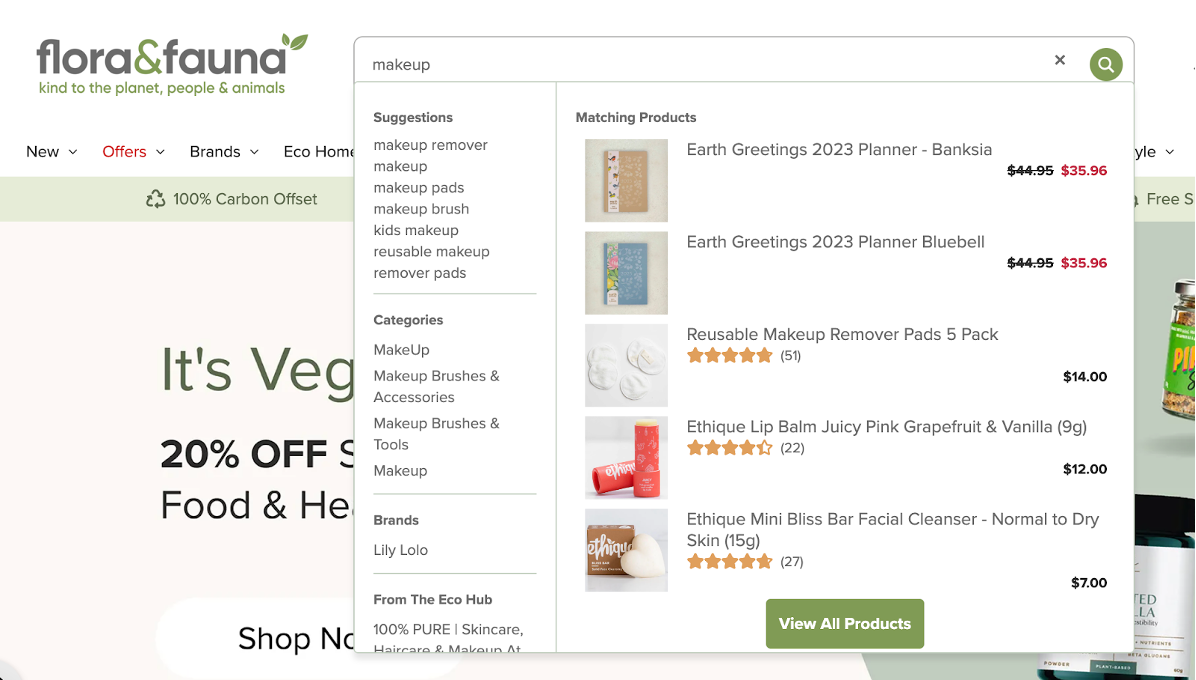 Moving on to their product pages, we can see many other CRO strategies.
Check out the attention-grabbing discount badges on the product image and the green checkmarks that explain the main value propositions for this product ("cruelty-free," "vegan," etc.).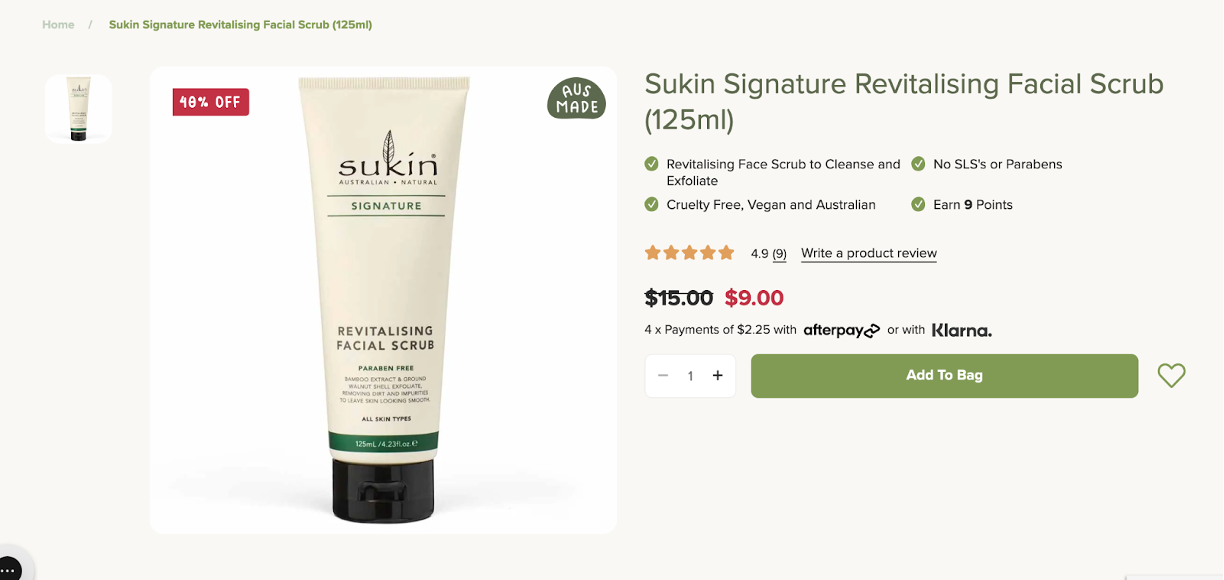 They also feature real customer reviews of each product. Remember, users can typically tell the difference between a real review and a bit of marketing cooked up by a content writer.
Even if the reviews aren't all five stars, the fact that they're real ensures that people take the benefits pointed out seriously.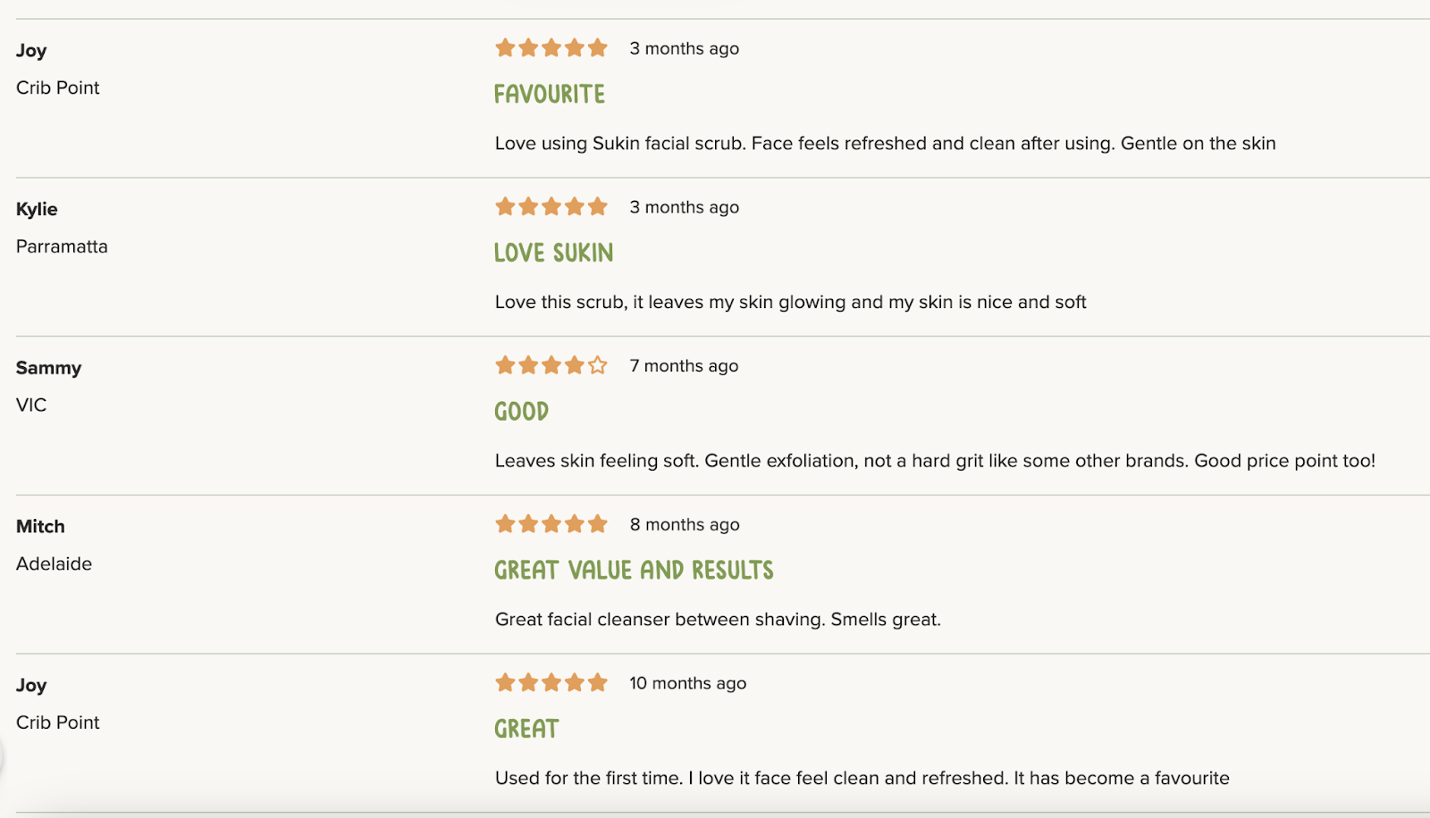 Finally, they also promote both similar and complementary product recommendations on each product page. This is a way of both ensuring that users can see other options and cross-selling by showing users products that complement the one they're looking at.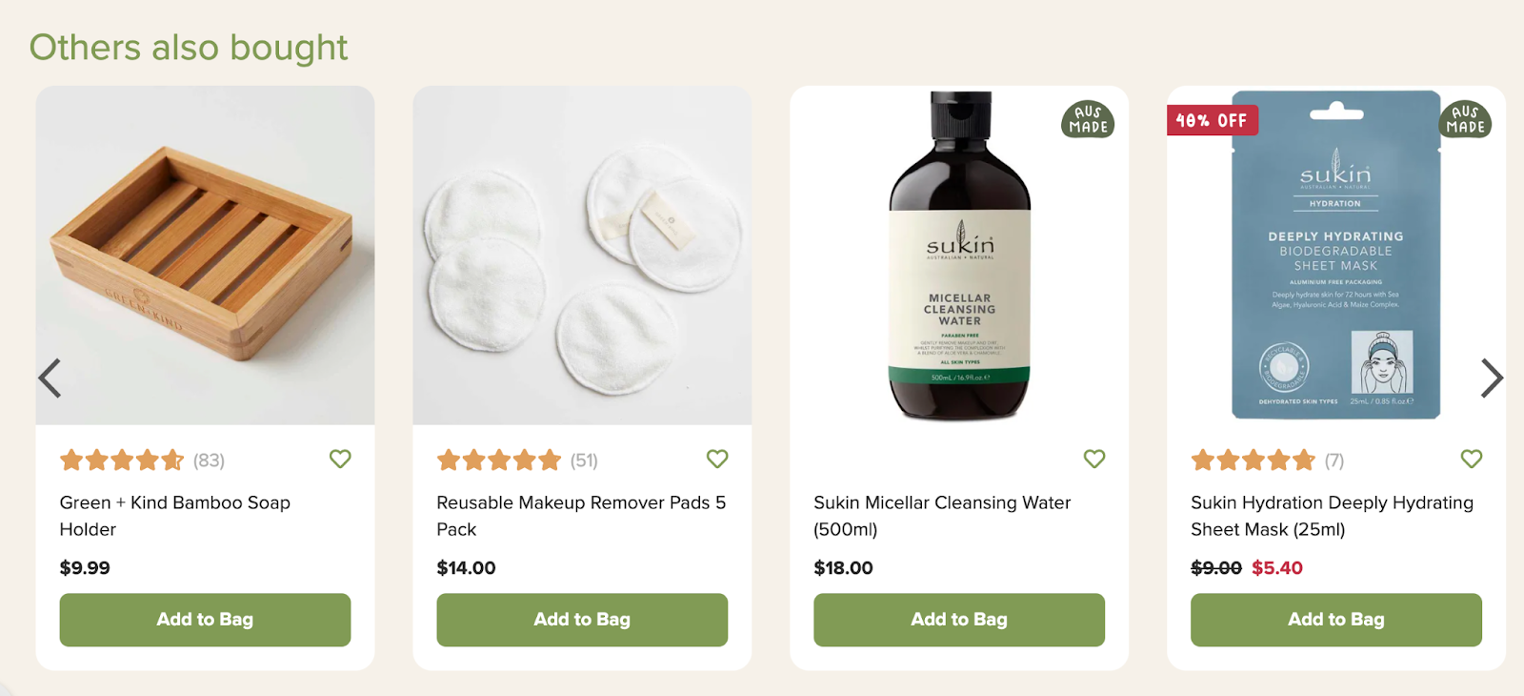 Step 4: Generate demand for your products
After you've optimized your website using tactics like the ones above, it's time to focus on driving more traffic there.
Although it's always easier to convert users who are aware of your brand and products, you shouldn't forget that there's a big market of people who might not even know about the problem your products solve. Others might know that they have a problem, but not know about any of the solutions you're offering.
Demand gen comes in handy for reaching these users. Flora & Fauna uses a combination of content marketing, influencer marketing, and ad campaigns to reach new customers.
Here are Flora & Fauna's top-performing pages from organic search:

Besides their brand name, keywords like "upcycle ideas" and "acne face map" bring lots of traffic to their blog.
Once problem-aware users wind up on a blog post, they can learn about the possible solutions to their problem.
Many of the blog posts also make a point to mention products that are available on Flora & Fauna, as you can see below.

While Mathers once mentioned that Flora & Fauna doesn't work with influencers in an older interview, it looks like they've since jumped on the bandwagon: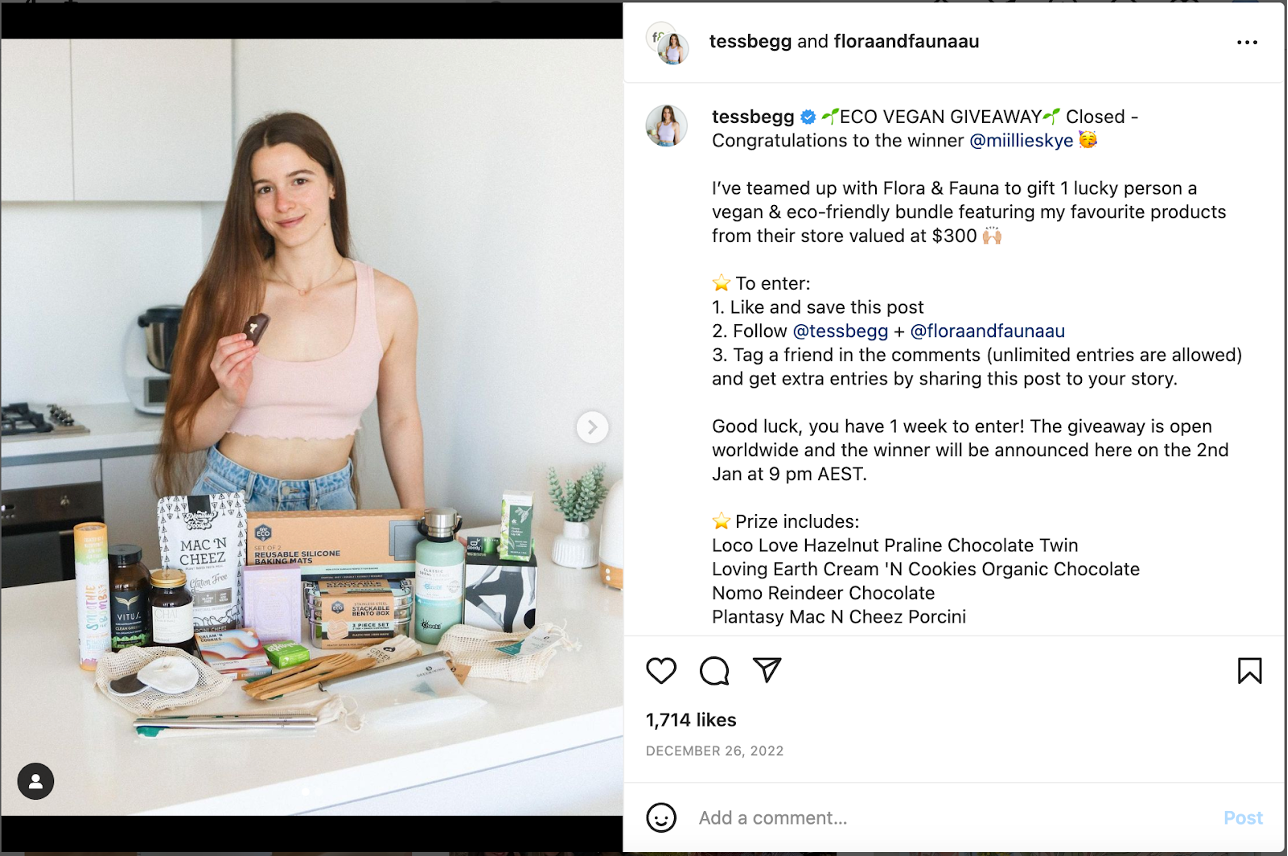 An influencer-backed giveaway like this can really help generate hype around a brand. This post, which gave people a chance to win several different prizes, got 1,700+ likes and 2,100+ comments.
On Facebook, they tend to promote their company indirectly by encouraging people to watch their segments on Down to Earth.
This strategy helps break through the noise of the thousands of product-focused ads that people see every day. And since the TV show is all about environmentalism, it helps cement Flora & Fauna's eco-friendly credentials.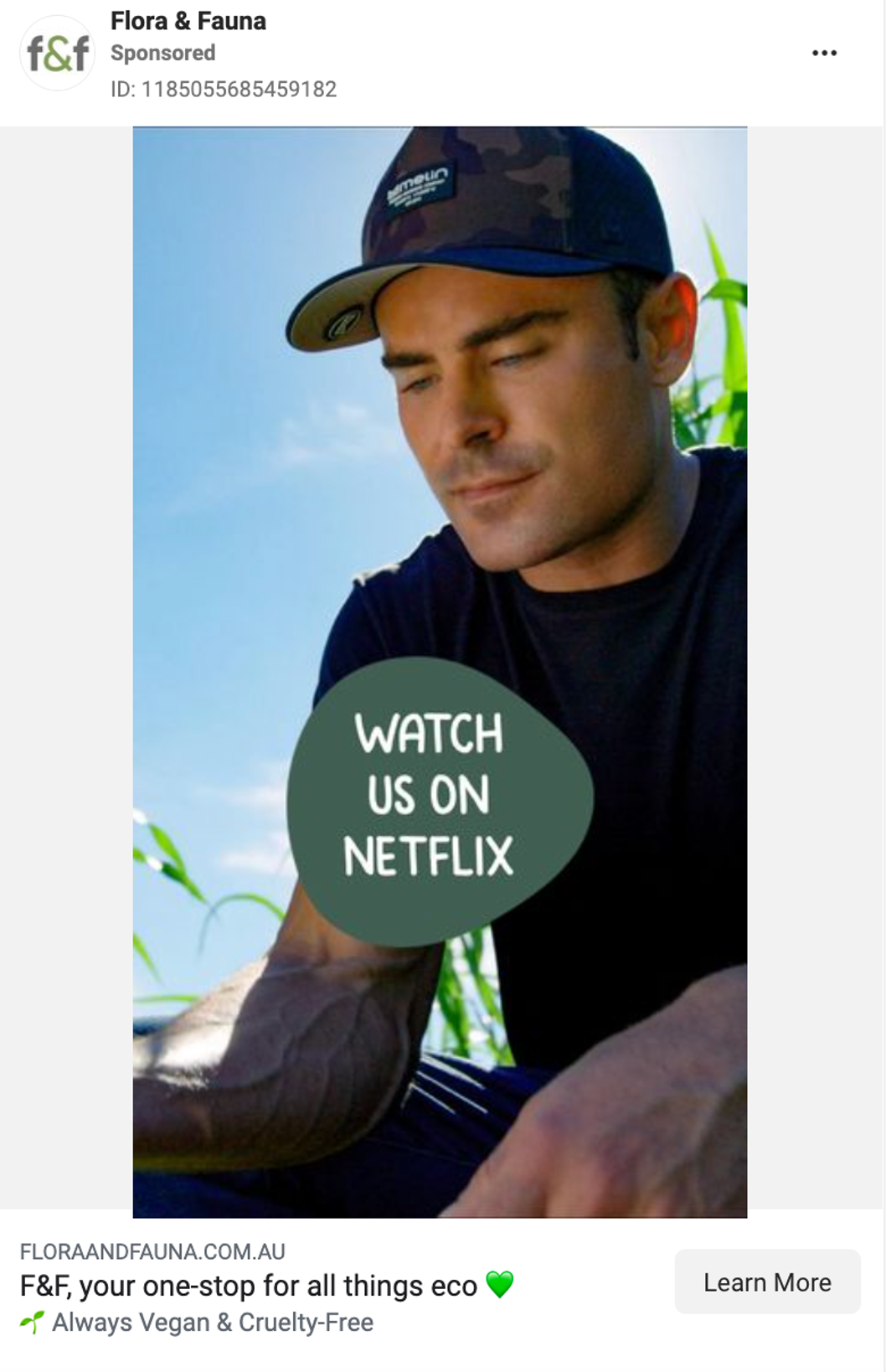 However, they do use video-first ads that mention specific products (and show them in use), like the one below.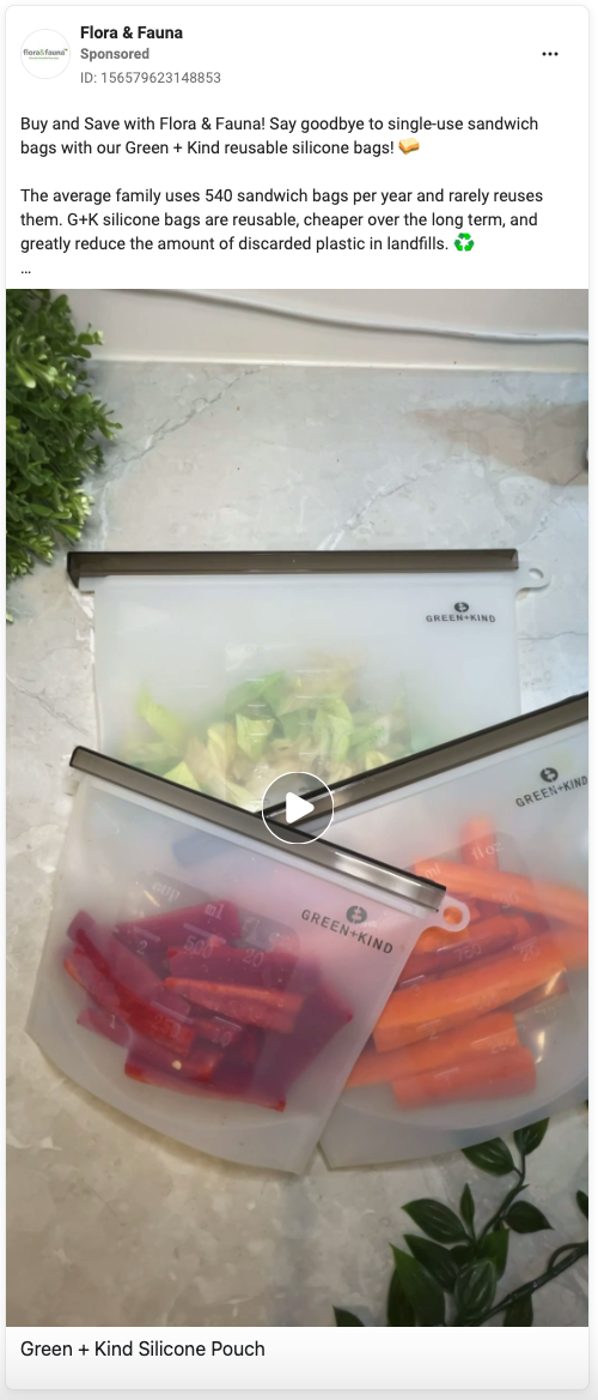 Starting an ecommerce business from a strong conviction, like Mathers did with the eco-friendly Flora & Fauna, is very admirable. But it won't necessarily lead to success and growth.
For that, you'll need to use the best strategies and tactics for conversion optimization and demand generation.
Like Mathers said right at the start, it also helps if you're creating a product that's very different from everything else on the market.
Luckily, there are lots of marketing solutions available on the internet in 2023. Conversion optimization tools like OptiMonk make it easy to follow in Flora & Fauna's footsteps and achieve massive growth.