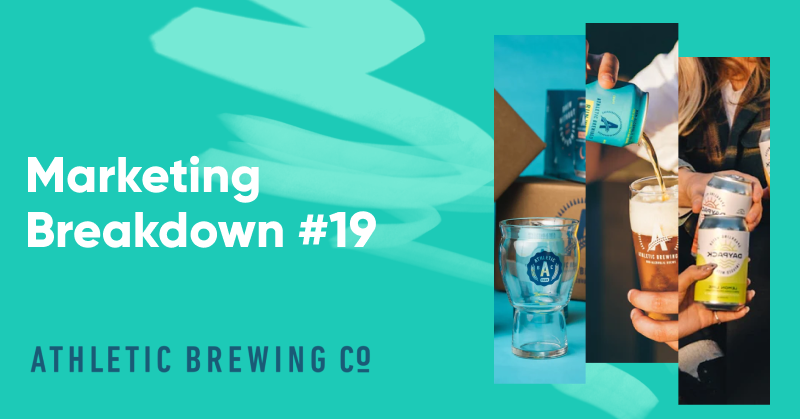 While most business owners dream of breaking even in their first or second year, this little company spent their first year struggling to keep up with demand for their product! Who are they and how did they do it?
Chances are that if you've recently heard of a trendy non-alcoholic beer brewer, you already know Athletic Brewing Co. This company, launched in 2018, has been on a growth trajectory that most could only wish for.
According to Co-founder & CEO Bill Shufelt, even the most aggressive forecasts couldn't prepare the company for the astronomical demand for their beer. They literally shut off every other thing in their first year so they could focus on meeting as much demand as they could.
The company has kept its momentum in the years since. In fact, in 2022, Inc. Magazine ranked Athletic Brewing as the 26th fastest-growing private company in America. It also made Time Magazine's "100 Most Influential Companies of 2022" list.
In this breakdown, we'll go over the marketing strategies that Athletic Brewing Co. has used to create a raving customer base who consistently buy their beer, taking their company to an over $300M valuation.
Let's begin!
Step 1: Find your target audience
One common rule in marketing is that you must know your target audience. Athletic Brewing's CMO, Andrew Katz, has talked about how important it is to understand your customers' problems in order to find them.
The company didn't set out to build a product for everyone.
They have a very specific target audience, which is clearly seen across their different marketing campaigns. They aren't spreading their messages too thin through broad, generic marketing campaigns.
Their target audience, as described by Bill Shufeltt, is "young, modern, healthy adults" and "heavily barbelled in the 24 to 44 demo."
Quite simple and clear!
Step 2: Your mission should resonate with your customers
Having a generic mission is like shouting your own name in a crowded park… no one is interested in that. In the current brand-crowded landscape, customers buy from companies whose values resonate with their own. This is the foundation of loyal brand-customer relationships.
Athletic Brewing Co. is on a mission "to positively impact our customers' health, fitness, and happiness while greatly impacting our communities and environment for the better."
This mission statement has been a resounding success with their target audience.
Because actions speak louder than words when it comes to gaining loyal followers, Athletic Brewing has committed to donating 2% of sales to trail work in parks. This has quickly added up to $50K donated just this year.
This partnership with WHOOP also proves how important it is for Athletic Brewing to give back to the community: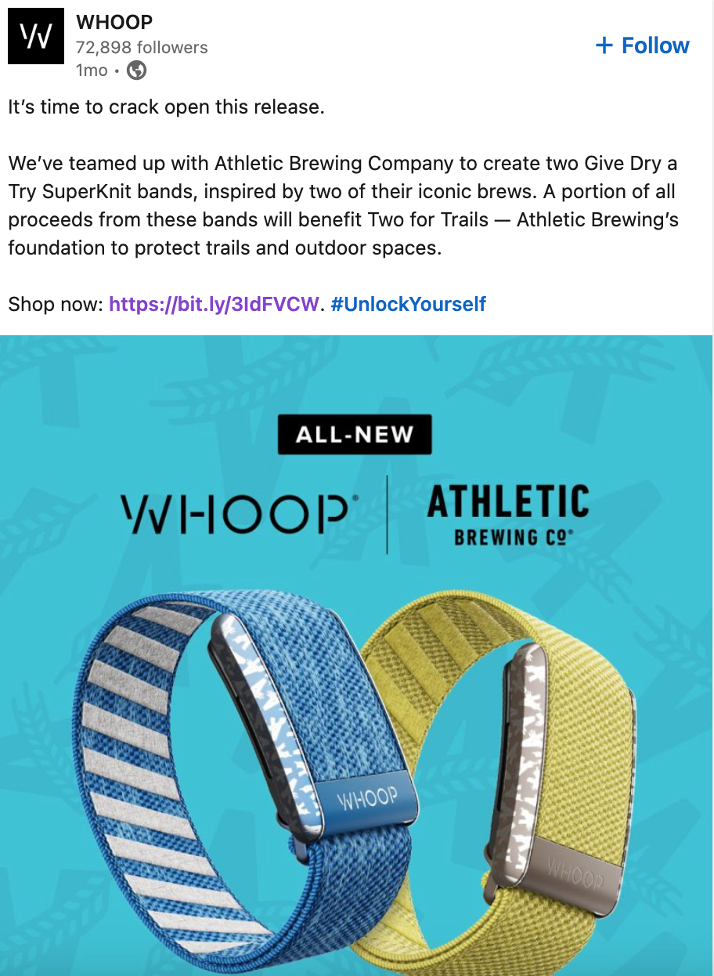 Step 3: Sponsoring events
According to Katz, once Athletic Brewing Co. found the right people, the connection was instant. People were asking them "Where have you been?"
Once you know who your target audience is and you ensure your mission aligns with what they're pumped about, the next thing to do is figure out where they congregate.

Remember when we mentioned that Katz has talked about how you have to understand your customers' problems to know where to find them? The question Athletic Brewing Co. started with was "how to find active and healthy people?"
And the answer was to go to sports events like road races, Spartan Races, half-marathons, beach volleyball tournaments, and more, and simply give away beers at the finish line.
This seems like a simple strategy, but it was massively successful. After all, products like beer are best enjoyed at events where word-of-mouth marketing can easily be engineered.
Step 4: Form partnerships with influencers
When you're starting a new company, you probably have low influence and credibility. One of the fastest ways to bridge this gap is through influencer marketing.
When it comes to influencer marketing campaigns in general, the importance of finding people whose content resonates with your brand's values and who your target audience loves and respects cannot be overemphasized.
Athletic Brewing did a great job at that. And they formed long-term partnerships with these influencers.
For example, pro football player J.J. Watt and pro surfer Malia Manuel are just a couple of the influencers the brand is working with, but these relationships are clearly important for the brand as they even highlight them on their homepage: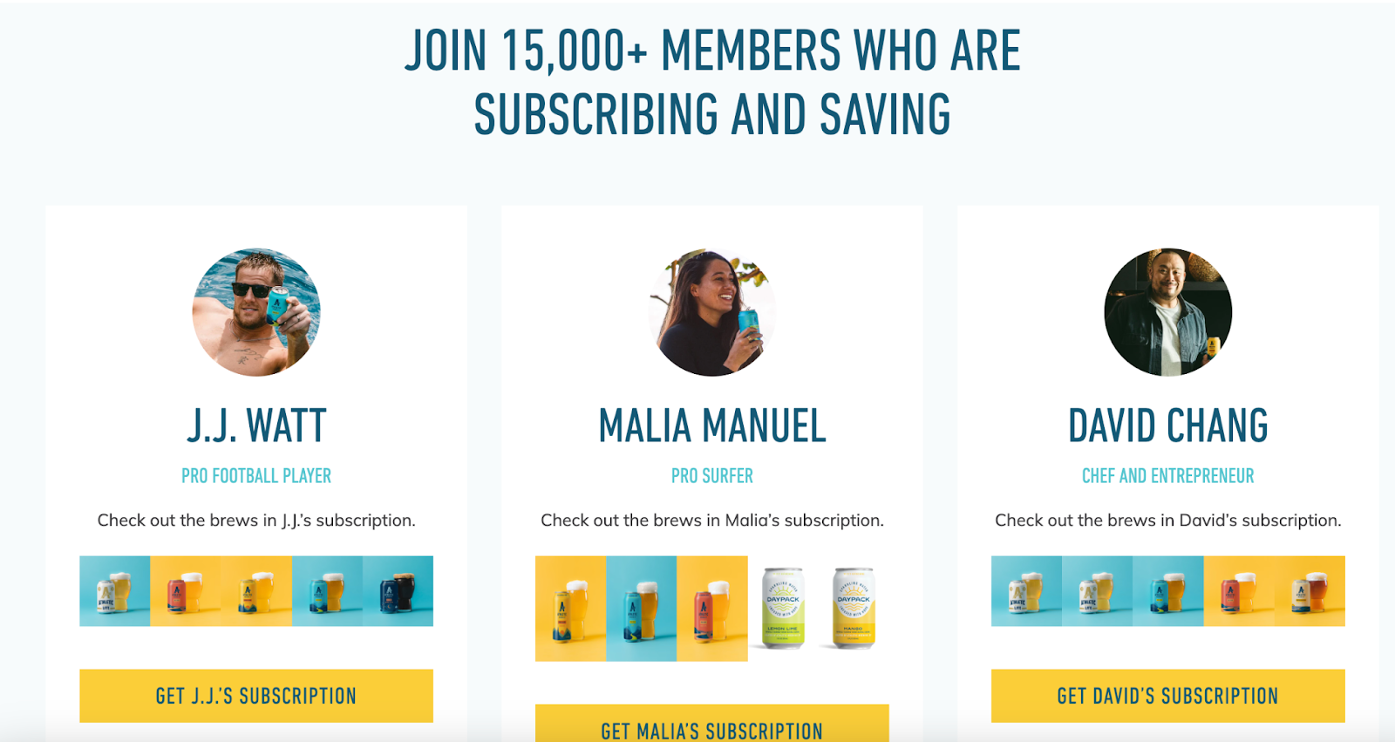 You'll see these people appearing in Athletic Brewing campaigns, like in this Fit For All Times campaign:
And scrolling through their social posts, you'll see that they regularly post about the brand:
The brand also formed partnerships with college athletes, since these athletes appeal to a lot of Gen Z, millennials and sports fans.
Some examples are Texas Longhorns running back Bijan Robinson, Ohio State quarterback CJ Stroud, and South Carolina women's basketball guard Brea Beal.
Step 5: Launch marketing campaigns and make the most out of them
As mentioned earlier, the Fit For All Times campaign featured not only NFL star J.J. Watt and pro surfer Malia Manuel, but also chef and entrepreneur David Chang, professional rock climber Alex Johson, professional volleyball player Emily Day, and more.
Andrew Katz commented "This campaign features world-class professionals enjoying our award-winning NA beer while still performing at their best. We all know that time is our most precious resource, and how we spend that time is important. That's why we developed a great-tasting product that won't ever hold you back."
These ads, which were expected to generate 200 million impressions, were used on numerous channels including national cable TV, YouTube, paid ads and organic social media.
The company just launched a new campaign titled the "Give Dry a Try campaign," which was promoted throughout January on their website: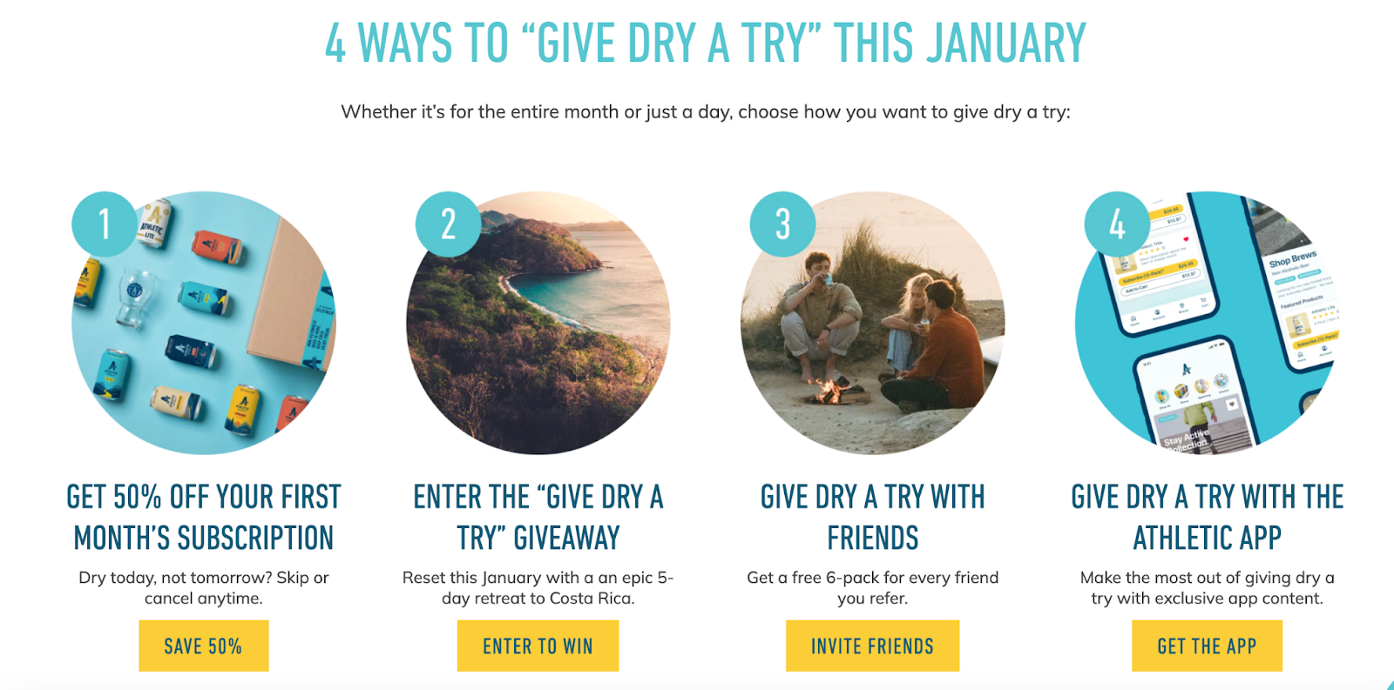 Athletic Brewing Co. also added Facebook and Google ads to their marketing strategy. Here's an ad that they used on Facebook: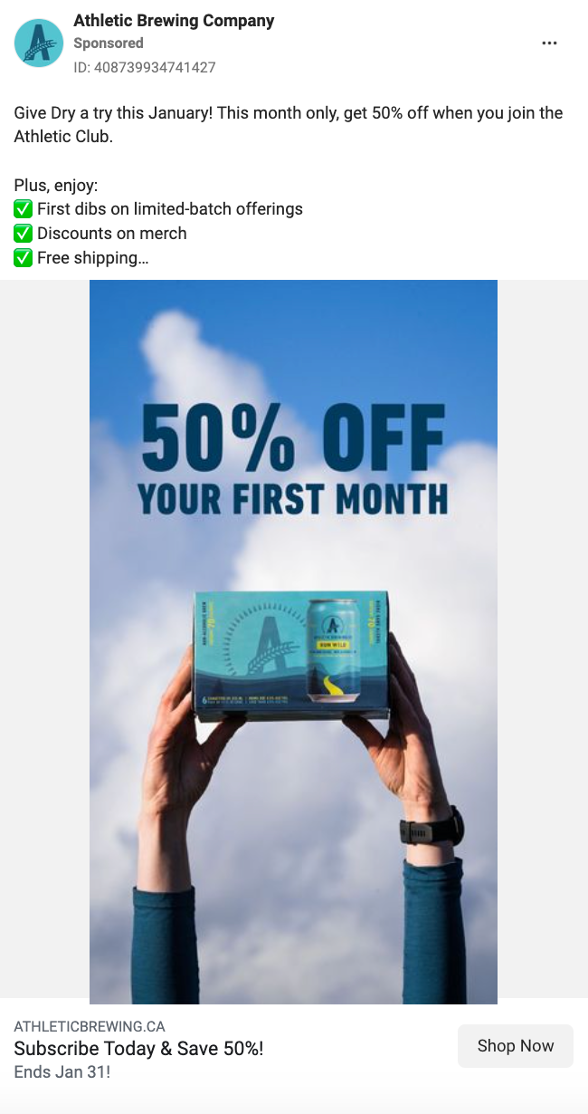 Step 6: Use overlays on your website to generate more sales
Tons of sales are lost when a business website doesn't have an email list.
For new visitors to their website, Athletic Brewing uses a teaser with a side message to promote their $10 off for new customers in exchange for an email signup. This way, they can generate more sales and also build their email list.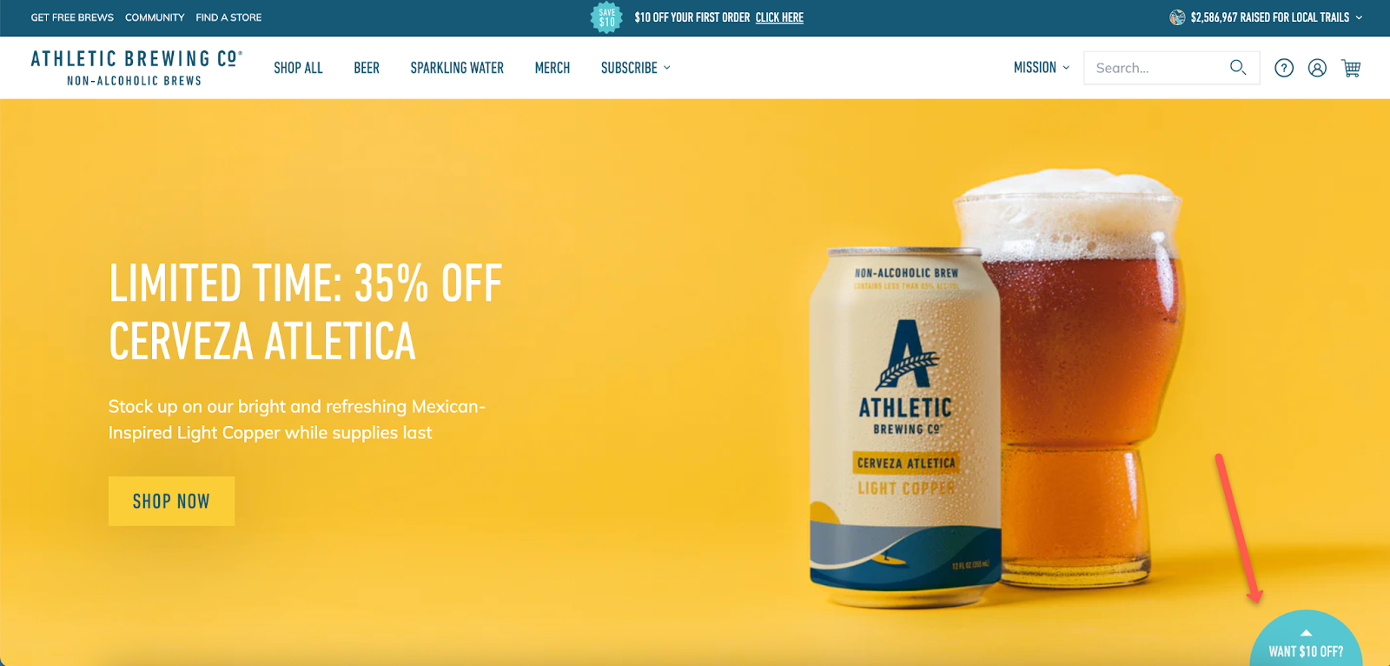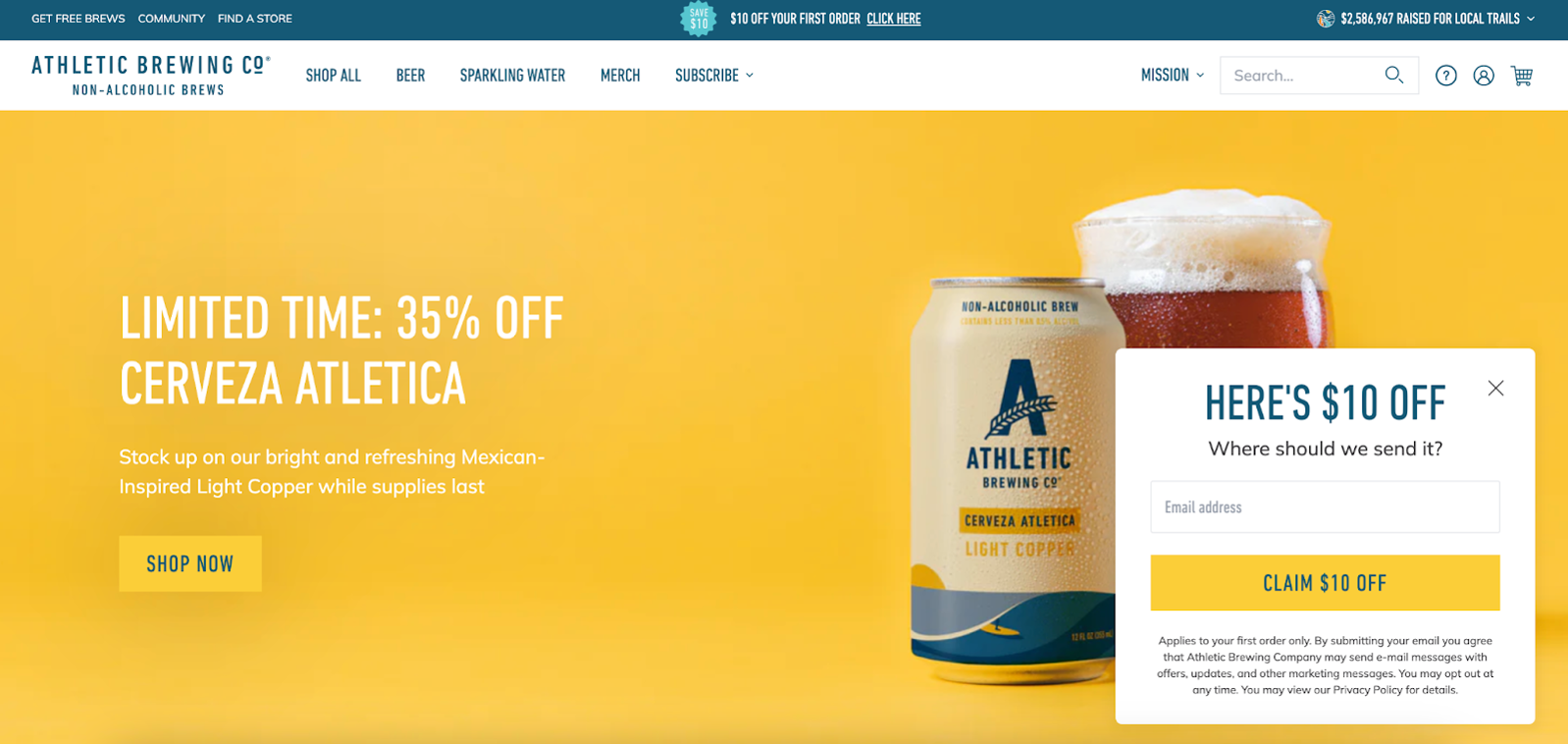 Teasers and side messages are great if you want to remind people about your offer while also maintaining a top-notch browsing experience.
The number one reason for cart abandonment is unexpected costs at checkout. Knowing this, the company uses the notification bar at the top to promote the free shipping threshold in an effort to drive even more sales.

This notification that pops up for visitors who have already spent some time on the website is also great. It increases the urgency and nudges people to shop now.

Step 7: Recommend relevant products
Shortening the journey a visitor has to take before finding the right product is a winning strategy for any ecommerce store.
Product recommendations can be a powerful way to help users find the products they're looking for faster, making the entire user experience smoother.
Athletic Brewing uses product recommendations throughout the website…
On the homepage:

At the top of the product page:

At the bottom of the product page: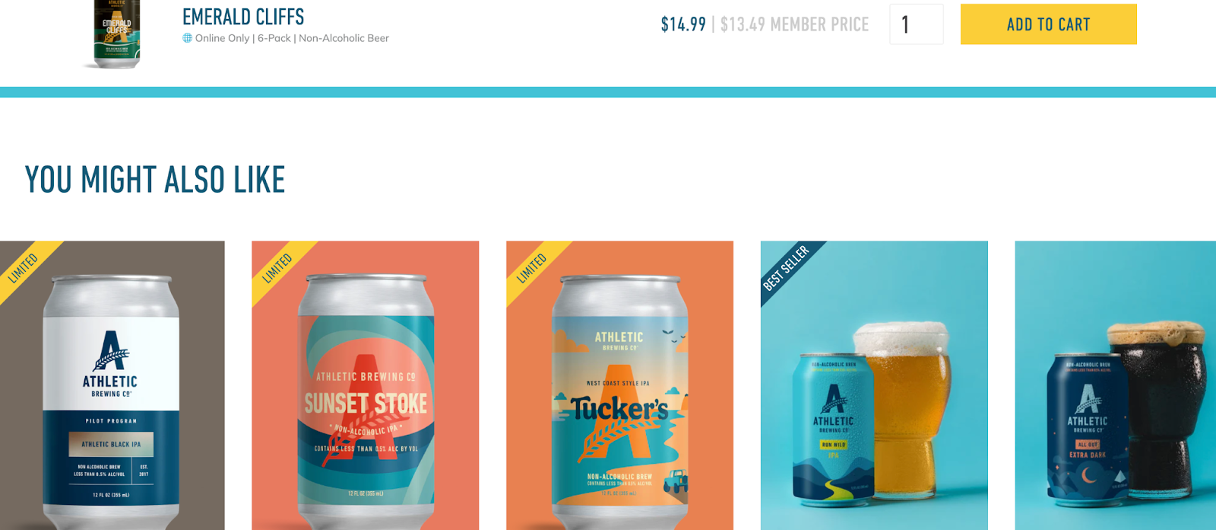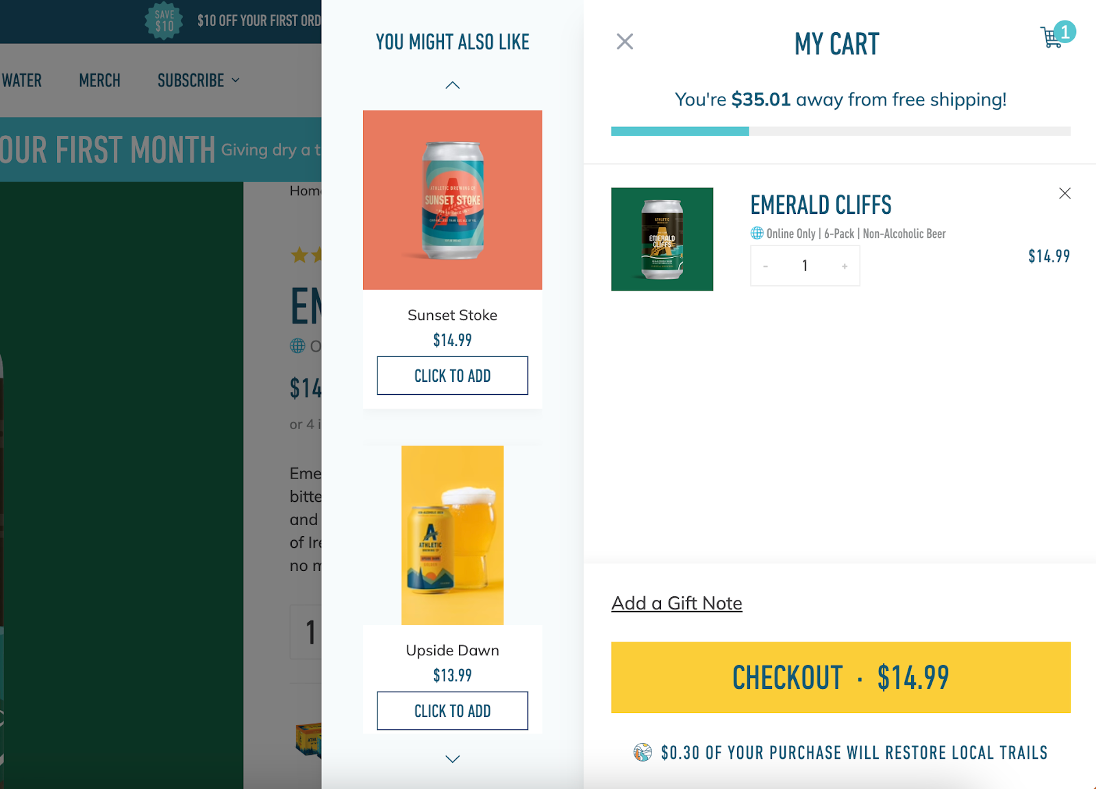 While everyone wants to build a business that's profitable right from the first year and gains global recognition within a short period, that kind of results can't be achieved by simply wishing for them.
There are essential strategies to put in place, especially if you want sustainable growth like what Athletic Brewing has experienced.
Hopefully you've learned a thing or two from the strategies covered above. By putting them to work and optimizing your site with tools like OptiMonk, you'll quickly discover what works best for your business and your customers. This is how you scale up in the shortest time possible, so why not start today?