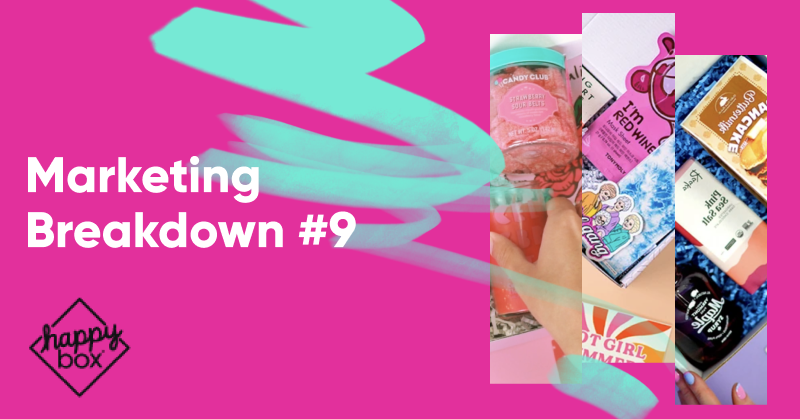 Happy Box is a gift-giving delivery service. It started as a side-project by two sisters, Hannah and Ariel Redmond, and grew into a thriving full-time business.
During the Covid pandemic, people needed to exchange gifts without actually seeing each other due to social distancing. Happy Box happened to have the perfect business model to meet those needs. But it wasn't the only reason for their 10 times growth.
We jumped on Zoom with the co-founders of the company to find out the key factors in their success.
In this article, we'll share their tactical tips and strategies that every ecommerce business can use.
Let's get right to it!
Hannah says that Happy Box is all about "allowing people to create unique and custom gifts with the ultimate convenience."
The emotional history of the company helps us understand both the core idea and Happy Box's marketing success.
It all began when Ariel went through a breakup while off at college. Hannah spent a day buying small gifts from several stores to make a care package. Then she mailed it to Ariel, hoping to cheer her up.
After college, both sisters went on to pursue careers in marketing. Years later, they still saw an unmet need for an easy way to give personalized gifts from a distance, and this is how the idea of Happy Box was born.
Happy Box started as a part-time project on Etsy in 2016. A few years later, they launched their own ecommerce store.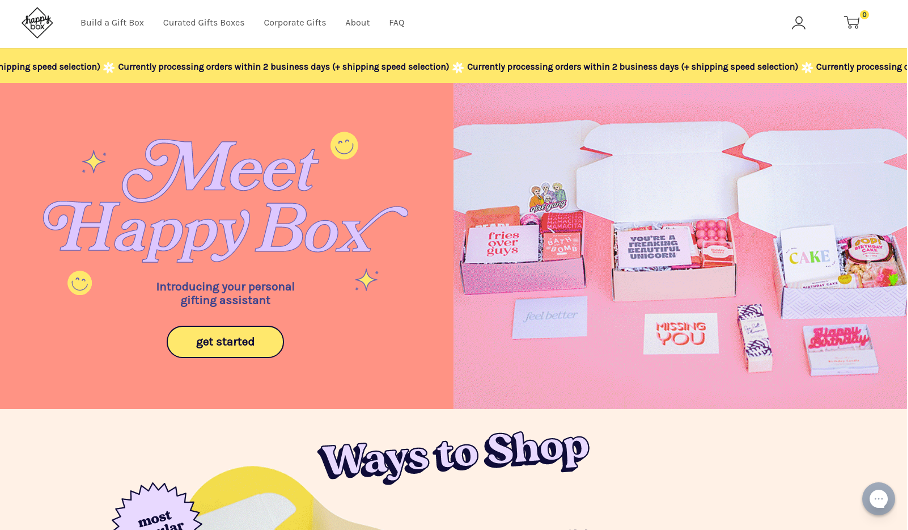 Hannah and Ariel's initial marketing strategy revolved around paid search and social ads, which drove traffic to their online store.
As the Covid pandemic began and became normal, their strategy put them in a perfect position to become a well-known brand. Consumer demand for care packages and long-distance gift-giving rose substantially. Happy Box's continued use of effective marketing tactics led to a 10 times growth rate in 2021.
Let's take a look at the marketing blueprint behind their astounding success!
1. Look for new market opportunities
From the very start of their journey, Hannah and Ariel knew who would see value in their offer. Namely, people like themselves!
"Our target when we launched was the millennial, female gift giver, and that was mostly because that was us and we were solving a problem we had," said Hannah.
Being part of your own target audience—like Happy Box's founders—allows you to understand them better and know their challenges.

So they only targeted Millennial women until one day someone reached out who needed gifts for her coworkers.
Hannah and Ariel quickly realized that "this is a great way to grow the business in an exponential way because your Customer Acquisition Cost is the same while you're able to get a significant revenue."
So they decided to fill the need for unique gifts in the corporate world as well.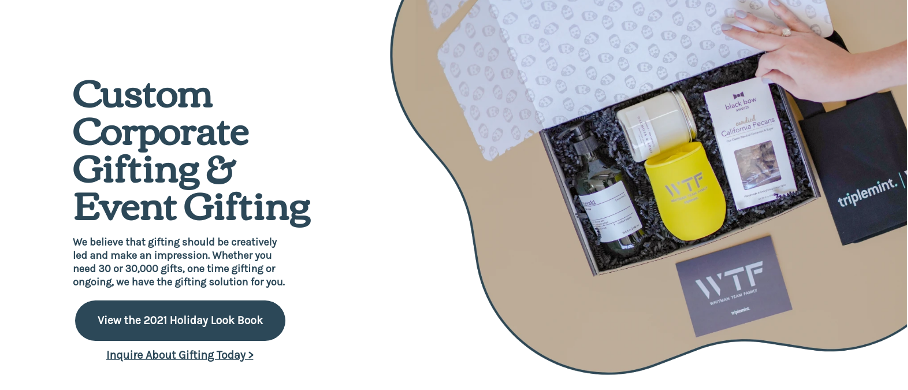 What's the takeaway here for your store? Look for opportunities to expand into new markets where your products or services can improve people's lives (like Happy Box did in the corporate space).
Tapping into new consumer categories can drive massive growth.
It's crucial to deliver ads and content to your customers where they are. So Happy Box has mostly focused on generating organic traffic from Facebook and Instagram.
They maintain a consistent aesthetic on their social channels. All of their design choices and copy appeal to a young, female audience.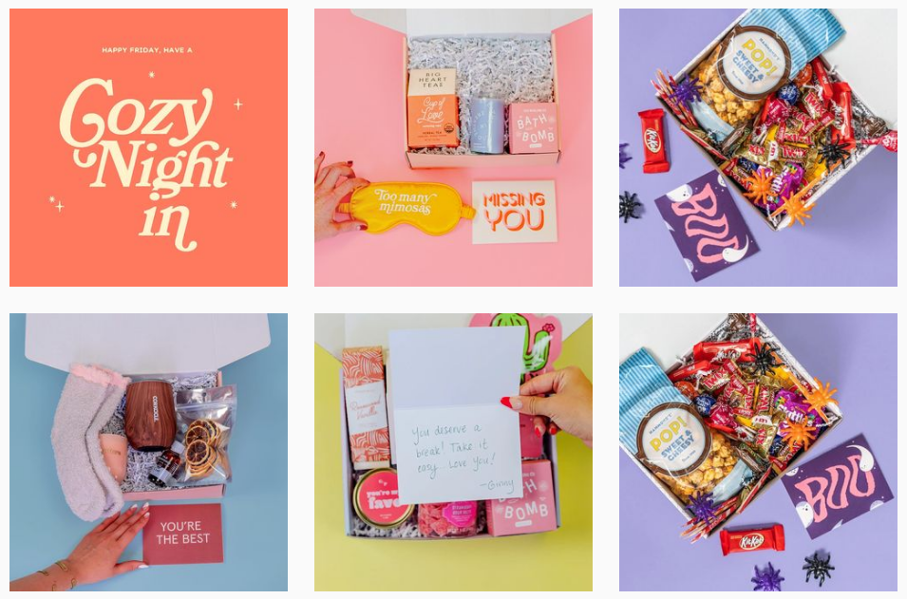 They also regularly engage with their Instagram followers by reposting positive Instagram stories about their products and saving them to their Highlights.
It's a great way to show the delight of someone when they get a box. And it's incredibly persuasive social proof!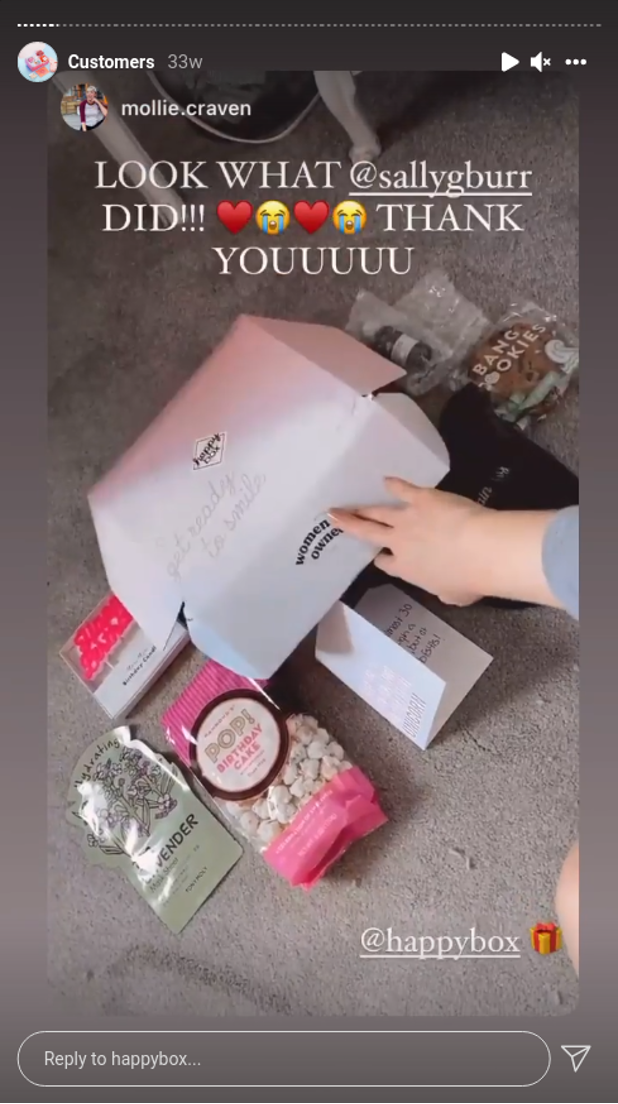 The Happy Box team realized that giveaways are a great way to reach new people. This is especially true when they partner with another business, like in the example below.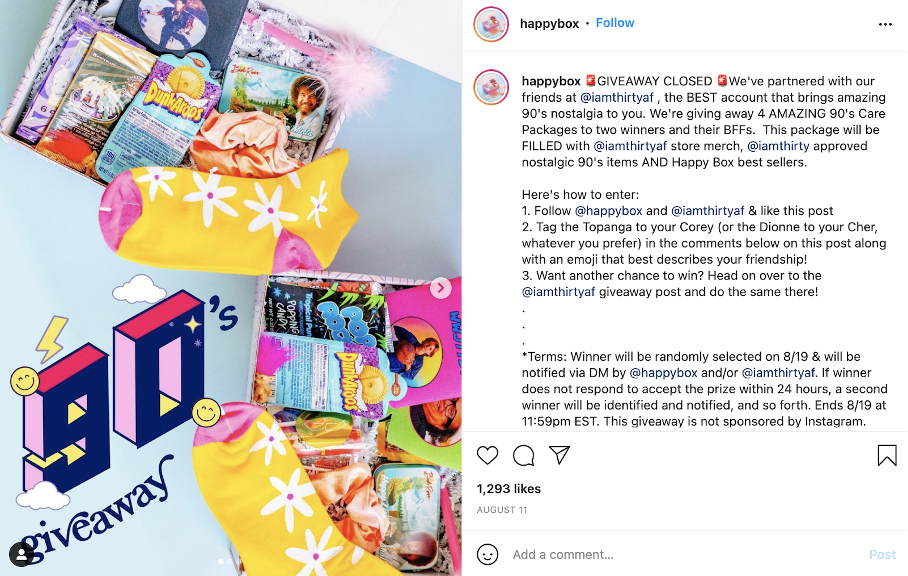 Grab the Happy Box Marketing Toolkit and check out more Instagram giveaway examples from the company.
They're also active on Pinterest, "just because our consumer is there." The nature of Pinterest fits with their branding and business model.
Happy Box uses different themed boards to suggest great gift ideas for different occasions. They have boards devoted to birthdays, care packages for college students, and Halloween, etc.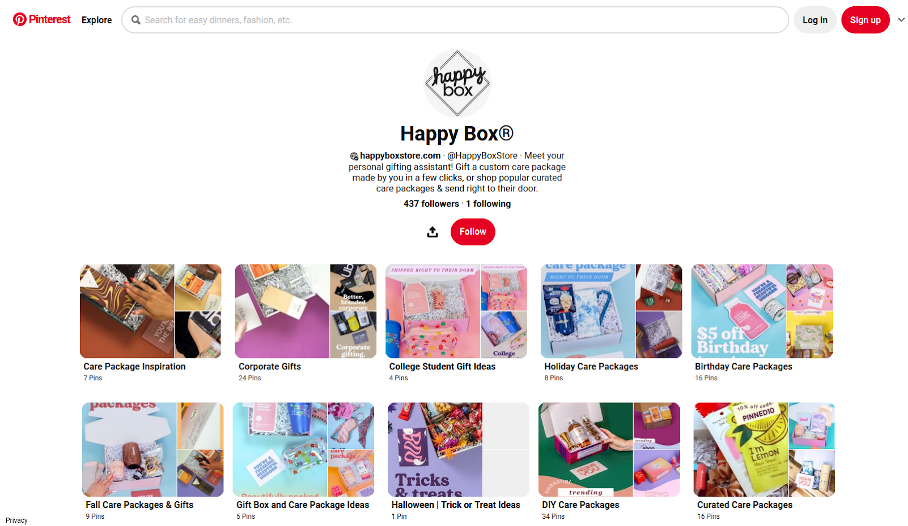 3. Use influencers strategically
Happy Box has been working with influencers for years. Initially, they would send free samples to influencers on their birthday or for a baby shower. Hannah said this led to a sharp uptick in sales, but there was an equally sharp drop-off soon after.
More recently, they've focused on using influencers to drive traffic at strategic times of the year. They run campaigns before important gift-giving holidays, like Valentine's Day or Mother's Day.
So their influencer's audience can buy their products for those upcoming occasions. This approach leads to a higher and more protracted spike in sales.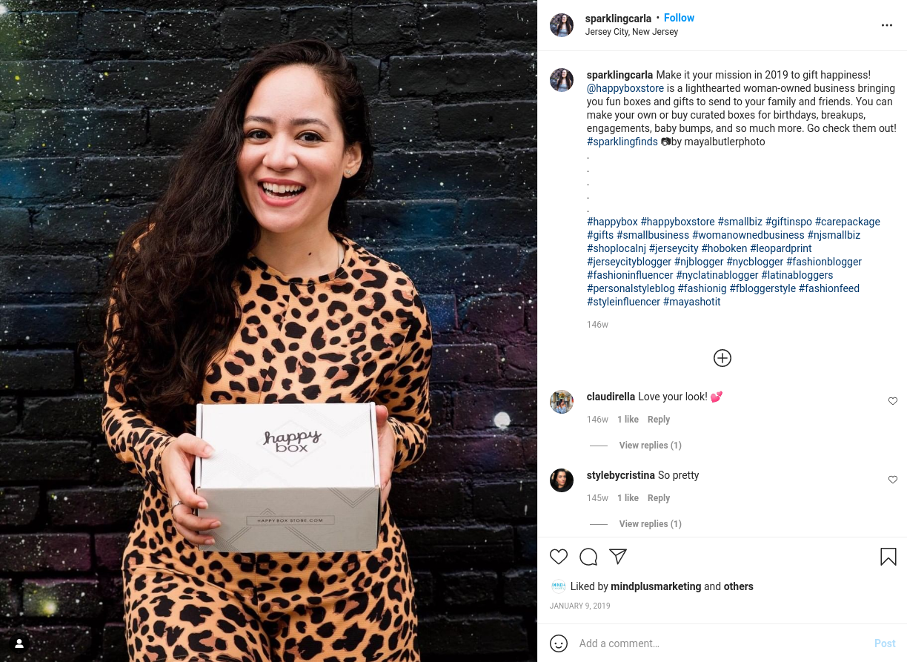 The Happy Box co-founders also talked about the best way to choose influencers. Spoiler: follower count isn't everything.
When your target audience is internet-savvy, they'll be very good at spotting obvious advertisements and branded messaging.
If this happens, your influencer ads can backfire.
Hannah advises working with influencers that routinely offer coupon codes for products and services that they genuinely love. Their followers expect it—so you can deliver your pitch to an audience who truly trusts their influencer and is more likely to buy.
You won't have great results if a lifestyle blogger awkwardly parrots your content instead of sharing their true appreciation for your product.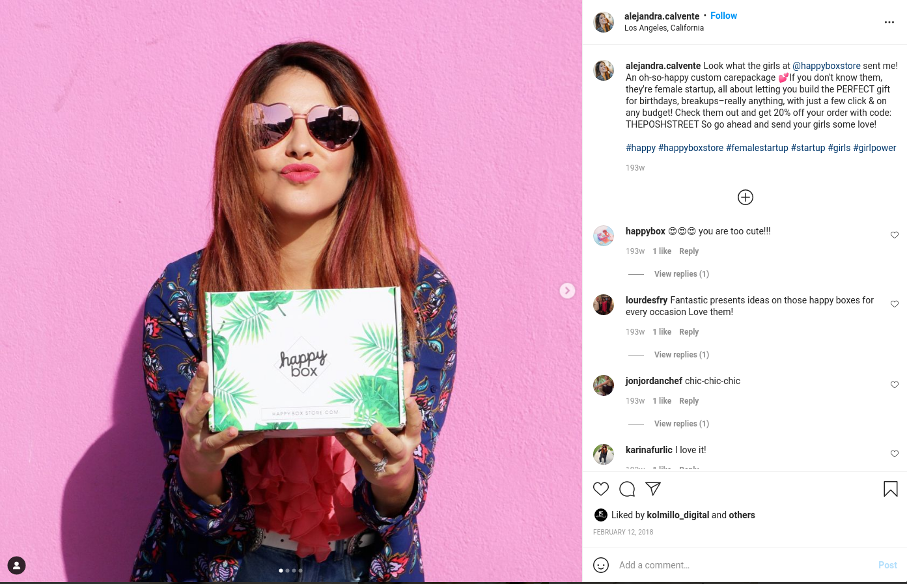 4. Diversify your ad spend
Happy Box spreads their advertising dollars across several different platforms such as paid search on Google and paid social ads on Facebook.
Below, see how they promote the company on Google.

In their Facebook ads, they use playful copy and colorful images to grab the attention of their potential customers. Then, they offer a coupon code to drive sales.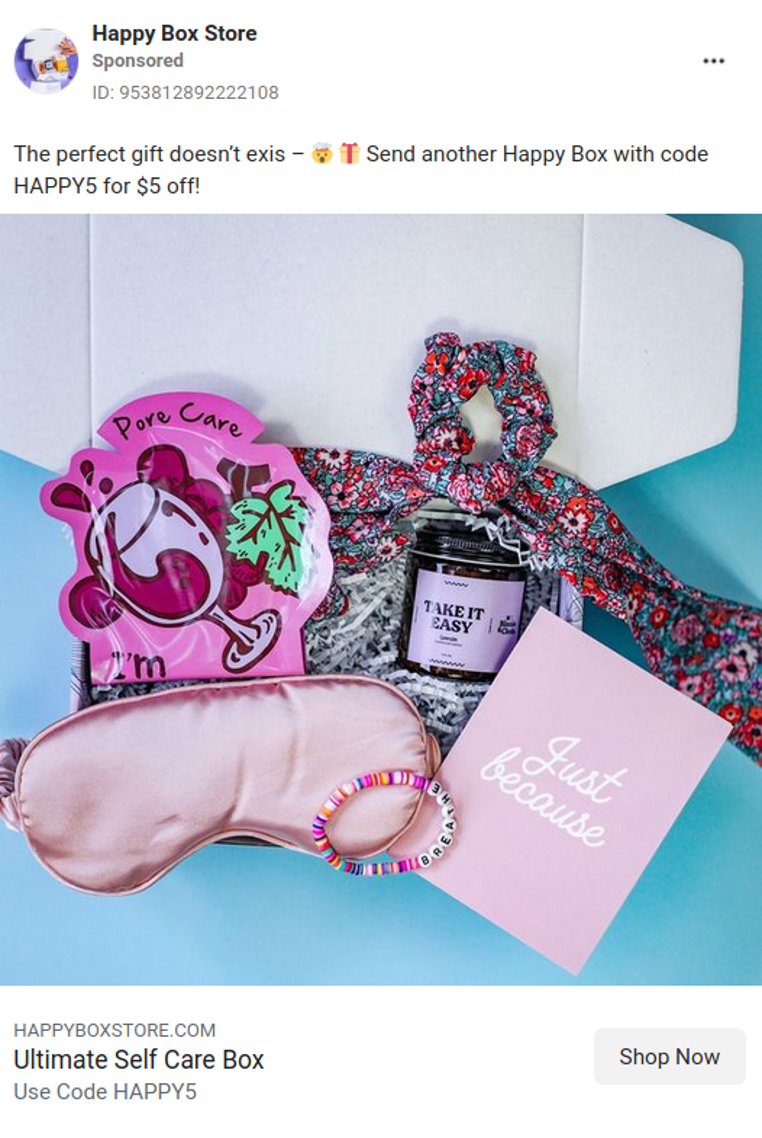 Spending your budget on multiple platforms helps when unavoidable updates happen on any network or mobile software. For example, a big privacy update in iOS 14 hurt brands that relied only on personalized social media ads.
"You cannot possibly plan ahead without being totally punched in the face by some of these updates," said Hannah.
If your company has a diverse marketing strategy, it's easier to roll with the punches.
"You can't have all your eggs in one basket," said Hannah, "so even before you have to diversify, do it."
5. Build brand awareness creatively
No one would deny that conversions are the lifeblood of ecommerce stores. But they can't be the only goal of a marketing strategy. You also need to think about brand awareness.
Conversion-focused campaigns have a high Return on Ad Spend (ROAS), which means that the money you spend on marketing will result in higher revenues. But they aren't the best for brand awareness.
"Relaxing those ROAS goals," said Hannah, "has allowed us to be strategic about diversifying the [ad] spend." They've expanded their marketing strategy to include strategies that simply help raise their brand's recognition.
The Redmond sisters, for example, present the "Totally Happy Podcast."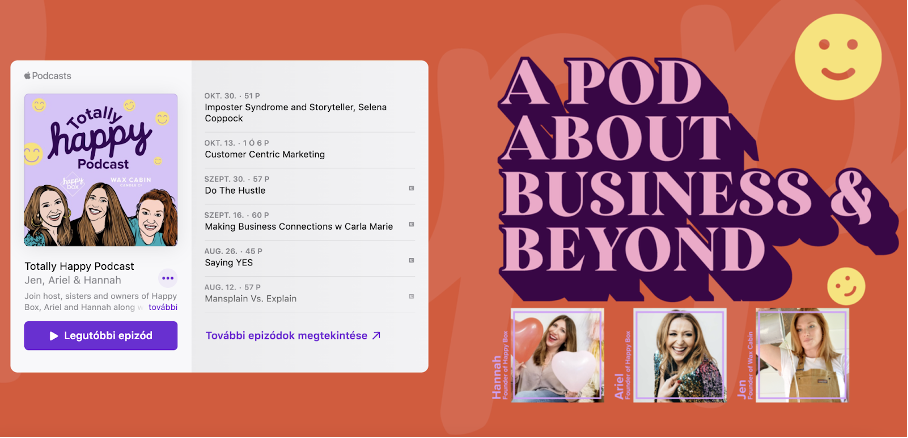 They've also branched out to broadcast television, with product placement on the Drew Barrymore Show.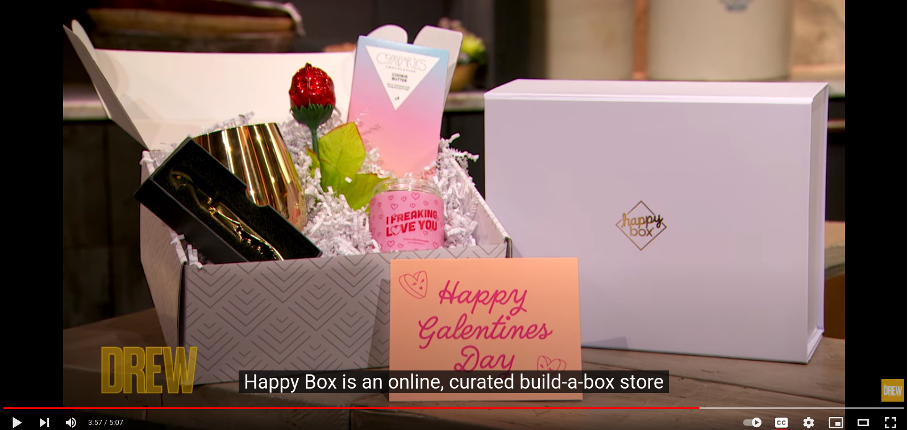 Both these steps put the Happy Box brand in front of a greater audience.
Here are some other ideas for brand awareness campaigns:
Start a Youtube channel

Create a blog with great content

Try to get featured on the local news
6. Build an email list from day one
Happy Box began to build an email list as soon as their online store was up and running—even before they had any email marketing campaigns!
Hannah and Ariel knew that email communication with their customers was valuable. This user engagement strategy lets you retain users for longer. For that reason, they made it clear that users would get coupons if they signed up.
"Consumers are so used to it, and almost expect it," said Hannah, "that they're not just going to just sign up. You have to give them some kind of incentive."
If you'd like to grow your list by offering incentives, try one these popups for free:
Currently, Happy Box sends two emails a week to their subscribers. They mix storytelling about their brand and products with discount offers.
For example, their welcome email immediately rewards subscribers with a $3 off coupon.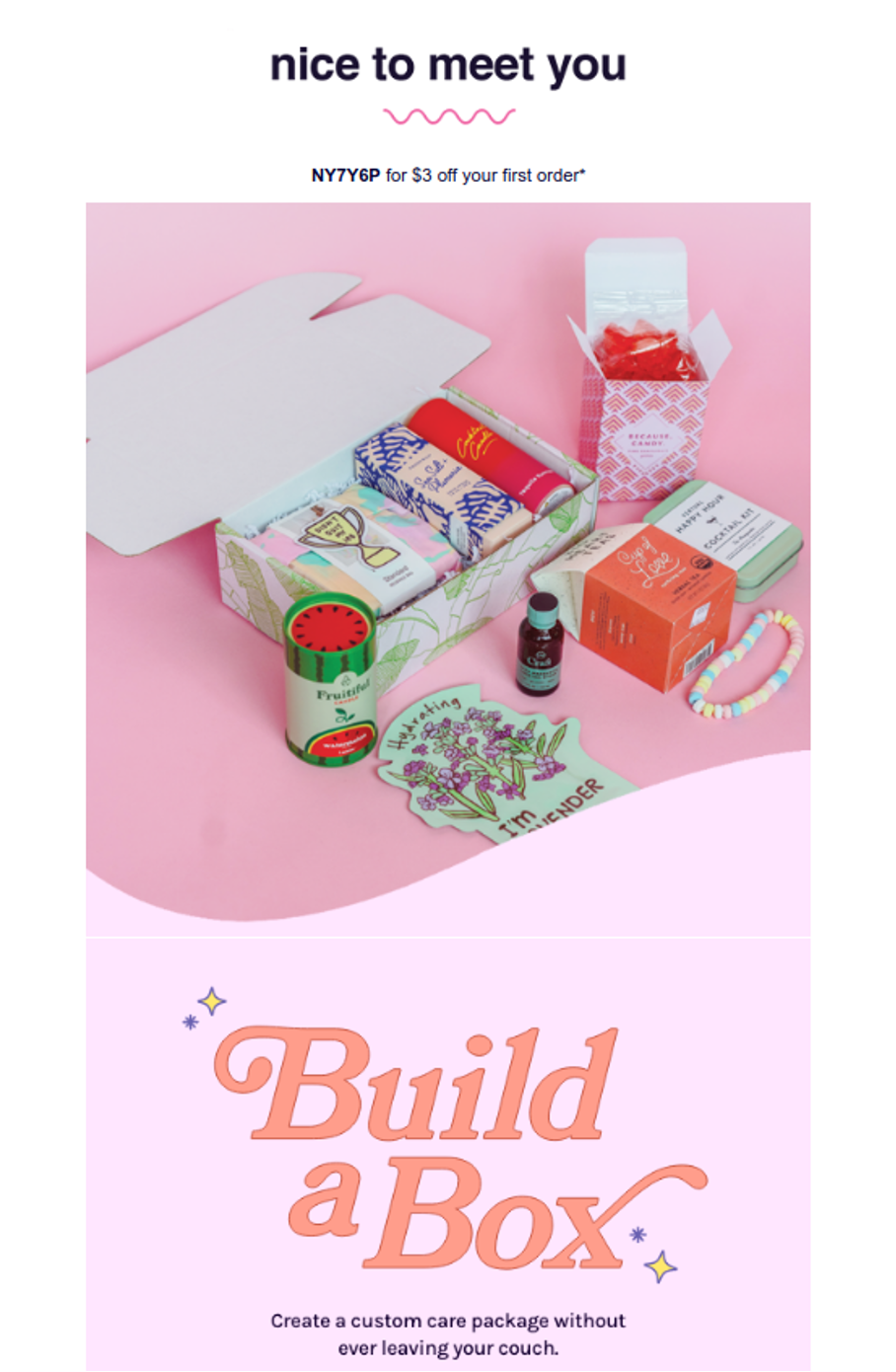 They also offer entertaining stories or valuable information in the emails. In the example below, they playfully pair fall drink recipes with products from their store.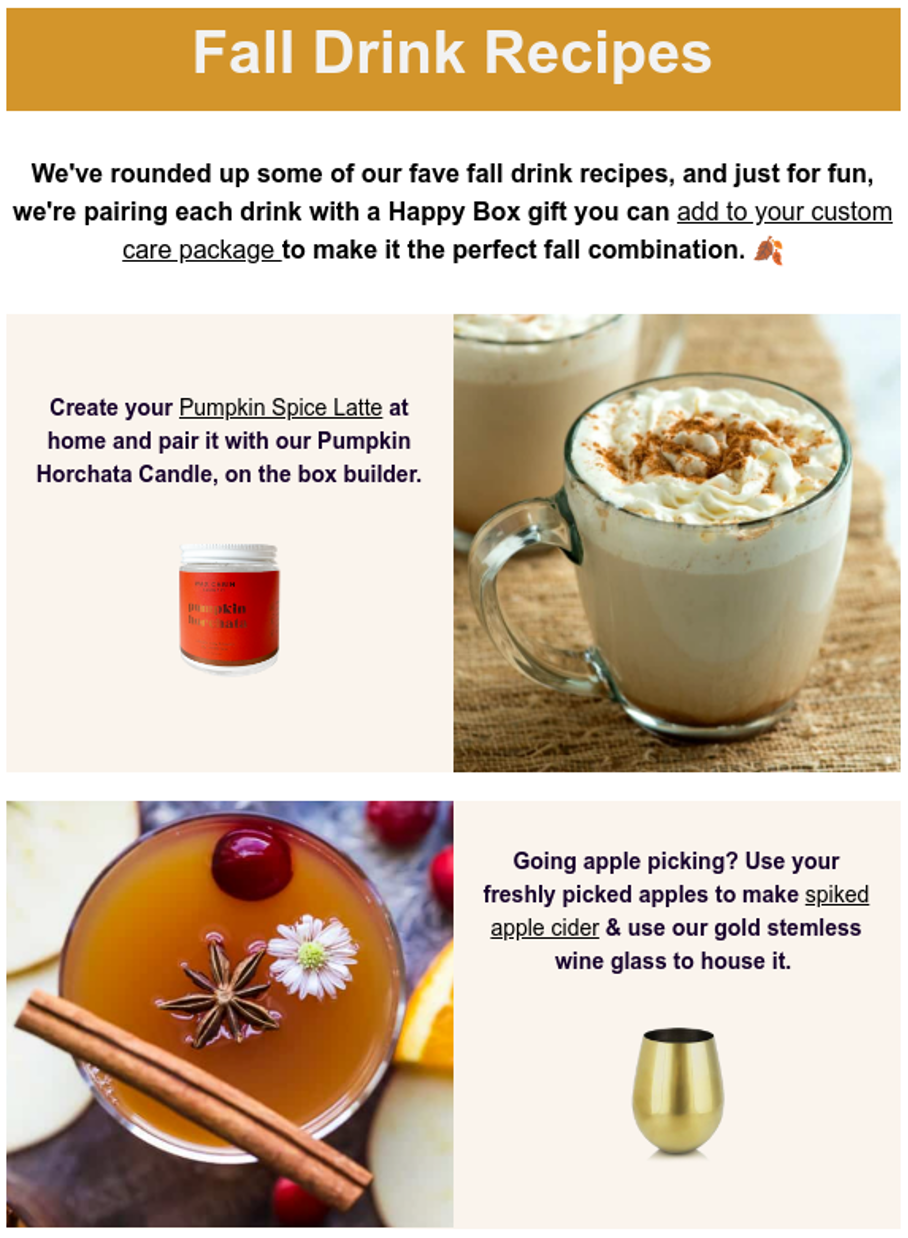 Happy Box is also currently exploring SMS-led campaigns. They collect SMS subscribers on the checkout page:

Small and medium businesses can take a cue from Hannah and Ariel's marketing strategies at Happy Box. To recap, here are the key marketing lessons from Happy Box's story:
Tailor your message to your target audience, but don't be afraid to branch out when opportunity knocks.

Connect with your audience by being active on the social networks they love.

Run your influencer campaigns to coincide with major holidays.

Implement a diverse marketing strategy that's resistant to sudden changes in the digital realm.

Don't (completely) sacrifice brand awareness to high-conversion campaigns.

Build up a big email list and reward your subscribers with storytelling and discounts.
Make sure to check out our Happy Box Marketing Toolkit and level up your company's marketing messages.