There's nothing more frustrating than seeing your website rank high in Google search results yet struggle to turn visitors into customers.
If you're like most website owners, you can't help but wonder why your site isn't getting the traffic and conversions it deserves, despite implementing an SEO strategy. How do you approach this and what's the best way forward?
Don't worry, we've got the solution right here! In this article, we'll show you four powerful techniques to help you supercharge your SEO strategy and improve your ROI.
Get ready to learn how website personalization can take your SEO game to the next level and keep your visitors engaged from the moment they land on your site. Are you intrigued? Keep reading to find out more!
1. Convert organic traffic into customers with micro-personalized exit offers
With search engines becoming smarter, generic offers are no longer enough to attract and retain customers. You need to ensure your visitors feel seen and heard, and that means providing offers tailored to their specific search intent.
Take a cue from Modèles de business plan, an online platform that offers business and financial plan templates for over 300 different industries. By implementing a micro-personalized exit offer strategy, they increased their conversions and boosted their ROI.
To understand the challenge that the Modèles de business plan team was facing, let's look at the typical customer journey. A potential customer might be looking for restaurant business plans and land on a blog post on modelesdebusinessplan.com.
To maximize the chances of converting this visitor into a paying customer, they need to offer relevant business plan templates and redirect them to the right product page.
Initially, the company used a generic popup designed to fit every single visitor. This message had a conversion rate of 9.25%.
To improve this, they wanted to set up personalized messages for thousands of different blog articles using only one campaign.
With OptiMonk, the team could gather data from the custom variables they wanted to use and create micro-personalized exit offers for their visitors.
For example, a visitor searching for a "marketing agency business plan" would see a fullscreen message promoting the template for marketing agency business plans and redirecting them to the relevant product page.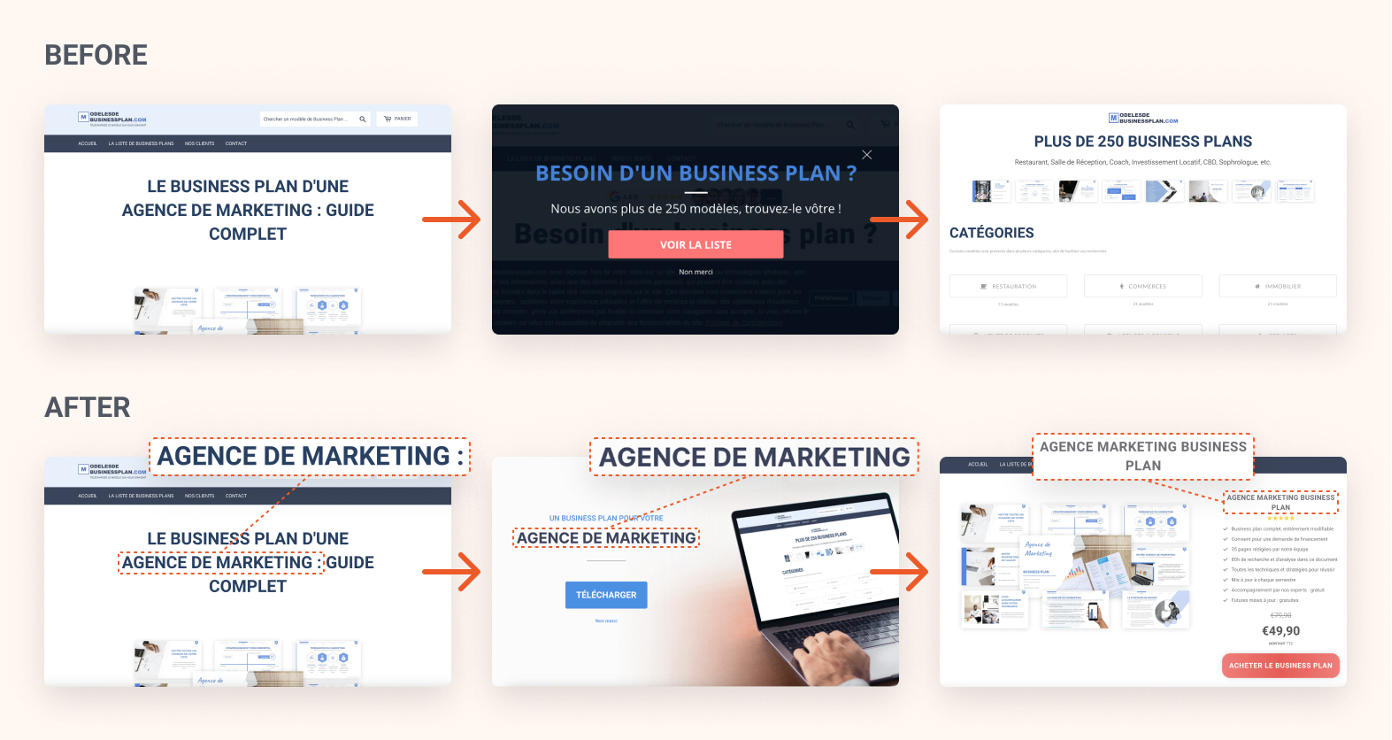 This micro-personalized approach led to a 64% increase in conversions compared to the non-personalized, generic version of the campaign.
By using specific keywords and tailoring their offers to different customer segments, Modèles de business plan was able to move visitors through their conversion funnel more effectively and increase their ROI.
2. Collect email subscribers with personalized content upgrades
As a business owner, you want to improve your SEO strategy to attract high-quality leads and increase your SEO ROI. One proven technique to achieve this is offering personalized content upgrades.
By adding an embedded opt-in form in your blog post, you can provide readers with a relevant content upgrade in exchange for their email addresses. This allows you to get specific, ensuring you offer something the reader genuinely wants.
For example, if you're a fitness blogger and you've written a post on "10 Ways to Burn Fat Faster," you could offer a content upgrade that provides readers with:
a printable meal plan,

a 30-day workout plan,

or a guide on how to calculate daily caloric intake.
Here's another example from the OptiMonk team where we offer a content upgrade of 54 email popup examples to people who are reading our article about email popups: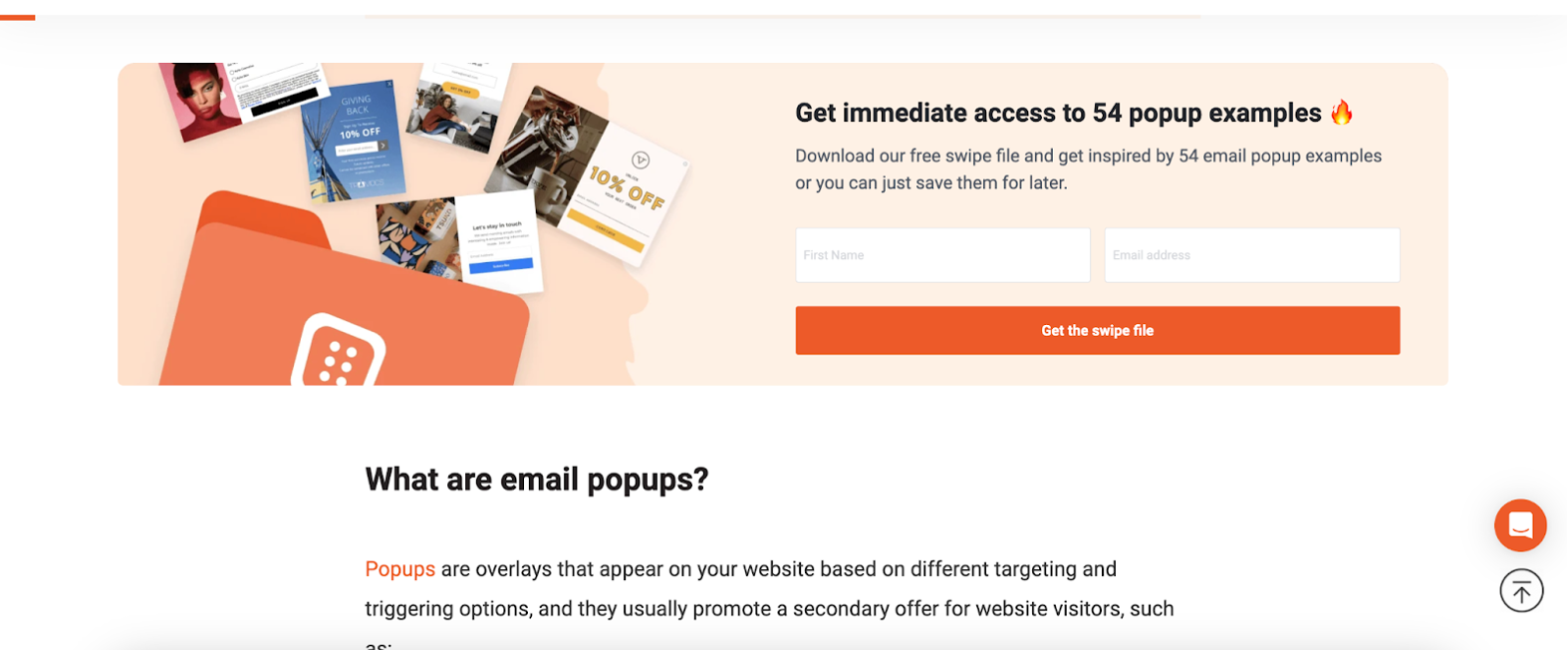 Offering something directly related to the topic they're interested in will entice them to subscribe to your email list. And you can also use this information in future emails, as readers are more likely to engage with content tailored to their interests and needs.
By using personalized content upgrades, you're not just collecting email subscribers—you're also providing them with value and building trust with your audience.
Content upgrades are different from a simple opt-in form on a blog, which might ask readers to subscribe to your newsletter or updates without offering them anything specific in return.
With content upgrades, you're providing readers with a tangible benefit directly related to the topic they're interested in, making them more likely to take action and subscribe to your email list.
In addition to increasing your email subscribers, personalized content upgrades can also help you with your SEO efforts. By offering high-quality content upgrades, you can:
increase reader engagement on your website,

lower bounce rates,

and raise your website in the search engine ranks.
When creating content upgrades, it's essential to consider the buyer's journey and the search intent of your target audience. By creating content upgrades that cater to each stage of the marketing funnel, you can increase your chances of converting potential customers into buyers. To further promote your website online, SaaS SEO agencies can be great as resources.
You can get started with one of these templates if you'd like to offer personalized content upgrades:
3. Encourage product discovery by recommending relevant products
If you're already talking about your products in your articles, why not take your SEO strategy a step further and recommend relevant products to your readers?
This could encourage product discovery, boost your SEO ROI, and increases the likelihood of a purchase.
When embedding product recommendations in your blog posts, it's important to promote products that are relevant to the post's topic. Not only will this add value to your content and improve your search engine rankings, but it will also increase the chances of conversion.
For example, let's say you've written an article on how to gain more energy using organic smoothies.
You could recommend energy-boosting smoothies, such as those containing kale, berries, and other nutrient-dense ingredients.
By including specific product recommendations, you're providing your readers with actionable advice.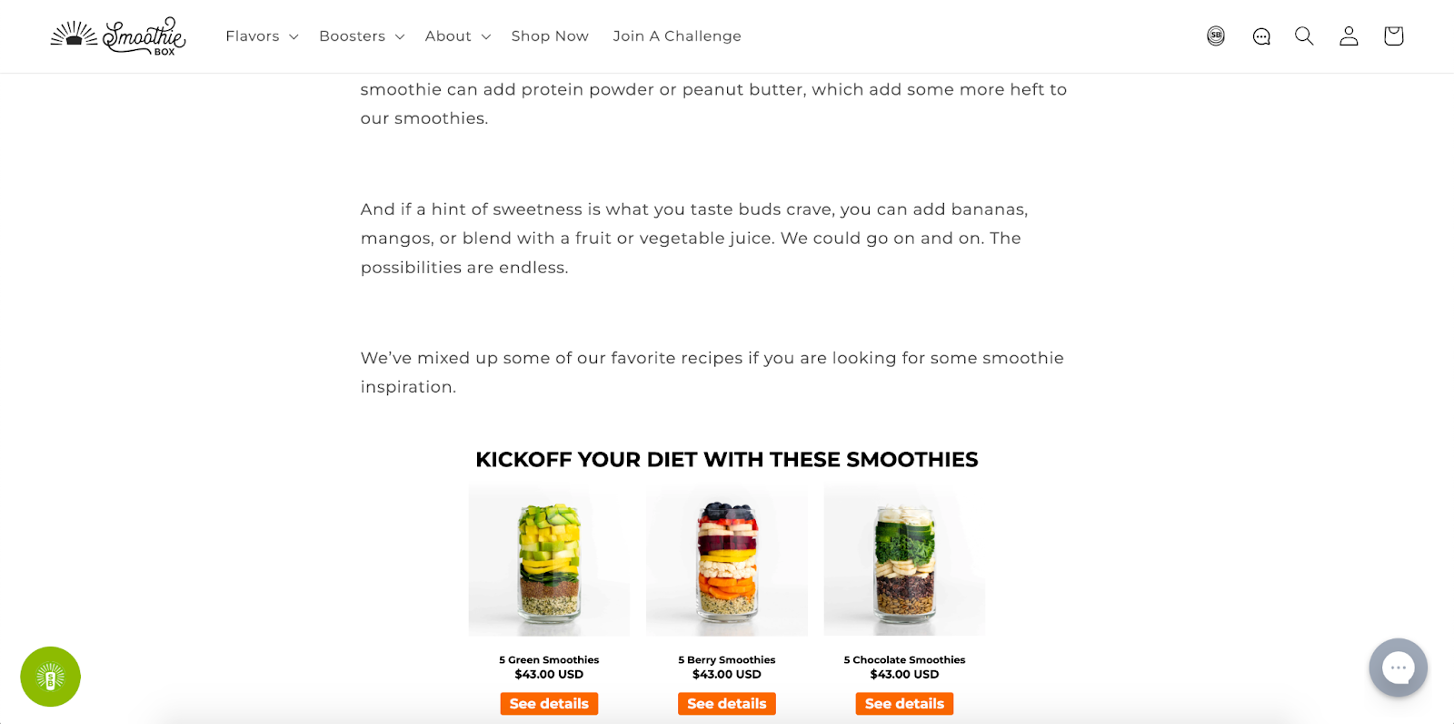 But you can get more creative and include some extra product information and social proof as well, as Bearaby does: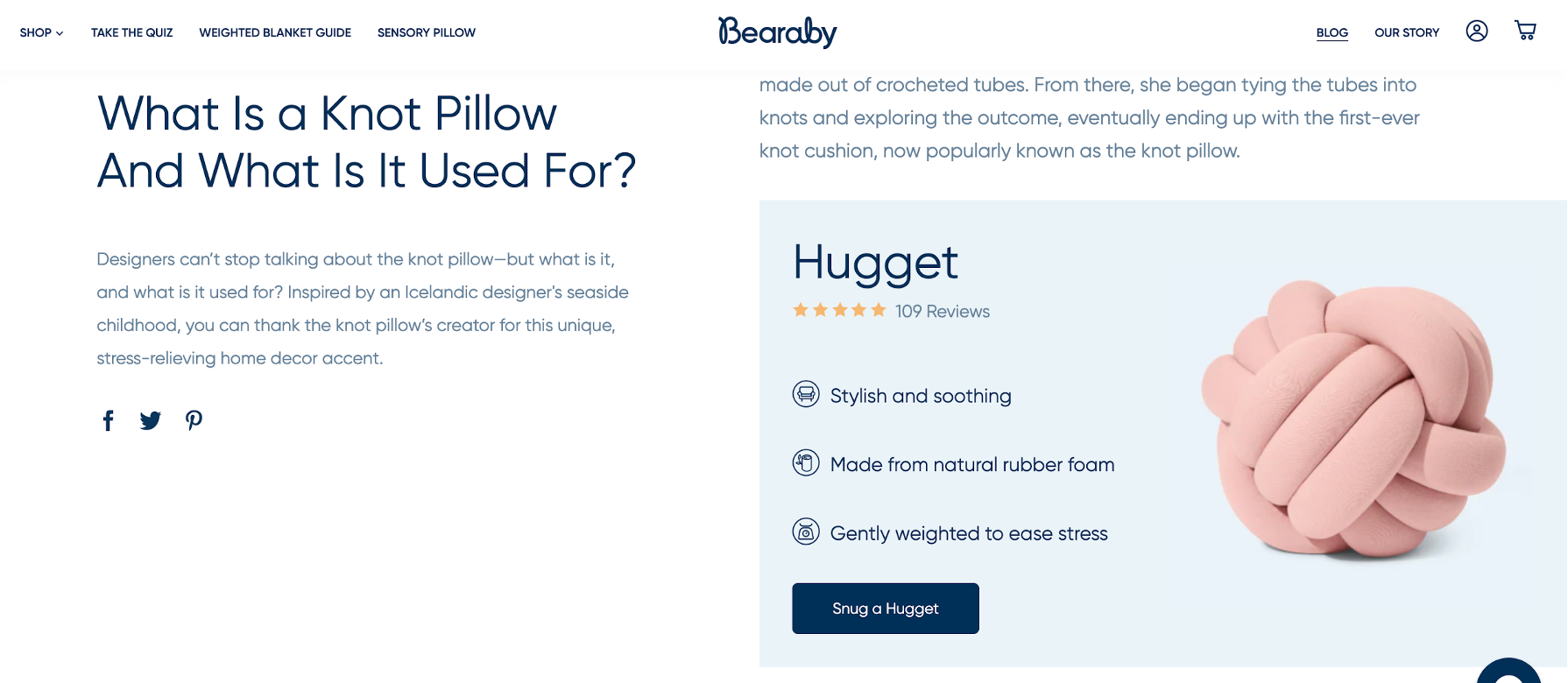 Or you can try to get more out of your website traffic by adding some humor like Dollar Shave Club: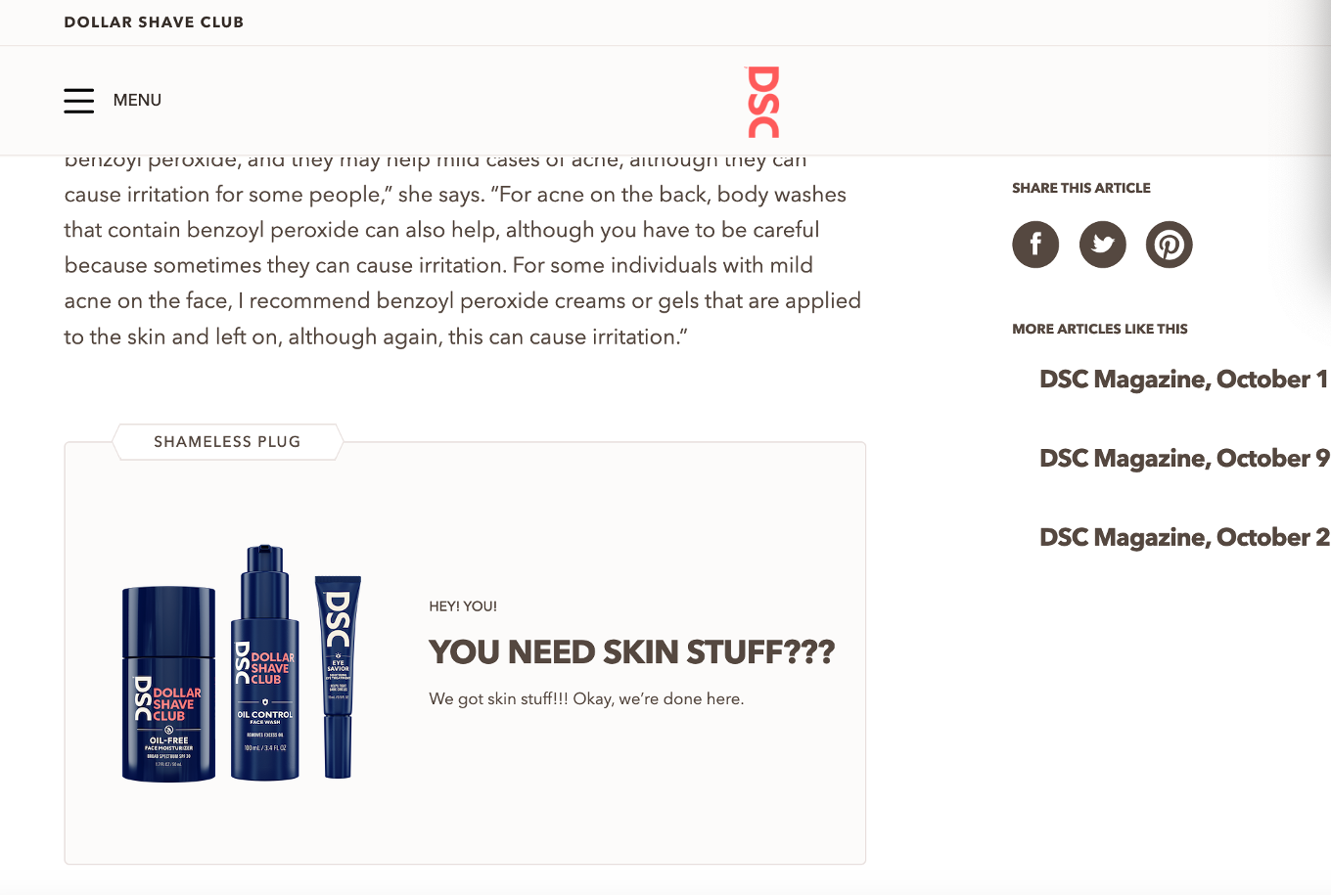 According to research, consumers are more likely to purchase a product after reading an article about it.
Embedding product recommendations into your blog article is a practical approach. A call-to-action button that reads "Shop now" or "Learn more" and points readers to the product page could be included, too. Alternatively, you might offer a list of suggested products with a synopsis and links to each product page at the end of the post.
However, it's crucial to exercise restraint while making recommendations.
If you promote your products too frequently in an article that's primarily informational, it may feel spammy or forceful. This can turn your readers off.
Instead, concentrate on promoting products your target market finds valuable and relevant. By doing this, you can be sure that your suggestions will be well-received and that your readers will be more motivated to act.

You can try these product recommendation templates:
4. Provide a special offer for organic visitors
As you focus on improving your SEO strategy, don't overlook the power of a special offer. This technique can help you increase your ROI and drive more organic traffic to your site.
You can take inspiration from Care/of's blog:

Here are some proven tips to help create a special offer that resonates with your visitors.
Create a sense of urgency:

To make your special offer more effective, add a sense of urgency. By setting a deadline or making it available for a limited time only, you can motivate visitors to take action. You can also use time-sensitive language in your CTA to encourage visitors to act quickly.

Make the offer exclusive:

To create a sense of exclusivity, make your special offer available only to organic visitors. This can make visitors feel special and appreciated and encourage them to share your offer with others. By making your offer exclusive, you can also avoid devaluing your brand by offering discounts to everyone.

Offer a valuable discount:

A valuable discount can be a great way to incentivize visitors to take action. But you want to ensure the discount is worthwhile and aligns with your brand's values. You don't want to offer such a steep discount that it hurts your bottom line, but you also don't want to offer a discount that isn't valuable enough to motivate visitors.

Use compelling copy:

Lastly, use compelling copy in your CTA to encourage visitors to take action. Use active language and focus on the benefits of your offer. For example, "Get 50% off your first purchase" is more compelling than "Save money on your purchase."
Why is search engine optimization important?
An SEO strategy can help your business get found by the right people and drive qualified organic traffic to your site.
How to measure the ROI of SEO?
To calculate SEO ROI, you need to divide SEO profit by SEO costs. SEO costs can include in-house SEO employees, freelancers, agencies, and SEO tools. To get your SEO profit, you need to know the gain from investment (the value of your conversions) and subtract the investment cost from it.
SEO ROI = (gain from the investment – cost of investment) / cost of investment
What is a middle-of-funnel keyword?
A middle-of-funnel keyword is a search term that indicates that a person is in the consideration phase of the buyer's journey. They know their problem and are looking for solutions.
What is a bottom-of-funnel keyword?
A bottom-of-funnel keyword is a search term that indicates that a person is in the decision phase of the buyer's journey. They have identified their problem, know about available solutions, and are weighing their options.
How can I segment organic visitors for special offers?
You can use a personalization tool like OptiMonk that allows you to segment visitors based on traffic source.
Should special offers be given to all organic visitors?
No, special offers should be given selectively to organic visitors who are in the middle of the funnel or bottom of the funnel. These visitors are more likely to convert and generate revenue for your business.
Improving your SEO strategy is crucial for boosting your ROI, and implementing the four proven techniques covered in this article can help you achieve your goals.
By conducting thorough keyword research, optimizing your website, creating high-quality content, and providing special offers for organic visitors, you can increase your search engine rankings, attract more qualified traffic, and, ultimately, generate more revenue for your business.
Remember to continuously analyze your SEO performance and adjust your tactics to stay ahead of the competition!