Product listing pages (or category pages) are pages that display the items that you have available for sale on your ecommerce site.
So are you just supposed to slap together a simple introduction, a decent picture of your products, and hope that shoppers like them enough to buy?
NO!
Too many ecommerce business owners underestimate the power of a good product listing page.
These pages are most likely where shoppers will be first introduced to your products. So you shouldn't present a rushed, disheveled product listing page to shoppers. That bad first impression can take a massive toll on your bottom line.
The best product listing pages feel like a warm welcome at a friend's house. They're inviting, they're put together, and they're pleasant, just like this product listing page below from ASOS.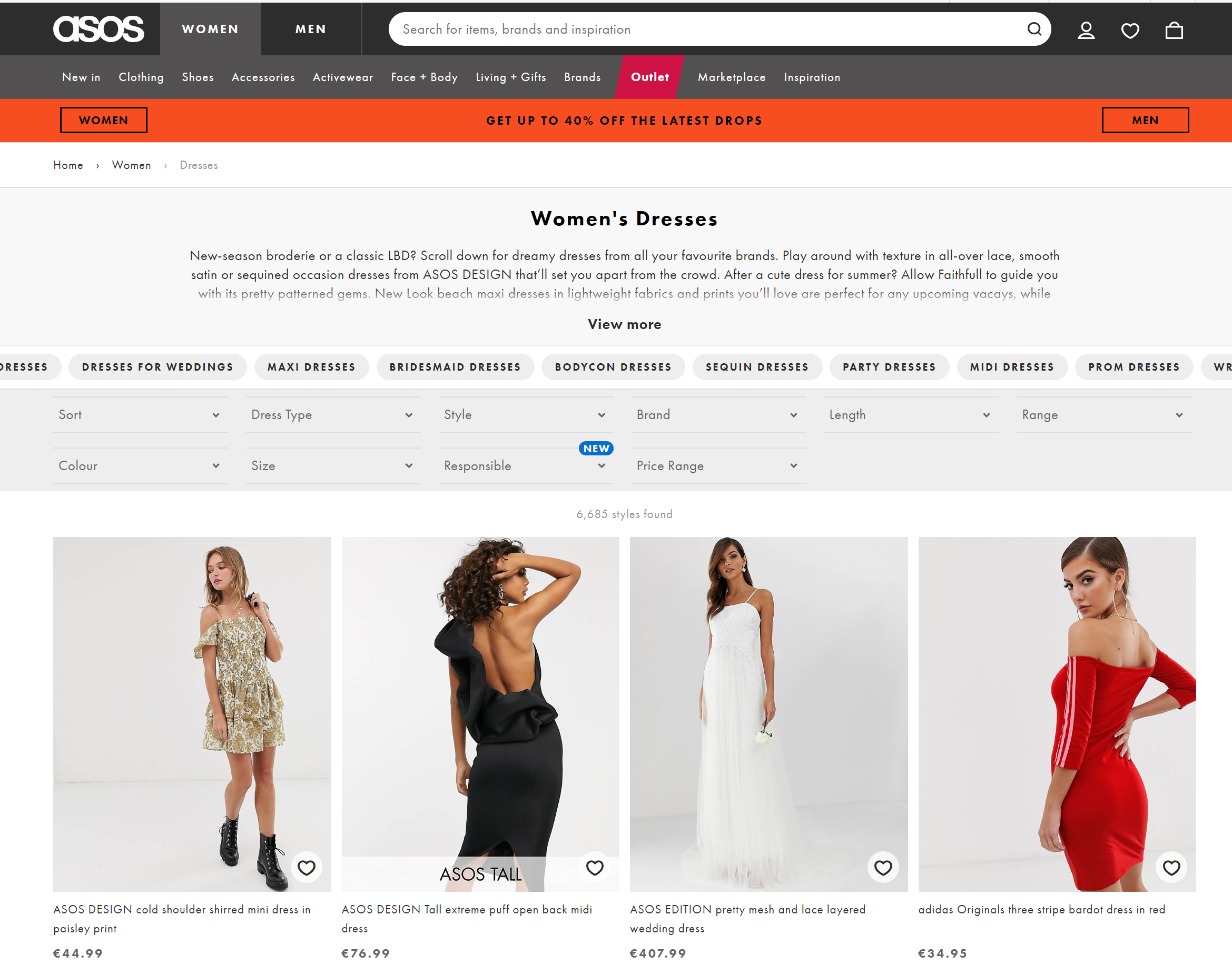 Source: ASOS
Now that you know the importance of product listing pages, we're going to go over the best way to organize them, the essential elements of a category page, how to improve navigation, how to boost your conversion rates, and how to improve SEO rankings.
Ready?
Let's get into it!
How to categorize your products?
The way you present your products to shoppers on your product listing page doesn't just affect their convenience, it also plays a major role in whether they buy from you or not.
Although there are a number of ways you could categorize your products, the two main ways we're going to cover are grid view and list view.
Grid view: This typically shows a product image thumbnail with a small amount of additional information. Sometimes this view will include the product name and price just beneath the image.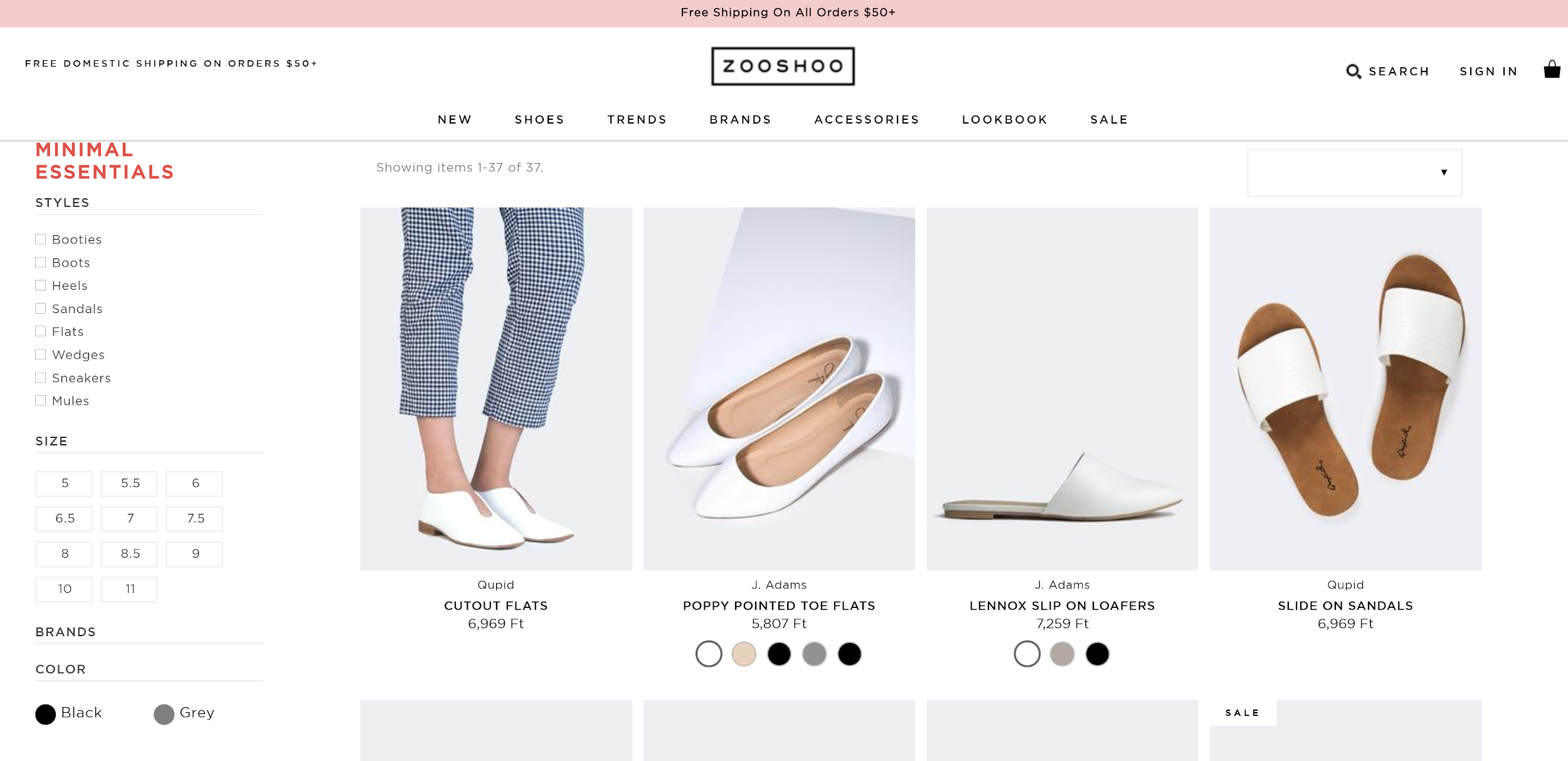 List view: This usually has a small picture on the left side and on the right side contains product information. The highlighted information is often the size, price, product description, or availability.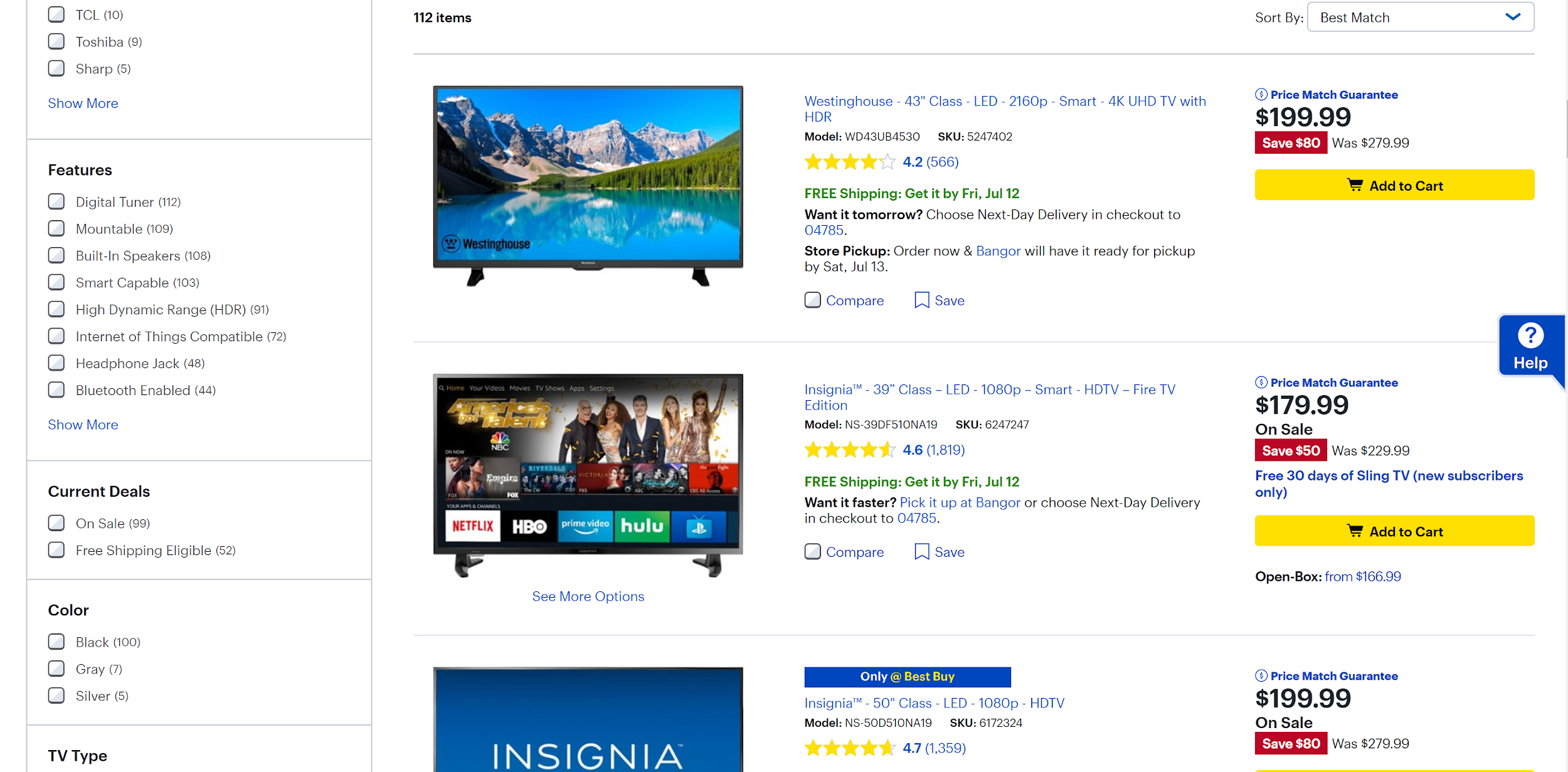 So how do these different categorizations affect the customer's decision process?
Grid view's advantages include:
More engaging due to more images
User attention is evenly spread throughout the items
The major disadvantage of the grid view is that it contains less information. This means that the customer will have to take more time to get more details on a particular product.
List view's advantages include:
Follows the natural F-shaped reading pattern human eyes follow
Provides more product details (which makes it easier for customers to compare products)
Which one works best for your store?
It depends a lot on the type of products you sell.
If you're running a fashion ecommerce store, you might want to have more compelling visuals.
If you're selling electronics, a list view might be best because of the importance of details like specs, warranty, etc.
The general rule is that grid views are for product images and list views are for details. Whatever view you choose, make sure to make a solid first impression on your shoppers.
What are the essential elements of your category pages?
Every page on your ecommerce website should enhance the user experience.
The product listing page is no different.
It shouldn't be looked at as a transitory page en route to your product pages. You should view the category page as another element that you can control to boost your conversions. 
How do you make the most of this page? Here are 5 ways:
1. Use beautiful headers
Clear, effective, and perfectly encompassing of the type of products in a particular category. An effective technique is using a high-definition hero image that captures the products listed in the category.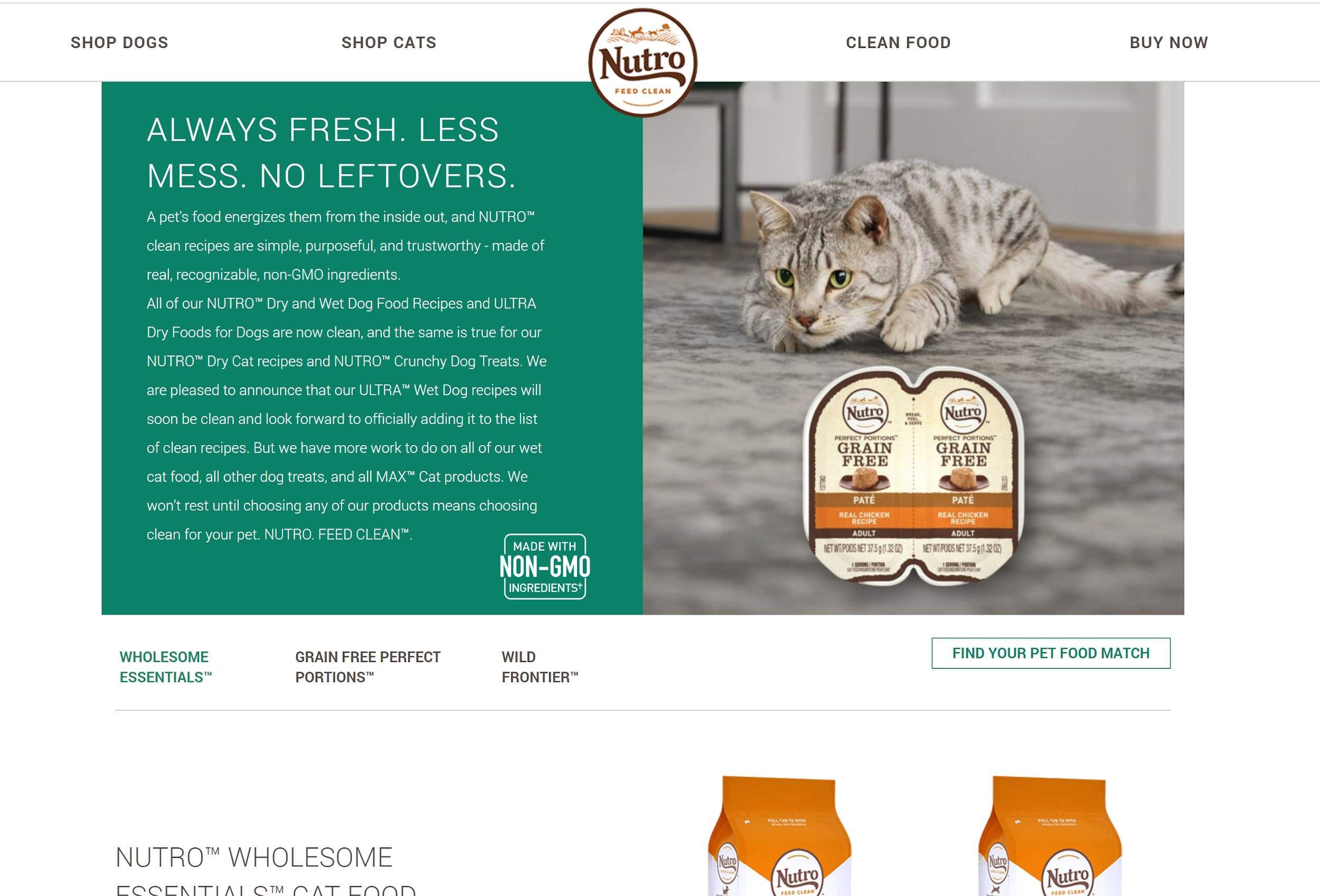 2. Get more from your thumbnails
One key tip with thumbnails is to keep them consistent.
Shoppers like to compare (sometimes with the concentration of mad scientists on the verge of discovering a medical breakthrough), so you've got to have similar backgrounds, consistent/complimentary backgrounds, and similar perspectives for the keen-eyed shopper.
It also gives a professional feel to the website when thumbnails are consistent. 
Use a grid layout for visual elements and minimize clutter wherever you can.
3. Put your best-selling products or most popular items front and center
Shoppers often want to know what others are buying and which products are flying off the shelves. Make it a piece of cake for them by displaying best-sellers and popular items clearly. 
You can even use this technique to boost sales by product bundling and cleverly upselling.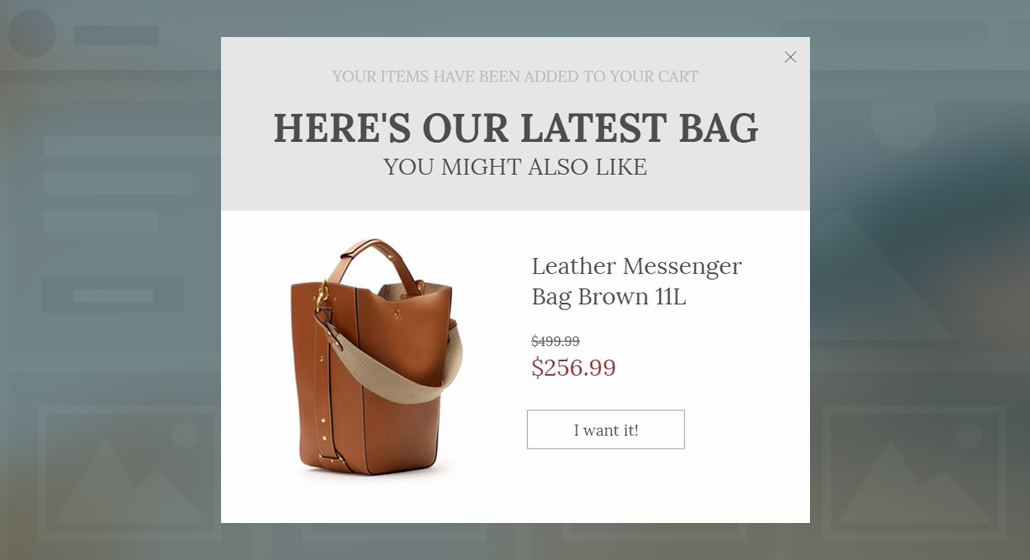 Tools like OptiMonk help you to promote your best-sellers or upsell products using on-site messages.
4. Use ratings and reviews
Social proof is one of the best things you can use on your product listing page to get more sales.
People are more likely to buy an item when it's been "validated" by others (the more validation, the better). The more you can showcase the number of real, satisfied customers, the better your chances are of selling your products. 
BOOM by Cindy Joseph does a great job at leveraging the power of reviews.
5. Show available sizes and color options
Give your shoppers options and have intuitive features that show a particular product in various colors/sizes.
Check out how H&M displays the available color options below the product: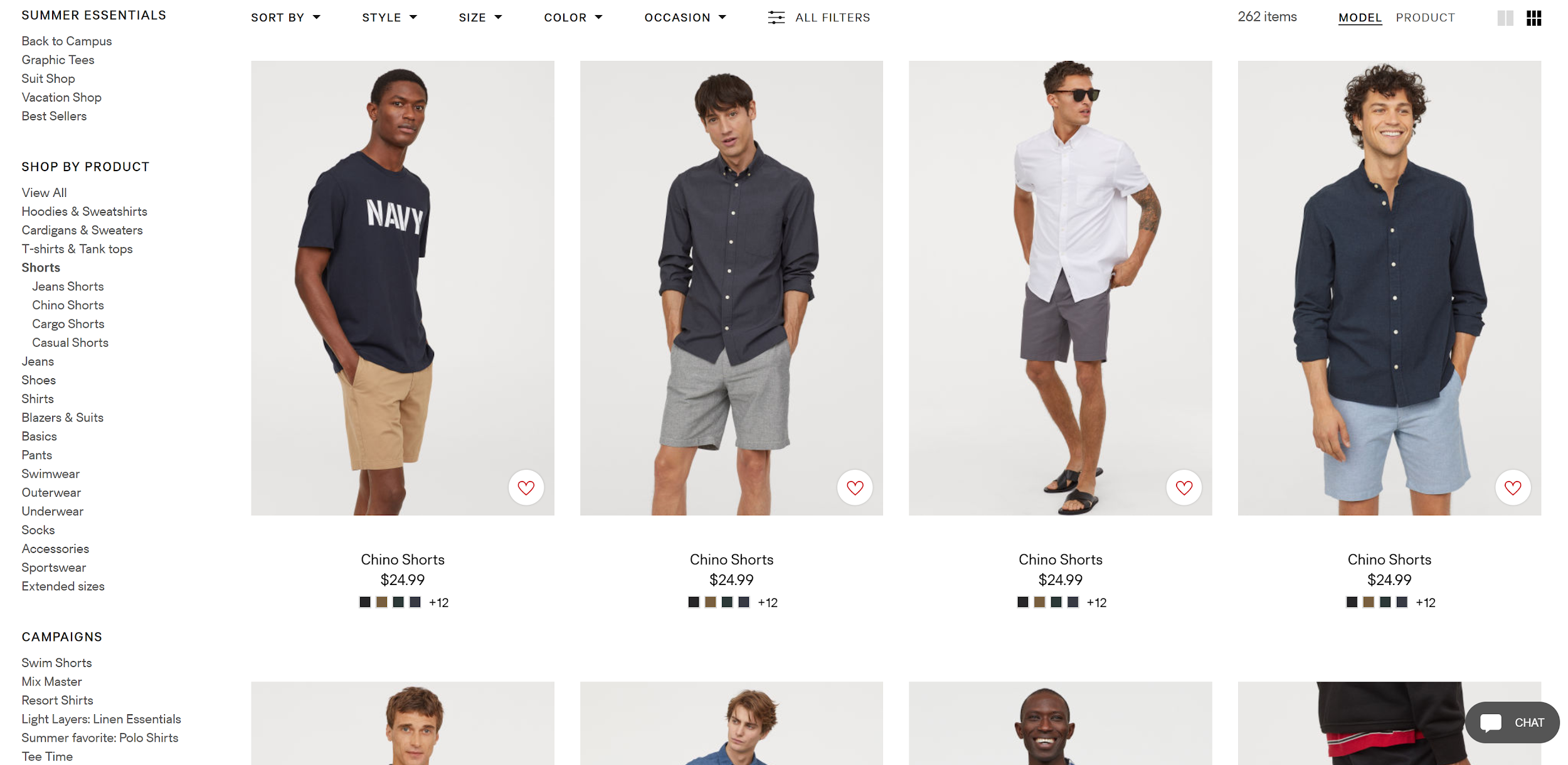 This can also be a place where you can effectively use urgency to drive more sales. For example, you can list that a select size is only available for X amount of time or there's only X amount left in green, etc. 
Companies like Amazon and Booking.com are experts in properly displaying urgency and getting people to act quickly.
A recent study by the Baymard Institute shows that not displaying product categories in the main navigation causes enormous navigational issues for shoppers.
To improve the navigation and visibility of product category pages, here are some practical tips:
Display the product categories as the first level of navigation.
Optimize your search functionality by using a clear and intuitive search bar. You could follow the Google Suggest method of employing autocomplete to help shoppers find their items faster.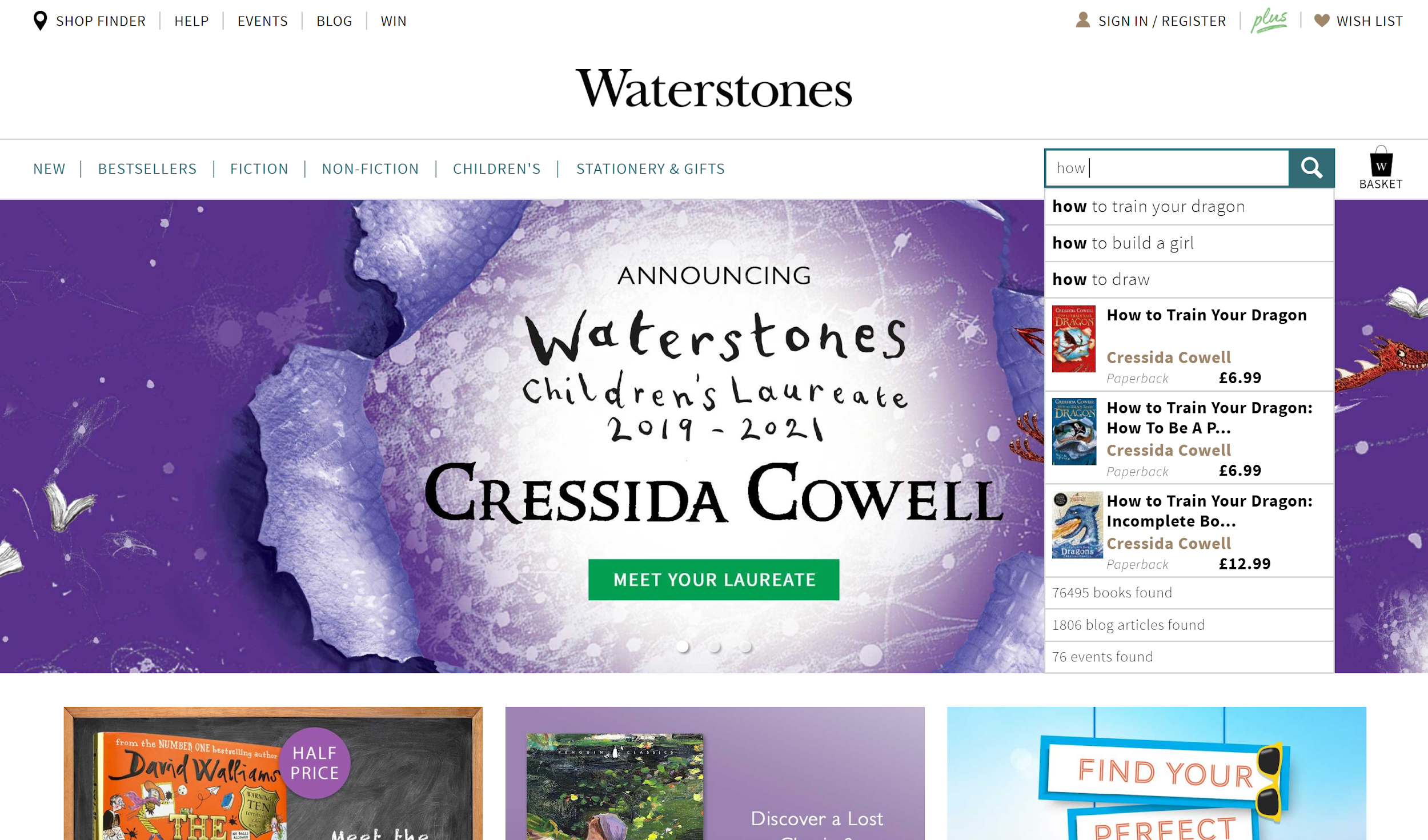 Allow visitors to rank products on the website. Having some sort of mechanism where visitors can ranka the products on your site will make the most popular products very visible and the less desirable products will be more difficult to find. This technique can also help you with product research and inventory management when there are patterns regarding product popularity.
Let customers sort items and search by color, type, shape, category, size, gender, and more.
How to increase product listing page conversion rates?
You can have the most well-oiled ecommerce funnel in place, but if you fail to optimize your product listing pages, your users' shopping carts will remain empty.
Ecommerce can be a cruel world….
Throughout this article, we've emphasized the importance of being intentional about every aspect of the product listing page design. The product images you choose, the social proof, and the copy you use, all of that plays a role in user experience and ultimately sales. 
With that being said, here are some proven techniques you can use to boost your product listing page conversions:
1. Use labels when a product is popular
Use clear labels and markers to let shoppers know about items that are HOT in your store. A good way is using contrasting colors or a tastefully placed bright banner indicating a product's popularity.
2. Make it easy for them to add to the cart 
I can't emphasize the importance of simplifying and making checking out a no-brainer for your users.
In 2023, brands are battling for customer attention like never before.
You have less and less time to get users interested in your product and then get them across the purchase line. On every item, you should have an "add to cart" button that drops an item to their cart automatically. Less resistance = a higher likelihood of people buying from you. 
Check out below how HoneyGirlOrganics have "Buy Now" buttons on its category pages.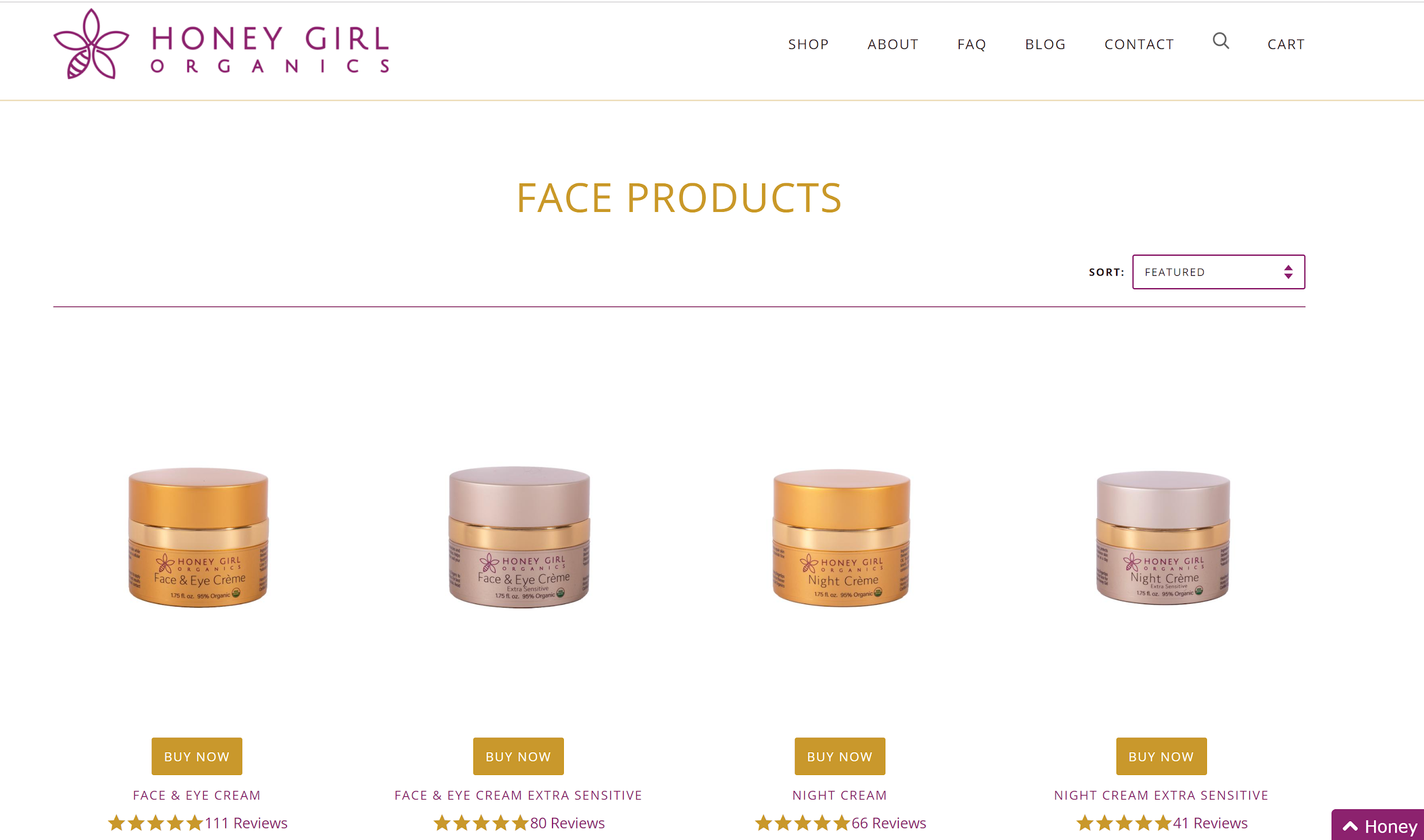 3. Provide more information
You don't have to overwhelm your shoppers with paragraphs on paragraphs on warranty, return policy, etc. You can find quick and clever ways to sneak this important information into your product listing pages.
For example, you can trim the fat and reduce your warranty and return information to one line that contains the "need-to-know".
Sometimes, less is more.
4. Personalize the shopping experience
Generic messages are one of the biggest reasons why cart abandonment rates around the world are sky-high.
It's as if ecommerce store owners forget that other HUMANS are shopping on the other side of the screen.
Speak to your shoppers like the people that they are and watch your sales grow.
I'm not saying you should go overboard with slang and use the latest hot terms from Urban Dictionary. I'm saying that you should speak to people like they're dynamic individuals, not "Dear valued customers".
5. Showcase your discounts
Have items on sale? Show them off. Are you offering first-time customer discounts? Highlight that! Have some sort of loyalty program or deal? Let them know about it. 
Sales and limited-time discounts can be a great way to boost sales and creating a connection with users.
Check out how BootCuffsSocks.com highlights products that are on sale. They also do a great job of increasing urgency. See how they display a message about someone purchasing a product recently?
6. Improve site speed
47% of customers expect a site to load in 2 seconds or faster. If your site takes longer than that, you're leaving money on the table.
Speed is the name of the game in almost every aspect of the eCommerce world so site speed should be taken very seriously. You should ensure that your website loads fast on desktop and mobile devices to give your users the smoothest and most enjoyable experience.
7. Hone in on your value proposition
What are you all about? What makes you different from the thousands of store owners? Why should people give you their hard-earned money?
Consumers are more conscious shoppers and want to know why a store sells their products other than the obvious (to make money). They want to know about your story, why you started your store, if you're using sustainable practices, etc. 
A unique value proposition can do the hard work of convincing customers to shop with you, allowing you to focus on conversions.
How to get to the top of search results?
In our search-centered consumer world, being in good graces with the SEO gods can take your store to the next level.
Optify states that websites ranked number one received a click-through rate of 35.4%, number two had a CTR of 12.5%; and number three had a CTR of 9.5%.
Notice the massive difference from 1 to 2 and then 2 to 3? That's how much of an impact SEO can have on your click-through rates, traffic, and sales. 
Here's how you can be on your way to SEO mastery: 
Take time to perform some thorough keyword research (Aim for longtail keywords that are relevant to your product. Longtail keywords generally have lower competition thus giving you a better chance of ranking favorably). Use

Google's Keyword Planner

to do this.  

Ensure your Category Titles include your keywords. 

Use simple URLs that can be understood by both search engines and humans (short and to the point always works best). 

Continue bringing in fresh social proof (Google favors sites that are regularly updated with fresh content. The more product reviews and ratings come in, the more Google will continue to index your site). 

Optimize your images by using the

right image sizes

and a solid title

 

Use

alt tags

in your images. 

Use social share buttons (Sharing is caring! The more your site/content is shared, the higher you will rank). 

Have a solid meta description (a 300-word, persuasive meta description with relevant keywords can have a massive impact on your click-through rate).

Make your product description pop by using benefit-driven copy that clearly describes the value your product will bring shoppers.

Regularly test and stay open to exploring new ideas when it comes to improving your organic ranking and conversions.
The world of ecommerce gets more and more competitive every day.
The more fine-tuning you do to boost your organic search results, the better your store will rank and the better user experience you'll be able to provide shoppers. 
You now have a decent amount of information to start transforming your product listing pages into conversion machines.
You learned about how to categorize products in your product listing pages, the essential elements, how to improve navigation, proven techniques for boosting your product listing page conversions, and game-changing SEO techniques.
Most importantly, you learned that being intentional and always looking for ways to make the user experience smoother is key to thriving in the ecommerce world.