Are you thinking about bundling your products? 
A solid, well-thought-out product bundling strategy can be exactly what you need to boost sales and improve customer loyalty, which will inevitably lead to higher earnings.
Product bundling is a common marketing tactic that can help you manage and clean out inventory by creating bundles that include older stock. Once you pack a few items in a bundle, you can sell them for a discounted price.
According to research, 30% of ecommerce revenue comes from the sale of product bundles. With such a widespread impact, product bundling is a business practice that every ambitious entrepreneur should consider.
In this article, we'll show you great examples of how to bundle your own products in the most profitable way. Read on!
What exactly is product bundling?
While at first the concept of product bundling might seem quite straightforward, it's often far more complex in practice. 
Product bundling is essentially a sales tactic where several individual goods or services are sold as a combined package. There are different ways to bundle (and different reasons for creating bundles), but they usually have one thing in common: they help your customers (no matter whether you've acquired them with the help of a lead generation service for business growth or other methods) to save money.
The price of a bundle is, in most cases, lower than the cost if the customer were to purchase all of the items separately. 
No matter how small (or large) the discount is, getting a great deal on a product bundle is certainly appealing for customers.
Why should brands create bundles?
Besides helping online stores increase their average order value, product bundling can also be an excellent way to sell less attractive or end-of-line products by bundling them in with bestsellers.
Brands may decide to leverage different product bundling strategies for multiple reasons, including:
Ensuring that bestsellers are used with complementary products

Offering attractive discounts on more expensive items, increasing customer satisfaction in the process

Selling products with upcoming

expiry dates

or those that haven't done well on the market
6 common product bundling examples
There's no shortage of ways to bundle products, and there's no one-size-fits-all solution that will work for every business out there.
Each company is different and requires a unique approach. To find the right one for you, think about your business' size, industry, and goals. It's also smart to focus on your customers' needs and test bundling options to find what works best.
Remember that no matter what you're selling, the bundles need to make sense. For instance, for a retailer that's selling beauty products, it's better to bundle a shampoo with a matching conditioner from the same line rather than trying to bundle the shampoo with a foundation brush.
Let's take a closer look at some of the most effective bundling strategies!
1. Pure bundling
Pure bundling is a type of bundling where the products or services that make up the bundle are not available for sale separately. In other words, the items that constitute a pure bundle are only sold together.
Examples of products that are typically offered in bundles and are almost never available separately are one-time-purchase items and multipart sets, like a curling iron with several detachable wands.
Pure bundling is often seen as an advantageous marketing strategy that secures more sales without increasing marketing costs. Because of this, pure bundles play a significant role in product bundling.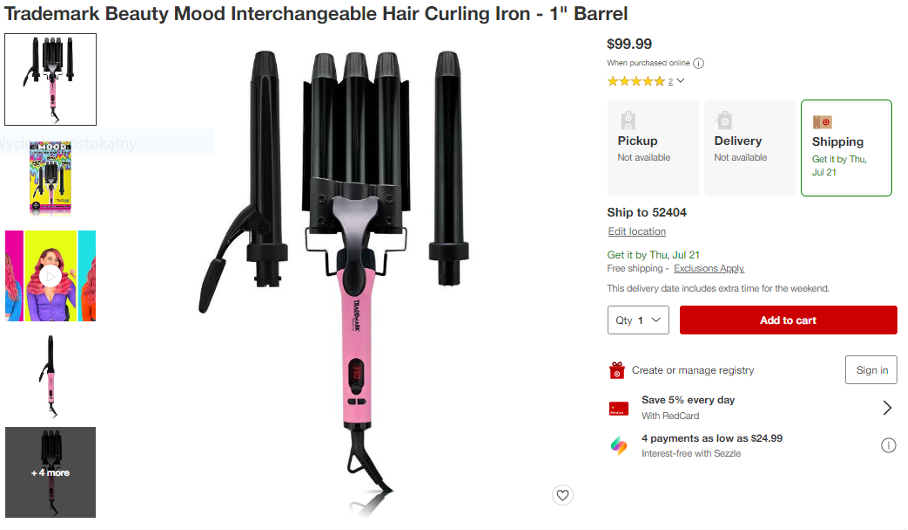 2. Gifting bundles
Gift bundles are mostly targeted at shoppers who are looking for a set of complementary products that can work well as a present for their loved ones, friends, or family.
Gift bundles are often sold around holiday seasons like Christmas, Easter, or Valentine's day. Beauty retailers like Sephora offer gift sets marketed as "holiday vibes" that include a wide array of different skincare or makeup products that work well together.
Some of the products included in these bundles might be seasonal "specials," only available for that particular holiday. Creating gifting bundles is an efficient way to ensure more sales during the holiday season.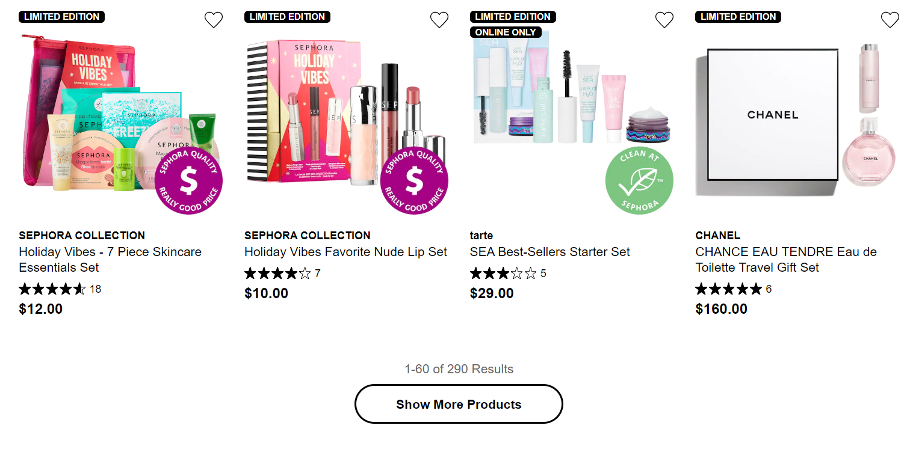 3. Mix-and-match bundles
The mix-and-match bundling method revolves around grouping together several products and selling them as a single unit for one price. Traditional brick-and-mortar stores often use this technique for products such as perishables or bulk items.
With mixed bundling, you can designate several products for your customers to choose from,  allowing them to create their own custom bundles.
This strategy is particularly useful when you want to give the customers the impression that they have direct control over the things they buy. This helps increase the perceived value of the bundle and leads to a better shopping experience for your customers.
The key to success with mix-and-match bundling is to encourage customers to buy in bulk without making them feel like they're being forced to buy random items that they don't need or want. For instance, fast-fashion giants (like H&M) frequently bundle popular items like three of their basic regular fit jersey tops.

4. Inventory clearance bundling
The inventory clearance bundling method helps you deal with those slow-moving items you can't seem to get rid of. Just bundle them with a fast-moving item, and you'll easily reduce your carrying costs and clear space in your warehouse.
Bundle pricing plays a critical role here. Typically, bundles like these offer attractive discounts, which encourage customers to choose the bundled package rather than purchasing items individually or opting to get only the bestseller.
A clothing store can bundle a shirt and a tie or create a bundle with hair scrunchies in different colors to ensure that those smaller items that don't sell as well are off the shelves and make their way into customers' shopping carts at a discount.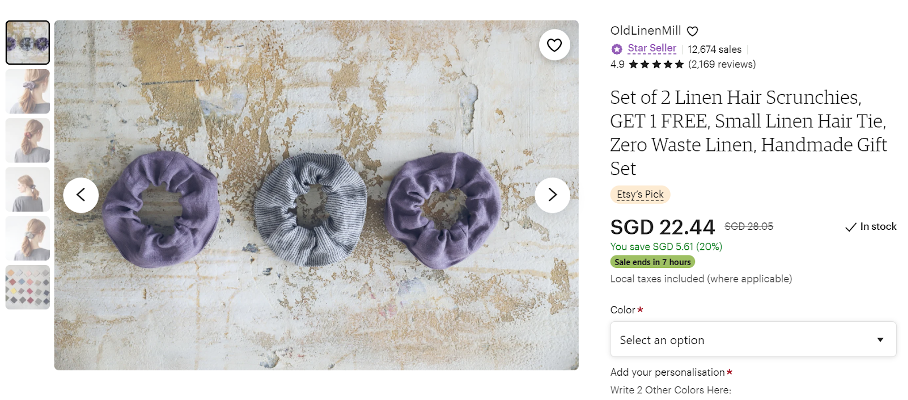 5. Discount bundling
While it's true that you can use extra discounts, promo codes, or coupons with virtually any of the other bundling strategies, there's actually more to this strategy. 
You can use this method to establish a certain image for your brand and make your customers feel that they can trust you. Then, when they're looking for the best deals in the future, they'll buy from you rather than from your competitors.
For instance, you could try out the buy-one-get-one (BOGO for short) technique, which works exceptionally well when your goal is to clear out your inventory and generate more cash. With BOGO, customers feel encouraged to buy more products to take advantage of the offer. Examples of promotions that you can create include:
Add a free item automatically when the customer buys two other items included in the offer (e.g. a free conditioner is added to the cart when someone purchases two shampoos).

Remind the customers that they can choose a free product from the "accessories" category when they buy two t-shirts.

Allow customers to buy two products and get the lesser-priced item for free.
Discount product bundling can also include free shipping. This is smart for many reasons: it can boost the average order value, encourage loyalty among customers, and (most importantly) increase sales and revenue. It can also help limit shopping cart abandonment, which often happens when customers think shipping costs are too high. 
If you use this strategy the right way, you won't have to worry about covering the shipping and packaging costs out of your own pocket—after all, you want to make money, not lose it! You're the one who sets the rules here, so you can offer free shipping only for those customers who choose a particular bundle or place an order with a specific value (set a threshold of $99, $199, etc.).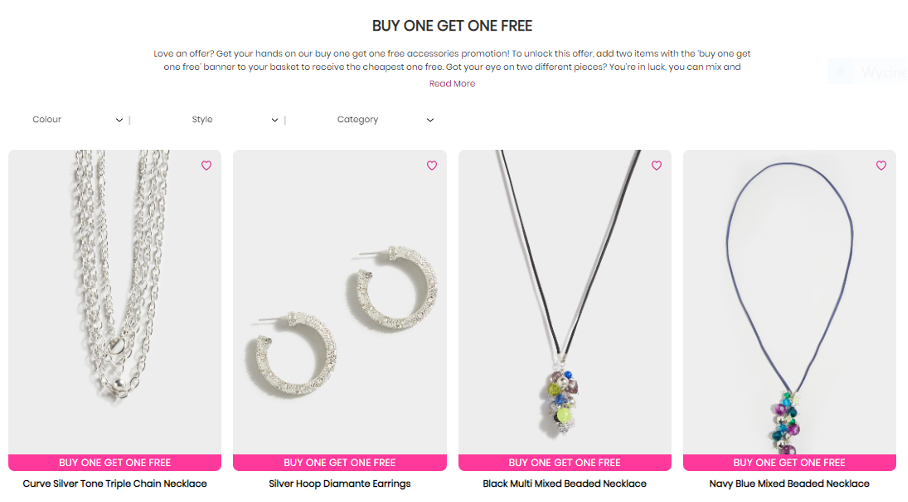 6. Cross-sell bundling
Cross-sell bundling, or simply cross-selling, can be an excellent way of using the power of personalization to your advantage. This method allows you to offer buyers additional products that might complement what they've already got in their cart. 
You can suggest items that the customer might need to make the most of their purchase, or recommend little extras they may simply want to purchase. Cross-selling can be particularly effective when the items you suggest to the customers are priced lower than the items already in the cart.
To make the most of this technique, the products you're trying to cross-sell should be relevant to what's already in your customer's basket. This means that if someone's buying nail polish from an online drugstore, it's better to offer them a nail file or a quick-dry top coat instead of recommending hairspray or lipgloss. 
To make this bundling method even more effective, you could combine it with another strategy like discount bundling. Consider adding a discount on the total bundle or just on the item you want to cross sell. 
Some online stores also choose to include a dedicated section on their product pages, often called "customers who viewed this item also bought." Cross-selling can be accomplished in many different ways, but the goal is always the same: to catch the attention of your customers with complimentary items that are frequently purchased with the product they're already considering.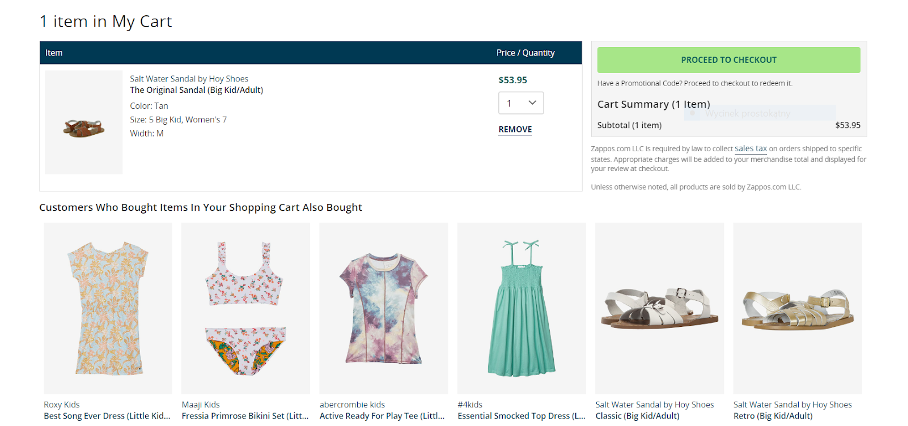 How to boost your sales with product bundling?
We've reviewed the benefits of product bundling and 6 different strategies you can use to boost sales or move inventory. Now, it's time to get to work and create your own bundles! 
Here's how to do it right:
Bundle overstock or items that don't sell well with your bestsellers. This way, you'll mitigate the risk of your inventory passing its expiration date or going out of fashion.


Experiment with various product combinations. Check what works and what doesn't to determine which bundles your customers find the most attractive.


Bundle products that people already buy together to create bundles that appeal to your customers. If you're not sure which products to bundle, take a cue from your customers! Reviewing products that your customers frequently buy together can help you better understand their needs.


Start a "buy more, save more" campaign. Encourage your customers to purchase more items to lower the overall price of their orders. You can also set up different loyalty programs by allowing people to earn points for the money they spend and redeem those points on subsequent orders. 


Build more meaningful bundles by using your industry-specific knowledge. If you're in the clothing industry, you can suggest that the customers buy insoles with their shoes or belts with pants. When it comes to the beauty industry, your expertise may help customers realize that body and face oils need to be applied over hydrosols that help them sink into the skin.


Allow customers to create their own custom bundles. In addition to your pre-built bundles, consider allowing customers to pick their own accessories or extras to increase the order value. 


Emphasize the savings. Whenever people spend money, they love saving… which means reminding them about how much they've saved is always smart! Keep the savings top of mind by showing them both as both a dollar amount and a percentage.


Include freebies.

Everyone loves to get something for free. For example, beauty retailers often offer free samples of high-end products. Just make sure that the free items you add are relevant to your customer's order—no one likes to end up with random junk they have no use for.
As you can see, bundling is a smart way to boost your in-store and online sales. It enables you to sell more and decrease marketing and distribution costs.
Keep in mind that above all else, your product bundles need to make sense. No one's looking to buy a doorknob with a laptop. So if you're selling computer equipment, think about including a freebie that adds value for your customers, like a USB cable or a sample of screen cleaning wipes. Then, sit back and watch your sales revenue climb!
We hope this article helped you learn more about some of the most common types of product bundling. Use these techniques to your advantage and start selling more merchandise without increasing your costs. Good luck!