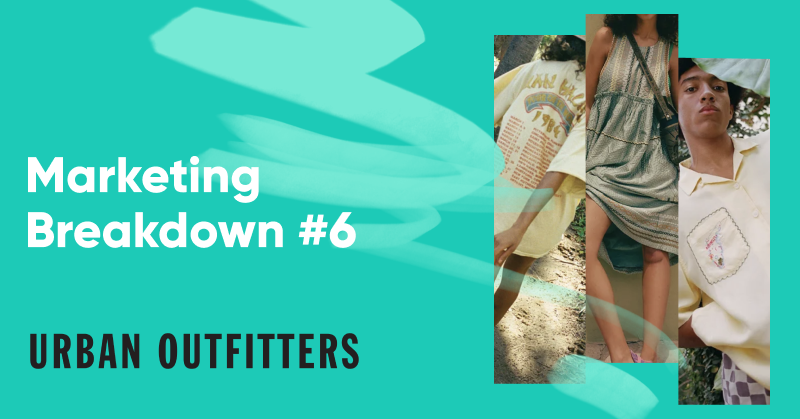 Urban Outfitters grew from a small Pennsylvania shop to a global retail giant in a span of 50 years. They're fantastic at keeping in touch with Millennial and Gen Z culture, and their message always connects with their audience.
That's how they were able to increase revenue per customer by 146%. They also know the value of a great rewards program and how it strengthens brand loyalty.
Want to learn how you can do the same with your business? Join us as we dive into Urban Outfitters' marketing strategy.
Tip #1: Launch a rewards program with exciting offers
Kobie Marketing conducted a study on customer loyalty and found that:
86% of customers join loyalty programs for rewards.

78% join for exclusive discounts.

78% of Millennials enroll into two or more loyalty programs.
Urban Outfitters knew they had to find a way to strengthen loyalty with their target customers, and a loyalty program seemed like the perfect solution for that. Here's what they did.
Step 1: They delivered a simple and nonintrusive message asking visitors to join their rewards program.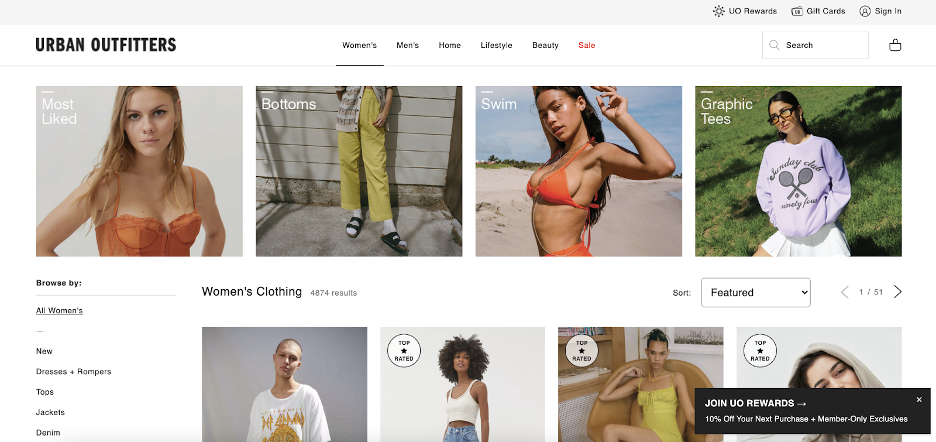 They captured visitors' attention without disrupting their shopping experience. And they only target new visitors with this message, so it reaches the right audience.
Step 2: They make it easy for customers to earn points.
Urban Outfitters gives customers eight ways to earn points for their loyalty program. They even get 50 points for signing up.

There's also a 10% discount just for registering. And the more products they purchase or review, the more points they earn.
They can use those points to access:
Even more discounts.

Special offers.

Exclusive giveaways.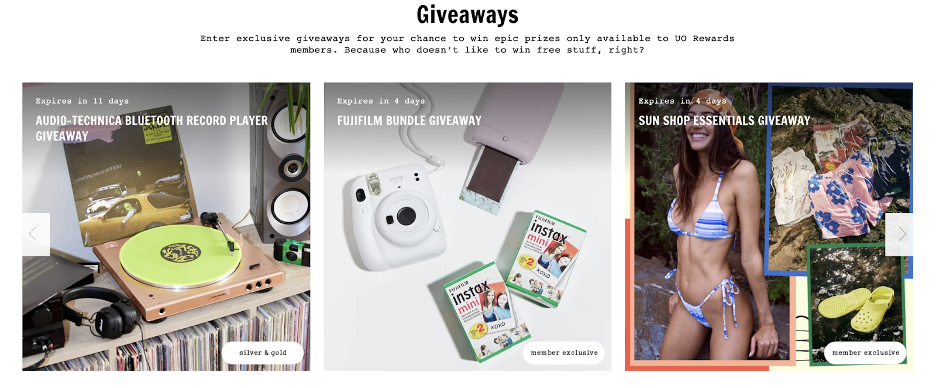 These are awesome perks—and that's what drives customer loyalty.
Here's why we love this rewards program.
Urban Outfitters isn't stingy with their points. They even offer customers five points a month just for browsing their app or website.

They also go the extra mile by offering rewards like meet-and-greets with popular celebrities or rare merchandise.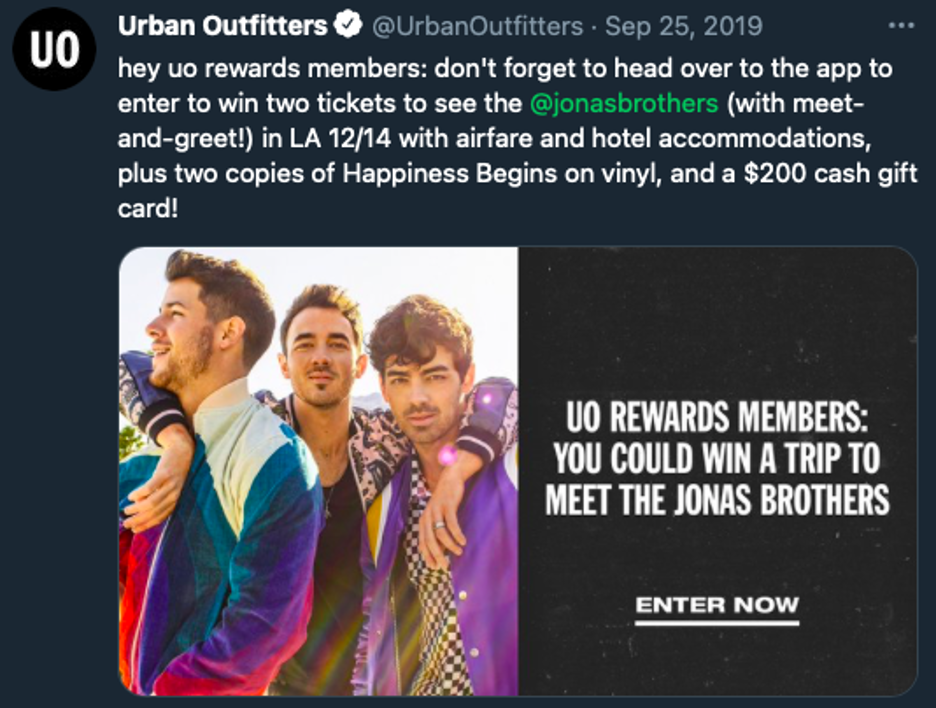 You might not be able to gift customers with celebrity meetups, but you can use the same strategy. Offer your customers amazing rewards like:
First dibs on unreleased products.

Great discounts.

Free merchandise.
There's one more critical element of a good rewards program—accessibility.
Accessibility increases engagement and sales. It should be easy for customers to measure their progress.
Outfitters has a mobile app that customers can use to collect and spend points.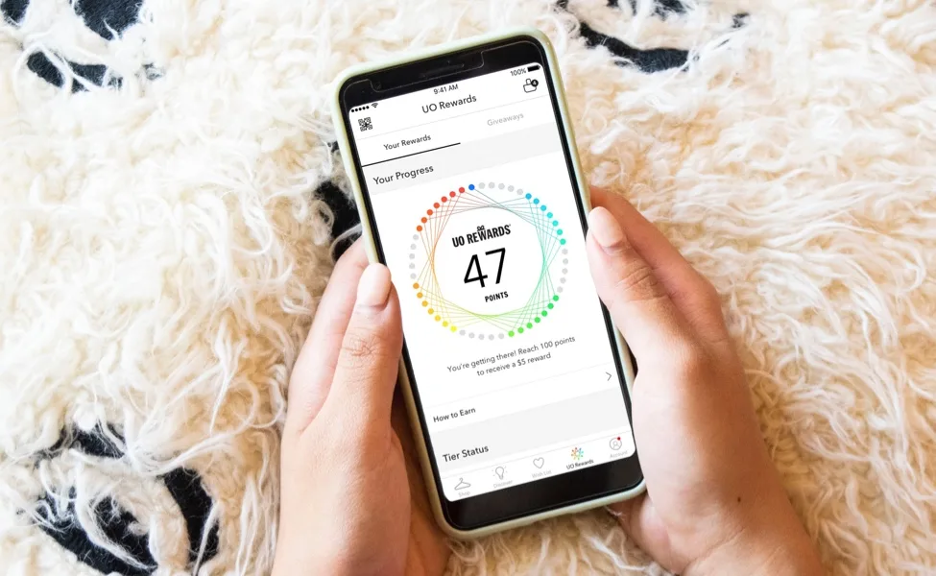 Smile.io lets you strengthen brand loyalty and create excitement within your community. You can reward customers with points when they:
Register an account.

Purchase from your store.

Refer products to friends.

Write product reviews.

Follow your accounts and share your content on social media.

You can even give customers points as a birthday gift.
The takeaway: You don't have to be a large company to implement an amazing rewards program. Use the same tactics as Urban Outfitters with the help of Smile.io.
Tip #2: Speak your customers' language
Traditional sales tactics, pushy marketing campaigns, and robotic language don't work with Millennials and Gen Zs. Urban Outfitters knew that and adopted a different approach.
That means:
Using bold, attention-grabbing colors.

Speaking to shoppers the same way you'd talk to your friend.

Discuss topics millennials care about.
For example, here's how they promoted legal cannabis: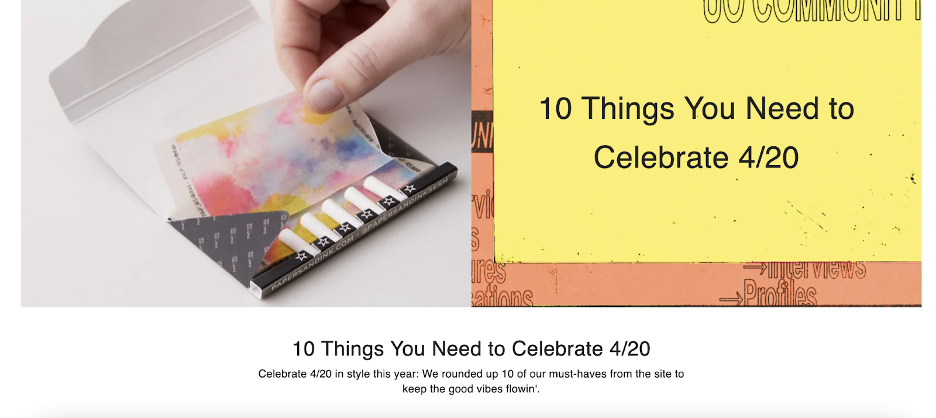 Look at the lingo they used. Celebrate 4/20, keep the good vibes flowin'. This is the type of language their target audience understands and uses, so it resonates with them.
The takeaway from this isn't to promote legal/medical marijuana. You might not be in an industry where that's relevant. But you should speak the language of the customers you want to target, regardless of your industry. Here's how:
1. Read product reviews from your customers (or from similar customers on a website like Amazon or Yelp).
2. Pay attention to the phrases they use and the things they're interested in.
3. Incorporate that language into your content and messages.
Follow these three easy steps to use the voice of your customer (VoC) and connect with them on a personal level.
Speaking of getting personal, Urban Outfitters also offers a wide range of e-gift cards you can personalize and send to your friends and family.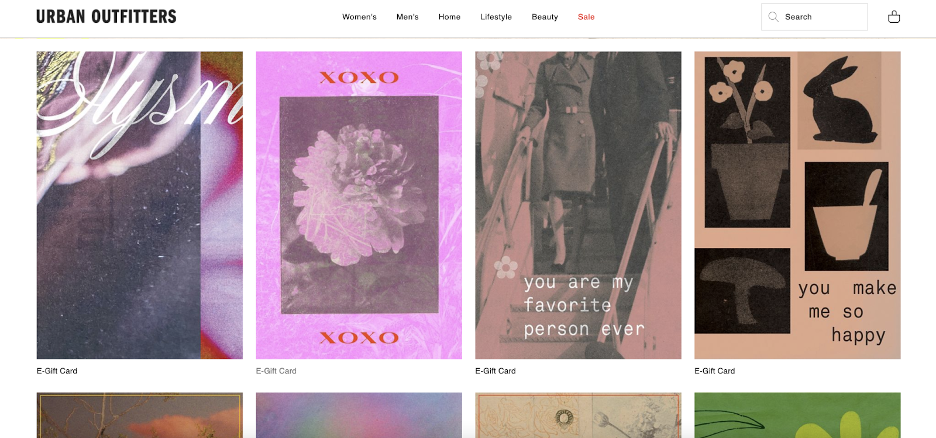 They offer several attention-grabbing designs that range from artsy to meme lingo, like the picture below.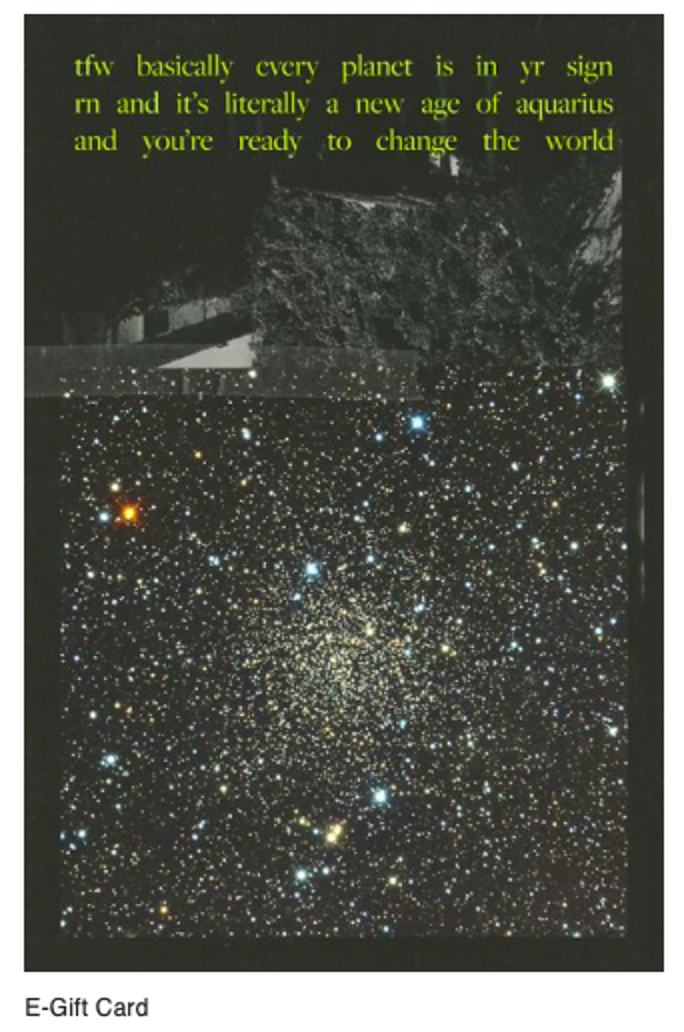 Not only is this a fun way to give gifts, it's another way Urban Outfitters speaks the language of their customers. How can you do the same?
This article will help you to create ultra-relevant content that your customers can relate to, just like Urban Outfitters does with theirs.
Tip #3: Create a community for your customers

This community gave shoppers a space to share their stories, shopping experiences, and anything else they wanted to talk about. You can do this too!
Facebook makes it easy for you to create a company page or group and connect with followers. Urban Outfitters also collaborates with influencers to design creative content targeted at their customers.

The best part about community building is that anyone can do it. You don't need a big marketing budget like Urban Outfitters to create engaging content—and you don't even have to use influencers!
For example: If you sell streetwear, you could make videos reviewing your favorite basketball shoes over the years. This is an opportunity for you to get creative with the material you create.
One more thing. Use social media to connect with customers in a 1-on-1 setting—not just groups. This is a great way to deepen relationships with your customers on a personal level.
Here's how Urban Outfitters does it using Twitter: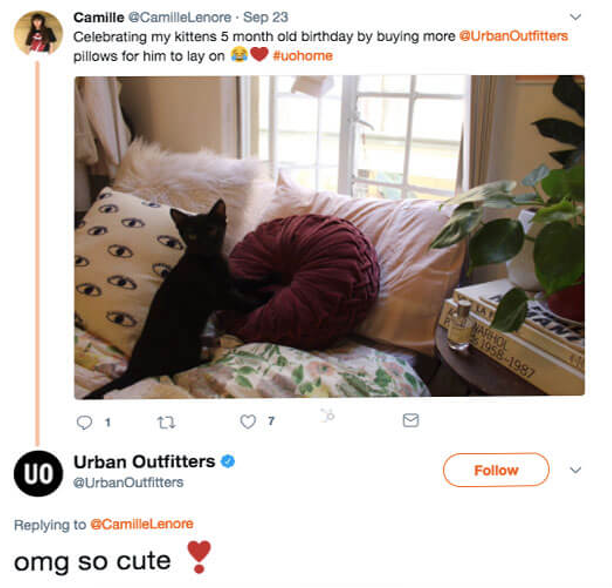 You can do the same by:
Asking customers to send pictures of products they've purchased from you.

Solving customer service issues on Twitter or Facebook.

Asking your followers open-ended questions and encouraging feedback.
Here's an example of how Urban Outfitters' open-ended question spurred great conversations:

Many people were just getting used to working from home in November 2020. So, Urban Outfitters used that to start a current events conversation on music.
They got people engaging with their brand.
Plus, it doesn't hurt that they sell records also.
How can we replicate this approach and build an amazing community? Let's find out.
Many ecommerce store owners are so concerned with driving sales that they forget to cultivate meaningful connections. But you can do both. Remember, customer loyalty is just as important as immediate revenue—and generally leads to more sales in the long term.
Building a strong social media presence is always a good idea—but it's important if your business targets Millennials and Gen Zs.
That's why Urban Outfitters puts a lot of effort into creating its social media content.
Their "Back to School" series on Instagram looked at different college students and how they designed their work and living spaces.

This is a perfect example of how they're building connections with Gen Zs by creating content specifically for their generation.
They use Pinterest to target Millennials—because studies show nearly 80% of women and 40% of men who're Millennials use the platform.
This is an excellent opportunity for Urban Outfitters to connect with people who are looking for ideas on assembling wardrobes and decorating homes.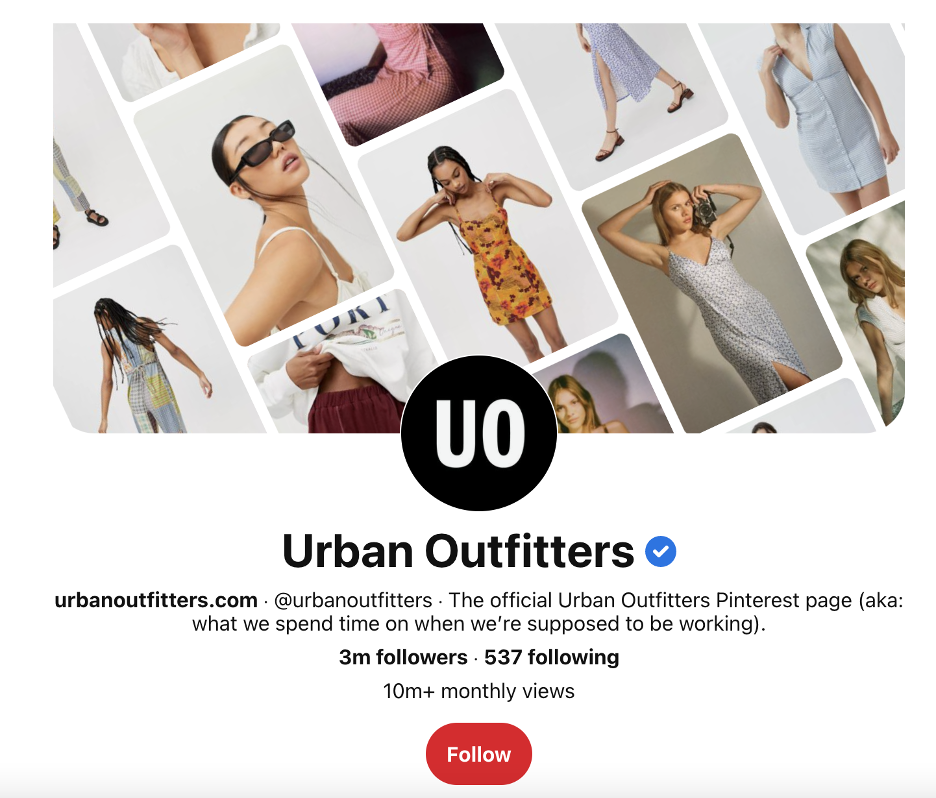 They've also established a presence on TikTok—which they primarily use to post fashion videos. This is a great platform for engaging with Millennials and Gen Zs simultaneously.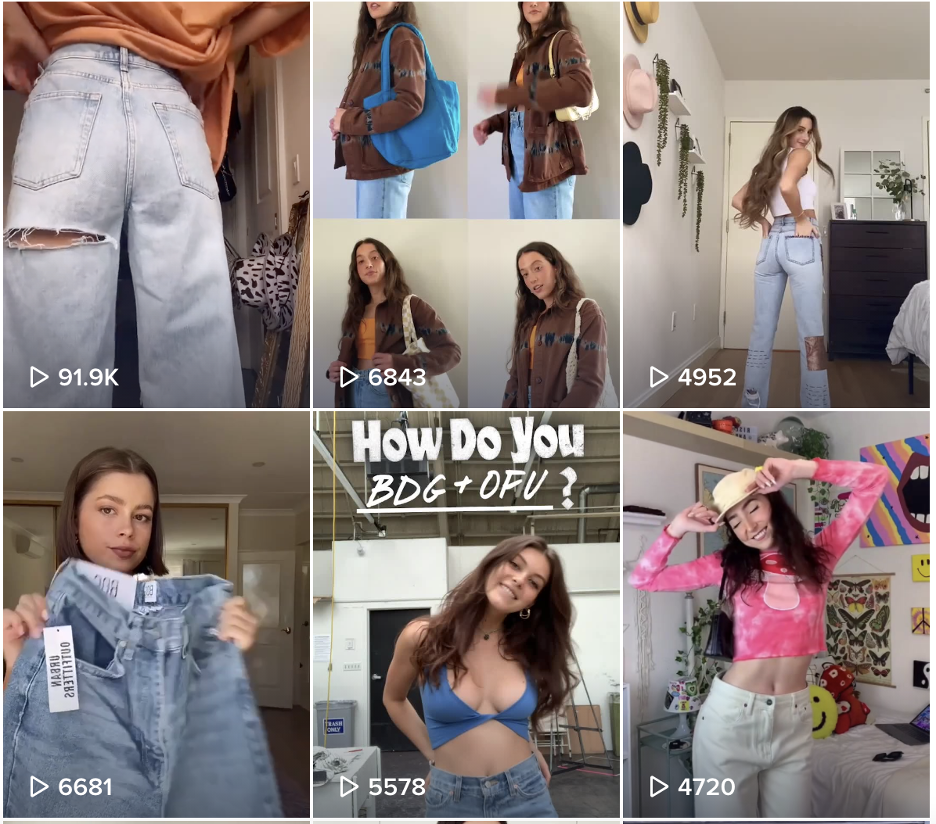 Let's talk about advertising.
The best ads are the ones that your target customers can relate to. Urban Outfitters knows this and designed their Facebook and Instagram ads to align with Millennial and Gen Z shopping preferences.

Notice how the ads don't look anything like traditional advertisements? That's intentional.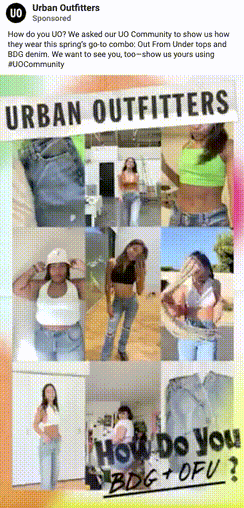 What can we learn from Urban Outfitters' social media strategy?
Good question. Let's see.
Don't just create a space on social media. You need to own that presence to truly connect with your target audience. Urban Outfitters does this by finding the platforms their customers use and creating special content for those spaces.
While you may not produce the same type of content as Urban Outfitters, you can follow their strategy and replicate their success by:
Researching your customer base and learning which social media sites they use.

Learning what type of content your target audience loves.

Creating a social media marketing plan that supplies your followers with engaging material.
Need some help getting started? Don't worry—we've got an article for that.
Check out this article to learn the ins and outs of social media marketing. Use this as a framework to help you build a community around your brand—just like Urban Outfitters did.
How you can use the same strategy
Urban Outfitters successfully connects with its customers on a personal level. They manage to do this because of one important reason—familiarity. Even the success of their rewards program is rooted in familiarity. They're in touch with customer preferences and expectations and know how to create a program that connects with their target audience.
You can recreate their success by following the tips in this article. Get to know your customers. Understand their interests, learn how they engage with brands online, and speak their language. This approach works with all types of customers. (But it's especially successful with Millennials and Gen Zs.)
Want to learn more? Check out our other marketing breakdowns on brands like Sephora, Gymshark, and Allbirds. You will learn actionable tips to help you build your best ecommerce business.