Website optimization has become an essential component of success for ecommerce stores.
With the right tools and strategies, businesses can enhance their online presence, attract more visitors, and convert them into loyal customers.
In this blog post, we'll introduce you to the top 15 website optimization tools that can help you achieve maximum results and elevate your website's performance to new heights.
Understanding website optimization
Website optimization encompasses the use of diverse techniques aimed at enhancing:
Page speed

User experience

SEO traffic

Conversion rates

Other key performance metrics
To optimize your website, it's essential to focus on all of these aspects.
This process is pivotal for sustained growth and competitiveness, and achieving these objectives depends on using the right optimization tools.
Evaluating website metrics is fundamental for tracking performance, addressing issues, and executing improvements. For example, Google Analytics offers a broad spectrum of statistical and analytical data that informs a website's performance for SEO and marketing. This tool is a great fit for businesses of all sizes, helping them develop and execute potent optimization strategies.
However, there's no one-size-fits-all approach to website optimization, since businesses have different needs and objectives. It's critical to choose an optimization tool that matches your business goals and the outcomes you want to achieve. In the next sections, we'll explore the different website optimization tools, covering their primary functions and potential benefits for your business.
Types of website optimization software
There are various types of website optimization software available that cater to different aspects of optimization, including:
Conversion rate optimization

Speed optimization

Search engine optimization (SEO)

User experience

Mobile optimization
Each type of tool focuses on a specific area of website performance and offers unique features and benefits. For instance, Unbounce and Instapage are conversion rate optimization tools that help businesses create high-converting landing pages.
A/B testing is another vital component of web optimization—77% of marketers already use it regularly. A/B testing allows businesses to evaluate customer engagement, validate hypotheses, and enhance conversion rates.
By understanding the various types of website optimization tools and their functionalities, you can make informed decisions about which tools to invest in to achieve your website optimization goals.
Top 15 website optimization tools
In this section, we'll highlight the top 15 best website optimization tools, classified according to their primary functions.
Understanding the distinct features and advantages of each tool will help you select the most suitable combination for your business, enhancing your website's performance and user experience.
Top conversion rate optimization & A/B testing tools
Conversion rate optimization (CRO) is a critical aspect of website optimization, as it focuses on maximizing the percentage of visitors who take a desired action, such as making a purchase or signing up for a newsletter.
A/B testing plays a significant role in CRO, allowing businesses to test different versions of their web pages to determine which one performs best.
Some of the leading conversion rate optimization & A/B testing tools are OptiMonk, Dynamic Yield, Justuno, Nosto, and Yieldify.
1. OptiMonk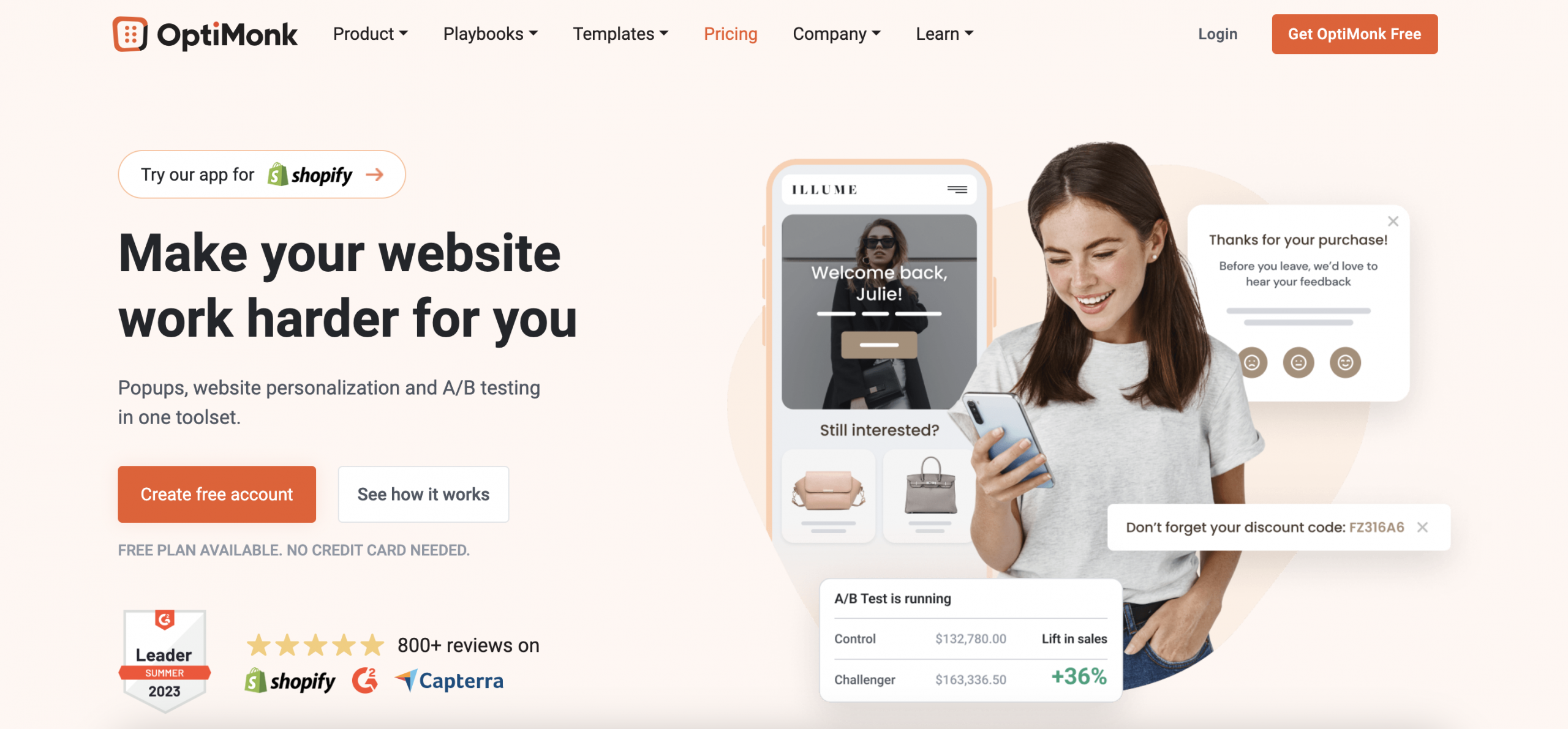 OptiMonk is an all-in-one conversion optimization tool that provides A/B testing, website personalization, and popups. It's built for ecommerce marketers and agencies looking for quick, affordable solutions to boost the performance of their campaigns and landing pages.
Let's take a quick look at our key features:
Key feature #1: Smart Personalizer
Smart Personalizer provides dynamic, one-to-one personalization for your landing pages in real-time. 
By automatically aligning your landing page messaging with your Google Ads campaigns, Smart Personalizer significantly boosts relevance and improves conversion rates.

Key feature #2: Smart A/B Testing
Gone are the days of labor-intensive A/B testing, as our platform offers fully automated, AI-assisted A/B testing. 
With Smart A/B Testing, you can seamlessly conduct multiple A/B tests simultaneously on any section of your webpage. The best part of all? You determine the tests, while our AI effortlessly handles the execution.

Key feature #3: Smart Product Page Optimizer
The Smart Product Page Optimizer leverages the power of AI to turn product detail pages into high-converting sales pages with AI-powered copy.
Harness the power of AI to craft compelling headlines, descriptions, and benefit lists that resonate with your audience. What's more, you can run A/B tests on numerous product pages simultaneously, streamlining the process and allowing you to tailor the perfect product pages for every item in your vast inventory. 
With OptiMonk's Smart Product Page Optimizer, you can achieve optimal product page performance effortlessly, even at scale.

Want to try OptiMonk AI to optimize your website? Sign up for early access today!
Other key features:
Popups & other overlays:

Leverage overlays and precise targeting to capture your visitors' attention at just the right moment.
Dynamic content:

This feature offers full personalization without slowing load times or requiring the involvement of a developer. 
Drag & drop editor

: Easily create popups and A/B test landing pages without needing to code. What you see is what you get!
Intelligent targeting

: Tailor your messages to different types of visitors based on their info and actions, like where they're from or what they're doing on your site.

Conversion-boosting features

: Use features like countdown timers, personalized product suggestions, and changing text to make more people take the actions you want on your site.

Detailed analytics

: Get in-depth info on how your marketing is doing and why it's working (or not) to help you improve your strategies.

Integrations

: Connect easily with lots of other tools you might already use, like MailChimp, Klaviyo, and HubSpot, to make your work smoother.
Pricing: Free, or from $39/month.
2. Dynamic Yield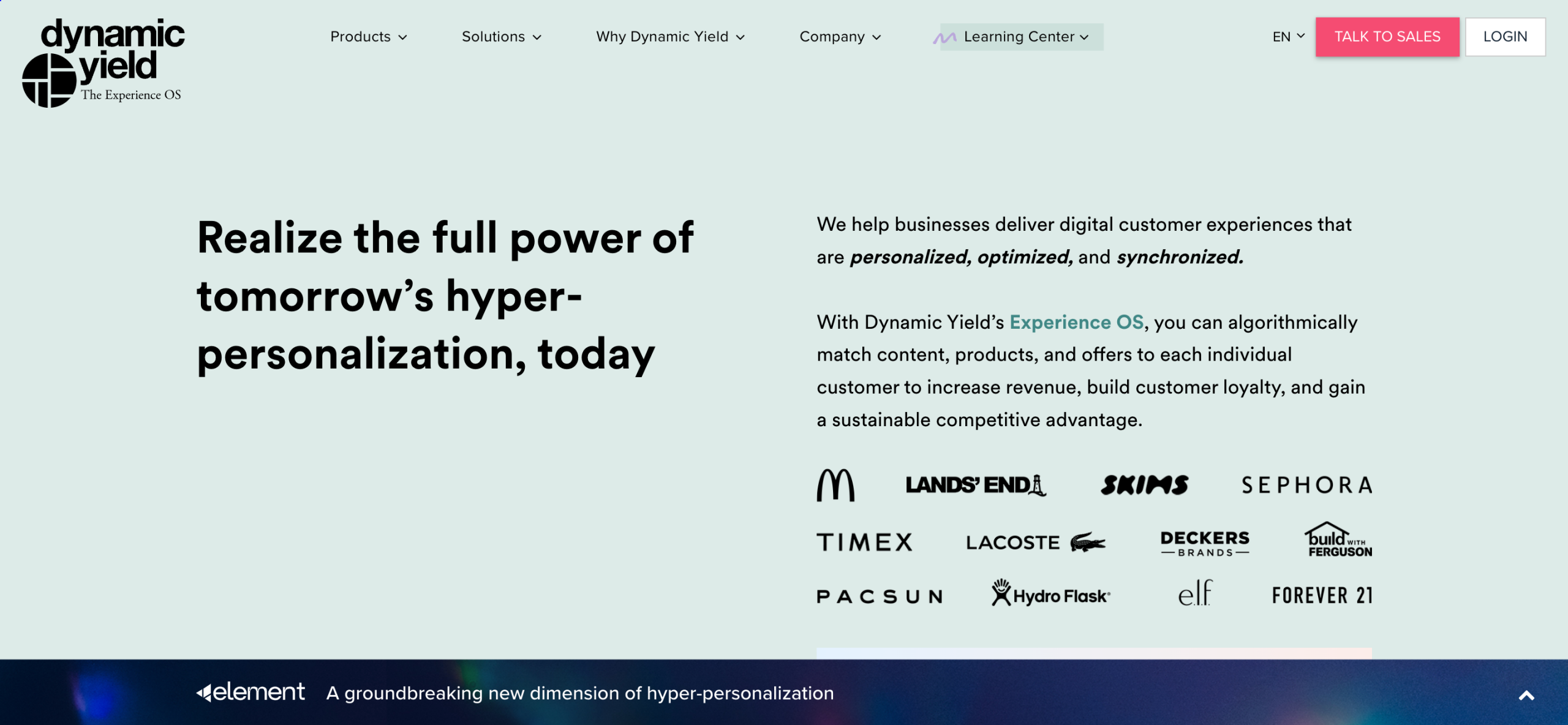 Dynamic Yield is a personalization platform that helps businesses optimize customer experiences and increase conversions. By rapidly deploying and evaluating tailored experiences for their customers, businesses can provide a seamless, personalized shopping journey, ultimately leading to higher conversion rates and customer loyalty.
With its wide range of features and capabilities, Dynamic Yield is an invaluable tool for businesses looking to stand out in today's competitive market.
3. Justuno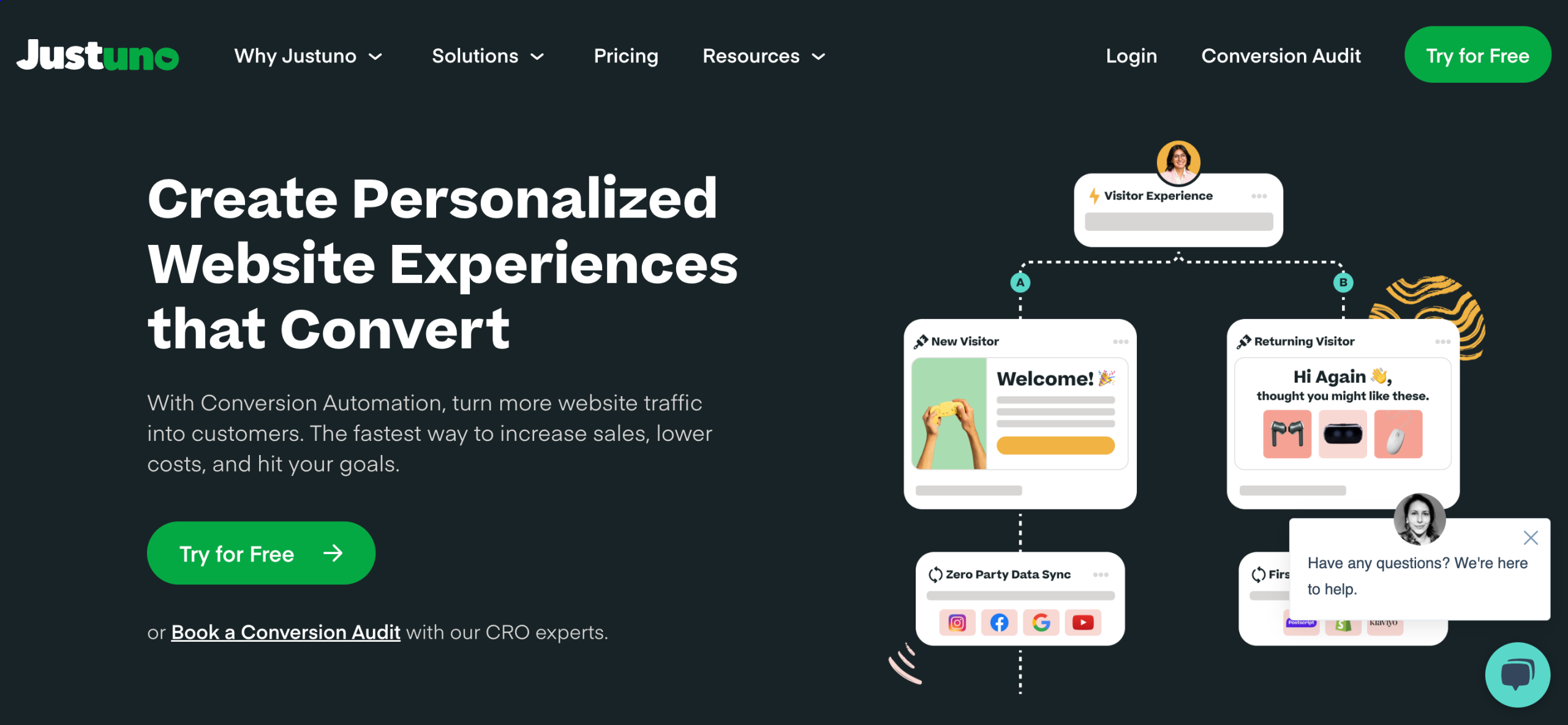 Justuno is a conversion optimization tool that offers a range of on-site messaging tools, including:
Pop-ups

Banners

Slide-ins

Overlays
Justuno also provides features such as A/B testing, segmentation, and analytics to help businesses gain insights into visitor behavior and make data-driven decisions for website optimization.
With its easy-to-use interface and powerful features, Justuno is an excellent tool for businesses looking to optimize their website for maximum conversions.
4. Nosto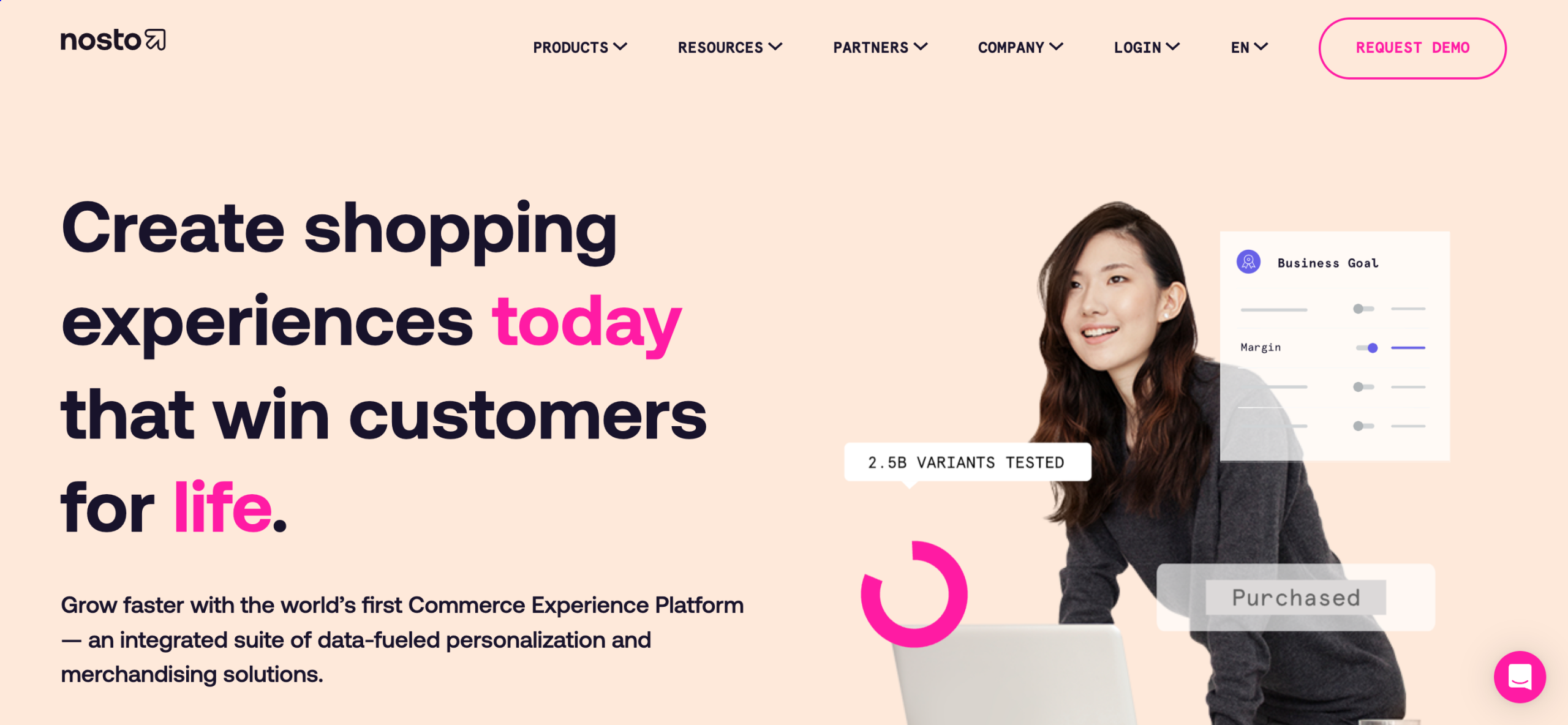 Nosto operates as an AI-powered personalization platform that empowers businesses to create customized, fully integrated shopping experiences while maintaining precise control over their processes. 
With Nosto, companies can offer automated, real-time personalized product recommendations tailored to individual customers' actions and preferences. This ensures that each customer receives a shopping experience uniquely tailored to their needs. 
By leveraging Nosto's capabilities, businesses can effectively enhance customer engagement, boost sales, and foster customer loyalty.
5. Yieldify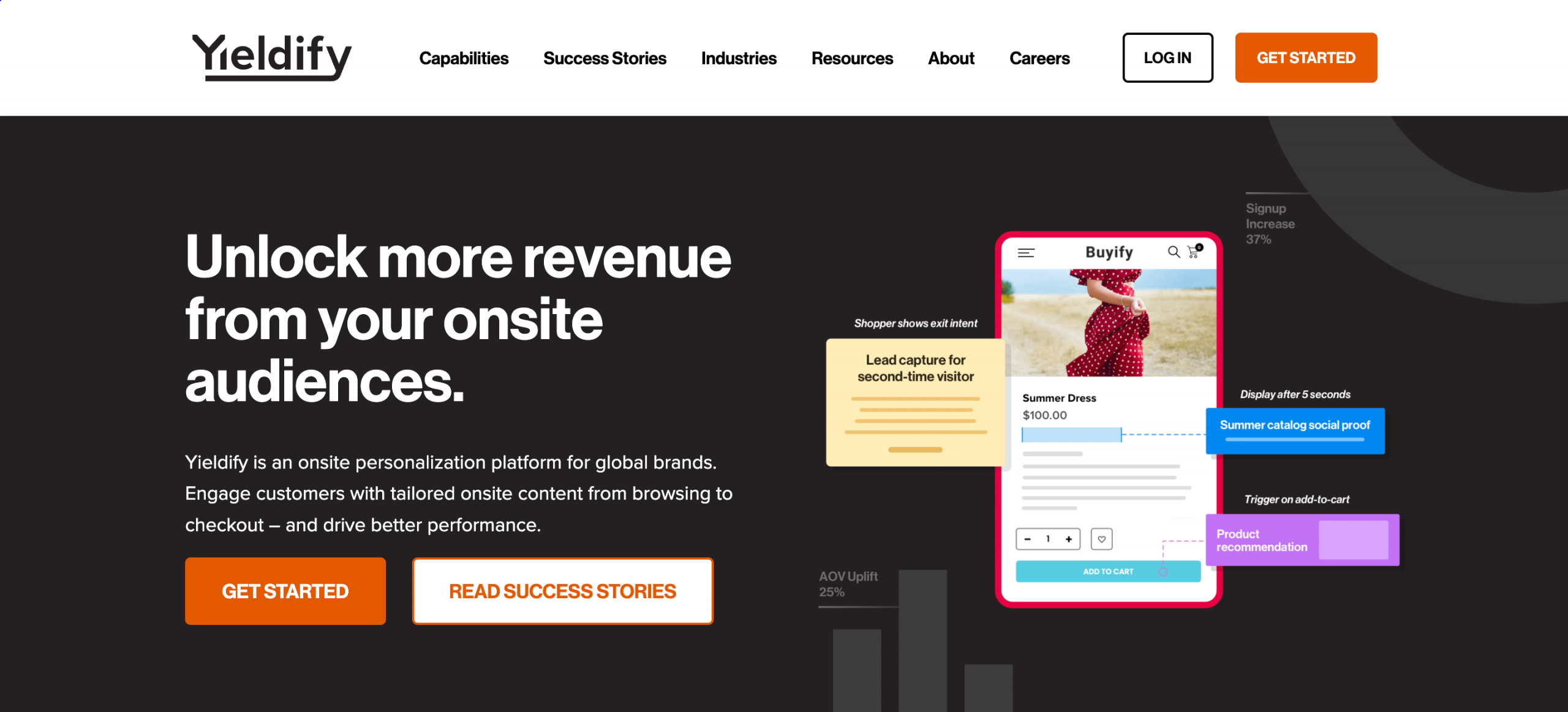 Yieldify is a managed personalization platform designed to help ecommerce businesses improve lead capture, conversion rates, and average order values.
By providing personalized, optimized, and synchronized digital customer experiences, Yieldify enables businesses to better understand their customers' needs and preferences. This ultimately leads to increased conversions and customer satisfaction.
Top speed optimization tools
Speed is a critical factor in website optimization, as faster-loading sites are more likely to rank higher in search engine results, leading to increased organic search traffic. Websites that load faster also improve the user experience, so focusing on speed optimization is a true win-win.
Some of the most effective speed optimization tools include Google PageSpeed Insights, GTmetrix, and Pingdom. These tools can help businesses identify areas where their website's speed can be improved and make the changes necessary for a seamless user experience and better search engine rankings.
6. Google PageSpeed Insights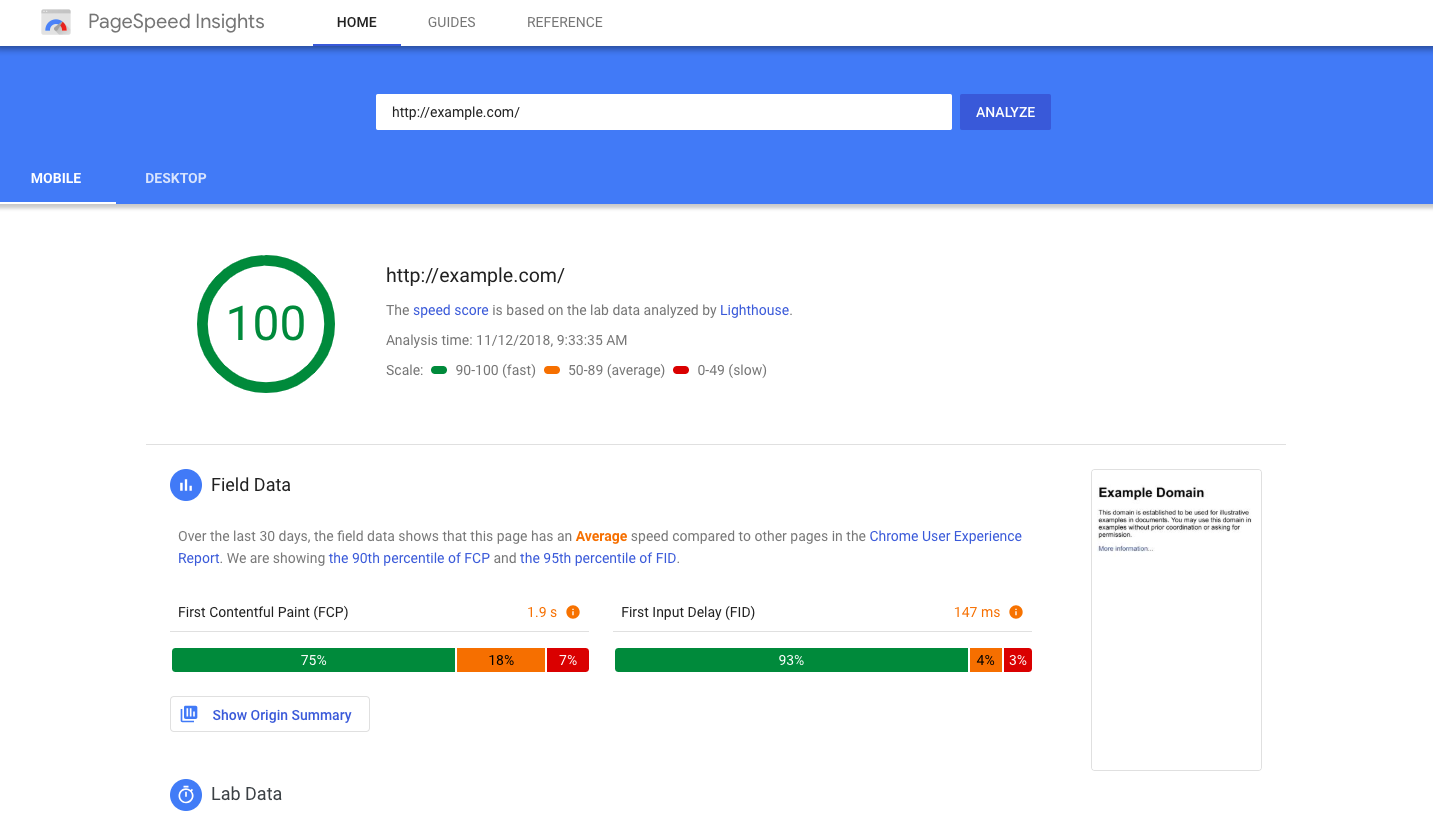 Google PageSpeed Insights is a free web page speed tool that analyzes and provides suggestions for improving website speed on both desktop and mobile devices. By simply entering a website's URL, businesses can access valuable insights and recommendations for optimizing their website's loading time and overall user experience.
Utilizing Google PageSpeed Insights is an excellent way to enhance website performance and stay ahead of competitors.
7. GTmetrix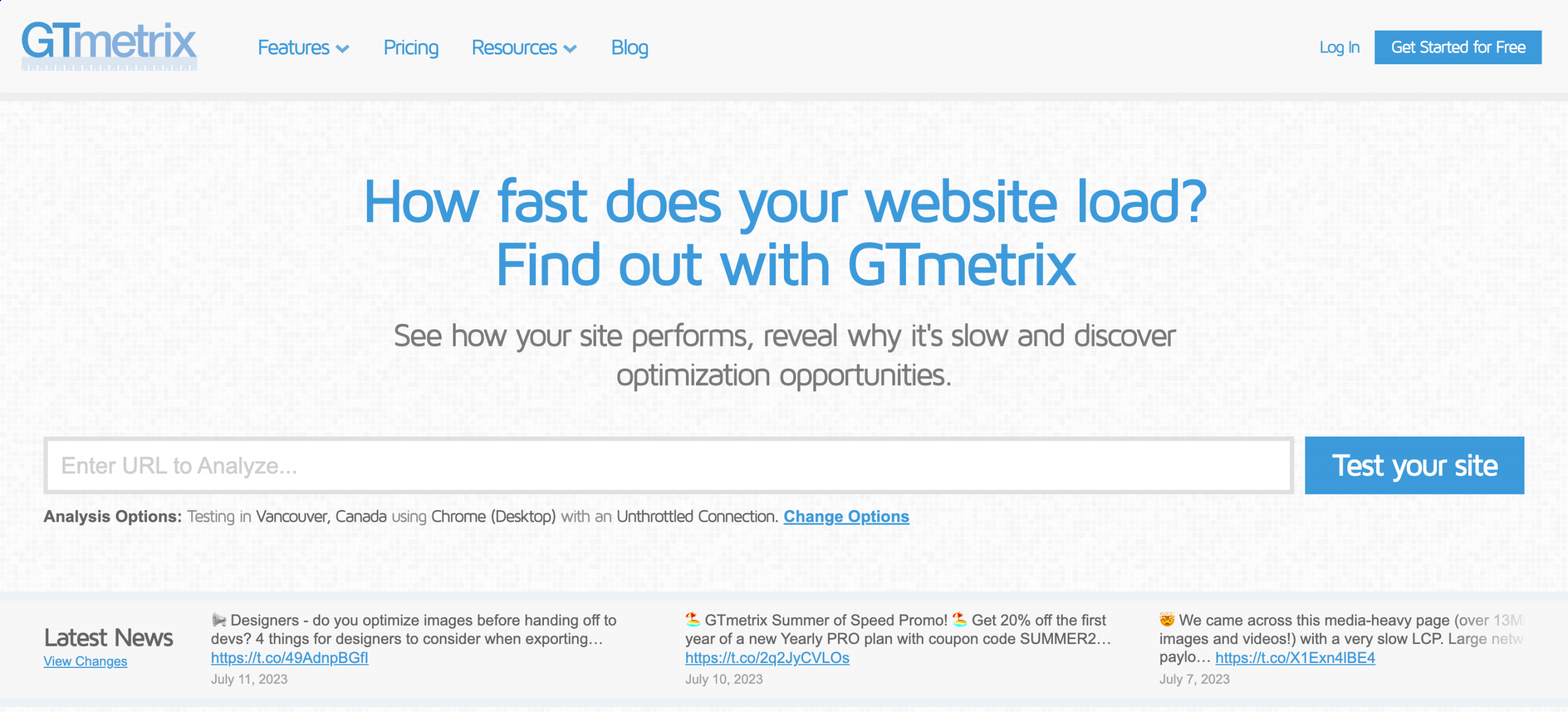 GTmetrix is a website performance analysis tool that provides detailed reports on speed and performance, as well as optimization recommendations, offering a comprehensive analysis of a website's performance. 
It leverages both Google PageSpeed Insights and Yahoo! YSlow to offer valuable insights and recommendations. With its user-friendly interface and in-depth reports, GTmetrix proves to be an invaluable resource for businesses seeking to improve their website's speed and performance.
8. Pingdom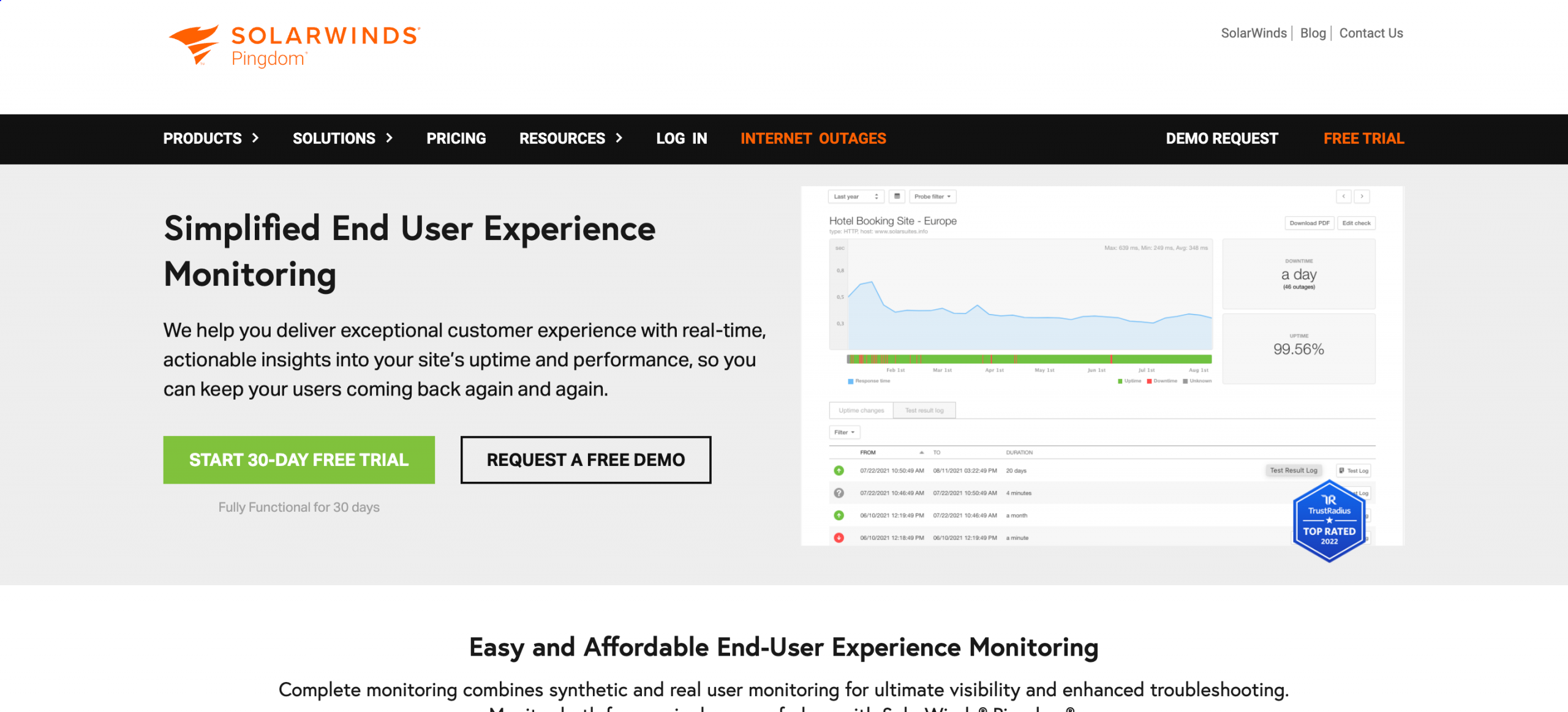 Pingdom is a website monitoring and performance management tool that encompasses real-time monitoring, performance reports, uptime monitoring, and alerting capabilities. These features collectively equip businesses with valuable insights to guarantee their websites operate at peak efficiency at all times.
Utilizing Pingdom allows businesses to promptly identify and rectify performance-related concerns, resulting in an enhanced user experience and improved search engine rankings.
SEO tools provide businesses with valuable resources and functionalities to help them improve their search engine rankings, which will in turn improve their online visibility, website performance, and digital marketing efforts. 
The best SEO tools are always up to date with search engine algorithm changes, helping businesses stay ahead of the curve and remain relevant.
9. Ahrefs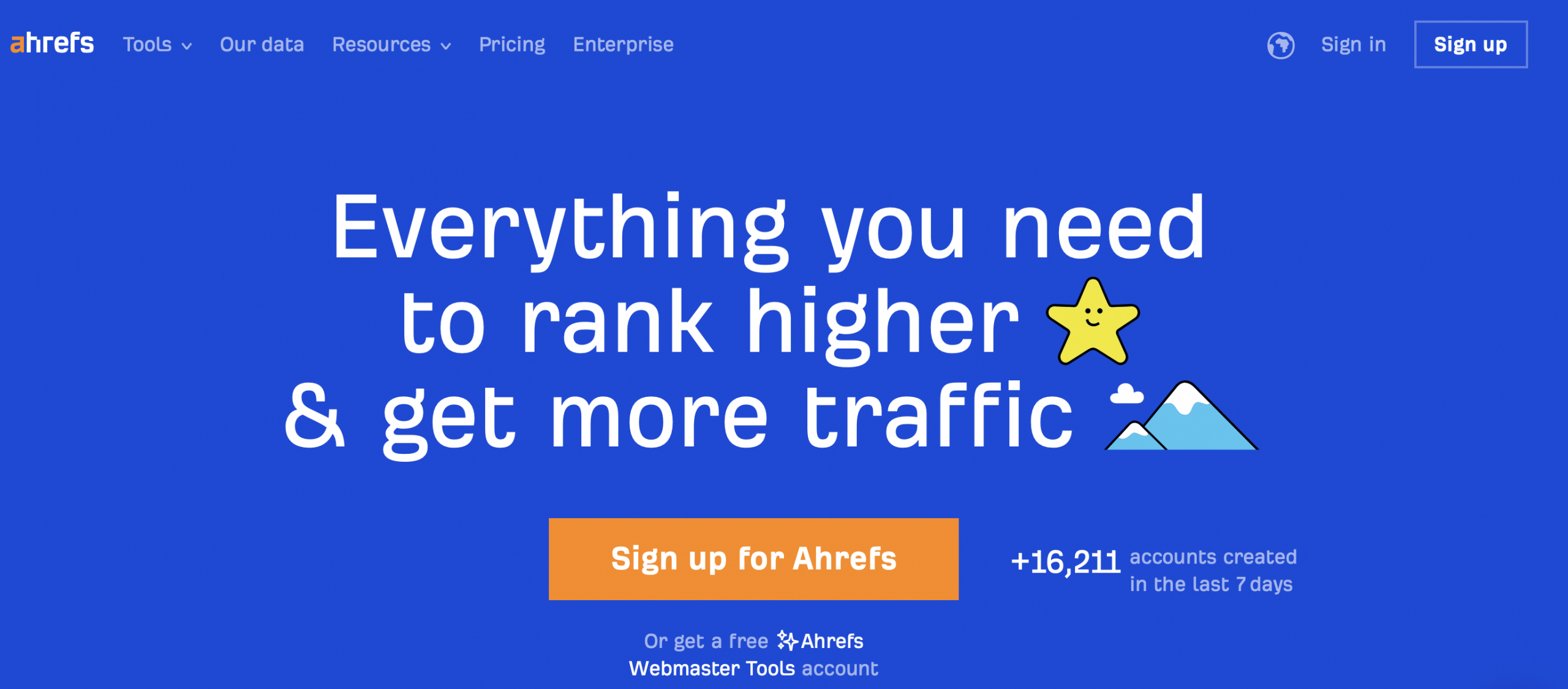 Ahrefs is a comprehensive SEO tool that offers keyword research, backlink analysis, and site audit features, making it an essential resource for businesses looking to improve their website's search engine performance. 
With its user-friendly interface and powerful features, Ahrefs provides businesses with the insights and recommendations they need to optimize their website and achieve higher search engine rankings.
10. Semrush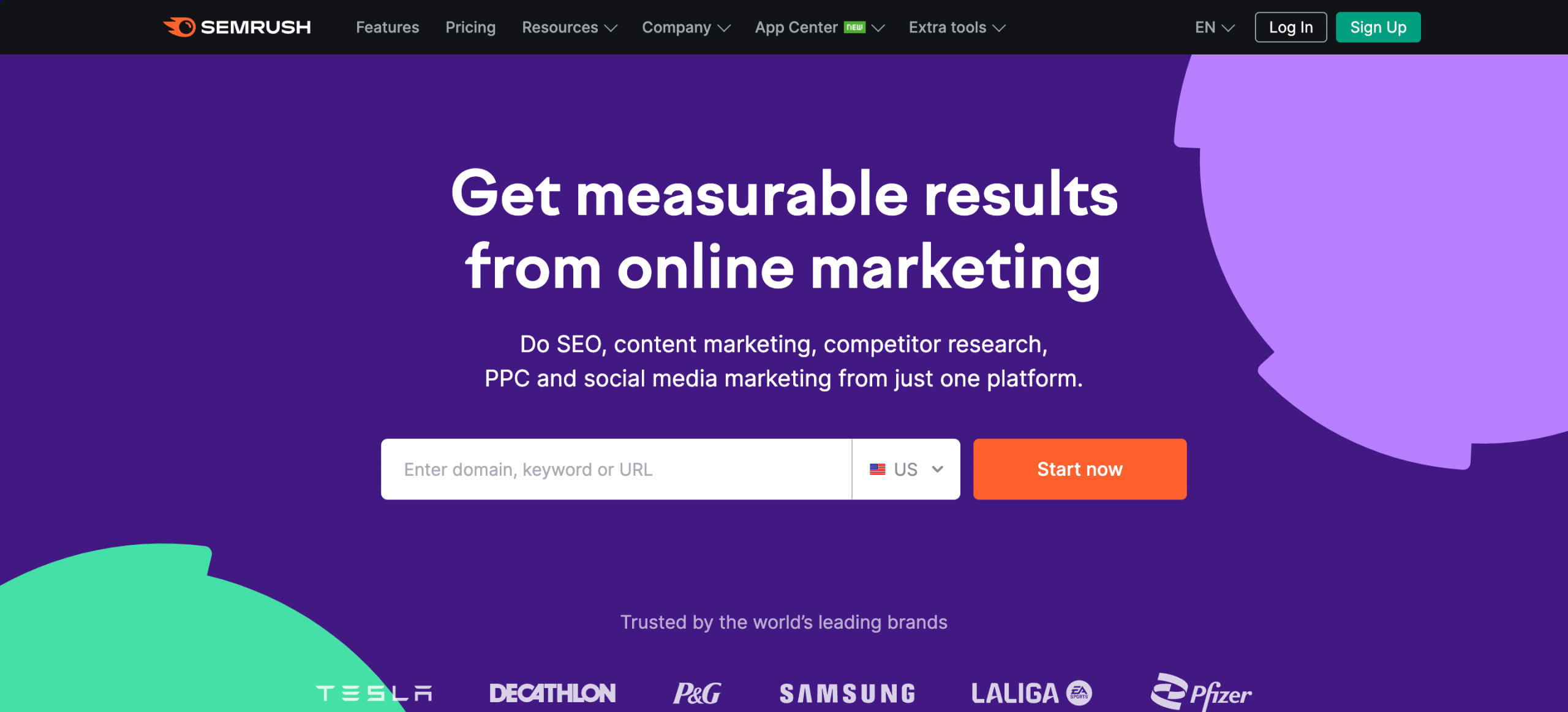 Semrush is an all-in-one SEO and marketing toolkit that helps businesses improve their online visibility and discover marketing insights. 
With its wide range of features, including keyword research, competitor analysis, and Google Ad campaign optimization, Semrush provides businesses with the tools they need to optimize their SEO and marketing efforts in order to achieve higher search engine rankings and drive more organic traffic to their website.
11. Surfer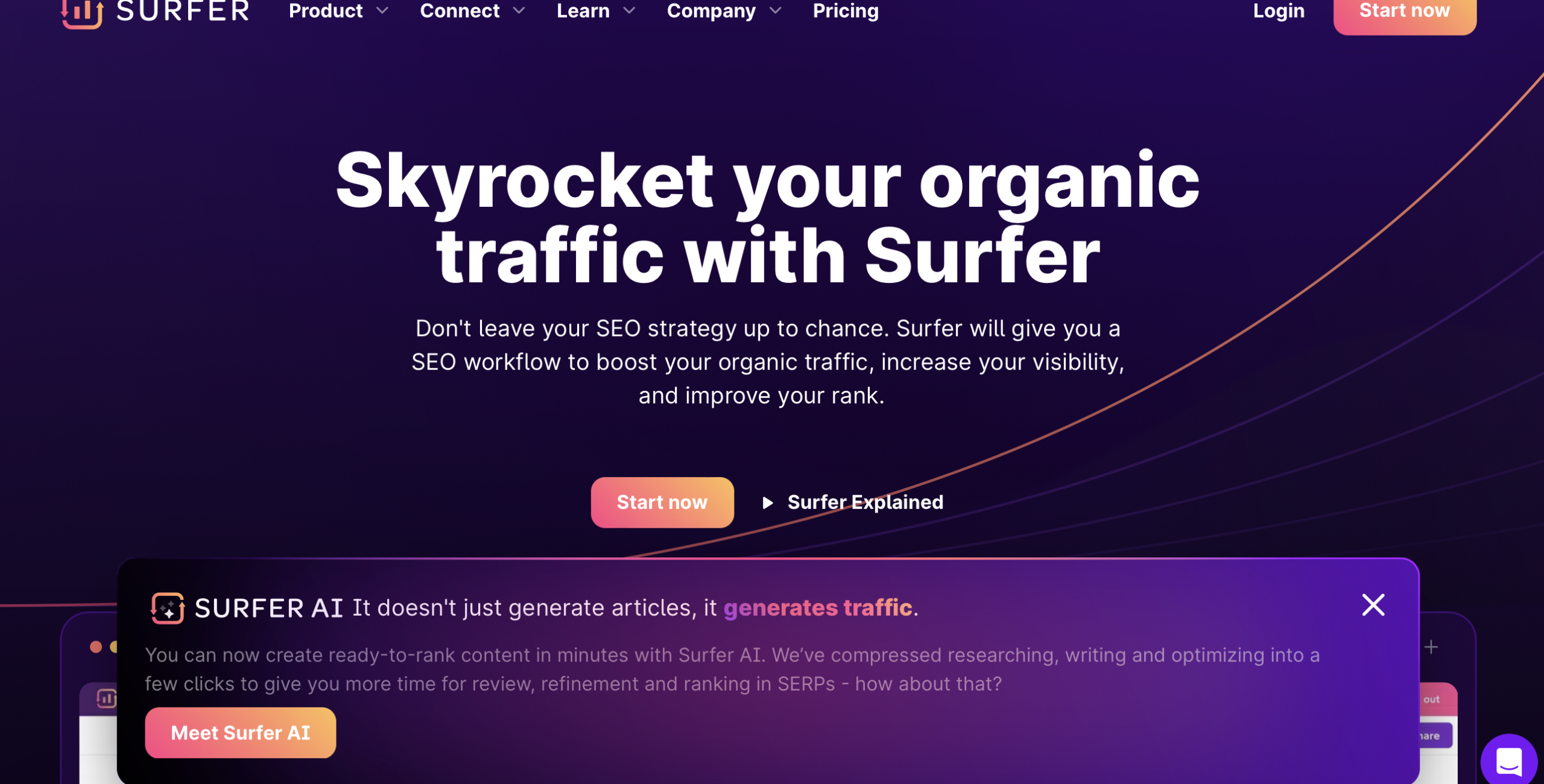 Surfer is an AI-driven SEO tool that conducts SERP analysis, provides optimization recommendations for content and website performance, and generates personalized content briefs. It also suggests keywords and phrases to enhance ranking. 
By utilizing Surfer, businesses can create SEO-optimized content to boost organic traffic and enhance website performance. Surfer's AI-driven advice assists businesses in effectively tailoring their content to their target audience.
User experience optimization tools
User experience optimization tools help businesses understand how users interact with their website and identify areas for improvement. Some of the leading user experience optimization tools include Hotjar, UsabilityHub, and UserTesting.
By using these tools, businesses can:
gain valuable insights into user behavior,

address any usability issues, and

create a more engaging and satisfying experience for their website visitors.
12. Hotjar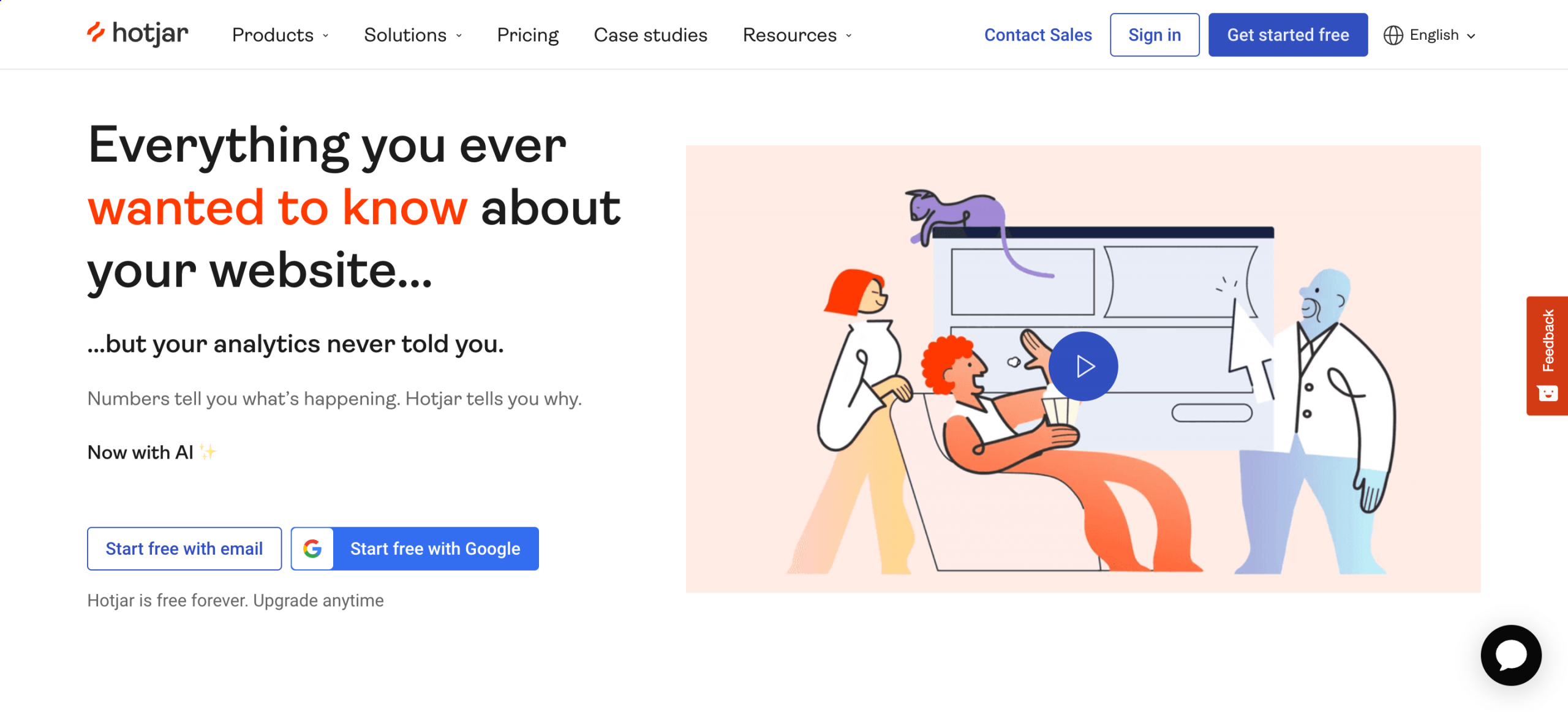 Hotjar is a behavior analytics tool that offers heatmaps, session recordings, and surveys to help businesses optimize the user experience. With its visual behavior insights, user feedback, and interviews, Hotjar provides businesses with a comprehensive understanding of user behavior, enabling them to detect areas that could benefit from some extra attention and optimize their website for a better user experience.
13. UsabilityHub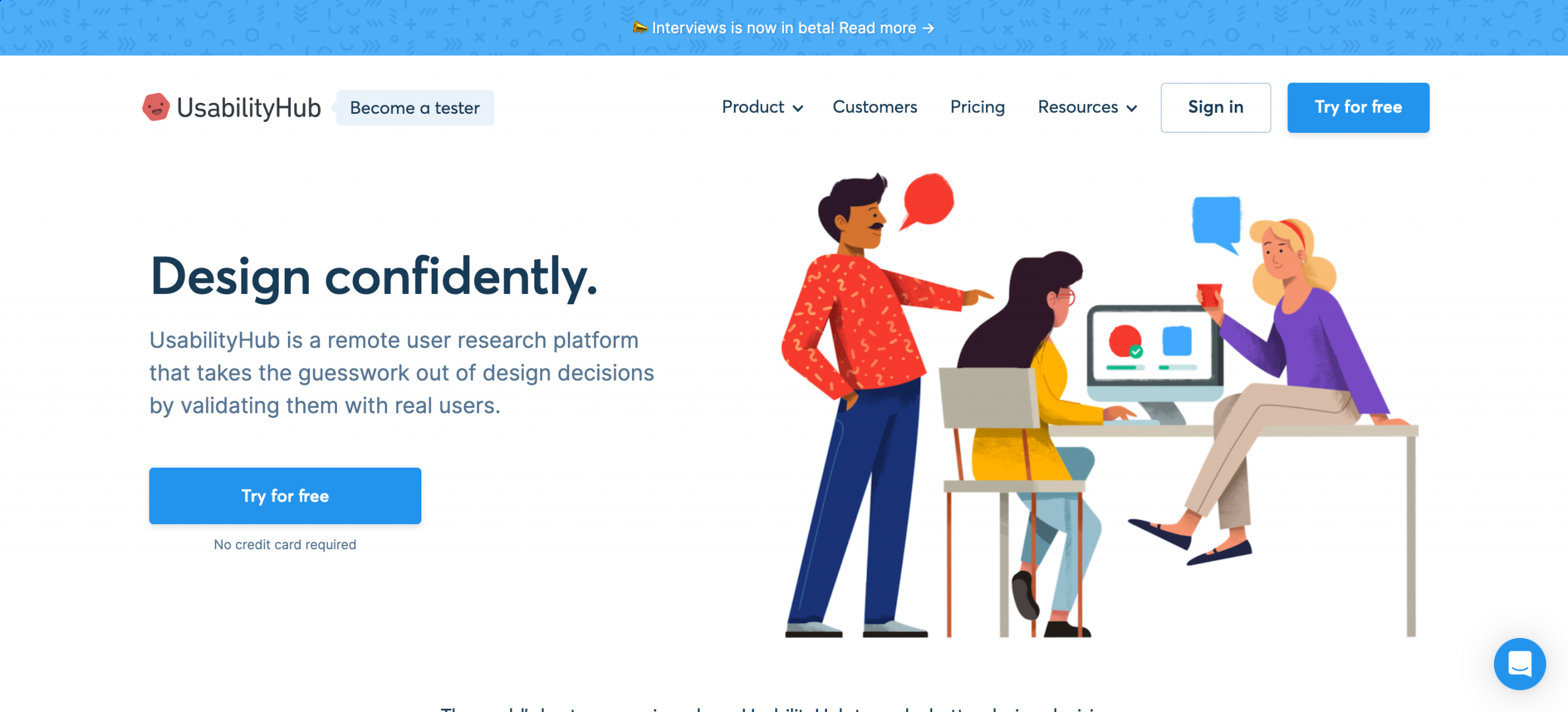 UsabilityHub is a user testing platform that helps businesses gather feedback and insights on their website's usability and design. By enabling businesses to rapidly and conveniently test their websites and digital products with real users, UsabilityHub provides valuable feedback on usability, design, and user experience, allowing companies to make informed decisions about their products.
14. UserTesting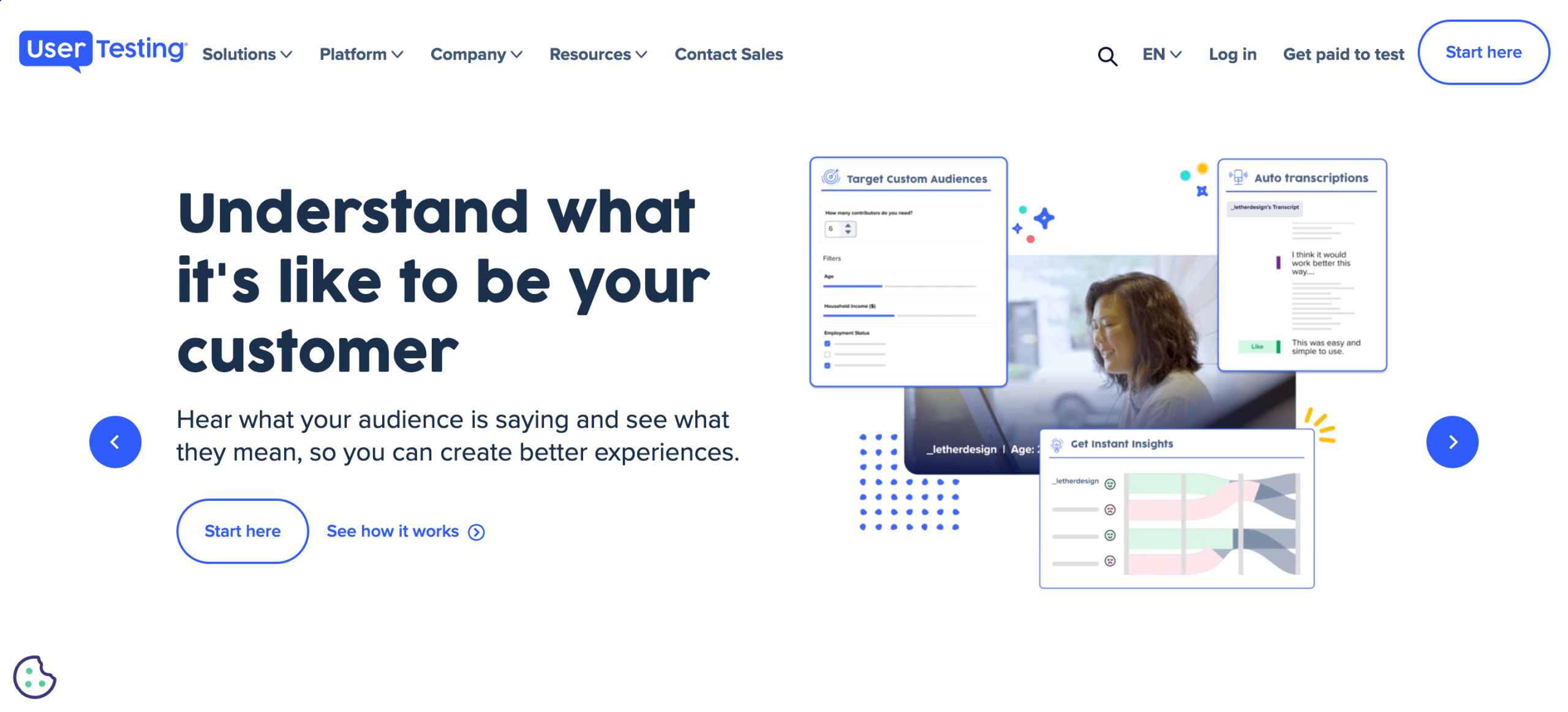 UserTesting is a versatile platform that empowers businesses to enhance their website user experience by conducting usability tests, gathering feedback from real users, generating user tests, recruiting users, and evaluating user feedback.
Through UserTesting, businesses can acquire valuable insights that result in a more engaging and user-friendly experience. Ultimately, this translates to improved conversion rates and increased customer satisfaction.
Mobile optimization tools
In today's mobile-first world, mobile optimization tools are essential for ensuring that websites display properly and function seamlessly on mobile devices. By reviewing analytics data and determining the proportion of users and customers who access their website via mobile devices, businesses can judge just how important mobile optimization will be for their website…although we'd say it's critically important for any website today.
Some popular mobile optimization tools include Hotjar, Mobile-Friendly Test, PageSpeed Insights, Google Search Console, Google Analytics, and WebPageTest.
15. Mobile-Friendly Test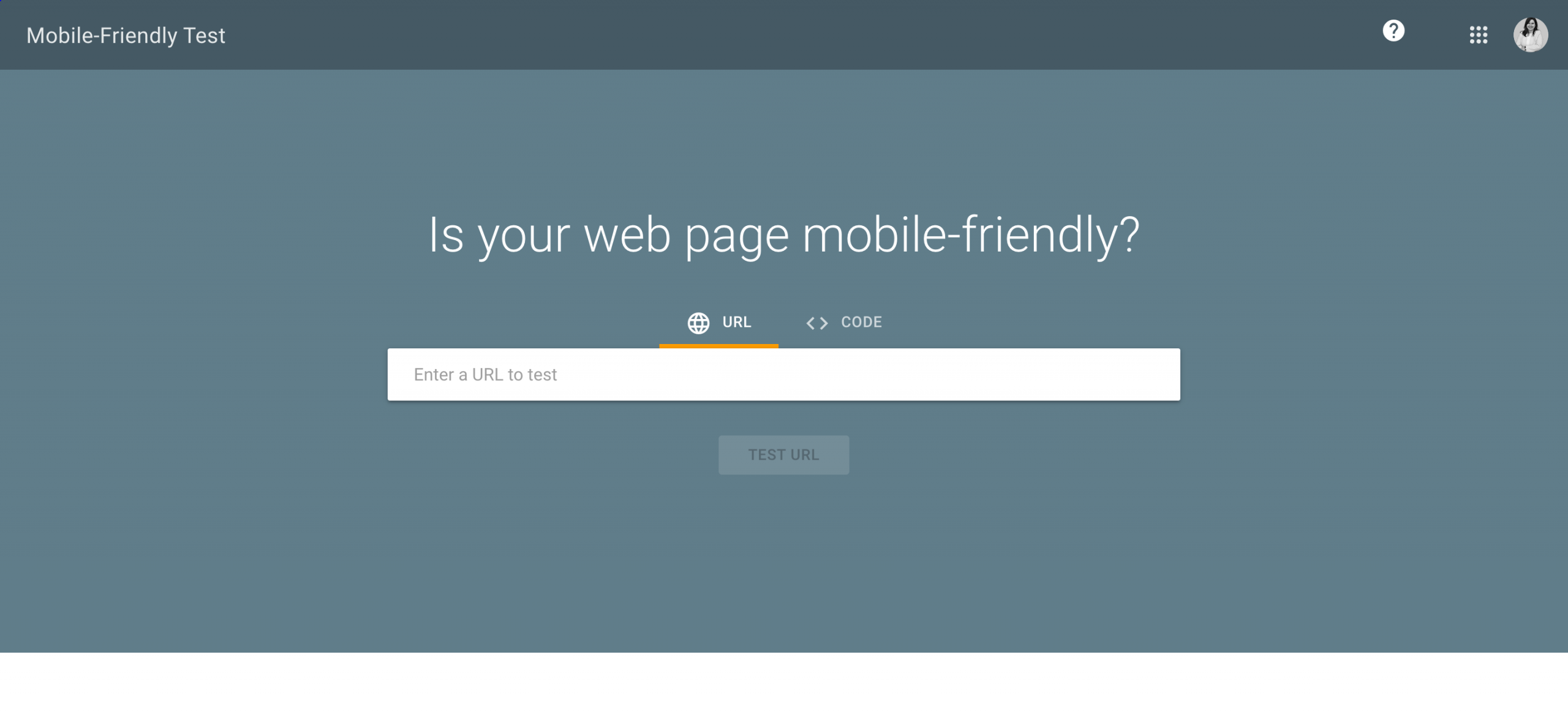 Mobile-Friendly Test is a free tool by Google that analyzes a website's mobile optimization and provides recommendations for improvement. By simply entering the URL of the website you want to test, the tool will analyze the website and deliver a score and suggestions for enhancement.
Utilizing Mobile-Friendly Test is an excellent way to ensure that a website is optimized for mobile devices and provides a seamless user experience across all platforms.
How to choose the right website optimization tool?
To do website optimization right, you need to choose the right website optimization tools for the job. And that starts with considering your business goals, challenges, and the results you want to achieve. Here are some things to think about: 
What features do you need?

Is the tool easy to use?

Will it work with your website?

How does it measure performance?

What does it cost?

Is there good customer support?

Does it have good reviews?
You'll want to do your own research about features and read customer reviews to find a tool that fits your needs and goals. You might also consider signing up for a free trial for several different tools so you can compare how they work "on the ground."
Combining multiple tools for maximum results
Using a variety of website optimization tools is like having a complete strategy to make your website work better. This approach helps businesses in several ways:
1. Understanding how your website is doing
By using multiple tools that target different areas, you'll get a deep look at how well your website is performing. 
2. Finding where to improve 
Using a multi-tool approach, you can pinpoint the exact areas where your website can get better and find ways to improve it.
3. Checking and confirming information 
You'll be able to double-check the data and suggestions from each tool to make sure they're accurate and trustworthy.
4. Saving time and working efficiently
By using different tools together, you can automate some tasks and have all your website management in one place. This saves you time compared to using just one tool for everything.
By combining different tools and using the standout features of each one, businesses can get the best possible results.
Successful website optimization examples
Now let's take a look at two successful website optimization examples that you can easily copy.
1. How Varnish & Vine increased revenue by 43%
Varnish & Vine is a US-based ecommerce store that specializes in selling premium cactuses and tropical plants. They wanted to optimize their website and they thought that optimizing their product pages could have huge potential, as that's where they receive the lion's share of their website traffic.
But they have more than 70 product pages, which made it difficult for them to make any sweeping changes with confidence. That's when they found OptiMonk's Smart Product Page Optimizer tool. 
The Varnish & Vine team had been using product names as the main headlines, and they didn't really offer any other useful information in the above-the-fold section. So they decided to add new headlines and benefit lists to their product pages. 
They told the Smart Product Page Optimizer what they wanted to change, and based on this information, the tool analyzed Varnish & Vine's product pages and automatically crafted captivating headlines, subheadlines, and lists of benefits for each product page. 
These additions were designed to resonate with the target audience and supercharge conversions.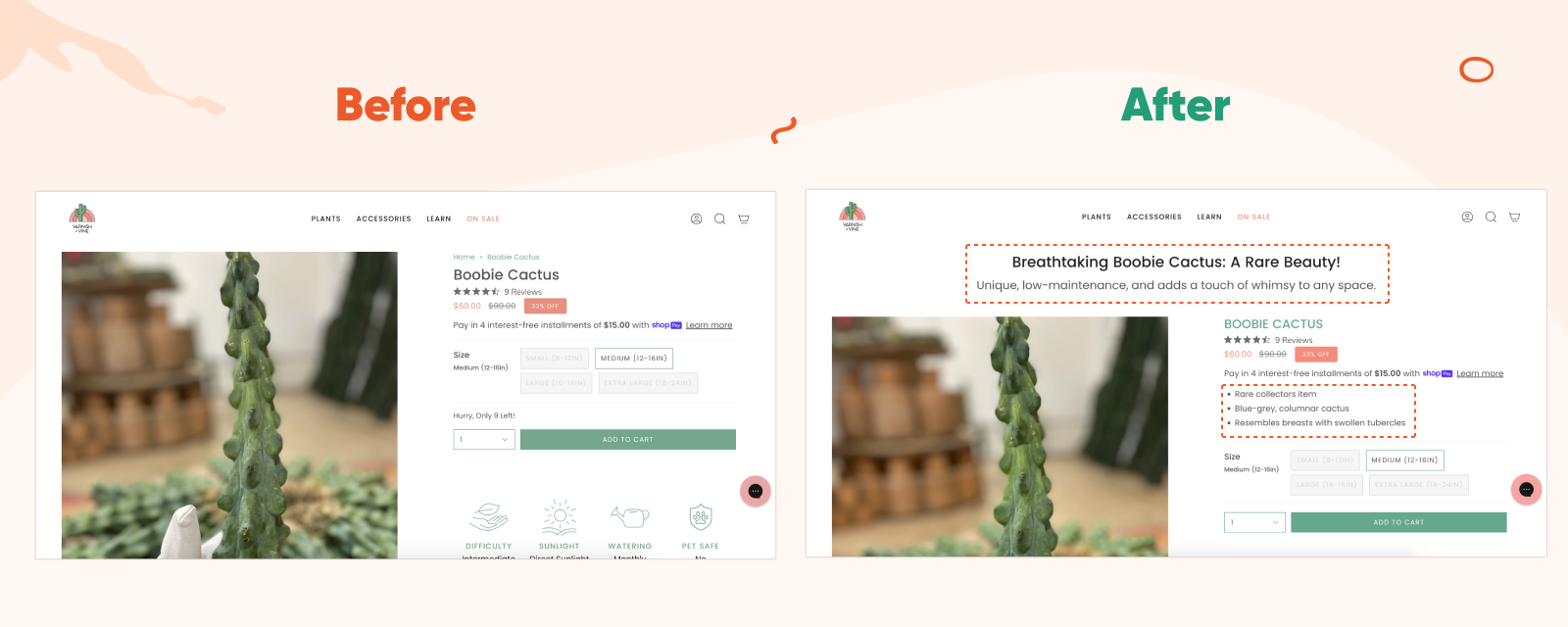 After that, the tool started running A/B tests automatically. This way, the Varnish & Vine team was able to compare the results of the AI-tailored product pages with the non-optimized product pages.
Based on the A/B tests, they saw that the AI-optimized product pages resulted in a 12% increase in orders and an impressive 43% increase in revenue. 
2. How SolaGarden increased revenue by 10.9%
SolaGarden is an Australian brand known for its top tier gardening products. SolaGarden's product pages were packed with information, which wasn't very appealing for their visitors. 
They used the product names as headlines, but missed the mark by not including social proof from other customers. 
This is where they implemented OptiMonk's Smart Product Page Optimizer. 
They told the tool what they want to optimize on their page, and it generated the essential elements: headings, subheadings, customer reviews, and product descriptions. 
SolaGarden updated 15 of their product pages with Smart Product Page Optimizer.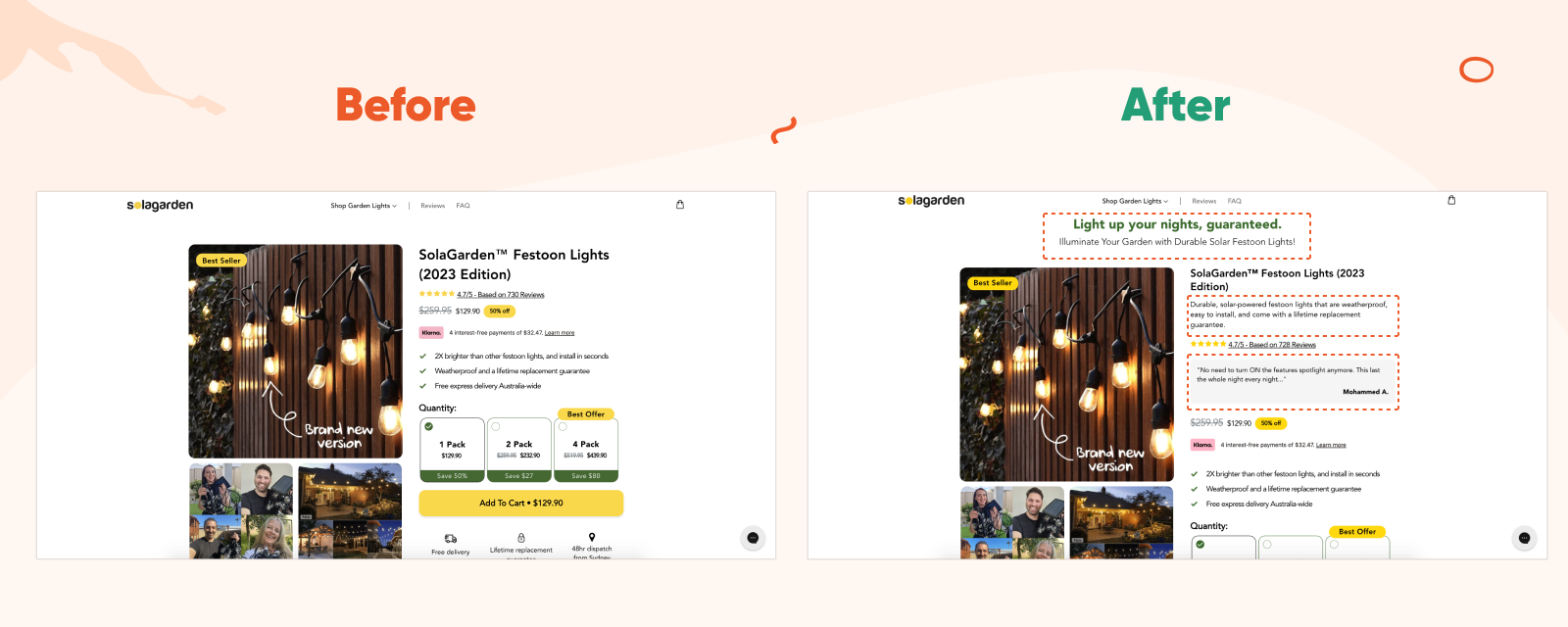 The tool ran an automated A/B test, and the pages featuring the content generated by the Smart Product Page Optimizer resulted in a 5.3% increase in orders and a 10.9% rise in overall revenue.
What are website optimization tools?
Website optimization tools are used to measure, analyze and optimize website performance. They help identify ways to increase a website's speed, enhance the user experience, uncover insights about website traffic and user behavior, and optimize for search engine rankings. These tools are essential for improving a website's performance and helping to drive more conversions.
Why is it important to optimize your website?
Website optimization is critical for businesses to remain competitive and achieve growth. It provides a significant advantage through the use of various optimization tools.
Why is optimizing a website for search engines important?
Optimizing a website for search engines is crucial because it boosts visibility, attracts targeted traffic, enhances user experience, builds credibility, and provides valuable insights for competitive advantage.
Website optimization is essential for success in today's digital landscape. By utilizing the right combination of tools and strategies, businesses can significantly improve their website's performance, user experience, and search engine rankings.
The top 15 website optimization tools covered in this article, including OptiMonk, offer a wide range of features and benefits to help businesses achieve maximum results.
By carefully selecting and combining these tools, you can optimize your entire website and elevate your online presence to new heights.